Meet your new favorite vegetable skewers! These BBQ Tofu Kebabs can be made on the grill or in the oven! Juicy pineapple adds a tangy twist. In partnership with Pompeian! (Originally published May 22, 2018)
Vegetable BBQ Tofu Kebabs
Hellooooo, sweet summertime!
I don't know about you, but as soon as the temps start rising and the days start getting longer, I want to spend all my time out in the sun, which of course includes eating every meal I can outdoors. And that means plenty of vegan bbq recipes over here at Emilie Eats!  
I've got the perfect summertime bbq flavored finger food for you: Vegetable BBQ Tofu Kebabs! It screams summertime and packs in plenty of that delicious sweet and savory bbq flavor that is made to be enjoyed outdoors. So fire up the grill (or your oven!), grab a pack of skewers and your favorite veggies and let's get cooking!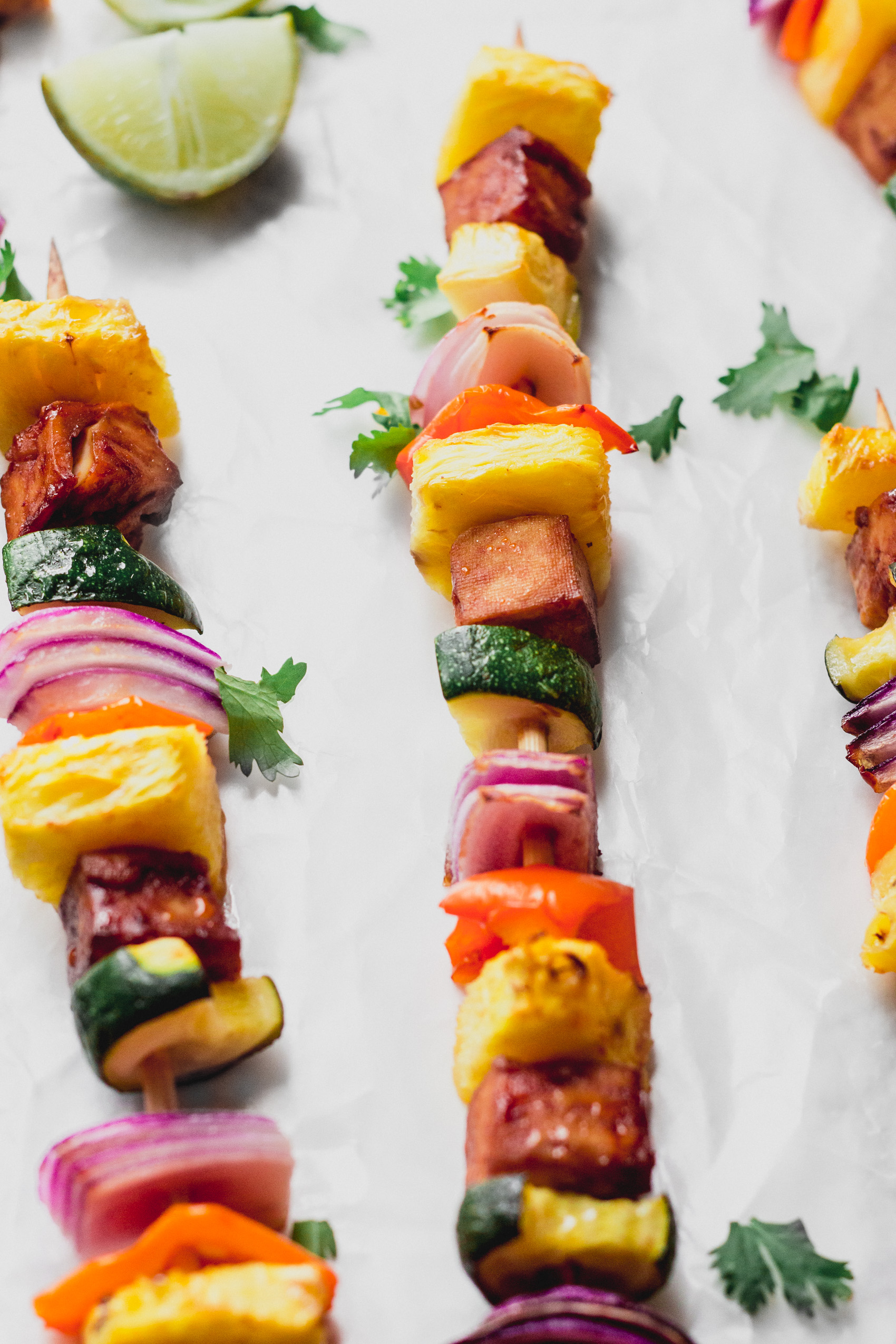 How to Build the Perfect Vegetable Skewers
We all know summer brings the BEST food: watermelon, zucchini, berries, corn, pineapple, giant pasta salads, and grilled vegan burgers. Sorry, winter food just can't compete. So let's just layer all the summer vegetables and some BBQ tofu onto skewers, shall we?
Vegetable skewers are pretty simple to make and easy to customize, so they're the perfect thing to make when you have a bunch of summer produce you need to use up! Here are a few tips to make sure your bbq vegetable kebabs come out perfectly!
Mix up your textures. You'll want to pick elements that hit on three different textures: juicy, crunchy and meaty. I went with pineapple for juicy, onions and peppers for crunchy and tofu and zucchini for meaty. Tomatoes are another perfect saucy addition and mushrooms can deliver a ton of meatiness.
How to keep the veggies from spinning around the skewer. We all know the must irritating part about making vegetable kebabs is when the veggies start spinning around on the skewer when you go to flip them. The key is knowing which skewer to choose. A skewer with more of a flat shape vs. a round shape will help prevent spinning. You can also double up on the skewers!
Use plenty of olive oil. After you layer all the vegetables onto the skewers, brush everything with Pompeian Organic Extra Virgin Olive Oil to get the vegetables extra crispy and add some healthy fats. This is also going to keep your vegetables from sticking to the grill. Plus, adding a source of will help with absorption of all the fat-soluble vitamins in your colorful vegetables!

How to Make Homemade Vegan BBQ Sauce
Here's where we get fancy with it – we're going to make our own vegan bbq sauce for our vegetable kebabs! Don't let that scare you, it's super simple and so delicious. This vegan barbecue sauce recipe only requires a few ingredients, most of which are pantry staples!
Tomato paste. This will be the base of our vegan bbq sauce.
Pompeian Organic Apple Cider Vinegar. For that tangy flavor you know and love!
Blackstrap molasses. Molasses will add sweetness, depth and a more complex flavor to the bbq sauce.
Applesauce. Yup, you read that right! This is my secret to a delicious, slightly sweet  vegan bbq sauce.
Garlic and onion powders. These add a bit of umami flavor to the sauce.
Mustard. This works with the apple cider vinegar to add a bit more punch to our vegan bbq sauce.
Salt and black pepper. Duh!
Paprika. Regular paprika is great, but you could also use smoked paprika for a bit of that smoky flavor, especially if you're not planning on grilling your vegetable kebabs.
Cayenne. Scale it up or down depending on how spicy you like your sauce!
To make the sauce, you'll simply whisk all your ingredients together over medium-high heat and bring it to a bubble. As soon as the mixture starts to bubble, you'll cover it and turn the heat to low. Let it simmer for 10-15 minutes, and boom, you've got homemade vegan bbq sauce.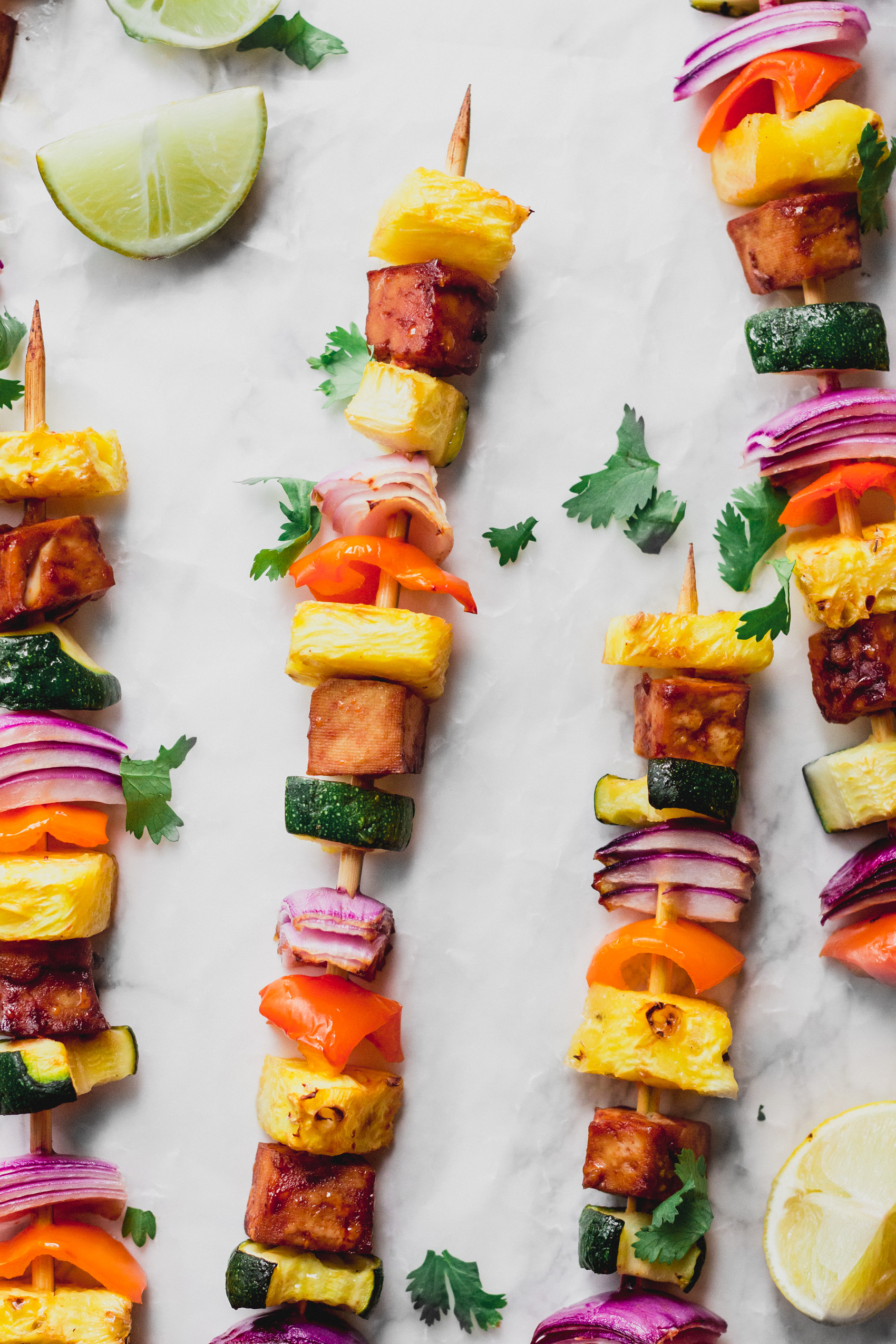 How to Make BBQ Tofu
After you make your sauce, you're ready to prep your bbq tofu. The bbq tofu not only adds protein to our vegetable kebabs to round out the meal, but it adds a delicious and satisfying smoky sweetness to these vegetable kebabs that you'll love.
The most important step is to make sure you drain and press your tofu first. I know it feels like a pain to take the extra time to press your tofu, but I assure you it's worth it! Tofu is porous like a sponge, meaning it soaks up whatever liquid it's soaked in, which makes it the perfect protein for marinading. However just like a sponge, if your tofu is already saturated with the brine it's packaged in it can't soak up any of that delicious bbq sauce you just made, which means you're left with bland vegetable kebabs.
To press your tofu, drain the liquid and wrap it in paper towels or a clean dish cloth and place it on a cutting board or on a plate. Then weigh it down with something heavy like a cast iron skillet and leave it alone for at least 10-15 minutes – exactly the amount of time it'll take you to make your vegan bbq sauce!
Once your tofu is pressed, cut it into 1-inch pieces, place it in a bowl and cover it with that glorious vegan bbq sauce. Stir it up to make sure it's all coated and let it marinate for 10 minutes.
After your tofu has marinaded, arrange it on a sheet pan and bake for 20 minutes. I recommend pre-baking your tofu to ensure it's cooked by the time you add it to your vegetable kebabs. Then when you go to cook the vegetable skewers, the tofu with finish and get nice and crispy.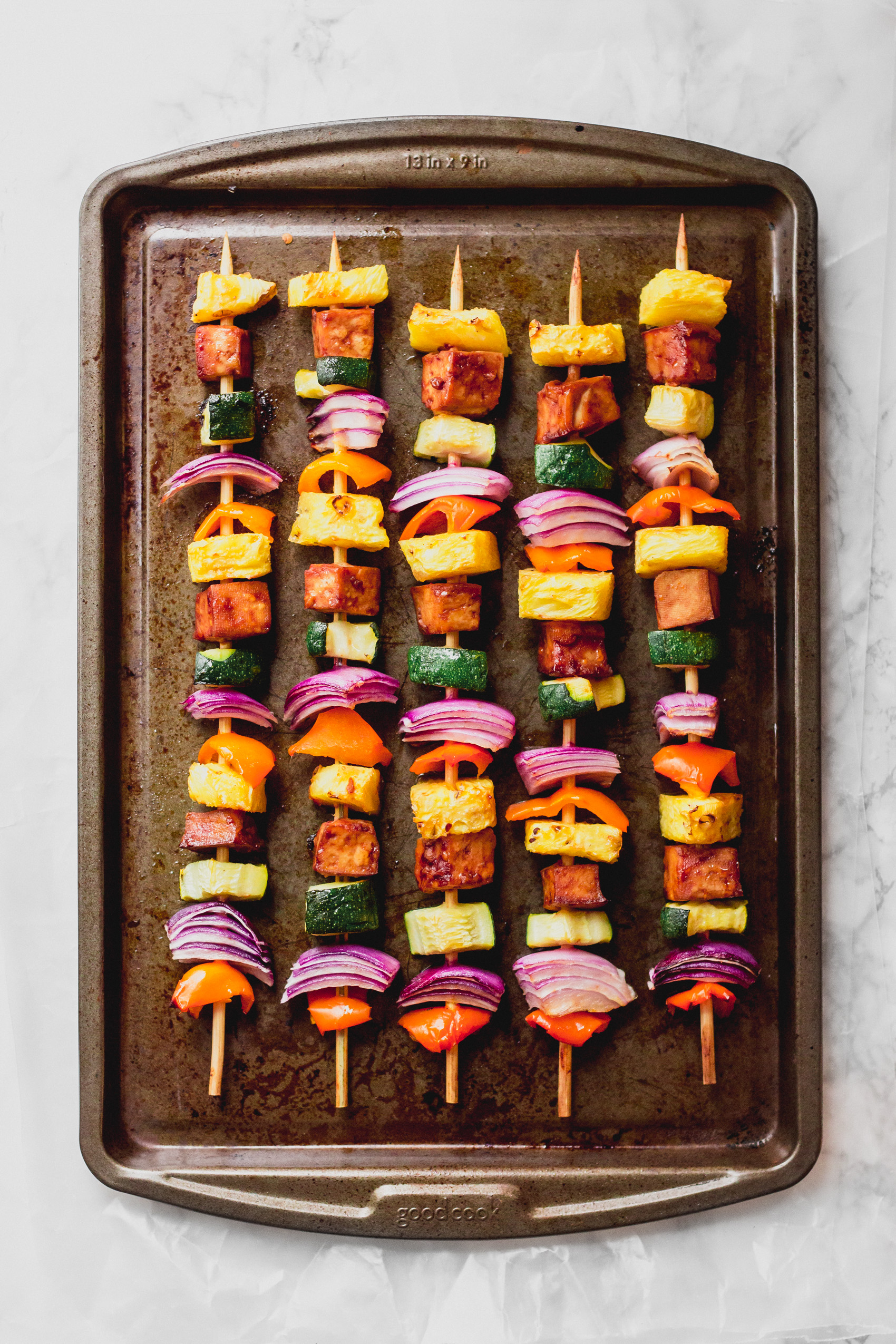 How to Cook Vegetable Kebabs: On the Grill or In the Oven
If you have an outdoor grill, go ahead and fire it up! You'll want the heat to come up to about 400-450ºF. Let your vegetable kebabs grill for about 5 minutes on one side until you start to see some charring action on the vegetables and the bbq tofu. Then flip cook for another 5 minutes. Keep flipping in 5 minute intervals until all sides are charred to your liking! It should take about 15-20 minutes.
I know not everyone has a grill or a grill pan to use on your stove top, so you can totally still make these at home in the oven! Simply preheat your oven to 350ºF and bake your vegetable kebabs for 15-20 minutes until you start to see the vegetables and bbq tofu browning. If you love that smoky flavor a grill provides, you could add a bit of liquid smoke or use smoked paprika in your bbq sauce.
What to Eat with BBQ Tofu Skewers
These bbq tofu skewers are going to be your new go-to for a delicious dinner on a summer weeknight. They pair perfectly with plenty of summer time staples! Cornbread, pasta salad and potato salad are all great sides to complement these vegetable kabobs. These skewers pack in plenty of plant-based protein thanks to the tofu, and a good serving of veggies, so pair them with a source of complex carbohydrates like quinoa, pasta or potatoes and you've got yourself a well-balanced, summery meal!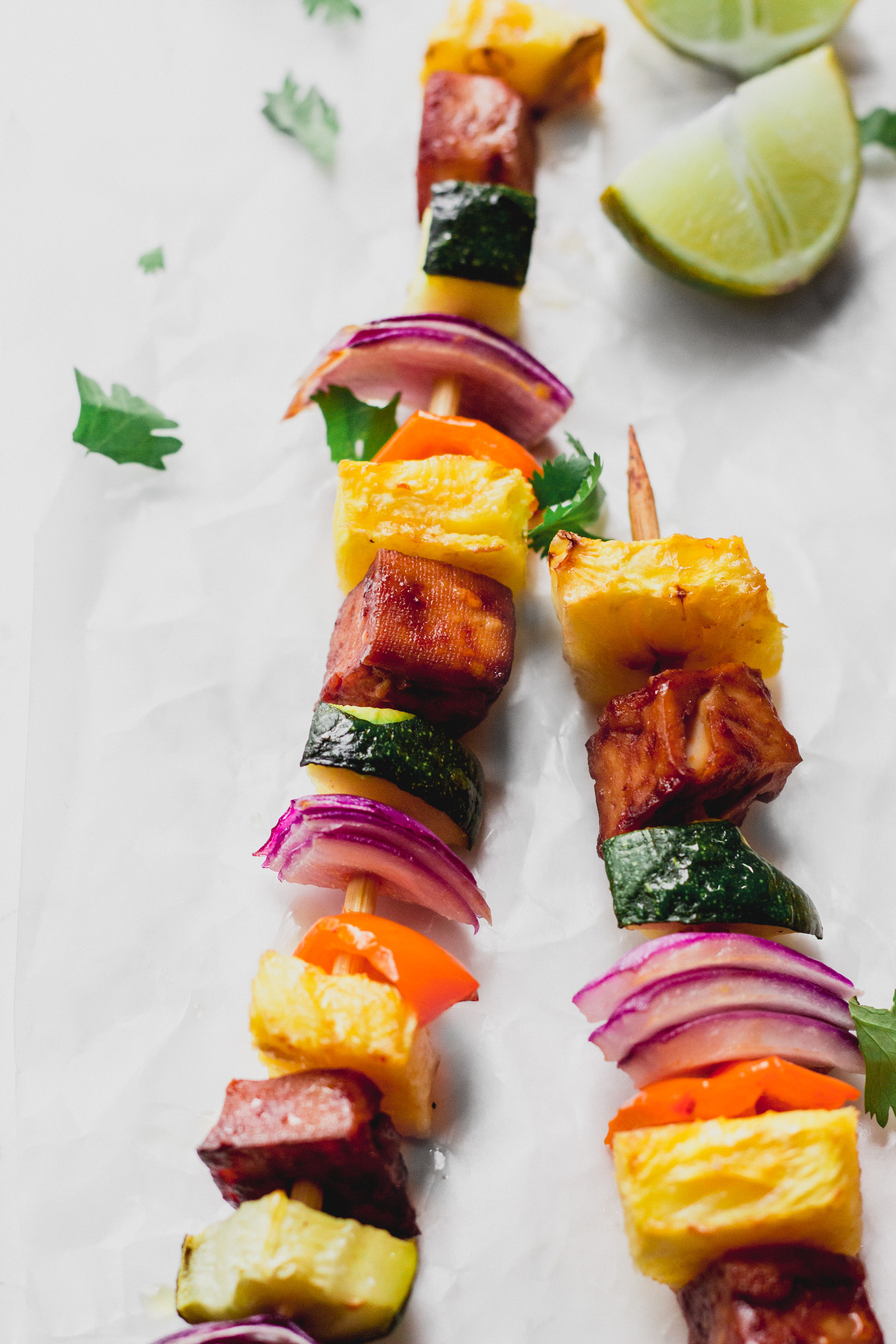 More Vegan BBQ Recipes
There is nothing better than eating outdoors in the sunshine, so bonus points to anyone eating these BBQ tofu vegetable kebabs while hanging out at the pool with your friends and drinking a fresh margarita! Get your al fresco on and check out the links below for more vegan bbq recipes:
Print
How to make:
Vegetable BBQ Tofu Kebabs
Meet your new favorite vegetable skewers! These BBQ Tofu Kebabs can be made on the grill or in the oven! Juicy pineapple adds a tangy twist.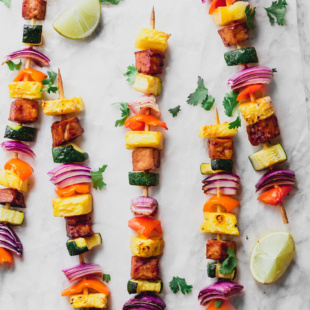 Ingredients
For the BBQ tofu:
1

6-ounce can tomato paste

1 cup

water

3 tablespoons

Pompeian Organic Apple Cider Vinegar

2 tablespoons

blackstrap molasses

2 tablespoons

applesauce

1 1/2 teaspoons

garlic powder

1 1/2 teaspoons

onion powder

1 teaspoon

mustard

1 teaspoon

salt

1/2 teaspoon

black pepper

1/2 teaspoon

paprika

Dash of ground cayenne

1

14-ounce package extra firm tofu, pressed for

15

minutes*
For the kebabs:
1

red onion

1

zucchini

1

bell pepper

1

pineapple

Skewers

3

–

4

tablespoons Pompeian Organic Extra Virgin Olive Oil
Instructions
Make your homemade barbecue sauce. In a small saucepan over medium-high heat, place tomato paste, water, Pompeian Organic Apple Cider Vinegar, molasses, applesauce, garlic powder, onion powder, mustard, salt, pepper, paprika, and cayenne. Whisk to combine. When it begins to bubble, cover (this is important). Turn the heat down to low and let the sauce simmer for 10-15 minutes, stirring once or twice. Add more water if the sauce gets too thick.
Preheat oven to 350ºF.
Cut the tofu into 1-inch pieces. Place in a large bowl. Pour the BBQ sauce over the tofu (you may not need all of it). Stir to evenly coat the tofu; let it sit for 5-10 minutes.
Arrange the tofu on a greased baking sheet. Bake for 20 minutes.
Meanwhile, chop the red onion, zucchini, bell pepper and pineapple into 1-inch chunks. Place each ingredient in a separate bowl.
When the tofu is done, arrange the kebabs. Layer the tofu and vegetables onto the skewers until all ingredients are used up.
To bake, place the kebabs on the baking sheet; brush or drizzle with Pompeian Organic Extra Virgin Olive Oil. Bake for 15-20 minutes, until the vegetables are slightly charred. To grill, preheat your grill to 400-450ºF, arrange the skewers on the grill and cook for 15-20 minutes, flipping every 5 minutes, turning the skewers 3-4 times.
Serve with extra BBQ sauce for dipping.  
Notes
*Use a tofu press, or wrap the tofu in paper towels and place in the sink with a heavy object on top.
---
Thanks to Pompeian for sponsoring this post! I love working with brands whose products I really love and would honestly recommend. Thank you for supporting this blog that I love oh-so-much!