Dig into this Vegan Peach Blueberry Cobbler & enjoy every sweet, delicious bite! A piece of this gooey, fruity, comforting gluten-free cobbler is perfect with a scoop of vegan ice cream.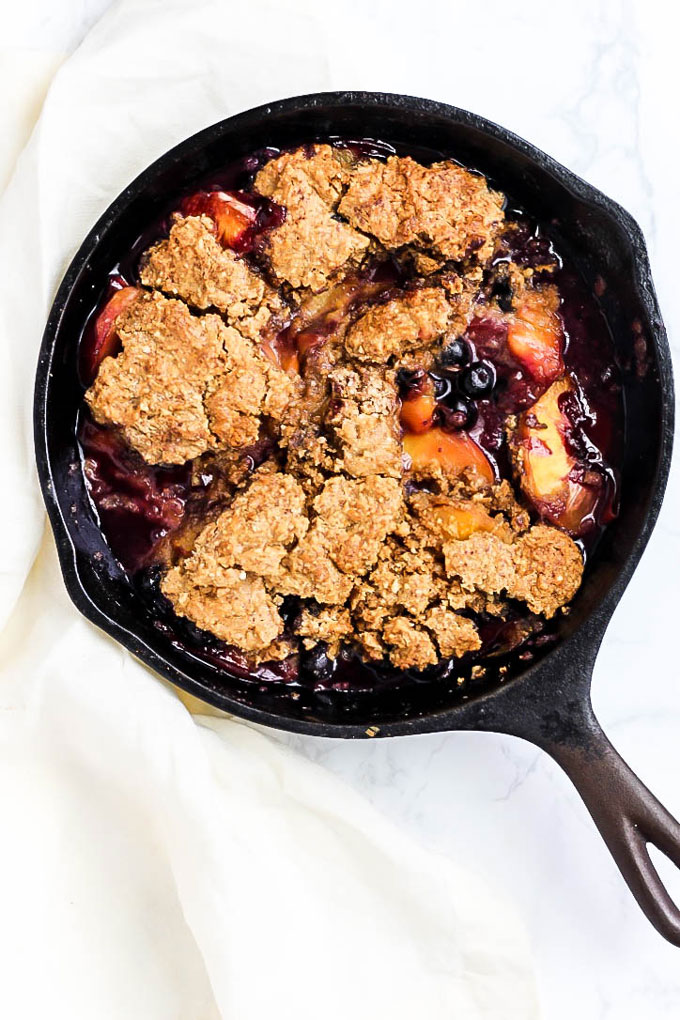 Hey there friends! How's your summer going? Can we please talk about how we have 2 days left in June?! WHAT. Where the heck did the time go… It seems like yesterday that I was counting down the days until I visited Chicago on June 1, and now it's almost been a month past my trip.
Summer, please never leave. Sunshine/lazy mornings/cuddle time with kitty/walks in the afternoon >>>> school.
I guess I'll just figure out a way to make the days go by slower and enjoy every single second of this glorious season we call summer. ☀️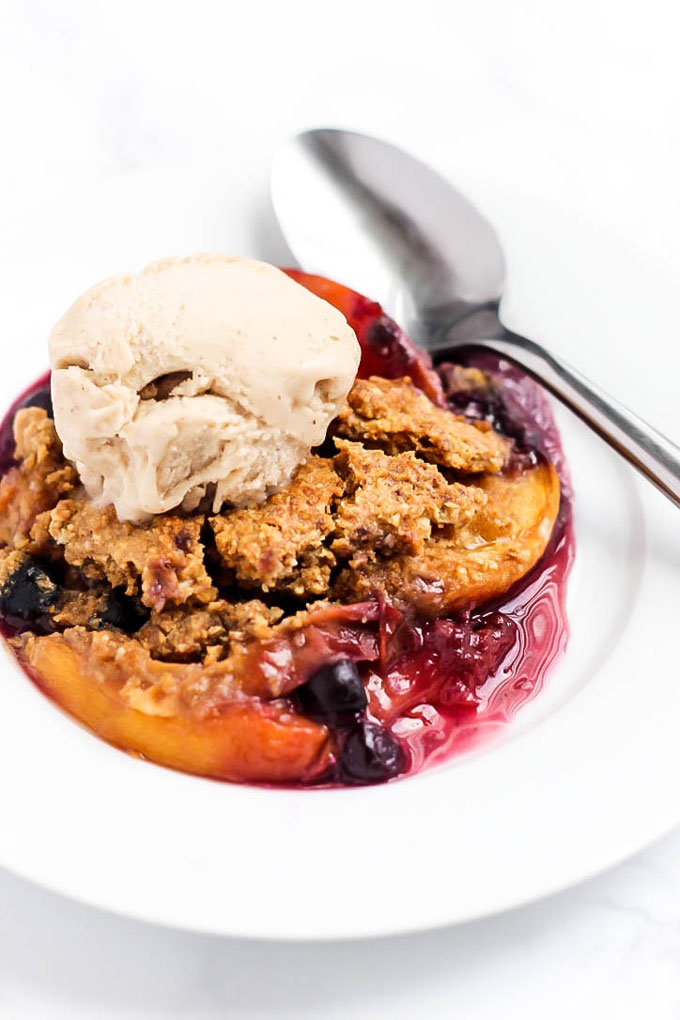 One of my absolute favorite parts of summer is getting up early on Saturday mornings to head to our farmer's market. The market is year-round, but to me, it's best in the summer because 1. you don't have a care in the world & you're just overall happier with life, and 2. summer produce is bae. I seriously cannot get over how fresh our local zucchini, blueberries, watermelon, squash, and greens are. Gimme all the fruits and veggies, thx very much.
I've been thinking up what I could make as my basic blogger 4th of July recipe, and both Cayden and my mom immediately said cobbler. Cayden said a peach blueberry combo would be delicious, which was perfect because I've been dreaming of putting those two in a recipe together. 👯
Lucky for us, Louisiana has some of the freshest blueberries and peaches in the summer, so when we spotted them at the farmer's market, we literally ran to get some and high-fived each other. (#relationshipgoals??? idk)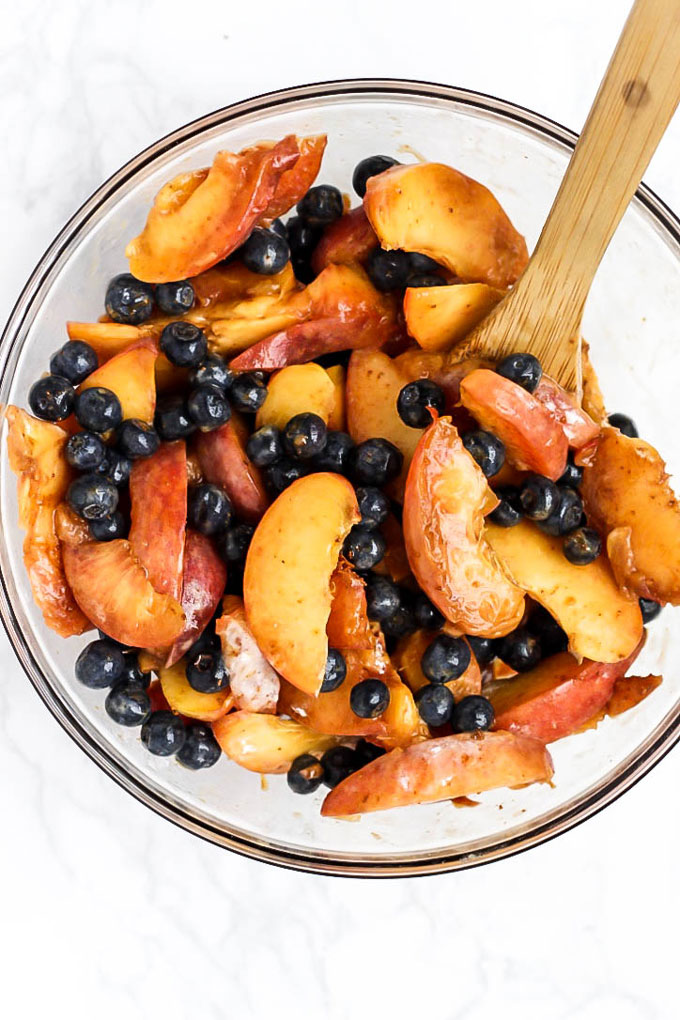 Truth be told, I don't think I've ever had cobbler. I actually had to ask my mom what a cobbler was before I started to make this recipe. Is it just a fruit crisp? A cake?? But what is it?! From my extensive research (shout out to Google) and personal anecdotes, I figured out that cobbler is basically warm, bubbling fruit topped with something which is a cross between a cake and a biscuit.
Okay, I can dig it. It's cobbler time.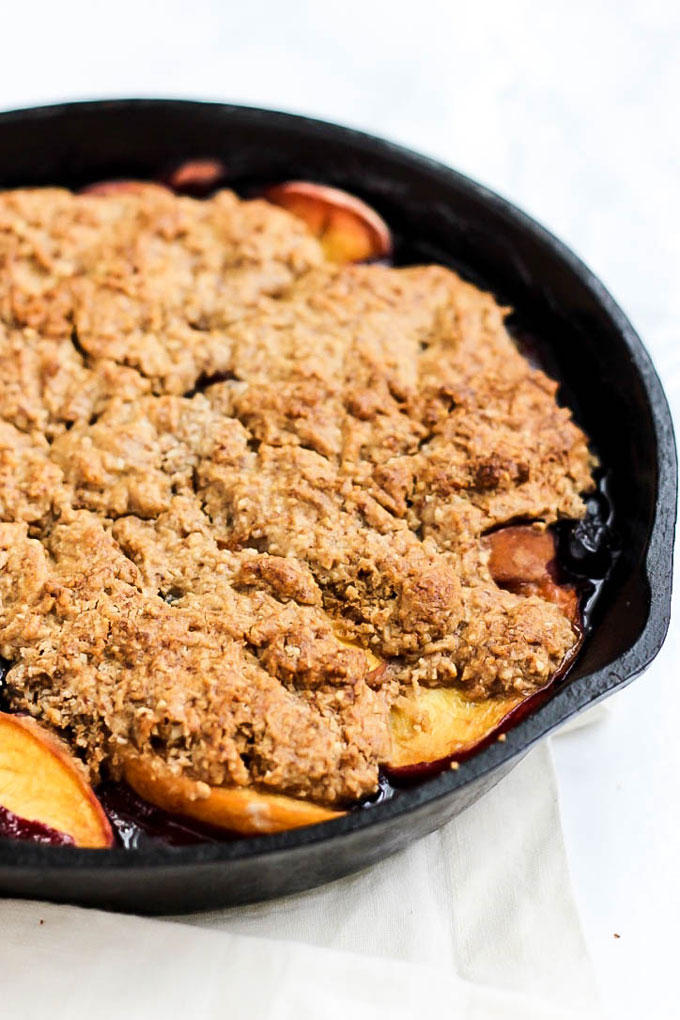 Luckily I had Cayden, expert connoisseur of all unhealthy comfort foods, to help me taste test. He was definitely reluctant to take the job offer but sacrificed his tastebuds for the success of this cobbler. Obviously kidding – he loves recipe testing days. Who wouldn't?
He managed to eat 3 servings of this (with ice cream) in one day, so I'd say that's a tell-tale sign of a recipe being A+. Jeez, where do guys put it all? I mean, don't get me wrong, I could definitely get 3 servings of this down, but I don't think you would see me for a week because I'd be in such a food coma.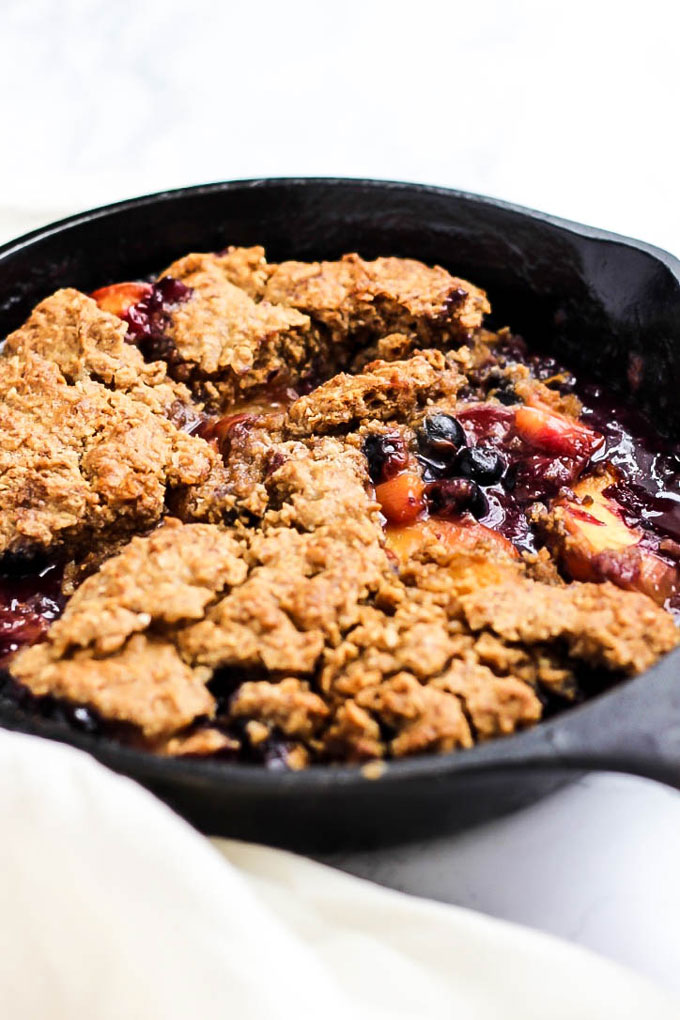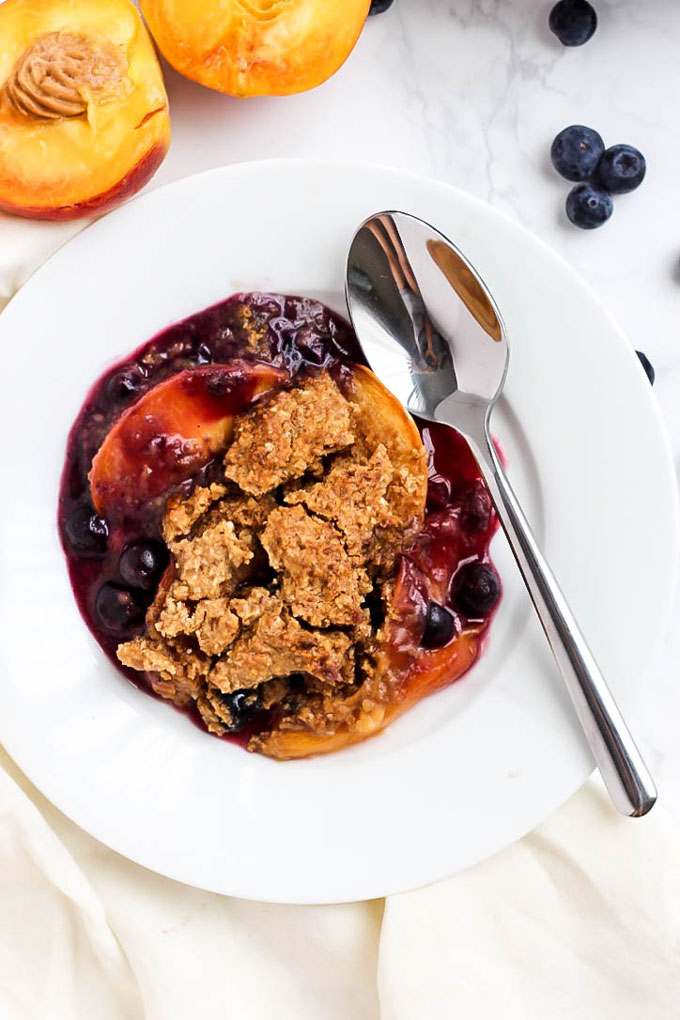 I used a cast-iron pan, but you can also use a glass casserole dish for this as well. If you're going for presentation points, I'd definitely recommend the cast-iron!
The fruit is tossed in a little tapioca starch and coconut sugar then topped with the topping (is there a word for this??) that we're keeping gluten-free. Yay! As a matter of fact, you might already have all of these simple ingredients – almond flour, oat flour, coconut oil, almond milk & some extra staples. Which means you can have cobbler TODAY. Yes, life is good.
Of course, there's one extra ingredient that is optional but highly recommended: ice cream. The vegan kind, of course. We used a simple vanilla almond milk ice cream, but go crazy with any flavor you like. Just do it.
[Tweet "Need a 4th of July dessert? This vegan & gluten-free peach blueberry cobbler is a showstopper."]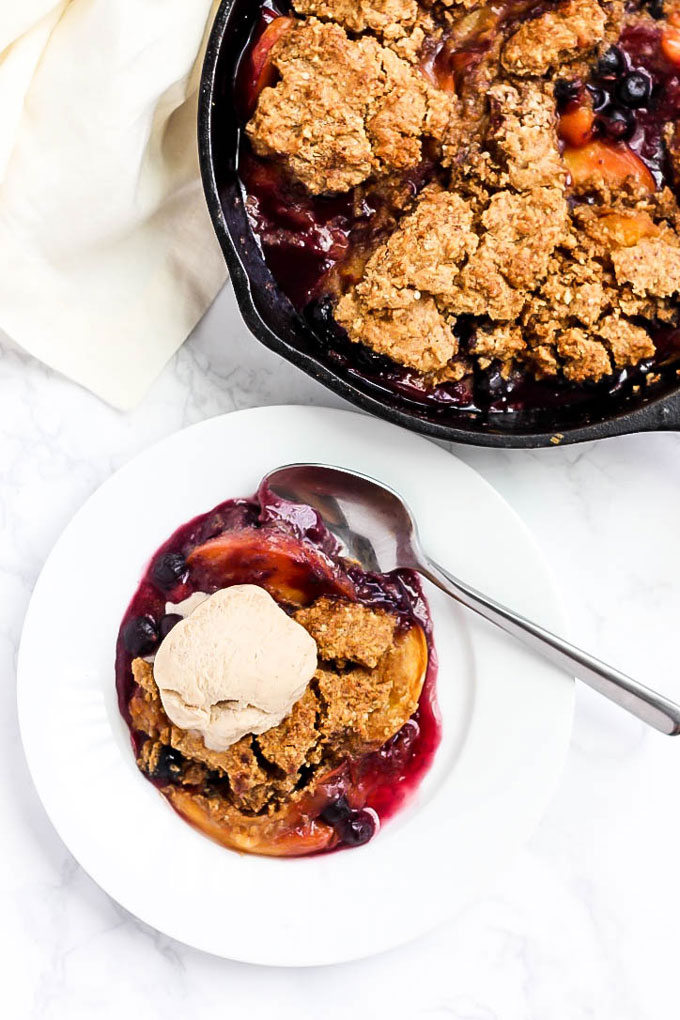 I would add this to your 4th of July menu like, yesterday. It's a classic dessert that might even bring back memories for you and your guests. I can already picture you sitting around an outdoor table with your loved ones laughing and digging into cobbler. You can make it happen, my friend.
I'd love to know how this vegan peach blueberry cobbler works out for you! Take a pic and post it on Instagram with #emilieeats, and leave a comment below! I can't wait until you guys try this – with ice cream, of course.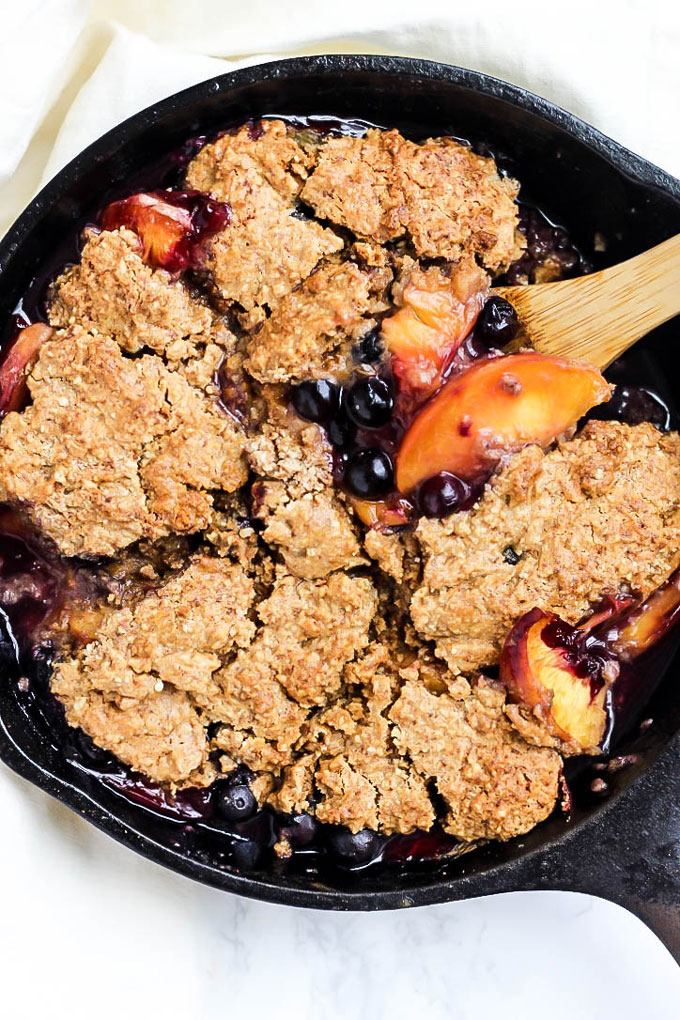 Print
How to make:
Vegan Peach Blueberry Cobbler (gluten-free)
Dig into this Vegan Peach Blueberry Cobbler & enjoy every sweet, delicious bite! A piece of this gluten-free cobbler is perfect with a scoop of ice cream.

Ingredients
2 cups

blueberries

4

–

5

peaches, thinly sliced (about

4 cups

)

2 tablespoons

tapioca starch, divided

1/4 cup

+

2 tablespoons

coconut sugar, divided

1/2 cup

almond flour/meal

1/2 cup

oat flour (ground-up rolled oats, measured after making into flour)

1 1/2 teaspoons

baking powder

1/4 teaspoon

salt

2 tablespoons

coconut oil, melted

2 tablespoons

almond milk

2 teaspoons

vanilla extract
Instructions
Preheat oven to 350°F.
In a large bowl, add blueberries and peaches. Add 1 tablespoon tapioca starch and 2 tablespoons coconut sugar; toss until the fruit is evenly coated. Place in a cast-iron pan or glass baking dish.
In a medium bowl, add almond flour, oat flour, 1 tablespoon tapioca starch, baking powder, and salt. Stir to combine.
In a small bowl, add coconut oil, almond milk, vanilla extract, and 1/4 cup coconut sugar. Whisk to combine. Slowly pour into the flour mixture; stir until a soft dough forms.
Drop the dough by spoonfuls evenly across the top of the fruit. Bake for 35-40 minutes, until the top is golden brown and crispy on the edges.
Serve with a scoop of vegan ice cream!