Dig into this Peach Blueberry Cobbler & enjoy every single bite! This vegan peach cobbler gets an upgrade with juicy blueberries dotted throughout, plus it's gluten-free! Serve it with a scoop of ice cream and make your summer dessert dreams come true.
Vegan Peach Blueberry Cobbler
Hey there friends! How's the start of your summer going? Can we please talk about how good it feels to have sunshine back in our lives?! We're only at the beginning of the season but I already and begging for Summer to stay forever. Sunshine/lazy mornings/cuddle time with kitty/walks in the afternoon >>>> anything else.
I guess I'll just figure out a way to make the days go by slower and enjoy every single second of this glorious season we call summer. ☀️
Oh wait, I know how! Enter Peach Blueberry Cobbler 🙂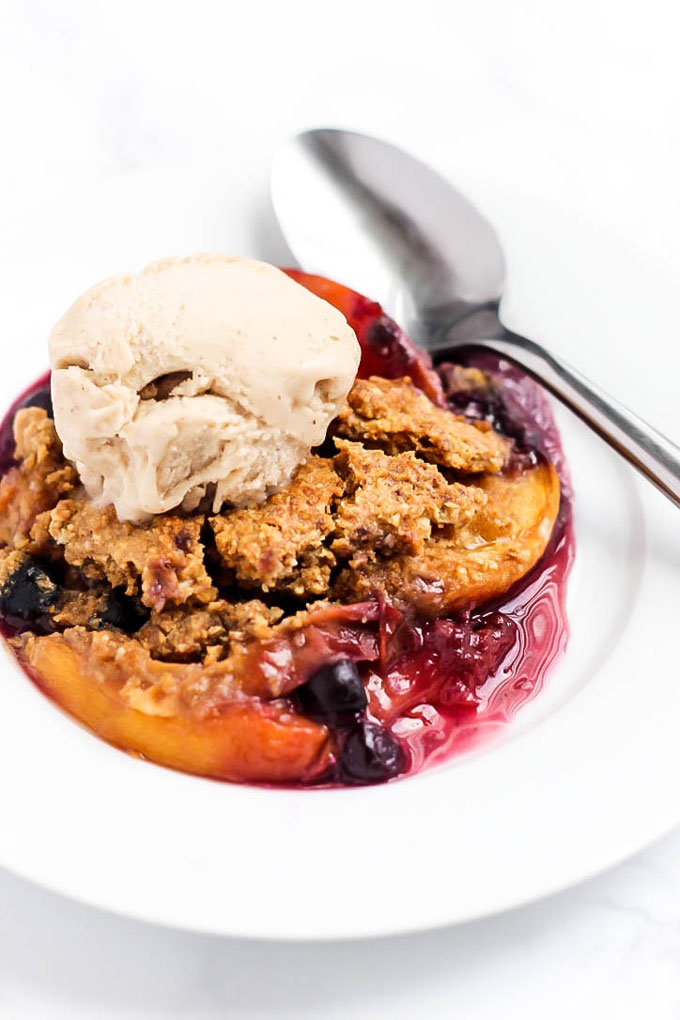 What is Cobbler?
Truth be told, I don't think I've ever had cobbler. I actually had to ask my mom what a cobbler was before I started to make this peach blueberry cobbler recipe. Is it just a fruit crisp? A cake?? But what is it?! From my extensive research (shout out to Google) and personal anecdotes, I figured out that cobbler is basically warm, bubbling fruit topped with something which is a cross between a cake and a biscuit. And spoiler alert – it's freakin' delicious.
I would add this to your 4th of July menu like, yesterday. It's a classic summer dessert that might even bring back memories for you and your guests. I can already picture you sitting around an outdoor table with your loved ones laughing and digging into this peach blueberry cobbler. Oh, and of course you relishing in the surprise on their faces when you tell them it's a vegan peach blueberry cobbler. You can make it happen, my friend.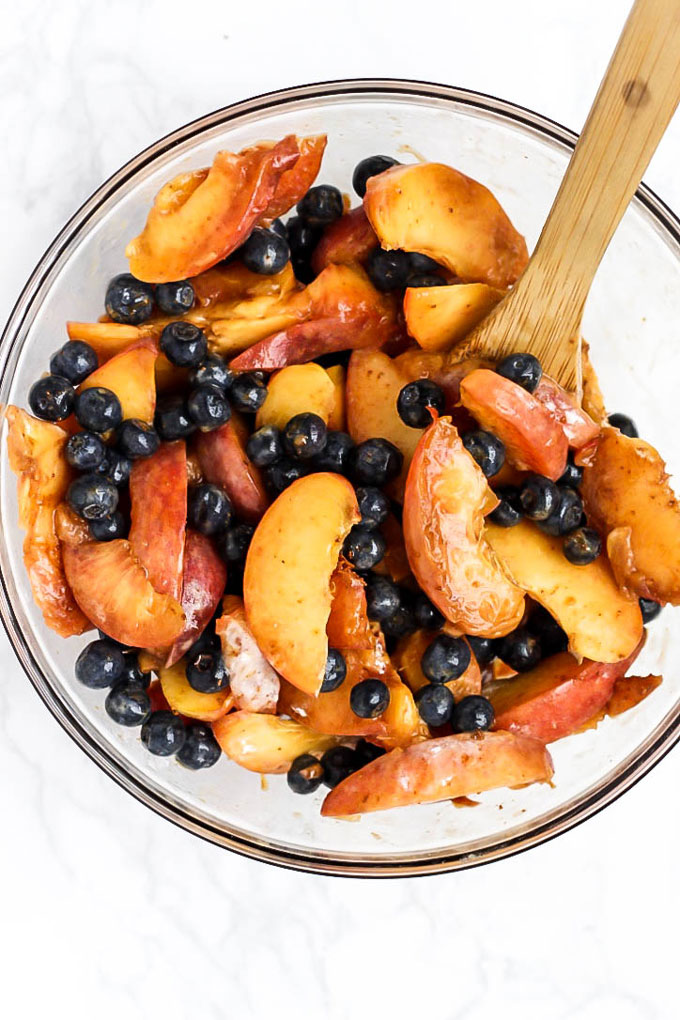 Ingredients for Vegan Peach Blueberry Cobbler
One of my favorite parts of summer is getting up early on Saturday mornings to head to our farmer's market. Summer produce is bae, and there's nothing better than strolling through the market to look at all the gorgeous produce. I knew I wanted to make a vegan peach cobbler, but when I saw the juiciest blueberries at the market, I was like "yup, that's going in, so I guess it's a peach blueberry cobbler now."
Here's everything you'll need to make your cobbler dreams come true:
Blueberries and peaches. You'll need two cups of blueberries and four or five peaches. If the fresh fruit isn't looking it's best at your market, frozen can totally work.
Tapioca starch. We're using this in our vegan biscuit topping and in the filling. Cornstarch would also work.
Coconut sugar. I love the toasty flavor of coconut sugar, but you could also use granulated sugar.
Almond flour. This adds the most delicious, nutty flavor to the topping of our peach blueberry cobbler.
Oat flour. If you don't have oat flour, you can make your own by grinding oats in a food processor or blender!
Baking powder. We want a fluffy topping for our peach blueberry cobbler, and baking powder is the one for the job.
Salt. It belongs in every baked recipe to balance out the sweetness!
Coconut oil. This is our replacement for butter.
Almond milk. Or feel free to choose any other plant-based milk you enjoy.
Vanilla extract. I can't name a single baked good that isn't made better by vanilla extract.
Of course, there's one extra ingredient that is optional but highly recommended: ice cream. The vegan kind, of course. I used a simple vanilla almond milk ice cream, but go crazy with any flavor you like. Just do it.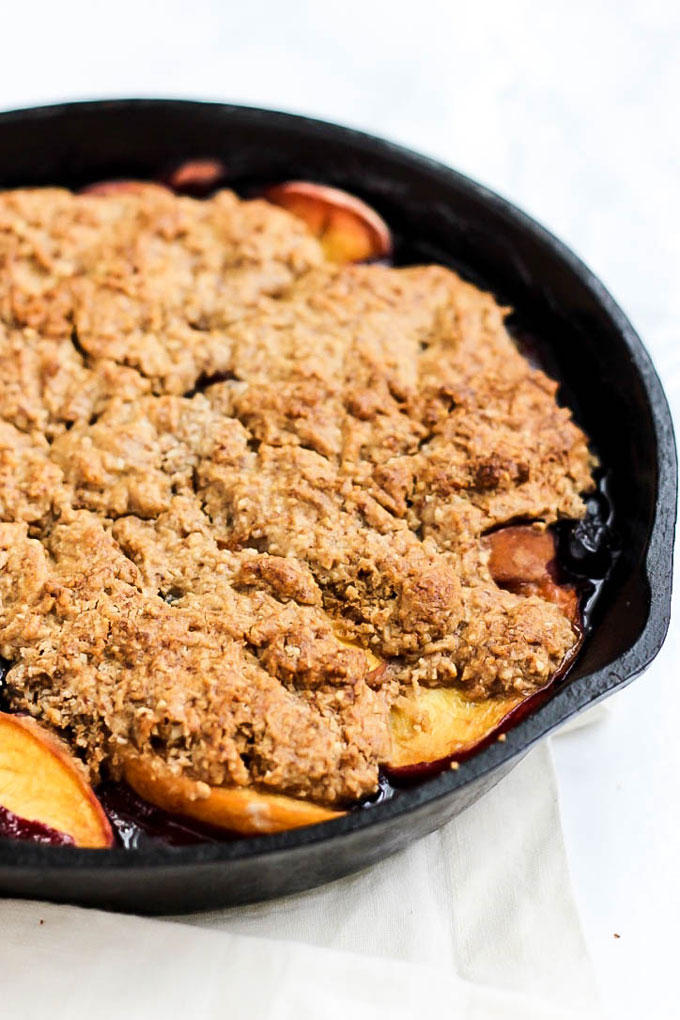 How to Make the Vegan Gluten-Free Cobbler Topping
Yeah you read that right. Not only is this delicious peach blueberry cobbler vegan, but it's also gluten-free thanks to a few simple ingredient swaps!
We're using a blend of almond and oat flours to make the topping for our vegan peach blueberry cobbler. The two flours work together to create a delicious flavor and the perfect texture.
To start, you'll combine the flours, 1 tablespoon of your tapioca starch, the baking powder and salt. Then, separately you'll mix together the coconut oil, almond milk, vanilla extract and 1/4 cup of coconut sugar. Once you have your mixed wet and dry ingredients, you'll slowly add the wet ingredients to the bowl with the dry ingredients and mix until a soft dough forms.
It's that simple! No kneading, no rest time. Now let's make the peach blueberry filling!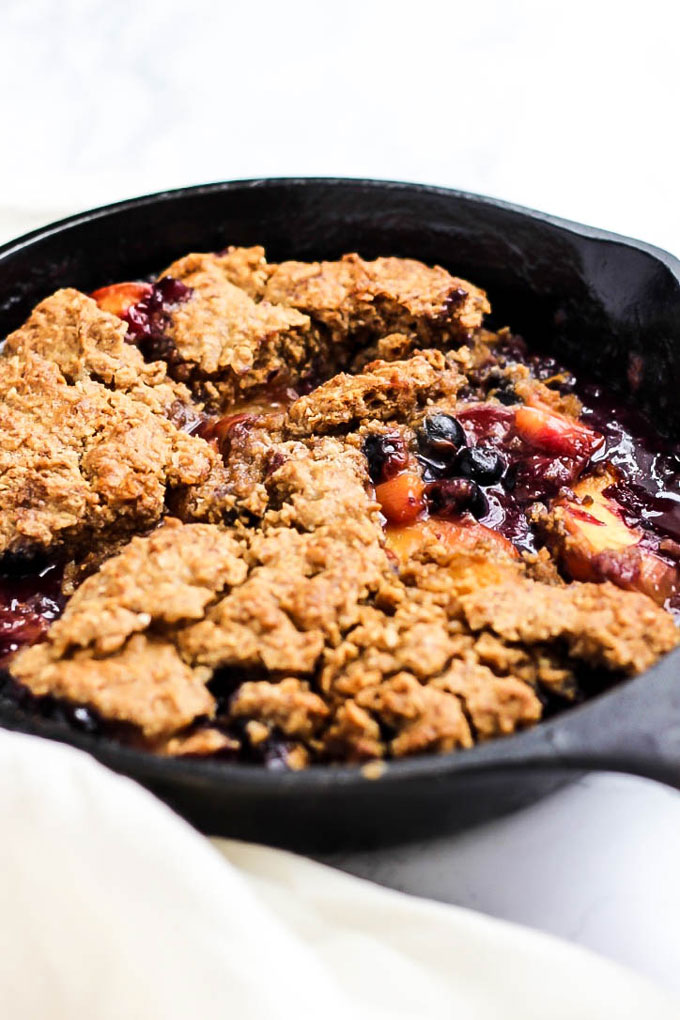 How to Make the Peach Blueberry Filling for Vegan Cobbler
You thought the topping was easy? Just wait until we make the filling! It doesn't get simpler than this peach blueberry cobbler my friends.
First you'll want to slice your peaches if you're using fresh. You'll need about 4-5 peaches to get the 4 cups that we're looking for. Then add 2 cups of blueberries and your peaches to a bowl. Simply toss the fruit in a little tapioca starch and coconut sugar and let it rest. The fruit will macerate in the sugar and the starch will help create the thick, sweet syrupy goodness we're looking for in our peach blueberry cobbler.
Once your fruit is all mixed and starting to release its juices, pour it into your baking dish. I used a cast-iron pan, but you can also use a glass casserole dish for this as well. If you're going for presentation points, I'd definitely recommend the cast-iron!
Then you'll scatter spoonfuls of your vegan biscuit topping on top of your fruit filling and pop it into a 350 degree oven for 35-40 minutes. Done!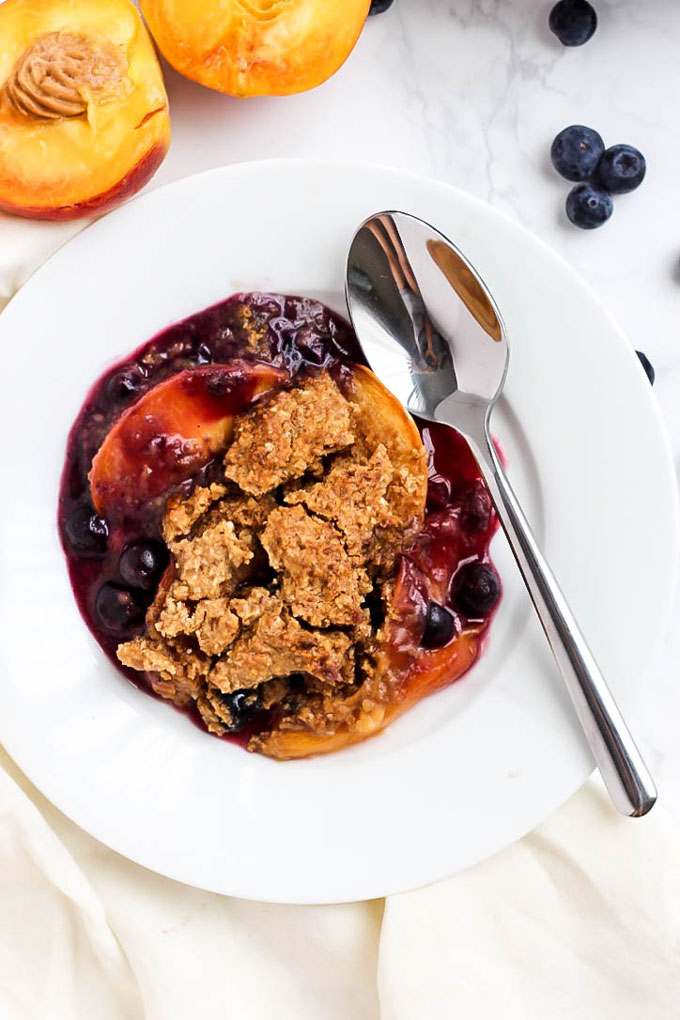 Customize your Vegan Cobbler
So many baking recipes require precision where even a tiny bit of experimenting could lead to a flat cake, burnt cookies, or dense muffins. But this cobbler recipe is super flexible and easy to play with. Here are a few ideas for how to get creative!
Switch up your fruit. I love the peach blueberry combo in this cobbler recipe, but most fruits will work. Peaches are bruised at the store? Leave them out and just use blueberries! Don't like blueberries? Use strawberries! Finding this recipe as summer is ending? Grab some apples! You catch my drift – there are so many possibilities!
Get zesty. Okay who else is here for a lemon blueberry moment? Add a little lemon juice and zest to your fruit filling (from about half a lemon). It will add a bright, sunshiney flavor to the filling that will really take it to the next level.
Play with texture. This peach blueberry cobbler already has a lot going for it. It's juicy, fluffy and crumbly all at the same time. If you like a good crunch, try topping your biscuit layer with a sprinkle of sugar to make the top extra golden brown and crunchy. Vanilla ice cream or vegan whipped cream will add that creamy melty goodness we all know and love.
Use frozen fruit. Let's be real – Sometimes using a whole bunch of fruit can be expensive. Or sometimes it's the dead of winter and we want a little taste of summer, but peaches are no where in site at the grocery store. I'm here to let you know right now that you can still enjoy this delicious fruit cobbler! Frozen fruit will still totally work in this recipe. Just let it thaw slightly before making your filling and you're good to go.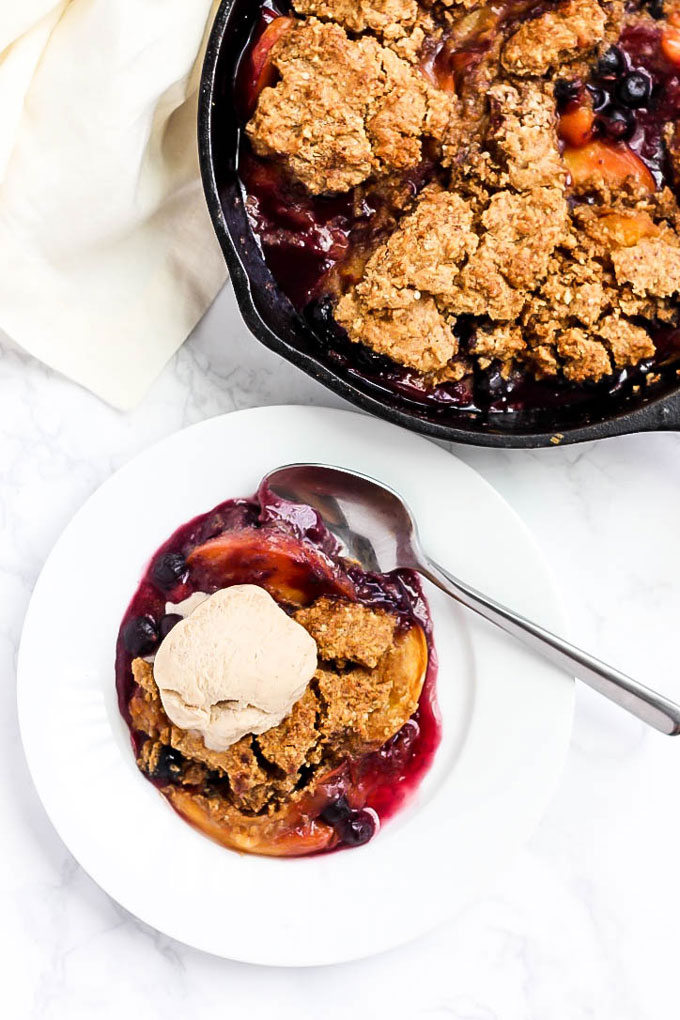 More Summer Dessert Recipes
I love a good fruit-filled dessert or cold scoop of ice cream during the summertime. For all your pool parties, grill outs, and picnics in the park, I've got you covered with plenty of vegan desserts perfect for summer!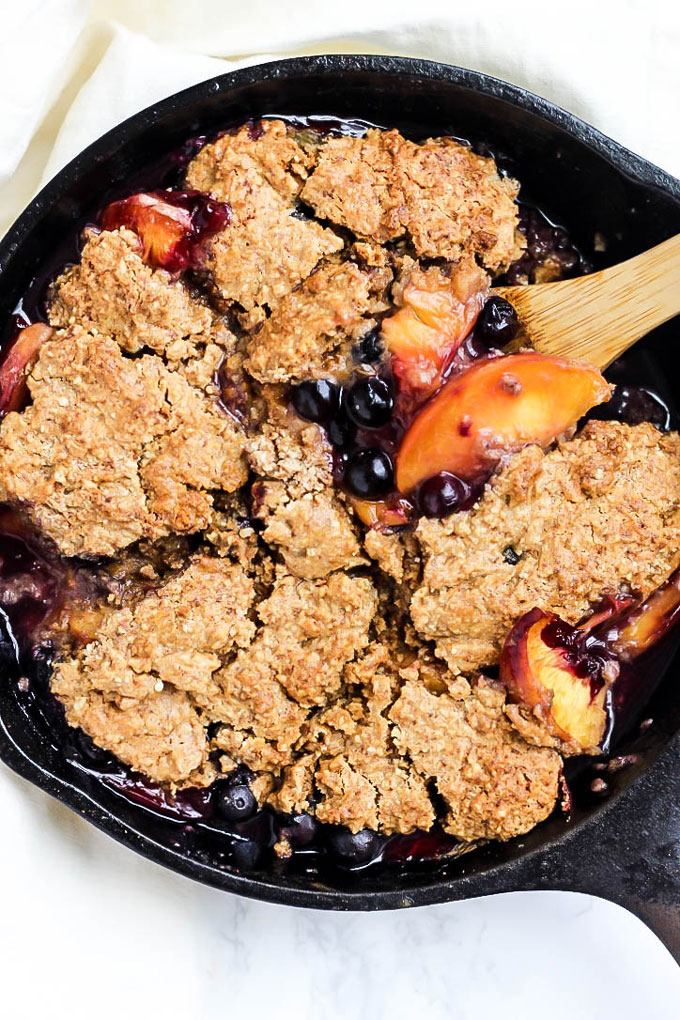 Print
How to make:
Vegan Peach Blueberry Cobbler
Dig into this Peach Blueberry Cobbler & enjoy every bite! This vegan peach cobbler is upgraded with juicy blueberries, plus it's gluten-free!
Ingredients
2 cups

blueberries

4

–

5

peaches, thinly sliced (about

4 cups

)

2 tablespoons

tapioca starch, divided

1/4 cup

+

2 tablespoons

coconut sugar, divided

1/2 cup

almond flour/meal

1/2 cup

oat flour (ground-up rolled oats, measured after making into flour)

1 1/2 teaspoons

baking powder

1/4 teaspoon

salt

2 tablespoons

coconut oil, melted

2 tablespoons

almond milk

2 teaspoons

vanilla extract
Instructions
Preheat oven to 350°F.
In a large bowl, add blueberries and peaches. Add 1 tablespoon tapioca starch and 2 tablespoons coconut sugar; toss until the fruit is evenly coated. Place in a cast-iron pan or glass baking dish.
In a medium bowl, add almond flour, oat flour, 1 tablespoon tapioca starch, baking powder, and salt. Stir to combine.
To a small bowl, add coconut oil, almond milk, vanilla extract, and 1/4 cup coconut sugar. Whisk to combine. Slowly pour into the flour mixture; stir until a soft dough forms.
Drop the dough by spoonfuls evenly across the top of the fruit. Bake for 35-40 minutes, until the top is golden brown and crispy on the edges.
Serve with a scoop of vegan ice cream!