A smoky, savory Vegan BBQ Chickpea Wrap is the perfect lunch to pack for work or school! Stuff it with fresh vegetables for a healthy, satisfying meal.
Am I trying to hold onto warm summer nights and BBQs? Maybe. Do you blame me? I hope not. I used to hate BBQ sauce (and really any sauce/dip/spread besides ketchup), but now I love making my own and slathering it on basically everything. Vegetables, sweet potatoes, these chickpeas! Flavor flav💥
I'm sure you can already tell how delicious this BBQ chickpea wraps are, so can I share with you a little revelation I had the other day, just driving in my car listening to Pandora? Let's talk…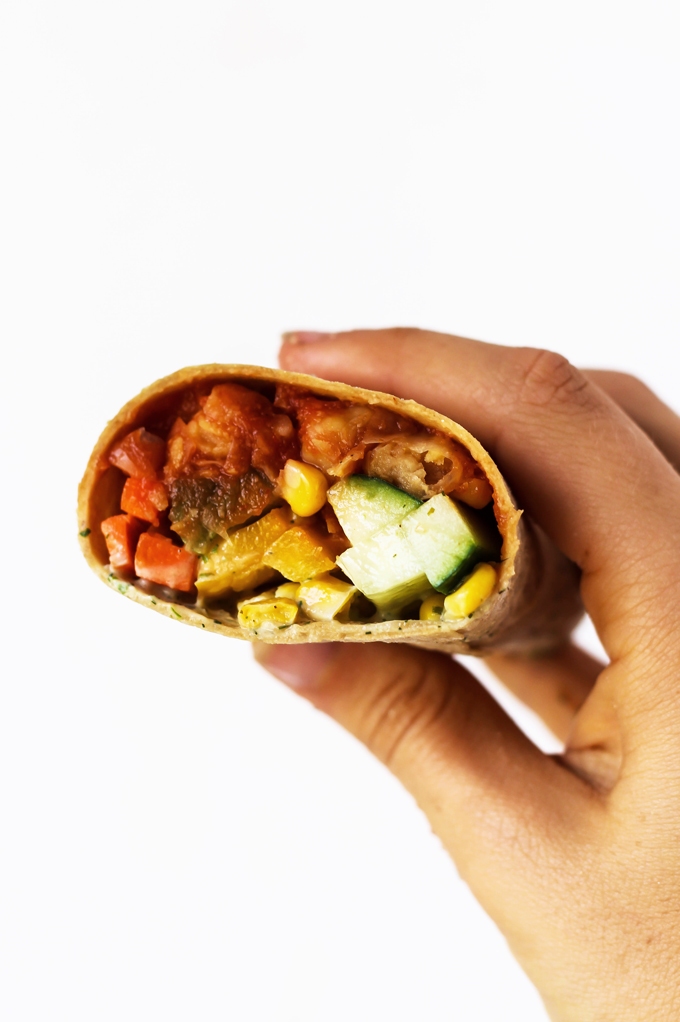 I've talked a little bit on the blog about my disordered eating tendencies and body image struggles (which I plan to go in depth about in the future), and I've really been getting introspective about it. Asking myself what's important to me, what's my purpose, how can I fix this mess I've gotten myself into?
But one of my biggest breakthroughs about all of this came randomly while I was sitting in my car the other day. I spend a lot of time in there because traffic here is RIDIC, so that's my deep-thinking-about-the-universe time. I was listening to my Bad Suns Pandora playlist as usual, then I felt like listening to a specific song. So I looked it up on YouTube, jammed, danced a little, and it was good.
Then it hit me – food is (rather, should be) the same way. You're hungry, get a craving for a certain food, eat it, and then everything is good. Then you move on and continue with your routine. So, why do we have to make it so complicated? We make it SUCH a big deal, when really it is just as simple as listening to what you want and going with it.
Obviously, learning how to listen to your body's cues takes time and patience. I definitely have not mastered it yet. But I'm trying to approach it like I approach my music choices – I listen to music that makes me feel good, and if I want to listen to a certain song, I listen. It should be the same with food.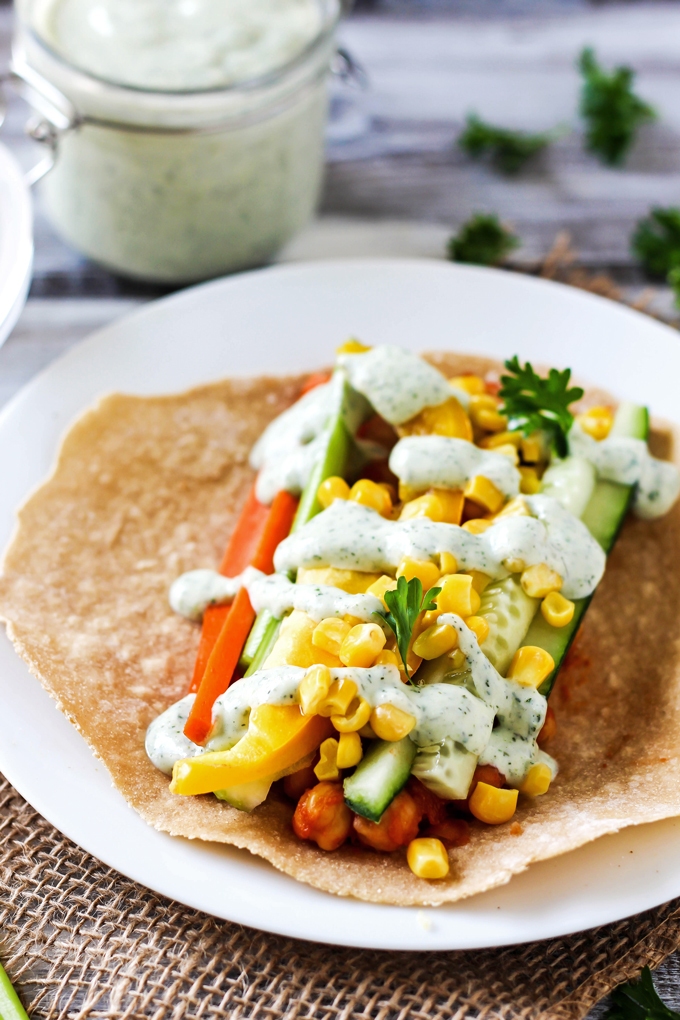 So, that means if I'm craving a big ole' wrap for lunch, I'm going to make a big ole' BBQ chickpea wrap loaded with lots of fresh, crunchy vegetables and a creamy vegan ranch dressing. I will gladly listen to my body if it's craving one of these bad boys.
I love to pack these for lunch when I'll be on campus all day or working from a coffee shop. The BBQ chickpeas are also great in Buddha bowls!
If you get to try these super simple, healthy, satisfying BBQ chickpea wraps, let me know in the comments! You can also post a pic on Instagram and tag @emilieeats & #emilieeats. Have a great Friday, lovelies!
Let's talk: If you've struggled with disordered eating, what's the one thing that has helped you become a more "normal" eater?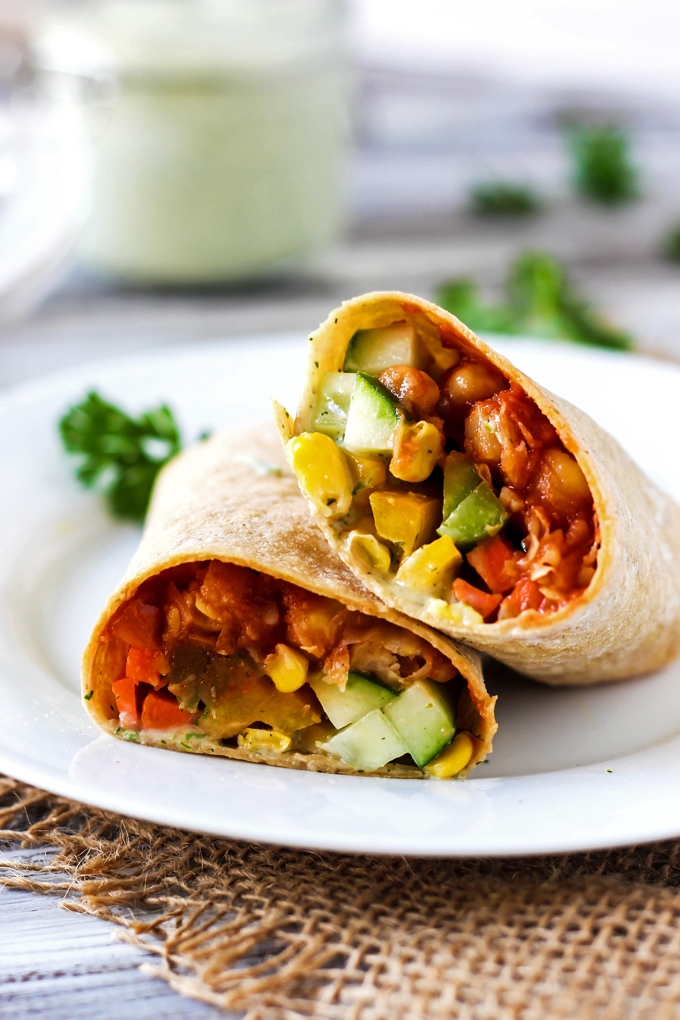 Print
How to make:
Vegan BBQ Chickpea Wrap
A smoky, savory Vegan BBQ Chickpea Wrap is the perfect lunch to pack for work or school! Stuff it with fresh vegetables for a healthy, satisfying meal.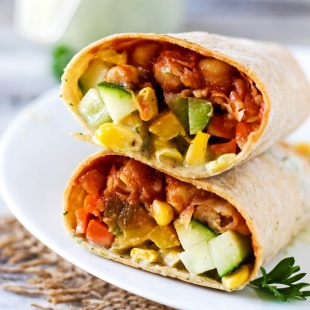 Ingredients
1

15-ounce can chickpeas, drained and rinsed

1/2 cup

BBQ sauce*

4

whole-wheat or gluten-free tortillas

2

medium stalks celery, thinly sliced

1

bell pepper, thinly sliced

1

medium carrot, thinly sliced

1/2

cucumber, thinly sliced

1/2 cup

corn, fresh or frozen
Vegan ranch dressing**
Instructions
In a medium bowl, add chickpeas and BBQ sauce; stir to combine. Warm up in the microwave.
Place 1/4 of the chickpeas in the middle of one tortilla. Add celery, bell pepper, carrots, cucumbers and corn. Top with vegan ranch, if using.
Fold in the edges and roll up the tortilla. Repeat to make three more tortillas.
*I used my Healthy Barbecue Sauce.
**I used my Vegan Ranch Dressing.