Start your morning with a tofu scramble! This vegan tofu scramble recipe is easy to make and packed with plant-protein to keep you feeling full all AM!
The Easiest Tofu Scramble
If you ask anyone to name the first savory vegan breakfast recipe that comes to mind, I guarantee you a good number of people would say tofu scramble. It's an absolute plant-based breakfast staple.
I know for a lot of people who are just getting started with a vegan or primarily plant-based diet, breakfast can be a challenging meal to make. I mean sometimes smoothies and oatmeal bowls just aren't gonna cut it. The next time you're craving a savory, satisfying breakfast or brunch, try a tofu scramble!
Not only does it totally satisfy the craving for a breakfast scramble in the morning, but it will also keep you feeling satiated thanks to all the plant-based protein that tofu has to offer. Pile it high onto toast, serve it with some breakfast potatoes or build yourself a bowl of fruit on the side and you've got yourself a delicious breakfast to keep you fueled. Oh, and did I mention it's done in 10 minutes?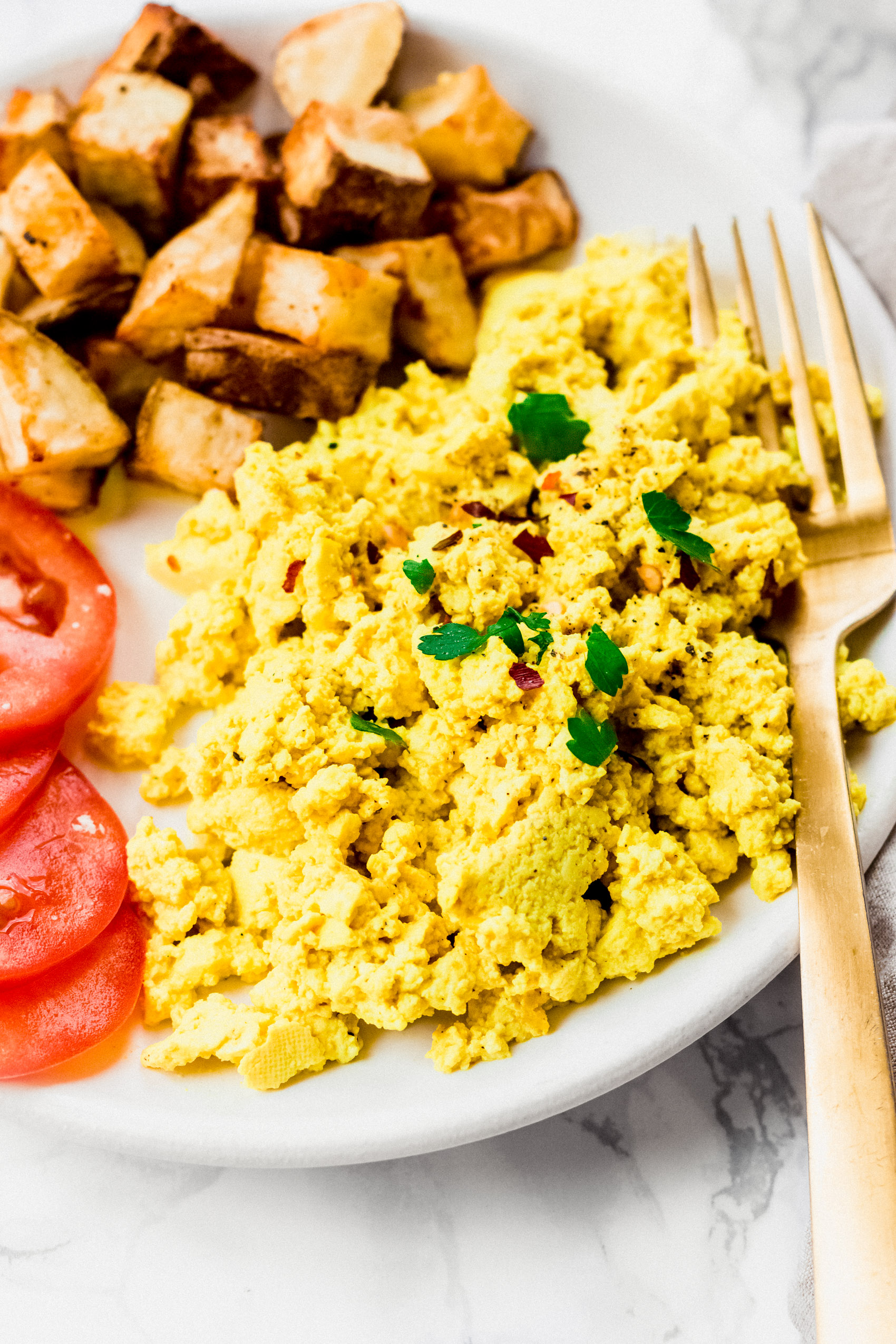 Tofu Scramble Seasoning Mix
Since tofu doesn't hold a lot of its own flavor, it does a great job of soaking up all the flavors you add to it, whether that's from a marinade, or a spice blend like in this vegan tofu scramble recipe! This tofu scramble seasoning mix is full of savory, crave-worthy flavors. Here's everything you'll need to make it!
Kala namak. This is the not-so-secret ingredient! Also known as black salt, kala namak will help create that distinct "eggy" flavor you're looking for in a breakfast scramble. Since it is a variety of salt, you may not find that you need to add any traditional table salt to this tofu scramble recipe, but as always, feel free to adjust the seasonings to your preferences.
Turmeric. Not only does this give our tofu scramble a yellow color, but it also lends a subtle earthiness to the tofu scramble seasoning mix.
Garlic powder. Feel free to scale up or down on the garlic powder depending on your preferences.
Black pepper. A crack of fresh pepper goes a long way to kick all the flavors up a notch.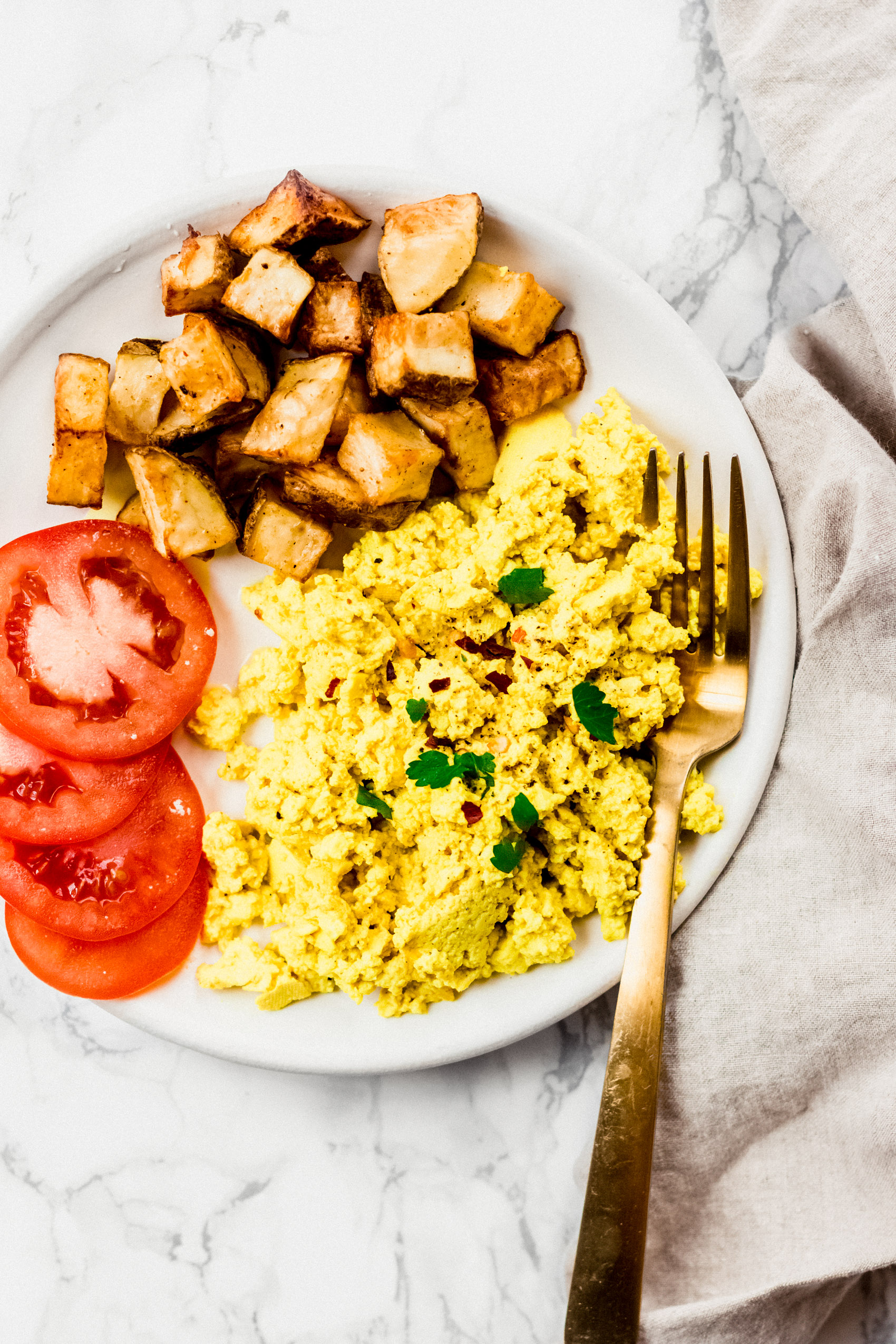 How to Make Tofu Scramble
There's not a whole lot to making a delicious tofu scramble! All you've really gotta do is grab the right variety of tofu, crumble it, smother it in your spice blend and fry it up!
Before you make your tofu scramble, make sure to grab the right kind of tofu. My go-to is firm, but you could also use extra-firm if you'd like. Something like a silken tofu will not crumble the same way.
Grab a skillet, drizzle in some oil and set it over medium heat. Once the oil is hot and shimmering, crumble your tofu straight into the pan, then add your tofu scramble seasoning mix. It'll just need about 5 minutes on the heat. Keep it moving in the pan until it starts to crips up. Finally, add in a bit of water and continue to cook for about a minute.
You can serve up your tofu scramble as is, or feel free to add in other mix-ins! Chopped veggies, vegan shredded cheese, a dash of cayenne, fresh chives or a drizzle of hot sauce would all be delicious.

How to Build a Balanced Vegan Tofu Scramble Plate
Tofu is naturally a complete protein, meaning you get all of the essential amino acids you need in one ingredient! Protein will help keep you feeling full, but we also want to add a source of carbs and fat to our plate to help round things out. To set yourself up with a delicious, well-rounded plate that will keep you going all morning long, you'll want to pair your tofu scramble with a couple of sides.
Pick an energizing source of carbs like breakfast potatoes, a slice of toast, or your favorite fruit to pair with your tofu scramble. I don't know about you, but I love a plate of breakfast potatoes, so that's my go-to side. Plus, roasting potatoes in a drizzle of olive oil helps to round out your plate with a source of fat. Other ideas for a source of fat could be a few slices of avocado, a swipe of nut butter on your toast, or a bowl of coconut yogurt on the side. Finish off your plate with something fresh like a few slices of tomato or fruit and you've got yourself a pretty delicious vegan breakfast if you ask me!

More Vegan Tofu Recipes
Tofu is such a versatile plant-based protein. There are endless ways to use it! From vegan tofu cheesecake to tacos, stir fries and even vegan tofu nuggets, here are a few fun vegan tofu recipes to try out next!

Print
How to make:
The Easiest Tofu Scramble
Start your morning with a tofu scramble! This vegan tofu scramble recipe is easy to make and packed with protein to keep you feeling full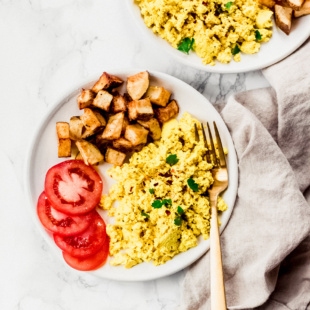 Ingredients
1 tablespoon

olive oil

1

14-ounce block firm tofu

1/2 teaspoon

kala namak (black salt)

1/4 teaspoon

+

1/8 teaspoon

ground turmeric

1/4 teaspoon

garlic powder

1/8 teaspoon

ground black pepper

2 tablespoons

water
Optional: chopped spinach, vegan shredded cheese, cayenne pepper
Instructions
In a medium skillet over medium heat, add oil. When hot, crumble tofu into small pieces into the pan. Add kala namak, turmeric, garlic powder, and black pepper; stir. Cook for 5 minutes, stirring frequently.
Add water, stir, and cook for 1 minute. Add optional ingredients, if desired.