Serve this Vegan Charcuterie Board at your next party as a fun holiday snack! It's the best make-ahead vegan party appetizer! Made in partnership with my friends at Sweet Earth Enlightened Foods. ❤️
The Best Vegan Charcuterie Board
Are you ready to be the absolute star of the show? The life of the party? If not, then take a deep breath and prepare for it because you're about to be the one who brought the charcuterie to the party! Yup – like I said, star of the show.
I've been working with my friends at Sweet Earth Foods for a while developing recipes with their plant-based products, which has been so much fun. But when they asked me to arrange a vegan charcuterie board for this month's recipe, I have to admit, I was a little nervous. It's a big job to make a plant-based board that everyone at the party will like! 
So I've taken the guessing out of it for you and feel confident saying that if you make this vegan charcuterie board for your next holiday party, not only will everyone find something on it to enjoy, but it'll definitely be the stand-out of all the vegan party appetizers.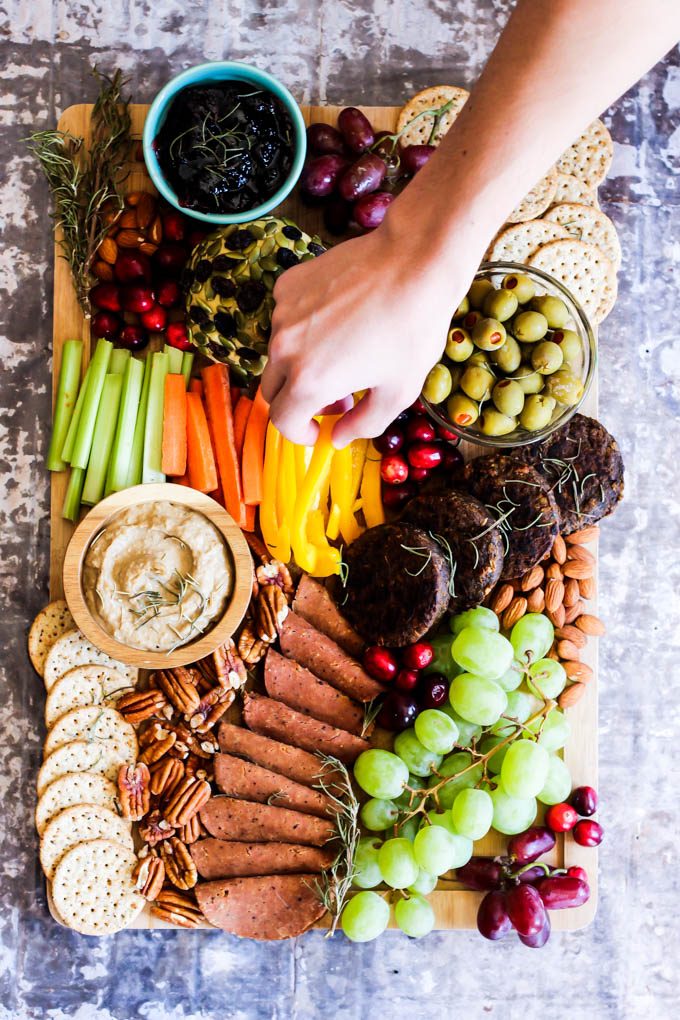 Ingredients to Build a Vegan Charcuterie Board
A traditional charcuterie board is usually loaded with meats, cheese, some fruits, maybe vegetables, and bread or crackers. What I did for our vegan charcuterie board was use Sweet Earth Foods veggie meats and nut cheese and amp up the amount of fruits and vegetables.
Vegan meats. You can use your favorite Sweet Earth Foods products here, like their Mediterranean Veggie Burgers or Traditional Seitan Slices. I used Sweet Earth Foods Tuscan Veggie Sausages and Harmless Ham.
Dips and spreads. I added hummus and blackberry preserves. Something savory and something sweet! You could also include mustards or a tapenade.
Vegan cheese. You could go for homemade cheese, or store bought! In general you'll want at least one harder cheese like a cheddar-style and one softer, spreadable vegan cheese. Here's a great homemade plant-based cheeseball recipe from Food by Maria to try!
Fruit. I added grapes and cranberries because they felt festive for the holiday season. Pomegranate seeds, berries, figs, dates and apple slices would also be delicious.
Vegetables. Think fresh and crunchy! I did carrots, celery and bell pepper. Cucumber, radish or endives could also work.
Something pickled. Olives or pickles will go a long way to brighten up the board!
Something crunchy. Try adding crackers, crostinis, nuts and crispbreads. With all the dips, spreads and cheeses, people will want a crunchy vehicle!
At the end of the day, it's really customizable, so use whatcha want and eat it up!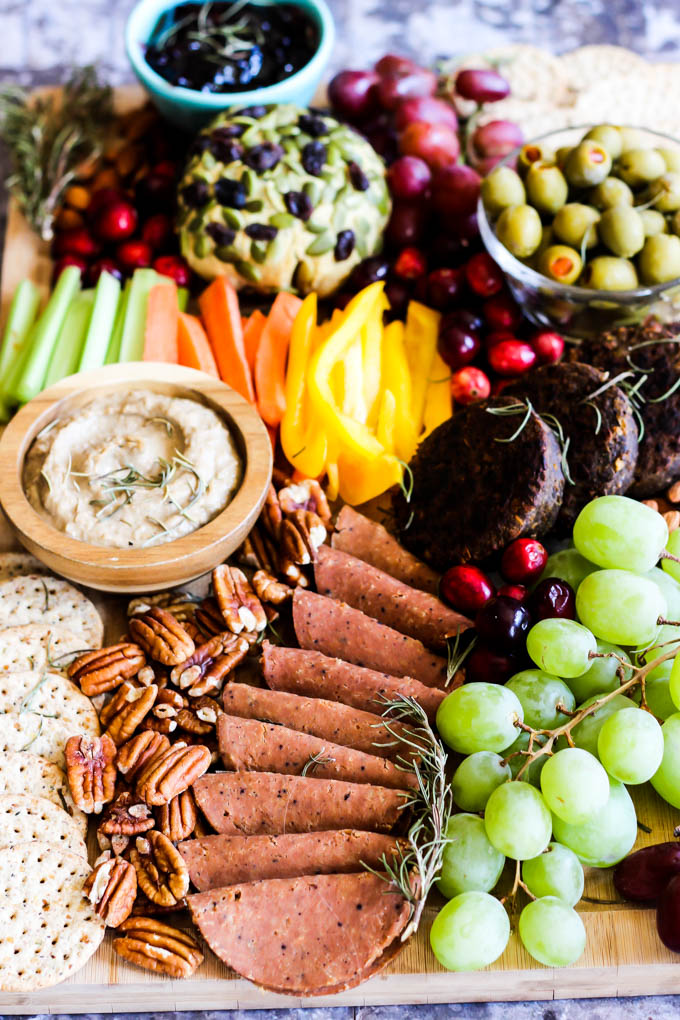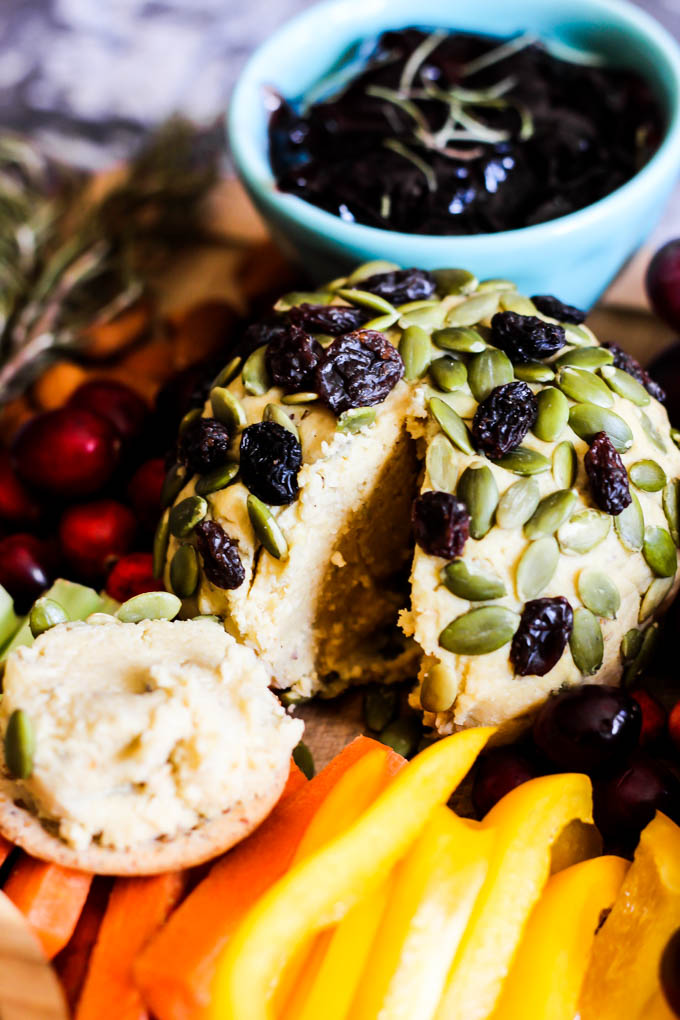 Tips for Arranging a Charcuterie Board
Do you ever see some of these amazing charcuterie boards on Pinterest and think, "why don't mine every look like that?" – my answer is that you're probably overthinking it! Here are my tips for making a beautiful and delicious vegan charcuterie board:
Pick two of everything. Two spreads, two cheeses, two meats, two fruits, two vegetables, two crunchy things and two pickled things. This gives everyone something to go for on the board!
Choose seasonal ingredients. Are you building a holiday charcuterie board? Add rosemary, cranberries and pecans to hone in on those cozy flavors. Bringing a board to
Arrange items with pairings. The best way to build a charcuterie board is to match things that go together! This will subconsciously signal how you intend for your guests to work their way around the board! For example, I put the veggies right next to the hummus, crackers nearby both the hummus and the veggie ham, and fruits and a softer cheese near the jam.
Put bowls down first, then fill in the gaps. The best way to make your board look effortless is to not overthink it! Put your bowls and containers on the board first and try to evenly space them. Then lay down the other focal points like your meats and cheeses. Finally, fill in the gaps with clusters of nuts, fruits and vegetables.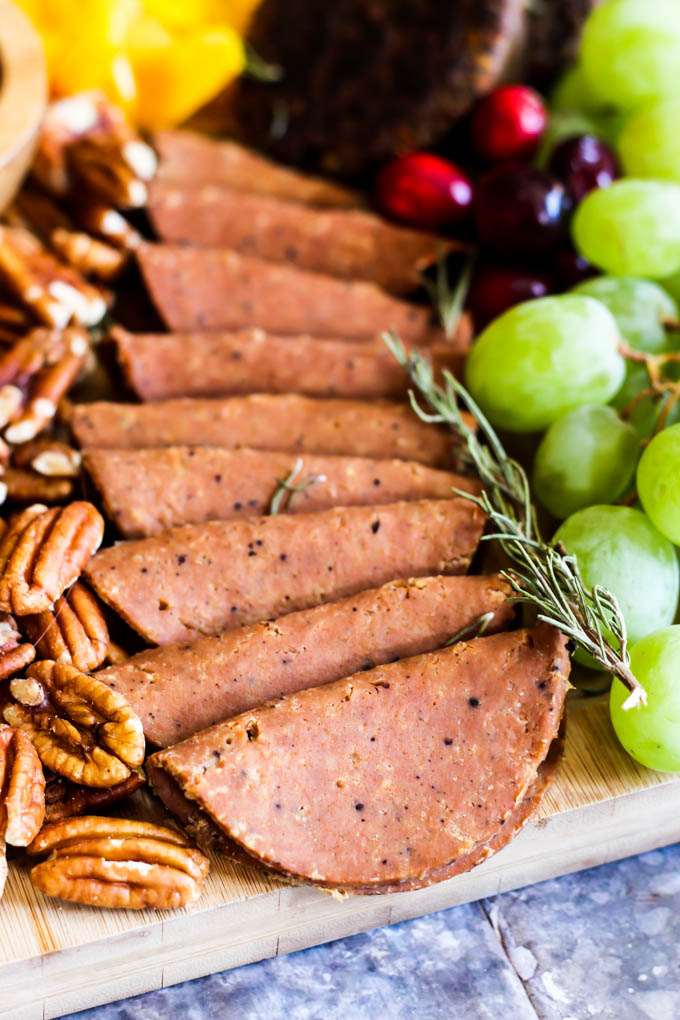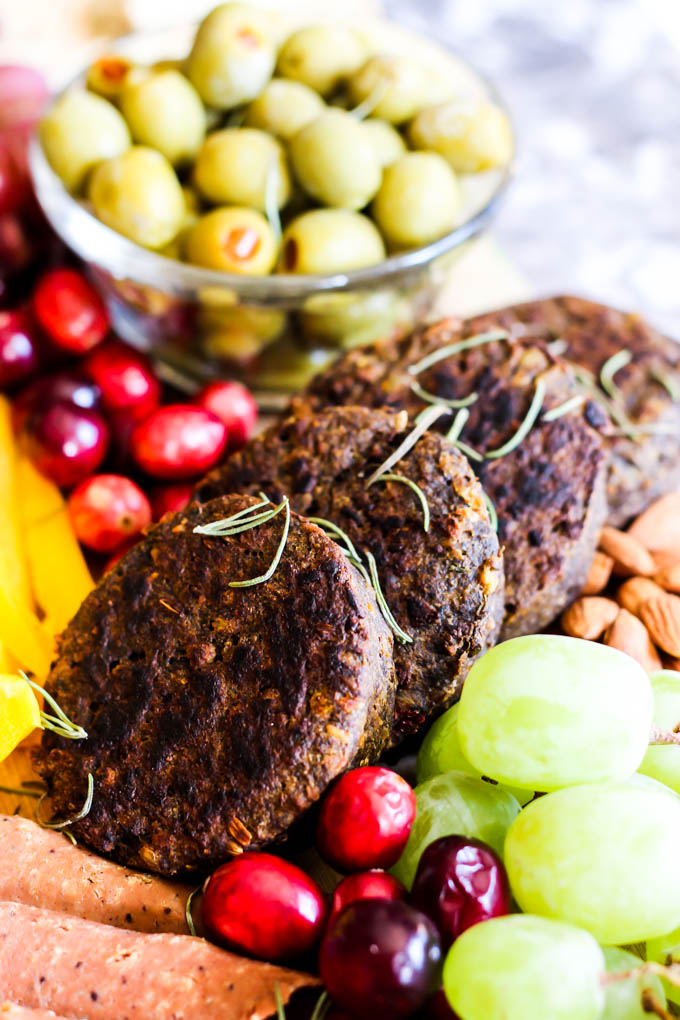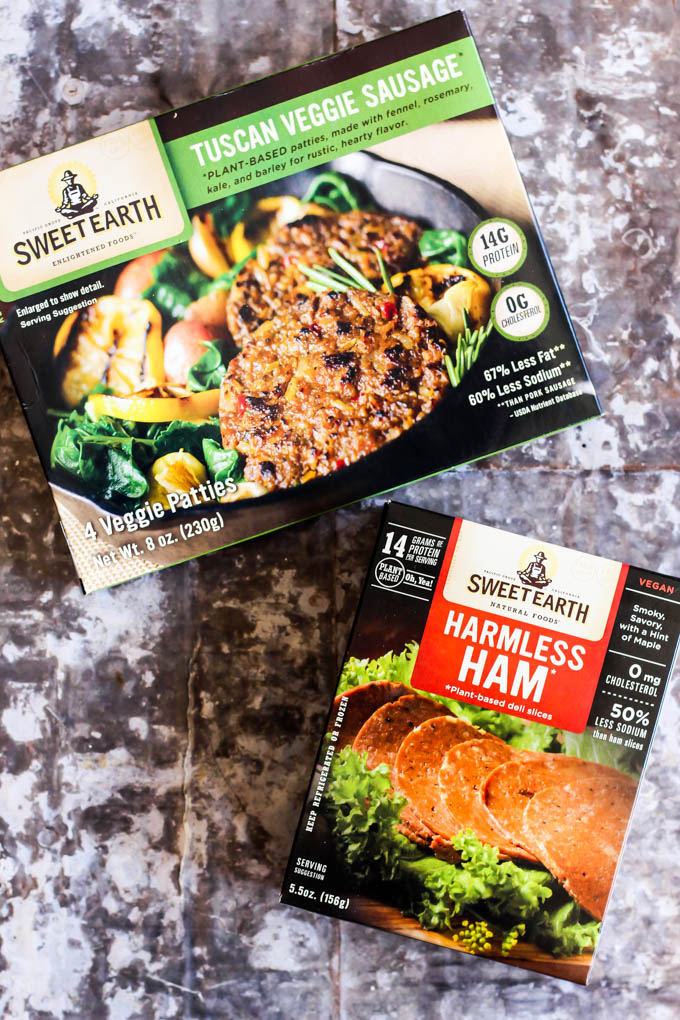 More Vegan Appetizer Recipes
Wouldn't this vegan charcuterie board be the perfect holiday appetizer? It'd also be great for New Year's parties! Everyone loves a good pre-dinner snack, so give the people what they want. 🙌🏼 I promise everyone will thank you for this pretty platter!
If you arrange your own vegan charcuterie board, PLEASE send me pictures because I want to see the beauty you create! HAVE FUN WITH IT! 🎉
If you're looking for more vegan appetizer recipes for the holidays, check out these other ideas!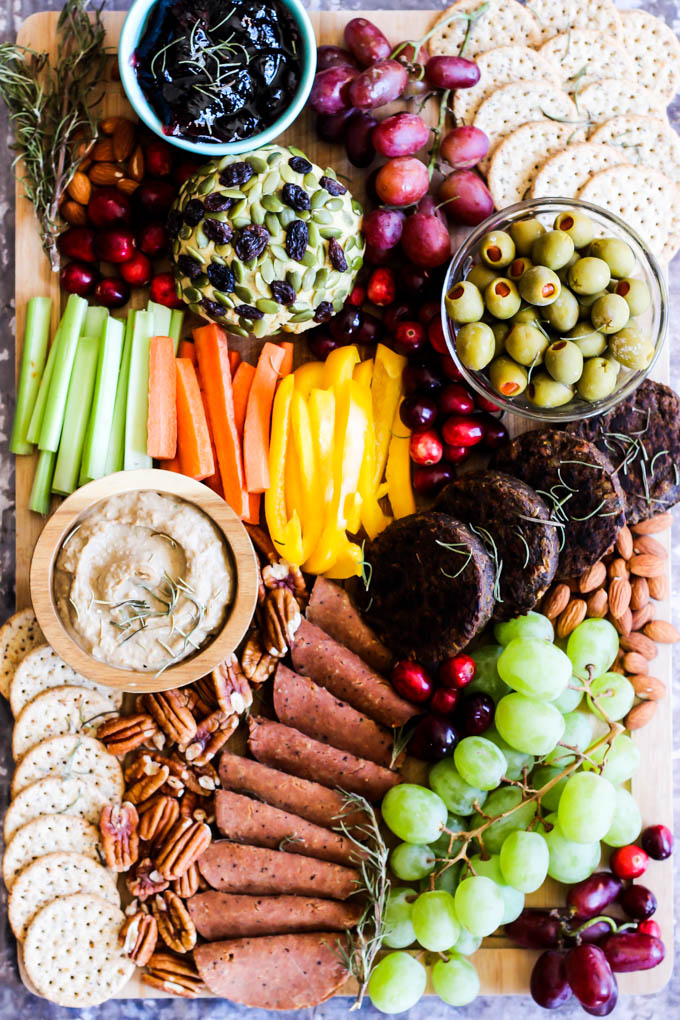 Print
How to make:
The Best Vegan Charcuterie Board
Serve this epic Vegan Charcuterie Board at your next party as a fun appetizer! Loaded with veggie meats, dairy-free cheese, fruit and vegetables.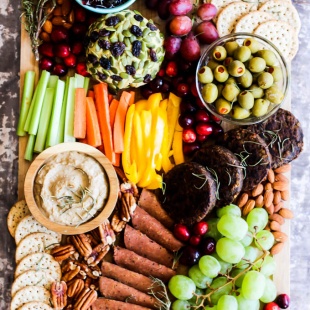 Ingredients
Veggie meats:
1

package Sweet Earth Foods Tuscan Veggie Sausages

1

package Sweet Earth Foods Harmless Ham
Dips:
Homemade or store-bought vegan cheese

1/2 cup

hummus

1/2 cup

jam or jelly
Fruits:
1

pound green or purple grapes

1 cup

fresh cranberries

1/2 cup

olives of choice (stuffed, Kalamata, black)
Vegetables:
2

medium carrots, sliced and chopped into sticks

2

celery stalks, sliced and chopped into sticks

1

bell pepper, sliced
Other:
1

box whole grain crackers

1/2 cup

pecan halves (or nut of choice)

1/2 cup

almonds (or nut of choice)
Fresh rosemary, for garnish
Instructions
Cook veggie sausages according to package directions. Place sausages and veggie ham slices on a large serving tray.
Place vegan cheese, hummus and jam into separate small bowls. Place on serving tray.
Arrange fruit, vegetables, crackers, nuts and rosemary on the serving tray.
Notes
This board is totally customizable! For fruits and vegetables, you can use apples, berries, orange slices, pomegranate, cucumbers, raw cauliflower, etc.
Thanks to Sweet Earth Enlightened Foods for sponsoring this post! I love working with brands whose products I really love and would honestly recommend. Thank you for supporting this blog that I love oh-so-much!