This Vegan Polenta recipe is served with Mushrooms and Beans for an easy 30-minute dinner packed with whole grains and plant-based protein. In partnership with Pompeian! #TrendingInTheKitchen ❤️
Vegan Polenta with Mushrooms and Beans
Do you say polenta or grits? Are they the same thing? These are the questions that keep me up at night.
Okay, that might be a bit of an exaggeration. But I truly don't know if it's correct to call this dish polenta since I grew up eating GRITS. Not polenta. I swear I didn't hear that word until college.
We usually had grits for breakfast with butter, cheese, salt, and pepper (which you could totally vegan-ize with vegan butter and cheese!). I never had shrimp and grits, which is a traditional Southern dish. But I guarantee you that we do not call it shrimp and polenta.
I hope this grits/polenta question is not polarizing. I also hope I'm somewhat correct in calling this avegan polenta recipe and not a vegan grits recipe.
Either way, this is one delicious dish you need to add to your dinner rotation!
It's done in 30 minutes and has a good balance of carbs, protein, and fat. That's a requirement for every meal I make! Having a mix of all three keeps you satisfied and feeling 💯💯💯.
I'm really excited to share with you that I'm partnering with Pompeian on this vegan polenta recipe for their #TrendingInTheKitchen campaign! They make high-quality oils and vinegars (some organic) that are affordable and accessible at most grocery stores. Here are some other recipes that we have collaborated on:
But before you get caught up digging through all of those delicious recipes, let's make some vegan polenta!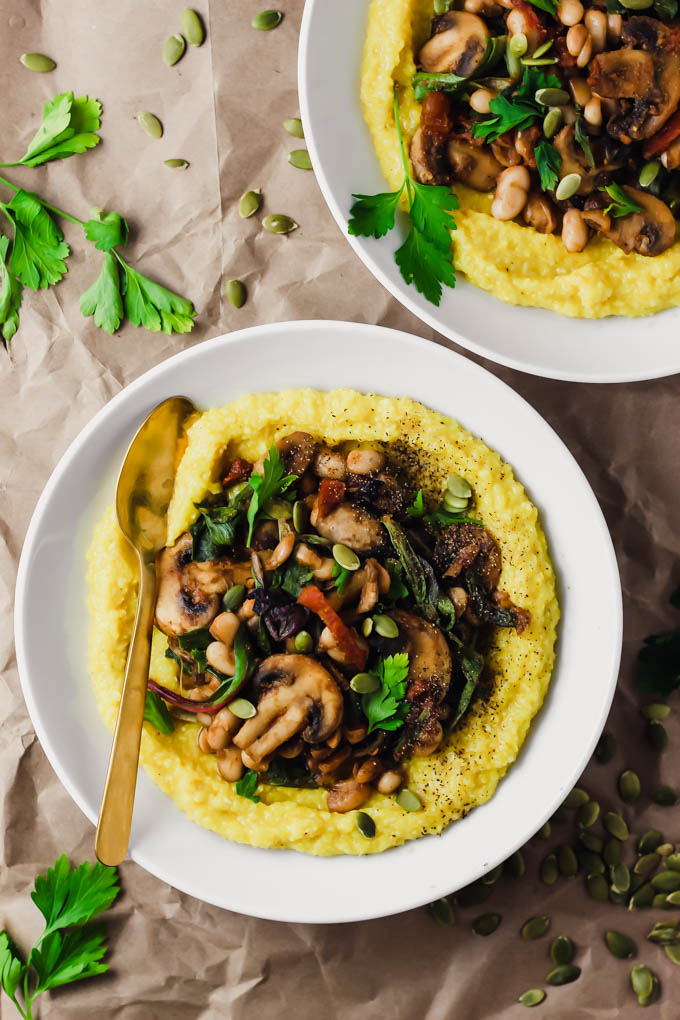 Ingredients for Vegan Polenta with Mushrooms and Beans
When Pompeian asked me to feature mushrooms in a hearty meal, this recipe for creamy vegan polenta with mushrooms and beans immediately came to mind! It's warm and comforting which makes it the perfect cozy fall or winter meal, but it's also full of fiber and vegetables to keep you feeling nourished. The mushrooms add a "meatiness" to the dish that make it even more filling!
I used Pompeian Robust Extra Virgin Olive Oil in the polenta to add rich flavor and creaminess and Pompeian Organic Balsamic Vinegar in the sautéed vegetables. The vinegar caramelizes as you cook it with the mushrooms! Here's everything you'll ed to make this vegan polenta recipe:
Cornmeal. Or you may see it marketed as yellow corn grits, per our discussion above 🙂
Non-dairy milk. Any variety will work, but make sure you go for unsweetened.
Nutritional yeast. When I think of polenta, I think of a velvety, creamy, cheesy bowl of goodness. Nutritional yeast will help deliver on the cheesy factor.
Pompeian Robust Extra Virgin Olive Oil. I love the flavor of this olive oil. It will help add plenty of richness to our vegan polenta.
Spices. Grab some turmeric, garlic powder, onion powder, salt and pepper.
Mushrooms. I used white mushrooms, but you can use any variety you'd like!
Tomatoes. Go for fresh tomatoes in this recipe! I used two Roma tomatoes.
Pompeian Organic Balsamic Vinegar. This is really gonna kick the flavors up a notch in our sauteed veggies.
White beans. I used a can of white beans for convenience, but if you'd like to use dried, make sure you soak and cook them beforehand. 
Spinach. Feel free to use any dark leafy greens you have on hand! Kale or chard would also work great.
Pumpkin seeds. This is optional, but a sprinkle of pumpkin seeds on top as a garnish adds the most satisfying crunch to balance out the textures.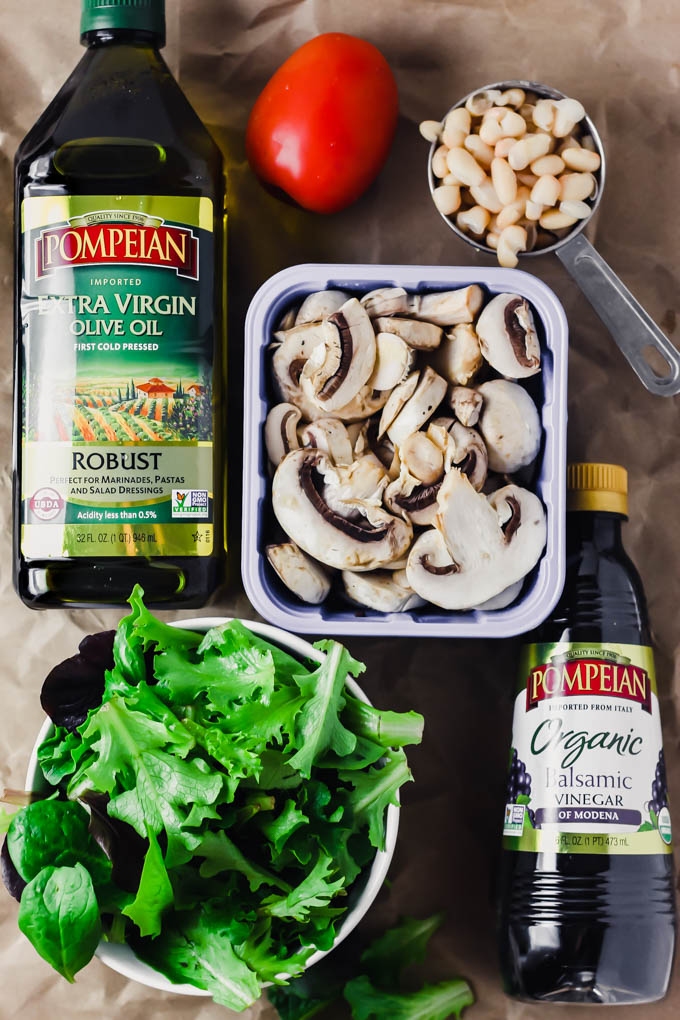 How to Make Vegan Polenta
Now I know that polenta is something that a lot of people turn their noses up at, but you guys I am telling you that if you haven't liked polenta in the past, you have to try this version of my vegan polenta.
A lot of the times, people cook their polenta in water according to the package instructions, but don't doctor it up from there. And that is probably why you haven't liked it in the past! This vegan polenta is a completely different story.
To start, you'll bring your polenta and some water to a boil on the stove, then reduce it down to a simmer and let it go for about 5 minutes. You'll want to stir often and keep your eye on it the entire time to make sure it doesn't reduce too much or start to clump. Continued stirring will help keep things smooth!
Once your polenta has cooked and has a velvety texture, add in your milk, nutritional yeast, olive oil and turmeric. Give everything a good stir and then season with salt and pepper!
This vegan polenta is a delicious base for veggies, beans, vegan meatballs – really anything you'd like! But for this vegan polenta recipe we're topping everything off with sauteed mushrooms and beans. Let's tackle that next!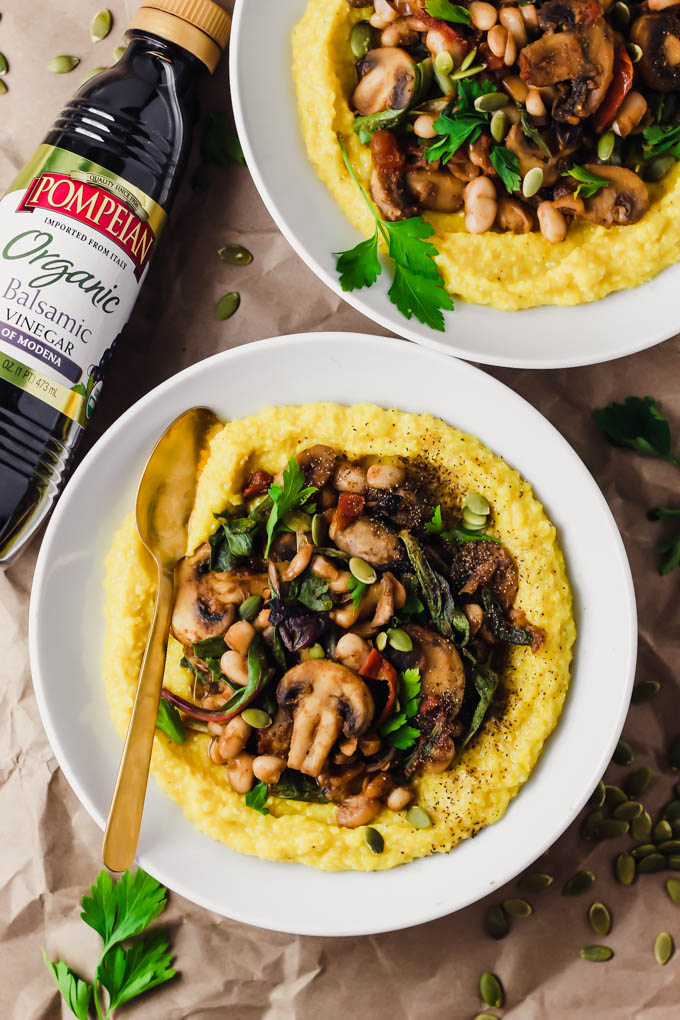 How to Cook the Mushrooms and Beans
These sauteed mushrooms and beans are the perfect topping for our creamy, vegan polenta. The beans add lots of fiber and plant-based protein, which the mushrooms add the most satisfying meaty texture to round things out.
To make your sauteed veggies, you'll start by heating a skillet over medium heat with some oil. Once the pan is hot, add in your mushrooms and tomatoes. You'll cook those down for about 10 minutes, or until the mushrooms have browned and softened. Next, add in your vinegar, garlic powder and onion powder. You'll want to cook the mixture, stirring occasionally, until the vinegar has started to thicken.
Finally, toss in your beans and spinach until everything is warmed through. Once the spinach has wilted and the beans are warm, top off your vegan polenta with a big scoop of veggies and a sprinkle of pumpkin seeds!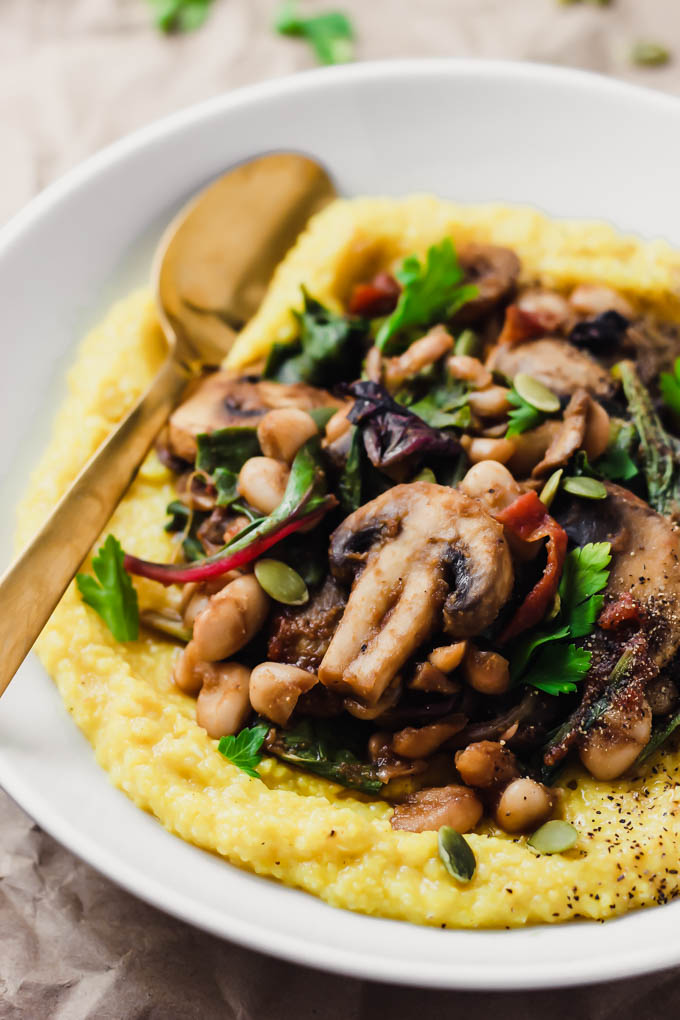 More Vegan Polenta Recipes
Do you say grits or polenta? I desperately need to know, so let me know in the comments. Once you've done that, run to the grocery store so you can make this creamy vegan polenta ASAP! If you love this recipe and are craving more, check out some of these other vegan polenta recipes!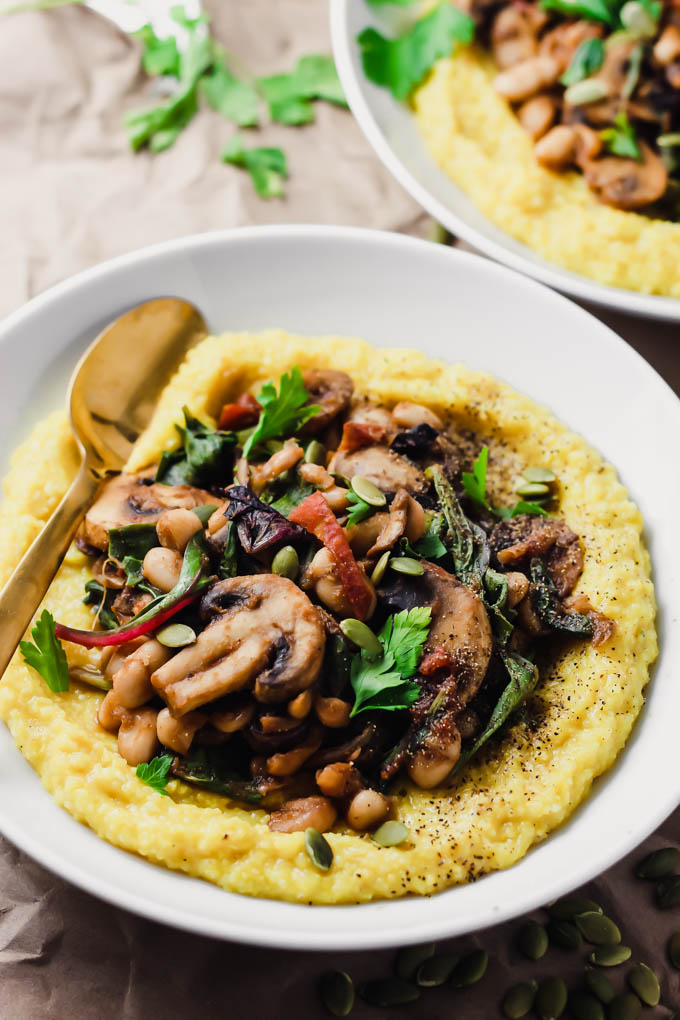 Print
How to make:
Vegan Polenta with Mushrooms and Beans
This Vegan Polenta recipe is served with Mushrooms and Beans for an easy 30-minute dinner packed with whole grains and plant-based protein.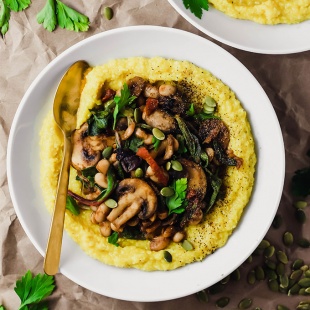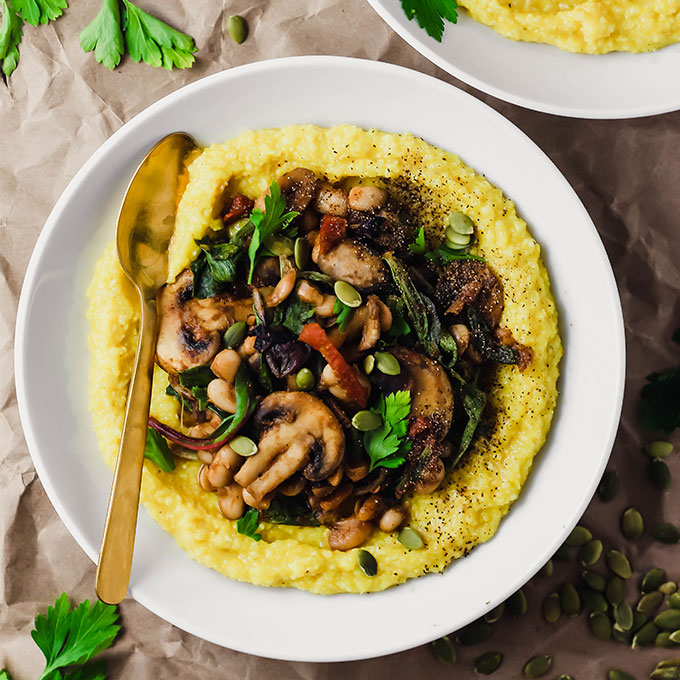 Ingredients
1 cup

yellow corn grits or cornmeal

½ cup

unsweetened non-dairy milk

¼ cup

nutritional yeast

1 tablespoon

Pompeian Robust Extra Virgin Olive Oil

¼ teaspoon

ground turmeric

Salt and pepper, to taste

8 ounces

white mushrooms, thinly sliced

2

Roma tomatoes, finely chopped (about

1 cup

)

3 tablespoons

Pompeian Organic Balsamic Vinegar

½ teaspoon

garlic powder

½ teaspoon

onion powder

2 cups

white beans, drained and rinsed

2 cups

baby spinach, chopped

Pumpkin seeds, for garnish
Instructions
In a medium saucepan, add grits and 3 cups water. Bring to a boil, then reduce heat to simmer. Cook for 5 minutes, stirring often. Alternatively, cook according to package directions.

To the grits, add non-dairy milk, nutritional yeast, Pompeian Robust Extra Virgin Olive Oil, and turmeric. Stir; season with salt and pepper to taste.

Warm a greased medium skillet over medium heat. Once hot, add mushrooms and tomatoes. Cook for 8-10 minutes, until mushrooms are tender and slightly browned. Add Pompeian Organic Balsamic Vinegar, garlic powder, and onion powder. Cook for 3-5 more minutes, until vinegar has thickened.

Add white beans and spinach; cook for 3-5 minutes, stirring, until spinach is wilted.

Serve bean and mushroom mixture over polenta. Garnish with pumpkin seeds.
Thanks to Pompeian for sponsoring this post! I love working with brands whose products I really love and would honestly recommend. Thank you for supporting this blog that I love oh-so-much!