This Glazed Vegan Lemon Cake is fluffy & sweet with the perfect amount of tartness! It's an easy dessert to make for any party or holiday. Ready in 1 hour! In partnership with my friends at Pompeian. ❤️
As some of you may know, I've never really been a hardcore chocolate lover. You're much more likely to find me savoring something vanilla (I know, #basic) or fruity. Basically anything other than a chocolate brownie topped with chocolate ice cream and chocolate syrup—my boyfriend's dream dessert.
When I was younger, I would spend so many weekends at my grandparents' house with my cousins eating all the food they had for us—peanut butter cups, donuts, potato sticks (remember those?), cheese crackers. Ah, the days.
BUT my favorite thing we ate there was this lemon cake made with lemon-lime soda we got from a local grocery store. Did you ever have those or was that a weird family thing we ate?!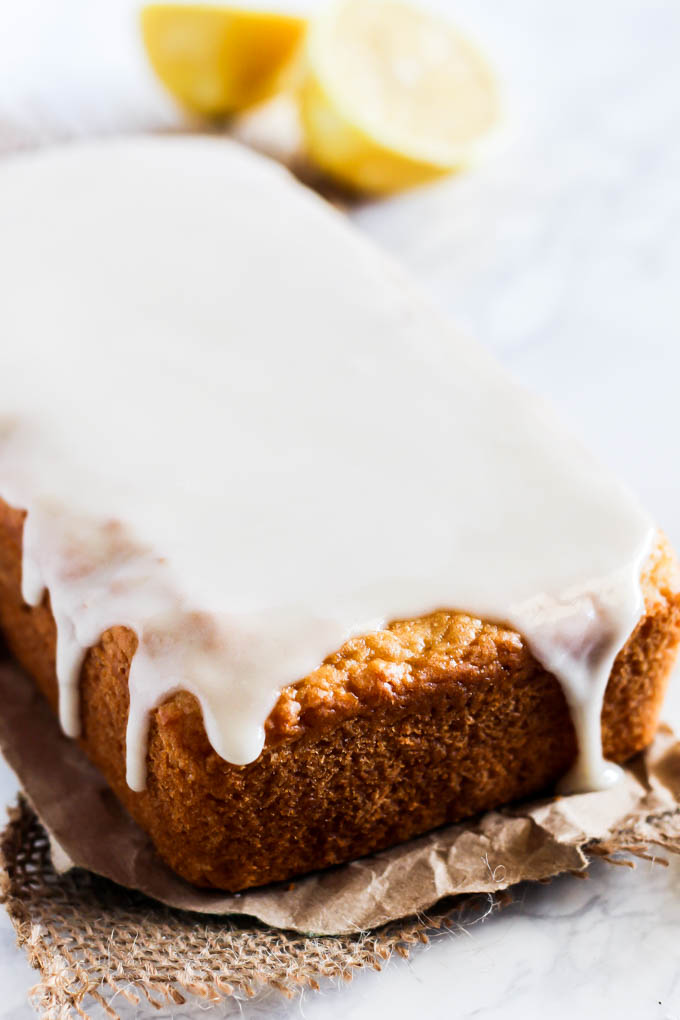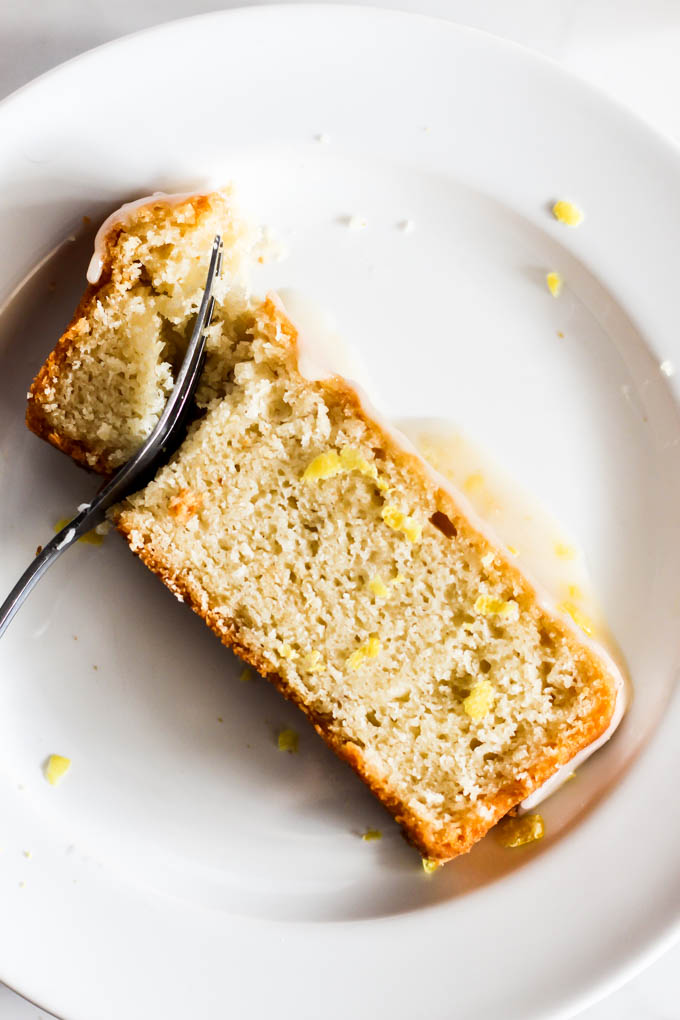 I loved that darn cake. The tartness (I LOVE sour stuff), the fluffiness, the sugary glaze. It'd be funny to know how many slices I've eaten of that cake in my life.
I'm past the days of eating soda-infused cake, but that doesn't mean I can't enjoy a *fancier* version of that cake I once loved.
I'm SO excited for you to try this vegan lemon cake! Like, best dessert I've made in awhile? Totally.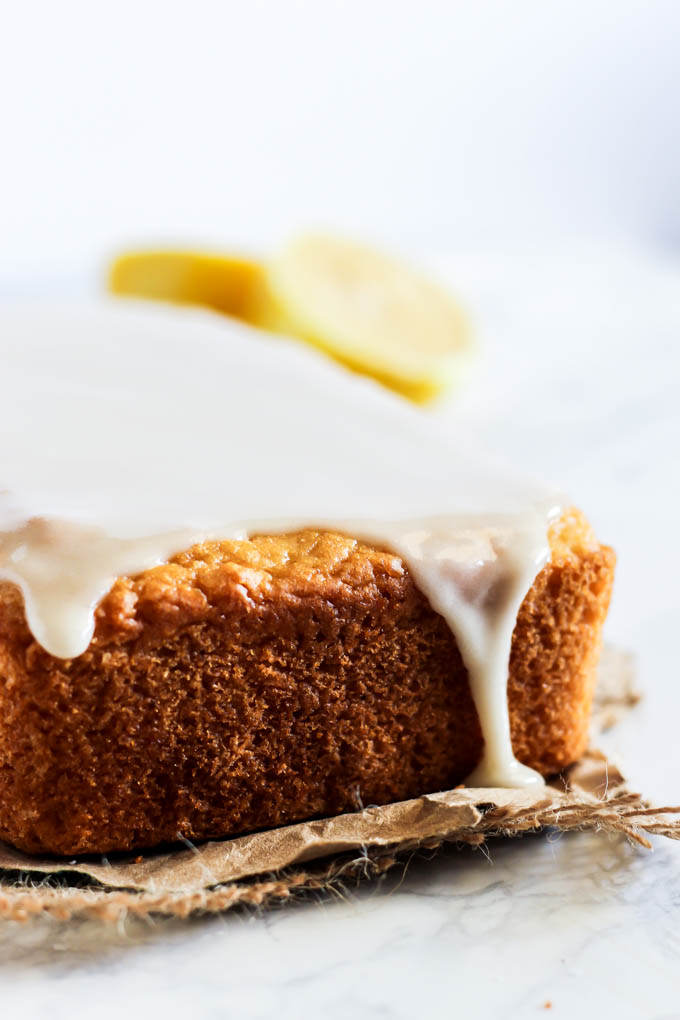 I had a few requirements for the final product. It had to be vegan, super fluffy, and glazed, and it had to have the perfect balance of sweetness and tartness.
Not to toot my own horn or anything, but I'm pretty sure I totally nailed it. A few taste testers friends confirmed that for me!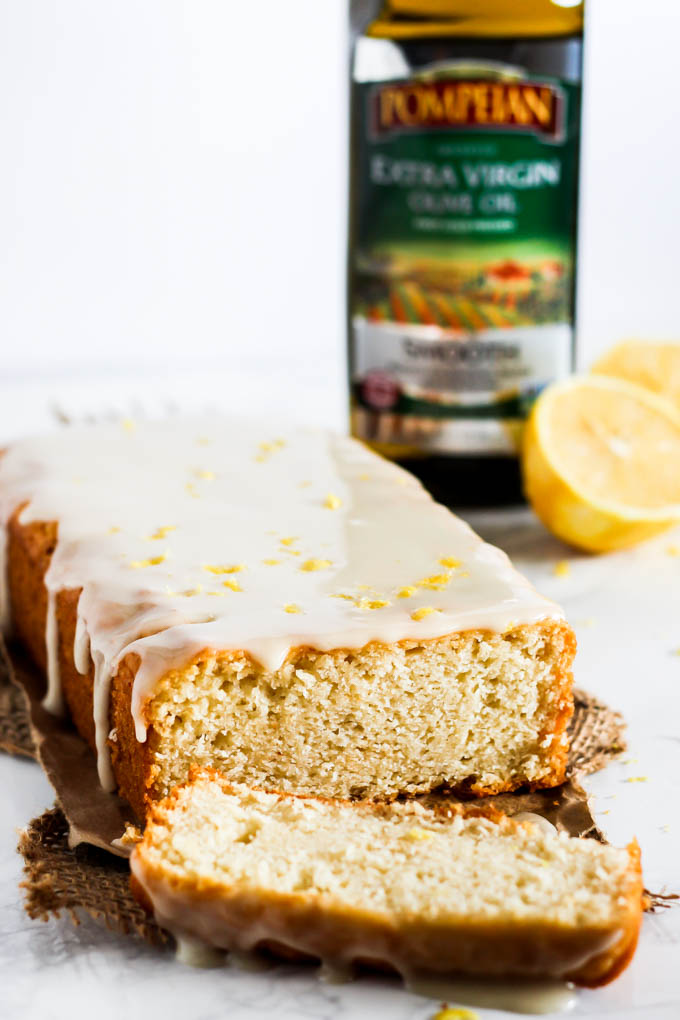 For this vegan lemon cake, you'll only need a few basic ingredients like flour, sugar, non-dairy milk, lemon juice, and vanilla extract. We're also using non-dairy yogurt and Pompeian Smooth Extra Virgin Olive Oil to keep the cake moist (sorry, I know people hate that word). The olive oil is mild enough to not overpower the other flavors, but it still infuses the cake with a rich flavor.
I trust Pompeian because they work directly with farmers to guarantee high-quality products. I also love that Pompeian is sold in grocery stores accessible to most in the U.S., so pick up a bottle next time you're shopping!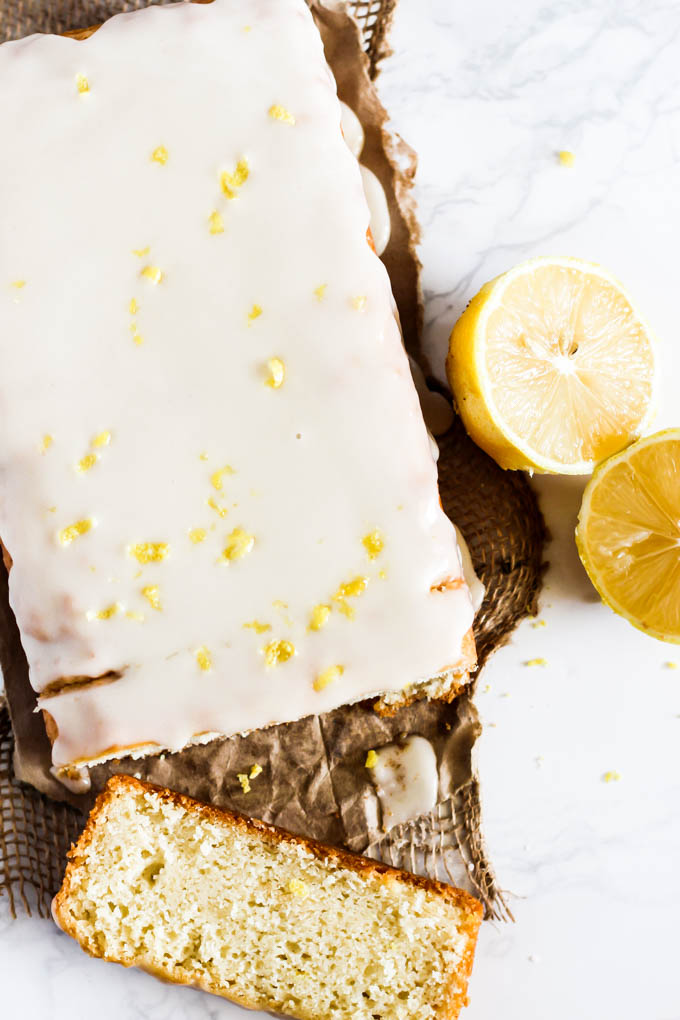 This vegan lemon cake is the perfect dessert to make with all the fresh citrus right now. I think it would also be delicious with fresh orange or grapefruit juice.
Let me know if you try this recipe—I hope you love it as much we do!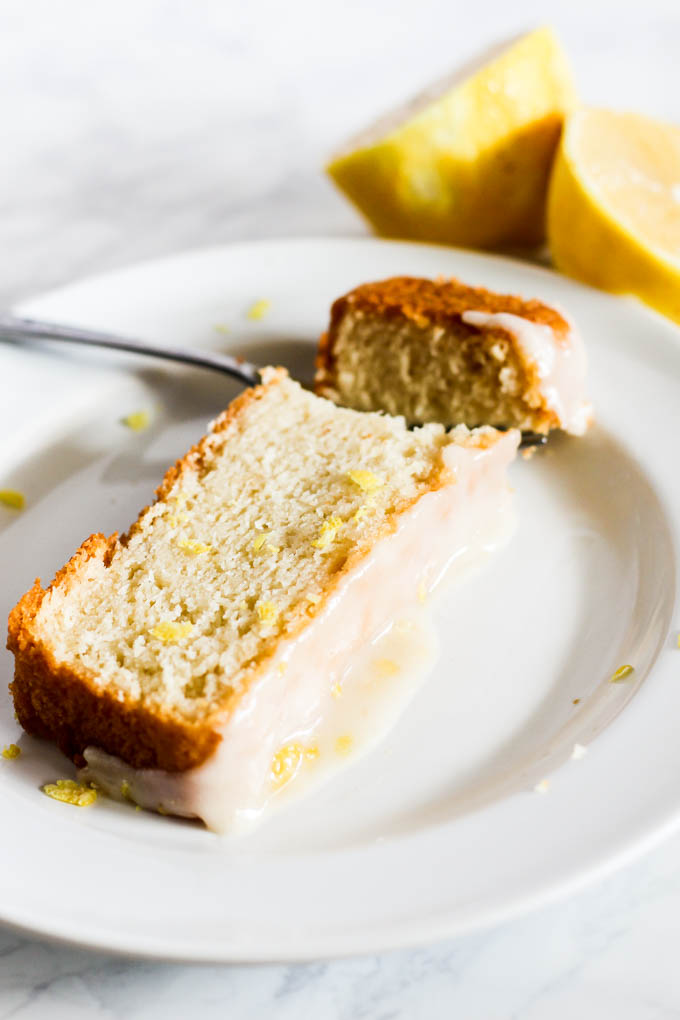 Print
How to make:
Glazed Vegan Lemon Cake
This Glazed Vegan Lemon Cake is fluffy & sweet with the perfect amount of tartness! It's an easy dessert to make for any party or holiday. Ready in 1 hour!
Ingredients
Pompeian Organic Extra Virgin Olive Oil Spray

2 cups

unbleached all-purpose flour

1/2 cup

cane sugar*

2 teaspoons

baking powder

1/2 teaspoon

baking soda

1/2 teaspoon

salt

1/2 cup

Pompeian Smooth Extra Virgin Olive Oil

1/2 cup

unsweetened dairy-free yogurt

1/3 cup

+

1 tablespoon

fresh lemon juice, divided

1/2 cup

+

3 tablespoons

unsweetened non-dairy milk, divided

1 tablespoon

maple syrup

2 teaspoons

vanilla extract, divided

1 teaspoon

lemon zest, plus more for garnish

1 cup

powdered sugar**
Instructions
Preheat oven to 350ºF. Lightly grease a loaf pan with olive oil spray.
In a large bowl, add flour, sugar, baking powder, baking soda, and salt. Whisk until fully mixed together.
In a medium bowl, add olive oil, yogurt, 1/3 cup lemon juice, 1/2 cup + 2 tablespoons non-dairy milk, maple syrup, 1 1/2 teaspoons vanilla, and zest. Whisk until well combined.
Slowly pour wet ingredients into dry ingredients. Whisk together until it just comes together; do not over-mix. Pour batter into greased loaf pan.
Bake for 30 minutes. Remove, cover with foil, and bake for 10 minutes. Remove; let cool in the fridge for at least 30 minutes.
In a small bowl, add powdered sugar, 1 tablespoon lemon juice, 1 tablespoon non-dairy milk, and 1/2 teaspoon vanilla extract. Whisk until smooth. Pour over loaf.
Garnish with lemon zest and slice into 12 slices. Enjoy!
Notes
*Some cane sugars are processed using animal bone char. If you are vegan, research to find a vegan cane sugar.
**You can make your own powdered sugar! Simply add cane sugar to a blender and blend until a fine powder forms.
Thanks to Pompeian for sponsoring this post! I love working with brands whose products I really love and would honestly recommend. Thank you for supporting this blog that I love oh-so-much!