Full of juicy peaches, this Vegan & Gluten-Free Vanilla Peach Cake using Simple Mills Vanilla Cake Mix is a great healthier dessert made with grain-free ingredients you can feel good about. Thanks to Simple Mills for sponsoring this post!
Confession time: I always enjoyed eating raw cake batter more than the actual cake.
Is that too weird for you to handle?? I hope not. Don't get me wrong – I loved (and still love) a warm, fluffy slice of cake right out the oven. But for some reason, the batter was the best part for me. I could go to town with that stuff and a spoon. It wasn't just cake batter, either – raw cookie dough, raw pancake batter, raw biscuit dough.
Okay, now I may be a little too weird for you… I hope you're still there.
I still love the raw foods before they're baked, except now I don't have to worry about getting sick from raw eggs. (But c'mon, who ever let that stop them from scooping some raw cookie dough?) And even though nowadays I'd probably pick raw fruits and vegetables over raw sweets, that's not to say I don't throw on my baking mitts, create a cake masterpiece, and enjoy a slice sometimes. Balance, people.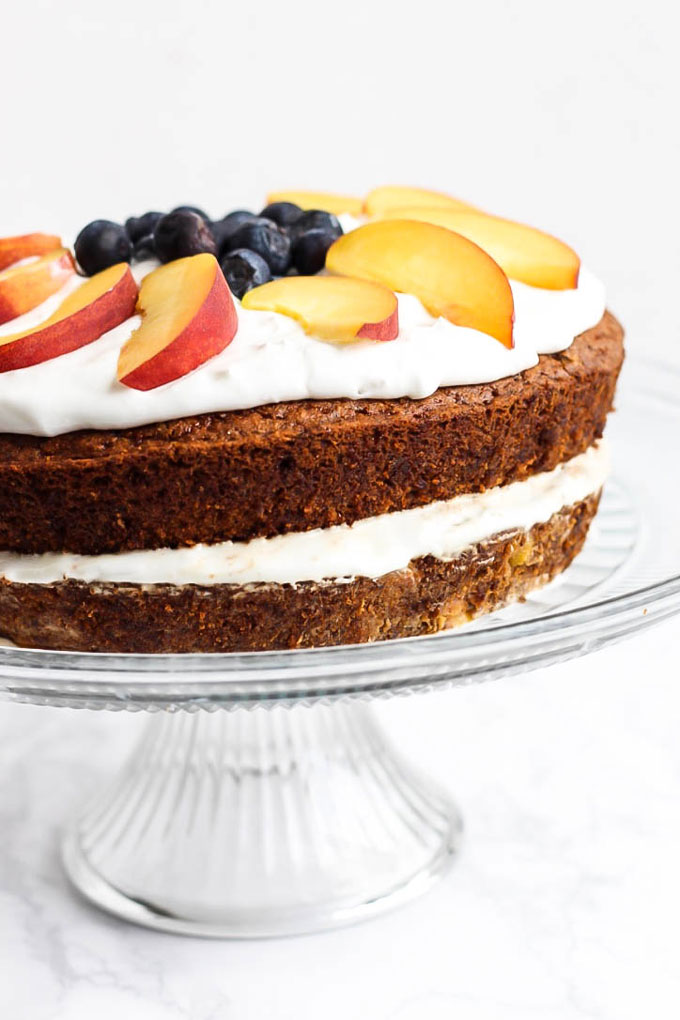 I know the way my body feels when I eat something super rich or decadent (hint: not good), so even when I'm indulging in a dessert, I love to make it healthier using quality ingredients that aren't ridiculously over-processed. Girl ain't bout that life.
I honestly think it's AMAZING that there are so many options out there nowadays that help people eat healthier by giving them versions of classic foods. There's an alternative for basically any comfort food you could want. Craving a burger? Throw a Hilary's veggie burger on an Ezekiel hamburger bun. Ice cream sweet tooth? Blend up some frozen bananas and top with dark chocolate chips. Dreaming of a really hearty Italian dinner? Cook some Banza chickpea pasta with a tempeh "meat" sauce. You have SO many healthier options.
Thanks to Simple Mills, now you can have your cake and eat it too ?.
If you haven't heard of Simple Mills, stop what you're doing and listen up read up. Think of all the baked goods you love oh-so-much and thought you couldn't have when you started eating healthier…now put a smile on your face because you CAN enjoy those treats! Simple Mills uses the simplest, realest ingredients in their baking mixes that are free of gluten, grains, soy, dairy, refined sugar, and emulsifiers/gums. We keep it real over here?.
Here's all 6 ingredients in the Vanilla Cake Mix we're using today:
Almond Flour
Organic Coconut Sugar
Arrowroot Powder
Organic Coconut Flour
Baking Soda
Sea Salt
Yup, that's really it!
They have baking mixes for so many of your favorite foods – vanilla and chocolate cake, pancake & waffle, chocolate chip cookie, and many more. They also have crackers and a pizza dough mix – HELLO, pizza night. I shall see you in my near future.
Most of the products call for eggs to be mixed, but I've had luck using flax eggs! I'll be experimenting more with different egg substitutes in their mixes, so let me know what mix is your favorite and what you want to see veganized.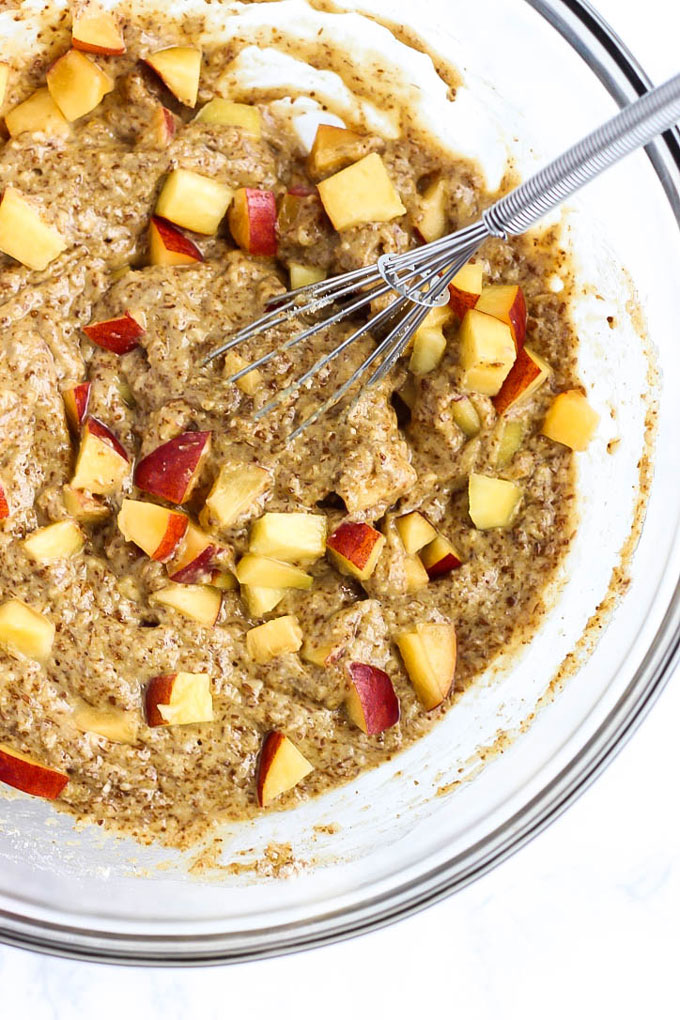 I knew I wanted to go beyond regular vanilla cake (even though that is my all-time favorite), so I decided to go seasonal and add some peaches! Is there really anything more lovely right now than biting into a juicy summer peach? Ugh, just give me all the peaches and pool days plz.
I used flax eggs in place of regular eggs in this vanilla peach cake using the Vanilla Cake Mix, and it actually turned out fabulous! The cake is fluffy, sweet, and bursting with peaches in every bite. It's definitely not one of those foods where you take a bite and say, oh yeah, this is gluten-free, with the most disgusted look on your face.
Nope, it is rich and decadent without being too heavy. The addition of an easy coconut whipped cream icing gives it even more moisture. Plus, you know every single ingredient in it, so you can feel good about enjoying a slice or four.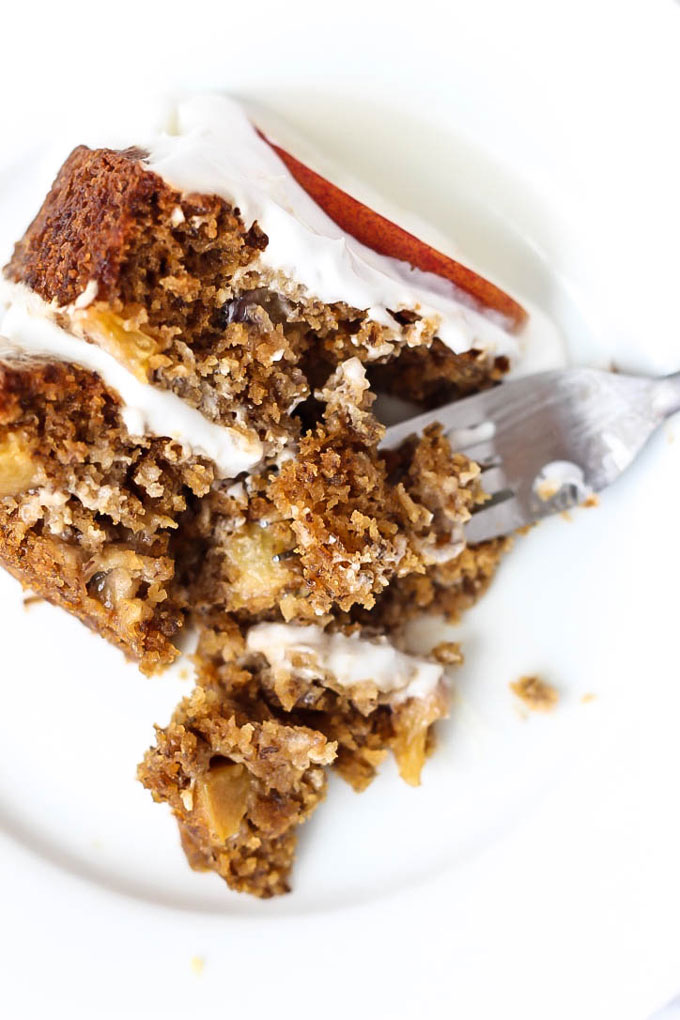 What better way to use up all those fresh summer peaches than baking them into a healthy cake? That's a rhetorical question, folks – there really is no better way.
If you find yourself baking a vanilla peach cake soon…well, that sounds like a good situation to find yourself in. Remember to snap a pic for the Insta and tag me @emilieeats so I can see your beautiful baking creations.
Have an AWESOME weekend!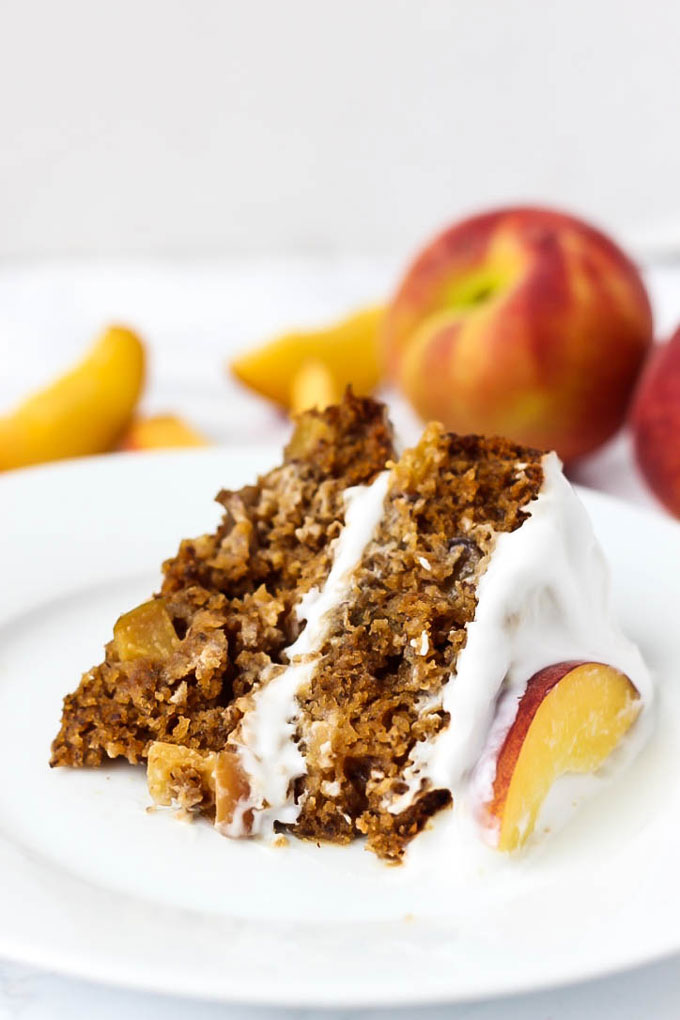 Print
How to make:
Gluten-Free Vanilla Peach Cake
Full of juicy peaches, this Vegan & Gluten-Free Vanilla Peach Cake is a great healthier dessert made with grain-free ingredients you can feel good about.
Ingredients
3 tablespoons

flax meal +

7 1/2 tablespoons

water

1

box Simple Mills Vanilla Cake Mix

1/3 cup

coconut oil, melted (or any other oil)

1/3 cup

water

1 tablespoon

vanilla extract

1 cup

peaches, chopped into

1/4

-inch cubes, plus more for decorating

1

can full-fat coconut milk, chilled overnight*
Instructions
Preheat oven to 350°F. Lightly grease two 8-inch round pans with cooking spray or oil.
In a medium bowl, add flax meal and 7 1/2 tablespoons water. Set aside for 10-15 minutes.
Add oil, water, and vanilla to the prepared flax meal. Stir to combine.
In a large bowl, add cake mix. Slowly pour wet ingredients into the dry ingredients; stir until ingredients are fully combined. Fold in chopped peaches.
Divide the batter evenly between the two pans. Bake for 45 minutes, until a toothpick inserted in the middle of a cake comes out clean. Remove cakes; let cool in the pan for at least 15 minutes.
Gently flip the cakes over to remove from the pan.
From your coconut milk, scoop out the solid white parts and place in a large bowl. Beat with an electric mixer until smooth.
Spread coconut whipped cream on top of one of the cake layers, then place the other layer on top. Frost the rest of the cake. Decorate with peaches and other fruit, if desired.
Notes
*I used a 14-ounce can of Trader Joe's Coconut Cream, which is incredibly thick. I recommend using that if you can get it.
Thanks to Simple Mills for sponsoring this post! I love working with brands whose products I really love and would honestly recommend. Thank you for supporting this blog that I love oh-so-much!
Want more cake? Yeah, me too. Here are some awesome recipes!
Vegan Cheesecake with Chocolate Chip Cookie Crust (gluten-free)