A few simple ingredients & 5 minutes are all you need for this vegan Pineapple Three Bean Salad! Serve with fresh chips to make it the perfect healthy party dish. This would be great for your Memorial Day weekend!
Oh, hey there. I missed you on Tuesday! It feels weird not posting according to my normal schedule, but life happens sometimes. And you gotta live it!
We had an amazing weekend on the beach at Hangout Music Festival! There was so much good music, friends, and good food – including a BOMB falafel wrap, kale tacos, and acai bowls 2x because they were that good. Also, did I mention that I was front row for Ellie Goulding? Acai bowls + Ellie = I can die happy.
Coming home to an e-m-p-t-y fridge was not so fun. What's a hungry girl to do? Make a big ole' salad of canned beans and frozen veggies, because that's all I had. And that, my friends, is how this pineapple three bean salad was born.
I'm a huge fan of "throw stuff into a bowl & mix" lazy-girl type meals. They're easily packable if I'm on-the-go (always), plus you can load them with so many delicious ingredients, since you literally just chop everything up and throw it in the bowl. Examples of the obsession can be seen in this blood orange quinoa salad and this avocado caprese pasta salad and basically any meal I eat ever. I think if I ever opened a restaurant, I'd call it Throw It In a Bowl. Any investors???
This bean salad really is that simple. Pop open some cans of beans, add some veggies, and throw them in a bowl. BOOM.
We're using beans 3x because HELLO beans are basically the greatest food on the planet. I could seriously just eat them plain out of the can. But sometimes I do the adult thing and mix them with other tasty ingredients and call it a day. Anyway, we're using black beans, chickpeas, and edamame, which all pack this salad with a ton of plant protein.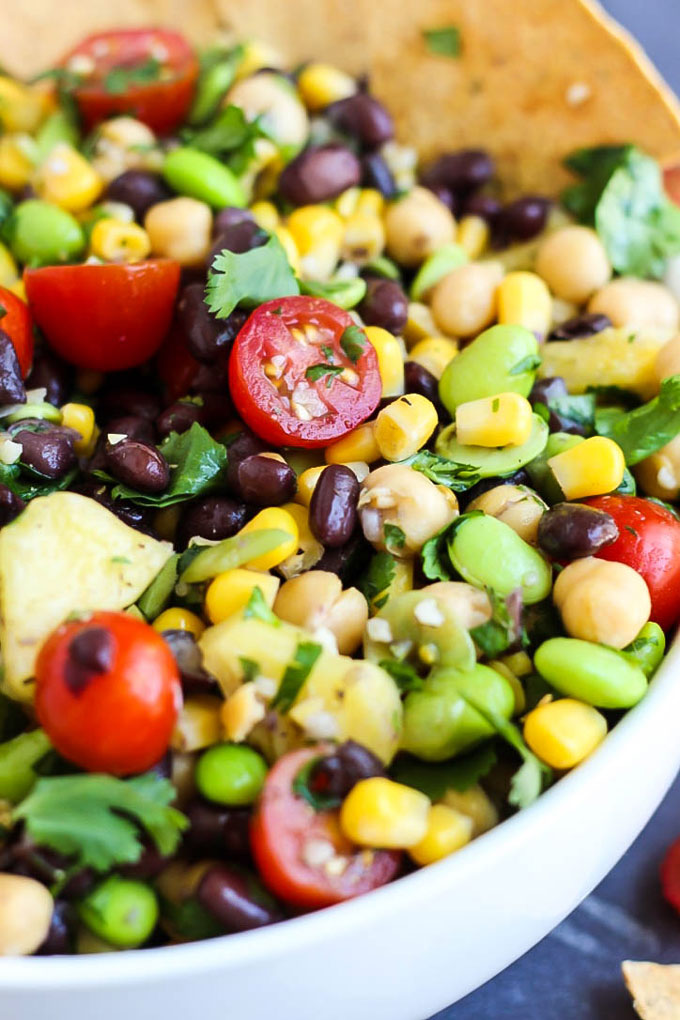 To give this salad a little extra flare, I added some chopped pineapple to give it a hint of sweetness in every bite. Boy, was that a good decision. There really is nothing better than juicy pineapple in the summer, except for maybe a bite of pineapple mixed with three types of beans and veggies. Yes, I am taking about this salad.
The sweetness of the pineapple mixed with a hint of spicy chili powder and the heartiness of the beans makes every bite of this salad a party in your mouth. Oh, and speaking of party, this would be the perfect dish to bring to a summer party. Bonus points if you bring tortilla chips. BONUS bonus points if you make those tortillas chips yourself.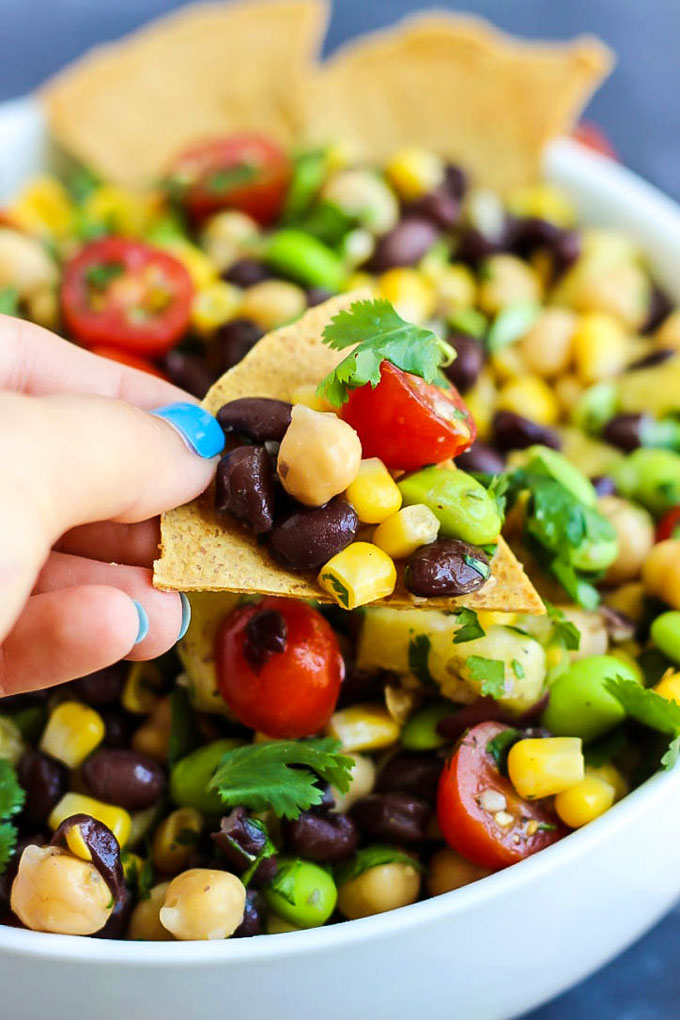 What are your Memorial Day weekend plans? I'm no psychic, but I see you making this three bean salad. It's just a feeling.
If you indeed get to make this yummy salad, let me know how you like it! Snap a pic for Instagram, tag me, and hashtag #emilieeats. Seeing your creations puts the biggest smile on my face!
So, tell me: You come home to an empty fridge after a long weekend away. What do you cook?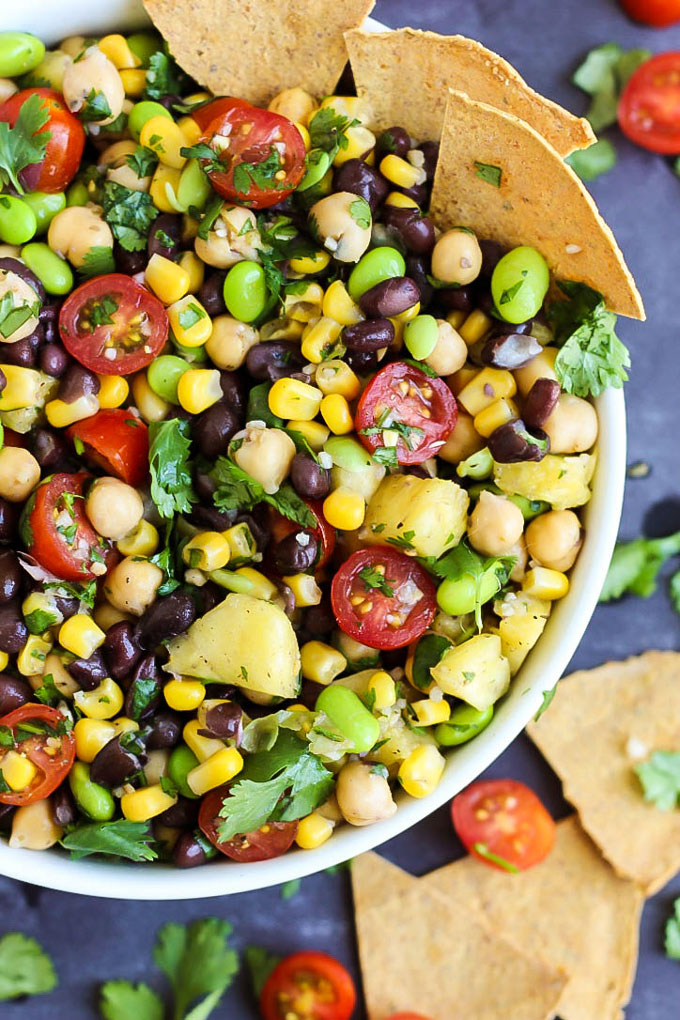 Print
How to make:
Pineapple Three Bean Salad
Ingredients
1

15-ounce can black beans, drained and rinsed

1

15-ounce can chickpeas, drained and rinsed

1 1/2 cups

cherry tomatoes, halved

1 cup

shelled edamame, thawed if frozen (organic if possible)

1 cup

corn kernels (organic if possible)

1 cup

pineapple, finely chopped

1/2 cup

cilantro, finely minced

2 teaspoons

garlic, minced

1 teaspoon

chili powder

1/2 teaspoon

salt, plus more to taste

1/4 teaspoon

cumin

1/4 teaspoon

pepper
Chips for serving (optional)
Instructions
In a large bowl, add black beans, chickpeas, tomatoes, edamame, corn, pineapple, and cilantro. Stir until ingredients are mixed evenly.
Add garlic, chili powder, salt, cumin, and pepper. Stir to combine.
Serve with chips and enjoy!