Make a batch of vegan pecan pie bars this fall! These ooey, gooey pecan pie bars feature a buttery vegan pie crust and lots of crunchy pecans!
Vegan Pecan Pie Bars
Which do you typically choose on Thanksgiving: Pumpkin pie or pecan pie?
If you're reading this post, I'm gonna guess there's a good chance you'll reach for the pecan pie!
Having grown up in Louisiana, where we really love our pecans, I will always have room in my heart (and my stomach) for a slice of pecan pie. That classic ooey, gooey filling contrasted with crunchy pecans? SIGN ME UP.
Pecan pie is a classic for the holiday table, and it's one of those recipes that really doesn't need a bunch of complex flavor remixes to keep in interesting each year. It's good just as it is – nice and simple. So instead of trying to tweak the flavors of pecan pie, we're changing the format and making vegan pecan pie bars!
These easy pecan pie bars have all the same flavors and components as the pecan pie you love on Thanksgiving, but in a sliceable, handheld bar! They're still the perfect addition to the dessert table at your gatherings, but are also a great way to enjoy a Thanksgiving classic before the holiday. Because who says you can't have pecan pie before Thanksgiving?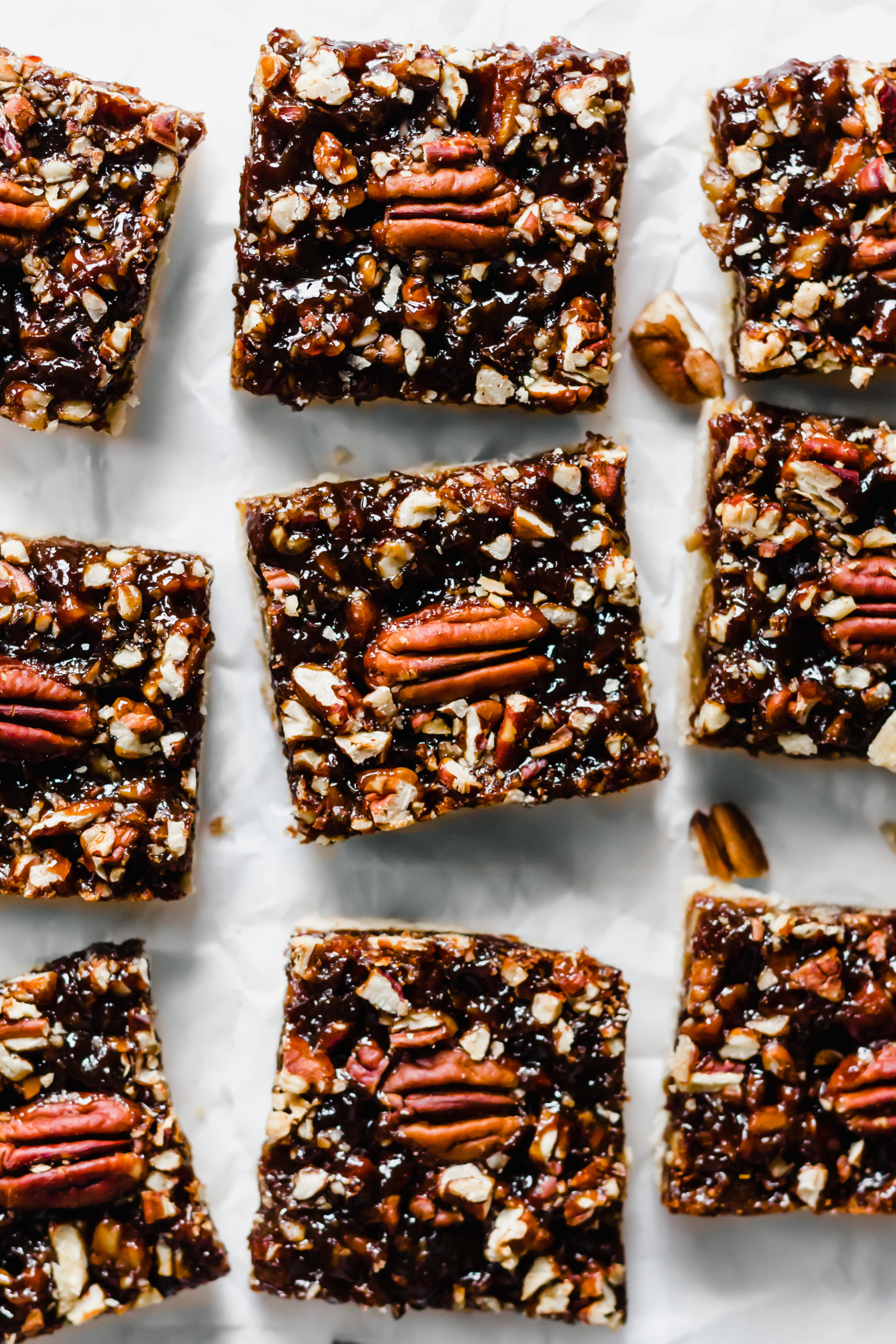 Ingredients for Vegan Pecan Pie Bars
We're keeping things pretty classic for these vegan pecan pie bars. All of the ingredients should look familiar for what you might typically see in your favorite pecan pie recipe. The only tweak we're really making is to the sweeteners. You know how you have to buy a random bottle of corn syrup every time you make pecan pie, and then the rest of it just sits in your pantry for a year until next Thanksgiving? Yeah, we're not doing that. Let's use things you might already have on hand instead! Here's what you'll need:
All-purpose flour. Just plain old white flour is perfect.
Dairy-free butter. You'll want to make sure it's nice and cold for the vegan pie crust – that's key!
Dates. I always have dates on hand because I love to snack on them. They naturally taste a bit like caramel, so we're using them to help sweeten the pecan pie filling.
Non-dairy milk. Any kind will work! I recommend unsweetened.
Brown sugar. I love the deeper flavors of brown sugar in these pecan pie bars.
Maple syrup. This is also one of our sweeteners in place of corn syrup, and it adds so much more fall flavor!
Blackstrap molasses. Our final sweetener for these pecan pie bars. This one I don't mind keeping on hand because you can make vegan gingerbread cookies next month!
Flax meal. This will act as a binding agent in place of an egg.
Cornstarch. You could also use tapioca starch.
Pecans. Of course!
Vanilla extract. Just a touch will really warm up the flavor.
Cinnamon. I love just a bit for a subtle flavor.
Salt. A pinch will go a long way to balance out the sweetness.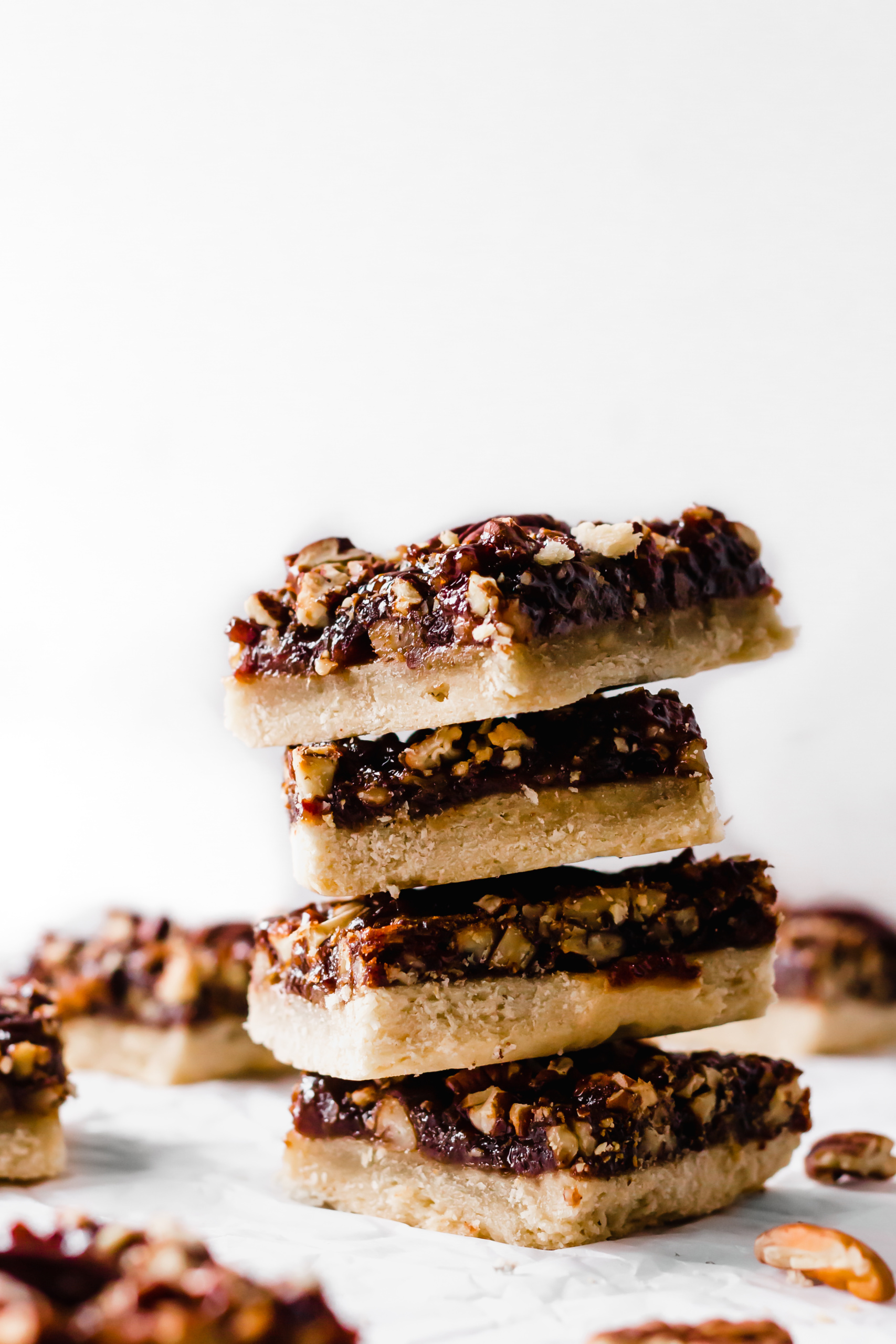 How to Make Vegan Pie Crust
These vegan pecan pie bars come together in just a few steps. First up, we're making our vegan pie crust! This will be the base of our pecan pie bars and I promise it's just as buttery and satisfying as one made with dairy-based butter.
The key to making a good homemade pie crust is ensuring that your butter is cold. Like really cold. If you're using vegan butter that comes in a block or a stick, you could even pop it into the freezer before working on the recipe.
You'll start by either cutting the butter up into small pieces, or if you froze your sticks of butter, you could grate it. Then you'll add your flour into a bowl and mix the butter into the flour using a fork or a pastry cutter until the mixture resembles wet sand.
Then, slowly add ice water one tablespoon at a time and stir until a dough begins to form. We want to use ice water here to keep the mixture cold and prevent the butter from melting. Once your dough starts to come together, knead it on a floured surface to smooth it out, then you can roll it out into a shape that will fit into your baking dish. Once your vegan pie crust is in the dish, you can put the whole thing in the fridge to stay cold while you work on the filling!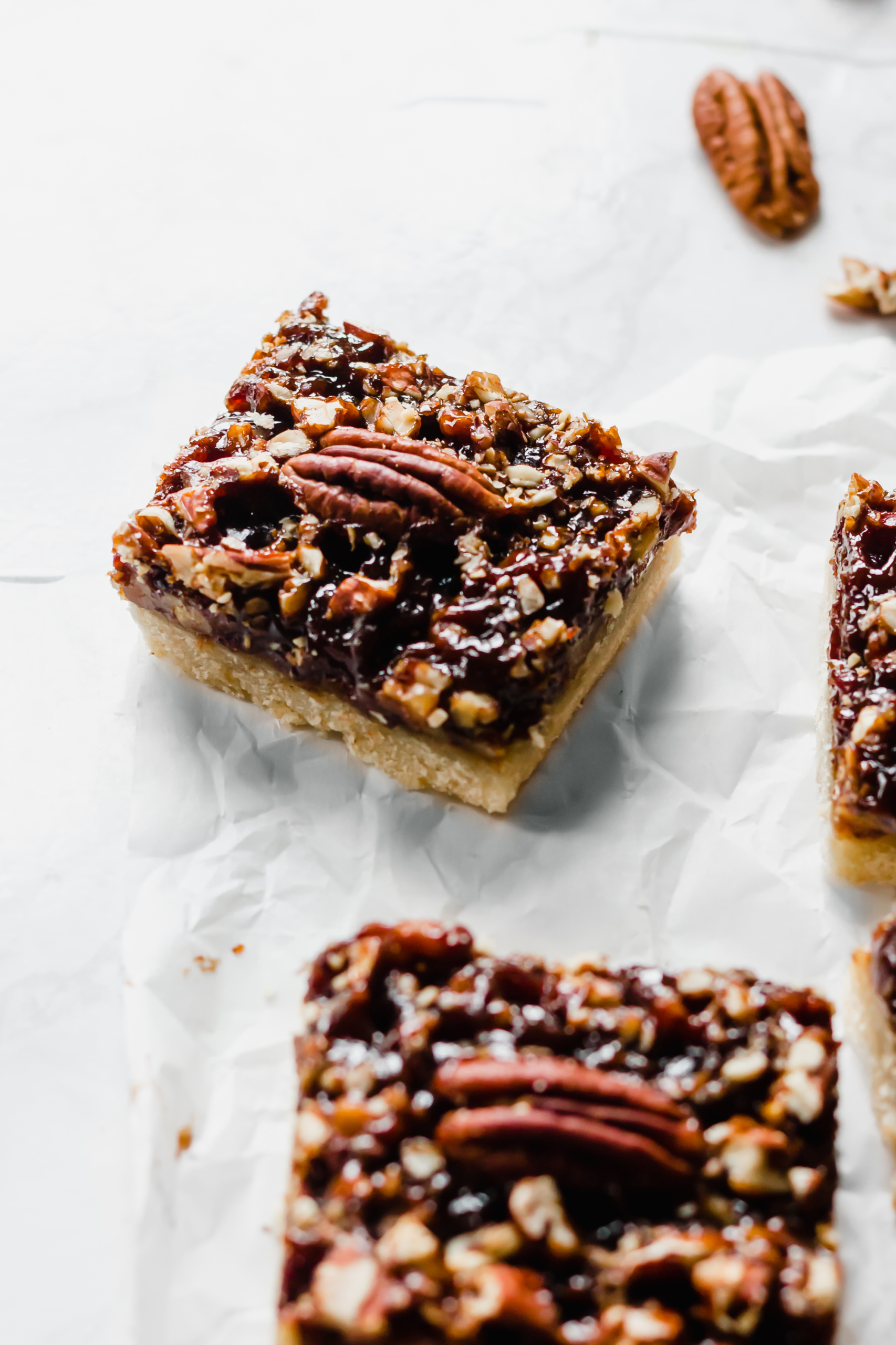 How to Make Vegan Pecan Pie Filling
This vegan pecan pie filling is so simple to pull together. As I mentioned earlier, we're not using any corn syrup in this recipe, and instead we'll be using other sweeteners that you likely already have on hand, and that will add even more flavor to the filling!
You'll start by soaking your dates in a bowl of hot water for about 10 minutes to help them soften. Then, drain the dates and add them to a blender or food processor with your non-dairy milk and blend until smooth to form a caramel-like mixture.
Next, you'll add the date mixture to a pot over medium-low heat along with your brown sugar, maple syrup and molasses. Stir the mixture constantly for about 10 minutes over the heat until everything starts to thicken. Then, add in your flax meal, cornstarch, vanilla, cinnamon and salt and continue to cook for another 5-10 minutes. Once you're left with a thick, but smooth mixture, add in about half of your chopped pecans and mix it up.
How to Make Vegan Pecan Pie Bars
Now all that's left to do is assemble and bake!
Start by preheating your oven to 400F. Once your vegan pecan pie filling is ready to go, spread the mixture on top of the crust, then arrange the remaining pecans on top. Pop your vegan pecan pie bars in the oven to bake for about 30-35 minutes.
This part is key – you have to let the bars sit for at least 10-15 minutes after pulling it out of the oven. If you slice right into your pecan pie bars after they come out of the oven, you will likely be left with a goopy mess, and that's what we want. With just 10-15 minutes of time to cool, your filling will start to set and you'll be left instead with that delicious, smooth, ooey gooey filling that you're looking for. Your patience will be rewarded!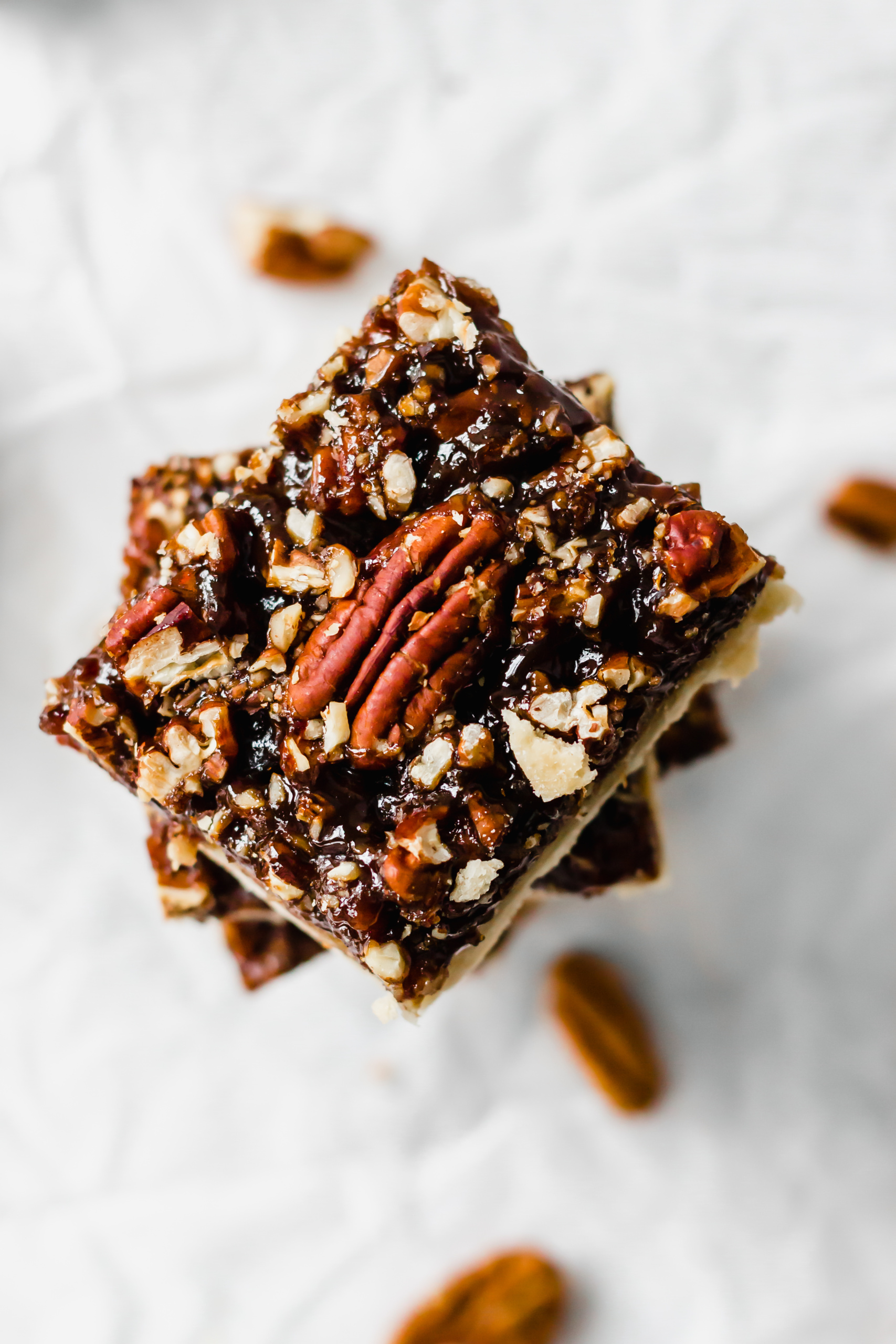 More Vegan Thanksgiving Desserts
Looking for more vegan Thanksgiving desserts to impress your loved ones with? These are all delicious options to serve at the end of your meal!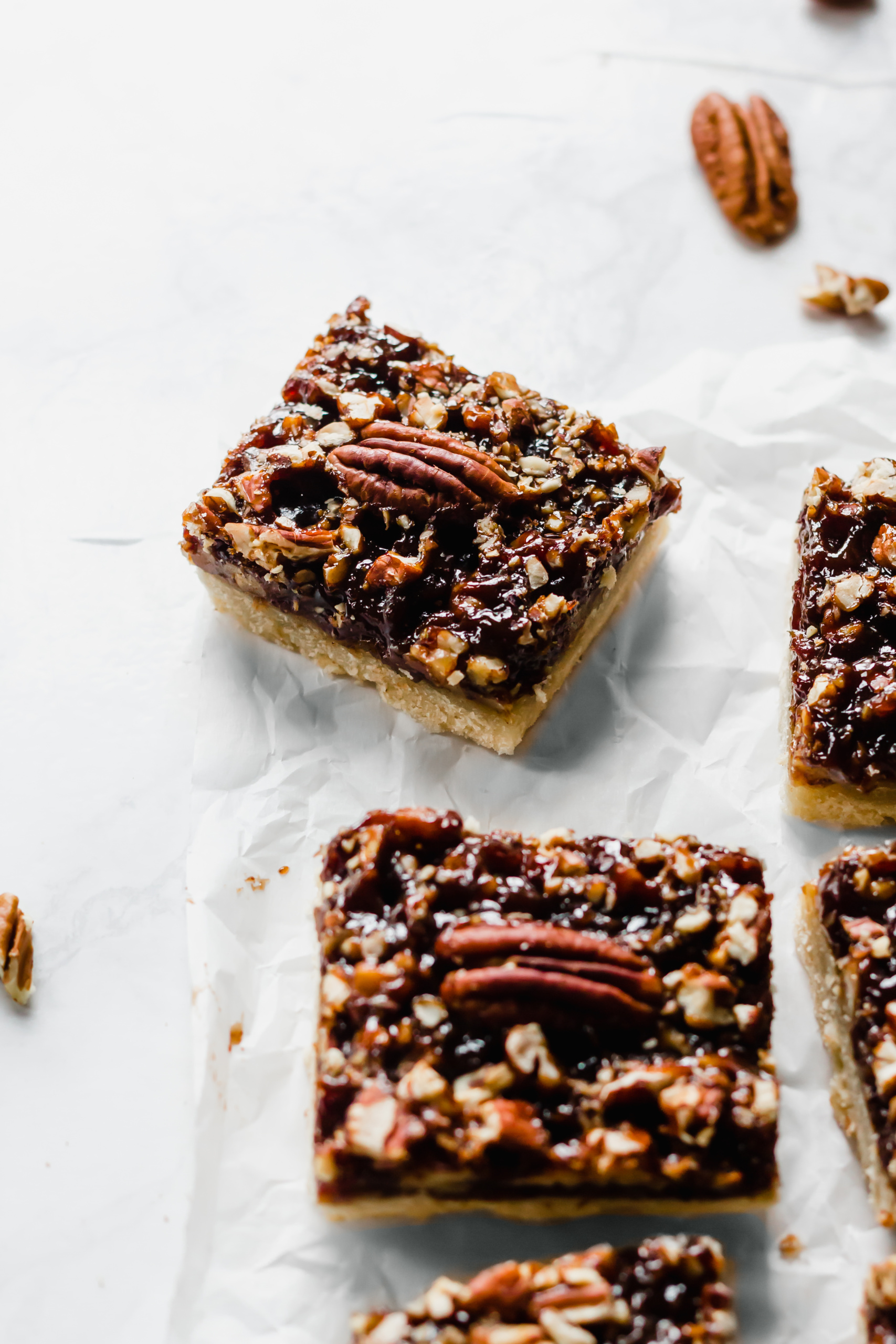 Print
How to make:
Vegan Pecan Pie Bars
Make a batch of vegan pecan pie bars this fall! These ooey, gooey pecan pie bars feature a buttery vegan pie crust and lots of crunchy pecans!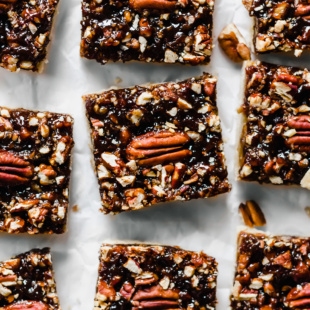 Ingredients
2 cups

unbleached all-purpose flour

2/3 cup

cold dairy-free butter

7 Tablespoons

ice-cold water

1 cup

pitted dates

1/2 cup

unsweetened non-dairy milk

3/4 cup

brown sugar, packed

1/2 cup

maple syrup

1/2 Tablespoon

blackstrap molasses

1 Tablespoon

flax meal

1 Tablespoon

cornstarch

1 1/2 teaspoons

vanilla extract

1 teaspoon

ground cinnamon

1/2 teaspoon

salt

1 1/2 cups

pecan halves
Instructions
Preheat oven to 400F. Lightly grease a 9×13 baking dish.

Add dates to bowl; pour hot water to cover. After 10 minutes, drain.

In a large bowl, add flour. Add dairy-free butter, using a pastry blender or fork, cut butter into small pieces and incorporate into the flour. The mixture should look like coarse, wet sand.

Slowly add water 1 Tablespoon at a time, stirring, until a dough forms. Dump the dough onto a floured surface; knead until a smooth dough forms. Using a rolling pin, roll dough into a rectangle the size of your baking dish. Place dough into the pan and press down to ensure even thickness.

Add drained dates and non-dairy milk to a blender. Blend until smooth.

Warm a medium-sized saucepan over medium-low heat. Add date mixture, brown sugar, maple syrup, and molasses, stirring constantly. Cook for 10 minutes, until the mixture begins to thicken. Add flax meal, cornstarch, vanilla, cinnamon, and salt. Stir and cook for 5-10 more minutes, stirring constantly.

Chop 1 cup of the pecan halves. Add the chopped pecans to the sugar mixture; stir to combine.

Pour the mixture over the crust. Arrange remaining 1/2 cup pecan halves on top of the filling.

Bake for 30-35 minutes. Let sit for 10-15 minutes until the filling has hardened a bit.