Amp up your fried rice by adding fermented kimchi in this Korean Kimchi Fried Rice recipe! It's a great way to use leftover rice, and dinner is served in an hour. In partnership with Pompeian!
Korean Kimchi Fried Rice
I like when I'm forced out of my comfort zone in the kitchen. I know you see all kinds of fun, creative recipes on the blog and think, so that must mean she spends hours in the kitchen making really cool meals every day! LOL, nope.
While I do (happily) cook and eat every single recipe on this blog, my cooking outside of testing recipes and doing photoshoots is really basic. Basically, I cook a type of bean, a grain or starch, a variety of vegetables…that's about it. I make random meals with those basic things throughout the week, adding healthy fats and fun toppings when I prep my plate.
One of my goals for the future is to cook more from other people's blogs or cookbooks. I love following recipes that use techniques and ingredients I don't usually reach for in my own cooking.
That includes cooking more globally-inspired meals, since I pretty much just season my food with salt and pepper. Boring, I know. But I would love to experiment more with unique seasonings and flavor profiles. So that said, any suggestions of what cuisines I should explore?
I was kind of nervous when Pompeian asked me to create a dish with Korean flavors. What do I know about Korean food? How could I do it justice? But I had just set a goal to branch out with my cooking, so with this in mind I took on the challenge and started researching traditional Korean meals and the ingredients used in them.
I stumbled upon kimchi fried rice (kimchi-bokkeum-bap) and was immediately sold because 1. there was already a container of leftover brown rice in my fridge, and 2. I love kimchi!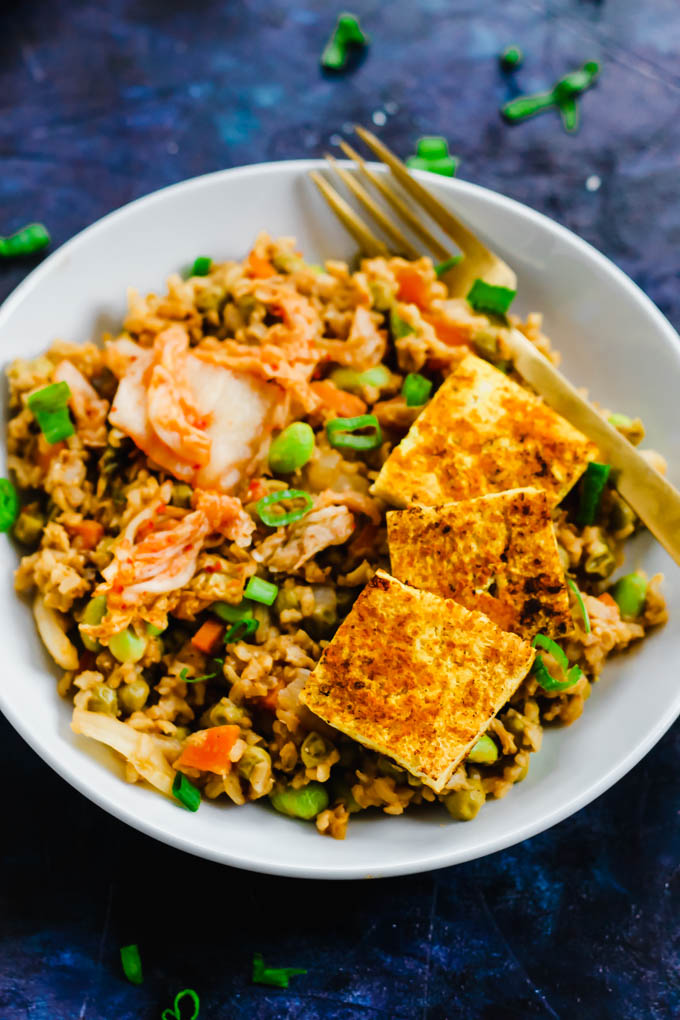 How to Make Kimchi Fried Rice
Fried rice is an inherently simple dish, and this Korean Kimchi Fried Rice is certainly no exception. It's without a doubt one of my go-to ways to use up leftover rice! Simply sauté vegetables and edamame in Pompeian Avocado Oil Non-Stick Cooking Spray, then add rice, some soy sauce, kimchi, and you're done!
PS: Did you know Pompeian even made Avocado Oil Cooking Spray?! I was so pumped to find it at my local Target. Avocado oil is gaining popularity because it is an oil you can use for high-heat cooking, plus it's high in monounsaturated fats and antioxidants. Monounsaturated fats can lower your risk of heart disease or stroke! 🙌🏽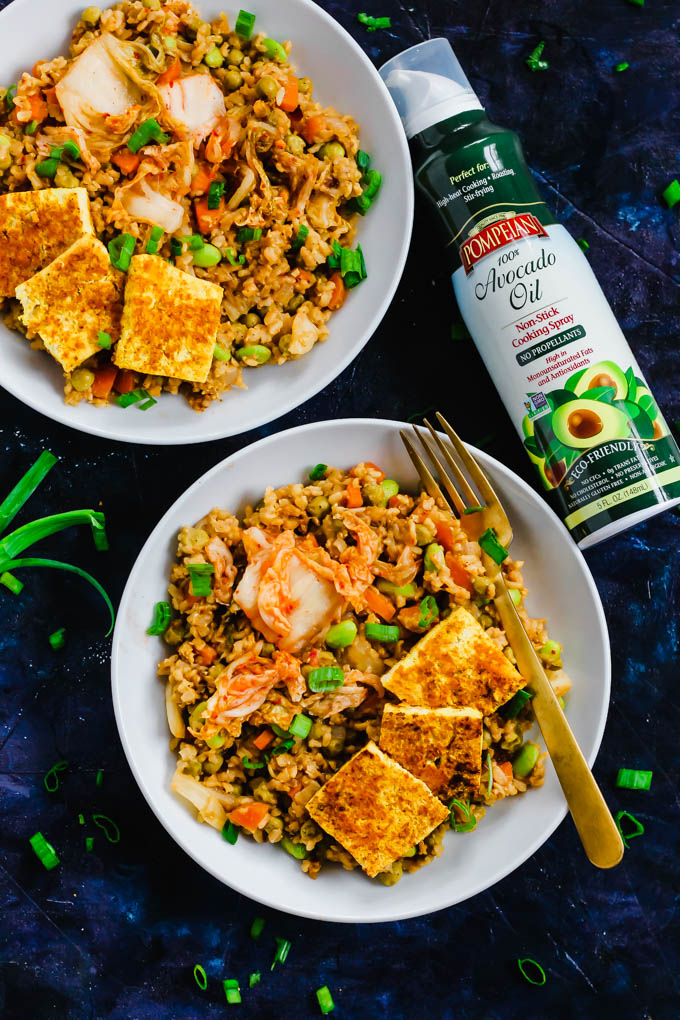 Ingredients in Vegan Kimchi Fried Rice
Get out of your comfort zone a little bit and allow yourself to be inspired by international cuisines! This Korean kimchi fried rice is a great place to start because it's a familiar dish, just with an extra ingredient. Here's what you'll need:
Pompeian Avocado Oil Non-Stick Cooking Spray. It's super important to make sure your pan is well-oiled for this recipe so that nothing sticks and burns
Yellow onion and garlic. Both onion and garlic add a great base flavor for our kimchi fried rice

Green peas, c

arrots and edamame. Frozen is a great option, but be sure to thaw for use in this recipe. And by all means feel free to add or substitute any veggies you like!
Kimchi. Traditional kimchi recipes will generally include either shrimp paste or fish sauce. With this in mind, be sure to read the label on your kimchi if you'd like to keep the recipe vegan
Brown rice. Specifically, you'll want to use leftover rice in this recipe. Rice will dry out as it sits in the refrigerator, which will provide a better texture when frying.
Soy sauce. You can use tamari instead if you are gluten-free
Green onions. Undeniably the perfect garnish on top of your kimchi fried rice.
Tofu. This kimchi fried rice recipe calls for 1 14-ounce package extra-firm tofu, although tempeh could also work. Hot tip: If you take the extra time to press it, then you will get a crispier tofu. We want to pull out as much moisture as possible because we want our tofu to get crispy. I promise it makes a difference.
Kala namak. Since we're omitting eggs, kala namak (black salt) will provide an egg-like flavor
Turmeric and black pepper. To add flavor to our tofu. 
Leftover Rice Recipes
I hate letting food go to waste, but no one wants to eat the same recipe every night for dinner. If you made a big batch of rice on Monday and are looking for new ways to enjoy it throughout the week, fried rice is always a great option and there are so many ways to put a fresh spin on it. Not only will you be able to clear out your fridge, but leftover rice actually works better in fried rice recipes than freshly cooked rice, so it's a win-win.
If you need more ideas on how to use your leftover rice, then check out these other recipes on Emilie Eats!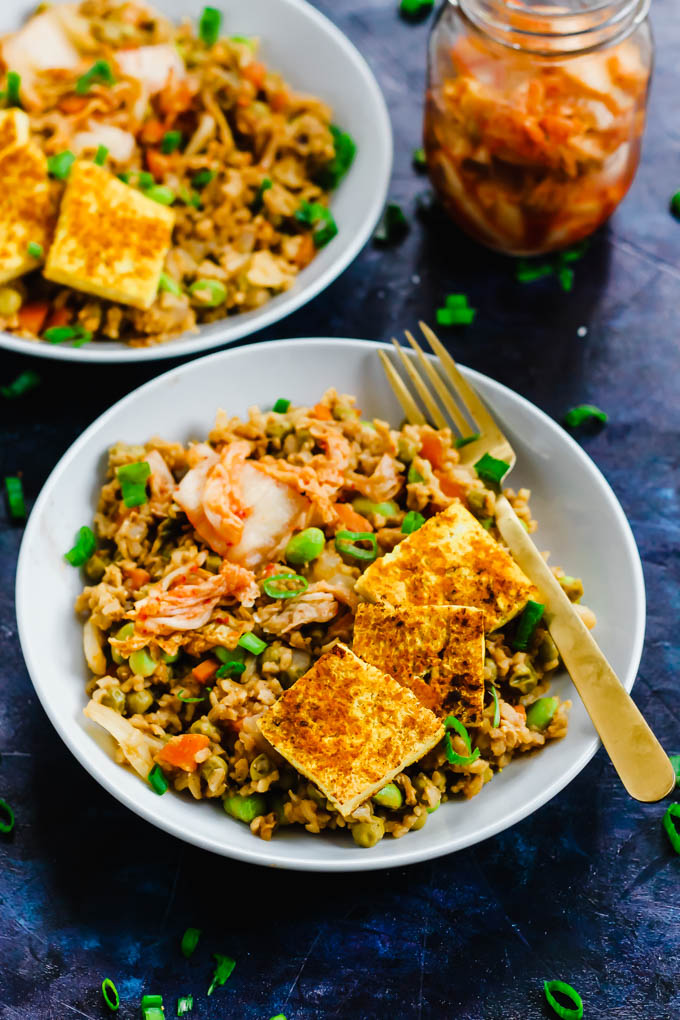 Print
How to make:
Korean Kimchi Fried Rice (vegan & gluten-free)
Amp up your fried rice by adding fermented kimchi in this Korean Kimchi Fried Rice recipe! It's a great way to use leftover rice, and dinner is served in an hour.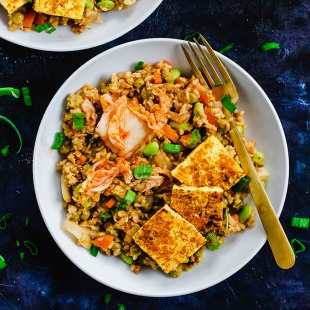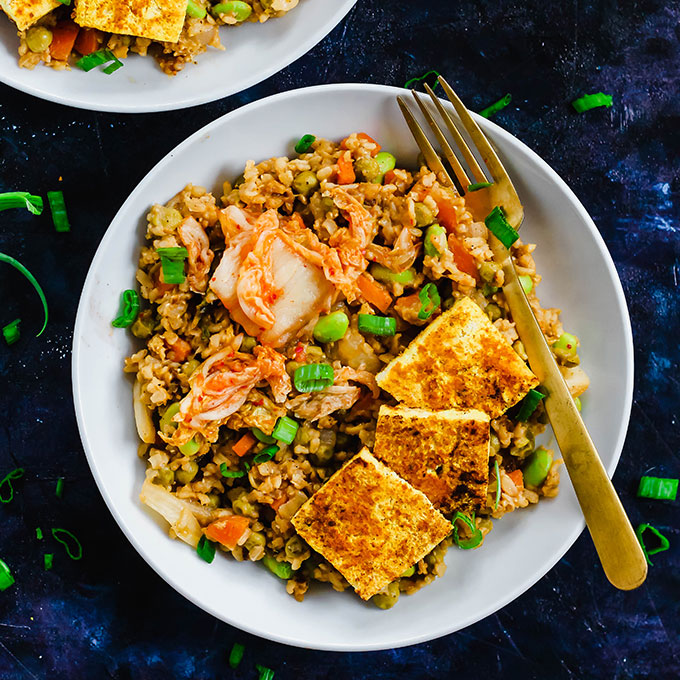 Ingredients
For the fried rice:
Pompeian Avocado Oil Non-Stick Cooking Spray

1

yellow onion, diced

2

medium carrots, diced (about

1 cup

)

3

cloves garlic

1 cup

shelled edamame, thawed if from frozen

1 cup

green peas

1 cup

kimchi (chop large chunks)

2 tablespoons

kimchi juice (from the jar of kimchi)

2 cups

cooked brown rice

1/4 cup

soy sauce*

1/4 cup

green onions, sliced
For the tofu:
1

14-ounce package extra-firm tofu, drained and pressed**

1 teaspoon

ground turmeric

1/2 teaspoon

kala namak (black salt)

1/4 teaspoon

black pepper
Instructions
Generously grease a large wok or skillet with Pompeian Avocado Oil Non-Stick Cooking Spray. Place over medium heat. Add onion; cook for 5-7 minutes, until slightly tender. Add carrots and stir; cook for 8-10 minutes, until vegetables are tender. Add garlic; cook for 1 minute, stirring.

Add edamame, peas, kimchi, and kimchi juice. Stir to combine; cook for 5 minutes, until all vegetables are heated through. Add rice. Fold vegetables into rice and cook for 3-5 minutes, until rice is heated through. Add soy sauce; stir.

Cut tofu into thin slices, then cut the slices in half. Place in a medium bowl. Add kimchi juice, turmeric, salt, and pepper; toss to coat tofu evenly.

Generously grease a medium skillet with Pompeian Avocado Oil Non-Stick Cooking Spray. Place over medium heat. Add tofu slices; cook for 5 minutes on each side, until crispy on the edges.

Serve fried rice with a few slices of tofu, a garnish of green onions, and extra kimchi.
Notes
*If gluten-free, use tamari.
**Use a tofu press, or wrap the tofu in paper towels and place in the sink with a heavy object on top. Press for 10-15 minutes.
---
Thanks to Pompeian for sponsoring this post! I love working with brands whose products I really love and would honestly recommend. Thank you for supporting this blog that I love oh-so-much!