I brought you pudding pie. I brought you almond butter bars. I even brought you pumpkin snickers.
But today my friends, I'm bringing you a salad. Not just any salad: a healthy roasted butternut squash kale salad with juicy pomegranate seeds, crunchy pumpkin seeds and a damn good dressing. Like, lick-the-bowl type of good.
oh, you must just eat salads all day, like it's a bad thing. Which it could be, if you were eating wimpy iceberg lettuce salads with cucumbers and tomatoes every day. Booooring. 
When I tell someone I eat plant-based, or even just healthy, the first thing they say is, 
I'm hear to tell you that salads are actually really, really fun. You basically get to throw whatever you want into a bowl and EAT IT (<–that's my favorite part). Craving Mexican? Throw some black beans, salsa, and avocado on top of some greens. Mediterranean? Go for olives, artichoke hearts, and sun-dried tomatoes. Really, salad is whatever you want it to be. So let's make it fun and throw a salad party with this fall kale salad as the guest of honor!?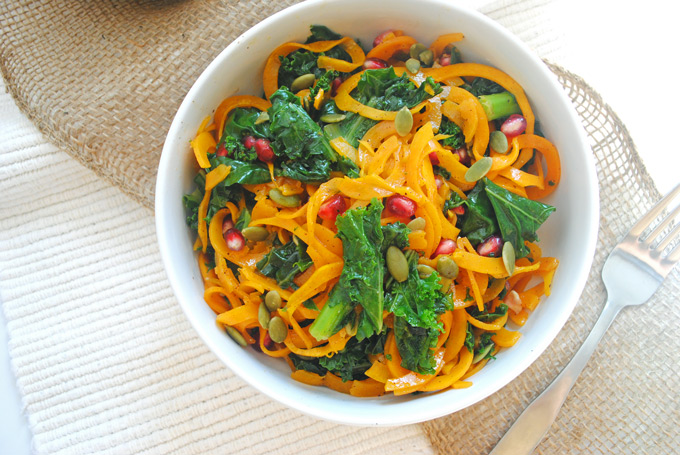 I hope I haven't lost you yet. I know my groundbreaking statements about salads actually being fun may seem far-fetched, but trust me on this one.
Let me tell you about this salad. It all starts out with a tender bed of kale; I decided to lightly steam it so it's a little less bitter and tough, but the choice is yours. Then (my favorite part!!!) I used my Inspiralizer to make beautiful butternut squash noodles that are perfectly roasted in the oven. Seriously, the Inspiralizer is up there with my NutriBullet and food processor as favorite kitchen appliances. Get. It.
If you don't have any kind of spiralizer, no fear! You can just cube the squash and roast it like normal. But…just look at those noodles! *swoon*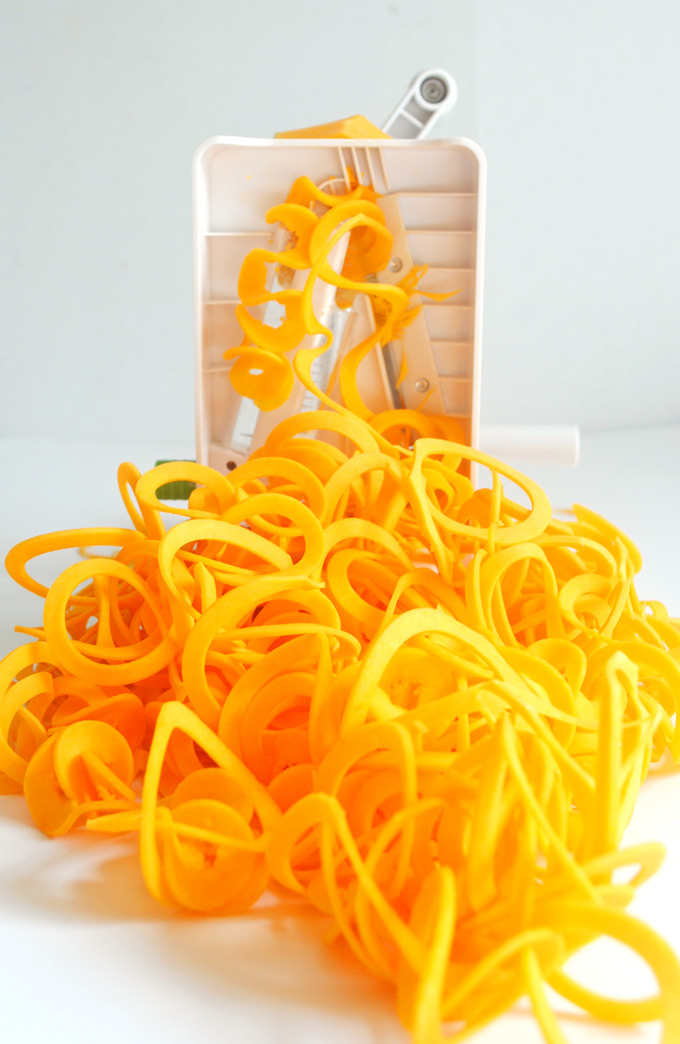 Since pomegranates are basically my favorite thing ever in the fall/winter, I threw those ruby red seeds in the salad for a sweet, juicy crunch. Ugh, is there anything better? I could seriously eat pomegranates all day long. Of course I threw in some pumpkin seeds, too, because it's still fall and fall=pumpkin.
It's all finished off with a slightly sweet maple balsamic vinegar that complements the butternut squash so well. Everything blends together perfectly to create the best kale salad you ever did eat. If you don't like kale, I challenge you to try this. You'll be hoarding bunches of kale from the farmer's market before you even know what hit you.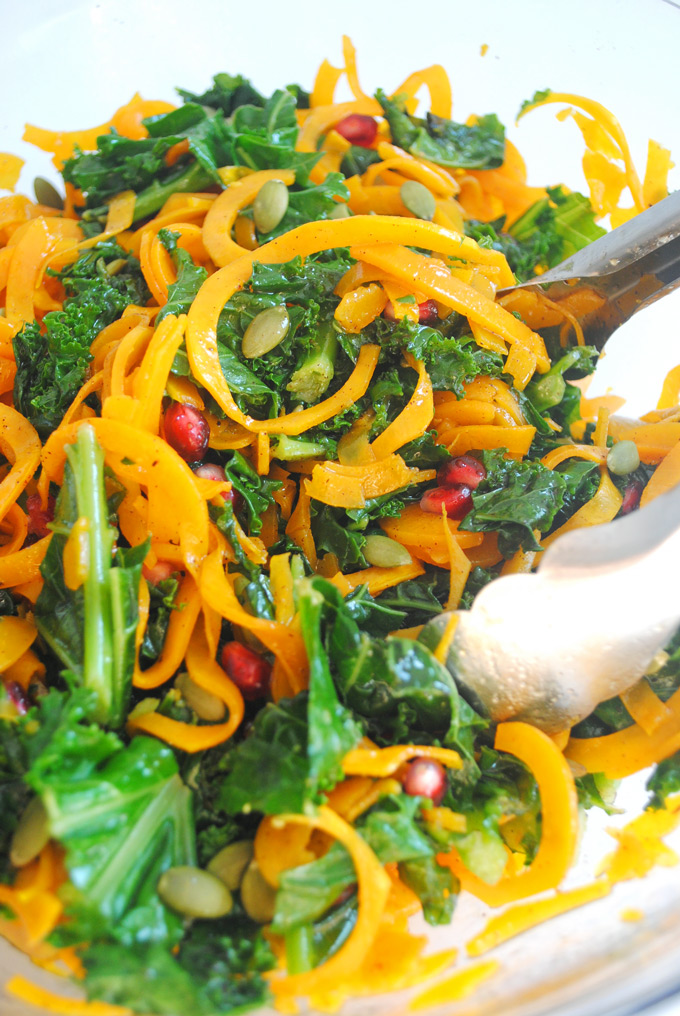 If we're being honest, I meant to add quinoa to this salad, but I didn't remember until I had looked at my recipe notes…after I took all the photos. I think it worked out without the quinoa though because it makes a great, light salad to bring to all your Thanksgiving dinners! That being said, I think quinoa would be lovely in here. Also, I can't wait to try this with crispy roasted chickpeas for a more filling salad.
Let me know if you bring this fall kale salad to any Thanksgiving parties! Or if you make it for yourself and don't share it with anyone.
Print
How to make:
Roasted Butternut Squash Fall Kale Salad
This fall kale salad is bursting with roasted butternut squash, juicy pomegranate seeds, and crunchy pumpkin seeds! It's perfect for holiday dinners.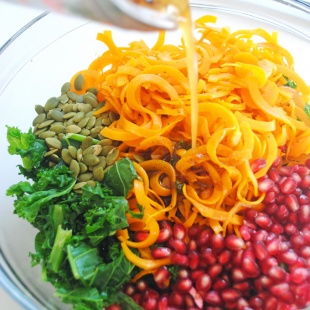 Ingredients
6 cups

butternut squash, spiralized or cut into

1/2

-inch cubes

5 cups

kale, stems removed, roughly chopped

1/2 cup

pomegranate seeds (about

1

large pomegranate)

1/3 cup

pumpkin seeds

3 tablespoons

olive oil

2 tablespoons

balsamic vinegar

1 tablespoon

maple syrup

1/2 teaspoon

mustard

1/2 teaspoon

cinnamon
Salt and pepper, to taste
Instructions
Preheat oven to 400F. Lightly grease or spray a baking sheet.
If spiralizing, cut the long neck of the squash off of the bulb section. Cut the ends off. Set aside the bulb for later use. Peel the neck. On the Inspiralizer, I used Blade C to create linguine noodles. Spiralize the squash; cut the noodles into shorter pieces and measure 6 cups. Place on the baking sheet and drizzle with olive oil; toss. Bake for 6-8 minutes.
If cubing, cut the long neck of the squash off of the bulb sections. Cut the ends off; peel both pieces of the squash. Scoop the seeds out of the bulb. Cut the squash into 1/2-inch cubes. Place on the pan and drizzle with olive oil; toss. Bake for 20-25 minutes, until the squash is tender.
Meanwhile, lightly steam the kale in a large skillet or pot (optional). Place kale in a large bowl.
Add pomegranate seeds, pumpkin seeds, and butternut squash to the bowl. Toss to combine.
In a small bowl or jar, add olive oil, balsamic vinegar, maple syrup, mustard, cinnamon, salt and pepper. Whisk or shake to combine.
Pour dressing into the bowl; toss until fully combined.
Notes
Storage:
Store in an airtight container in the fridge for up to 3 days.