Warm up with this Vegan Potato Kale Soup! It's a cozy vegan potato soup filled with green goodness that makes for a healthy, comforting meal!
Cheesy Vegan Potato Kale Soup
Is it too cheesy to say this recipe is SOUPer?
Okay, sorry. I hate that I just said that. But seriously, please forgive my terrible puns. Enjoy some vegan potato kale soup with me to make up for it?
You guys, this vegan potato soup is next level. It is oh-so-creamy and cheesy, and we're packing it full of nourishing greens.
This vegan potato soup recipe is basically a soup version of my Vegan Mashed Potatoes with Garlicky Kale from last year that blew up on Pinterest. Not surprised – potatoes are life, yes?
So grab your Yukon Golds and a blanket because it's time to get cozy!
Say hello to your new favorite fall meal. I can already feel the love.
I hope I helped you see things from a different perspective if you're dealing with something frustrating. Just try to be positive about it. It actually makes you feel better!
Oh, and a cozy bowl of cheesy potato kale soup goodness doesn't hurt either. Just sayin'.
If you make this soup, snap a pic, post it on Instagram, and tag me @emilieeats – I know you'll love it!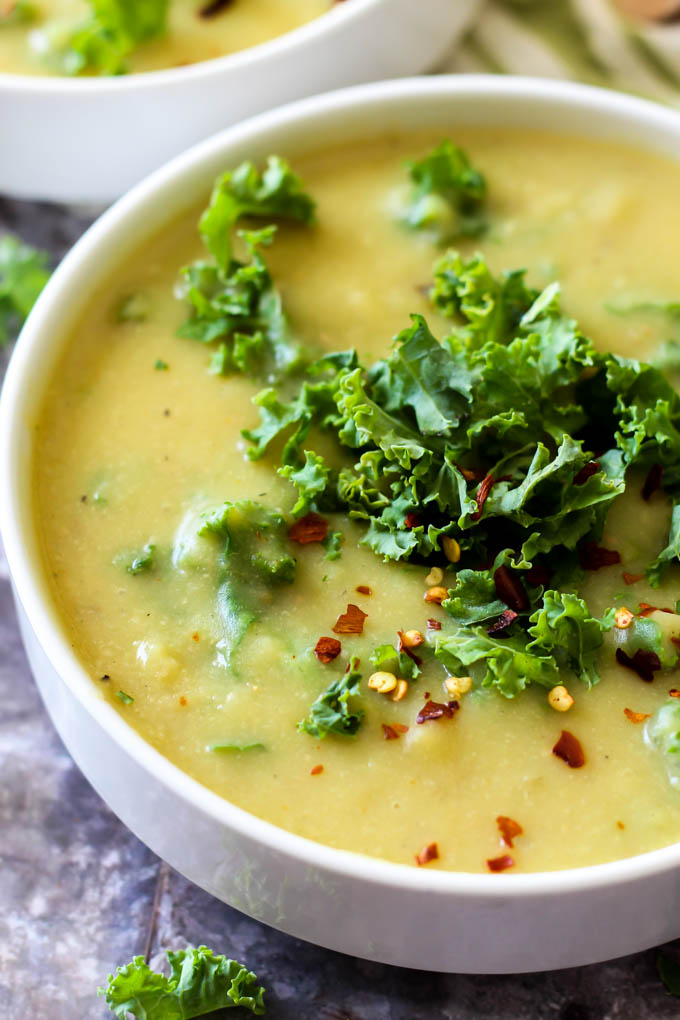 Ingredients for Vegan Potato Kale Soup
This is a super cheesy, creamy vegan potato soup, but we're using all plant-based ingredients to make it! Instead of using heavy cream to make this soup creamy, we're using a whole can of beans because HELLO, you should know by now that I don't go a day without, like, 3 cups of beans. Full of that good good fiber, protein, and makes this soup hella silky.
OH. And I totally would've topped it with some tempeh bacon had I thought of it. Next time!
Here's everything you'll need to make a batch of this vegan potato kale soup:
Yukon Gold potatoes. I beg you to use Yukon Gold potatoes in this potato kale soup – nothing compares to their natural creaminess and butteriness.
Kale. We're adding in a whole bunch of kale – literally!
Vegetable broth. I recommend using a low sodium vegetable broth so that you can control the amount of salt you add to the recipe.
Cannellini beans. Adding beans to our vegan potato soup not only makes it super creamy, but the added protein and fiber makes this vegan potato soup that much more satisfying.
Onion. This soup starts by sauteeing onions, which is where we start to build all the flavor.
Garlic. We're using three cloves of garlic in this vegan potato soup, but feel free to use more or less based on your preferences.
Nutritional yeast. This vegan potato kale soup gets all its cheesy goodness from nutritional yeast.
Spices. We'll be using salt, black pepper, ground thyme and paprika.
Liquid smoke. If you don't have liquid smoke, you could also use a smoked paprika instead of a traditional paprika.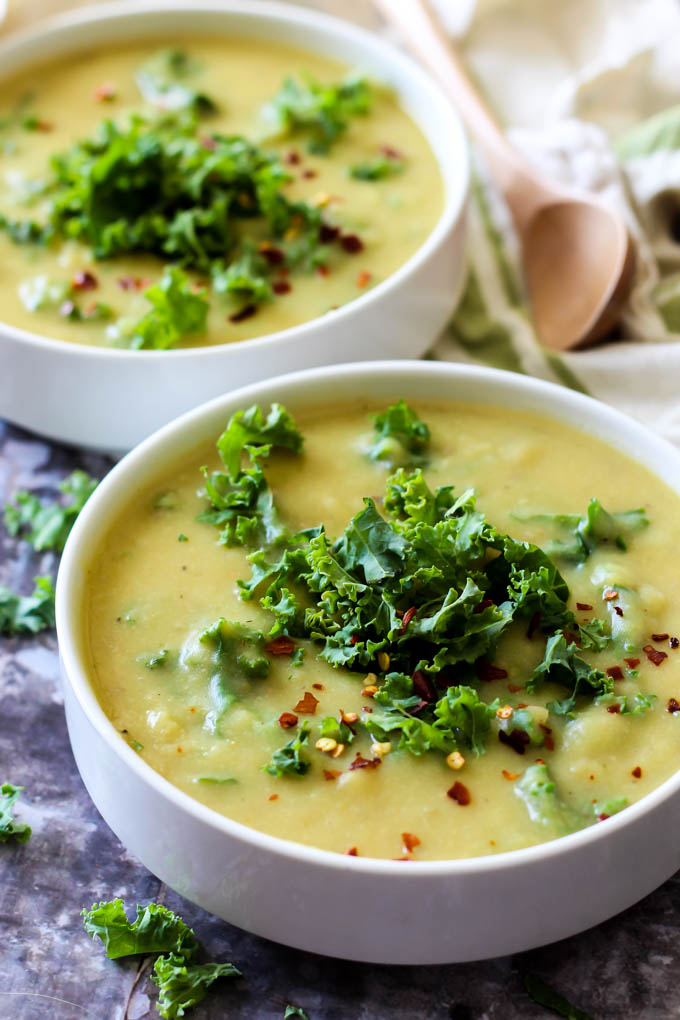 How to Make

Vegan Potato Kale Soup
I promise you can make a super creamy potato kale soup without adding any dairy! Thanks to white beans and nutritional yeast, you won't believe just how cheesy and creamy this soup is.
It all starts with a base of sauteed onions. Cook down your onions in a bit of oil until they start to soften and brown, then add in garlic and cook for another minute. Once the garlic becomes fragrant, add your potatoes and broth, bring the soup to a boil, cover and cook for about 20 minutes.
Once the potatoes start to soften, add in your beans and nutritional yeast, then blend with an immersion blender. If you don't have an immersion blender, you could also add everything to a blender or a food processor then return the blended soup to the pot once it's super smooth.
Once you've blended your soup, bring it up to a simmer, then add in all your seasonings and kale and continue to cook until the kale has wilted. Once your greens are tender, you're ready to serve! Pro top, this vegan potato kale soup is DELICIOUS with red pepper flakes and a little extra nutritional yeast on top 🙂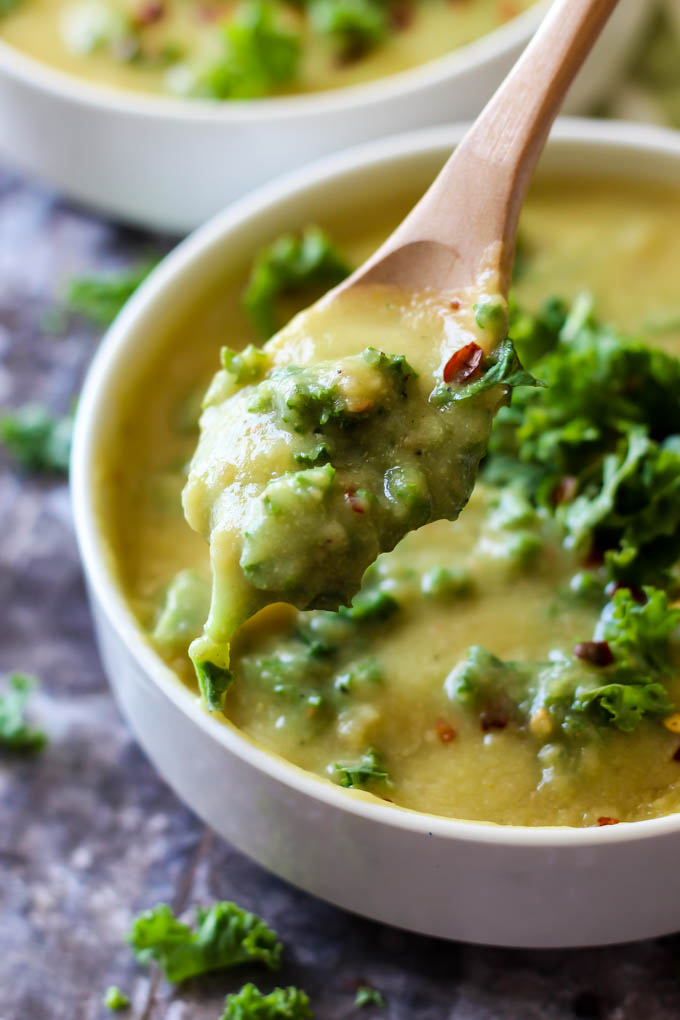 More Vegan Soup Recipes
I am all about delicious vegan soups and stews all fall and winter long. I mean what's better than spending a cold day cozied up with a warm, satisfying bowl of goodness? If you're looking for more vegan soup recipes that will warm you up from the inside out, check out these ones!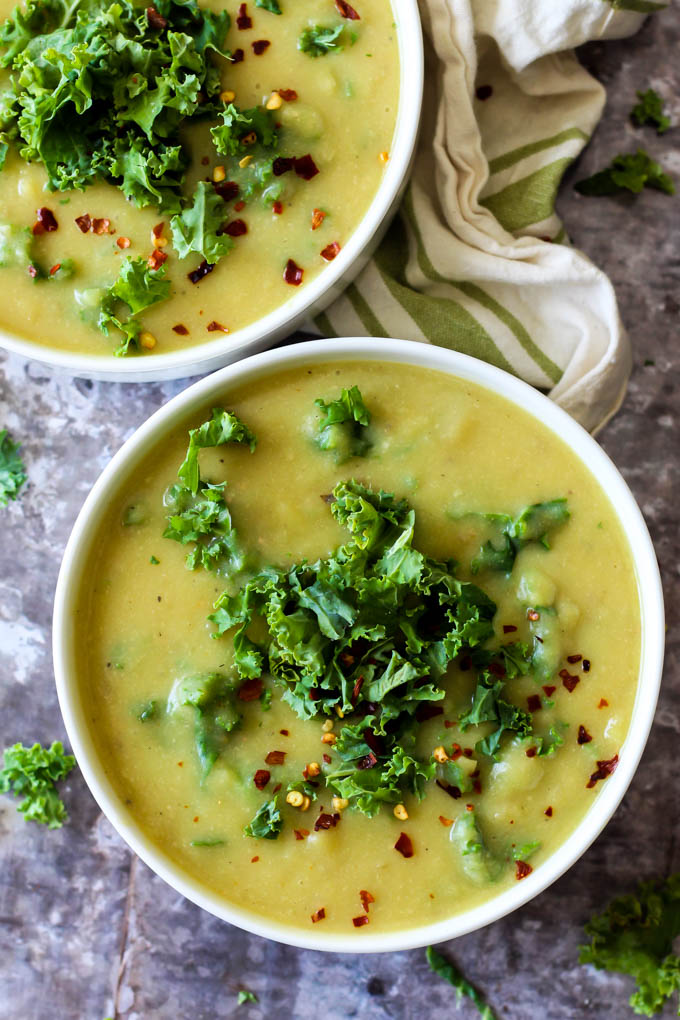 Print
How to make:
Cheesy Vegan Potato Kale Soup
Warm up with this Vegan Potato Kale Soup! It's a cozy vegan potato soup filled with green goodness that makes for a healthy, comforting meal!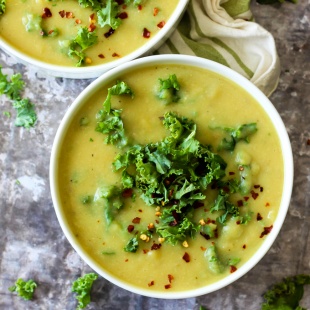 Ingredients
1

onion, chopped

3

cloves garlic, minced

1

pound Yukon Gold potatoes (about

3

–

4

medium), chopped into 1-inch chunks

4 cups

vegetable broth

1

15-ounce can cannellini (white) beans, drained and rinsed

2/3 cup

nutritional yeast

1 teaspoon

salt

1/2 teaspoon

black pepper

1/2 teaspoon

ground thyme

1/4 teaspoon

paprika

1/4 teaspoon

liquid smoke

1

bunch kale, chopped into small pieces
Instructions
In a large pot over medium heat, warm up a little water or oil (if using). Add the chopped onion and stir; cook until tender and lightly browned, about 5-7 minutes. Add garlic; cook for 1 minute.
Add the potato chunks and broth; bring to a boil. Cover and cook until the potatoes are tender, about 20 minutes.
If using an immersion blender, add the beans and nutritional yeast to the pot, then blend until smooth. If using a regular blender or food processor, slowly add potatoes in broth, beans, and nutritional yeast to the blender and blend until smooth; work in two batches if needed. Return the soup to the pot.
Reduce heat to simmer. Add salt, pepper, thyme, paprika, and liquid smoke. Stir.
Add the chopped kale and stir to incorporate in the soup. Cover and cook until the kale wilts, about 5 minutes.
Serve hot; top with red pepper flakes, tempeh bacon, or additional nutritional yeast.