Is it too cheesy to say this recipe is SOUPer?
Okay, sorry. I hate myself for that. Just kidding! But seriously, please forgive my terrible puns. Enjoy some potato kale soup with me to make up for it?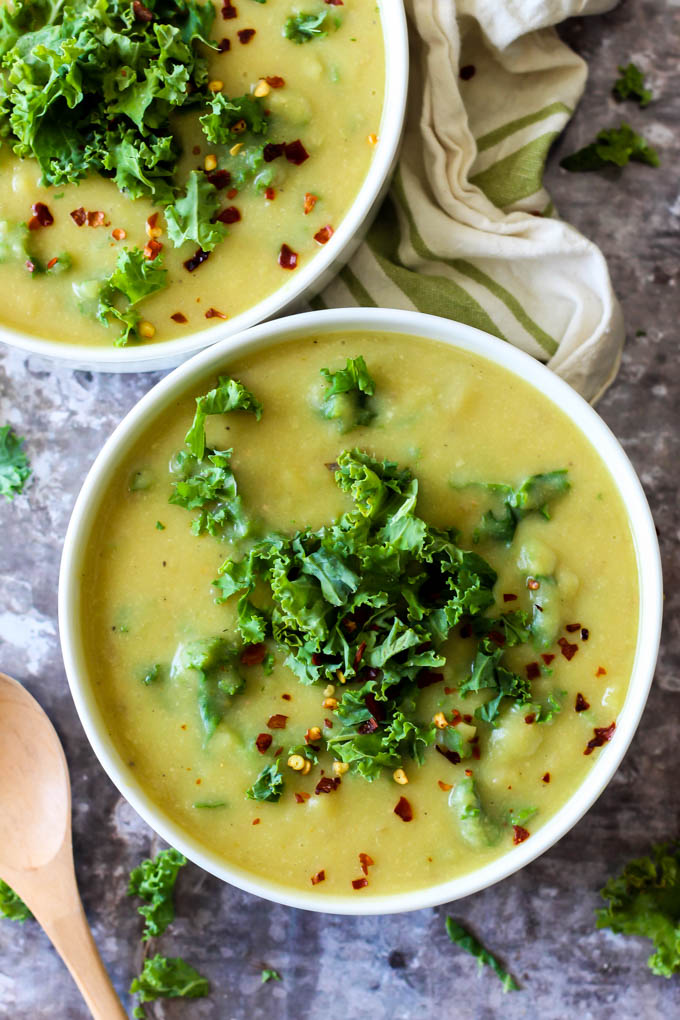 Welcome back, friends. I'm glad you're here. How was your weekend? Was it relaxing and fun and cool with a slight breeze and full of light sweaters and snuggly nights?? Ahh, October.
I had a rather relaxing weekend (whaaaat? me??) and it was freaking awesome. I rejoiced in the end of midterms on Friday, enjoyed a slow morning and college football game on Saturday, and went to an amazing body-love yoga workshop at a local studio on Sunday. Why can't we have beautiful flows and intimate conversations with other women every week? Ugh, it was great.
But here's something not-so-great that I want to tell you guys about – I've been living out of boxes for 3 months.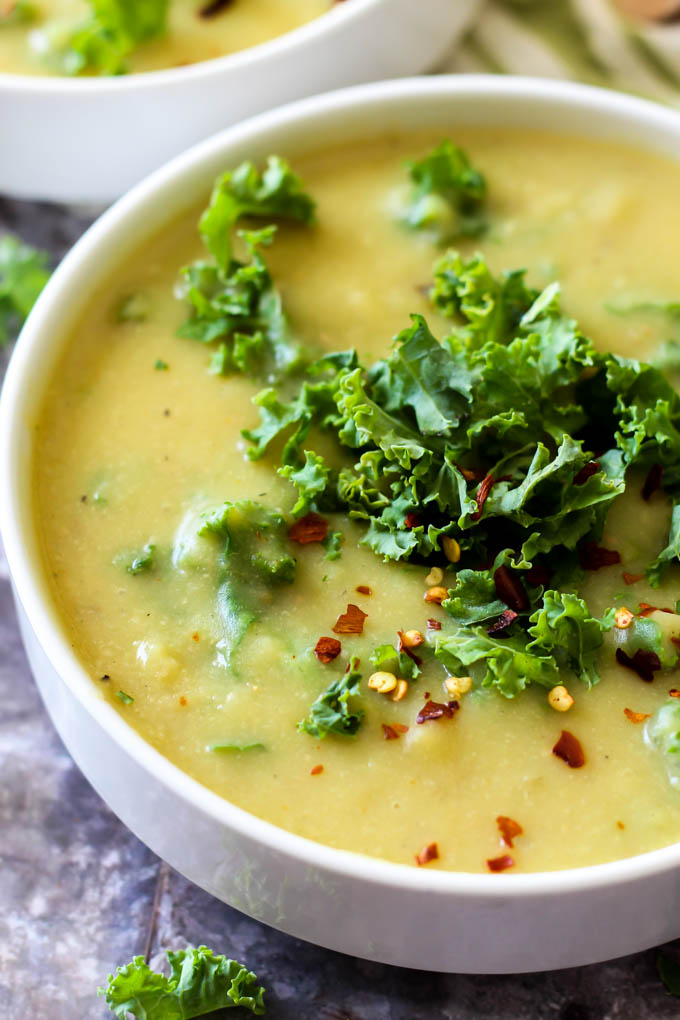 I was supposed to seamlessly move out of my old apartment and into my new place with my good friend on July 31, but of course, with my luck, that didn't happen. They were repairing the apartment and in the process found mold, which then needed to be taken care of. So, there I was, 1 week away from moving out of my apartment with no clue where I was going. Fun.
My awesome boss ended up finding someone here that had a spare bedroom, but my little Leo couldn't come, so I had to send him home with my mom. CUE THE TEARS. Lots of 'em.
I started the school year with my stuff packed in boxes and feeling very unsettled. I was hopeful that we'd be in the new apartment quick, but alas, I have the worst luck ever. Catastrophic floods affected thousands in the area, and though our apartment was spared, many others were not so lucky – including our contractor, who lost his home and had to stop working.
It's now been 3 months living in boxes without my little love bug, and to say it's been a headache is an understatement. Living unsettled has left me feeling very unsettled, which is the last thing I need in this phase of life. But, you know what?
It could be worse.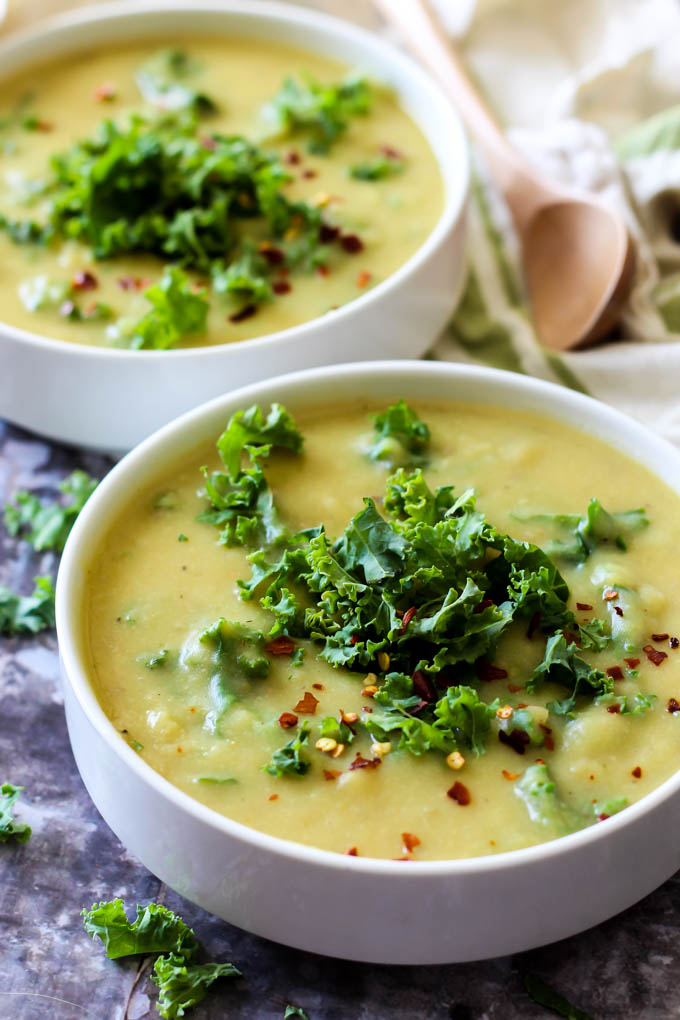 I could actually be homeless. I could not know where my next meal is coming from. I could've not found someone trustworthy to watch my Leo (thanks, Mom).
I'm not saying that my problems aren't worth acknowledging, but putting it into perspective has made my emotions toward the whole situation much more positive and optimistic. Sure, I could be pissed off and rude and ungrateful, but at the end of the day, that doesn't get you anywhere. So I'll choose to smile instead.
I have a bed, a kitchen (bless up), a car, a cat, an education, loving parents, and great people around me. I'm lucky.
Also, I've been numbing the pain of missing my cat with this SOUP that is oh-so-creamy and cheesy and it's kind of working because it's that damn good. Still miss my cat though…
[Tweet "This cozy #vegan cheesy potato kale soup goes perfect with your fuzzy slippers + Netflix. DO IT."]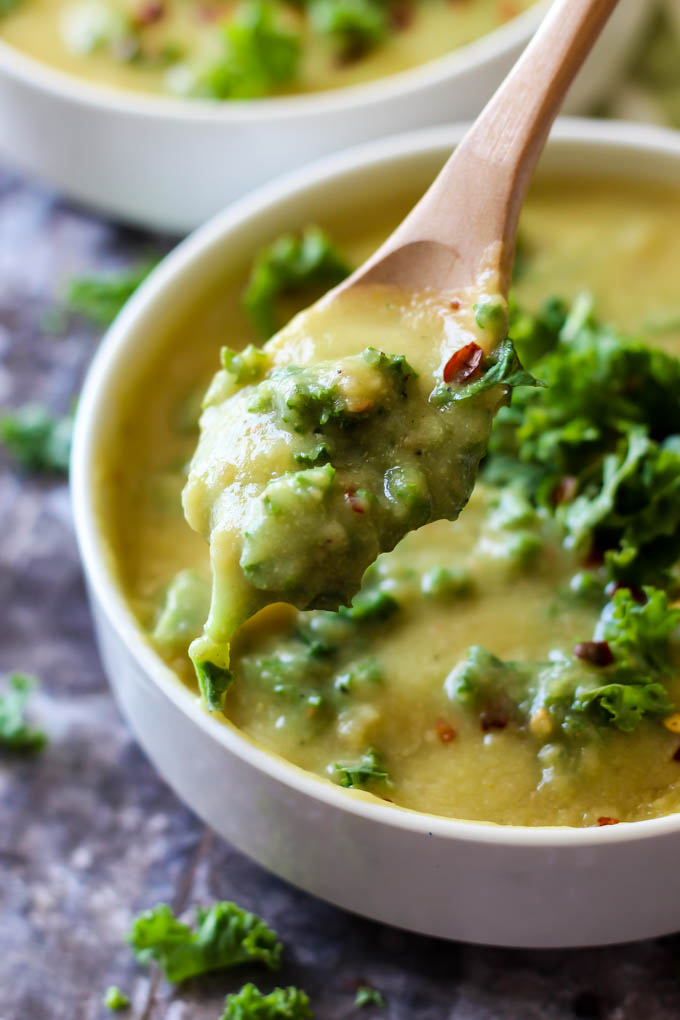 This soup is basically a liquified version of my Vegan Mashed Potatoes with Garlicky Kale from last year that blew up on Pinterest. Not surprised – potatoes are life, yes? I beg you to use Yukon Gold potatoes in here – nothing compares to their natural creaminess and butteriness.
Instead of using heavy cream or something like that to make this soup creamy, we're using a whole can of beans because HELLO, you should know by now that I don't go a day without, like, 3 cups of beans. Full of that good good fiber, protein, and makes this soup hella creamy.
Plus, we threw in a whole bunch (literally) of kale because we wouldn't be true healthy foodies without that green leafy stuff. OH. And I totally would've topped it with some tempeh bacon had I thought of it. Dummy. Next time!
Say hello to your new favorite fall meal. I can already feel the love.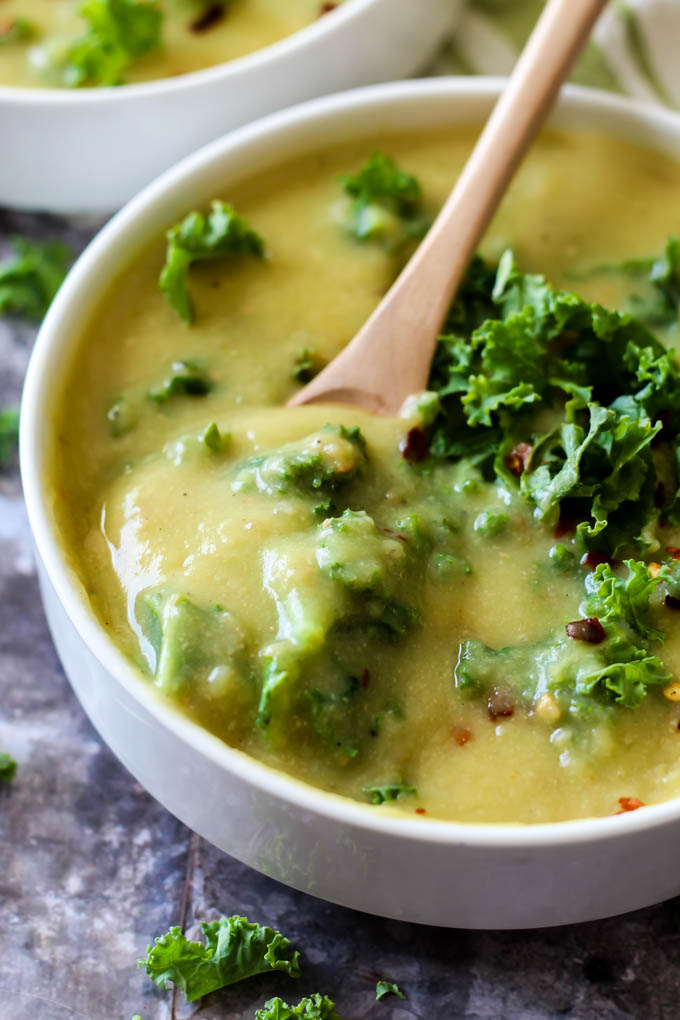 I hope I helped you see things from a different perspective if you're dealing with something frustrating. Just try to be positive about it. It actually makes you feel better!
Oh, and a cozy bowl of cheesy potato kale soup goodness doesn't hurt either. Just sayin'.
If you make this soup, snap a pic, post it on Instagram, and tag me @emilieeats – I know you'll love it!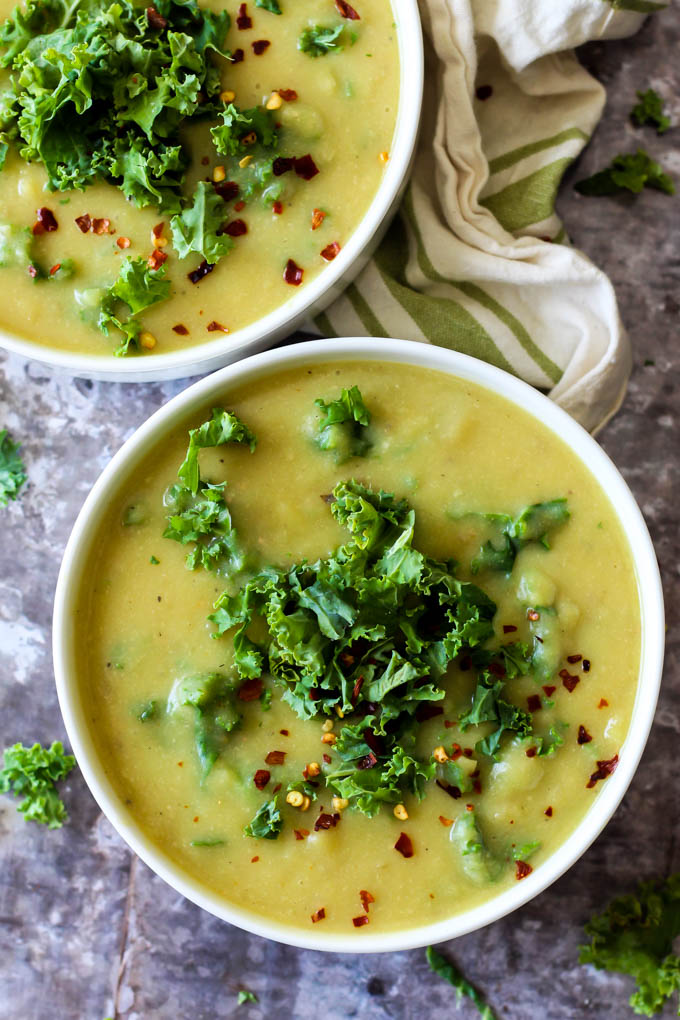 Print
How to make:
Cheesy Vegan Potato Kale Soup
Cozy up to this Cheesy Vegan Potato Kale Soup all winter for a healthy, comforting meal! It's creamy, filling & bursting with green goodness.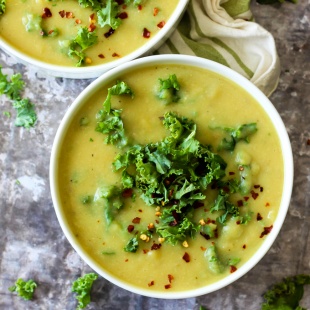 Ingredients
1

onion, chopped

3

cloves garlic, minced

1

pound Yukon Gold potatoes (about

3

–

4

medium), chopped into 1-inch chunks

4 cups

vegetable broth

1

15-ounce can cannellini (white) beans, drained and rinsed

2/3 cup

nutritional yeast

1 teaspoon

salt

1/2 teaspoon

black pepper

1/2 teaspoon

ground thyme

1/4 teaspoon

paprika

1/4 teaspoon

liquid smoke

1

bunch kale, chopped into small pieces
Instructions
In a large pot over medium heat, warm up a little water or oil (if using). Add the chopped onion and stir; cook until tender and lightly browned, about 5-7 minutes. Add garlic; cook for 1 minute.
Add the potato chunks and broth; bring to a boil. Cover and cook until the potatoes are tender, about 20 minutes.
If using an immersion blender, add the beans and nutritional yeast to the pot, then blend until smooth. If using a regular blender or food processor, slowly add potatoes in broth, beans, and nutritional yeast to the blender and blend until smooth; work in two batches if needed. Return the soup to the pot.
Reduce heat to simmer. Add salt, pepper, thyme, paprika, and liquid smoke. Stir.
Add the chopped kale and stir to incorporate in the soup. Cover and cook until the kale wilts, about 5 minutes.
Serve hot; top with red pepper flakes, tempeh bacon, or additional nutritional yeast.
---
Loved this recipe? Check these out:
Vegan Mashed Potatoes with Garlicky Kale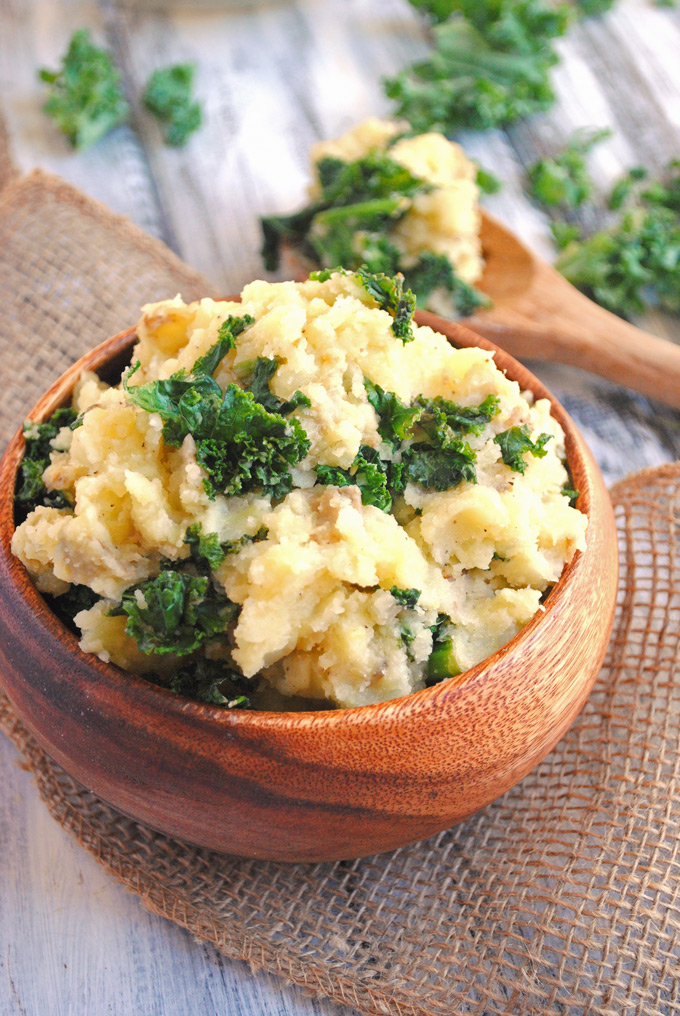 Cleansing Vegetable Turmeric Soup