This Vegan Ravioli recipe is made with homemade tofu ricotta and mushrooms. You'll be surprised how simple it is to make your own ravioli!
Vegan Ravioli with Tofu Ricotta and Mushrooms
I did a thing! I made my own homemade ravioli! Believe me, I know it looks super fancy schmancy, but even I was surprised by how simple it is to make your own vegan ravioli. So… ravioli every night? Maybe.
I don't remember ever having ravioli as a kid besides the cheap can of ravioli. Does that even count? I do remember the canned ravioli being my mom's go-to meal for herself when she wanted some comfort food or didn't feel well.
Mom, I've got something better for you: Vegan Ravioli with Tofu Ricotta and Mushrooms!
Now whether you loved or hated the canned stuff, I promise you're going to want try this vegan mushroom ravioli recipe ASAP. New comfort food dinner? This recipe is it. Going for some nontraditional for a holiday dinner? I say serve vegan ravioli. No one will complain! Let's dig in.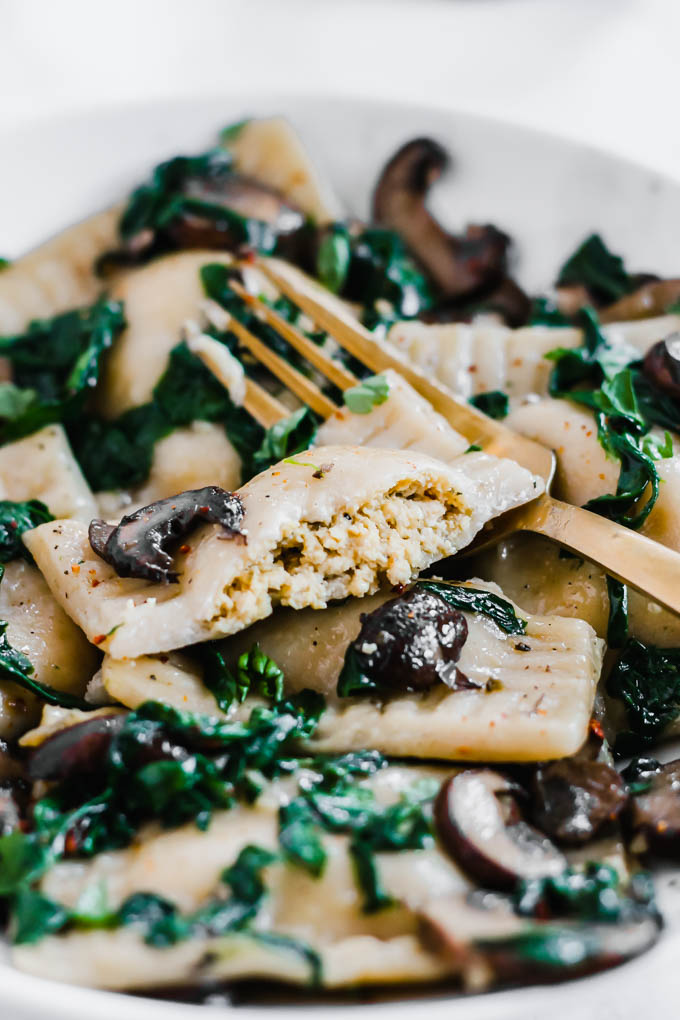 Ingredients for Vegan Mushroom Ravioli
Pompeian asked me to create a recipe that evokes nostalgia. When I thought of how much my mom enjoyed that canned ravioli, I wanted to make her a recipe she could enjoy now (she's vegan!) and love just as much. Recipes that bring up good memories are #TrendingInTheKitchen!
At first I have to admit, the idea of making homemade ravioli felt a little intimidating, but I promise it's so simple, and the ingredients are even simpler! Here's everything you'll need to make your own vegan ravioli at home:
All-purpose flour. We're making our own homemade pasta dough, which starts with all-purpose flour!
Pompeian Robust Extra Virgin Olive Oil. I knew I wanted a delicious, bold olive oil flavor to come through, and Pompeian's Robust Extra Virgin Olive Oil is the perfect one to reach for.
Tofu. You'll want to look for extra firm tofu, and you'll need to make sure you drain and press it to get all the excess moisture out. We don't want soggy filling for our vegan ravioli!
Hummus. I know it may seem a little out of place, but the hummus will help create a super creamy vegan ricotta filling.
Nutritional yeast. This will help give our tofu ricotta that savory, cheesy flavor we're looking for.
Lemon juice. A squeeze of fresh lemon goes a long way to liven up any meal!
Dried basil. You could also use fresh, or an Italian seasoning blend!
Spices. We're using salt, garlic powder, onion powder, and black pepper.
Mushrooms. Either crimini or button mushrooms would be delicious!
Spinach. This vegan mushroom ravioli is a delicious way to get in some extra greens.
Garlic. I recommend using fresh garlic – you'll need two cloves.
Parsley. This is just for garnish, but I highly recommend to finish things off!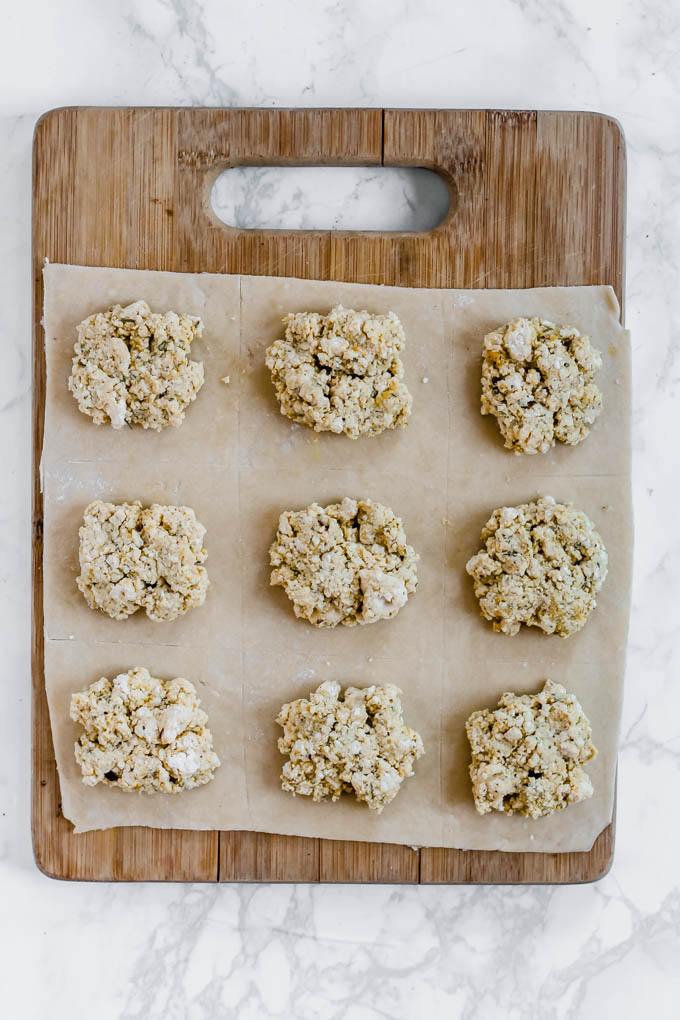 How to Make the Tofu Ricotta Filling
The filling is so good you might eat it straight. Or is that just me? This homemade vegan ricotta is made with a base of tofu, hummus, and nutritional yeast. Not only is it super delicious in this vegan mushroom ravioli, but because it's made with tofu, it packs in plenty of plant-based protein.
I know it may seem easier to just buy a pre-made vegan ricotta from the store, but I PROMISE it's actually so easy to make at home, and you'll save a few bucks! All you have to do to make your own tofu ricotta is crumble up some drained and pressed extra firm tofu into a bowl, and mix it with plain hummus, nutritional yeast, lemon juice, basil, salt, pepper, garlic powder and onion powder. That's it. Yes, really!
How to Make Vegan Ravioli
The ravioli dough is also so simple: flour, salt, water, and Pompeian Robust Extra Virgin Olive Oil. That's it. I wanted the olive flavor to really shine through, so that's why I went with Robust! Pompeian is committed to using high-quality olives to cold press into their premium extra virgin olive oils. Plus, you can find their products at pretty much any grocery store!
To make the dough, just mix together the ingredients and form it into a dough, then knead it on a floured surface until it's nice and smooth. Then just divide it into two pieces and set it aside to rest. This would be a great time to work on your tofu ricotta filling!
Once your tofu ricotta is ready and your pasta dough has rested, you'll roll out the dough into two equally sized sheets. From there, you'll scoop a little bit of your tofu ricotta into evenly spaced sections on one of the sheets of dough, and then layer the second sheet on top. Cut the two layers into little raviolis, seal up the edges, and you're ready to cook! Just let them boil for about 5 minutes, or until they start to float.
Once the vegan ravioli are done cooking, sauté them with mushrooms and spinach (or any greens) and add Pompeian Robust Extra Virgin Olive Oil for some healthy fats and flavor.
I told you it was pretty simple! And honestly, filling and cutting the ravioli is kinda fun and therapeutic. This vegan ravioli recipe would make for such a fun weekend project!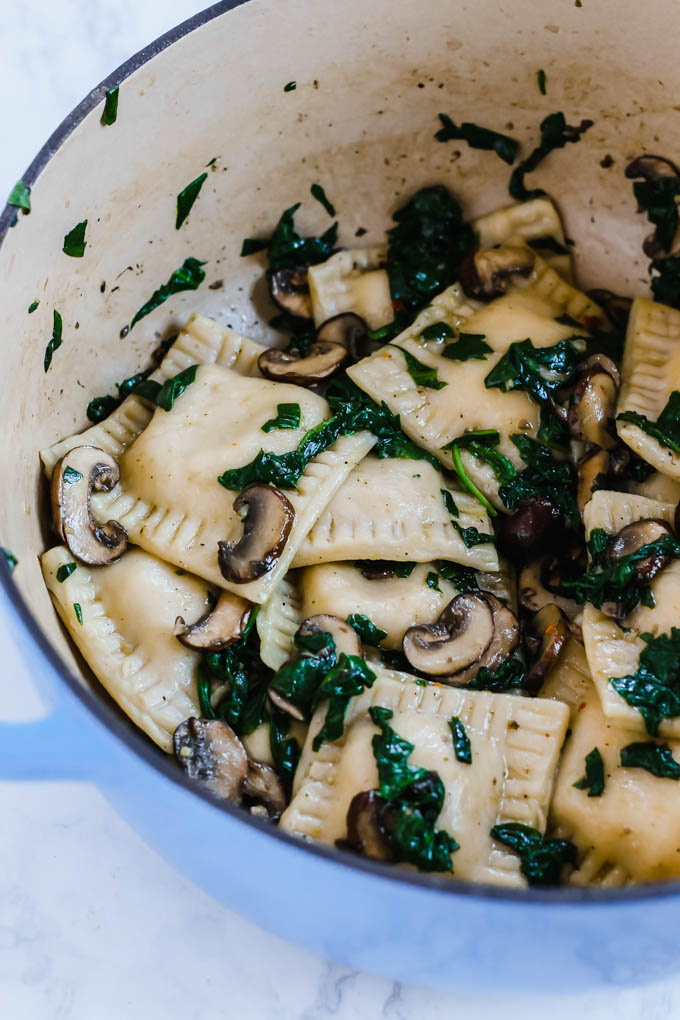 More Vegan Pasta Recipes
I promise you are capable of making homemade pasta at home, even if you've never tried it and don't have fancy pasta rollers. This vegan ravioli is the perfect place to start your homemade pasta journey! If you're looking for more vegan pasta recipes, check out these ones!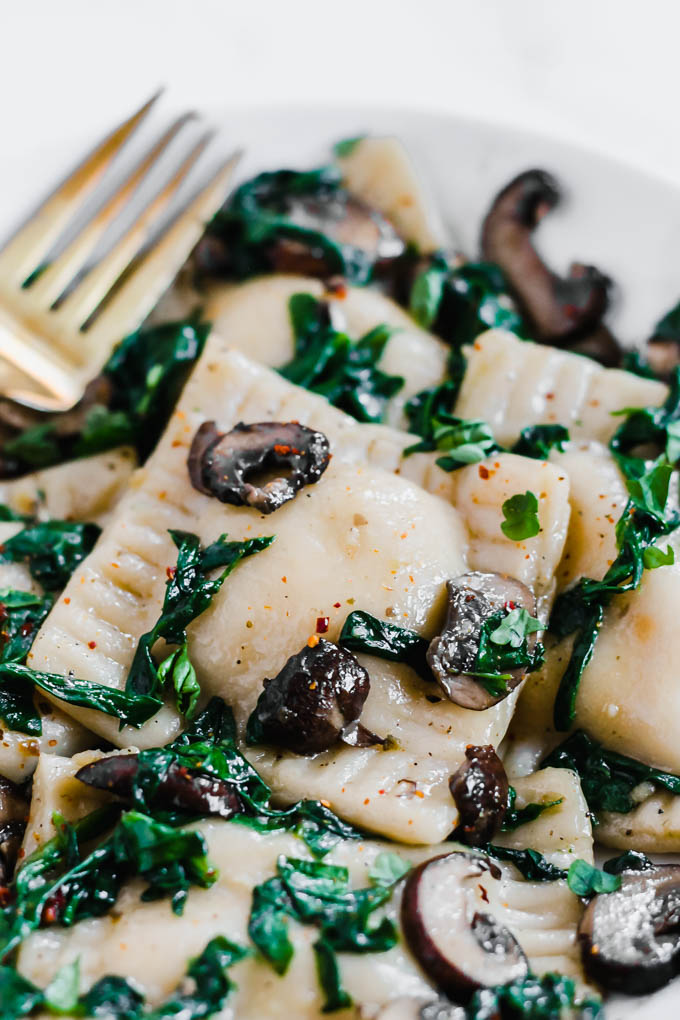 Print
How to make:
Vegan Ravioli with Tofu Ricotta and Mushrooms
This Vegan Ravioli recipe is made with homemade tofu ricotta and mushrooms. You'll be surprised how simple it is to make your own ravioli!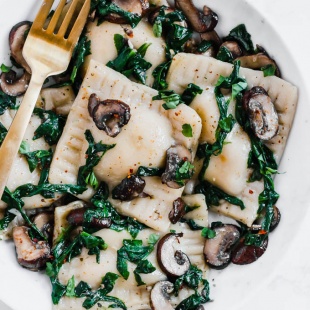 Ingredients
For the ravioli dough:
For the filling:
1/2

14-ounce package extra-firm tofu, drained and pressed*

1/4 cup

plain hummus

1/4 cup

nutritional yeast, plus more for topping

1 tablespoon

lemon juice

1 teaspoon

dried basil leaves (or Italian seasoning blend)

1/2 teaspoon

salt

1/2 teaspoon

garlic powder

1/4 teaspoon

onion powder

1/4 teaspoon

black pepper
For the mushrooms:
8 ounces

crimini or button mushrooms, stalks removed and sliced

2 cups

spinach, chopped

2

garlic cloves, minced

2 tablespoons

Pompeian Robust Extra Virgin Olive Oil
Parsley, chopped, for garnish
Instructions
In a large bowl, add flour and salt; stir to combine. Add olive oil and water. Stir until a dough forms, then use your hands to form a ball. On a lightly floured surface, knead dough ball a few times until it is smooth. Divide the dough into two equal pieces. Set aside.
In a medium bowl, crumble tofu into small pieces. Add the remaining filling ingredients. Stir until fully combined.
Bring a large pot of water to a boil.
Using a rolling pin, roll out each piece of dough until it is about 1/8-inch thick. Cut one piece into as large of a rectangle as you can make; place this on top of the other sheet of dough, then cut the bottom sheet into a rectangle the same size as the top. Take the top sheet of dough off of the bottom one so that they are both laying flat.
On one dough rectangle, add spoonfuls of filling one inch apart. With your fingers, add water to the all areas of the dough around the filling. Place the other dough sheet on top. Cut the dough in between the spoonfuls of filling, creating ravioli squares. With a fork, press the edges of each ravioli square together to seal.
Add ravioli to the boiling water; cook for 5 minutes, or until ravioli float to the top. Drain; rinse with cold water.
In the same pot over medium heat, add a few tablespoons of water. When hot, add mushrooms; cook for 5-7 minutes, until tender. Add spinach and garlic; cook for 1-2 minutes, until spinach is wilted and garlic is fragrant. Turn off heat. Add ravioli and olive oil; stir to combine.
Serve ravioli and mushrooms with a garnish of fresh parsley.
Notes
*Use a tofu press, or wrap the tofu in paper towels and place in the sink with a heavy object on top. Press for 10-15 minutes.
---
Thanks to Pompeian for sponsoring this post! I love working with brands whose products I really love and would honestly recommend. Thank you for supporting this blog that I love oh-so-much!