These Vegan Sugar Cookies with Blood Orange Glaze are soft on the inside, crispy on the outside and a bit healthier thanks to olive oil. They're the perfect colorful spring or summertime dessert. In partnership with Pompeian!
Vegan Sugar Cookies with Blood Orange Glaze
I am now realizing that these pretty pink vegan sugar cookies would have been the perfect Easter dessert… oops! I kind of dropped the ball on that one. But I think we can all agree that a classic, soft vegan sugar cookie is always good at any time of day, any time of year—holiday or not.
Sugar cookies have always been one of my favorite desserts. Since I'm not much of a chocolate person, I always reached for those soft, pillowy sugar cookies with the fluffy frosting and sprinkles (you know the ones) rather than the chocolate cake or brownies.
I might need to work on this recipe a bit more to get an exact dupe for those extra soft cookies, but these will definitely do for now. Actually, I'd be beyond happy to never eat a cookie again that wasn't one of these vegan sugar cookies.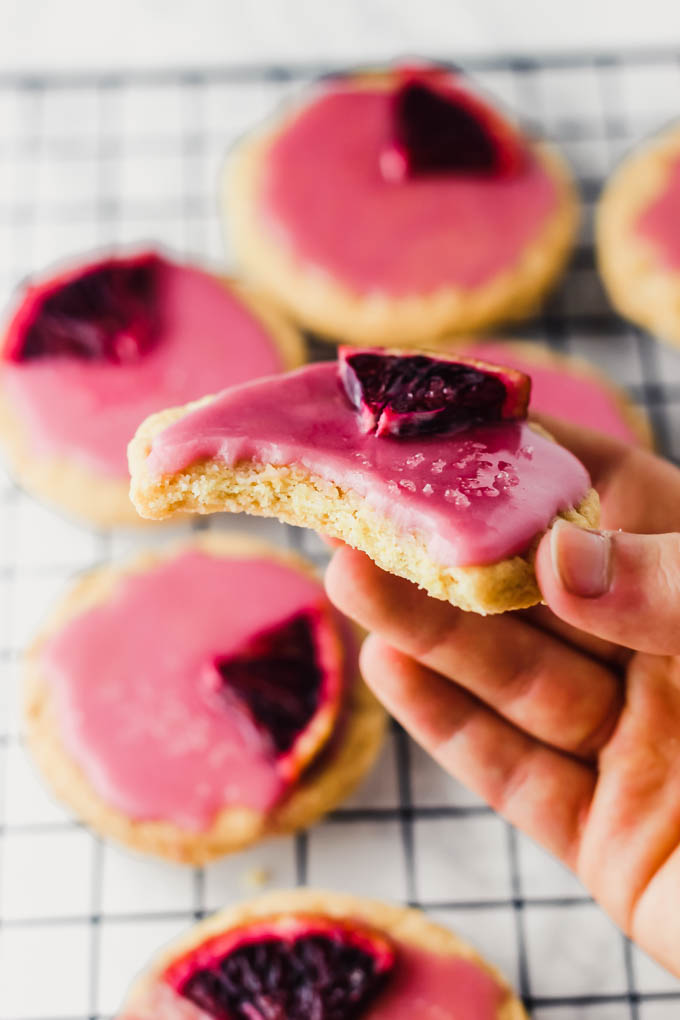 Ingredients for Vegan Sugar Cookies
The ingredient list doesn't get any simpler for these vegan sugar cookies. We're sticking to the basics and I bet you already have most of the ingredients already in your pantry already! You may just need to grab some blood oranges from the grocery store, then you're good to go.
You may be surprised to see olive oil on the ingredient list for these vegan sugar cookies rather than vegan butter. Healthier desserts are #TrendingInTheKitchen, and this easy swap makes these cookies a wee bit healthier. Pompeian Organic Extra Virgin Olive Oil is rich in antioxidants and monounsaturated fats and can protect against heart disease*!
Here's everything you'll need to make these vegan sugar cookies:
Flour. I recommend using all-purpose for this vegan sugar cookie recipe.
Cane sugar. These are sugar cookies after-all! This recipe will not work the same with other sweetener substitutes.
Baking powder and baking soda. We're looking to recreate that glorious fluffy sugar cookie interior, and these are the leavening agents to do the job.
Salt. A pinch of salt helps to balance out the sugar.
Pompeian Organic Extra Virgin Olive Oil. Olive oil not only makes these vegan sugar cookies a bit healthier, but it also naturally has a subtle fruity flavor which compliments the blood orange glaze so well.
Vanilla and almond extracts. Together, vanilla and almond extract provide that nostalgic flavor we all love in soft sugar cookies.
Non-dairy milk. I recommend unsweetened since we're already using sugar in this vegan sugar cookie recipe.
Powdered sugar. For our glaze! If you don't have powdered sugar, you can make your own by grinding granulated can sugar in a blender.
Blood orange juice. The color in this glaze is all natural from the blood orange juice. It tastes just as delicious as it looks!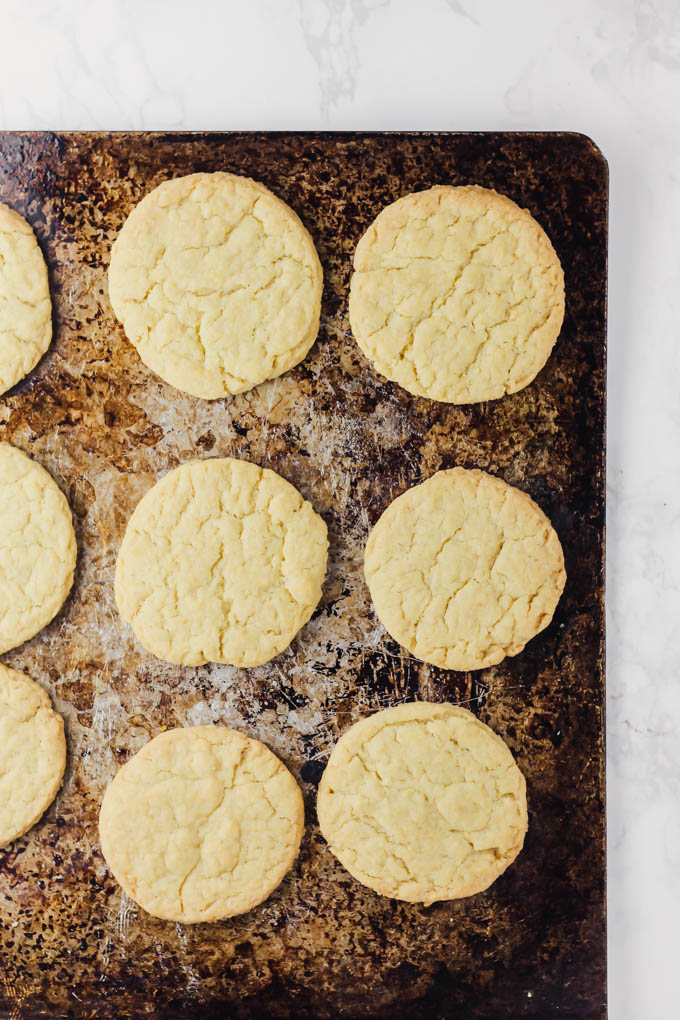 How to Make Vegan Sugar Cookies
When I tell you theses are the easiest vegan sugar cookies to make, I really mean it! Start to finish, they come together in 25 minutes. No chill time, no resting time, no crazy fancy methods.
Because we're using olive oil instead of dairy-free butter in this vegan sugar cookie recipe, the dough doesn't need to chill before rolling or cutting your sugar cookies.
To make the vegan sugar cookies simply mix together your dry ingredients, then pour in all the wet ingredients, add your non-dairy milk and stir until a dough ball forms. Finally roll it out, cut your cookies and bake for 8-10 minutes. It's that simple!
The most important thing about these cookies is to NOT OVERBAKE! Especially if you like soft cookies. (Is anyone really a crunchy cookie fan? I'm truly curious.)
I found 8 minutes to be the perfect baking time to satisfy my need for pillowy cookies, but 10 minutes will give them more crunch on the outside. Go with 12 minutes if you're insane (kidding!) and enjoy crunchy, hockey puck cookies.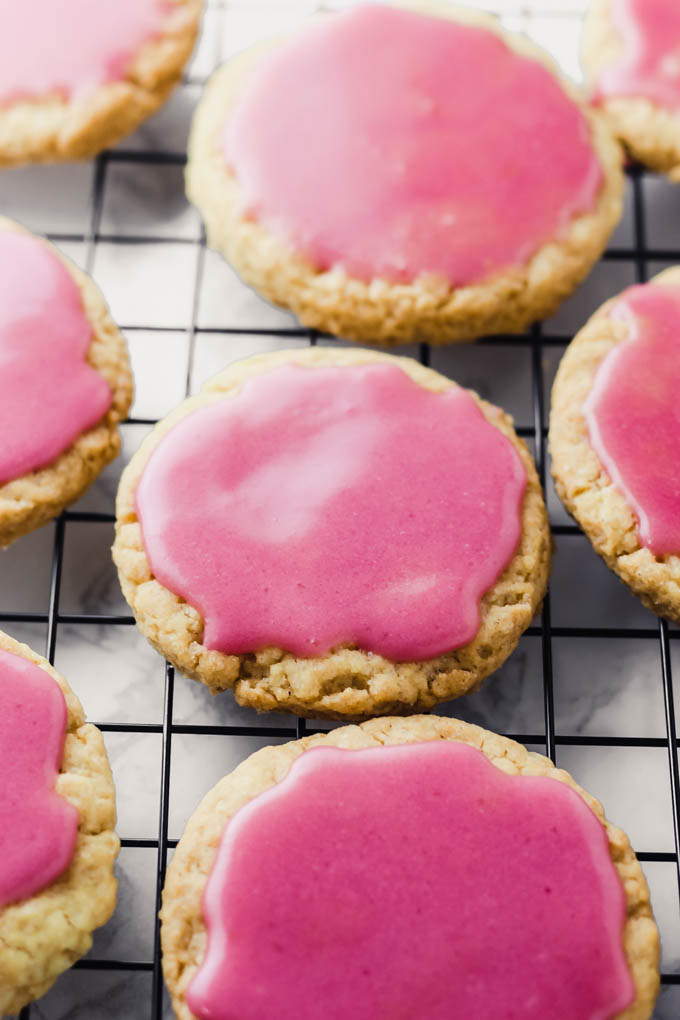 Blood Orange Glaze
THE BLOOD ORANGE GLAZE THO. It's so colorful and fun, and also really simple to make. That perfect pink color is all from the blood orange juice, no food coloring necessary!
To make the blood orange glaze, all you need is powdered sugar (check the recipe to DIY your own) + a splash of fresh blood orange juice + a tiny pinch of salt for balance = that's it!
It's slightly fruity, perfectly sweet, and let's be real – that color is to die for. If you don't like blood orange, lemon would also be super delicious!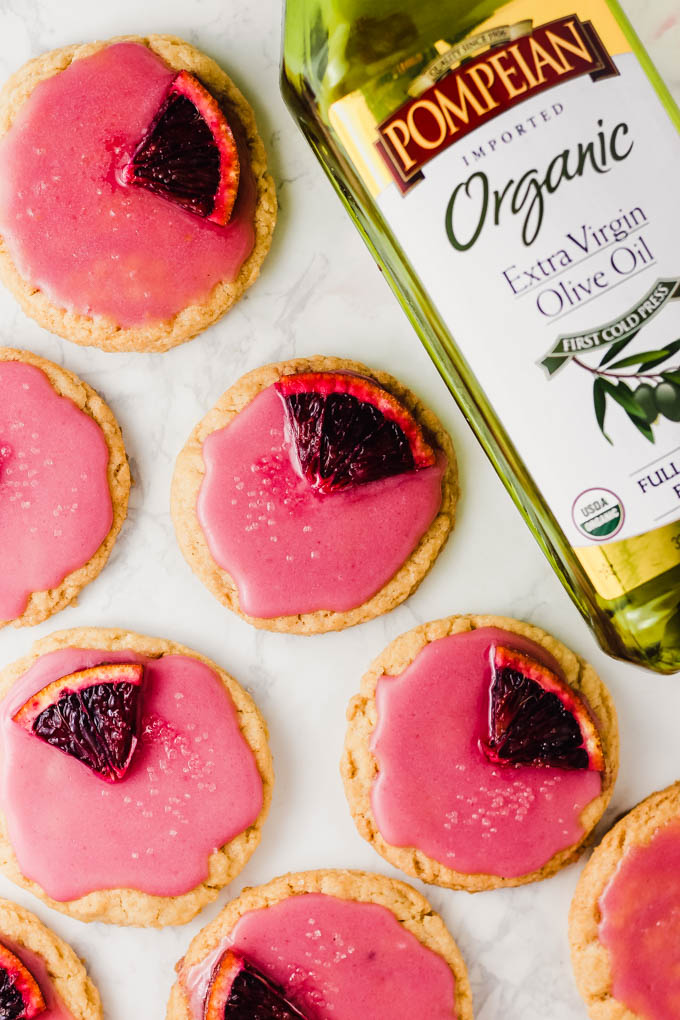 How to Decorate Your Vegan Sugar Cookies
You can't make sugar cookies without decorating them! Isn't that one of the best parts of sugar cookies? It turns baking a treat into a fun thing to do with your friends or family.
The blood orange glaze on its own makes these cookies so pretty that I wanted to keep the rest of the decoration pretty simple. I love when the decoration tells you what to expect from the flavor too, so I love the addition of the blood orange segment.
To decorate your vegan sugar cookies the way I have, slice a blood orange into thin slices (make sure to use a sharp knife to get thin slices without ripping through the orange. Then cut each orange slice into quarters or sixths depending on the size of your oranges. After glazing the cookies but before the glaze sets, gently place an orange segment on the perimeter of each cookie and add a little sprinkle of granulated sugar. Simple!
It's truly nothing fancy, but they look like you put in so much thought and effort!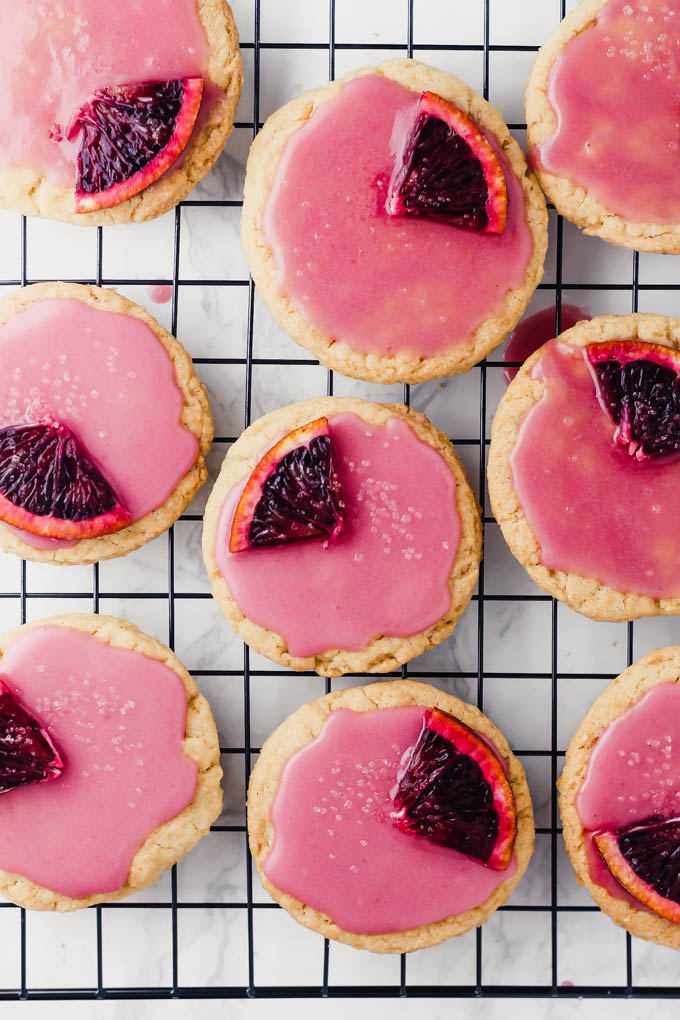 How to Store Vegan Sugar Cookies
You'll want to enjoy these cookies within a few days of baking them. Although let's be honest – who is able to let cookies sit around the house for longer than a few days?
These will keep well for 2-3 days when stored in an air tight container. No need to refrigerate, you can just store the container on your countertop.
Pro-tip: double the cookie dough batch and store some extra dough in the freezer! Then you can pull out a couple cookies' worth of dough when you have a cookie craving and you're just a few minutes away from sinking your teeth into sugar cookie goodness. Before freezing, I recommend cutting out the cookies and storing each raw, cut cookie in a container with a piece of parchment paper lined between each cookie. Then simply pull out the cookie from the freezer when you want it and bake! You can even keep the parchment layer on the bottom of the cookie to make for easier cookie sheet clean up after baking. Because it's frozen, you may need to make for a minute or two longer, just keep an eye on them.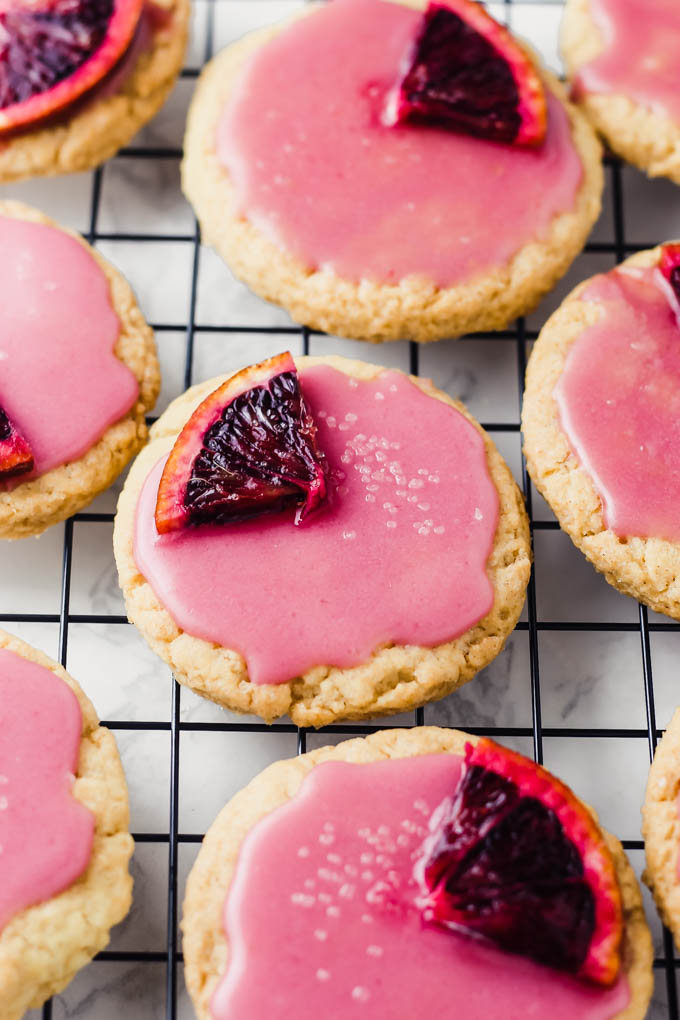 More Vegan Cookie Recipes
I seriously love a good cookie. Chocolate chip, peanut butter, and of course sugar cookies – they're all winners in my book. If you're on a cookie kick, check out these other vegan cookie recipes!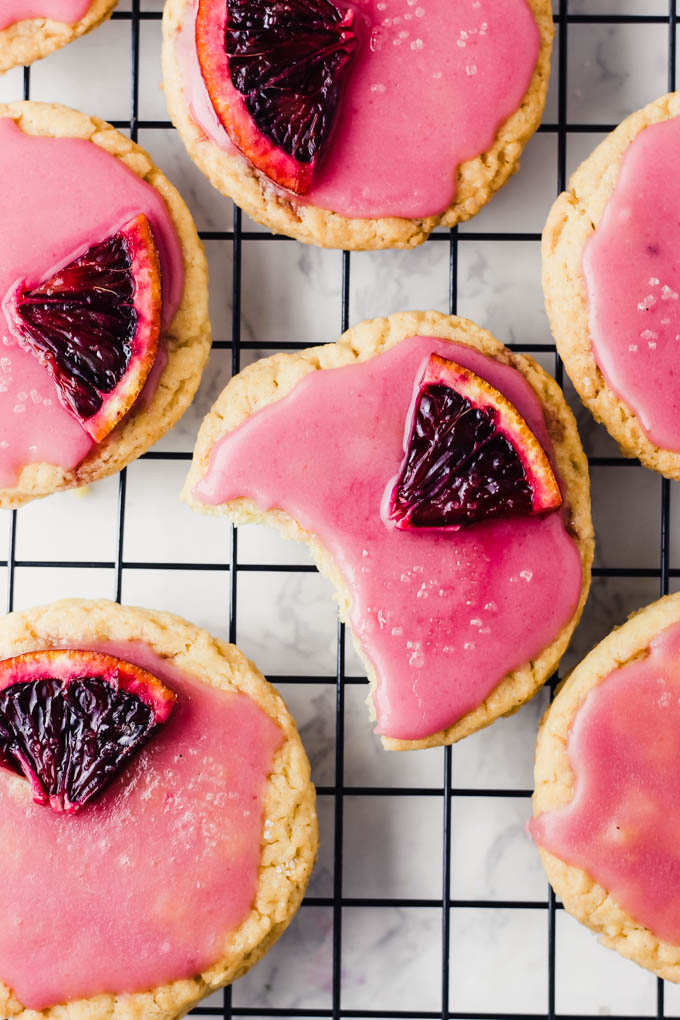 Print
How to make:
Vegan Sugar Cookies with Blood Orange Glaze
These Vegan Sugar Cookies with Blood Orange Glaze are soft on the inside, crispy on the outside and a bit healthier thanks to olive oil.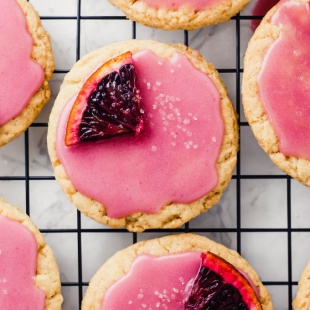 Ingredients
For the cookies:
2 cups

all-purpose flour

1 cup

cane sugar*

1 teaspoon

baking powder

1/2 teaspoon

baking soda

1/2 teaspoon

salt

1/2 cup

Pompeian Organic Extra Virgin Olive Oil

2 teaspoons

vanilla extract

1/2 teaspoon

almond extract

2

–

3

tablespoons unsweetened non-dairy milk
For the glaze:
1 cup

powdered sugar**

2

–

3

tablespoons fresh blood orange juice

⅛ teaspoon

salt
Instructions
Preheat oven to 350F. Lightly grease a baking sheet.

To a large bowl, add flour, sugar, baking powder, baking soda and salt. Stir to combine.

Add

Pompeian Organic Extra Virgin Olive Oil

, vanilla extract and almond extract. Stir until a crumbly dough forms. Add 2 tablespoons non-dairy milk; stir until a soft dough ball forms, adding more milk if needed.

Place the dough ball onto a lightly floured surface. Roll out the dough until it is ¼-inch thick. Using a circular object (I used the lid of a jar), cut out cookies; place onto the baking sheet. Repeat until all the dough is used up.

Bake for 8-10 minutes; do not overbake or they will be too crispy! Set aside to cool.

In a small bowl, add powdered sugar, 2 tablespoons juice and salt. Stir until a thick glaze forms. Add more juice if needed to thin out the glaze, or add more powdered sugar if needed to thicken it.

When the cookies are cooled, glaze the cookies. Top with slices of blood orange and a pinch of sugar!
Notes
*Some cane sugar is not vegan, as it can be processed with animal bone char. I use Trader Joe's Organic Sugar. Go here for vegan cane sugars: https://ordinaryvegan.net/vegansugar/.
**To make your own powdered sugar, simply put cane sugar in a blender or food processor and blend until a fine powder forms. Cheap & easy!
*Olive oil and the cardiovascular system.
Thanks to Pompeian for sponsoring this post! I love working with brands whose products I really love and would honestly recommend. Thank you for supporting this blog that I love oh-so-much!