These Vegan Gyros are full of plant protein, whole grains, and vegetables. Top them off with dairy-free Tzatziki for a delicious, simple meal.
This post was sponsored by Gardein. All opinions are my own!
Vegan Gyros with Dairy Free Tzatziki
Quick dinners that double as easy-to-pack lunches? I'm sold! Since I'm usually running a bit late in the morning (I'm working on it…), I like to have my lunches packed and ready to go, or have something I can grab straight from the fridge. There have been a few times where I've just grabbed a can of soup to bring with me. Oops.
I have no lunch woes this week, though, because these vegan gyros are individually wrapped in foil and sitting in my fridge, ready to be packed for lunch. I'm patting myself on the back right now!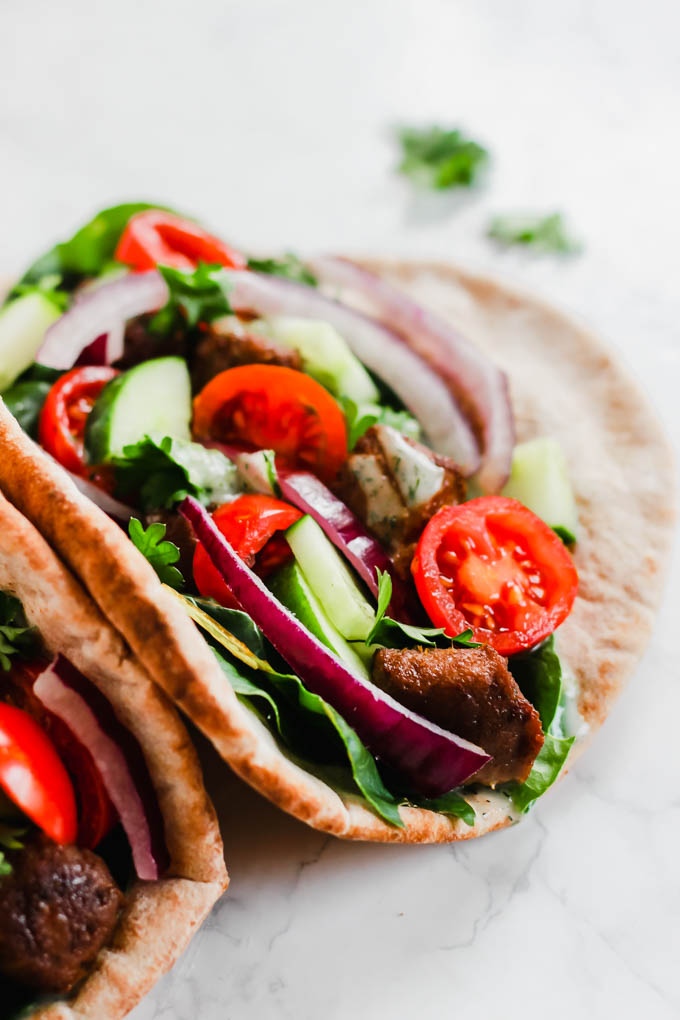 Ingredients for This Vegan Gyro Recipe
Isn't a gyro just the most comforting meal?! A fluffy pita, some sort of well-seasoned protein (traditionally meat), crunchy vegetables, and tangy Tzatziki. Friends, you know that I like to shake traditional recipes up a bit. And you know we use 100% plant-based ingredients over here…
That's why I am SO (!!!) excited to team up with my friends at Gardein for these vegan gyros using their Beefless Tips that truly are just as juicy and tender as meat, but totally animal-free. ❤️
Here's what you'll need to make the vegan gyros:
Oil. Olive, avocado or canola all would work great.
Gardein Beefless Tips. You just need one bag, but if you want to make them for dinner one night and have leftovers for lunch you could totally double the recipe.
Whole-wheat pitas. I love the fluffiness of pita for these vegan gyros, but if you don't have any on hand, this recipe would translate well into a wrap with a tortilla. 
Greens. Pick your favorite! Chopped spinach, chard, romaine or kale could all work.
Tomatoes. I love the pop of a cherry or grape tomatoes, but you could also dice a larger variety.
Cucumbers. These add the perfect, most satisfying crunch.
Red onion. If you don't love the bite of raw red onion, try soaking your onion in ice water for a few minutes! This removes some of the sharp flavor.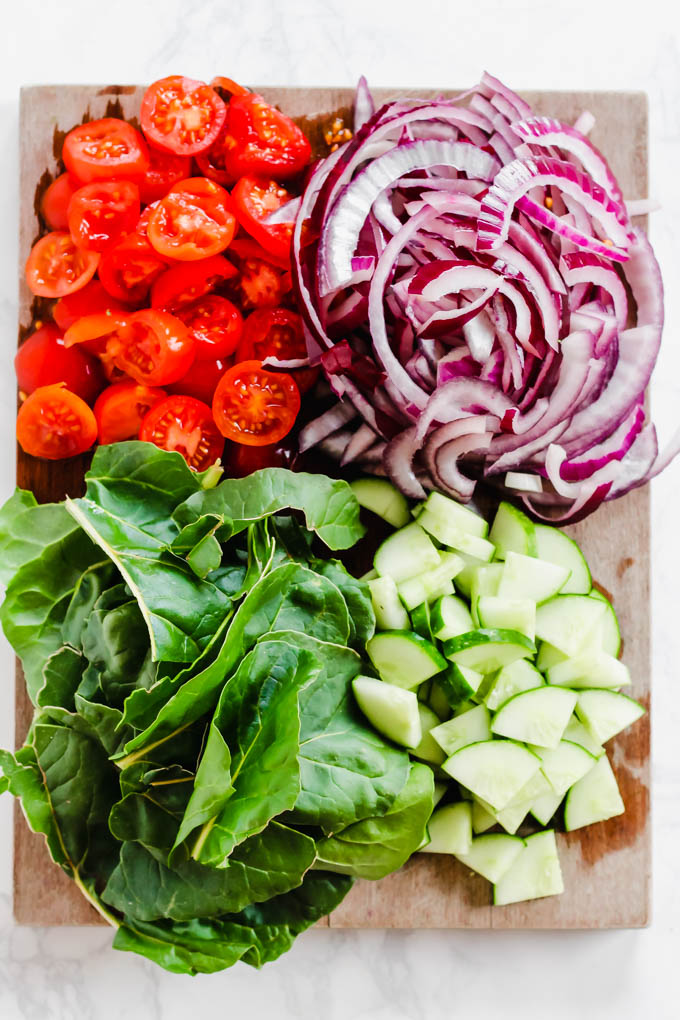 How to Make Vegan Tzatziki 
The vegan tzatziki for this recipe is *chef's kiss*. It's tangy, it's creamy, it's easy, it's everything you want and more.
Grab your favorite non-dairy yogurt, but make sure it's unsweetened. Then grate your cucumber and add it to the yogurt. Finally, mix in your olive oil, dried dill, lemon juice, salt and pepper. Boom, so easy.
Every vegan yogurt has a slightly different consistency so you might have to play around with it until it reaches a consistency you're excited about. For this vegan tzatziki, you're looking for something that's drizzle-able (is that a word?), but still creamy. If it's too thick add lemon (or water if you're worried about it becoming too tangy). If it's too thin, add more yogurt and an extra pinch of salt to keep it balanced.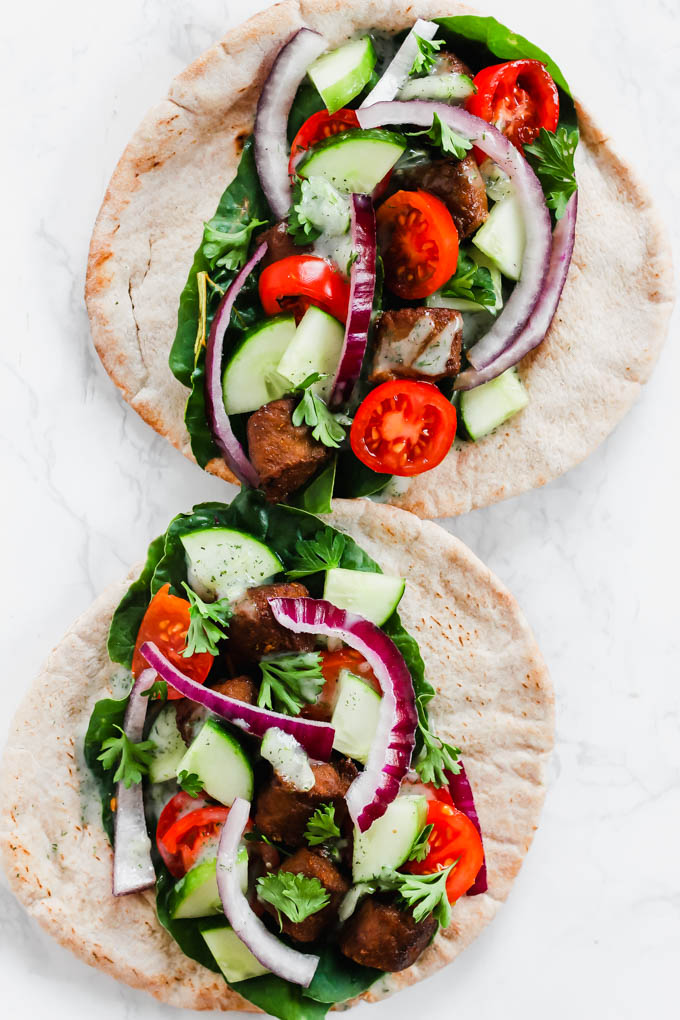 How to Cook Vegan Gyro Meat
Gardein has been one of our favorite brands for meatless products that taste like the real thing for YEARS. The magic is thanks to soy, wheat and pea proteins, vegetables, and ancient grains.
You can cook their products on the stove, in the oven, on the BBQ pit, in the microwave… any way you would cook meat. I love the Gardein Beefless Tips for these vegan beef gyros because they take just 10 minutes to make, and that's the only cooking required for these vegan gyros. Simply heat your cooking oil in a pan on the stove, then fry the vegan gyro meat until it's nice and crispy.
I love keeping Gardein products on hand for busy nights. If you're looking for other meatless options, here are some of our other favorite Gardein products:
Chick'n Scallopini. We love it on top of spaghetti!
Mini Crabless Cakes. Just dip this in ketchup and OMG you'll be amazed.
Ultimate Beefless Burger. The most affordable realistic plant-based burgers on the market! Our carnivore family members have really loved these.
7-Grain Crispy Tenders. These are fun for a "kid-inspired" dinner with tenders and vegan mac & cheese.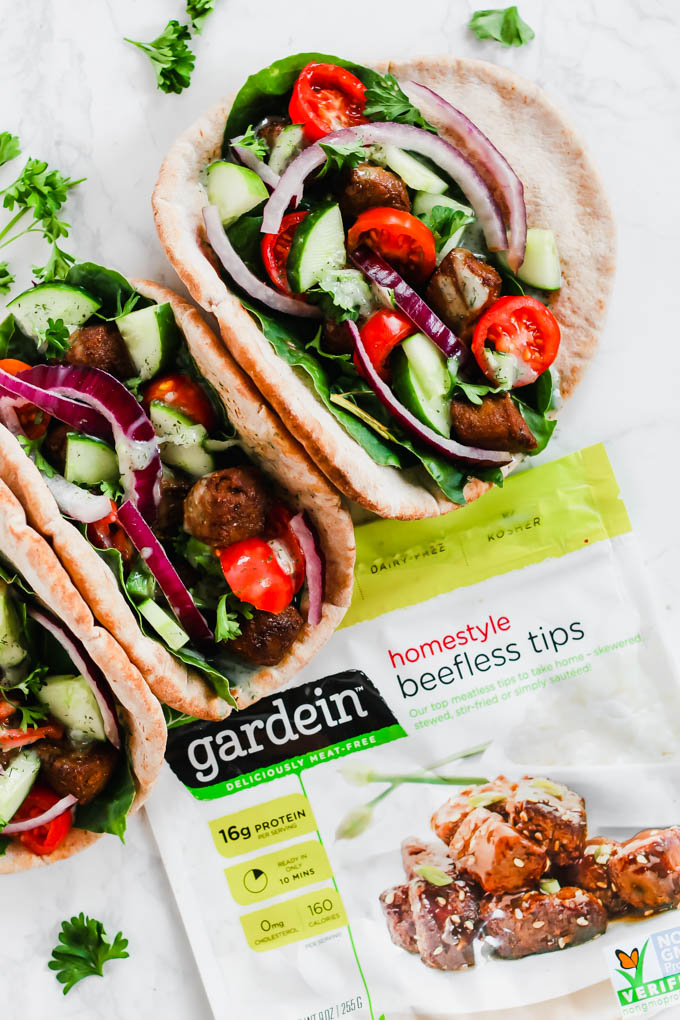 How to Meal Prep Vegan Gyros
Like I said earlier, this recipe is great to keep on hand for those weeks where you know you don't have time to think about what you're going to have for lunch. I love doubling this recipe so I can cook it for dinner and have lunch ready to go for the next day. Leftovers for the win!
These vegan gyros are still delicious as cold, so if you plan to eat them without reheating, you can simply individually wrap the pre-assembled gyros in foil to pack for lunch. If you prefer to eat them warmed, I recommend mixing the vegetables and packing in a small container, then packing your vegan gyro meat in a separate container. When you're ready to enjoy, simply pop the vegan gyro meat in the microwave for 3o seconds, then assemble!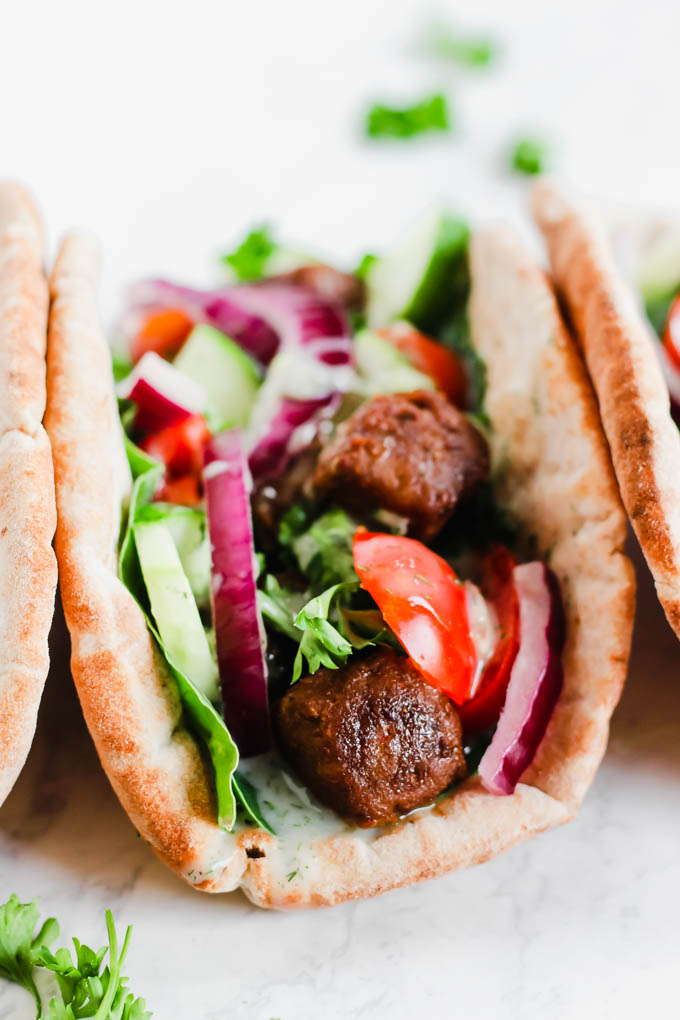 More Vegan Sandwiches
I love a good handheld meal. Whether you need some inspo for vegan lunch ideas, or a quick and easy dinner, check out these vegan sandwiches: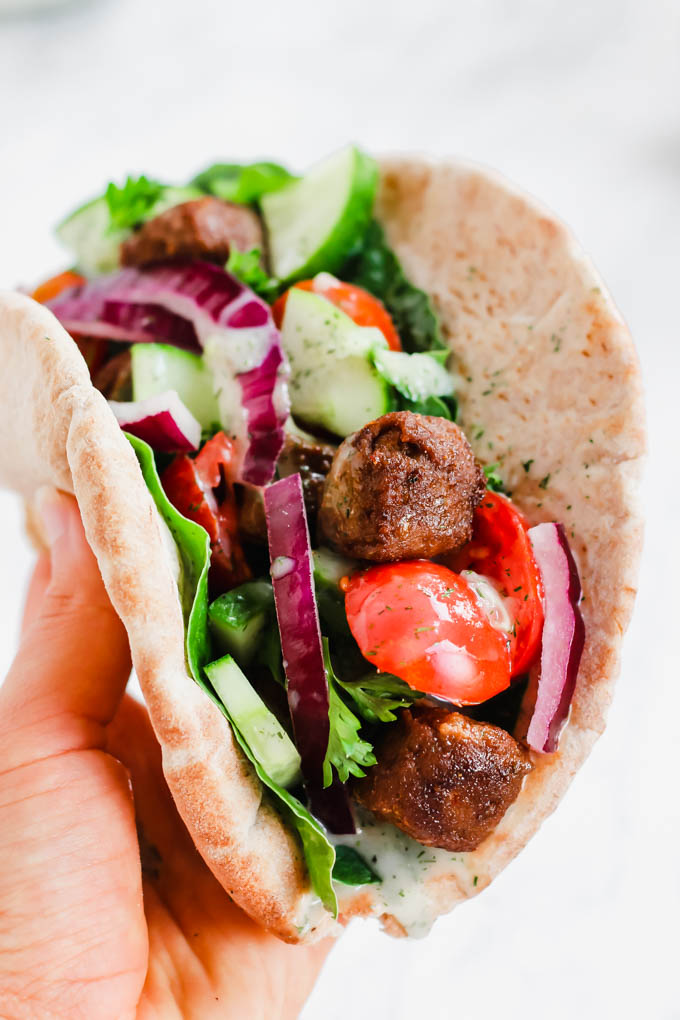 Print
How to make:
Vegan Gyros with Dairy Free Tzatziki
These Vegan Gyros are full of plant protein, whole grains, and vegetables. Top them off with dairy-free Tzatziki for a delicious, simple meal.
Ingredients
For the gyros:
1 tablespoon

oil (olive, avocado, canola)

1

bag Gardein Beefless Tips

4

whole-wheat pitas

2 cups

greens, chopped (spinach, chard, romaine, kale)

1 cup

tomatoes, sliced

1 cup

cucumbers, sliced and quartered

1/2 cup

red onion, sliced
For the Tzatziki sauce:
1 cup

unsweetened non-dairy yogurt

1/2 cup

cucumber, grated

2 tablespoons

dried dill

1 tablespoon

olive oil

1 tablespoon

lemon juice

1/2 teaspoon

salt

1/2 teaspoon

black pepper
Instructions
In a medium skillet over medium heat, add oil. When hot, add Gardein Beefless Tips. Cook according to package directions.
In a medium bowl, add all ingredients for Tzatziki sauce. Stir to combine.
Place a whole-wheat pita on a flat surface. Add 1/2 cup greens, 1/4 cup tomatoes, 1/4 cup cucumbers, 2 tablespoons red onion, and 1/4 of the Gardein Beefless Tips. Top with a scoop of Tzatziki sauce. Repeat for each pita.
For easy storage, wrap each pita in foil and store in fridge.
---
Thanks to Gardein for sponsoring this post! I love working with brands whose products I really love and would honestly recommend. Thank you for supporting this blog that I love oh-so-much!