Recreate a classic with this Vegan Chicken Salad Sandwich! The combo of plant protein, whole grains, grapes, and healthy fats creates a nourishing lunch.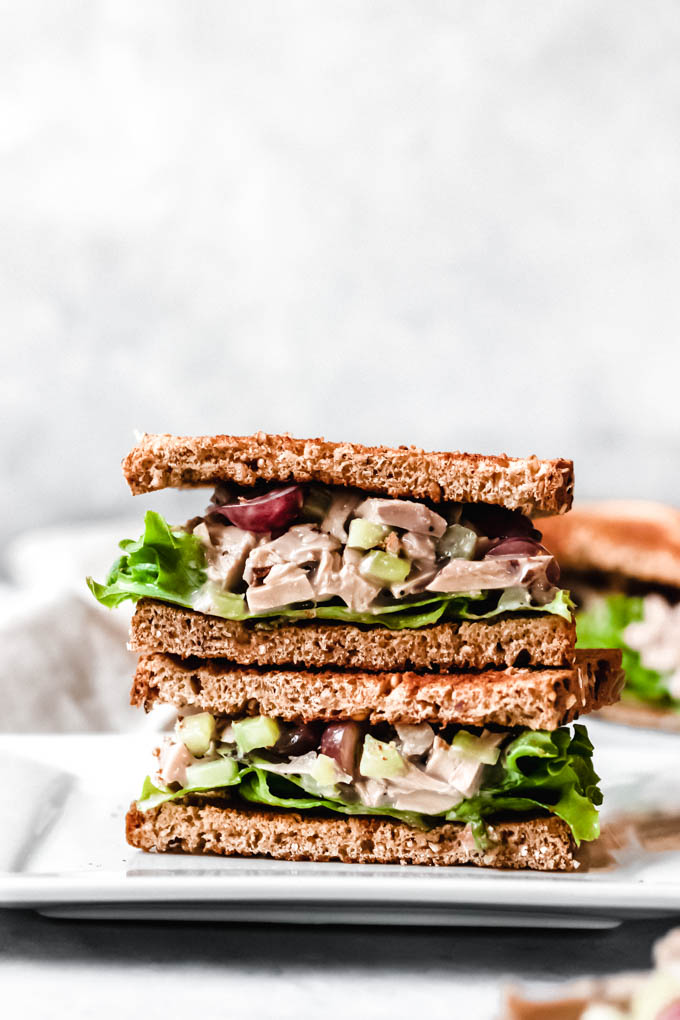 We pretty much all grew up on a chicken salad recipe. I know a lot of people feel very strongly about how to make chicken salad – some say just chicken and a lot of mayonnaise, others love chunky vegetables in it.
We can all get a little defensive about the classic recipes we were raising on. For example, I don't think gumbo should ever have tomatoes (that's Creole gumbo) because I was raised eating brown Cajun gumbo. Or some people will swear by relish in egg salad while purists say just eggs, mayonnaise, and the basics.
No matter what you were raised believing about chicken salad and how it should be made, let me challenge your belief a little – a chicken salad sandwich recipe doesn't even required chicken. YUP.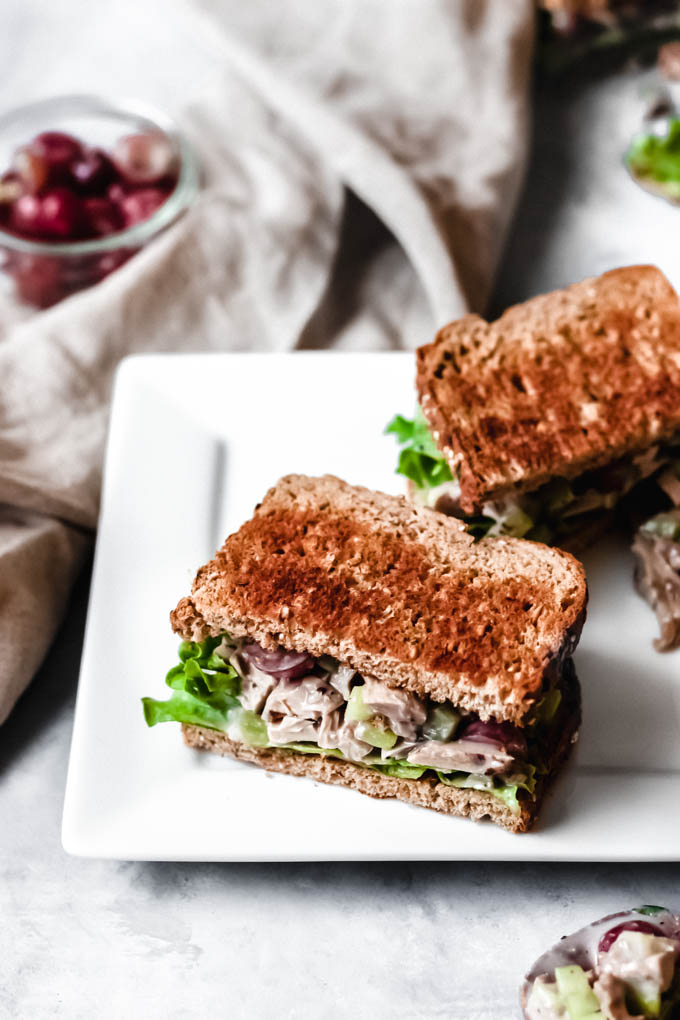 Because we live in 2019, aka the best time ever to be vegan.
We have access to such incredible meat alternatives that allow those of us who love animals (and those who want to start being more compassionate) to enjoy the flavors and dishes we love without unnecessary harm.
There are brands like Gardein, Beyond Meat, Impossible Foods, Dr. Praeger's, Morningstar Farms, and more making meatless meats that are incredible and hard to distinguish from the animal-based version. It's a damn good time to be alive.
So if you love animals but also love a good chicken salad recipe, no fear, my friend. I've got this delicious vegan chicken salad sandwich recipe just for you!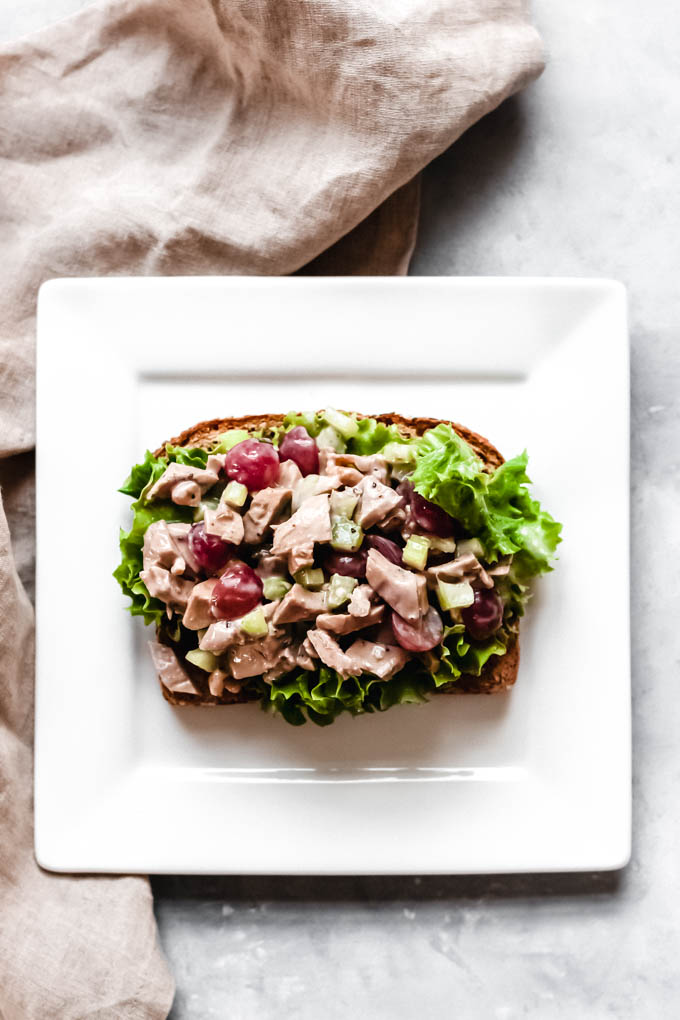 I made this vegan chicken salad differently than we ever made it when I was younger – chunky with celery, grapes, and walnuts. Why haven't I tried this sooner?!
The creamy sauce is made with unsweetened vegan yogurt, but you can also use vegan mayonnaise (Veganise, Just Mayo, Hellman's, Sir Kensington's) – whatever is easier for you to find.
I served the vegan chicken salad on whole grain bread with lettuce, and it seriously made for the most satisfying lunch. I always underestimate the deliciousness of a solid sandwich!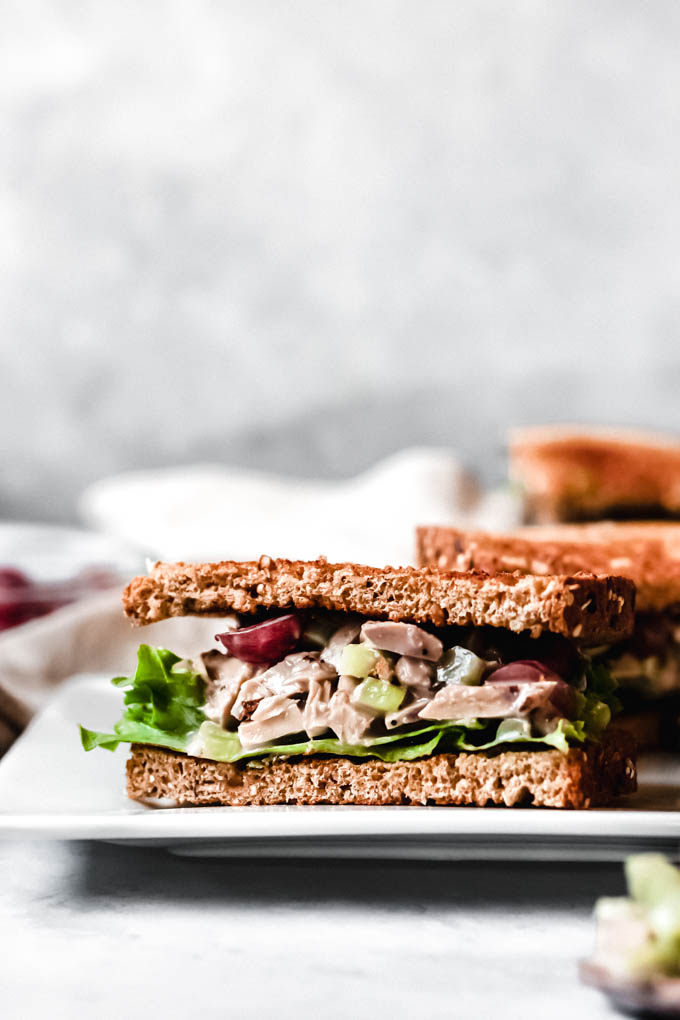 I know both kids and adults will LOVE this chicken salad sandwich recipe, so make it asap and watch it disappear!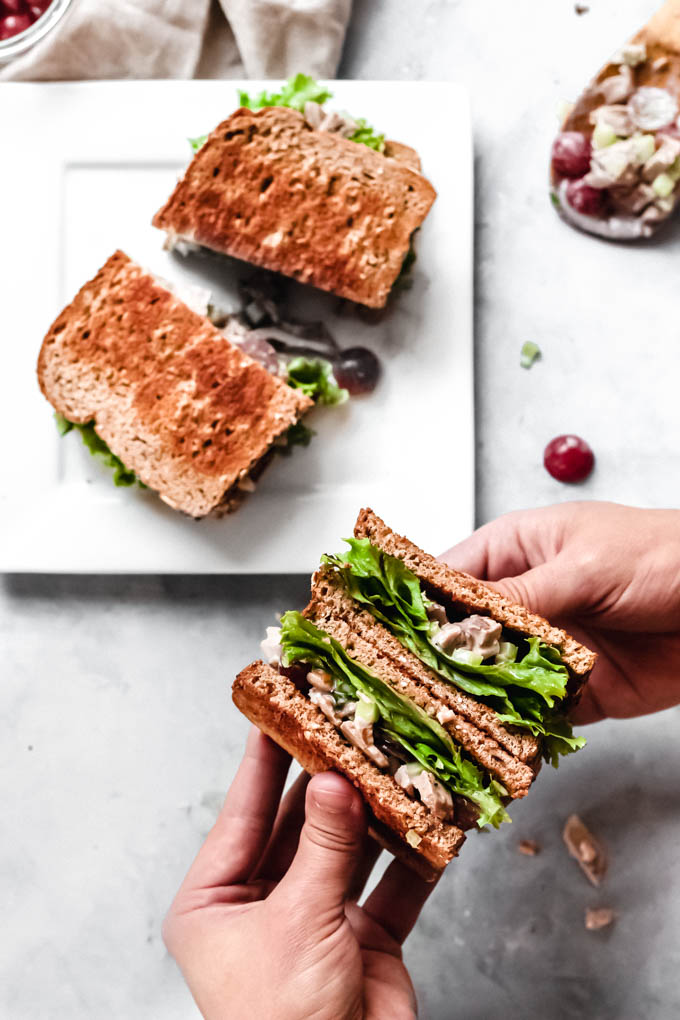 Print
How to make:
Vegan Chicken Salad Sandwiches
Recreate a classic with these Vegan Chicken Salad Sandwiches! The combo of plant protein, whole grains, grapes, and healthy fats creates a nourishing lunch.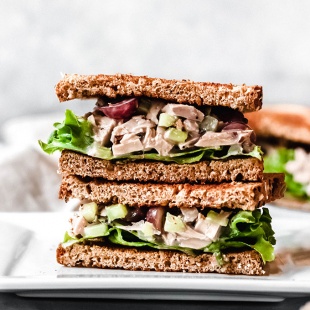 Ingredients
2 cups

vegan chicken strips, cooked according to package directions and diced*

2

medium celery stalks, finely diced

1 cup

red grapes, halved

1/4 cup

walnuts, chopped

2 tablespoons

green onions, sliced

1/2 cup

+

2 tablespoons

unsweetened non-dairy yogurt

1 tablespoon

lemon juice

1 teaspoon

garlic powder

1 teaspoon

yellow mustard

1/2 teaspoon

onion powder

1/2 teaspoon

salt

1/4 teaspoon

ground black pepper

8

slices whole-grain bread
Romaine or green leaf lettuce
Instructions
In a large bowl, add "chicken" strips, celery, grapes, walnuts, and green onions. Stir to combine.
In a medium bowl, add yogurt, lemon juice, garlic powder, mustard, onion powder, salt, and pepper. Stir to combine. Pour into large bowl with the rest of the ingredients; toss until evenly coated with dressing.
To assemble one sandwich: Toast two slices of bread, then place lettuce leaves on each side. Place 1/4 of the "chicken" salad on a piece of toast; top with other piece of toast.
Notes
*I recommend the Gardein Meatless Chick'n Strips or Morningstar Farms Chick'n Strips. Seitan strips would also work!