These sweet, fluffy Vegan Blueberry Donuts make a satisfying breakfast, snack, or dessert! They're made with wholesome ingredients like oats, blueberries, and almond butter and they're gluten-free. Made in partnership with Hodgson Mill & Healthy Aperture Blogger Network!
Baked Vegan Blueberry Donuts
There's a donut shop in the town I grew up in called Mr. Ronnie's. It's famous with everyone that lives there; I've never met someone who didn't love warm Mr. Ronnie's donuts right out the oven.
The shop is right down the street from my grandparent's house, and my grandpa's name was Ronnie (just a coincidence, but we joked about it). We would always buy a few boxes on weekend mornings when my cousins and I would spend the night there. Glazed, chocolate, and chocolate with sprinkles were our go-to. One bite in has you in donut heaven.
Since then, I've been able to visit a couple donut shops with vegan options in Austin and Denver (Voodoo Doughnut) and Los Angeles (Donut Friend) that give me that same heavenly feeling like when I would bite into a Mr. Ronnie's donuts. *Hands up* emoji for all the bomb vegan options available nowadays!
I haven't attempted to create that kind of fluffy, fried donut at home yet—maybe one day! For now, I'll stick to making all kinds of flavors of this baked vegan donut recipe. First, it was these gingerbread donuts. Now, blueberry donuts!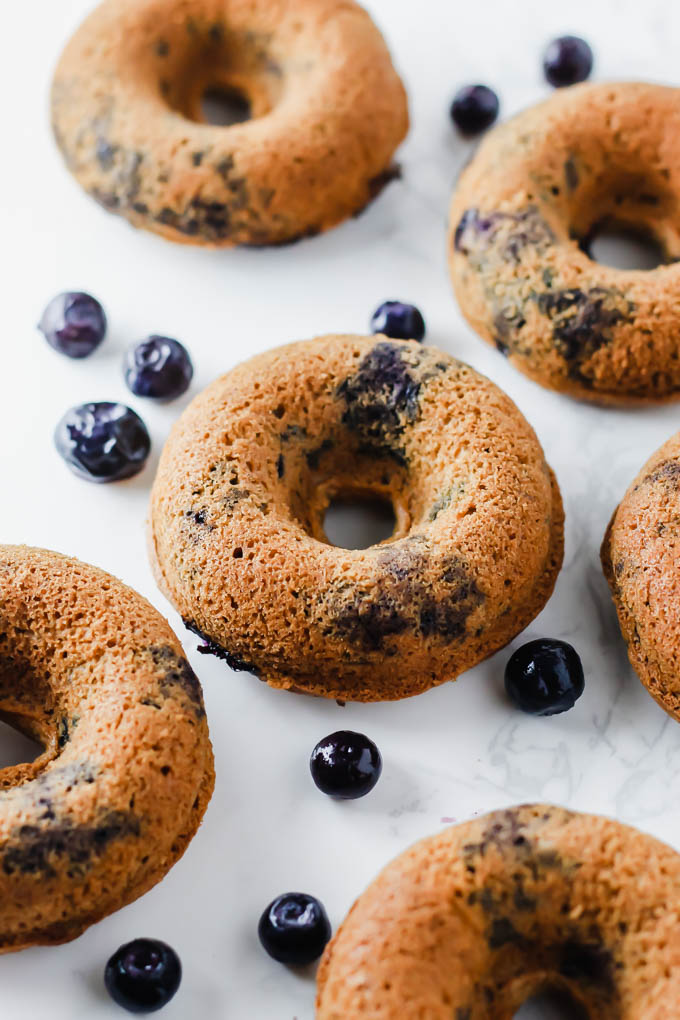 Ingredients for Vegan Baked Donuts
The batter is SO easy to whip up with things I almost 100% guarantee you have in your pantry and fridge already. Here's what you'll need:
Non-dairy milk. I recommend an unsweetened, unflavored variety for this recipe.
Apple cider vinegar. This is our acid to activate the baking soda that makes these vegan gluten free donuts light and not dense.
Hodgson Mill Gluten Free Thick Cut Rolled Oats. To keep this recipe gluten-free we're making our own oat flower by grinding the oats in a blender or food processor.
Coconut sugar (or granulated sugar of choice). I personally love the toasty flavor that coconut sugar provides, but regular white granulated sugar also works if that's what you have on hand!
Baking powder and baking soda. We are using both in this recipe to make sure our vegan baked donuts are super fluffy.
Ground cinnamon. This adds such a nice warming flavor to our vegan blueberry donuts.
Salt. I always recommend adding a bit of salt to sweet recipes to help balance the flavor.
Unsweetened applesauce. This works as a binder and helps hydrate our donut batter. Since we're adding two forms of sweetener to this vegan donut recipe already, we don't need sweetened applesauce.
Almond butter. If you have a nut allergy, sunflower butter would also be delicious.
Maple syrup. Who doesn't love a little bit of maple syrup?!
Vanilla extract. The vanilla flavor works so well with the blueberries and cinnamon.
Blueberries. For that delicious, juicy pop of flavor.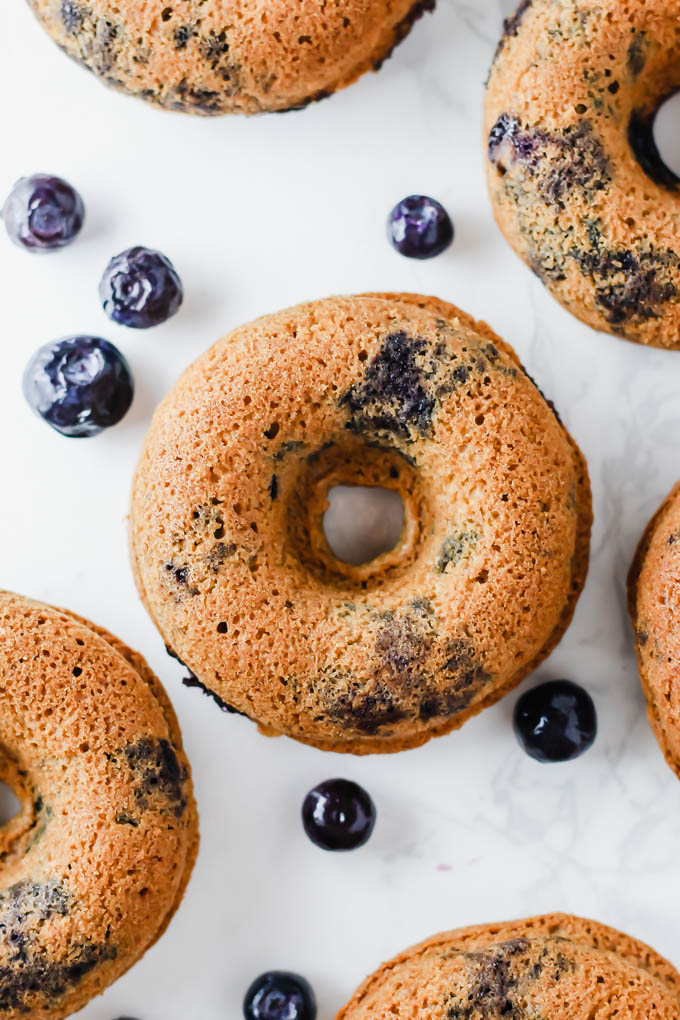 How to Make Gluten-Free Donuts
The base of these vegan blueberry donuts is oat flour, which I love using in baked goods not just to make the recipe gluten-free, but also for its chewiness, nuttiness, and slightly sweet flavor. Guess what? You can make your own oat flour at home! I used Hodgson Mill Gluten Free Thick Cut Rolled Oats. They're certified gluten-free in case you have a medical reason to avoid gluten. I ALWAYS have oats in my kitchen for oatmeal (duh), oat flour, smoothies, savory bowls, and so much more!
Let's talk about why oats have superpowers (not really, but maybe)… FIBER! Everyone is so concerned with protein intake, but did you know that the average American eats more protein than necessary and 97% of Americans don't get enough fiber? It improves our heart and digestive health and feeds the bacteria in our GI tract. Whole grains (like oats!) are excellent and affordable sources of fiber.
Our current nutrition guidelines recommend that half of the grains we eat are whole grains. Psh, that's easy peasy! You can look for the Whole Grain Stamp on products (including Hodgson Mill products) to find how many whole grains the product contains.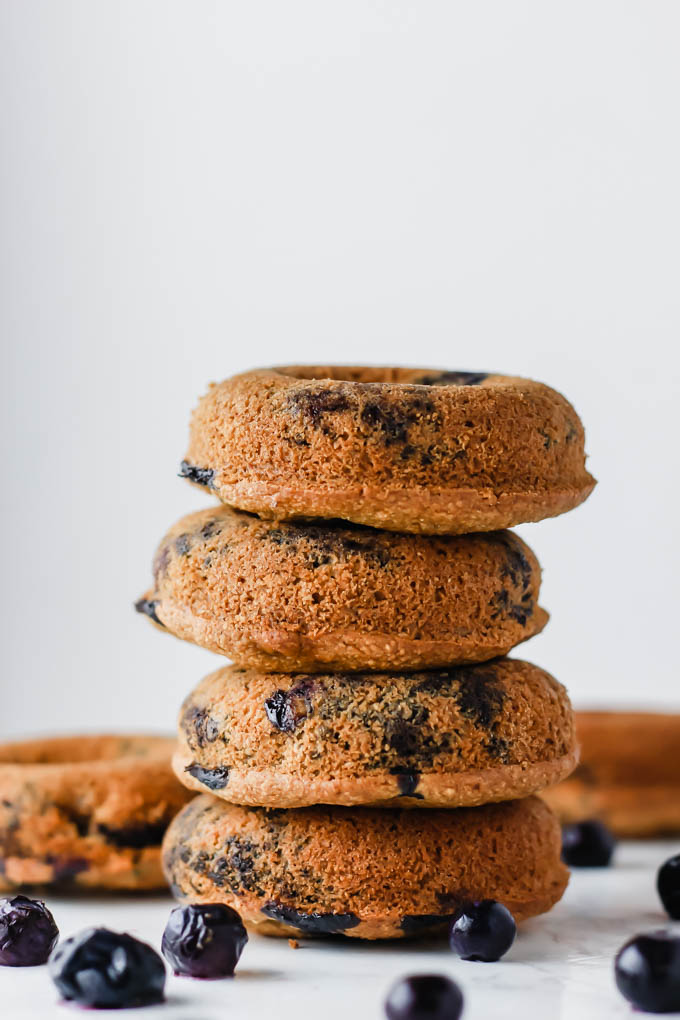 How to Customize This Vegan Donut Recipe
I love the pop of the blueberries in this vegan donut recipe, but maybe you don't have any blueberries on hand! Or maybe you're craving just a little something extra and want to whip up a glaze to go on top. You do you! Here are a few fun ideas to add your own twist to these vegan gluten free donuts.
Pick a different mix-in. Chocolate chips, blackberries, dried cranberries or lemon zest would all be delicious in this recipe if you prefer something other that the blueberries.
Don't have fresh blueberries? Use frozen! Frozen blueberries will work just fine in this recipe. I recommend thawing them first and make sure you leave out any excess moisture, which will loosen the batter and impact the final texture.
Make a glaze! You can make a vegan glaze for these donuts by combining 1/4 cup of melted vegan butter or coconut oil, 2 cups of powdered sugar, and about 3 tablespoons of plant-based milk (add more until the consistency is loose and a bit runny). Simply dunk the top of your donuts and allow them to rest while the glaze dries. Yum!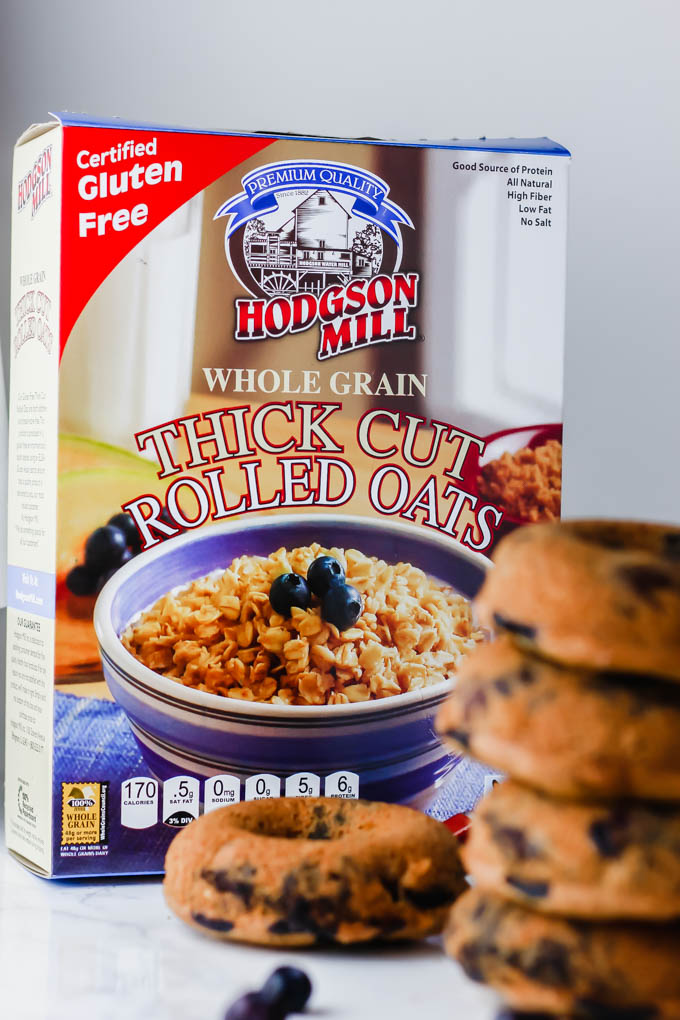 How to Store

Vegan Blueberry Donuts
This is definitely one of those recipes that doesn't last very long in my house. If you don't finish them all fresh out of the oven, then these vegan blueberry donuts will keep well for about 3-4 days when sealed in an air-tight container.
You can also make a double batch and stash some in the freezer for a quick and easy breakfast option! Pack the donuts into an air-tight container and place a piece of parchment paper between each layer if you're stacking the donuts in the container. Then just pull one out when you're ready to enjoy and pop it in the microwave or oven to warm it up. What's better than a warm donut?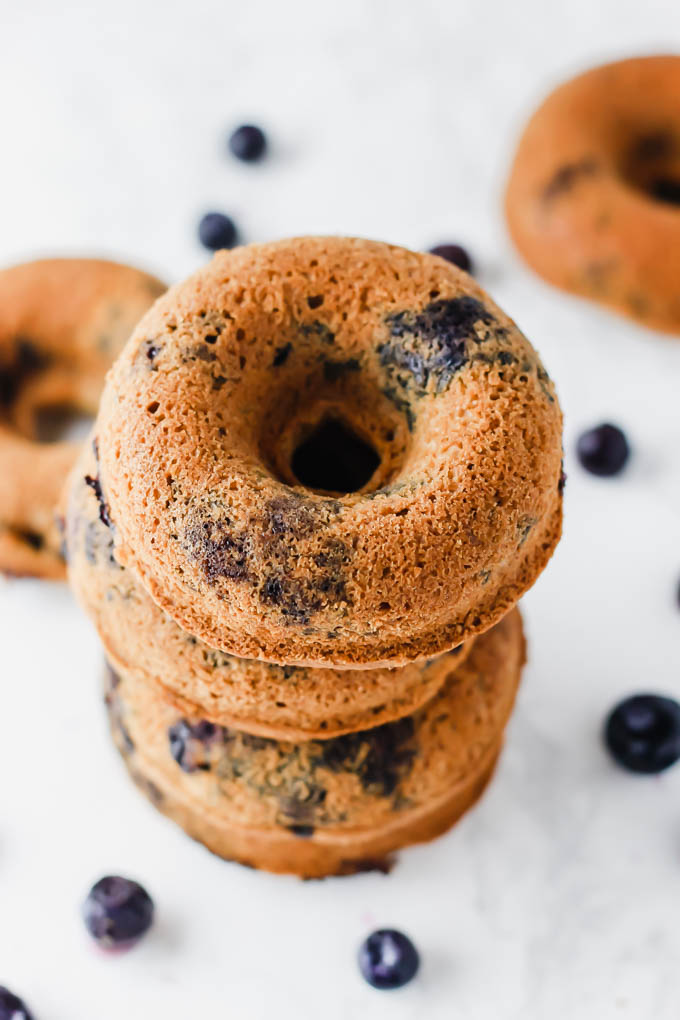 More Vegan Breakfast Recipes
Have you ever baked donuts at home? It's just as simple as baking muffins! Maybe even a little easier, because there's less cooking time. AKA less time until you can bite into warm vegan blueberry donuts.
I hope you enjoy the recipe! Let me know of any other donut flavors you want to see—trust me, I don't mind the recipe testing.
If you're looking for more vegan breakfast recipes, give one of these a try!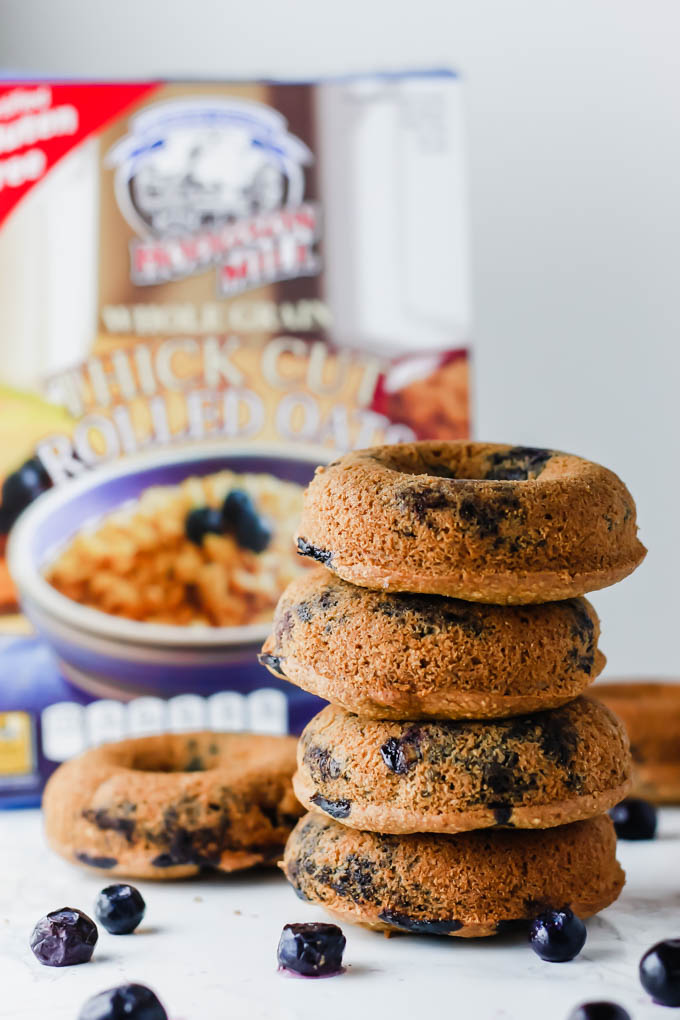 Print
How to make:
Baked Vegan Blueberry Donuts
Make these Vegan Blueberry Donuts for a satisfying breakfast, snack, or dessert! They're made with wholesome ingredients and are gluten-free.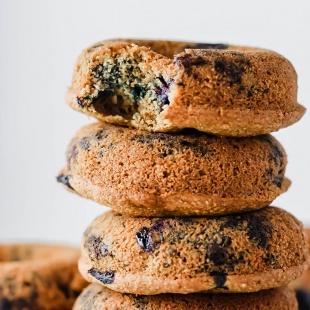 Ingredients
1/2 cup

unsweetened non-dairy milk

1/2 teaspoon

apple cider vinegar

2 cups

Hodgson Mill Gluten Free Thick Cut Rolled Oats

1/3 cup

coconut sugar (or granulated sugar of choice)

1 1/2 teaspoons

baking powder

1/2 teaspoon

baking soda

1 teaspoon

ground cinnamon

1/4 teaspoon

salt

1/4 cup

unsweetened applesauce

2 tablespoons

almond butter

1 tablespoon

maple syrup

1 teaspoon

vanilla extract

3/4 cup

blueberries
Instructions
Preheat oven to 350ºF. Lightly grease a donut pan.

In a medium bowl, add non-dairy milk and vinegar. Stir to combine; set aside for 10 minutes.

Add rolled oats to a blender or food processor. Blend until a fine flour forms, about 2 minutes.

In a large bowl, add oat flour, sugar, baking powder, baking soda, cinnamon, and salt. Stir to combine.

To the milk mixture, add applesauce, almond butter, maple syrup, and vanilla. Whisk until fully combined.

Pour the wet ingredients into the dry ingredients. Stir until the ingredients are fully combined. Add blueberries; stir a few times until evenly incorporated.

Add batter to each donut cup until full.

Bake for 15-17 minutes. Let cool for 10 minutes.
Thanks to Hodgson Mill & Healthy Aperture Blogger Network for sponsoring this post! I love working with brands whose products I really love and would honestly recommend. Thank you for supporting this blog that I love oh-so-much!