These Roasted Corn Tacos with Mango Slaw feature seasonal produce and hearty veggie burgers for a dinner recipe that comes together in under 1 hour. This vegan taco recipe is fresh and perfect for summer! In partnership with Dr. Praeger's Sensible Foods.
Roasted Corn Tacos with Mango Slaw
We're not even done with April yet, but I can't help but dream about summer. Can you blame me?
I can almost taste the sweet, juicy watermelon and pineapple and savory veggie burgers straight off the grill. Summer brings along with it the best darn food. The best fruit is in season and I can eat it all day long?! I'm in! Sweet grilled corn? Sign me up.
Since I've been summer dreamin' lately, I think I subconsciously got the idea for these roasted corn tacos because I'm so ready for summer produce like corn and mangos.
These corn tacos and the mango slaw are so simple to put together, and they make for a pretty budget-friendly weeknight meal! Corn grows like weeds around here, so I got mine for about $0.50 a cob. What a steal. I got the mangoes at Whole Foods during their occasional 5/$5 mango sale, which is literally heaven. If you ever see that deal, GO CRAZY!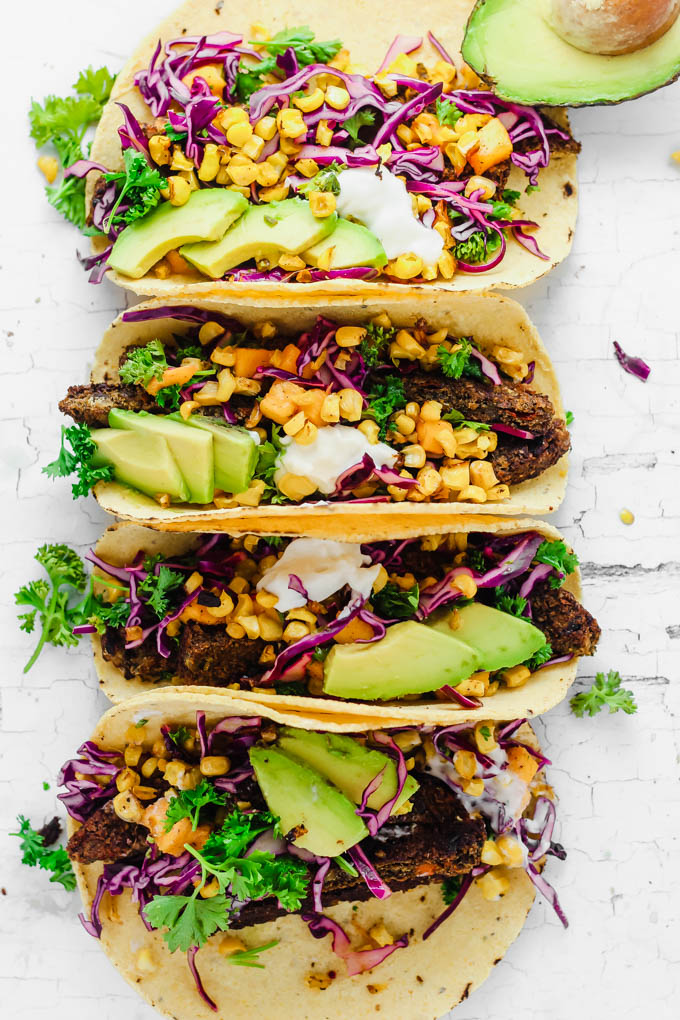 Ingredients for Corn Tacos with Mango Slaw
These corn tacos are made with just 10 ingredients, including plenty of delicious fresh produce. I also wanted to give the tacos some "meatiness," so I added some Dr. Praeger's Tex Mex Veggie Burgers! The slightly-spicy, savory flavor complements the sweet corn and tangy mango slaw like avocado complements toast. AKA perfectly.
Adding a veggie burger to the tacos helps to make them much more satiating than they would be with just the roasted corn and mango slaw. Here's everything you'll need to make them:
Corn on the cob. If you can't find fresh corn on the cob, then 1 1/2 cups of canned or frozen corn will work.
Dr. Praeger's Sensible Foods Tex Mex Veggie Burgers. These burgers are made with black beans and tons of veggies like zucchini, broccoli, red peppers, string beans… all the good stuff!
Tortillas. Keeping with the theme of corn tacos, I recommend grabbing corn tortillas.
Avocado. For topping our corn tacos! This will add healthy fats and a layer of creamy texture.
Red cabbage. I love the crunch that cabbage adds to these corn tacos. Plus the color is gorgeous!
Mango. For our mango slaw of course!
Cilantro. A bit of fresh cilantro really brightens up our corn tacos.
Lime. This will add sweetness and acidity to our mango slaw.
Apple cider vinegar. You could also use a red or white wine vinegar.
Maple syrup. To round out the lime and apple cider vinegar and highlight the sweetness of the mangos.
For toppings, go crazy! I love adding vegan sour cream, salsa, and fresh cilantro, but you could also add sliced jalapenos, an extra squeeze of lime, or your favorite hot sauce.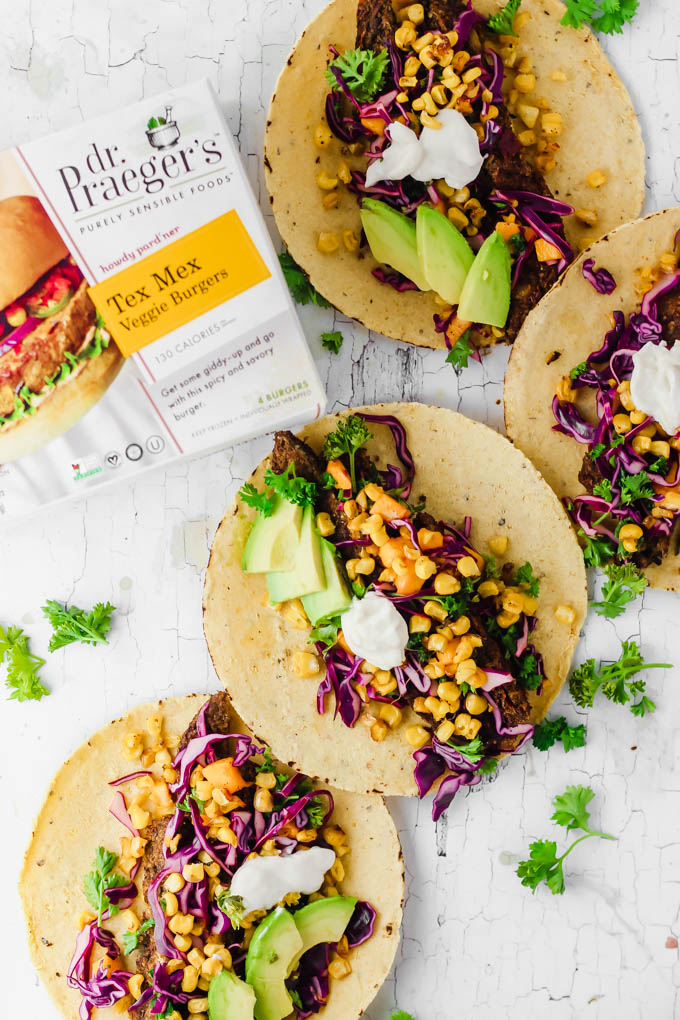 How to make mango slaw
The mango slaw adds to much to these corn tacos. Without it they'd be a little one-dimensional, but the sweetness in the mango really compliments the corn and brightens up the entire taco.
To save time, you can start working on your mango slaw while your corn is roasting. You'll start by dicing up your mango. By the way, if you're like me and struggle to get a good dice on a mango, Ambitious Kitchen has a whole post on how to cut a mango three different ways.
Once your mango is diced, you'll add in your shredded cabbage, cilantro, lime juice, vinegar, maple syrup and salt and mix it together. Once you have everything combined, let it sit in the refrigerator. This will give the flavors time to meld and the acid will soften up the cabbage.
I'd recommend letting it sit for at least ten minutes before serving, so if you start making it right when the corn goes in the oven you should have the perfect amount of resting time built in.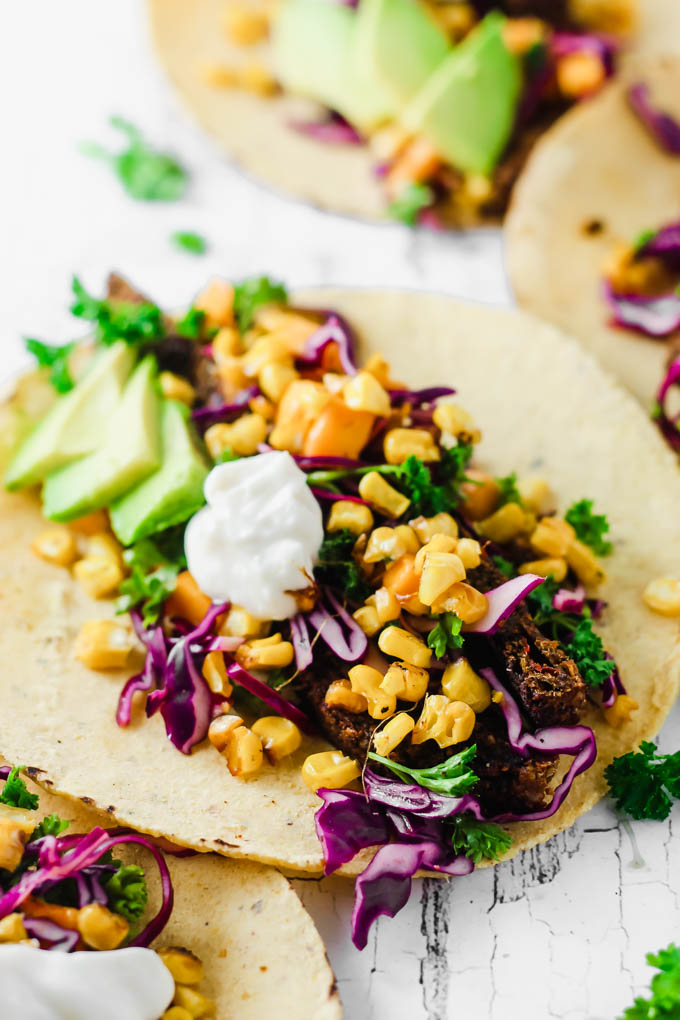 Oven roasted corn on the cob
While corn roasted on the grill is one of the best ways to make corn during the summer, I know we don't all have a grill at home, so I decided to make an oven roasted corn on the cob for these tacos. Just 20-25 minutes roasting in the oven gets the corn nice and charred, and will give you a similar flavor to what you get from a grill. If you want to add a bit of smokiness, you could try adding some smoked paprika to your corn.
You can totally use canned or frozen corn for this recipe, but you'll want to make sure it's slightly dried off before roasting to achieve the same char.
Using oven roasted corn also means we don't have to use another pan or cooking method to cook our veggie burgers. The best part about these Dr. Praeger's Tex Mex Veggie Burgers is that they roast at the same temperature as our corn, so simply pop these onto your cookie tray when your corn is about 7 minutes away from being finished. Pro tip: I like to bake them according to the package directions, then broil them for a couple minutes to get them extra crispy! (But watch them closely – I've burned many-a-thing during broiling.)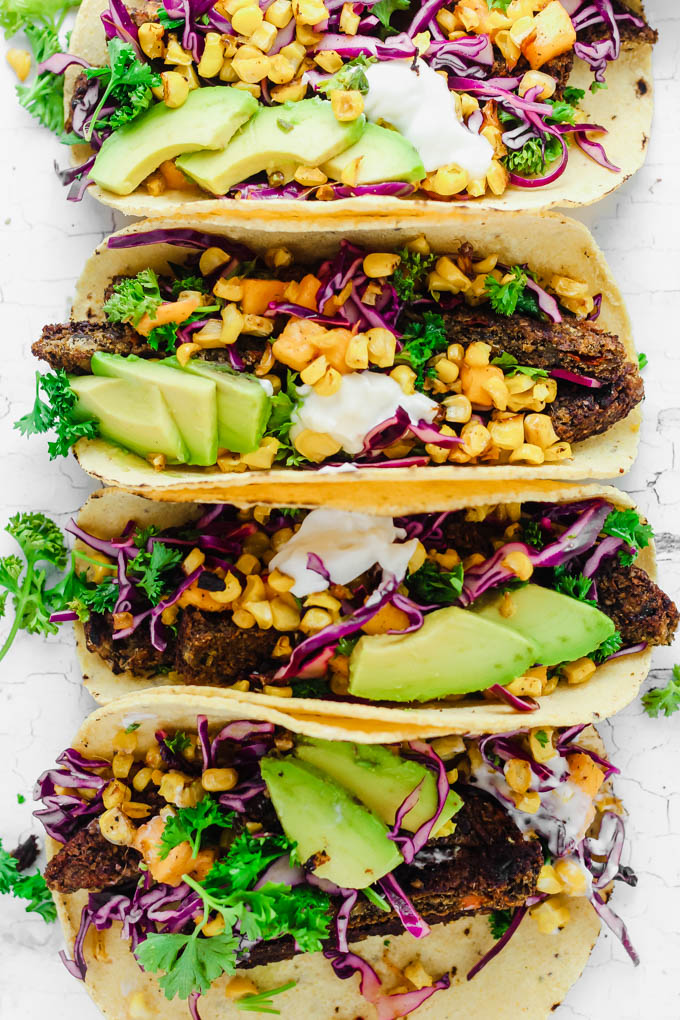 More vegan taco recipes
Tacos are one of my favorite weeknight dinner recipes because they're so quick and easy to put together. These corn tacos are truly no exception. If you're looking for more vegan taco recipes, try one of these for your next taco Tuesday!
Print
How to make:
Roasted Corn Tacos with Mango Slaw
These Corn Tacos with Mango Slaw feature seasonal produce and are made in under 1 hr. This vegan taco recipe is fresh and perfect for summer!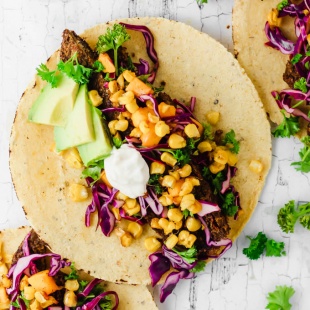 Ingredients
2

ears of corn (or

1 1/2 cups

, canned or frozen)

4

corn tortillas

1

avocado, sliced
Optional toppings: vegan sour cream, salsa, fresh cilantro
For the mango slaw:
1 1/2 cups

red cabbage, shredded

3/4 cup

mango, diced

1/2 cup

cilantro, finely chopped

1 tablespoon

fresh lime juice

1 teaspoon

apple cider vinegar

1 teaspoon

maple syrup

1/4 teaspoon

salt
Instructions
Preheat oven to 450ºF. Lightly grease a baking sheet.
Cut corn off ears; place on baking sheet. Bake for 20-25 minutes, until corn is slightly charred.
While the corn cooks, prepare the slaw. In a large bowl, add all slaw ingredients. Toss until evenly combined; let sit in the fridge until ready to serve.
Cook veggie burgers according to package directions.* Cut each burger into 4-5 pieces, then arrange on the tortillas.
Top tacos with roasted corn, mango slaw, avocado slices, and desired toppings.
Notes
*To make the veggie burgers extra crispy, broil for 1-2 minutes.
Thanks to Dr. Praeger's Sensible Foods for sponsoring this post! I love working with brands whose products I really love and would honestly recommend. Thank you for supporting this blog that I love oh-so-much!