This vegan orange tempeh stir fry tastes just like takeout, but made at home! Serve it with quinoa and veggies for a balanced vegan dinner.
Orange Tempeh Stir Fry
There's no question that orange chicken is one of the most popular takeout dishes out there, and for good reason. The sauce is honestly so irresistible – it's tangy, sweet, and savory all at the same time. I knew I had to make a plant-based version of this takeout classic, so for my take on a vegan orange chicken, I opted to use tempeh. It's protein packed and has a delicious nutty flavor that pairs perfectly with the orange stir fry sauce.
The best part about this tempeh stir fry is that it comes together in just 10 minutes of active cooking time, so it's a great go-to for busy week nights. Served alongside quinoa and a veggie of your choice, this orange tempeh makes for an easy, delicious dinner that's super satiating and packed with nutrients.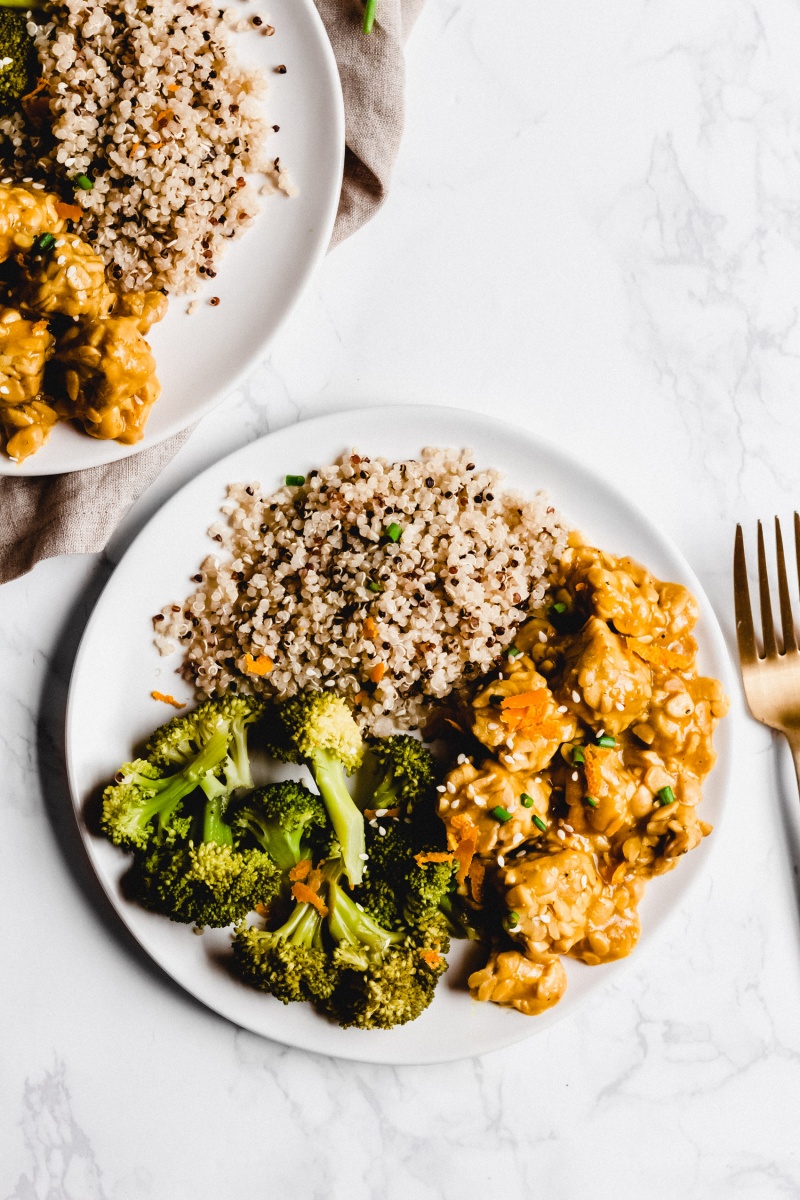 How to make vegan orange stir fry sauce
This tempeh stir fry is alllllll about the orange stir fry sauce. It's slightly sweet, a bit sour and compliments the tempeh's nutty flavor perfectly. This vegan stir fry sauce comes together quickly and doubles as your tempeh marinade. After mixing the sauce, you simply pour it over your tempeh to marinate, then stir fry the tempeh with the marinade and a bit of cornstarch to create a thick, zesty sauce for our vegan orange chicken. It truly makes for the perfect orange glazed tempeh. Here's what you'll need:
Orange juice. You could use store bought or freshly squeezed
Rice vinegar. This gives our tempeh stir fry sauce a punch of acid that helps cut through the sweetness. Look for unseasoned rice vinegar if you can
Low-sodium soy sauce. Did you know you can cut regular soy sauce with equal parts water to make your own low-sodium soy sauce? Save a buck and make your soy sauce last twice as long!
Brown sugar. The brown sugar in this orange stir fry sauce not only adds sweetness, but also makes our sauce sticky and glaze-y for our tempeh stir fry
Garlic powder. This adds umami flavor to our sauce
Ground ginger. You could also grate fresh ginger. For this orange tempeh stir fry recipe I would recommend using 2 tablespoons of fresh grated ginger
Orange zest. The rind holds so much flavor as this is where the oils live. Using fresh orange zest will really amp up the orange flavor in this tempeh stir fry
Red pepper flakes. Adjust to your liking, or by all means feel free to omit if you don't like spice.
Cornstarch or tapioca starch. Adding a starch helps thicken the sauce for our vegan orange chicken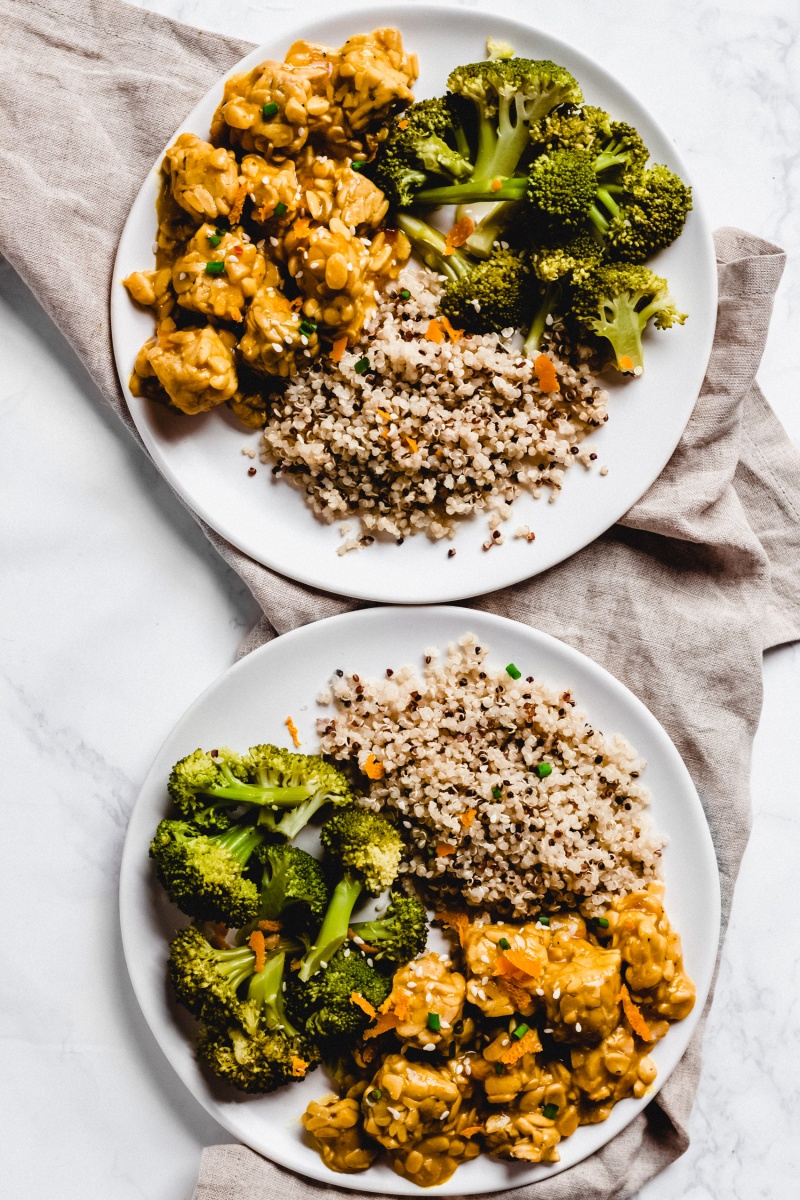 Tips for making this orange tempeh stir fry:
This orange tempeh stir fry recipe is a great weeknight dinner option because it comes together in just 10 minutes of active cooking time. Most of the time this recipe requires is used for marinating, so you could easily whip up the sauce in advance and pop your tempeh and marinade in the fridge in the morning so when you're ready for dinner, you're just 10 minutes away from having a plate full of vegan orange chicken. Here are a few helpful tips for success:
Make sure you let the tempeh marinate the entire hour; this really helps insure full flavor and I promise you will taste a big difference
Don't be afraid to adjust spice level to your preference, using more or less red pepper flakes. Tasting as you go helps!
Not a broccoli fan? No worries! This tempeh stir fry will also be delicious alongside carrots, cauliflower, or green beans–use what you have!
If you don't have quinoa on hand, you could definitely serve this with brown or white rice
Have fun with toppings! I recommend finishing off this orange tempeh stir fry with a sprinkle of sesame seeds and more orange zest, but green onion, extra chili flakes, or an extra squeeze of fresh orange juice would also be *chef's kiss*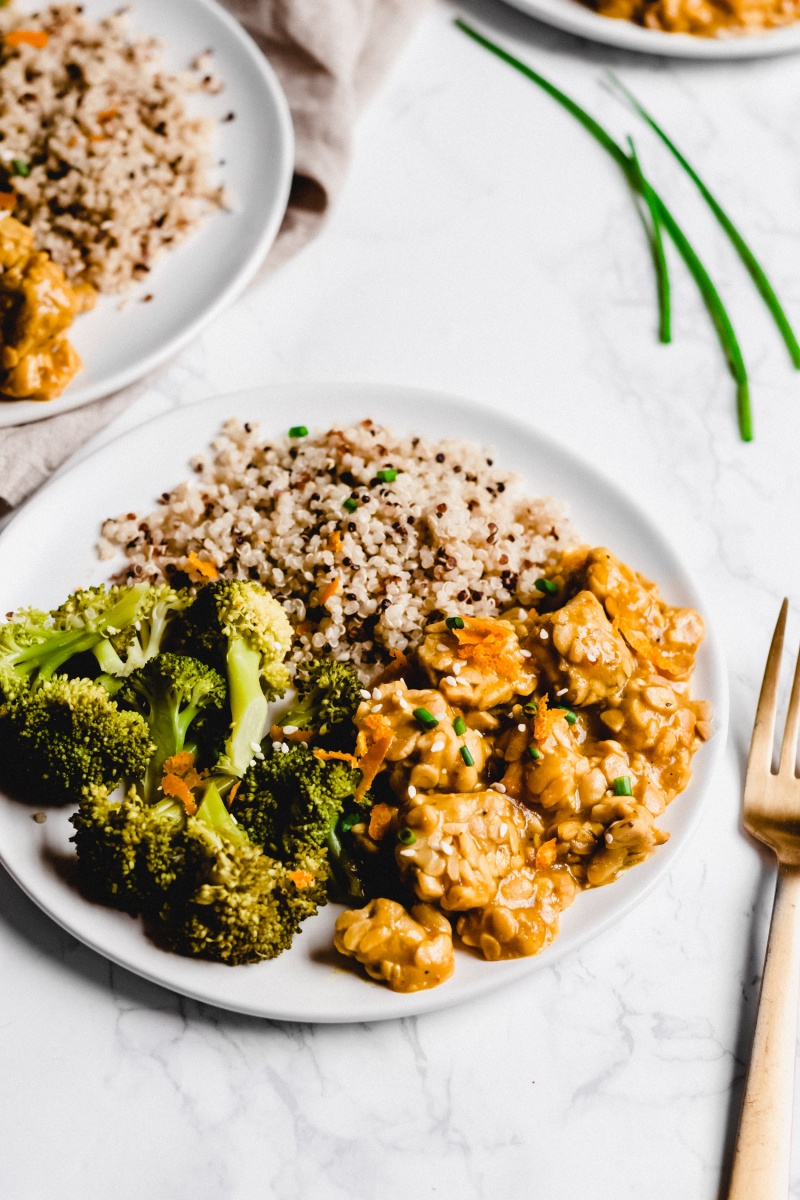 More vegan tempeh recipes
In my opinion, tempeh is the unsung hero of the plant-based world. Tofu is out there getting all the love! While they're both great in their own right, let me break down some of the bad a** benefits of this fermented soy food:
It's a great source of dairy-free calcium
Because it's more compacted, one 3 oz serving contains a whopping 15 g plant protein to keep you full
It contains prebiotics, which can help improve digestive health!
Looking for more ways to try tempeh? I've gotcha covered with a round up of 21 Delicious Vegan Tempeh Recipes. For more tempeh stir fry recipes and asian-inspired dishes, check out the links below!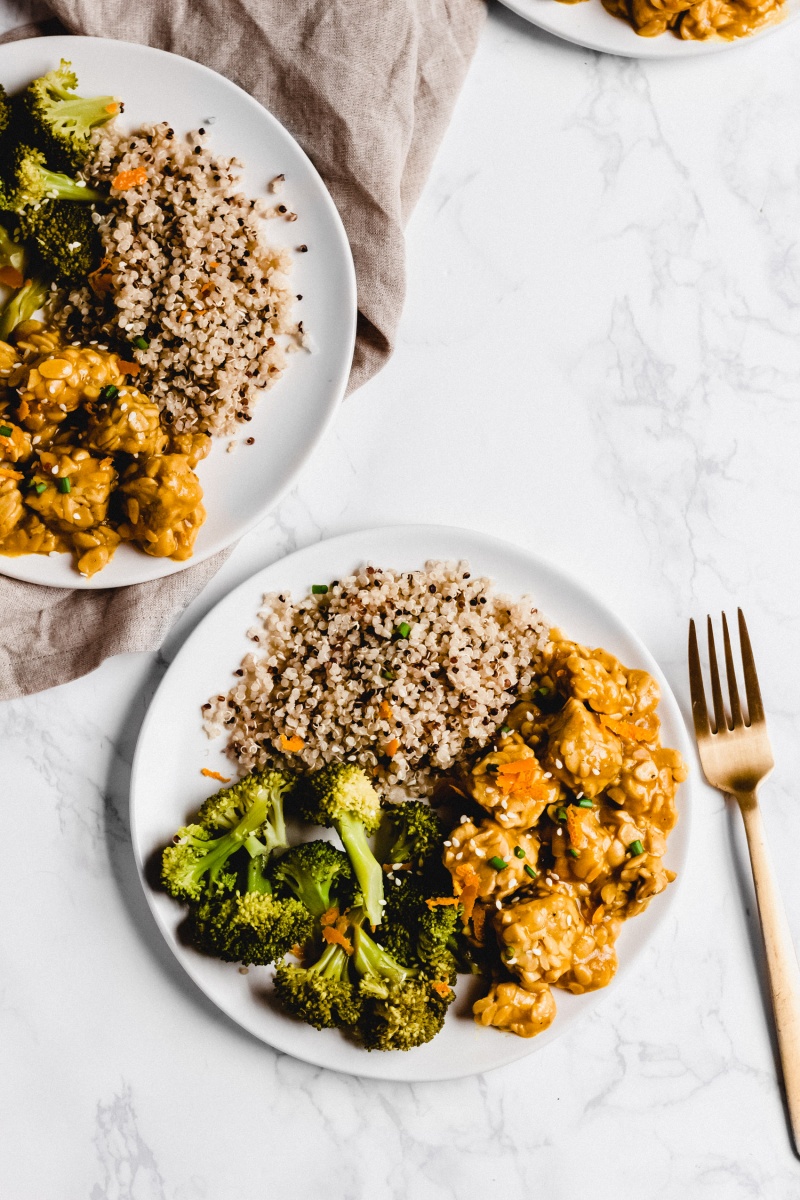 We hope you all love this simple orange tempeh stir fry recipe; let us know what you think in the comments!
Print
How to make:
Orange Tempeh Stir Fry
This vegan orange tempeh stir fry tastes just like takeout, but made at home! Serve it with quinoa and veggies for a balanced vegan dinner.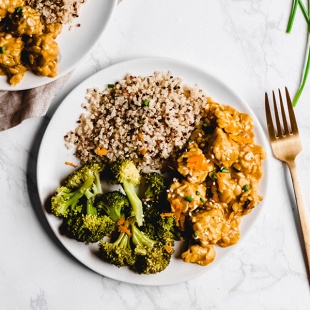 Ingredients
For the tempeh:
2

8-ounce packages tempeh

1 1/2 cup

orange juice

2 tablespoons

rice vinegar

2 tablespoons

low-sodium soy sauce

1 tablespoon

brown sugar

1 teaspoon

garlic powder

1/2 teaspoon

ground ginger
Zest of

1

orange

1/8

–

1/4

teaspoon red pepper flakes (more if you like spice)

2 1/2 tablespoons

cornstarch or tapioca starch
For serving:
Cooked quinoa

Steamed broccoli

Sesame seeds

Orange zest
Instructions
Cut tempeh into 1/2-inch cubes.

In a large bowl, add orange juice, rice vinegar, soy sauce, sugar, garlic powder, ginger, orange zest, and red pepper flakes. Whisk to combine. Add tempeh; stir. Let tempeh sit in the marinade for at least 1 hour.

In a medium skillet over medium heat, add tempeh and leftover marinade.

In a small bowl, add starch. Slowly pour in a little bit of hot water, stirring, to make a slurry. Pour the slurry over the skillet; stir. Cook for 8-10 minutes, stirring frequently, until sauce is thickened.

Serve tempeh over quinoa and broccoli. Top with sesame seeds and orange zest.