This vegan Orange Tempeh recipe tastes just like your favorite takeout but is easily made right at home! Serve it with protein-rich quinoa and veggies for a balanced, plant-powered plate.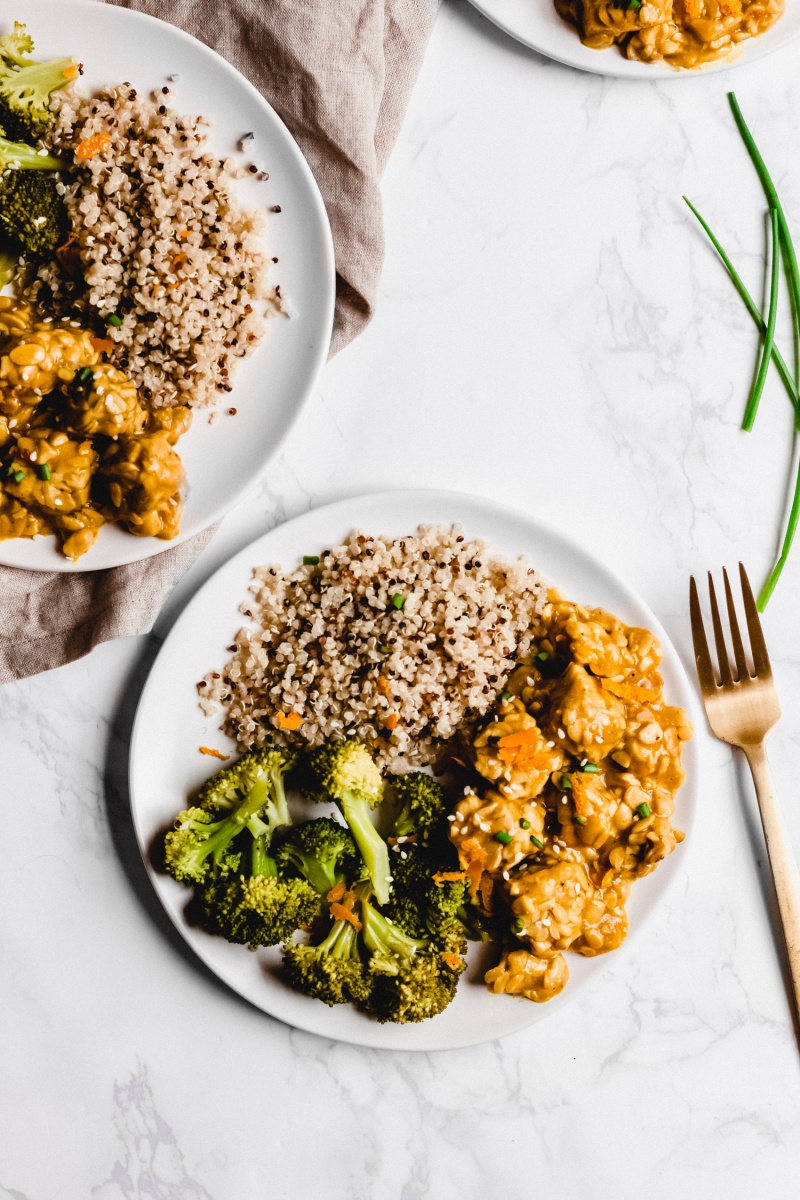 Hey EE fam!
Emily here (different spelling!) taking the reins on today's super-simple takeout recipe.
You may have met me over on Instagram, but if not, here's a quick intro!
I work with Emilie to make sure we're delivering the BEST possible content to you all each day. Whether that be brainstorming new post ideas, creating fun courses, or rethinking the brand itself, we're always cooking up new ideas (literally) for things you'll really love. With Emilie as our fearless leader, you can think of me as the head of all things operations. Running a website like this really is a complex business! If you want to learn more from Emilie about entrepreneurship, feel free to sign up to this email list.
OK, now that formal intros are out of the way, let's get to the real reason we're all here today: TAKEOUT.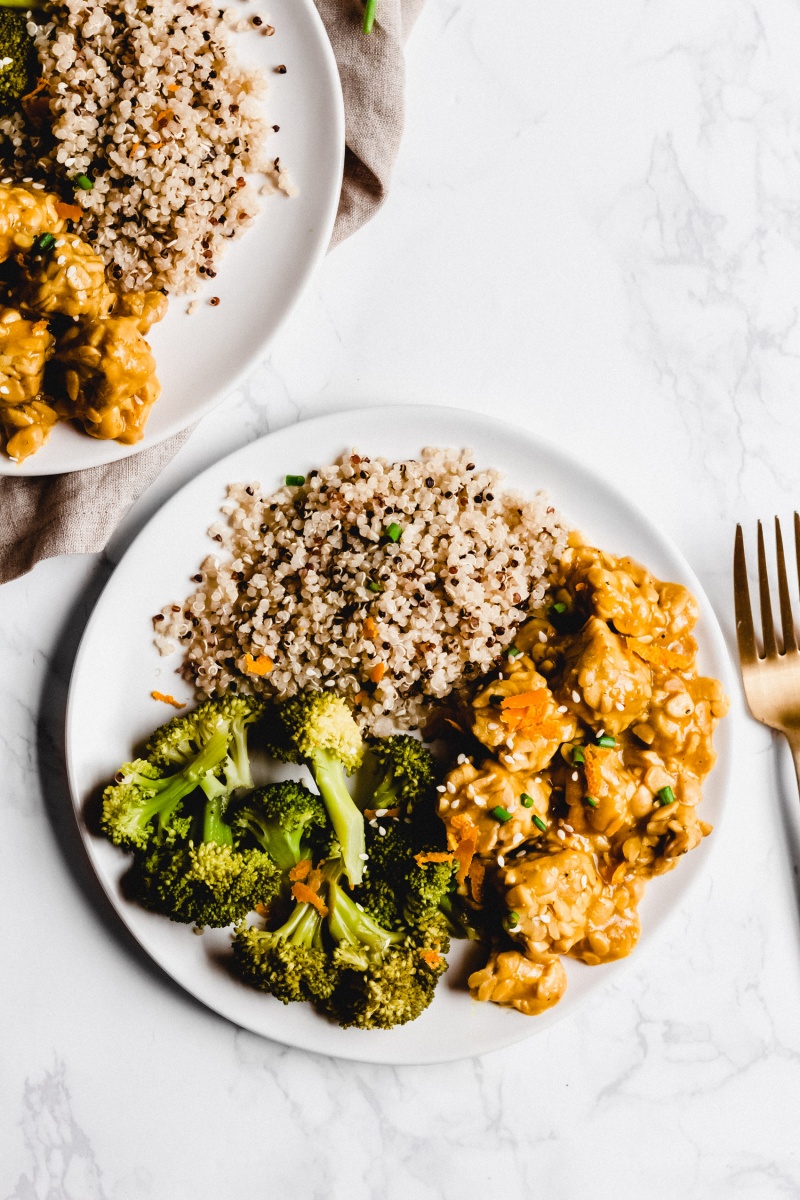 Why use tempeh?
In my opinion, tempeh is the unsung hero of the plant-based world. Tofu is out there getting all the love! While they're both great in their own right, let me break down some of the bad a** benefits of this fermented soy food:
It's a great source of dairy-free calcium
Because it's more compacted, one 3 oz serving contains a whopping 15 g plant protein to keep you full
It contains prebiotics, which can help improve digestive health!
Also, when coated in a sticky orange glaze sauce it tastes Ah-MAY-zing.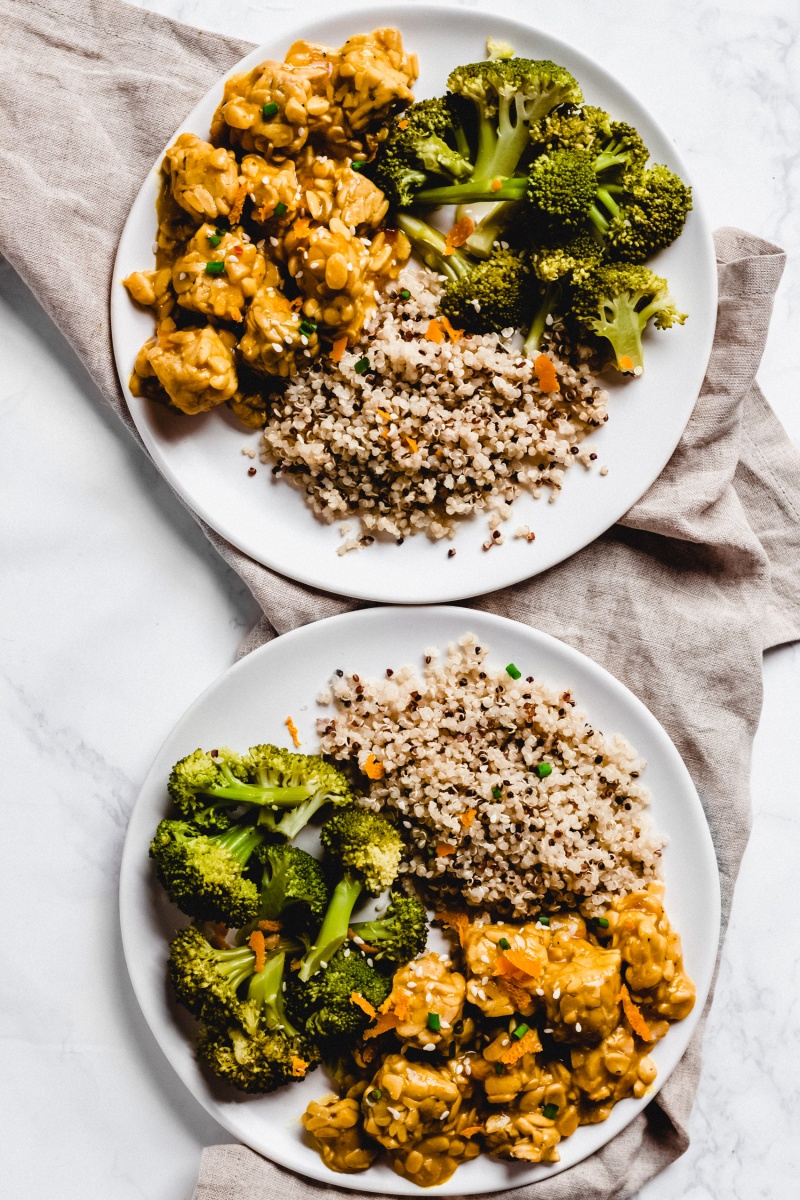 Personally, I've never been a fan of overly sweet dishes (I'm a salt > sugar person for sure). What I love about this tempeh is that is has the perfect balance of bright orange flavor without a cloying aftertaste. When paired with nutty quinoa and crunchy broccoli, it's totally restaurant worthy!
Tips for making this orange tempeh:
Make sure you let the tempeh marinate the entire hour; this really helps insure full flavor.
Don't be afraid to adjust spice level to your preference, using more or less red pepper flakes. Tasting as you go helps!
Don't have broccoli on hand? No worries! This will also be delicious with carrots, cauliflower, green beans–use what you have!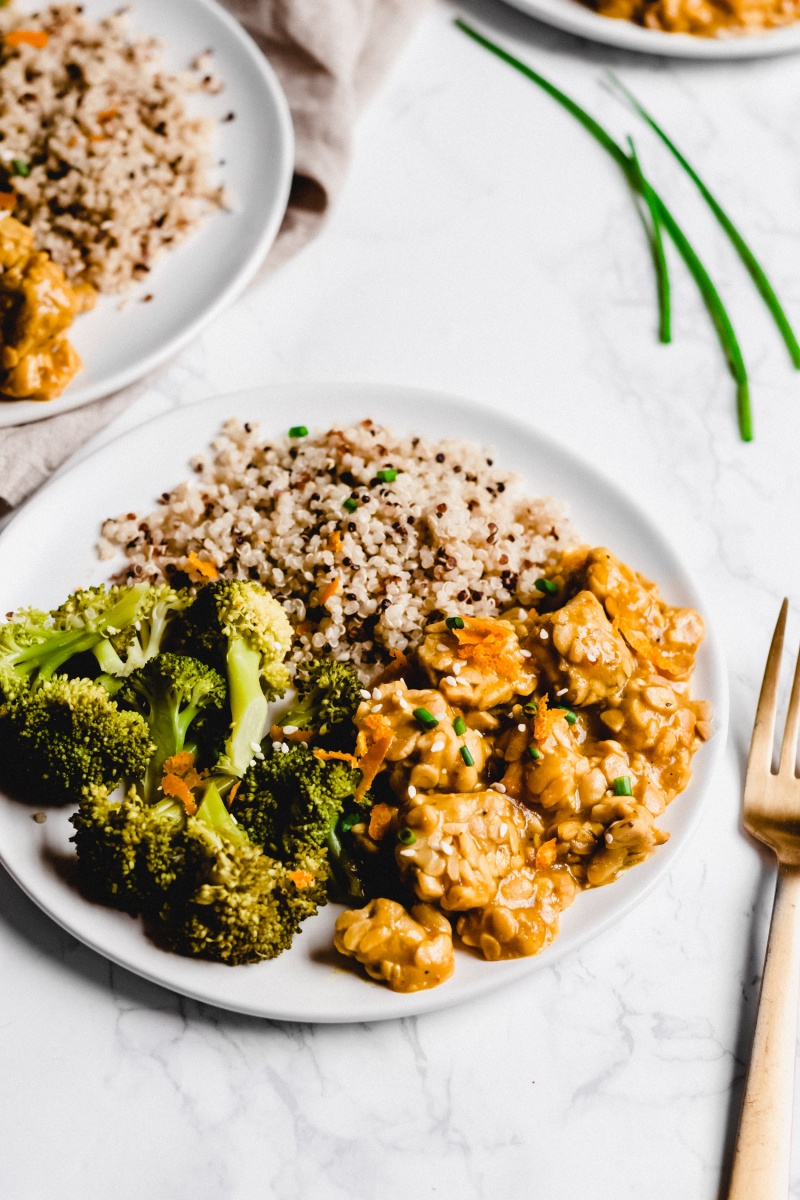 Restaurant taste without restaurant prices = my dream meal. Plus I can eat it on the couch with my boyfriend while we stream old episodes of Fixer Upper. Anyone else low-key obsessed with that show?😂
PS: If you're looking for more takeout-inspired dishes, give these a shot!
Other takeout-style recipes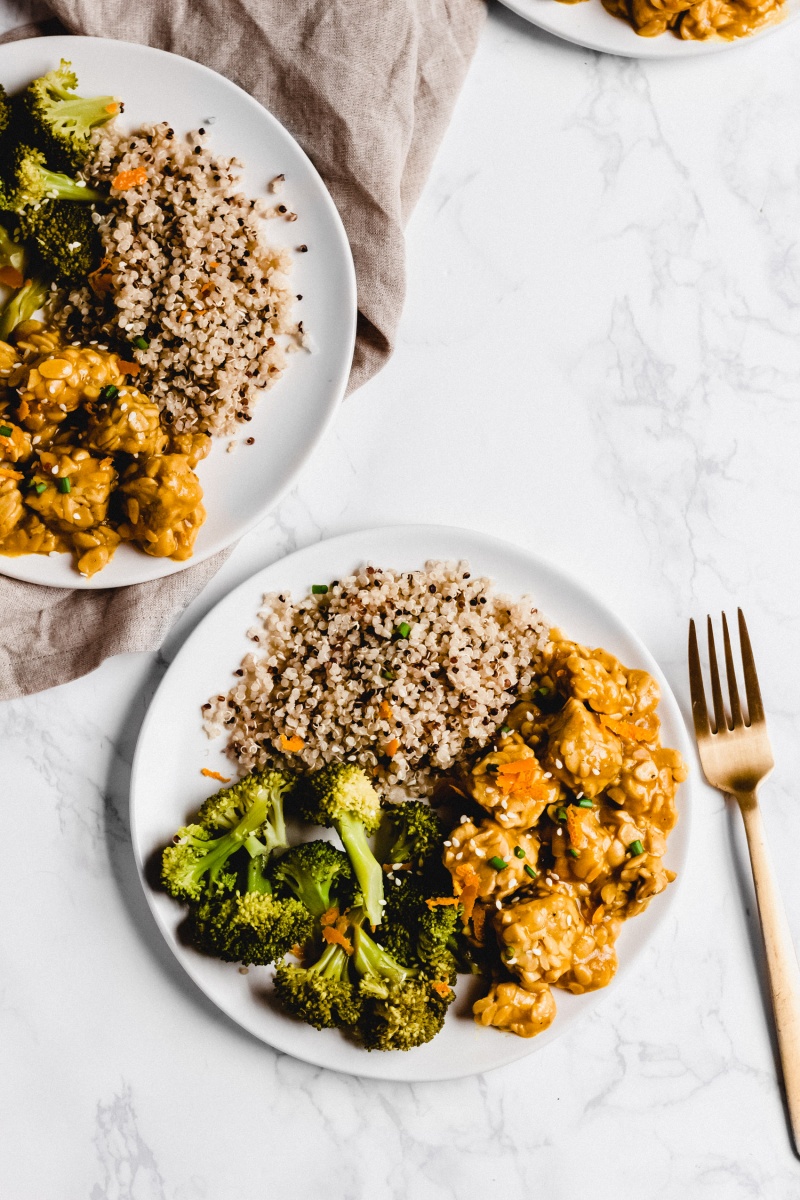 We hope you all love this simple orange tempeh recipe; let us know what you think in the comments!
Print
How to make:
Orange Tempeh
This vegan orange tempeh recipe tastes just like your favorite takeout but is easily made right at home! Serve it with protein-rich quinoa and veggies for a balanced, plant-powered plate.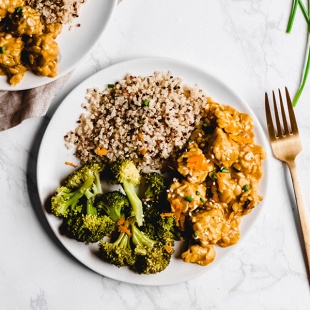 Ingredients
For the tempeh:
2

8-ounce packages tempeh

1 1/2 cup

orange juice

2 tablespoons

rice vinegar

2 tablespoons

low-sodium soy sauce

1 tablespoon

brown sugar

1 teaspoon

garlic powder

1/2 teaspoon

ground ginger
Zest of

1

orange

1/8

–

1/4

teaspoon red pepper flakes (more if you like spice)

2 1/2 tablespoons

cornstarch or tapioca starch
For serving:
Cooked quinoa

Steamed broccoli

Sesame seeds

Orange zest
Instructions
Cut tempeh into 1/2-inch cubes.

In a large bowl, add orange juice, rice vinegar, soy sauce, sugar, garlic powder, ginger, orange zest, and red pepper flakes. Whisk to combine. Add tempeh; stir. Let tempeh sit in the marinade for at least 1 hour.

In a medium skillet over medium heat, add tempeh and leftover marinade.

In a small bowl, add starch. Slowly pour in a little bit of hot water, stirring, to make a slurry. Pour the slurry over the skillet; stir. Cook for 8-10 minutes, stirring frequently, until sauce is thickened.

Serve tempeh over quinoa and broccoli. Top with sesame seeds and orange zest.