These Vegan Skillet Brownies are a rich, fudgy, sneakily high protein dessert that are perfect paired with a scoop of vegan ice cream.
Vegan Skillet Brownies
Who doesn't love warm, chocolatey brownies straight out of the oven? And with an extra drizzle of melted chocolate on top? SIGN. ME. UP.
Omg, this recipe though. I almost couldn't believe my eyes (and tastebuds) when it came out of the oven. Honestly, these skillet brownies blew my mind.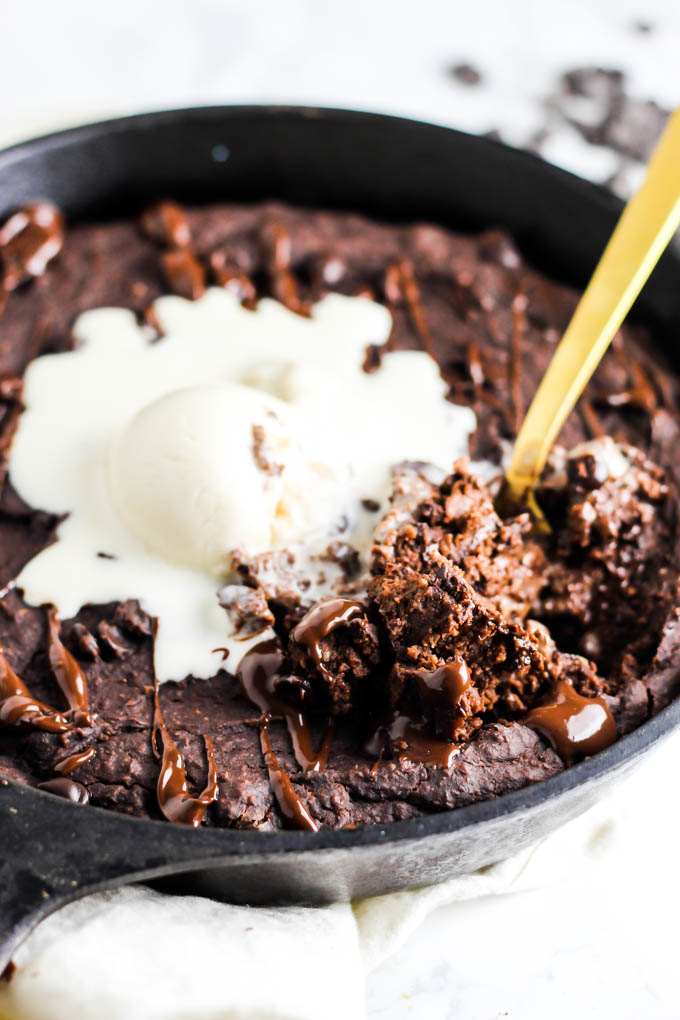 These vegan gluten free brownies are baked in a cast iron skillet because, let's be honest, it just looks cooler. 😎 Perfect for serving to guests!
Grab a spoon. Let's dig in.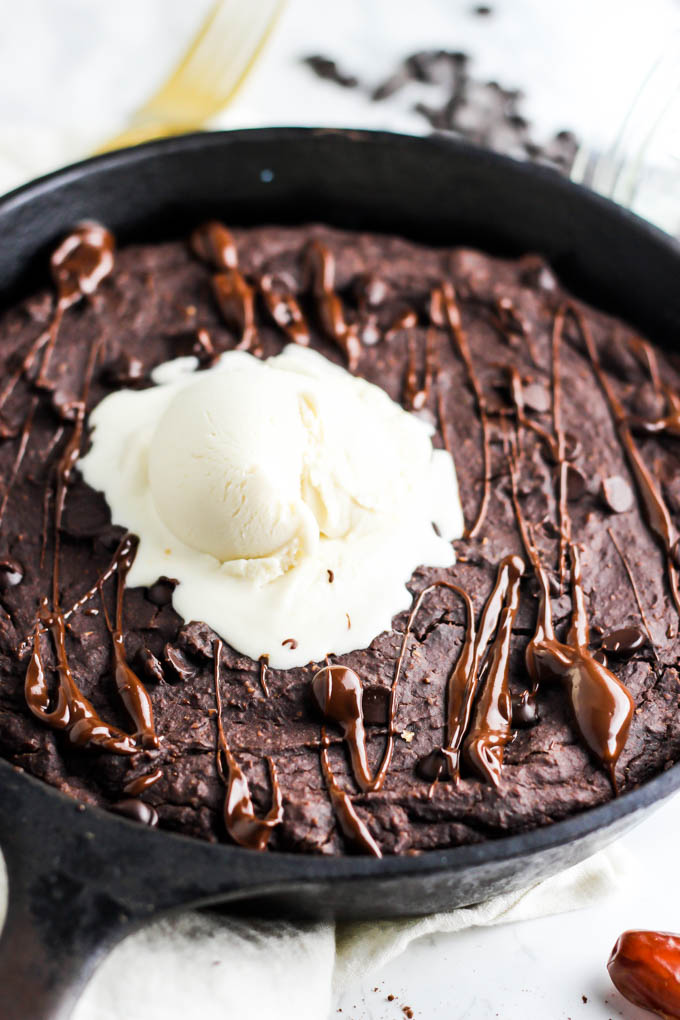 Ingredients for Vegan Skillet Brownies
You all know I love sneaking unconventional ingredients into recipes just for fun. Tofu in cheesecake? Done. Spinach in muffins? Not a problem.
You've heard of black bean brownies, I'm sure. Maybe chickpea blondies. But we're going a step further and adding some LENTILS to these skillet brownies!! They're truly one of my new favorite high protein desserts.
After one bite into these brownies, you'll be convinced that you CAN eat lentils for dessert. The whole pan was gone in 2 days. Nuff said.
Just like most of my desserts, these skillet brownies are made with wholesome ingredients. Here's what you'll need to make them:
Dry brown lentils

. Adds protein and fiber to the brownies. I promise you won't know they're there!

Soaked pitted dates

. Dates add rich, caramel-like sweetness to the brownies

Rolled oats

. Not only are oats a great gluten-free substitute for flour, but they also add fiber and protein alongside the lentils

Cocoa powder

. 

Baking powder and baking soda

. 

Salt

. Helps to balance out the sweetness and richness

Unsweetened applesauce

. These skillet brownies get most of their sweetness from the dates, so I recommend going with unsweetened applesauce.

Non-dairy milk

. 

Almond butter

. Or substitute another nut or seed butter of your choice

Vanilla extract

.

Dark chocolate chips. Because who doesn't want melty chocolate chips in their skillet brownie?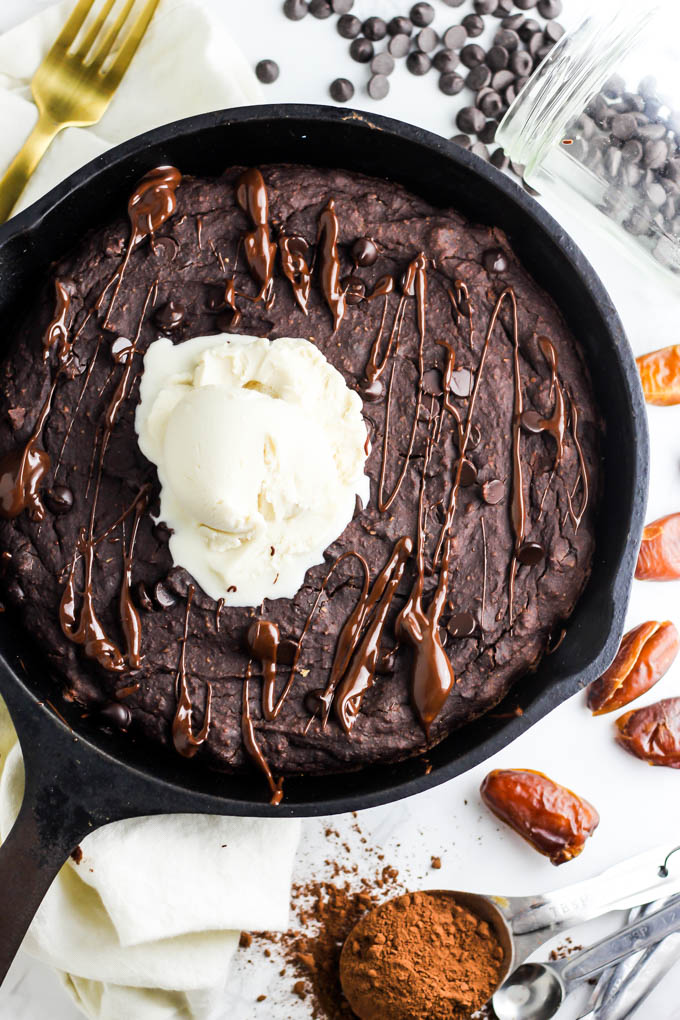 Tips for making high protein desserts
Let's be real. No one wants their brownies to taste like they're a healthier option, and these skillet brownies are no exception. There are plenty of ways to sneak in extra protein if you're having trouble adding enough plant-based protein to your diet, but you shouldn't sacrifice on flavor! Here are tips for making high protein desserts like these skillet brownies without skimping on the yum-factor:
Include multiple protein sources.

The lentils, oats and almond butter all add protein to these vegan gluten free brownies and work together to make the brownies satiating and delicious

Use legumes or pulses.

Not only are legumes and pulses like lentils packed with protein, but they also add fiber! Most American's don't consume

enough fiber

, so adding more legumes into your diet is a great way to boost your protein and fiber intake.

Add some texture.

The added texture from the chocolate chips and dates help disguise the lentils in these skillet brownies. You could also try mixing in walnuts!

Amp up the flavor. You would never know there were lentils in these brownies if the recipe didn't give it away! Adding flavor-packed ingredients like almond butter, dates, vanilla extract and of course plenty of chocolate, makes these skillet brownies super decadent.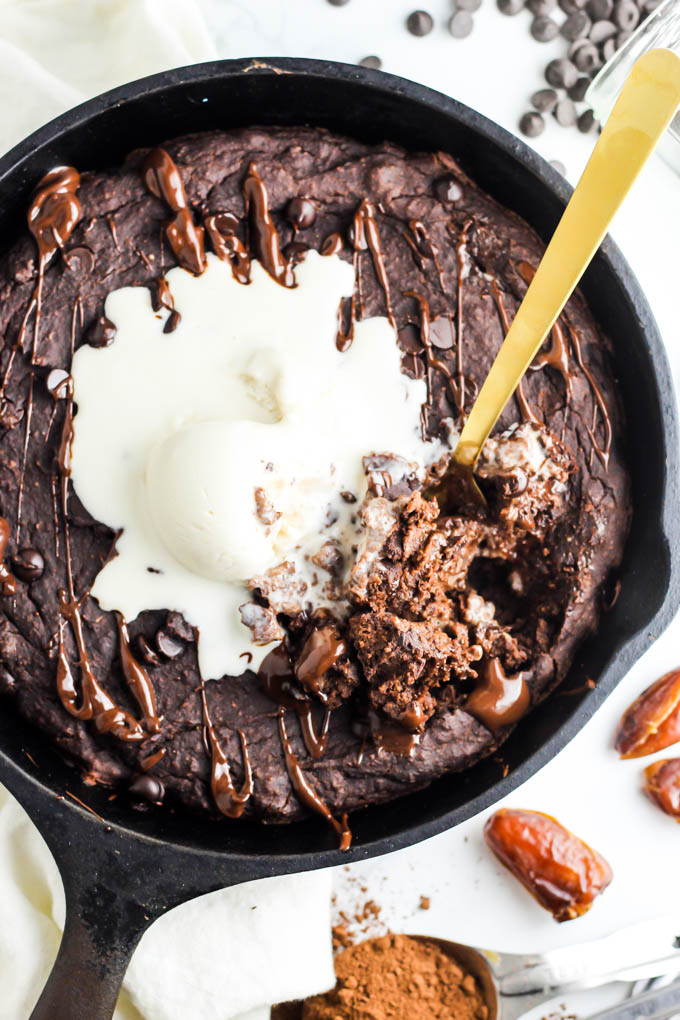 Print
How to make:
Vegan Skillet Brownies (with Lentils!)
These Vegan Skillet Brownies are a rich, fudgy, sneakily high protein dessert that are perfect paired with a scoop of vegan ice cream.
Ingredients
1/3 cup

dry brown lentils

1 cup

pitted dates, soaked

1 cup

rolled oats

1/4 cup

cocoa powder

1 1/2 teaspoons

baking powder

1/2 teaspoon

baking soda

1/4 teaspoon

salt

1/2 cup

unsweetened applesauce

1/4 cup

non-dairy milk

1/4 cup

almond butter, or nut/seed butter of your choice

1 teaspoon

vanilla extract

1/2 cup

dark chocolate chips
Instructions
Preheat oven to 350F.
In a small saucepan, add lentils and 1 cup water. Bring to a boil; cover. Simmer for 15-20 minutes, until lentils are tender and most of the liquid is gone.
In a small bowl, add dates; cover with boiling water. Let sit for 5 minutes, then drain.
In a food processor or high-speed blender, add oats, cocoa powder, baking powder, baking soda, and salt. Pulse until a fine flour forms.
Add drained dates, lentils, applesauce, milk, almond butter, and vanilla; process until smooth. Stir in chocolate chips.
In a 12-inch cast iron skillet, pour batter. Smooth the top so that it is even. Sprinkle with more chocolate chips, if desired.
Bake for 20-25 minutes. Serve warm.