Warm up with a bowl of vegan chicken noodle soup! This classic vegan chicken soup is simple to make when you're craving something comforting.
Vegan Chicken Noodle Soup
Name a food more comforting than a bowl of chicken noodle soup – I'll wait.
Whether you're feeling cold, sick, or just like you could use a hug, a bowl of chicken noodle soup always delivers that magic dose of warmth. I always find myself craving it so often during the colder months.
As a vegan food blogger, I felt a certain level of personal responsibility to deliver a vegan chicken noodle soup recipe that truly tastes as delicious and comforting as a bowl of the classic stuff. There are quite a few chickpea noodle soups out there that are so delicious, and I love a good chickpea, but something about a garbanzo bean just didn't quite land the same for me. I wanted something that truly felt reminiscent of the chicken soup your mom made when you're sick.
So today, I'm giving you my plant-based take on the ultimate classic, chicken noodle soup! This soup delivers plenty of flavor and warm, cozy vibes, just without the chicken. All you need is 45 minutes and a handful of staple ingredients to make yourself a big hug in a bowl.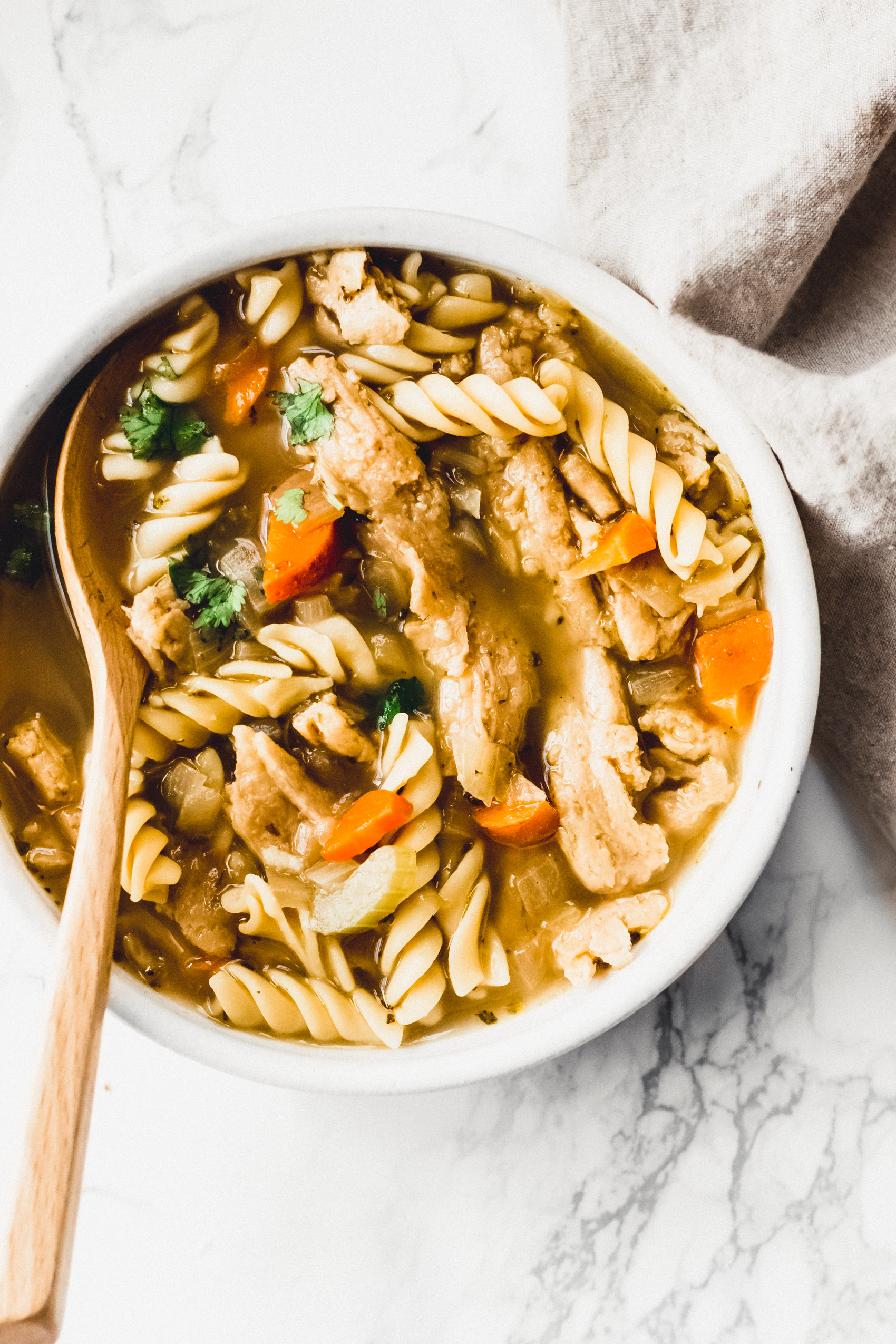 Ingredients for Vegan Chicken Noodle Soup
We're using soy curls as our protein in this vegetarian chicken noodle soup. If you're like "what the heck is a soy curl?", don't worry, I've got you. They're made from dehydrated whole soybeans, so they're packed with fiber and protein, and they taste amazing. While they're not easy to find in stores, you can order soy curls online!
Here's everything you'll need to make this vegan chicken noodle soup recipe:
Olive oil. Like all good soups, the base of this vegan chicken noodle soup is aromatics and veggies sauteed in olive oil.
Veggies. We're keeping it classic and using all the regular veggies you'd expect in a chicken soup, including yellow onion, a couple ribs of of celery, carrots and fresh garlic cloves.
Vegan chicken broth. You could use a carton or bouillon. I recommend Better Than Bouillon Vegetarian No Chicken Base, or Edward & Sons Not Chick'n Bouillon Cubes.
Seasonings. We'll be using bay leaves, Italian seasoning, ground thyme, salt, black pepper and cayenne. If you don't like spice you can always leave out the cayenne. Feel free to play with the amount of salt you're adding depending on how salty your broth already is.
Soy curls. These make for the best chicken substitute in this vegetarian chicken noodle soup! For this recipe, you'll weigh the soy curls once you have hydrated them for 10 minutes and drained off the water. If you don't have soy curls, you can substitute with tofu or your favorite cooked vegan chicken.
Pasta. I'm using rotini because I love the shape of it for soups, but use your favorite variety!
Lemon. A squeeze of fresh lemon goes a long way to brighten up this vegan chicken soup.
Parsley. I highly recommend using fresh chopped parsley to add an element of freshness.
How to Make Vegan Chicken Noodle Soup
The method we're using for this vegan chicken soup is pretty simple. Everything starts with sauteeing your vegetables in olive oil until everything is tender and starting to brown. This is how we build the base of flavor for our vegan chicken noodle soup, so don't rush this step.
Next, add in your broth and seasonings. I like to add a dash of cayenne to add the subtlest amount of heat to my vegan chicken soup, but feel free to omit it. Hold off on the salt for now! We'll season with salt at the end to make sure the flavor stays nice and balanced.
Before you add in your soy curls to your soup, you'll need to hydrate them. To do so, simply soak them in water for about 10 minutes. They'll plump up into nicely sized strips that work perfectly as a chicken substitute. Then strain off the water and add your soy curls to the soup. Bring everything to a simmer and let it go for about 10 minutes.
While your soup is simmering, you can cook your pasta in a separate pot. Cooking your pasta directly in your vegan chicken soup will turn it into something more like a stew. The pasta will release starch into the broth and cause it to thicken slightly. We don't want that, so cook the pasta separately, then add it to the soup when it finishes cooking.
Now it's time to salt the soup! Your broth or bouillon likely already has salt in it, so give your soup a taste and decide if it needs more. If so, add a dash and adjust until you're happy with the final result. Finish it all off with a squeeze of lemon and a sprinkle of parsley to brighten it up!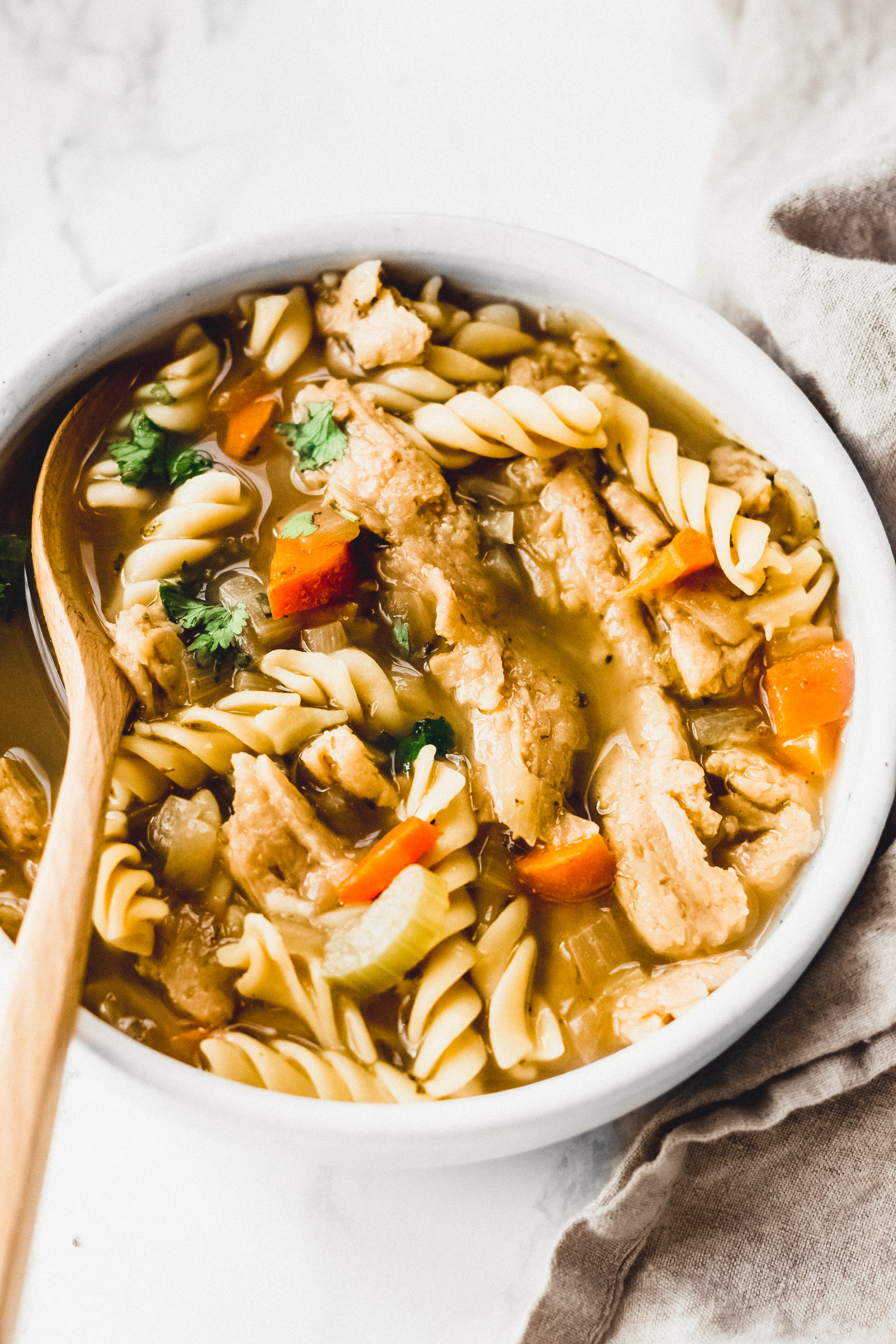 More Vegan Soup Recipes
Soup is always the answer. Whether you're feeling under the weather, or the weather is a little cold, a bowl of soup is bound to warm you up from the inside. If you're looking for more cozy vegan soup recipes, here are a few of my favorites!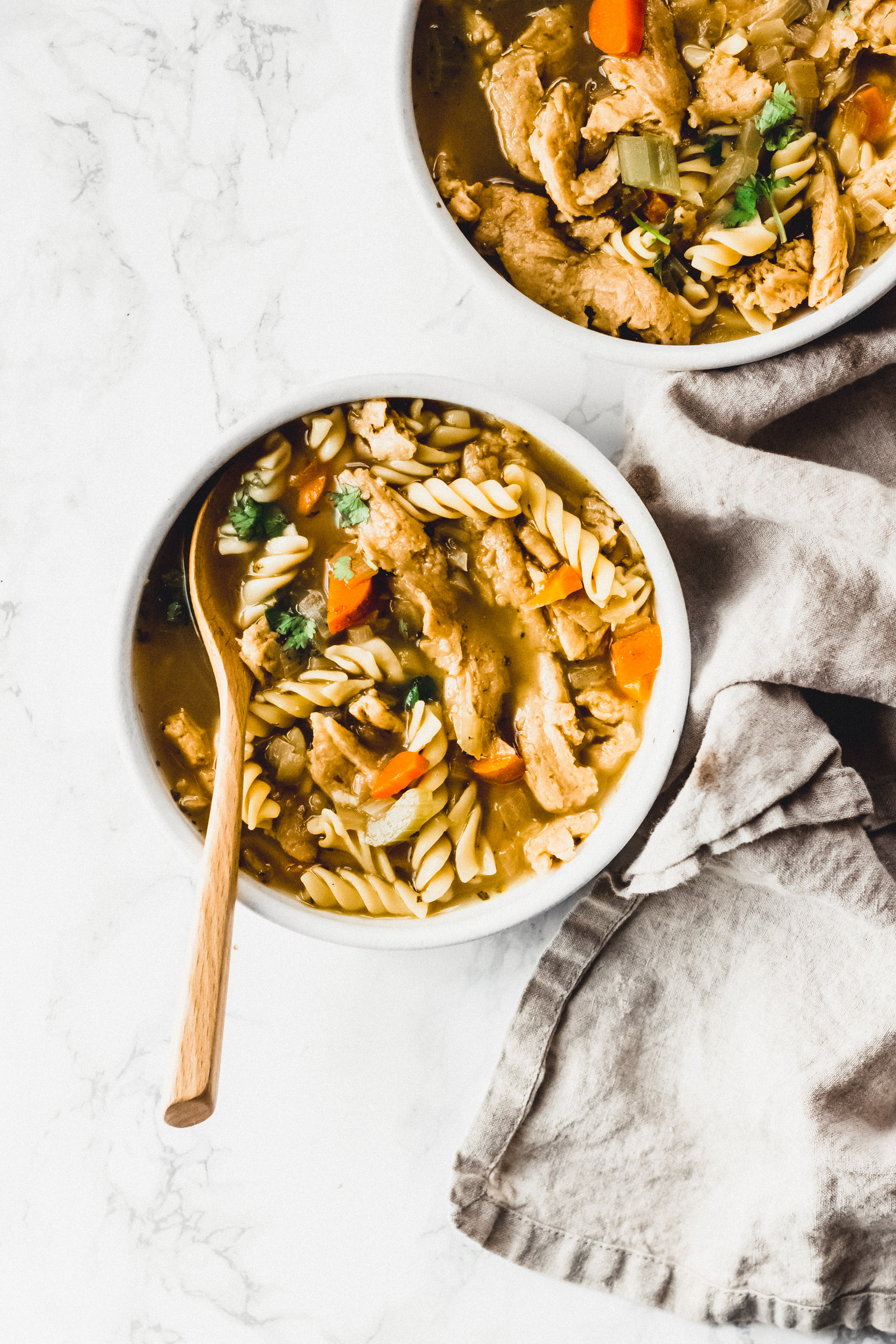 Print
How to make:
Vegan Chicken Noodle Soup
Warm up with a bowl of vegan chicken noodle soup! This classic vegan chicken soup is simple to make when you're craving something comforting.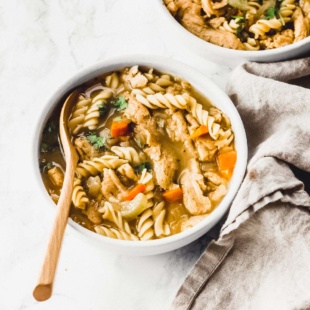 Ingredients
1 tablespoon

olive oil

1

yellow onion, diced

2

ribs celery, thinly sliced

2

medium carrots, thinly sliced

4

garlic cloves, minced

8 cups

vegan chicken broth*

2

bay leaves

1 teaspoon

Italian seasoning

1/2 teaspoon

ground thyme

1/4 teaspoon

ground black pepper
Dash of cayenne pepper (optional)

1

pound hydrated soy curls**

12 ounces

rotini pasta
Salt, to taste

1 tablespoon

lemon juice
Fresh parsley, chopped
Instructions
Place a large pot over medium heat. Add olive oil. When hot, add onion. Cook for 5-7 minutes, until lightly browned. Add celery and carrots; cook for 5 minutes, stirring, until just fork tender. Add garlic; stir and cook for 1 minute.
Add broth, bay leaves, Italian seasoning, thyme, black pepper, and cayenne pepper. Stir. Bring to a boil, then add soy curls. Reduce heat to low; simmer for 10 minutes.
Add pasta. Cook for the amount of time indicated on the package directions. Alternatively, if you think you will have leftovers, cook and serve the pasta separately so that the pasta doesn't get soggy.
Remove bay leaves. Season with salt to taste and add lemon juice; stir. Serve with fresh parsley.