Switch things up with this Vegan Savory Oatmeal recipe, which features kale, black beans & homemade smoky tempeh bacon for a satisfying meal.
Vegan Savory Oatmeal with Smoky Tempeh Bacon
Have you ever heard of savory oatmeal? I know we are bombarded every day on Instagram with pretty pictures of perfect oatmeal bowls covered in juicy fruit, gobs of peanut butter, and chocolate sauce. Sigh, can someone make me a bowl of that right now? Anyway, sometimes I'm not in the mood for something sweet (gasp), and this vegan savory oatmeal bowl hits the spot every time!
I've always been a salty over sweet person. I know that 99% of you would pick a chocolate cake over a hearty (veggie) burger, but I'd have to go the other route. I'm definitely the one who'd rather indulge in a hearty dinner than a sweet dessert.
That's not to say that I don't love sweets! Boy, do I love them. I can demolish a bowl of sweet, delicious oatmeal in about 7 seconds flat. I could probably definitely eat fruit all day. But you can always count on me to be munching on all sorts of savory foods. Hummus, guac, veggie pizza, fries…these are my love language. What's a girl to do when she wants a savory breakfast? Well, there's a few options – avocado toast, tofu scramble, and now, vegan savory oatmeal! Because I really don't think I'll ever get tired of oatmeal in any form. These savory oats are game changing, so if you've never tried them before, it's time to switch things up!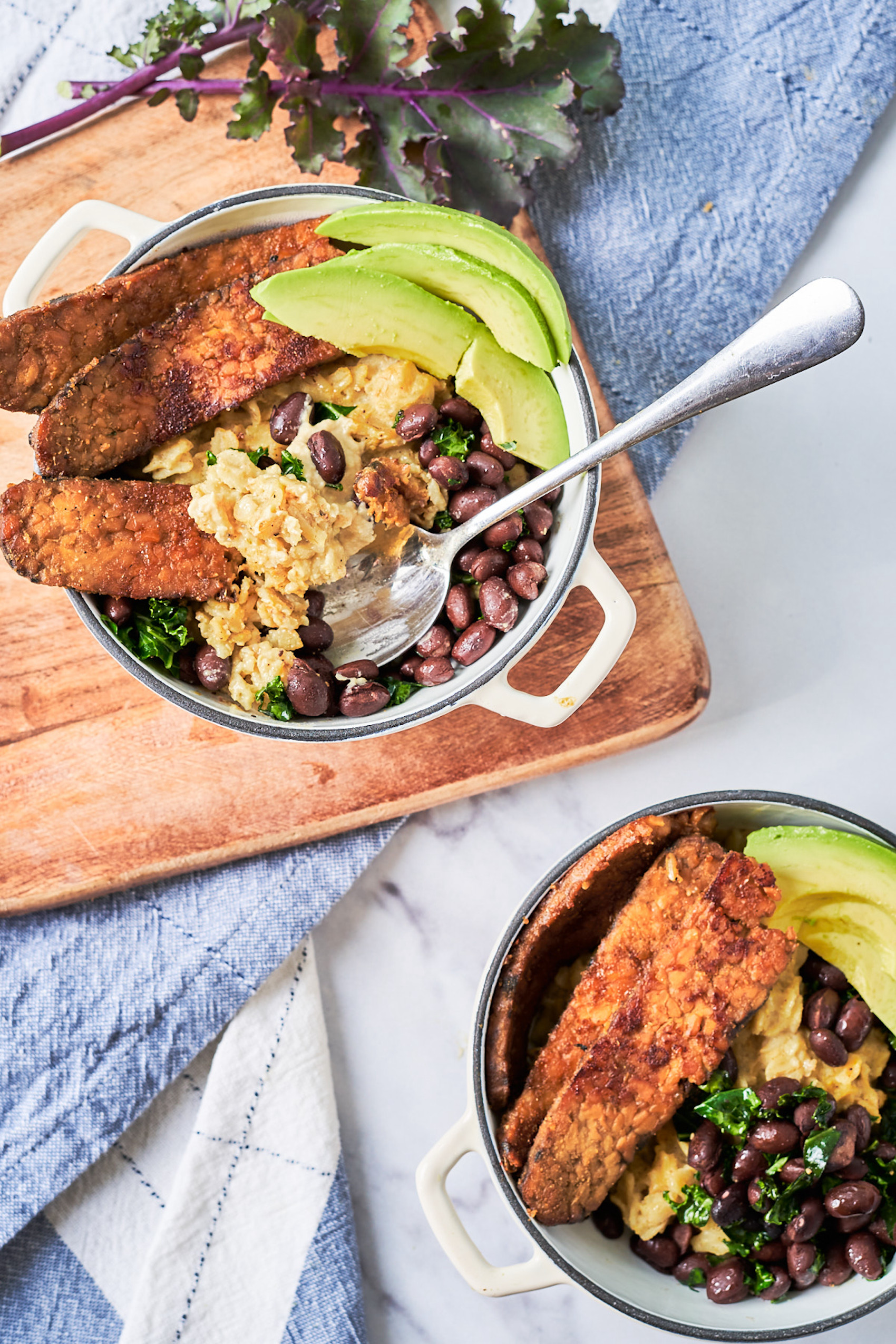 Ingredients for Vegan Savory Oatmeal
We're adding in alllll the good stuff for the most delicious, satisfying plant-protein packed bowl of savory oatmeal. We get lots of delicious umami flavor from soy sauce, a little bit of heat from some hot sauce, we're adding in plenty of spices and packing in a good dose of fiber thanks to all the plant-based ingredients. Here's everything you'll need to make these savory oats!
Rolled oats. Make sure you're using rolled oats! Steel cut won't cook quite the same.
Nutritional yeast. This gives our savory oatmeal that cheesy flavor we know and love.
Hummus. I know it sounds weird, but you're gonna have to trust me. It makes this bowl of vegan savory oatmeal so creamy.
Spices.  You'll need salt, pepper, cayenne, onion powder, garlic powder, and cumin.
Olive oil. For frying up your tempeh bacon and sauteeing your kale and black beans.
Kale. Any variety would be delicious, but I particularly love lacinato kale in this vegan savory oatmeal recipe.
Black beans. For an extra serving of plant-based protein and fiber. If you don't have black beans, white beans could also work!
Soy sauce. You could also use liquid aminos. Either option will help add salty, umami flavor to your savory oatmeal.
Hot sauce. You can use as much or as little as you'd like.
Tempeh. We're going all out and making tempeh bacon to top off this bowl of savory oatmeal! More on that later…
Agave nectar. Maple syrup also works great.
Liquid smoke. This is optional, but it really give the tempeh bacon a little somethin' special.
Avocado. What isn't better with avocado on top?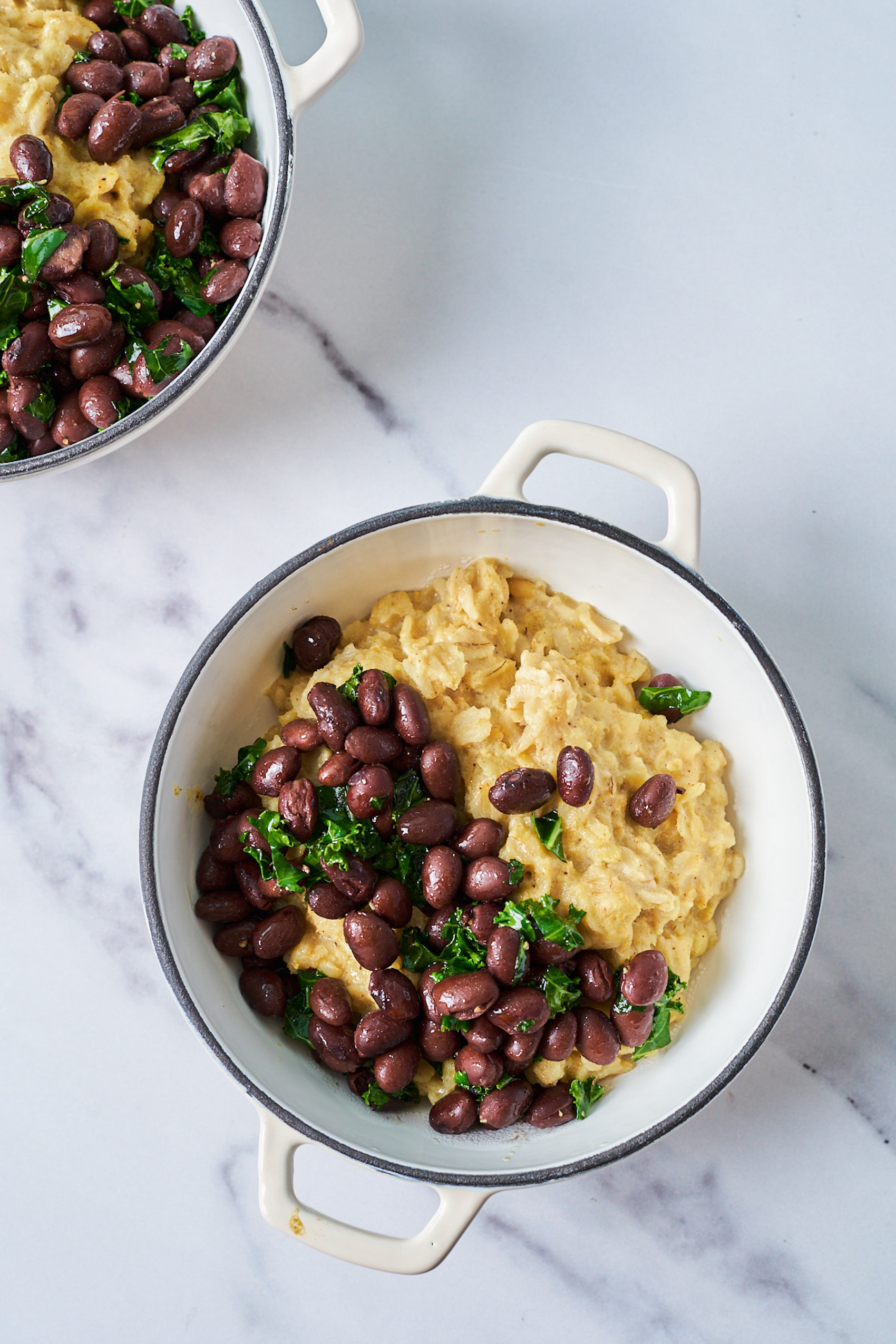 How to Make Vegan Savory Oatmeal
There's essentially three parts to these bowls – cook the oatmeal, sauté the kale and black beans, and cook the tempeh bacon. Each step takes around 5 minutes, so it really doesn't take much time to throw these breakfast bowls together. I'd say this vegan savory oatmeal is perfect for a weekend breakfast or brunch – or really any meal ever, for that matter.
To start, cook your oats on the stove for about 5 minutes, and while they're cooking, start to heat some oil in a skillet and sauté your chopped kale. After 5 minutes, stir your nutritional yeast, some hummus, salt, pepper and cayenne into the oats and remove them from the heat. You'll also add the black beans, salt and pepper to your skillet with the kale and continue to cook just to warm the beans through.
Finally, it's time to making the vegan tempeh bacon!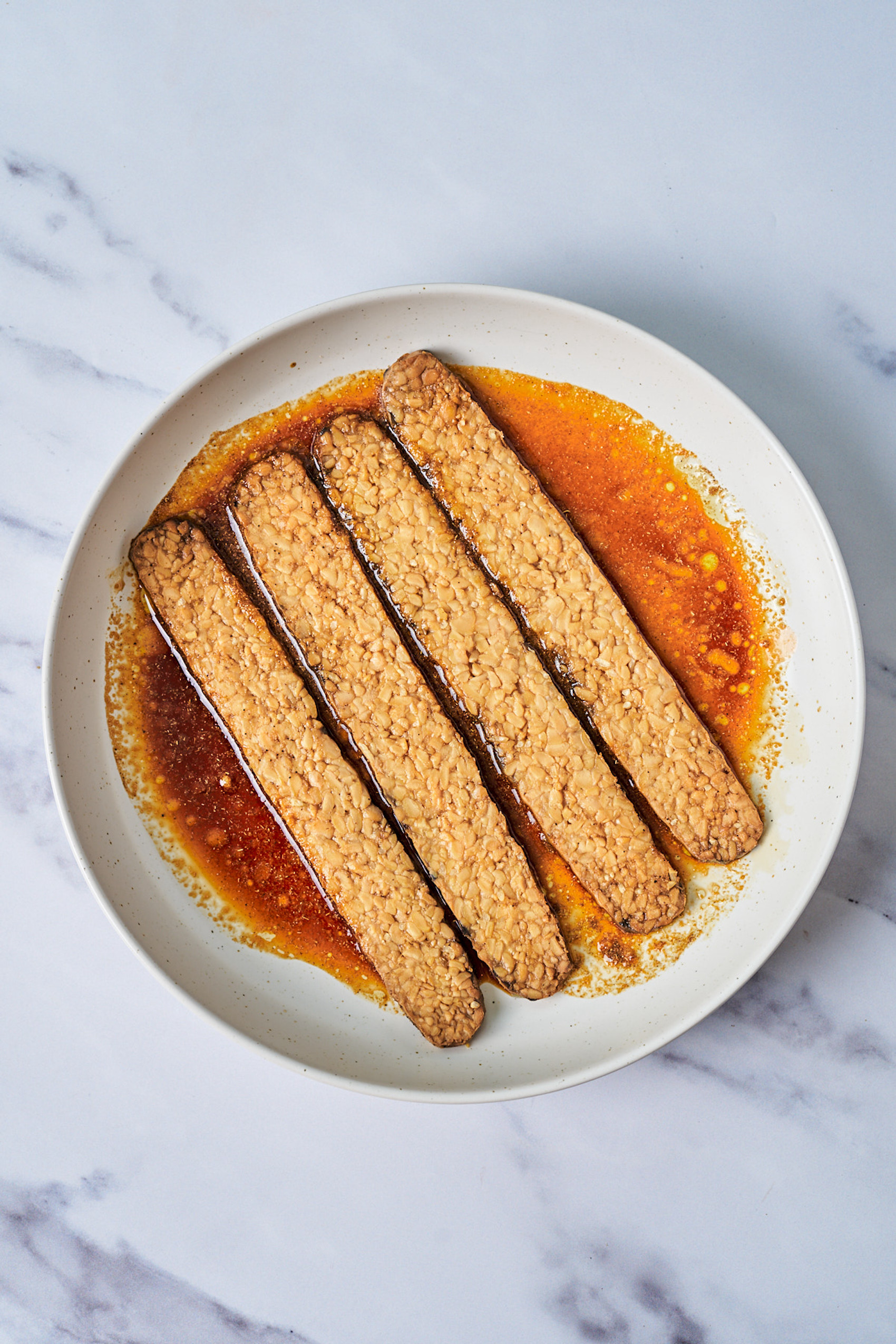 Smoky Tempeh Bacon Recipe
Okay, this vegan tempeh bacon is so unreal, and so easy to make that you're gonna want it every morning from now on! It's delicious on this vegan savory oatmeal, but can totally be eaten on its own.
Not sure what tempeh is? I got you. Tempeh is basically soybeans that have been packed together by fermentation. Tempeh is one of the least processed forms of soy – you can even see the whole soybeans! Plus, fermented foods like tempeh, kombucha, and sauerkraut are great for your gut microbiome.
Fermentation also makes the proteins in tempeh more available for your body to use! With around 16 grams of protein per serving, tempeh is a great protein source for veg heads like yours truly. Paired with the rest of the ingredients, each bowl of this savory oatmeal packs 31 grams of protein.
Long story short, I wouldn't be mad if you just made the tempeh bacon. It's that good.
To make this smoky tempeh bacon, start by making your marinade by mixing soy sauce, hot sauce, olive oil, liquid sweetener, liquid smoke and all your spices in a bowl. Then add your sliced tempeh and let it sit for about 5 minutes. Once your tempeh has had a chance to soak up some of the marinade, add it to your skillet and fry it up for about 3 minutes on each side. Then throw it on top of your vegan savory oatmeal and you've got a protein-packed breakfast calling your name!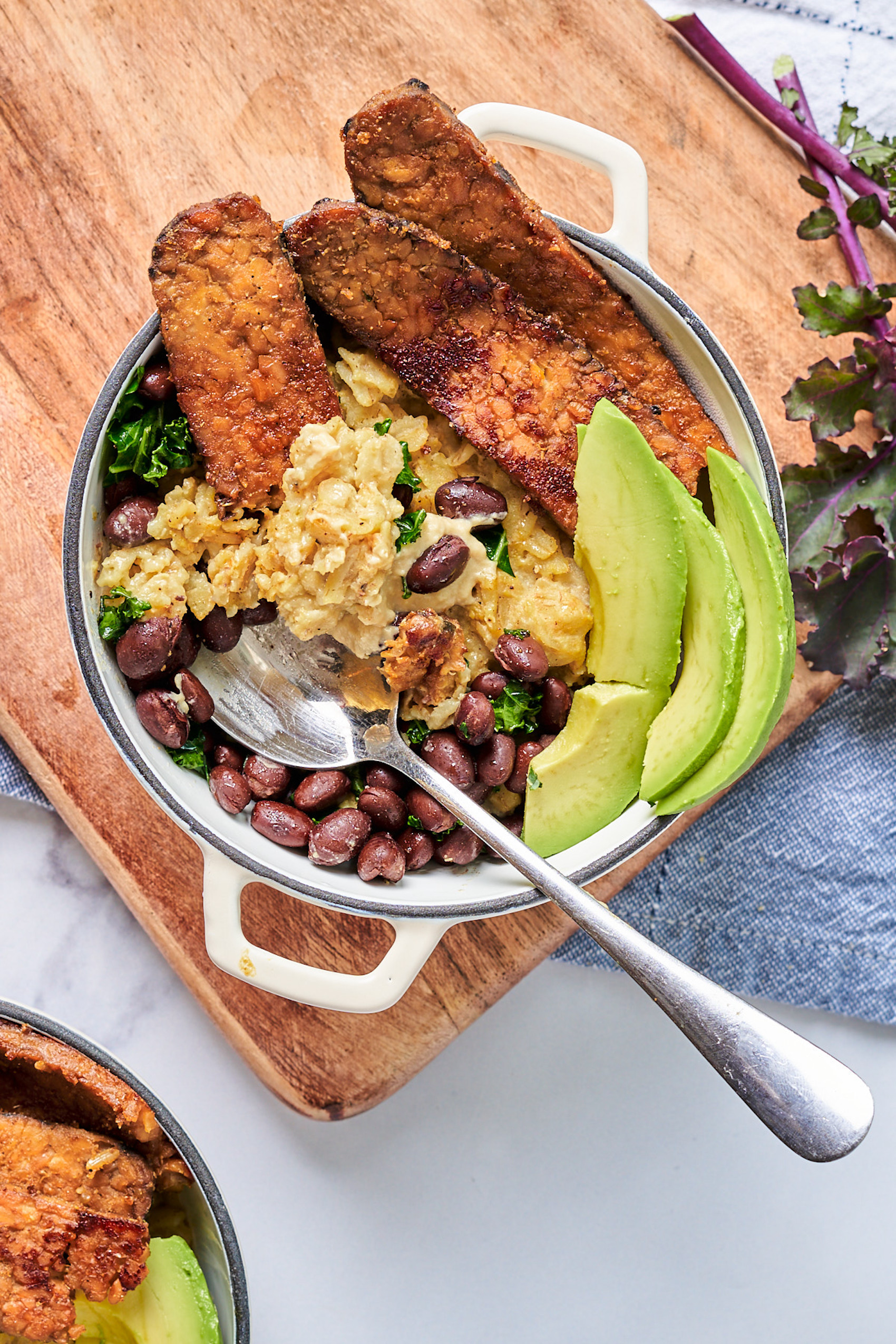 More Savory Vegan Breakfast Recipes
If you're still skeptical about savory oatmeal, I insist that you just this recipe! I'm convinced that the smoky tempeh bacon can make anyone a believer in savory oats. If you're looking for new ways to embrace a savory vegan breakfast, then I gotcha. Check out these recipes!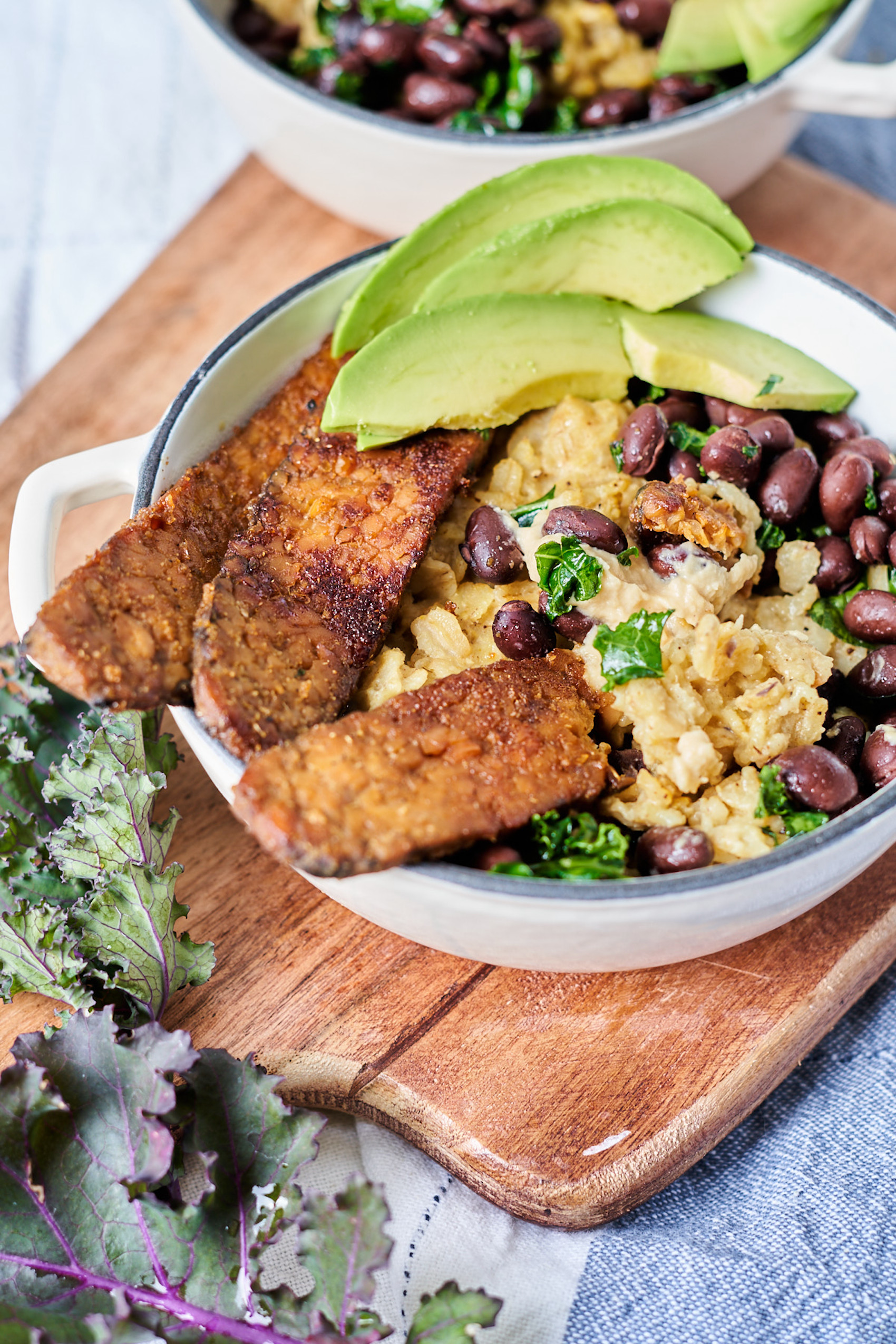 Print
How to make:
Vegan Savory Oatmeal with Smoky Tempeh Bacon
Switch things up with this Vegan Savory Oatmeal recipe, which features kale, black beans & homemade smoky tempeh bacon for a satisfying meal.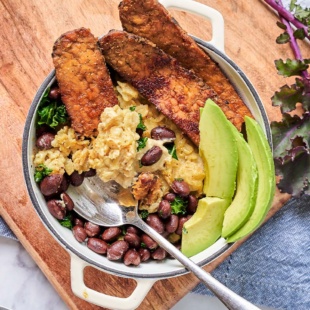 Ingredients
2 cups

water

1 cup

rolled oats

1 1/2 tablespoons

nutritional yeast

1 tablespoon

hummus, plus more for topping

1/2 teaspoon

salt

1/2 teaspoon

pepper, divided
Dash of ground cayenne pepper
Olive oil

1

–

2

cups kale, stems removed, chopped

1/2 cup

black beans, rinsed and drained

1 tablespoon

soy sauce or liquid aminos

1 teaspoon

hot sauce

1 teaspoon

olive oil

2 teaspoons

agave nectar or maple syrup

1/2 teaspoon

liquid smoke (optional)

1/4 teaspoon

onion powder

1/4 teaspoon

garlic powder

1/4 teaspoon

cumin

4 ounces

tempeh, thinly sliced

1/2

avocado, sliced
Instructions
In a small saucepan, add water; bring to a boil. Add the oats; reduce heat to simmer. Cook for about 5 minutes. Stir in the nutritional yeast, hummus, salt, 1/4 teaspoon pepper, and cayenne pepper. Divide into two bowls.
While the oats are cooking, heat a little olive oil in a skillet over medium heat. Add chopped kale and stir; cook until slightly wilted, about 5-7 minutes. Add black beans; season with salt and pepper. Cook for 1 more minute. Top each bowl of oatmeal with half the mixture.
In a plate or shallow bowl, add soy sauce, hot sauce, olive oil, agave, liquid smoke, onion powder, garlic powder, cumin, and 1/4 teaspoon pepper; mix well. Add sliced tempeh in the marinade. Let it sit for 3-5 minutes.
In the same skillet over medium heat, warm a little oil. Add tempeh to the pan, cooking in two batches if necessary. Cook tempeh until slightly charred, about 3 minutes; flip and cook for another 2-3 minutes.
Top oatmeal with tempeh, 1/4 avocado each, and additional hummus (optional).