Have you ever heard of savory oatmeal? I know we are bombarded every day on Instagram with pretty pictures of perfect oatmeal bowls covered in juicy fruit, gobs of peanut butter, and chocolate sauce. Sigh, can someone make me a bowl of that right now? Anyway, sometimes I'm not in the mood for something sweet (gasp), and this savory oatmeal bowl hits the spot every time!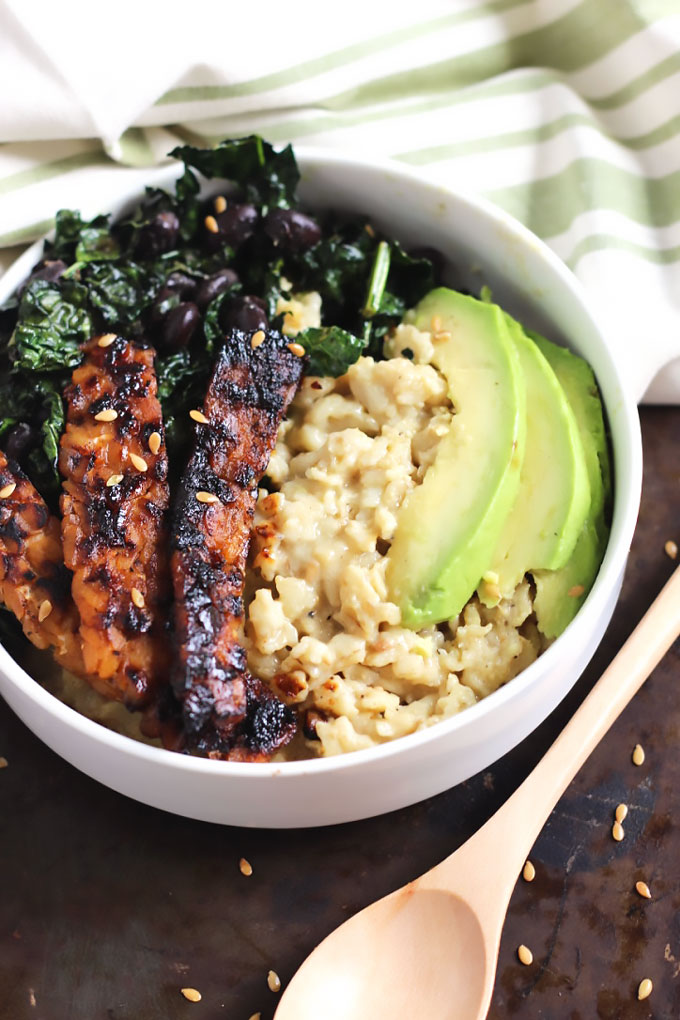 I've always been a salty over sweet person. I know that 99% of you would pick a chocolate cake over a hearty (veggie) burger, but I'd have to go the other route. I'm the girl who'd rather indulge in a hearty dinner than a sugar-heavy dessert. Call me crazy.
That's not to say that I don't love sweets! Boy, do I love them. I can demolish a bowl of sweet, delicious oatmeal in about 7 seconds flat. I could probably definitely eat fruit all day. Pancakes are my jam. Give me a spoonful of MaraNatha Maple Almond Butter (literally the best thing ever) and I'm a happy girl. Safe to say, sweet things definitely have a place in my life.
But you can definitely count on me munching on all sorts of savory. Hummus, guac, veggie pizza, fries…these are my love language. What's a girl to do when she wants a savory breakfast? Well, there's a few options – avocado toast, tofu scramble, and now, savory oatmeal! Because I really don't think I'll ever get tired of oatmeal in any form.
A quick glance at the ingredients and directions might be alarming, but I promise it's really not much! A lot of the ingredients you probably already have, and if you have to buy a couple things, at least that means more savory oatmeal bowls in your future.
There's essentially three parts to these bowls – cook the oatmeal, sauté the kale and black beans, and cook the tempeh bacon. Each step takes around 5 minutes, so it really doesn't take much time to throw these together. I'd say they're perfect for a weekend breakfast or brunch – or really any meal ever, for that matter.
Okay, there's one really important thing we need to talk about – this TEMPEH BACON!!! Seriously guys, my life may be changed forever. The smokiness, saltiness, and slight sweetness is so on point with how bacon should taste. Even my boyfriend liked this stuff, which is saying a lot. I'm telling you, it's a winner.?
Not sure what tempeh is? I got you. Tempeh is basically soybeans that have been smushed together by fermentation. <– You're welcome for that very elementary definition. Tempeh is one of the least processed forms of soy – you can even see the whole soybeans! Plus, fermented foods like tempeh, kombucha (my one true love), and sauerkraut are great for your gut bacteria.
Fermentation also makes the proteins in tempeh more available for your body to use! With around 16 grams of protein per serving, tempeh is a great protein source for veg heads like yours truly. Paired with the rest of the ingredients, each bowl of this savory oatmeal packs 31 grams of protein. And vegans are protein deficient, right?
Long story short, I wouldn't be mad if you just made the tempeh bacon. It's that good.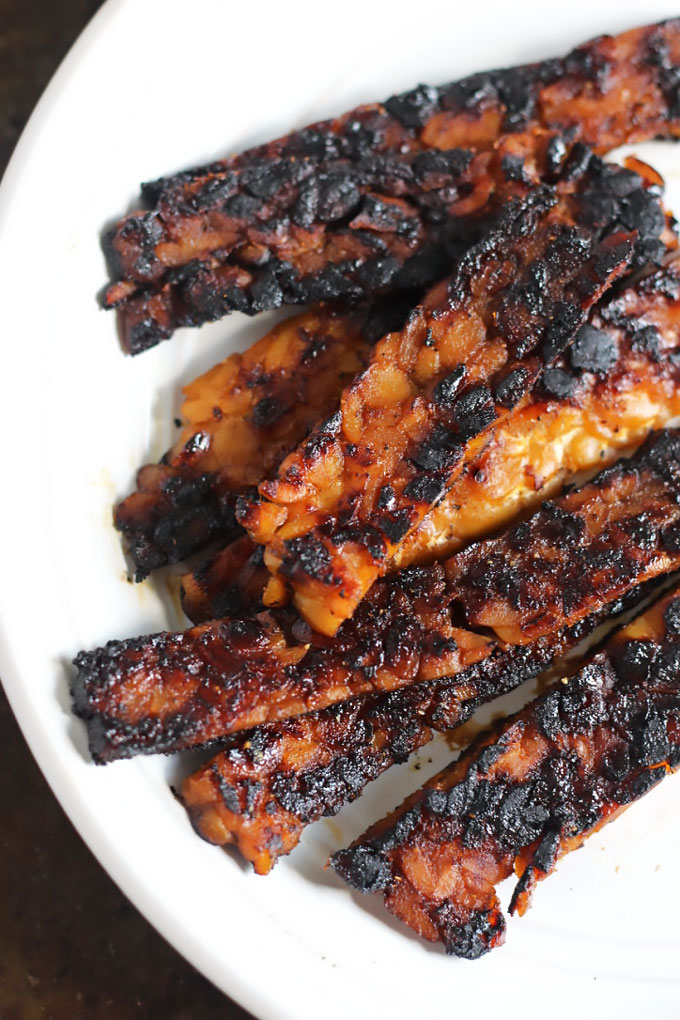 If you're still skeptical about savory oatmeal, I insist that you just try it! I'm convinced that the tempeh bacon can make anyone a believer in savory oats.
Can't let go of your sweet bowl of oatmeal? I've got you covered! Try some of these:
Vegan Neapolitan Overnight Oats
Healthy Chocolate Peanut Butter Banana Baked Oatmeal
Almond Joy Overnight Oats from Rachel Mansfield
If you try this or any of my recipes, be sure to let me know in the comments how you like it! Snap a pic for Instagram and tag me, or leave a comment below. I'd love to hear whatcha think!
I hope your weekend is full of oatmeal in any form! <3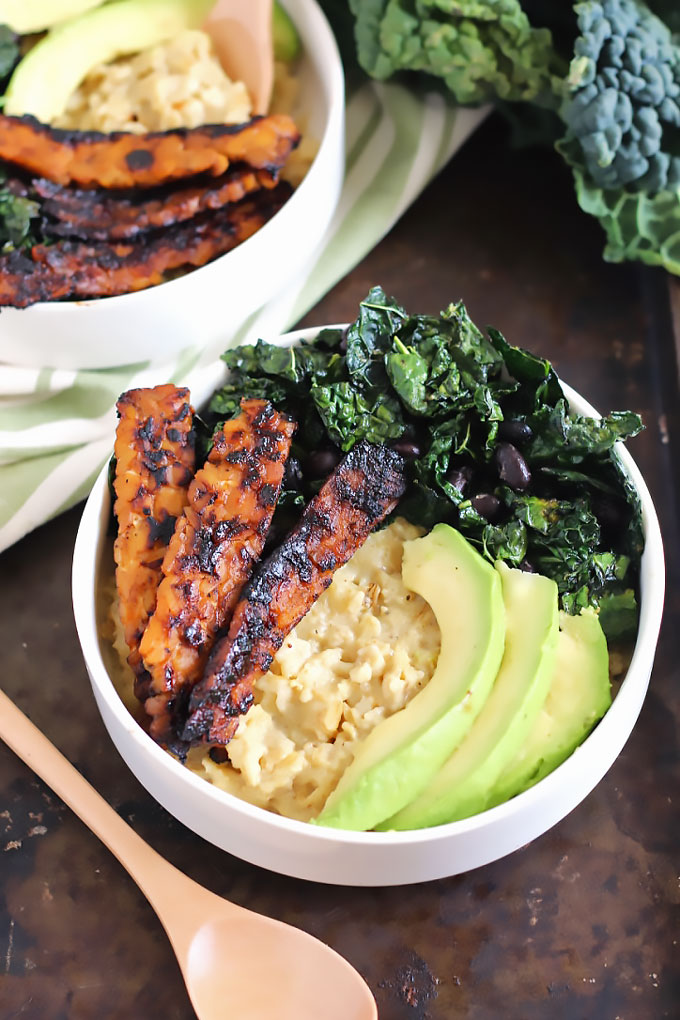 Print
How to make:
Vegan Savory Oatmeal with Tempeh Bacon
Switch up your normal sweet breakfast with this Vegan Savory Oatmeal! Topped with kale, black beans, and tempeh bacon, it's a plant protein powerhouse.
Ingredients
2 cups

water

1 cup

rolled oats

1 1/2 tablespoons

nutritional yeast

1 tablespoon

hummus, plus more for topping

1/2 teaspoon

salt

1/2 teaspoon

pepper, divided
Dash of ground cayenne pepper
Olive oil

1

–

2

cups kale, stems removed, chopped

1/2 cup

black beans, rinsed and drained

1 tablespoon

soy sauce or liquid aminos

1 teaspoon

hot sauce

1 teaspoon

olive oil

2 teaspoons

agave nectar or maple syrup

1/2 teaspoon

liquid smoke (optional)

1/4 teaspoon

onion powder

1/4 teaspoon

garlic powder

1/4 teaspoon

cumin

4 ounces

tempeh, thinly sliced

1/2

avocado, sliced
Instructions
In a small saucepan, add water; bring to a boil. Add the oats; reduce heat to simmer. Cook for about 5 minutes. Stir in the nutritional yeast, hummus, salt, 1/4 teaspoon pepper, and cayenne pepper. Divide into two bowls.
While the oats are cooking, heat a little olive oil in a skillet over medium heat. Add chopped kale and stir; cook until slightly wilted, about 5-7 minutes. Add black beans; season with salt and pepper. Cook for 1 more minute. Top each bowl of oatmeal with half the mixture.
In a plate or shallow bowl, add soy sauce, hot sauce, olive oil, agave, liquid smoke, onion powder, garlic powder, cumin, and 1/4 teaspoon pepper; mix well. Add sliced tempeh in the marinade. Let it sit for 3-5 minutes.
In the same skillet over medium heat, warm a little oil. Add tempeh to the pan, cooking in two batches if necessary. Cook tempeh until slightly charred, about 3 minutes; flip and cook for another 2-3 minutes.
Top oatmeal with tempeh, 1/4 avocado each, and additional hummus (optional).
This post contains affiliate links, which means that if you purchase a product through a link you clicked on here, I receive a portion of the sale. Thanks for supporting the blog I love oh-so-much!