A lighter spin on a classic comfort food, this Vegan Zucchini Lasagna is filling & packed with vegetables. The tofu ricotta tastes just like the real stuff!
I feel like I've said this in every post lately, but how the heck are we already halfway through summer?! Where's the pause button? I just want to soak up every single moment of every day and make the most of it, but do I do that all the time? Nope.
I had a mini freak-out the other day about this summer so far. What have I even been doing? Have I actually gotten anything productive done? Did I get to do all the fun stuff I wanted to do? There's no more time! When I calmed down a bit, I just took a deep breath and told myself that, for the most part, I have been working hard, taking care of myself, and getting sh*t done. Could I work more productively? Yes, and that's something I'm working on. But is there anything that wrong with being a little lazy sometimes, having breakfast at 11:30, and just going with the flow? I don't think so.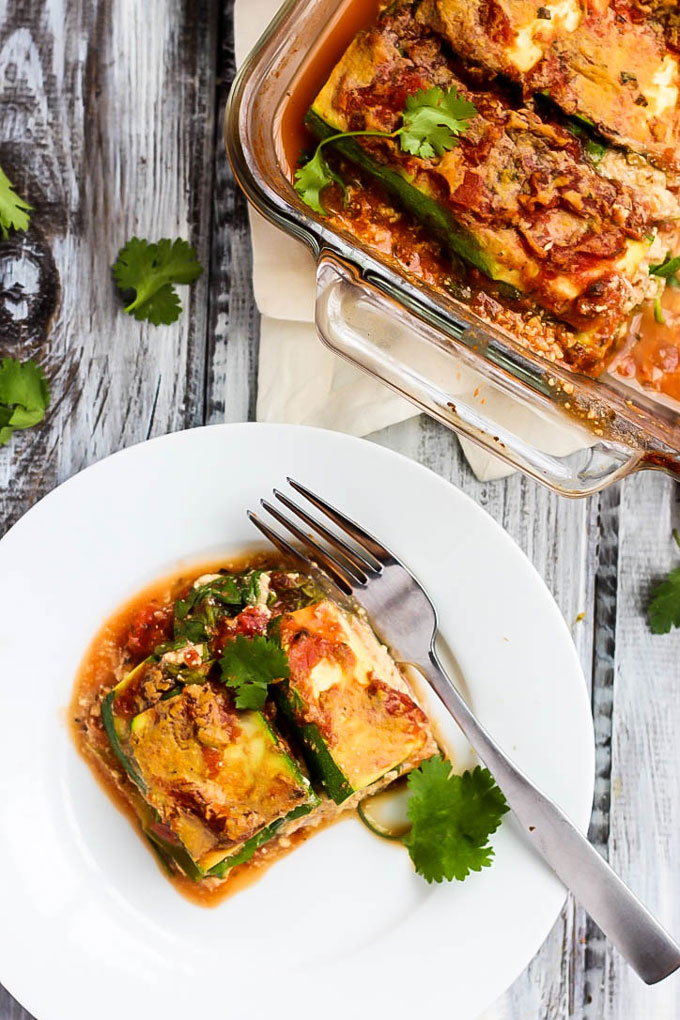 I constantly think that I should be doing more than I am in the moment. I question if I'm doing enough or feel anxious when I'm not working on something for the blog or my job. I'm always trying to stop the time from passing because before you know it, it's the beginning of July, and I feel like the summer is slipping out of my hands and little work is done.
But the truth? There's time. There's time to photograph all the recipes and schedule Facebook posts for the week. There's time to edit photos for work and run errands. There's also time for Netflix movie nights and painting, impromptu pool parties and a bubble bath.
There's also time for a steaming hot pan of vegan zucchini lasagna smothered in tomato sauce and stuffed with tofu ricotta. Always.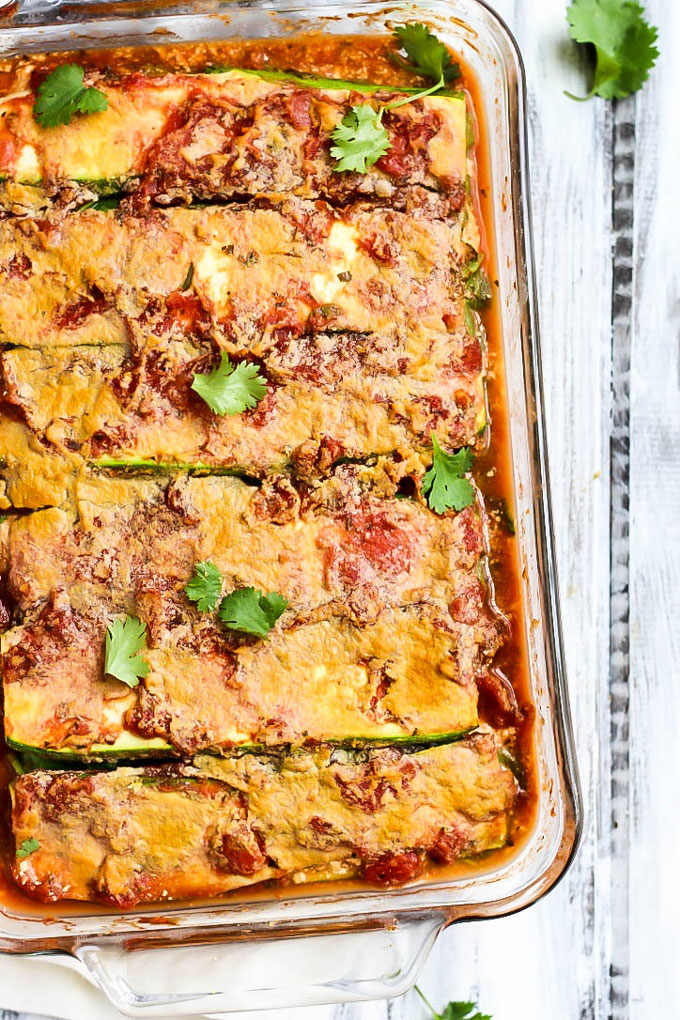 This recipe really hits the spot when you want some comfort food quick. I mean, who doesn't love a hearty chunk of lasagna? Instead of noodles, though, we're using zucchini because it's SO fresh right now, and you know I'm all about veggies veggies veggies. Run to your farmer's market now and find the biggest zucchini ever!
I first tried the concept of tofu ricotta a looooong time ago when I made Hummusapien's baked spaghetti, and ever since then I've been obsessed with it. Both the texture and taste are spot on! It adds lots of heartiness and filling power to all these veggies and packs lots of protein. You won't even miss the noodles!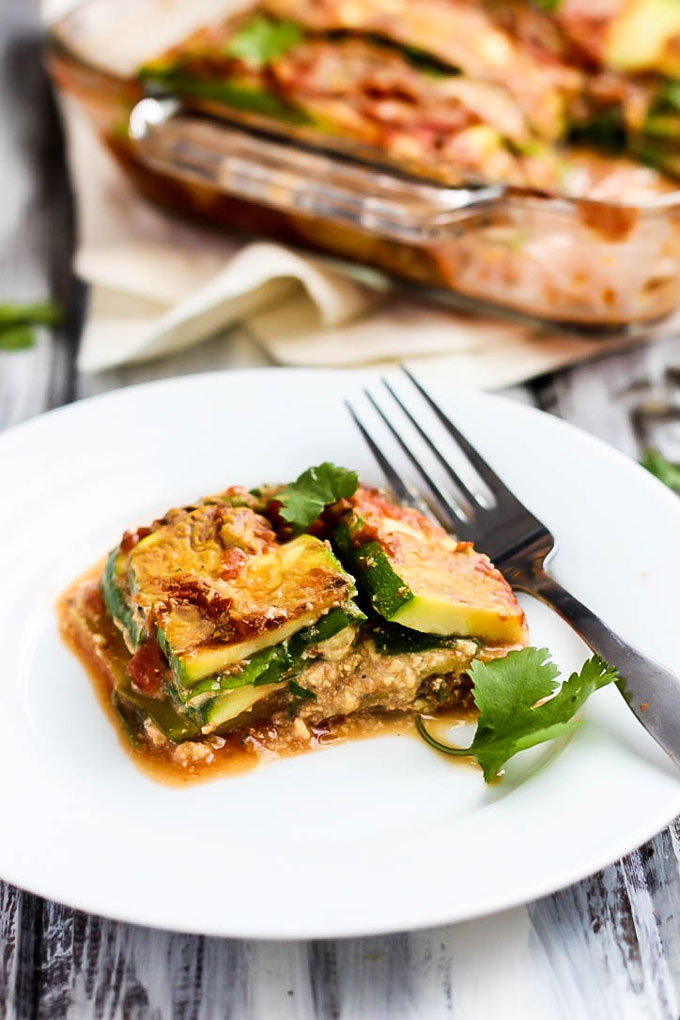 Be compassionate with yourself. Everything will get done; you're doing the best you can. You're doing enough. Get your work done, but remember to enjoy yourself too. We all need time to do nothing, or to do things that are not "productive."
Though I'd like to argue that a late night movie marathon with a slice of vegan zucchini lasagna and a scoop of vegan ice cream is very productive.
[Tweet "It's okay to not be working all the time – enjoy some time for yourself, too! <3"]
Print
How to make:
Vegan Zucchini Lasagna with Tofu Ricotta
A lighter spin on a classic comfort food, this Vegan Zucchini Lasagna is filling & packed with vegetables. The tofu ricotta tastes just like the real stuff!
Ingredients
1

14-ounce package extra-firm tofu

3

–

4

medium zucchini, sliced lengthwise

1/2 cup

hummus (any flavor)

1/2 cup

nutritional yeast, plus more for topping

2 tablespoons

lemon juice

2 teaspoons

dried basil leaves

1 teaspoon

salt

1 teaspoon

garlic powder

1/2 teaspoon

onion powder

1/4 teaspoon

black pepper

1

32-ounce jar pasta sauce (

4 cups

)

2 cups

spinach
Instructions
Preheat the oven to 350°F.
Drain the tofu and wrap in a few layers of paper towels; place it in your sink. Place a heavy object on top; let the tofu drain for 10-15 minutes.
In a medium bowl, crumble the tofu. Add hummus, nutritional yeast, lemon juice, basil, salt, garlic powder, onion powder, and pepper. Use your hands or a fork to combine all the ingredients until it resembles ricotta.
In the bottom of a 9×13 baking dish, add 1 cup pasta sauce, a single layer of sliced zucchini, 1/2 of the tofu ricotta, and 1 cup spinach. Repeat with 1 cup sauce, zucchini, 1/2 of the ricotta, and remaining spinach. Add 1 cup sauce, the last layer of zucchini, and the rest of the sauce. Top with a generous amount of nutritional yeast.
Cover with foil. Bake for 45 minutes, then remove foil and bake for 15-20 minutes.
*adapted from The Best Vegan Lasagna from Hummusapien