This Yellow Split Pea Chowder is hearty, nutritious and a great way to use seasonal sweet corn! This golden soup is creamy and rich thanks to cashew cream. (vegan & gluten-free) Recipe from The Full Helping's cookbook Power Plates! Look out for a giveaway in the post. 
One of the coolest things about being in the food blogger scene is connecting with the bloggers that I've looked up to for so long. Some of them (like Alexis!) are even my good friends now. It's really awesome to have Internet friends all over the country (especially in case I need a bed to sleep in while I'm travelling!).
When Gena of The Full Helping reached out to me to receive a copy of her new cookbook Power Plates, I was starstruck. I've been following Gena's journey for YEARS, from the days of Choosing Raw (her blog was only raw vegan recipes) to the present blog The Full Helping, where she takes such a balanced and wholesome approach to veganism.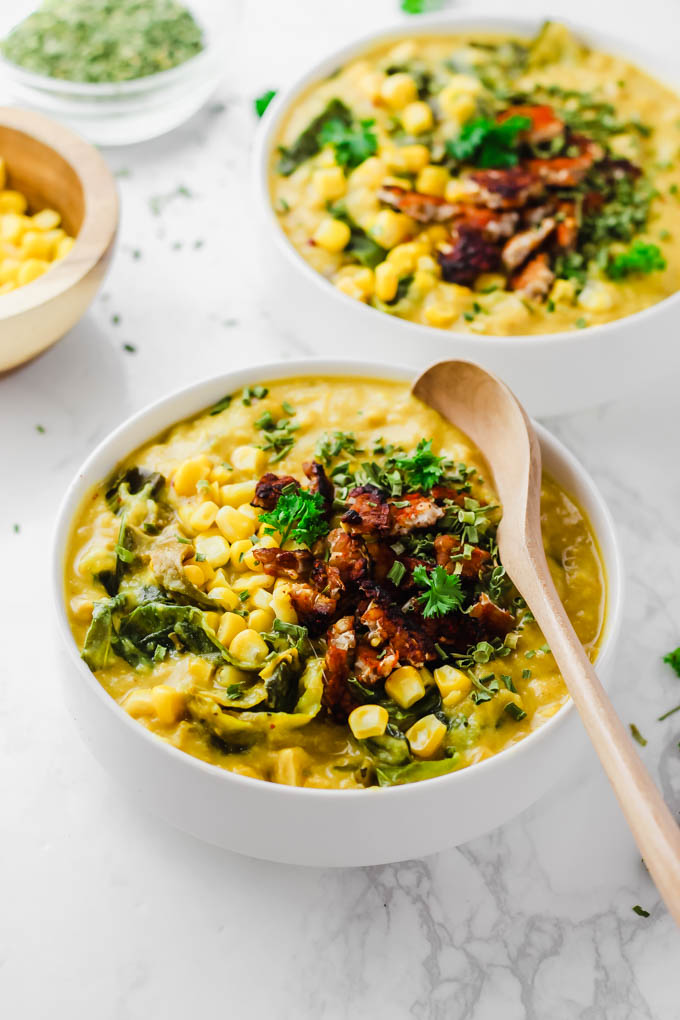 This isn't Gena's first experience in being a cookbook author, but it is my first experience owning one of her cookbooks—and I must say, I am so impressed. If I had to recommend to someone a good vegan cookbook with nutritious, delicious and creative recipes, it would be Power Plates. She starts off the cookbook by talking about how focusing on macronutrient balance leads to actual, sustainable health rather than focusing on numbers or trying the newest fad diet.
I feel like that pretty much sums up my nutrition philosophy, as well. We both agree that having a good mix of complex carbohydrates + plant-based protein + healthy fats + fiber makes for a wholesome meal that will give you lasting energy throughout the day and leave you feeling satisfied so you can get on with other important things in the day.
It may seem like a hefty task at first to create a balanced plate (and it doesn't have to be perfect all the time!), but I promise it will become second nature. Grab some beans, grains, fats and veggies, and you're good to go! Power Plates gives you lots of ideas for how to execute that formula in your meals in flavorful, creative ways.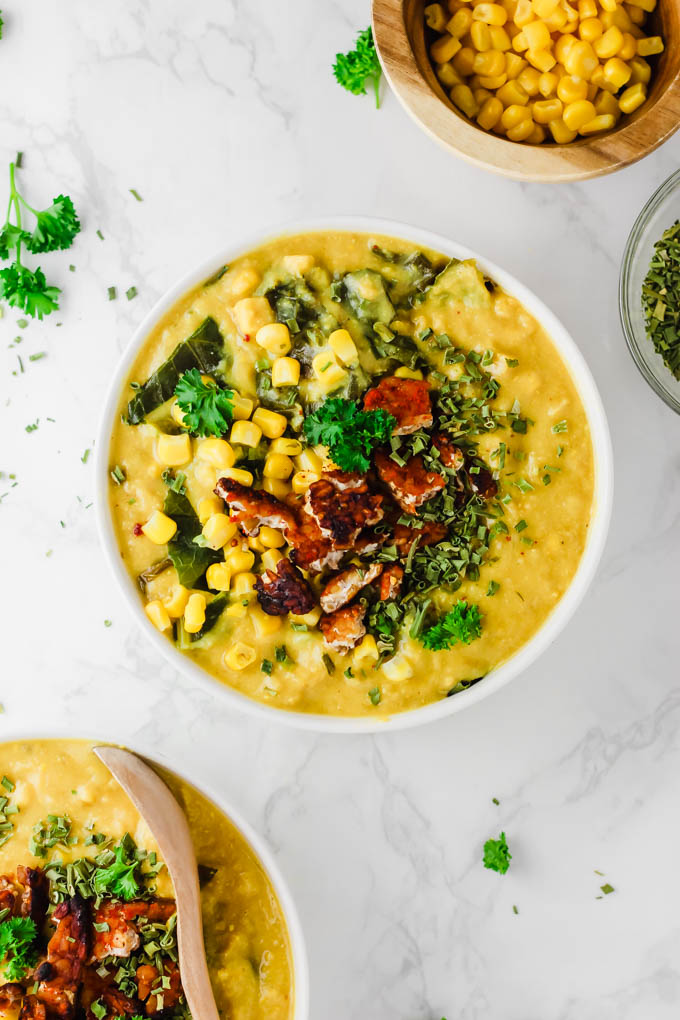 One thing I really like about Power Plates (you know, besides EVERYTHING about it…) is that it only contains main meal recipes. No desserts or snacks. Those are easy to come by! But I know everyone is looking for more hearty vegan breakfast, lunch and dinner recipes, so this cookbook gives you 100!
Here are some of the amazing recipes Gena created for Power Plates:
West African Peanut Stew with Sweet Potatoes and Chickpeas (I have already made this and fell in love! My mom also made it and had lots of compliments, as did her very non-vegan sister.)
Spelt Biscuits with White Bean Gravy
Sesame Citrus Soba Salad
Korean Tempeh Bowls with Broccoli and Brown Rice
Spanish Quinoa with Tempeh Chorizo
Vegetable Harvest Pie with Tempeh
So much more deliciousness!!!!!
Also, this Yellow Split Pea Chowder with Sweet Corn. I just finished it today and might cry because it was so good.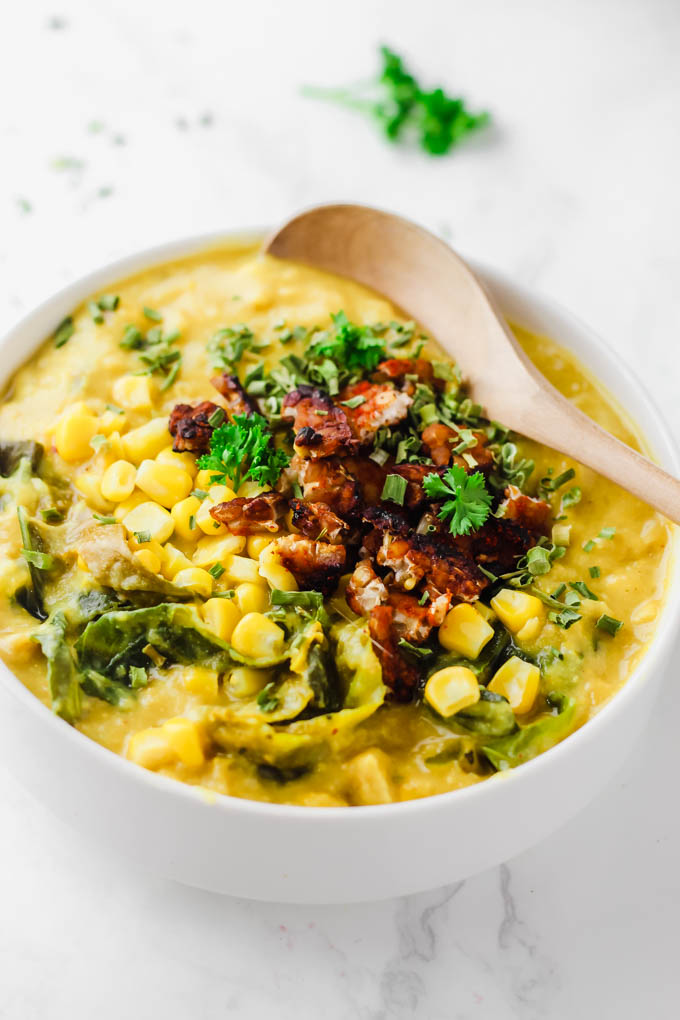 It really did remind me of the corn and crab bisque I loved so much growing up. It's made with really simple, affordable ingredients like split peas, potatoes, corn and collard greens. Does it get cheaper than that??
Gena adds homemade cashew cream to make give it that chowder creaminess and omg it took the dish to the next level! Since half of the chowder is blended, you get some creaminess and also some chunky potato, pea and corn goodness. I topped it with my go-to tempeh bacon, which really was the icing on the cake.
Since Gena is a literal angel, she's letting me give away a copy of Power Plates to one lucky winner! Enter below, then run to your kitchen to make this yellow split pea chowder ASAP!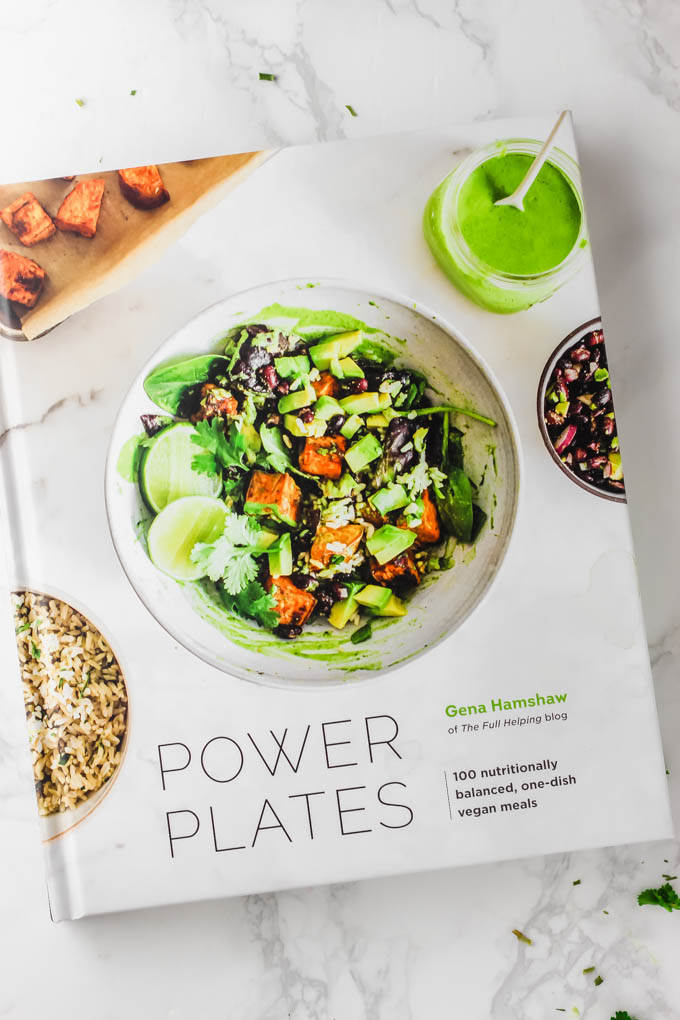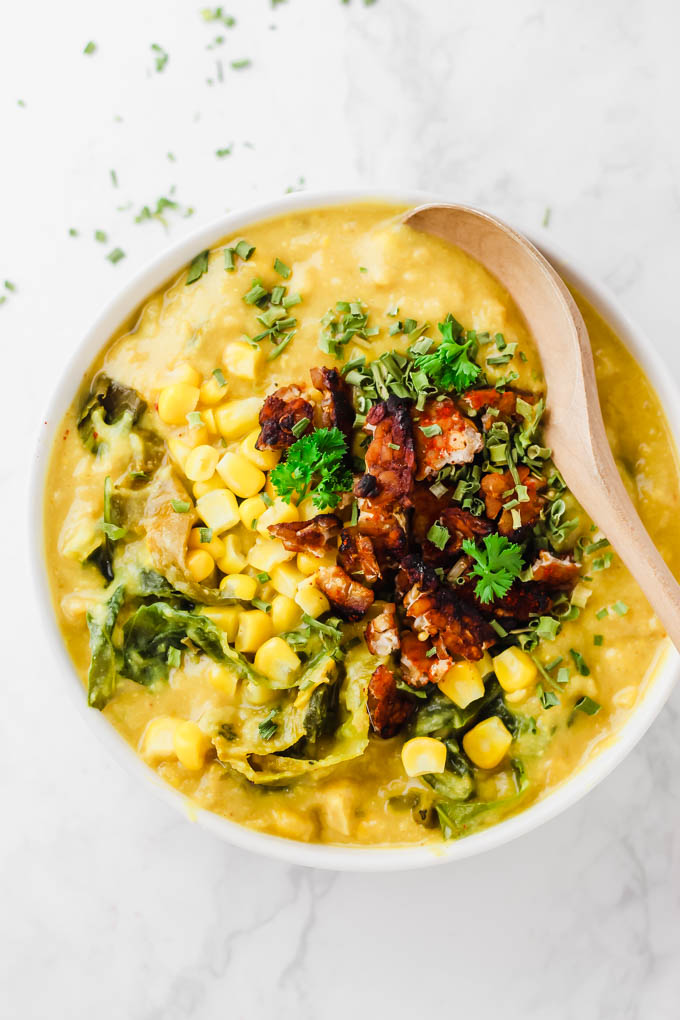 Print
How to make:
Yellow Split Pea Chowder with Sweet Corn
This Yellow Split Pea Chowder is hearty, nutritious & a great way to use seasonal sweet corn! This golden soup is creamy & rich thanks to cashew cream. (vegan & gluten-free)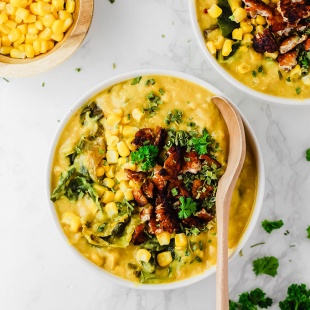 Ingredients
For the chowder:
1 tablespoon

olive oil

1

white or yellow onion, chopped

2

stalks celery, diced

3

cloves garlic, minced

6 cups

(

1.4

L) low sodium vegetable broth

1 cup

(

200 g

) yellow split peas, soaked for 1 hour and drained

1

medium Yukon gold or russet potato, peeled and chopped
Kernels from

4

ears sweet white or yellow corn (about 2

1⁄2 cups

, or

360 g

)

3⁄4 teaspoon

smoked paprika

1 teaspoon

salt

3⁄4 cup

(

180

ml) Cashew Cream (recipe below)

1

small bunch collard greens, stemmed and chopped
Optional toppings: chopped fresh chives or scallions, tempeh bacon, chopped red bell pepper
For the Cashew Cream (makes 1 cup):
3⁄4 cup

(

95 g

) raw cashews, soaked for at least 2 hours and drained

2⁄3 cup

(

160

ml) water

1⁄4 teaspoon

salt
Instructions
Make the chowder:
Heat the oil in a large pot over medium heat. Add the onion and celery and cook, stirring occasionally, for 5 to 7 minutes, until the onion is tender and translucent. Add the garlic and cook, stirring constantly, for 1 minute.
Stir in the broth, split peas, potato, corn, paprika, and salt and bring to a boil over high heat. Lower the heat, cover, and simmer, stirring occasionally, for about 45 minutes, until the split peas are completely tender.
Use an immersion blender to partially puree the soup, or puree about half of it in a standard blender and return it to the pot. Stir in the Cashew Cream and collard greens and cook, stirring occasionally, until the greens are tender and wilted, 5 to 10 minutes. Taste and adjust the seasonings if desired. Serve piping hot, with any desired toppings.
Make the cashew cream:
Combine all the ingredients in a blender (preferably a high speed blender) and process until very smooth.
This post contains affiliate links. Thanks for supporting Emilie Eats!