Sweet, savory, tangy… this Vegetable Mango Stir Fry does it all! Protein-rich seitan and fresh vegetables are coated in a homemade teriyaki sauce and served over rice. Move over, take-out! (vegan) In partnership with Sweet Earth Enlightened Foods!
I'm not going to lie, I find myself dreading the process of writing blog posts more often than I'd like to admit. I love all the other parts of the process of putting a post together: the brainstorming, the cooking (and eating), the photography and editing. But the writing? My brain just shuts off.
I think it's because my everyday life really isn't that eventful, so I don't have anything interesting to share with you. I mean, how many times can I say "I'm almost done with school!" or "it's getting hot here!" before it gets real annoying?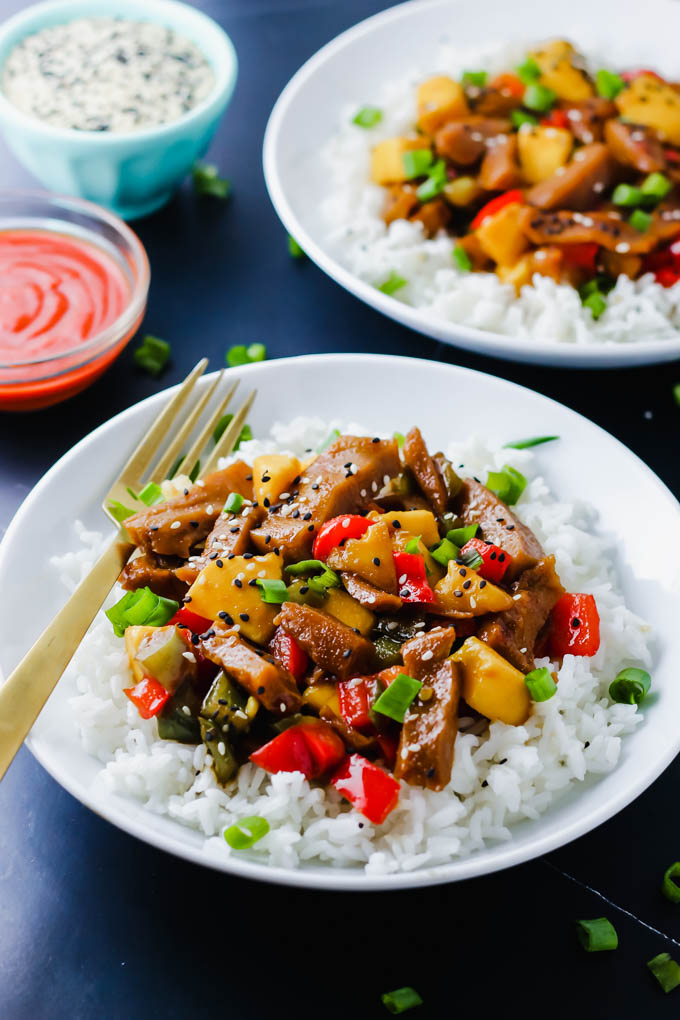 Some people read all of my posts (you the real MVPs 🏆), and some people skip right to the recipe. I never really know if I want to share the whole back story of a recipe in a post or just tell you it's delicious and that you should make it.
I guess it all depends on the recipe/my mood/my life at the time/how late I'm writing the blog post (in this case, 10:22 pm).
BUT, today I actually have life-changing news I need to share with you. Dramatic, but true. Sooooo….
I GOT INTO GRAD SCHOOL AND I'M MOVING TO COLORADO!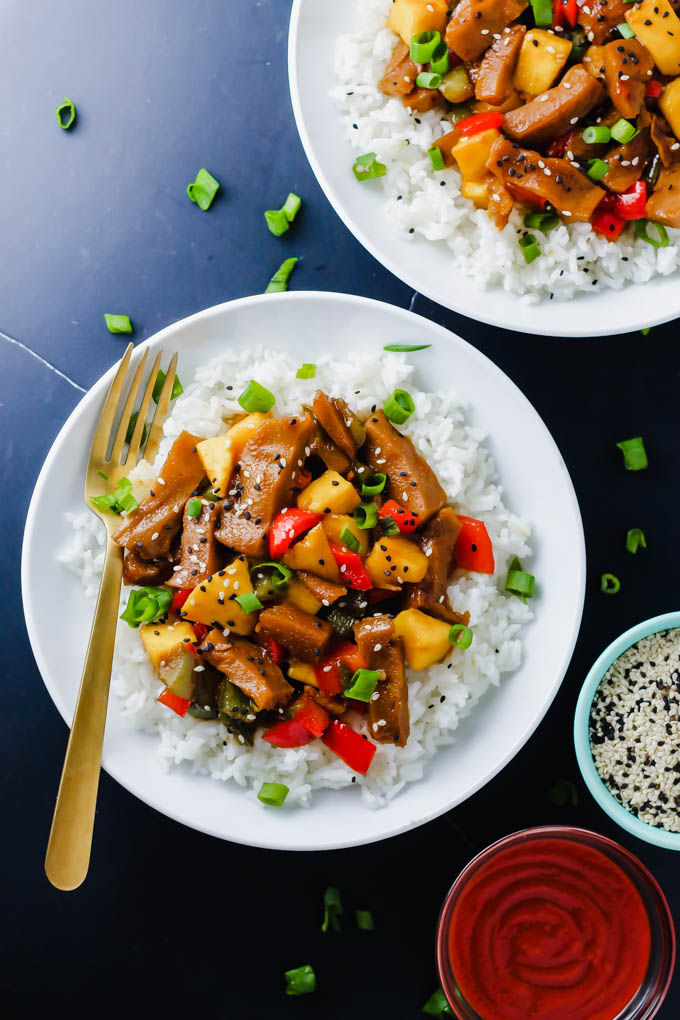 Ahhhhhh, it feels so good to actually say that. I found out over my spring break while at lunch with my boyfriend and good friend that I had gotten into the only graduate program I had applied to (because I was so sure I wanted to go there). You best believe I ordered myself an avocado margarita to celebrate!
This fall Leo (my little furry son) and I will be moving to Colorado so I can start my Master's in Food Science & Nutrition program. So official. 😎
What does that have to do with this mango stir fry? Absolutely nothing at all, so let's get into the food, shall we?
It starts with Sweet Earth Foods Traditional Seitan Strips, which are thick and meaty in the best ways. If you've never tried seitan, it's a great substitute in recipes that traditionally use meat! I love using their seitan slices on sandwiches, the grounds in spaghetti sauce, and the strips in this mango stir fry in these sushi burritos.
Plant-based meats also have a much smaller environmental impact than animal products. Sweet Earth has a really cool Eco Clock on their website that shows the greenhouse gases and used energy they've avoided just by creating "meat" from plants instead of animals.
Yay for saving the planet AND making delicious food!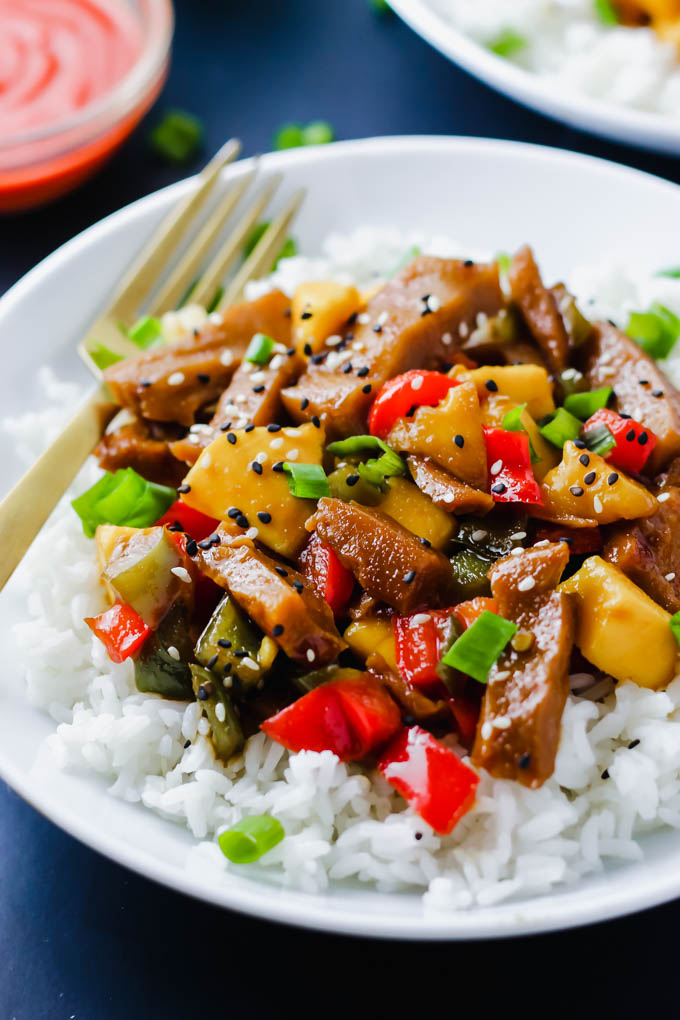 The seitan is coated in my tried-and-true homemade teriyaki sauce that gets deliciously gooey (thanks, tapioca starch!) and has the perfect amount of sweetness. Add vegetables and mango for a sweet, tangy twist!
We served this over jasmine rice, but feel free to use quinoa, brown rice, or any other whole grain. Enjoy!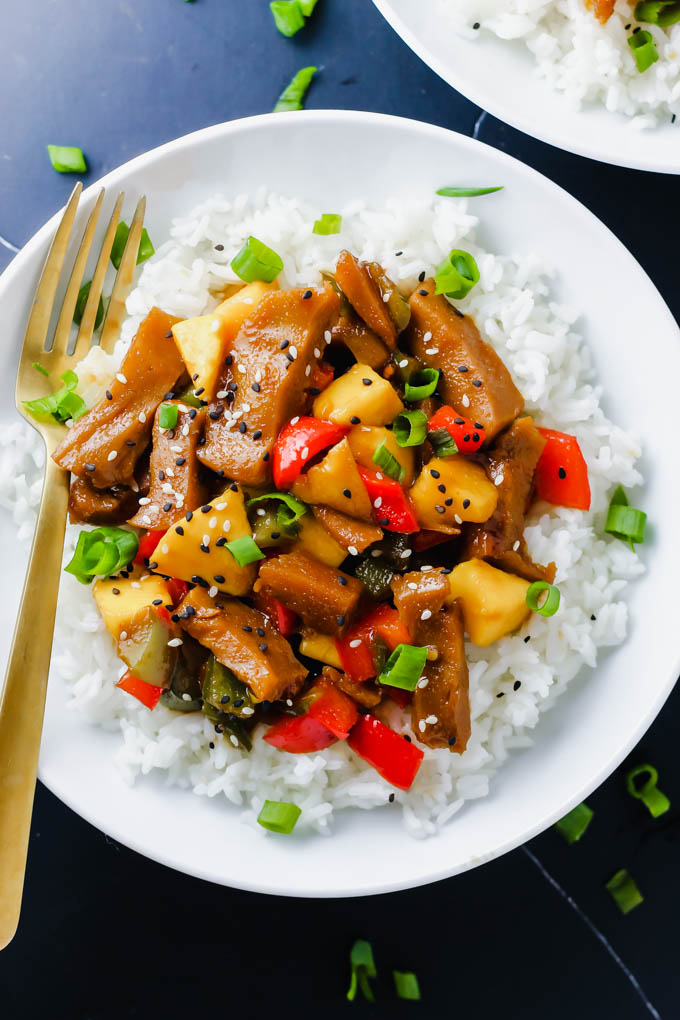 Print
How to make:
Vegetable Mango Stir Fry
Sweet, savory, tangy… this Vegetable Mango Stir Fry does it all! Protein-rich seitan and fresh vegetables are coated in a homemade teriyaki sauce and served over rice. Move over, take-out! (vegan)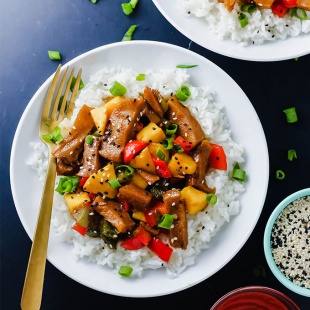 Ingredients
1/3 cup

organic soy sauce

2 tablespoons

coconut sugar

1 tablespoon

rice vinegar

1 teaspoon

garlic powder

1/4 teaspoon

ground ginger

1

8-ounce package Sweet Earth Traditional Seitan Strips

1 tablespoon

tapioca starch

1

bell pepper, diced

1

small mango, diced

2 cups

cooked jasmine rice (or other whole grain)
Sliced green onion, for garnish
Instructions
In a medium bowl, add soy sauce, sugar, vinegar, garlic powder, and ginger; whisk to combine. Add seitan; stir to coat evenly. Set aside for 10 minutes.
In a medium skillet over medium heat, add seitan with marinade. Add tapioca starch; stir to combine. Stir continuously as the sauce thickens, making sure to scrape the bottom of the pan. Cook for 5-7 minutes, until the sauce is gooey.
Add bell pepper and mango. Cook for 8-10 minutes, or until peppers are tender. Add a bit of water if needed to keep the sauce from burning.
Serve the stir fry over jasmine rice and top with green onion.
Thanks to Sweet Earth Enlightened Foods for sponsoring this post! I love working with brands whose products I really love and would honestly recommend. Thank you for supporting this blog that I love oh-so-much!