Okay, you guys, I know what you're thinking. Pumpkin?! Again? You know it's not October anymore, right? Yes, yes, I am well aware we are past the peak of pumpkin season. I'm not sorry, though. And you can't be that upset when PUMPKIN BISCUITS are involved!
For some reason I have been throwing pumpkin into everything lately, like these Snickers bars, this curry, and this smoothie. I don't know what it is. Maybe it's the versatility of one ingredient that is incredible in both sweet and savory recipes. Maybe it's the beautiful orange color. Or, maybe it's because I feel super scandalous adding a hella nutritious food to everything?
Biscuits did not escape my pumpkin extravaganza. I love biscuits–they're fluffy, filling, and delicious with fresh fruit jam or maple syrup. They're the ultimate weekend comfort breakfast. Just imagine–fresh-baked biscuits, loads of fruit, and Saturday morning.
That?? could be you this weekend, so make these and thank me later!!!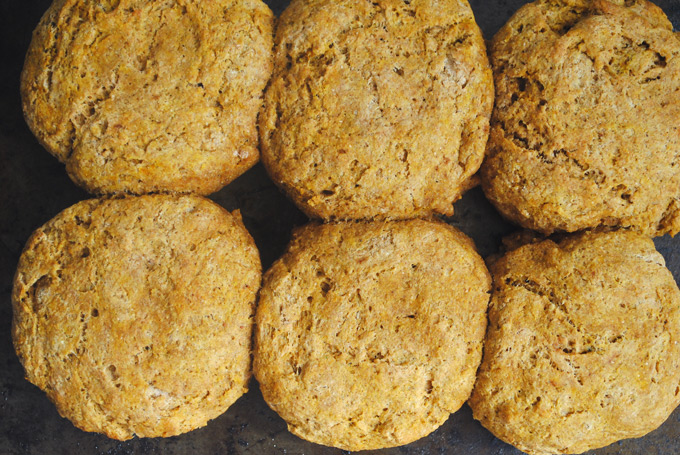 These biscuits use ingredients you probably already have, and they take less than an hour to make! We're keeping it whole wheat here with white whole wheat flour, which has all the great nutrition of whole wheat flour but is lighter and better to bake with. No vegan butter substitutes here❌ I'm not really 'bout that life, so we're using coconut oil + applesauce to add that fatty, buttery texture of biscuits we all know and love. And a dash of pumpkin spice to make your kitchen smell amazeballs.
Two things are important in making these, thanks to Dana: place the raw biscuits touching on the pan to bake, and gently press down in the middle of each with two fingers so they don't form a dome. Oh, and a third important thing: PLEASE drizzle your warm, fresh biscuit (or two) with maple syrup.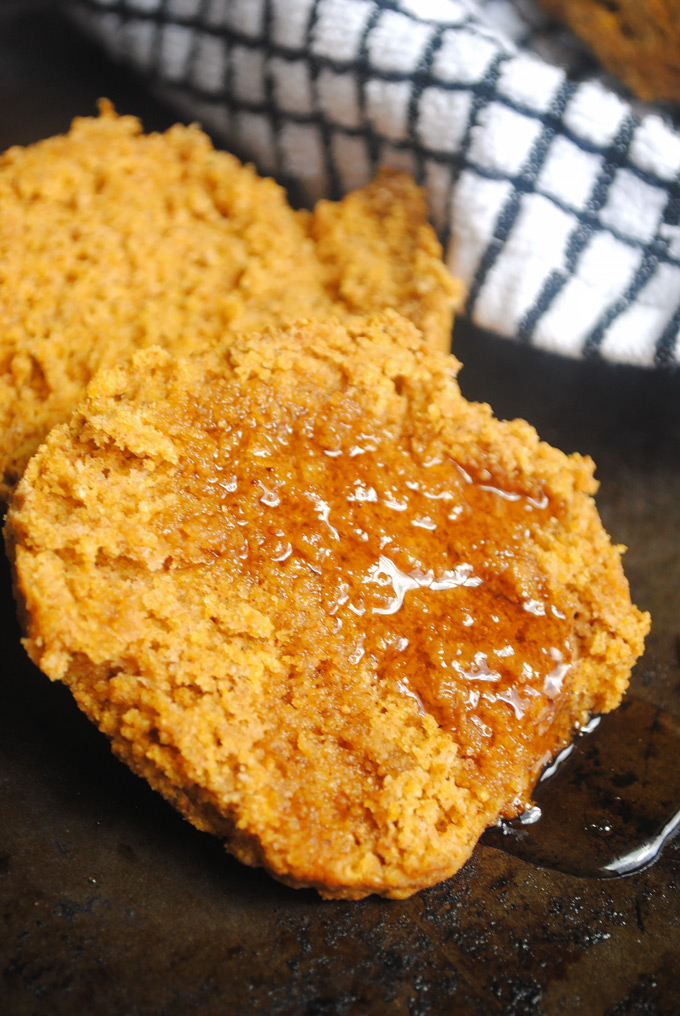 This may be the last stop on the pumpkin train this season 🙁 so let's enjoy the rest of the ride! Your whole family (or just yourself) will thank you for making these this weekend. They're fluffy, savory, delicious straight out of the oven, and perfect with a drizzle of maple syrup.
These would also be just delightful put on the table at Thanksgiving dinner. No matter how you enjoy them, these pumpkin biscuits will surely make you wish it was fall year round.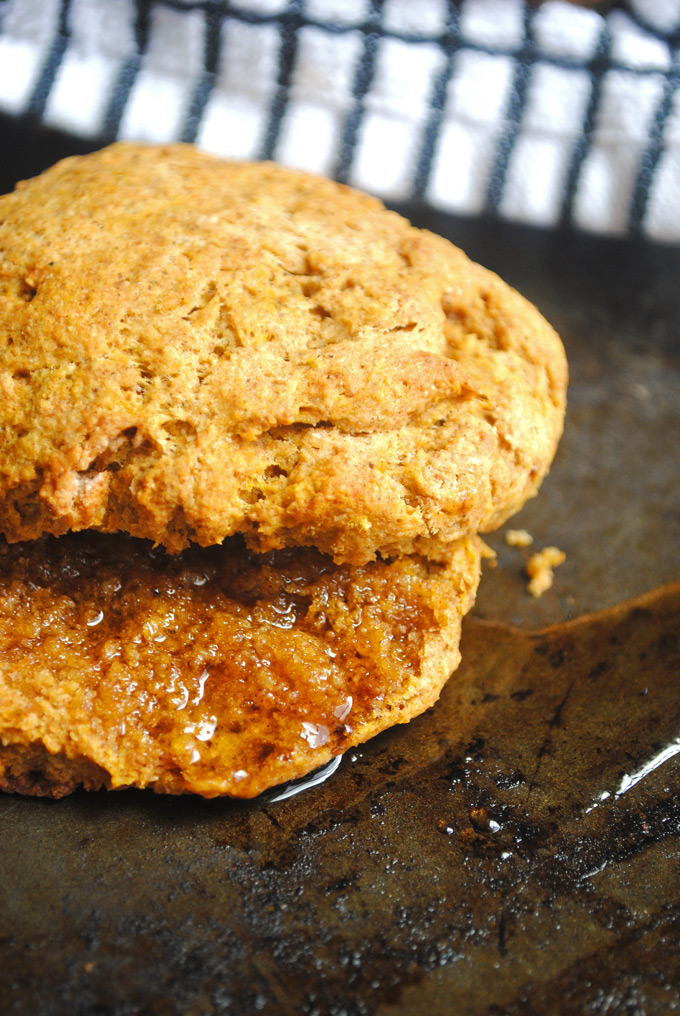 Print
How to make:
Whole Wheat Vegan Pumpkin Biscuits
These whole wheat & vegan pumpkin biscuits are full of warm pumpkin spice flavor! Make them for breakfast or as a side dish for the holidays.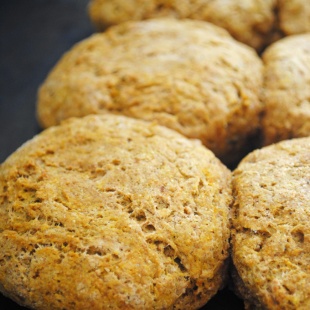 Ingredients
1 cup

almond milk +

1 teaspoon

apple cider vinegar

2 1/4 cups

+ 2 tablespoons white whole wheat flour (or whole wheat pastry flour)

1 tablespoon

+

1 teaspoon

baking powder

1 tablespoon

coconut sugar

1 tablespoon

pumpkin pie spice

1/2 teaspoon

baking soda

1/2 teaspoon

salt

3 tablespoons

coconut oil

1 tablespoon

applesauce

1/4 cup

+

1 tablespoon

pumpkin puree
Instructions
In a small bowl, place almond milk and vinegar. Let sit for 10 minutes. Refrigerate coconut oil.
Lightly grease a baking sheet. Preheat oven to 450°F.
In a large bowl, mix flour, baking powder, sugar, spice, baking soda, and salt. Stir until there are no lumps.
Place oil and applesauce in the bowl with the flour. Using a fork, break the oil up into small pieces and stir into the flour. It should look like coarse, crumbly sand.
Mix pumpkin into the almond milk. Pour into the flour mixture and stir until combined; do not overmix.
On a lightly floured surface, knead dough just a few times. Beat the dough flat until it's about 1-inch thick. Using a sharp circular object like a cup or a cookie cutter, cut the dough into circles. Reform the dough and repeat.
Place the biscuits on the baking sheet, making sure they touch. Bake for 13 to 15 minutes, until the edges are golden and crispy.
Enjoy warm with a drizzle of maple syrup!
Notes
These can be stored in an airtight container for up to 3 days.
*Adapted from Minimalist Baker