You know what's not cool? When you get home from your workout, shower, make a delicious dinner, and cuddle up with your new kitty on the couch ready to write about how tasty key lime pie chia pudding parfaits are…then the wi-fi at your apartment goes out for the night.
Not. Cool.
Then you have to put on real clothes to go to your boyfriend's so you can make sure the world knows the deliciousness of these parfaits. I make all these sacrifices in the name of creamy chia pudding.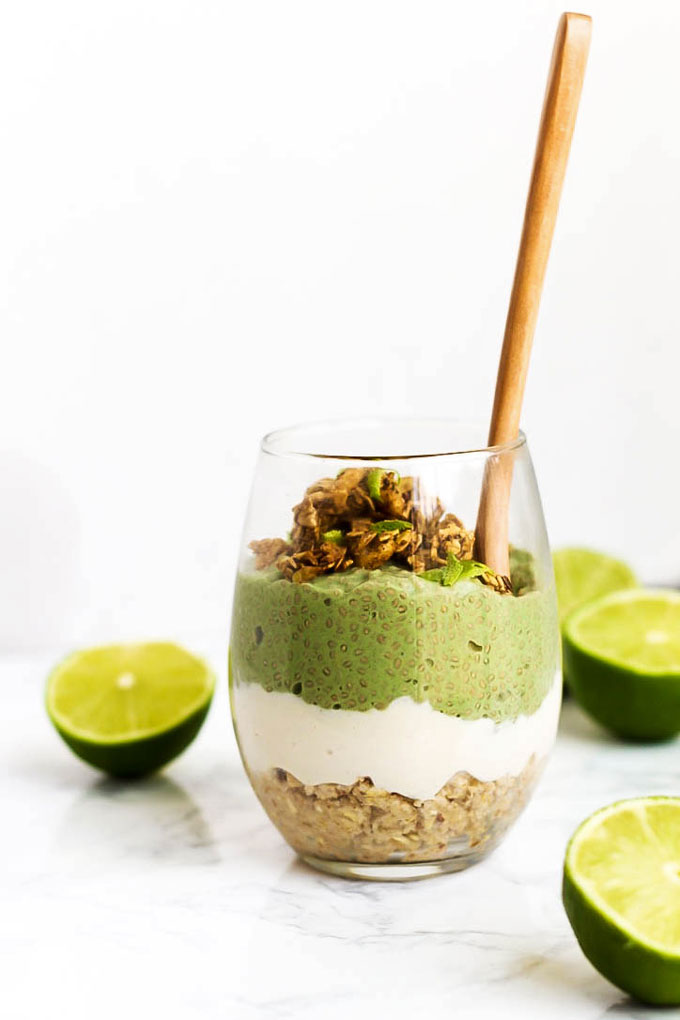 I guess that goes to show that not everything will work out the way you want. Things will be going great, and then BAM – you hit a roadblock.
You're having a positive day, then body image issues creep up when you see the super fit girl at yoga class.
You study all night for that test, feel great about it, then get a worse-than-expected grade.
You get your paycheck and plan to put it in your savings, but your phone breaks and you have to buy a new one.
I could go on and on, but you get the point. Sh*t happens, and it sucks sometimes. But you know what is cool? How you respond.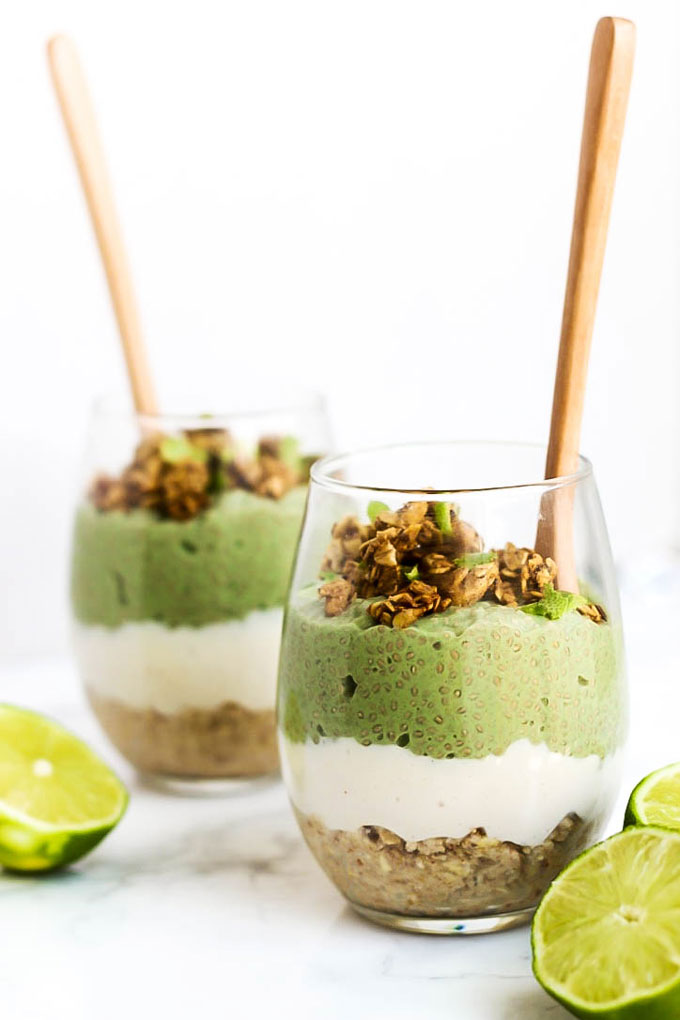 Are you going to go home and mope after yoga class because you feel self-conscious? Or are you going to put on your favorite song and dance around like a crazy person in the kitchen to lift your spirits?
Sometimes we may mope. We may go home and have a nice cry. We're not perfect, and we won't always respond to adversity perfectly. We're going to hit those roadblocks and want to give up right then & there on whatever we're working toward.
But I hope that most of the time, you go home and dance.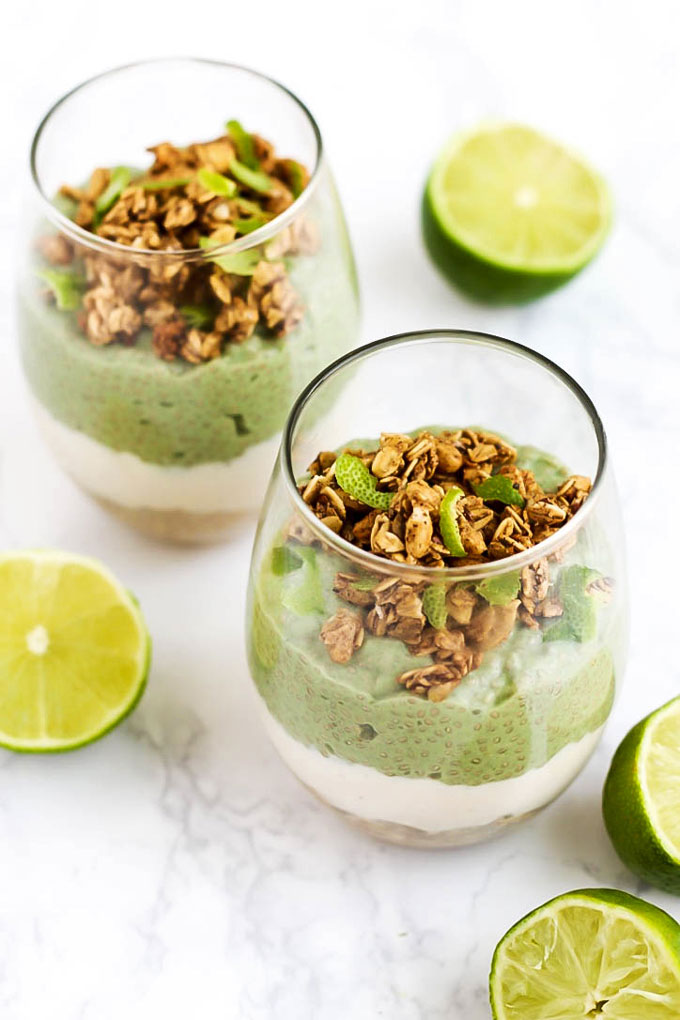 When you get to that roadblock – that hardship, that problem, that broken wi-fi network – you KICK it down and fight your way to the other side. I promise it'll be so rewarding to look back and say, wow, I pushed through that, and look how far I've come.
What does pushing through adversity have to do with key lime pie chia pudding parfaits? Well, nothing – butttttt they can definitely make you feel better wherever you're at, so good enough.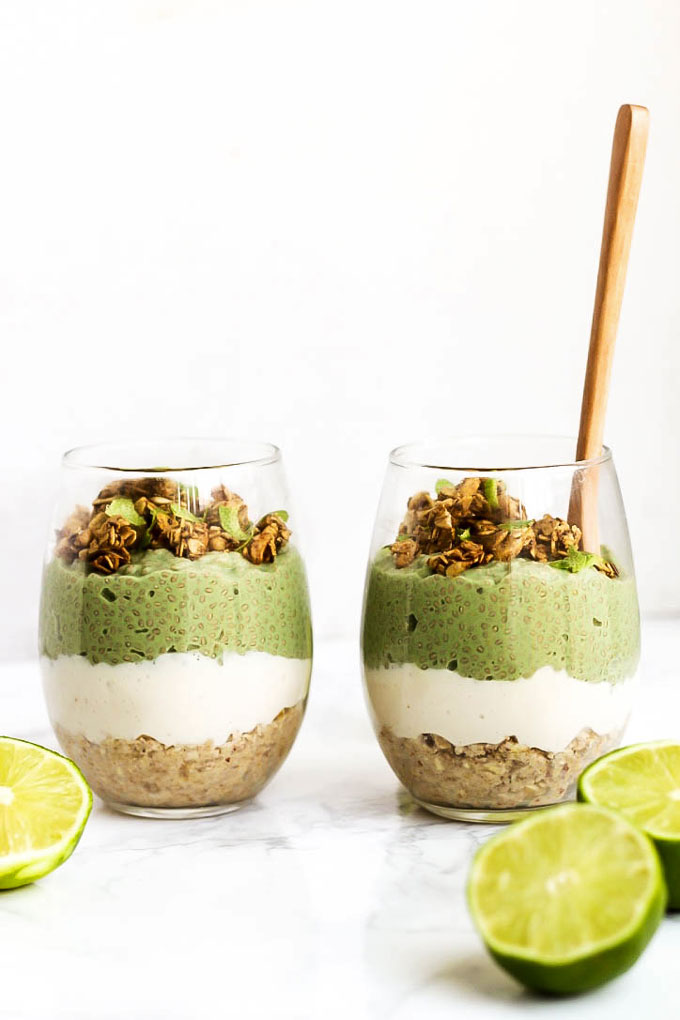 I'm not sure if I've ever actually had a slice of real key lime pie, but I couldn't get the flavors out of my head and knew I wanted to make something tasty to enjoy it in a healthier way! You guys love my peanut butter cup chia seed pudding, so that's what I went with. And boy, was it a damn good idea. <3
These parfaits start with a simple "pie crust" base of oats and almonds combined in a food processor or blend. Then we're making a creamy vanilla pudding base using one of my favorite secret ingredients – silken tofu! I love using silken tofu in desserts like my chocolate pudding pie and vegan cheesecake because it's a pretty tasteless base that creates a smooth end product with some protein. Yassssss girl.
We top it all off with chia pudding infused with fresh lime juice, avocado, and spirulina powder (optional) for a beautiful green color! I used white chia seeds for photo purposes, but you can use black chia seeds, too. Let the chia pudding mixture sit for a couple hours or overnight, and create your beautiful layered parfait for a nutritious breakfast packed with healthy fats, protein, and complex carbs. Oh, and it tastes like a slice of key lime pie. WIN.
[Tweet "Chia pudding parfaits that taste like a slice of key lime pie? YES. Breakfast all summer."]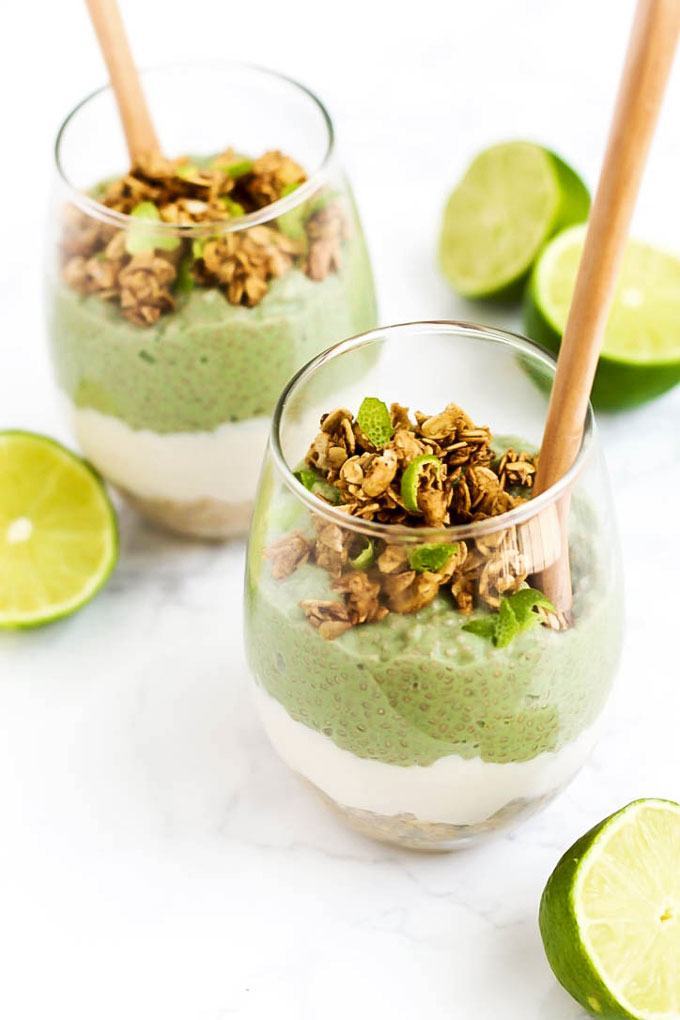 This is healthy enough to have for breakfast, which is how I enjoyed it, but I think it would also make a great light dessert for the summer. Or a pre/post-workout snack. Or dinner…no judgment.
If you get to make this recipe, tag me in your pictures on Instagram #emilieeats so I can see your beautiful chia pudding parfaits! I know you'll all love this creamy, tart, perfectly sweet recipe.
Now go put on your favorite song, dance around, and have an awesome day!?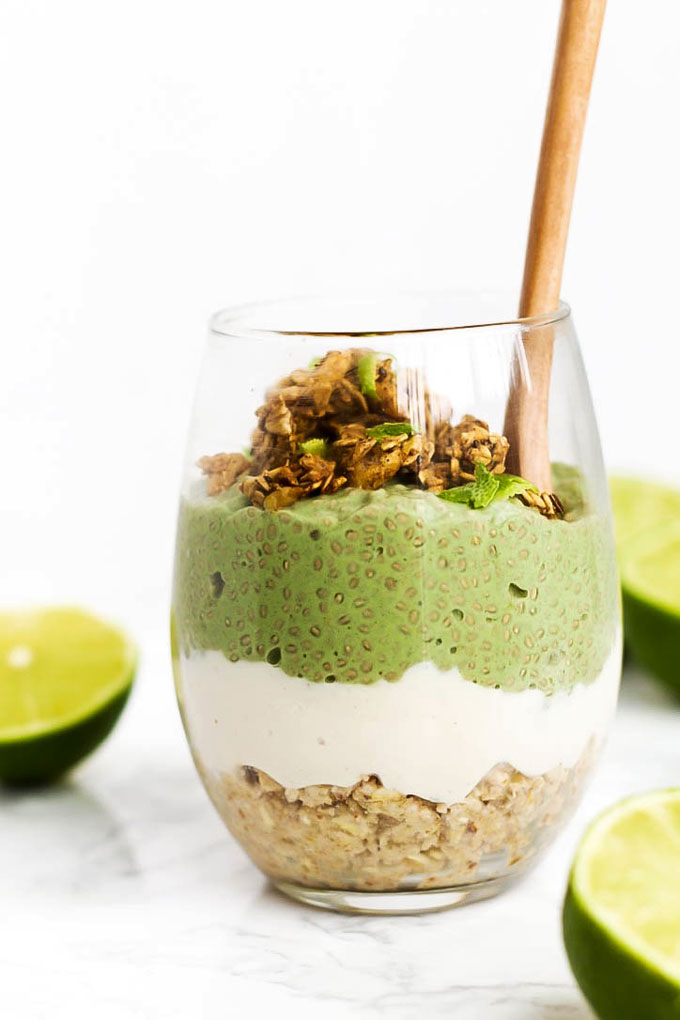 Print
How to make:
Key Lime Pie Chia Pudding Parfaits
One bite into the layers of these Key Lime Pie Chia Pudding Parfaits will have you thinking you're enjoying dessert for breakfast! Vegan & gluten-free.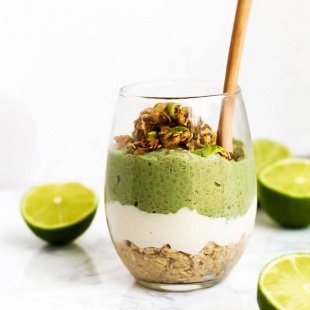 Ingredients
Chia pudding:

1/4 cup

chia seeds

1 cup

almond milk, or other non-dairy milk

1/4 cup

mashed avocado

1/4 cup

fresh lime juice

2 tablespoons

agave nectar or maple syrup

1 teaspoon

lime zest, plus more for garnish

1 teaspoon

vanilla extract

1/4 teaspoon

spirulina powder (optional)
Pinch of salt
Crust:

1/4 cup

rolled oats

2 tablespoons

almonds

2 tablespoons

unsweetened applesauce

1/8 teaspoon

salt
Pudding:

6 ounces

silken tofu, drained*

1 teaspoon

vanilla extract

1

–

2

tablespoons agave nectar
Pinch of salt
Instructions
In a medium bowl, add chia seeds, milk, avocado, lime juice, agave, lime zest, vanilla, spirulina, and salt. Stir well until all ingredients are combined. Let the mixture sit for at least 2 hours, or overnight if possible.
When ready to serve, add oats, almonds, applesauce, and salt to a food processor or blender. Process until a soft dough forms. Press half the dough into each base of two jars or cups.
To make the pudding layer, add tofu, vanilla, agave, and salt to the food processor or blender. Process until smooth. Scoop half the pudding into each jar or cup.
Divide the chia pudding evenly between the two jars or cups. Top with your choice of toppings, like granola and extra lime zest.
Notes
*I used half a package of Mori-Nu Lite Firm Silken Tofu. You can find this on the shelves in the ethnic section of your grocery store.
Like this recipe? Check out this Peanut Butter Cup Chia Seed Pudding: