This rich Green Chile Vegan Corn Chowder is a comforting dinner you can whip up in one hour! Each bowl features sweet corn, hearty potatoes, and cashews for extra creaminess. (gluten-free) In partnership with Pompeian!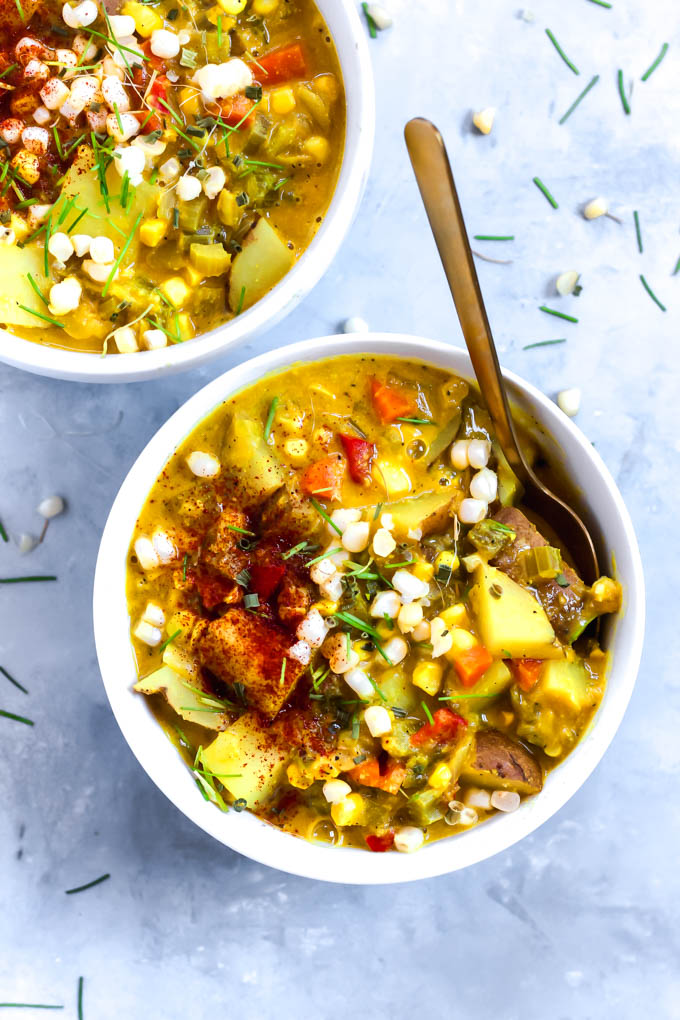 My first time making vegan corn chowder came out even better than I expected! Sure, nothing bad can really happen when you mix sweet corn with potatoes in a hearty bowl (honestly, potatoes in anything is never bad). Despite my lack of cooking lately thanks to this transition into grad school life, I've still got some skills in the kitchen when it comes to cooking meals. Let's not talk about baking, though… that's a different story. 
I know the purpose of this website is to share recipes with you that you can follow, but my style of cooking is actually quite different. I have an idea of what I want to make, but I just go with the flow during the process. I really only measure things out so I can post the recipes here. Cayden gets so annoyed with me when he asks how long to roast or sauté a certain vegetable, and I say, "I don't know, just keep an eye on it."  
My friend Haley calls this "intuitive cooking," a term I really like. It empowers you to make the decisions to fit your own preferences and what you have available. It's great to know cooking skills, like how to make quinoa or roast broccoli, and follow recipes, but I really encourage you to break the rules a little bit and explore!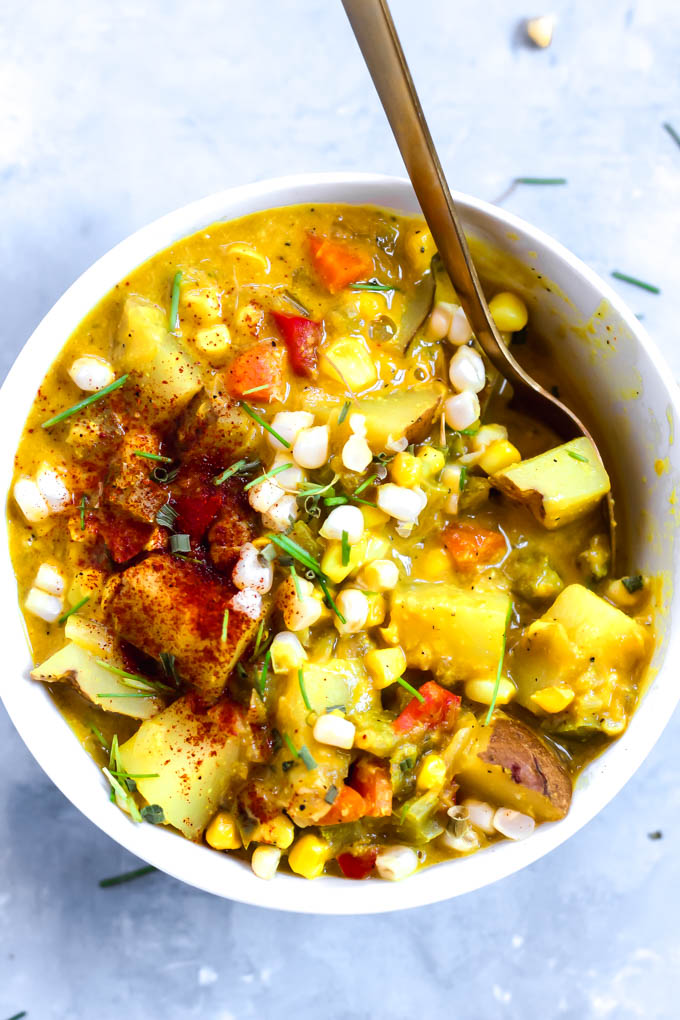 For this vegan corn chowder, I looked at some standard recipes for corn chowder and used the basic ingredients in my recipe (onion, carrots, celery, potatoes, corn). Then I improvised from there: I wanted it to be a creamy chowder, so I added a blended cashew/corn "cream." I wanted to give it some Colorado flare so I added a can of green chiles! 
Hyper-local ingredients are #TrendingInTheKitchen, and I've been trying to use as much locally grown produce as possible. I'm pretty spoiled here in Fort Collins because the farmers' market is lush and abundant; all of the produce in this recipe came from local farmers! It just makes the food feel cozier, ya know? 
Another local trend in Colorado is green chile everything. Actual chili, green chile salsa, soup, you name it. Green chiles are an affordable canned food you can use to add flavor to anything! 
Of course, I used my favorite Pompeian Smooth Extra Virgin Olive Oil to sauté all of the vegetables until tender. I used a couple heaping tablespoons to add extra creaminess and richness to the corn chowder! 
I picked up my bottle of Pompeian Smooth Extra Virgin Olive Oil (and all of my other beloved Pompeian products, like their Organic Extra Virgin Olive Oil Spray and Organic Balsamic Vinegar) at my local Target. I've also seen them at Walmart! I love brands that are accessible and affordable. Check the Pompeian store locator!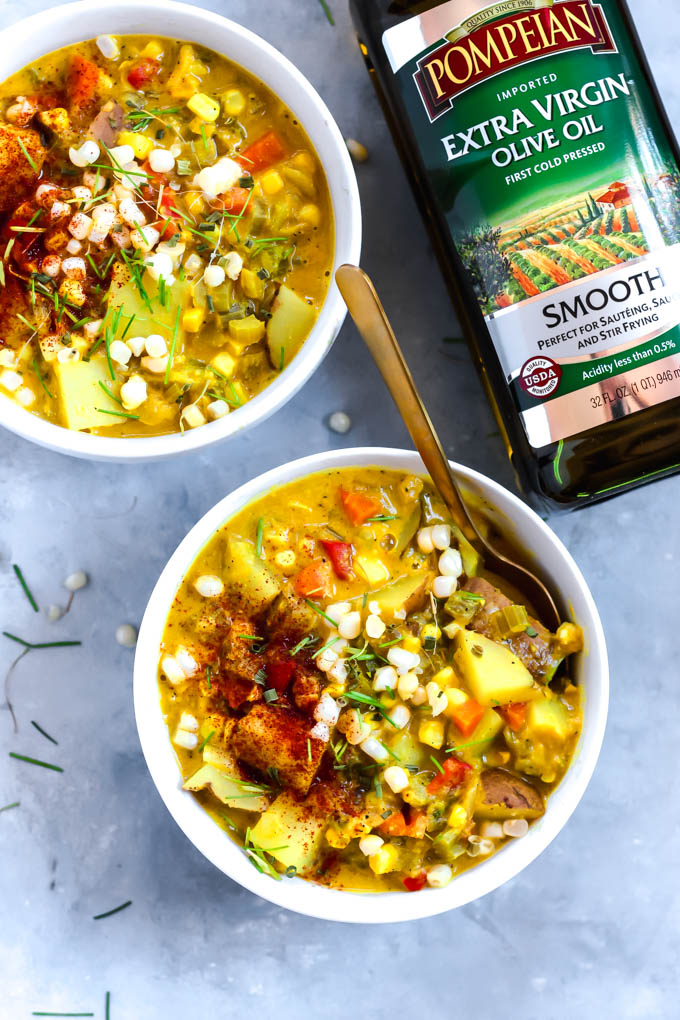 As the cooler weather approaches, I know we're all looking for dinner recipes that are comforting and hearty and warm us up from the inside out. I promise this green chile vegan corn chowder fits the bill. It's a cozy hug in a bowl. 
Oh, it's also freezer-friendly! Make a double batch and freeze the rest for easy dinners.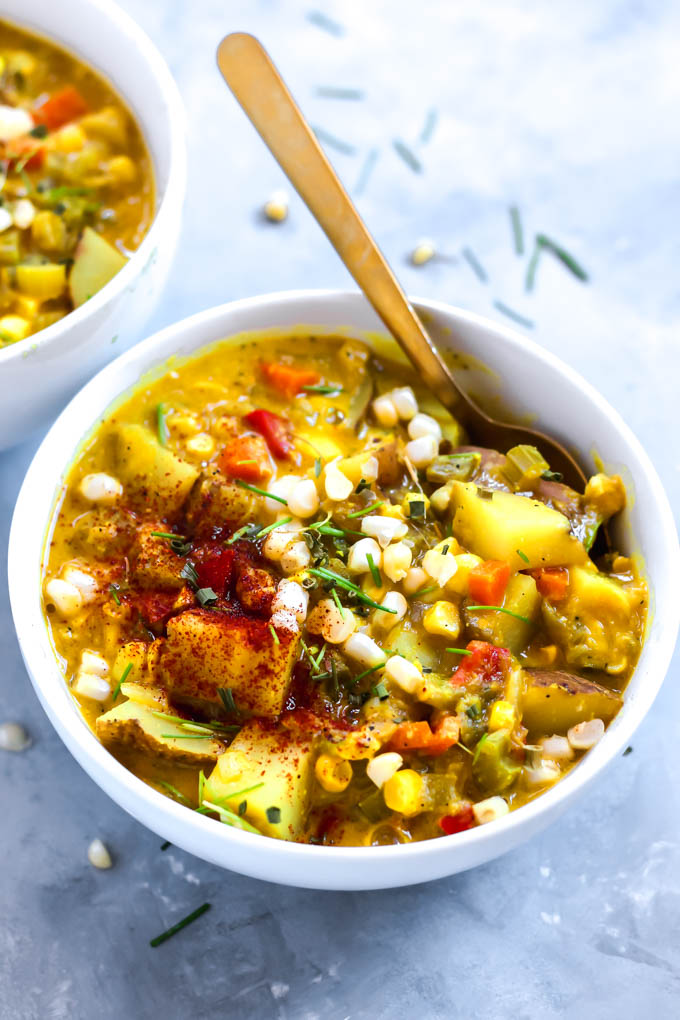 Print
How to make:
Green Chile Vegan Corn Chowder (gluten-free)
This rich Green Chile Vegan Corn Chowder is a comforting dinner you can whip up in one hour! Each bowl features sweet corn, hearty potatoes, and cashews for extra creaminess. Gluten-free!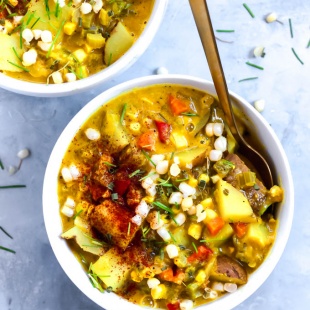 Ingredients
2 tablespoons

 Pompeian Smooth Extra Virgin Olive Oil

1

yellow onion, diced

1 cup

carrots, diced

1 cup

celery stalks, diced

1

red bell pepper, core removed and diced

3

cloves garlic, minced

1

pound Russet or red potatoes, chopped into 1/2-inch chunks (about

4 cups

)

4 cups

yellow corn (about

4

ears of corn), divided

1

bay leaf

1 quart

 (

4 cups

) vegetable broth or water

1/2 cup

raw cashews, soaked overnight or at least 4 hours*

1

7-ounce green chiles

1 teaspoon

salt

1/2 teaspoon

black pepper

1/2 teaspoon

smoked paprika

1/2 teaspoon

ground turmeric

1/2 teaspoon

liquid smoke (optional)
Green onions, for garnish
Instructions
In a large pot over medium heat, add Pompeian Smooth Extra Virgin Olive Oil. When hot, add onion. Cook for 5 minutes, stirring. Add carrots, celery, and bell pepper; cook for 8-10 minutes, until vegetables are tender. Add garlic; cook for 1 minute.
To the pot, add chopped potatoes, 3 cups corn, bay leaf, and broth. Bring to a boil; reduce heat to simmer and cover. Cook for 20-25 minutes, until potatoes are tender.
Meanwhile, drain cashews. In a blender or food processor, add cashews, remaining 1 cup corn, and 1 cup water. Blend until smooth.
When the chowder is done cooking, add cashew/corn mixture, green chiles, salt, pepper, paprika, turmeric, and liquid smoke; stir. Simmer for 10 minutes.
Remove bay leaf before serving. Garnish with green onions.
Notes
*If you need soaked cashews in a hurry, boil raw cashews in a pot of water for 10 minutes.
---
Thanks to Pompeian for sponsoring this post! I love working with brands whose products I really love and would honestly recommend. Thank you for supporting this blog that I love oh-so-much!