This Vegan Potato Salad is made with creamy dairy-free ranch and vegan bacon. It makes for the perfect side dish for any cookout or picnic. This recipe was made in partnership with Silk. ❤️
Vegan Bacon Ranch Potato Salad
Potato salad! Perhaps a divisive dish… do you prefer creamy, mayo-based potato salad OR lighter, vinegar-y potato salad? I feel like that question could cause serious arguments in some families.
I don't know about you, but I never, ever ate a vinegar-based potato salad – one with tons of herbs and a light vinaigrette. Nope, that's not the potato salad I was raised on. Our potato salad (in true Southern style) went something like this: lots of mashed potatoes, hard-boiled eggs, mayo, mustard, garlic & onion powders, and salt & pepper. I have SO many memories of huuuuge bowls of potato salad at my grandparents' house, usually followed by a few Reese's and maybe some pizza…because isn't that what grandparents are for?
(TBH that was the only way I ever liked mayo & mustard. Still not a vegan mayo person – just give me some avocado, plz.)
Today we're making something similar but, like, totally better. Say hello to my take on a vegan potato salad. But this isn't just any vegan potato salad. It's VEGAN BACON RANCH POTATO SALAD!
If you're a vinegar-based potato salad person, I'm going to need you to change your opinion on creamy potato salads and get on board, because this one is BOMB. Do it for me, please – and thank me later. 😉
Now, if you're already into that creamy, mayo-based potato salad, HI MY PEOPLE! I see you. This one's for you.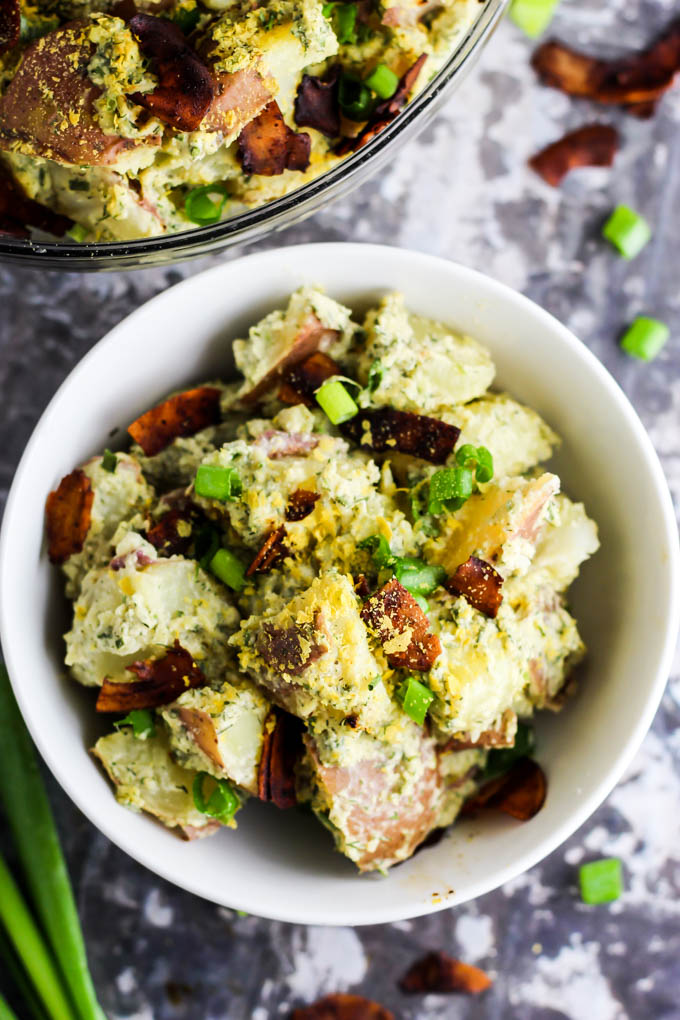 Ingredients for Vegan Potato Salad
Cookouts are in full swing, so I wanted to make something that would please everyone at the BBQ (p.s. you should be grilling these veggie burgers, too!). Who doesn't love bacon, ranch and potatoes? Those are basically America's favorite foods.
BUT this is a vegan potato salad so we're making it all plant-based (!!!) with wholesome ingredients because we're cool like that and plants are even cooler.  Here's everything you'll need 🌱
Red potatoes. A waxy skinned potato like red potatoes will work best in this vegan potato salad as they're less starchy and hold up better than something like a russet. You'll need about 8 medium sized red potatoes.
Cashews. You'll need to soak them overnight for them to blend into a super creamy vegan ranch dressing.
Silk Unsweetened Almondmilk. A key component to our super creamy and delicious vegan ranch.
Nutritional yeast. This is going to add a bit of savory, umami flavor to our vegan potato salad.
Lemon juice. You should only need about a half a lemon.
Dried chives and dill. If you want to use fresh herbs than go for it, but dried works perfectly fine in this vegan potato salad recipe!
Apple cider vinegar. Even though this is more of a creamy potato salad than a vinegar-based one, we still want a bit of that acidic flavor to brighten it up.
Garlic. You'll need two raw cloves for this vegan potato salad.
Coconut bacon. I opted to make my own using this homemade coconut bacon recipe from Minimalist Baker.
Green onions. These are just for garnish, but I highly recommend you include them!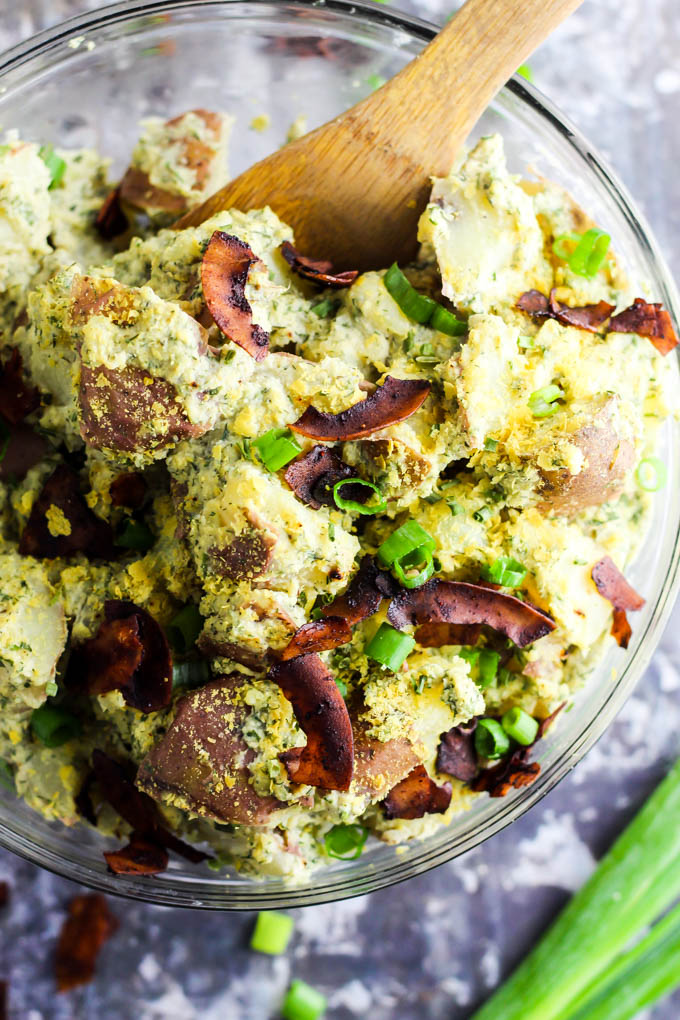 How to Make Vegan Ranch
We're making our own homemade vegan ranch for this potato salad and I promise it's worth the little bit of extra effort. But to be honest, it really doesn't take too much effort to begin with!
The hardest part about making this vegan ranch is simply remembering to soak your cashews overnight the day before you plan to make this vegan potato salad. I know it can be so hard to remember this step, so if you forget to soak them overnight, here's a helpful guide on how to quickly soak cashews.
Then the next day, you'll whip up your vegan ranch in a blender or food processor. Simply add your soaked cashews, Silk Unsweetened Almondmilk, nutritional yeast, lemon juice, chives, dill, vinegar and garlic to a blender or food processor and blend it up!  Now you've got the perfect creamy, cheesy, cashew-based dairy free ranch for your vegan potato salad.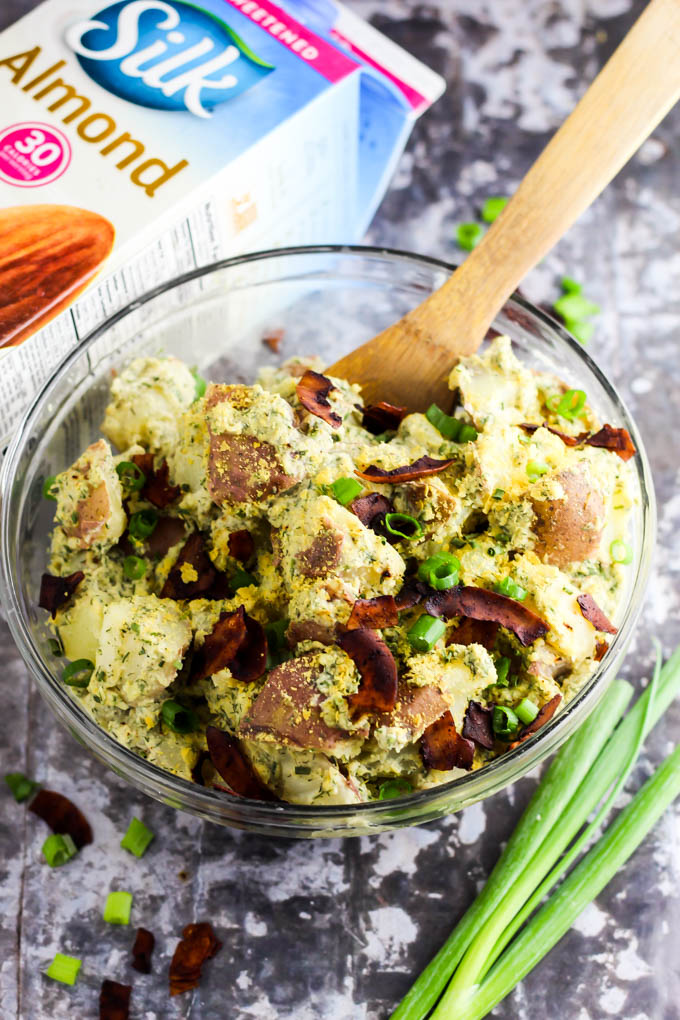 How to Make Vegan Potato Salad
Once you've made your vegan ranch, this vegan potato salad recipe is as simple as cooking the potatoes, mixing it all together and garnishing.
Start with making your potatoes by boiling for 10-15 minutes. You want the potatoes to be fully cooked, but not to the point where they start falling apart and releasing a ton of their starches. They should still hold together when pierced with a fork. Once the potatoes are fork tender, drain them and set them aside to cool. After cooling off to room temperature, pour your vegan ranch onto your potatoes and then garnish and devour!
A very important note about this recipe: coconut bacon is NOT optional. I'm not trying to be forceful, peeps, but hear me out: COCONUT BACON SAVES LIVES. It's too good for its own good. I could eat a whole meal's worth of the stuff.
If I haven't convinced you to whip up a batch of coconut bacon ASAP, then I've failed at my job. Just, please sprinkle that deliciousness on top of this vegan potato salad.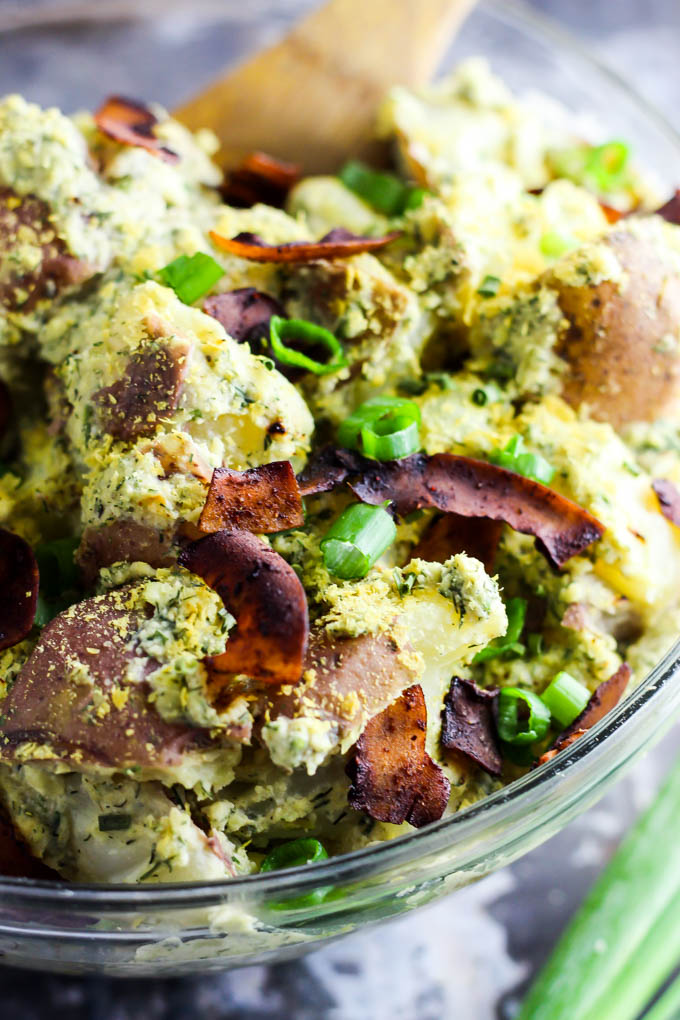 More Vegan Summer Recipes
I'm very excited to partner with Silk to bring you some AMAZING recipes & tips to help your meals taste better with simple, dairy-free & plant-based ingredients. This vegan bacon ranch potato salad will definitely make any summer cookout or picnic taste better!
Speaking of fun summer cookouts & picnics, here are some other ideas for dishes you can share with others at any gathering (read: tasty & easy to transport):
Be sure to sign up for Silk's email list for a coupon! You know how much I love to save some ca$h money.
So, let's settle this once and for all – vinegar-based potato salad or creamy potato salad? Just try this vegan bacon ranch potato salad, and then get back to me with your answer. 😏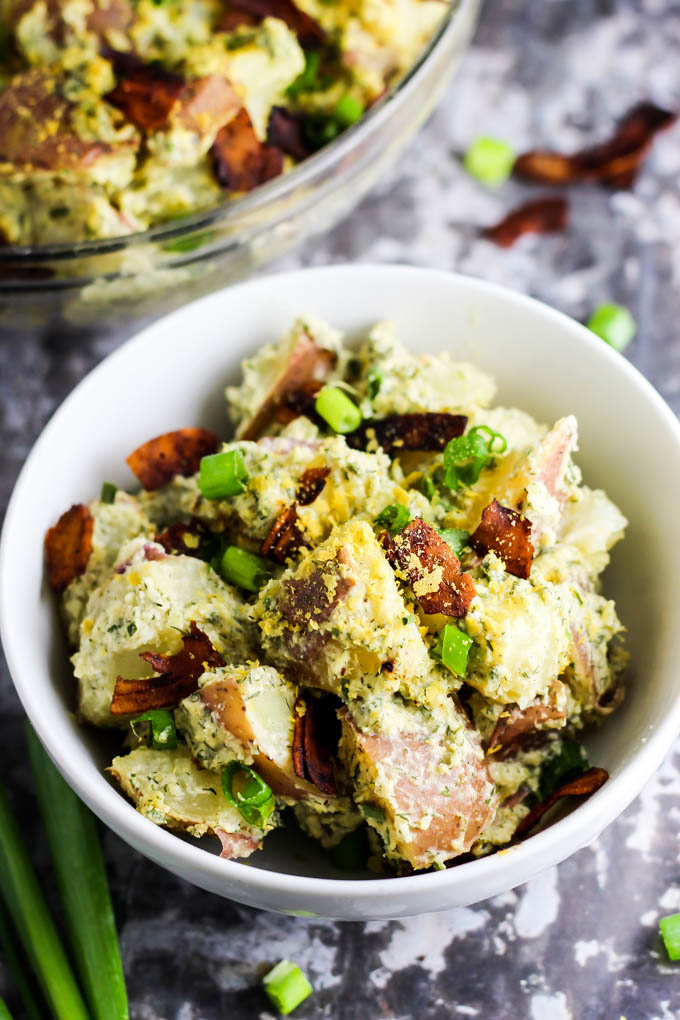 Print
How to make:
Vegan Bacon Ranch Potato Salad
This Vegan Potato Salad is made with creamy dairy-free ranch and vegan bacon. It makes for the perfect side dish for any cookout or picnic.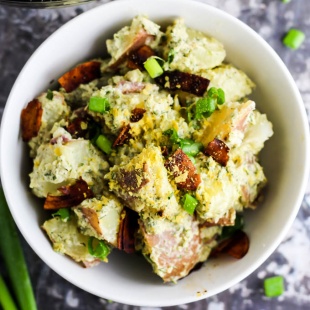 Ingredients
6 cups

red potatoes, chopped into 1/2-inch cubes (about

8

medium potatoes)

1/2 cup

raw cashews, soaked overnight

1/2 cup

Silk Unsweetened Almondmilk, plus more if needed

1/4 cup

nutritional yeast

2 tablespoons

lemon juice (about

1/2

lemon)

2 tablespoons

dried chives

1 tablespoon

dried dill

1 tablespoon

apple cider vinegar

2

garlic cloves, minced (about

1 teaspoon

)
Sliced green onions, for garnish
Coconut bacon, for garnish*
Instructions
In a large pot, add enough water to cover potatoes. Bring to a boil; add potatoes. Cook for 10-15 minutes, until potatoes are fork tender. Drain and return potatoes to pot.
Drain cashews.
In a food processor or blender, add cashews, Silk Unsweetened Almondmilk, nutritional yeast, lemon juice, chives, dill, vinegar, and garlic. Blend until smooth, adding more liquid if needed.
Pour ranch dressing over potatoes; mix until potatoes are evenly coated.
Garnish with green onions, nutritional yeast, dill, chives, and coconut bacon.
This is a sponsored conversation written by me on behalf of Silk. The opinions and text are all mine.
SaveSaveSaveSaveSaveSave
SaveSave