These vegan Asian Veggie Burgers are full of flavor & plant protein! Perfect for weekend grilling, topped with Mango Cabbage slaw and spicy Sriracha sauce. In partnership with Sweet Earth Natural Foods!
What is American cuisine? No, seriously, I'm really confused. I know these aren't the questions I should be asking two days after America's birthday extravaganza, but hey, I've always been a curious person!
I know we have burgers and hot dogs and apple pie, but is that really all we have to offer? America may be an amazing place to live, but I think what we offer in the food department as our own cuisine is seriously lacking.
Think of some American staples. Pizza. Burrito bowls. Sushi. These all have some sort of global influence.
Maybe that's what makes us so special.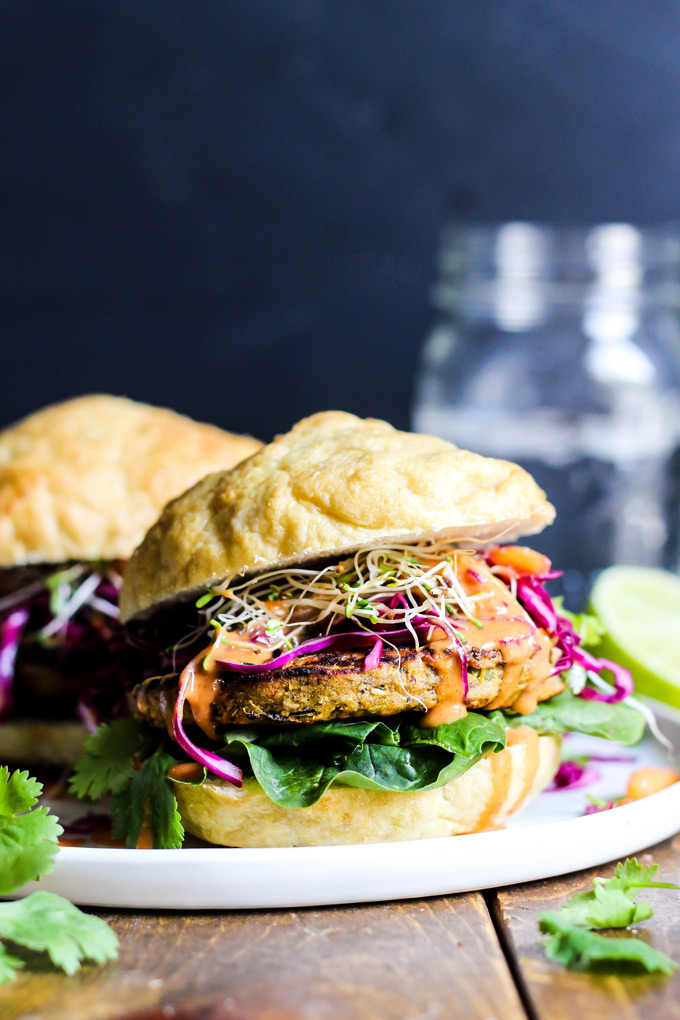 We truly are a country of diversity, of many different cultures and traditions coming together and forming something unique. I wish we in general could be more open-minded and accepting of others, because we all have something beautiful (and delicious!) to offer.
Our food is the same way. It's bits and pieces of different cultures and flavors to create something unique. We're lucky because we get to try a taste of almost every global cuisine right here at home—Indian, Chinese, Ethiopian, Italian, Greek, Japanese, Mexican, and so much more.
If we truly appreciated people the same way we appreciate these diverse cuisines, I think the world would be a better place. So let's sit around the table and enjoy tasty food together!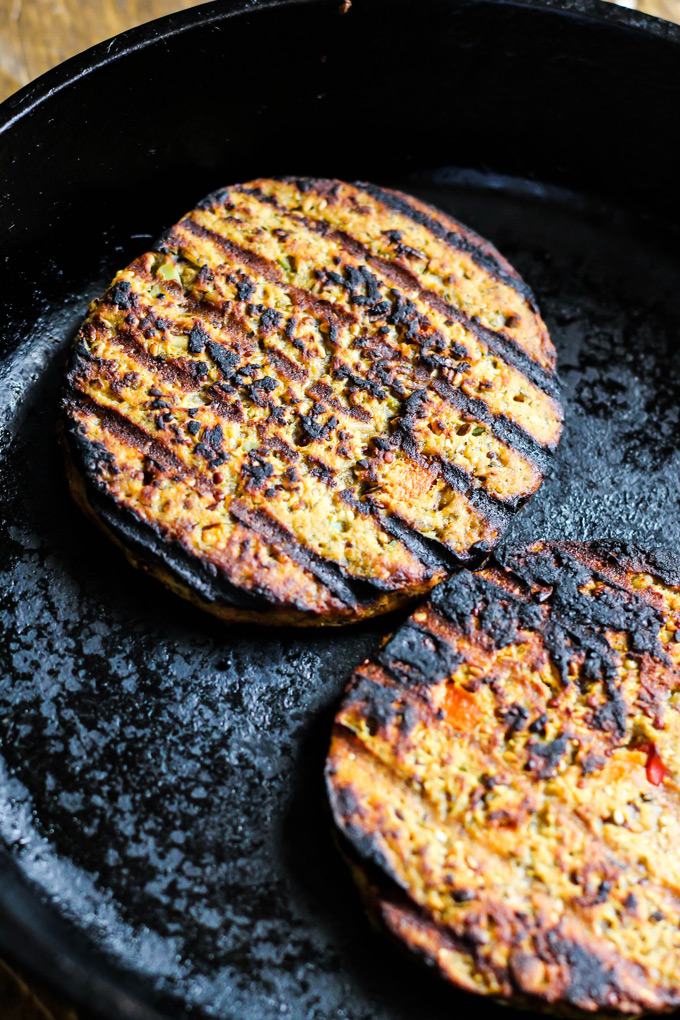 There's nothing I love more than using global inspirations in my recipes. Burrito bowl? Check. Spring rolls? Check. Oh, does Cajun count as a global influence (lol)? 'Cause red beans & rice.
That's what these Asian veggie burgers are. A classic American meal with a little (vegan) Asian twist and a BIG flavor punch.
We've got a fluffy hamburger bun (I was ambitious and made my own), tender & hearty Teriyaki Veggie Burger from Sweet Earth Natural Foods, crisp spinach, crunchy mango cabbage slaw, spicy Sriracha sauce🔥, and fresh sprouts.
Basically every texture/flavor you could ever want in a big bite of burger. We ain't never going back to sad boring veggie burgers, fam.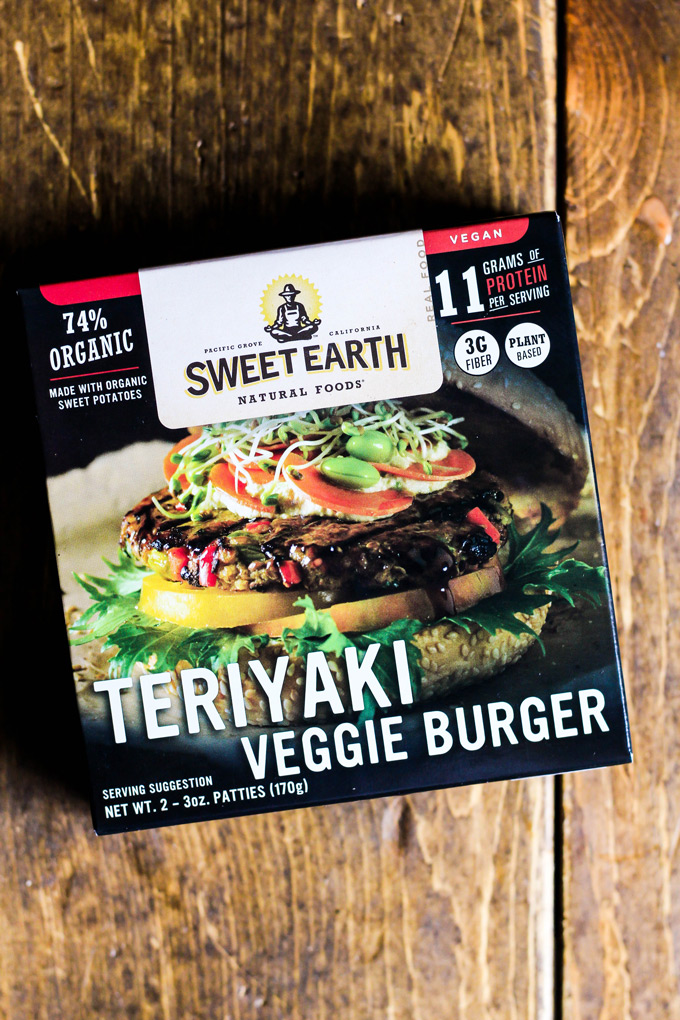 Okay, so I've got exciting news to share with you. Drumroll please… I will be a Sweet Earth partner for the next year!🎉 To say I'm excited is an understatement. I have loved their products for years, and they are the nicest people and an amazing company working to produce nutritious food sustainably. Isn't that something we can all get behind?
If you've never heard of Sweet Earth, here's the low-down. They make some of the best plant-based products on the market, including ready-to-go meals like Artisan Bowls and International Burritos, as well as plant-based protein alternatives like Veggie Burgers, Savory Grounds (we LOVE these), and Seitan. They use lots of whole food ingredients that are kind to our bodies, the animals, and the environment!🌱
Have you ever tried any Sweet Earth products? If you have a favorite, let me know! Also, let me know if you want to see a specific recipe made with one of their products. The ideas are endless!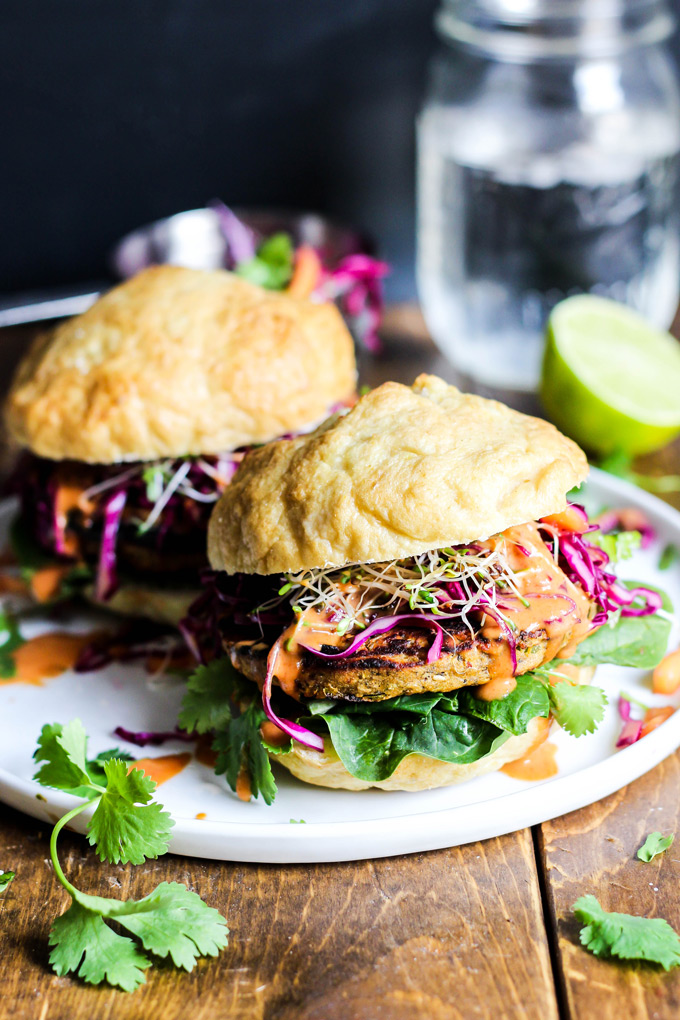 So, yeah. About these burgers. WITNESS THE BEAUTY. I'm pretty sure when Katy Perry named her new album, she meant for it to be short for Witness…The Veggie Burger. Okay, is that a bit of a stretch? Cool.
You never have to be sad about a tasteless veggie burger again because these are anything but tasteless. The teriyaki burger patty is full of ingredients like sweet potato, edamame, and Sweet Earth's homemade teriyaki sauce. YUM. Plus, they cook up in 5 minutes flat, so that's only 5 minutes (!!!) from freezer to mouth to happy, happy belly.
Pile on the toppings (that slaw! the tahini Sriracha sauce!) and get ready for a tastebud celebration. You can even go crazy with the double stacked option for these Asian Veggie Burgers. Which makes you a 💯 Plant Warrior. (<–yes I just made that up)
Happy grilling!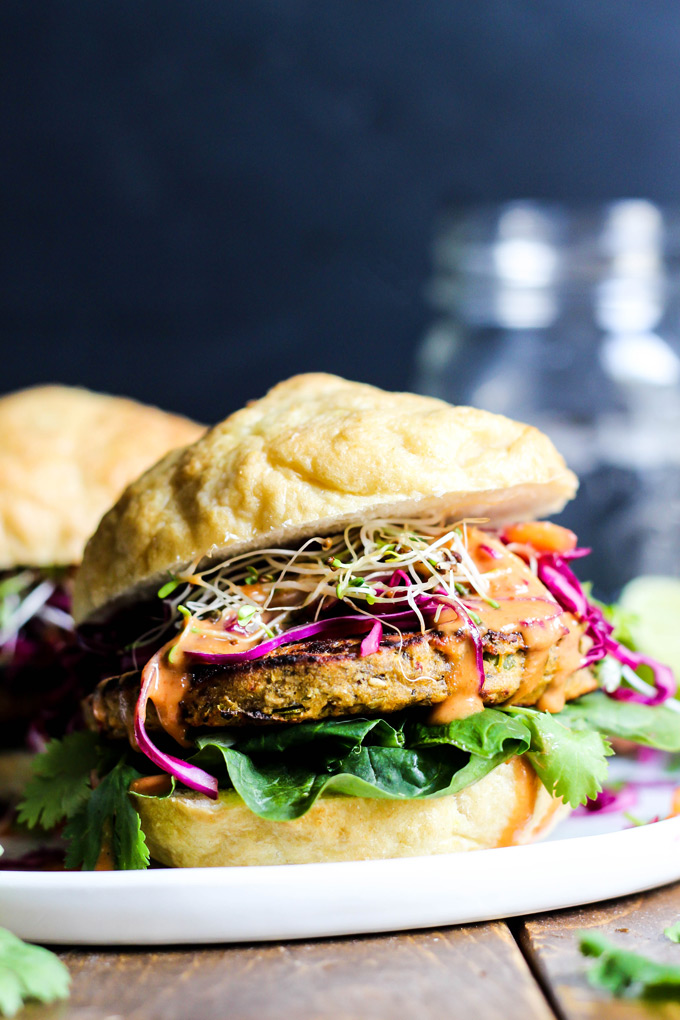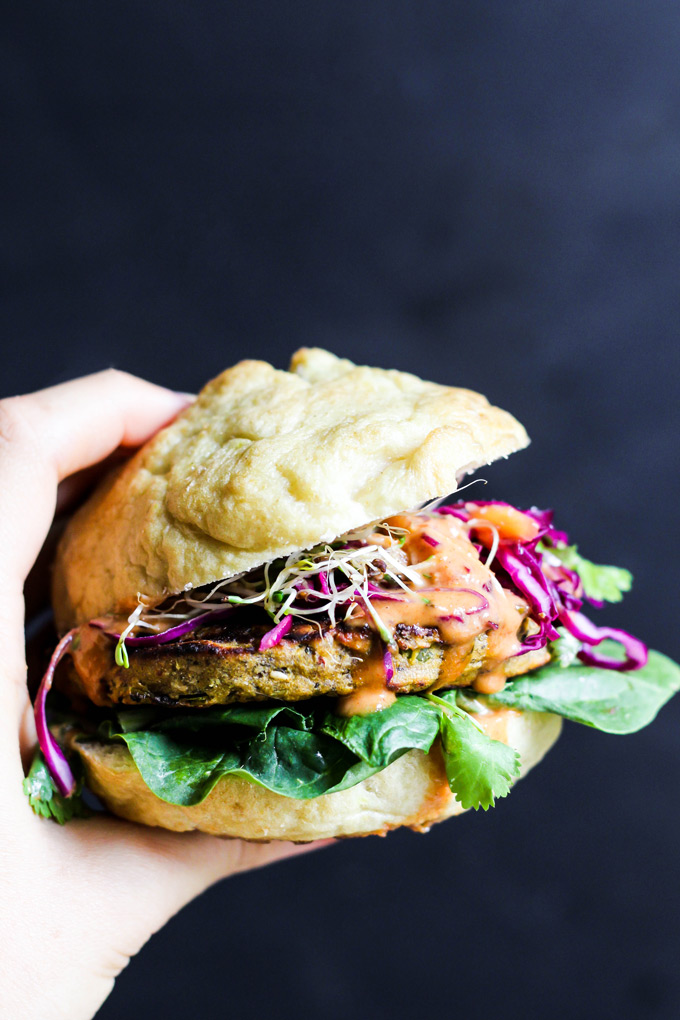 Print
How to make:
Asian Veggie Burgers with Mango Cabbage Slaw
These vegan Asian Veggie Burgers are full of flavor & plant protein! Perfect for weekend grilling, topped with Mango Cabbage slaw and spicy Sriracha sauce.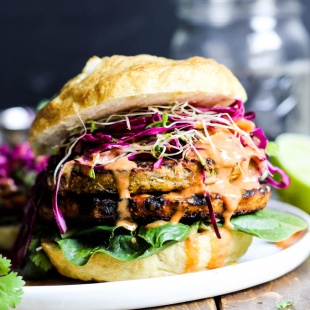 Ingredients
2

boxes Sweet Earth Natural Foods Frozen Teriyaki Veggie Burgers

1 1/2 cups

red cabbage, shredded

3/4 cup

mango, diced

1/2 cup

cilantro, finely minced, plus more for topping

1 tablespoon

fresh lime juice

1 teaspoon

apple cider vinegar

1 teaspoon

maple syrup

1/4 teaspoon

salt

2 tablespoons

tahini

2

–

4

teaspoons Sriracha sauce (depending on how spicy you want it)

1/2 teaspoon

soy sauce

1/8 teaspoon

ground ginger

4

whole-grain hamburger buns
Optional toppings: lettuce, spinach, sprouts, avocado, tomato
Instructions
Cook veggie burgers according to package directions.
In a large bowl, add cabbage, mango, cilantro, lime juice, vinegar, maple syrup, and salt. Stir to combine; let sit for 5 minutes to absorb all the flavor.
In a small bowl, add tahini, Sriracha, soy sauce, ginger, and 2 tablespoons water. Stir until smooth, adding more water as needed.
To assemble burgers, place a veggie burger on a bun with mango cabbage slaw and any other toppings. Drizzle with Sriracha sauce!
Thanks to Sweet Earth Natural Foods for sponsoring this post! I love working with brands whose products I really love and would honestly recommend. Thank you for supporting this blog that I love oh-so-much!