Amp up your morning routine with this warm, nourishing Turmeric Lemon Ginger Tea! It's full of antioxidants and vitamin C to start your day feeling great. In partnership with Pompeian, whose Organic Apple Cider Vinegar makes this tea super gut-friendly!
I can vividly remember one experiment that I did with my Girl Scouts troop waaaay back when I was a wee Brownie (who else remembers that? do they still exist??). We did a taste test of different flavors swabbed ons Q-tip that demonstrated how our tastebuds respond to salty vs. sweet vs. sour, etc.
When it was time to taste the Q-tip soaked in vinegar, everyone was wary. As each girl put a vinegar-y Q-tip to her tongue, she would make a sour face and declare how gross it was.
But me? I put the Q-tip on my tongue and thought, hey, this stuff is actually good! I LOVED the vinegar Q-tip.
Weird? Maybe. I embrace it.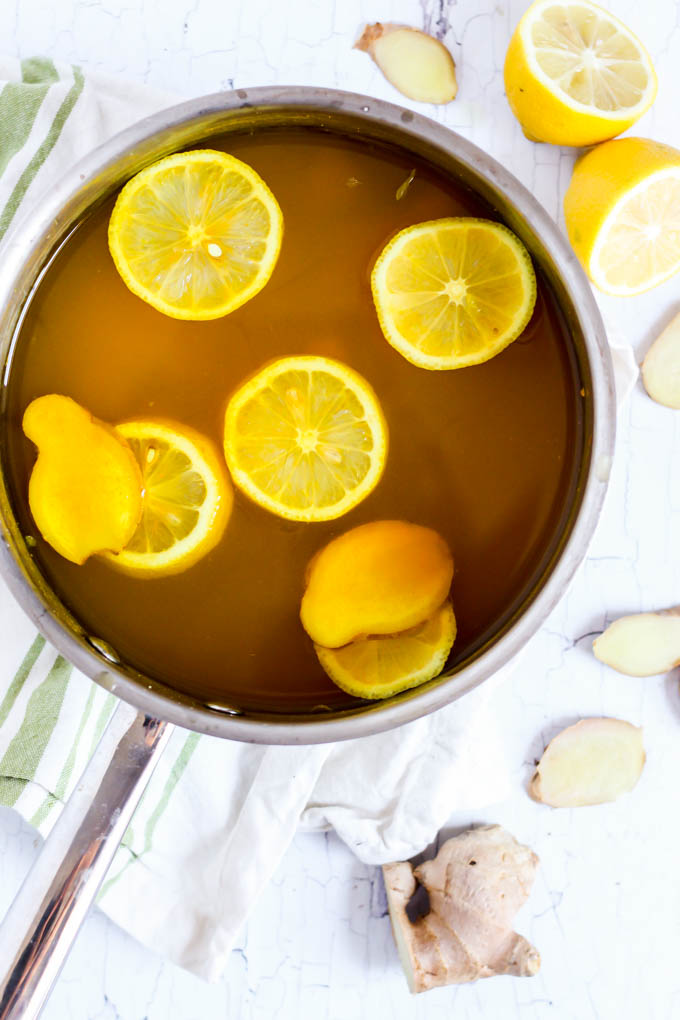 I've always loved sour and tart flavors—vinegars have always been my salad dressings of choice. Lately, I've been drinking a few teaspoons of apple cider vinegar with warm water right when I wake up, and I love it! The slight sourness keeps my eyes awake for 6 a.m. wake-up calls (thanks, summer school), and I feel like it just tells my body, let's goooooooo!
That concoction is great and everything, but I needed a little bit more pizazz after awhile. I'm really trying to implement a nourishing morning routine, so I've been doing feel-good things when I wake up to get started on the right foot.
Diffuse essential oils. Put on my fuzzy leopard-print slippers. Listen to a podcast. Read blogs. Drink a BIG cup of this turmeric lemon ginger tea that makes my insides feel all warm and cozy. It's like a hug in a cup!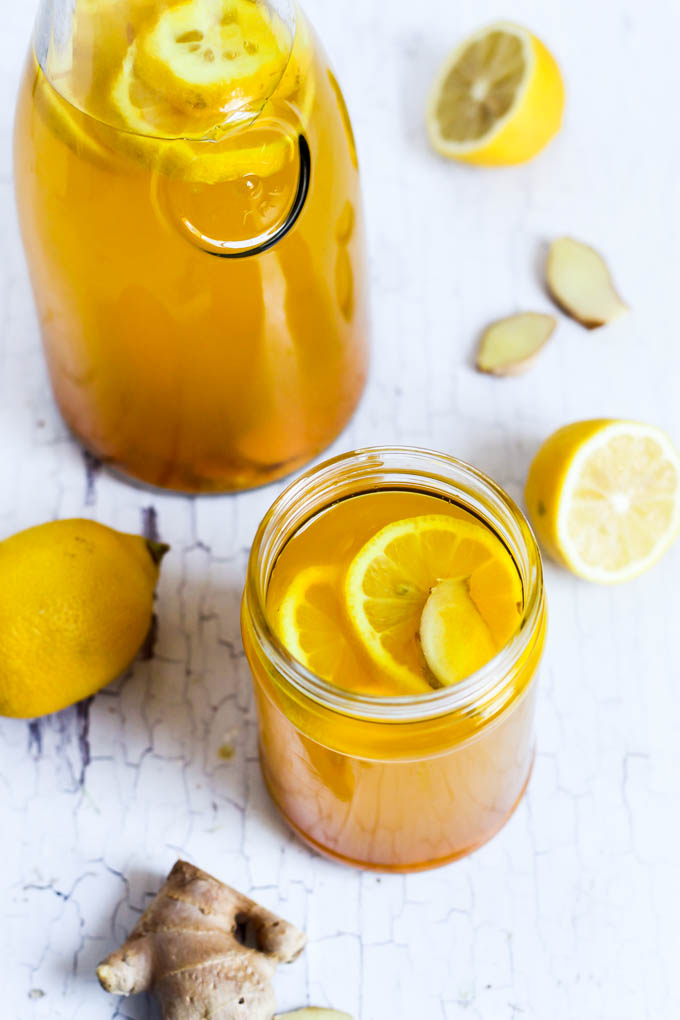 Let's break down the nourishing, gut-friendly ingredients in this beautiful morning tea:
TURMERIC. By now, you probably know what turmeric is (basically the new kale). It's a spice made yellow by a compound called curcumin, which may have powerful anti-inflammatory and antioxidant effects.
LEMON. When life hands you lemons, hoard them all to make tea. We know them and love them for their vitamin C content, but they also contain a wide variety of other vitamins and minerals!
GINGER. In the same family as turmeric, ginger is a root that has been used for years and years to treat digestive issues and nausea. This study found that it's anti-inflammatory properties can reduce muscle pain after exercise!
POMPEIAN ORGANIC APPLE CIDER VINEGAR. This is one of those must-be-in-my-pantry-at-all-times items. I use it for baking, salad dressings, beet ketchup (with sweet potato fries, of course!), and my morning cup of warm tea.
It's very important to buy apple cider vinegar unpasteurized and "with the mother" — Pompeian Organic Apple Cider Vinegar is my go-to because it's accessible and affordable ($3 a bottle!). The mother is what contains all the healthy bacteria filled with antioxidants—called polyphenols—that may improve digestion, boost your immune system, soothe a sore throat, and keep your skin looking 💯.
Remember it like this: your mother is good and wonderful and amazing, so you want to keep her. Same with Pompeian Organic Apple Cider Vinegar!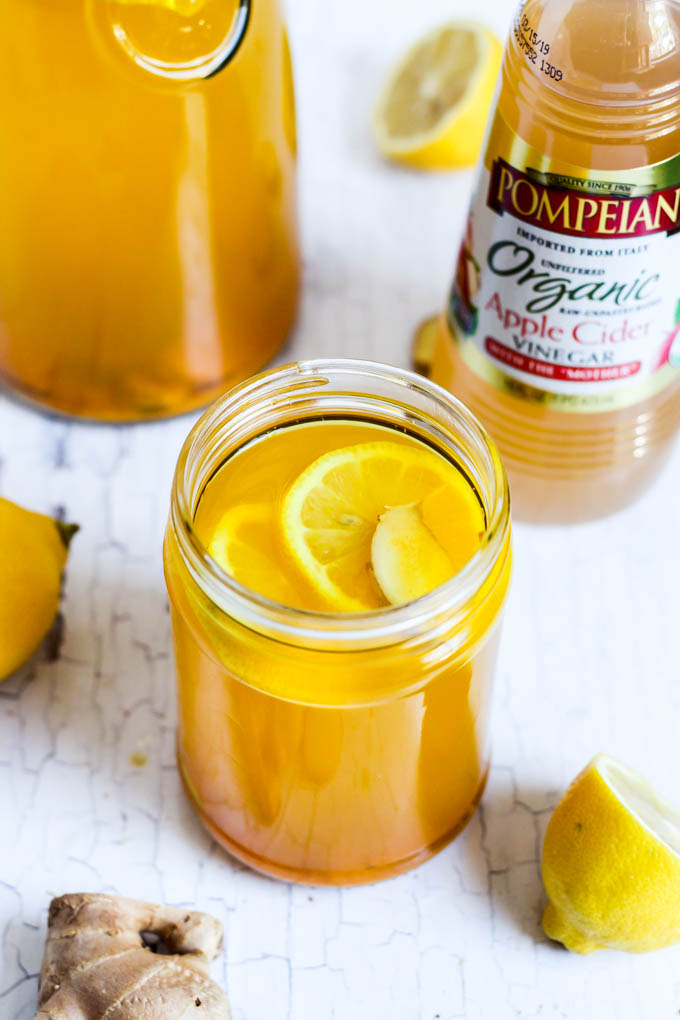 So grab your 5 ingredients, a pot, and make this nourishing turmeric lemon ginger tea to have tomorrow morning! Your I-want-to-go-back-to-bed-right-now self will thank you. 😊
Cheers!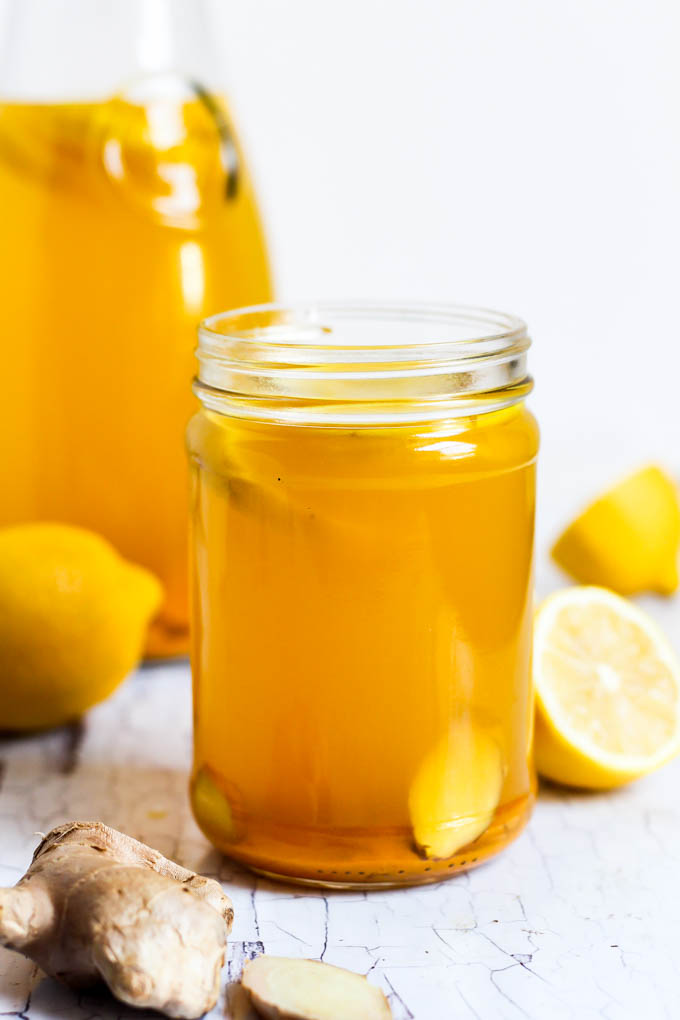 Print
How to make:
Turmeric Lemon Ginger Tea
Amp up your morning routine with this warm, nourishing Turmeric Lemon Ginger Tea! It's full of antioxidants and vitamin C to start your day feeling great.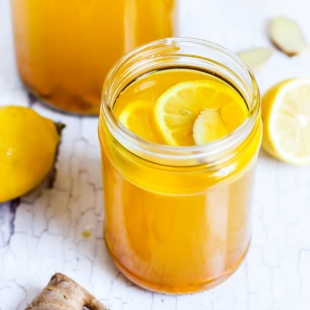 Ingredients
4 cups

water

1/4 cup

Pompeian Organic Apple Cider Vinegar
Juice of

1

lemon

1

-inch knob of ginger, thinly sliced

1 teaspoon

ground turmeric
Instructions
In a medium saucepan over high heat, add water. Bring to a boil.
Remove from heat. Add Pompeian Organic Apple Cider Vinegar, lemon juice, ginger, and turmeric.*
Let cool for 5-10 minutes before serving.
Store in the fridge for up to 5 days in an airtight jar or container. Shake before serving.
Notes
*Here's a tip to avoid turmeric clumps! Add turmeric to a small bowl, then add a couple tablespoons of the hot water. Stir until smooth. Then pour into the pot with the rest of the ingredients!
Thanks to Pompeian for sponsoring this post! I love working with brands whose products I really love and would honestly recommend. Thank you for supporting this blog that I love oh-so-much!