This delicious, fluffy Pumpkin Cornbread is your new favorite side for a holiday dinner or weeknight meal! Plus, it's vegan & gluten-free!
Vegan Pumpkin Cornbread

I have a thing for cornbread. Can't you tell?
My healthy cornbread was one of the first recipes I posted here on my corner of the Internet (ugly pictures ftw), and then I hit you with these amazing blueberry cornbread muffins that are absolutely perfect for summer cookouts.
I decided I obviously needed to make a vegan cornbread recipe featuring none other than our fall time bff, pumpkin. Yup. Pumpkin cornbread is happening on your Thanksgiving table this year – you're welcome.
I made this Lentil and Butternut Squash Chili from Little Broken for dinner this week and obviously needed some cornbread to go on the side. I mean, you can't do chili right without cornbread! It is absolutely essential, no questions asked.
Well, a half full can of pumpkin puree was sitting in my fridge just waiting to be used, so I subbed that in for applesauce in my original recipe. WOW that was a great idea. This pumpkin cornbread has the BEST texture and it tastes like fall.
It was obviously my civic duty to share this with you today. I'm not just going to let you all down like that! Plus, it meant I had to make another batch of pumpkin cornbread to photograph… which is totally fine with me. 🙂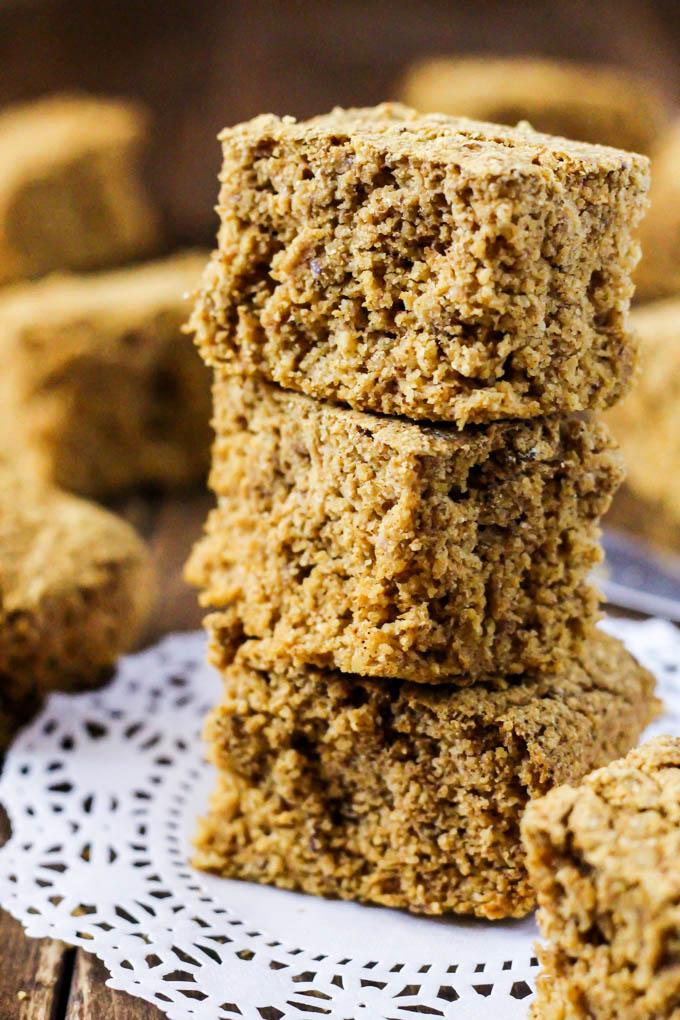 Ingredients for Pumpkin Cornbread
When does pumpkin season officially end? Because I'm not ready. What I love about pumpkin season is that people are literally throwing a vegetable into everything. A vegetable! I think we underestimate just how nutritious pumpkin is! It is truly a nutrition powerhouse! It's got that beta-carotene we love and it's a great source of fiber, potassium and tons of other nutrients. So keep throwing it into everything and stock up on the cans so you can reap the benefits all year long!
In addition to the pumpkin, here's everything you need to whip up a batch of vegan cornbread:
Flax meal. We're making a flax egg as a binding agent for our vegan cornbread.
Non-dairy milk. Any variety will work!
Apple cider vinegar. In lieu of buttermilk, a bit of ACV will give our vegan cornbread a subtle tanginess.
Fine cornmeal. Make sure you get fine cornmeal, not course!
Oat flour. Not only does oat flour make this a gluten-free cornbread, but it also packs in more fiber and plant-based protein.
Baking powder. This is how we're getting this pumpkin cornbread to turn out super fluffy!
Spices. You'll want cinnamon, cloves, allspice, ginger and nutmeg, or you could use a pumpkin pie spice. We'll also be adding a bit of salt to balance everything out.
Pumpkin puree. Make sure you grab a can where pumpkin is the only ingredient on the label! We don't want pumpkin pie filling for this recipe, just plain pumpkin!
Coconut sugar. You can scale up or down on the sugar, depending on how sweet you want your pumpkin cornbread. You could also use plain white granulated sugar.
Vanilla extract. This really warms up all the flavors and takes this pumpkin cornbread over the edge.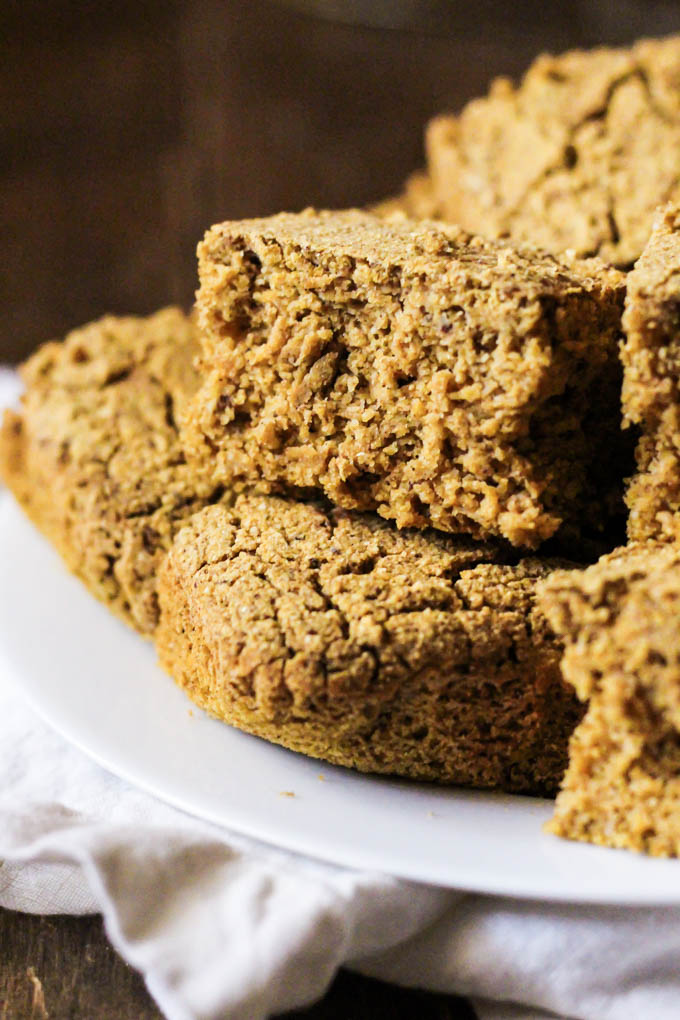 How to Make Vegan Pumpkin Cornbread
I might be will definitely be serving this up on the side of our Thanksgiving dinner this year. Not only is it the perfect compliment to all of the other delicious Thanksgiving dishes that you know and love, but it's also so easy to make. One less time-intensive recipe to whip up while you focus your energy on some of the bigger dishes!
Prepare your flax egg (water + flax meal) in one bowl and your vegan buttermilk (non-dairy milk + vinegar) in another bowl and let both sit for about 10 minutes. Meanwhile, you can mix all your dry ingredients together in a bowl. Once your vegan buttermilk and flax egg have finished resting, add those into a bowl with your pumpkin, sugar and vanilla. Mix up all the wet ingredients, then pour them into the bowl with your dry ingredients.
This part is important! You want to mix everything GENTLY and stop when they've juuuuust come together. We do not want to overdo it with the mixing here. Then pour the patter into a prepped pan and bake in a 375F oven for about 25 minutes.
I promised it was simple! You could probably whip up this whole pumpkin cornbread recipe while you're waiting on another dish to finish cooking on the stove!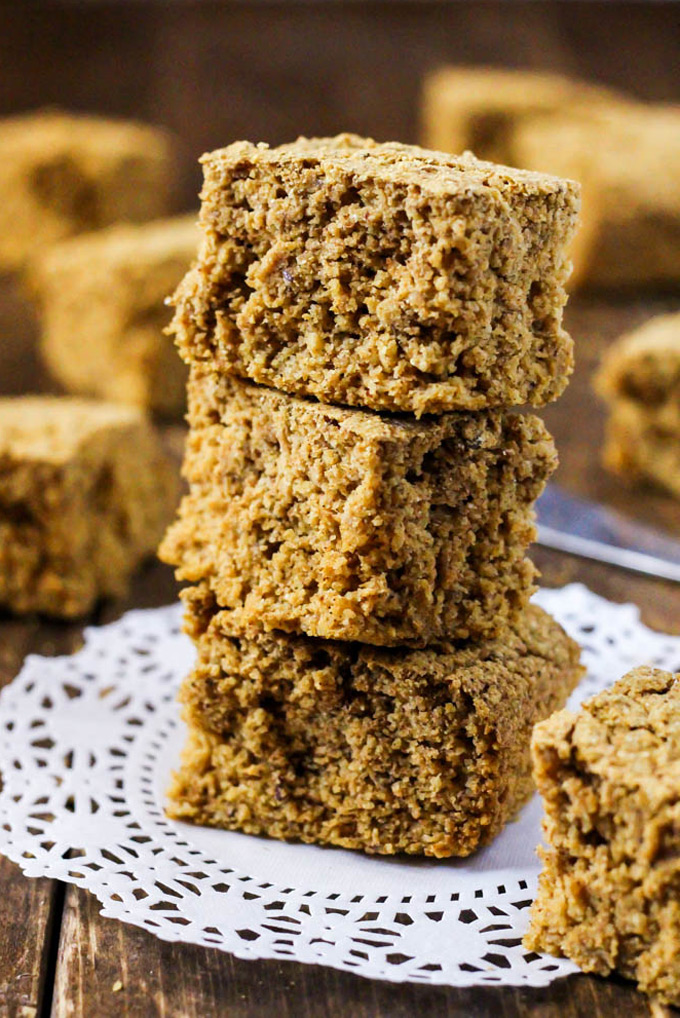 More Vegan Pumpkin Recipes
I have lots of autumnal pumpkin goodness on the site, both savory and sweet! If you're looking for more delicious and simple vegan pumpkin recipes to make this fall, check out some of these favorites!
Print
How to make:
Vegan Pumpkin Cornbread
This delicious, fluffy Pumpkin Cornbread is your new favorite side for a holiday dinner or weeknight meal! Plus, it's vegan & gluten-free!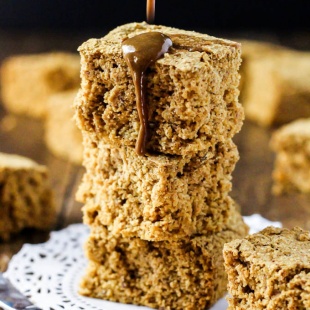 Ingredients
1 tablespoon

flax meal +

2 1/2 tablespoons

water

3/4 cup

+

1 tablespoon

non-dairy milk

1 teaspoon

apple cider vinegar

1 1/2 cups

organic fine cornmeal

1/2 cup

oat flour

2 teaspoons

baking powder

1 teaspoon

ground cinnamon

1/2 teaspoon

salt

1/2 teaspoon

ground cloves

1/2 teaspoon

ground allspice

1/4 teaspoon

ground ginger

1/4 teaspoon

ground nutmeg

1/4 teaspoon

baking soda

1/2 cup

+

2 tablespoons

pure pumpkin puree

3

–

4

tablespoons coconut sugar, depending on how sweet you want your bread

1 teaspoon

vanilla extract
Instructions
Preheat oven to 375F. Grease an 8-inch x 8-inch pan, or line with parchment paper or foil.
In a small bowl, combine flax meal and water; set aside in the fridge. In another small bowl, add milk and vinegar; stir. Let the mixtures sit for 10 minutes.
In a large bowl, place cornmeal, oat flour, baking powder, cinnamon, salt, cloves, allspice, ginger, nutmeg, and baking soda; stir.
In the bowl with the milk mixture, add the flax egg, pumpkin, sugar, and vanilla. Whisk to combine.
Slowly pour wet ingredients into the dry ingredients. Stir until just combined, but do not over-mix.
Pour the batter into the prepared pan. Bake for 23-25 minutes, or until a toothpick inserted into the center comes out clean.
Remove from the oven; let the bread cool in the pan for a few minutes before serving.