I have a thing for cornbread. Can't you tell?
My healthy cornbread was one of the first recipes I posted here on my corner of the Internet (ugly pictures ftw), and then I hit you with these amazing blueberry cornbread muffins that I pretty much finished off by myself in two days. Totally normal.
I obviously needed to PUMPKIN-fy some fluffy cornbread. Yes, I just made that a word. Pumpkin cornbread is happening on your Thanksgiving table – you're welcome.
I made lentil and butternut squash chili for dinner this week (this recipe!) and obviously needed some cornbread to go on the side. I mean, you can't do chili right without cornbread! It is absolutely essential, no questions asked.
Well, a half full can of pumpkin puree was sitting in my fridge just waiting to be used, so I subbed that in for applesauce in my original recipe. WOW that was a great idea. I documented the magical swap on my Instagram stories (follow me!), and you guys begged me for the pumpkin cornbread recipe.
It was obviously my civic duty to share this with you today. I'm not just going to let you all down like that! Plus, it meant I had to make another batch of cornbread to photograph… which is totally fine with me. 🙂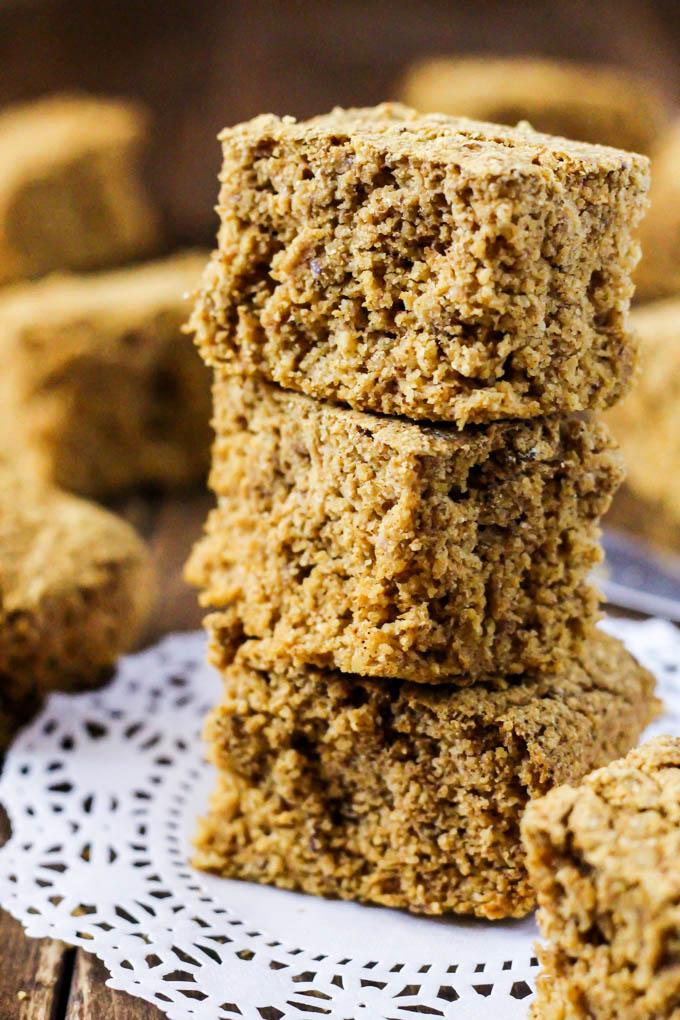 When does pumpkin season officially end? Because I'm not ready. I want to keep throwing pumpkin into all the things like oatmeal and cornbread and biscuits and pancakes. Can pumpkin season last forever?? Let's start a petition, fam.
What I love about pumpkin season is that people are literally throwing a vegetable into everything. A vegetable! I think we underestimate just how nutritious pumpkin is! Maybe because we pair it with pounds of sugar and butter and weird pumpkin flavored syrup (yuck).
But in its bare form, pumpkin is a nutrition powerhouse! It's got that beta-carotene we all love for good eyes. Now that I think about it, lots my favorite foods are orange – pumpkin, sweet potatoes, carrots…how am I not orange yet? Anyway, pumpkin is also a great source of fiber, potassium and other nutrients. So keep throwing it into everything and stock up on the cans so you can reap the benefits all year long!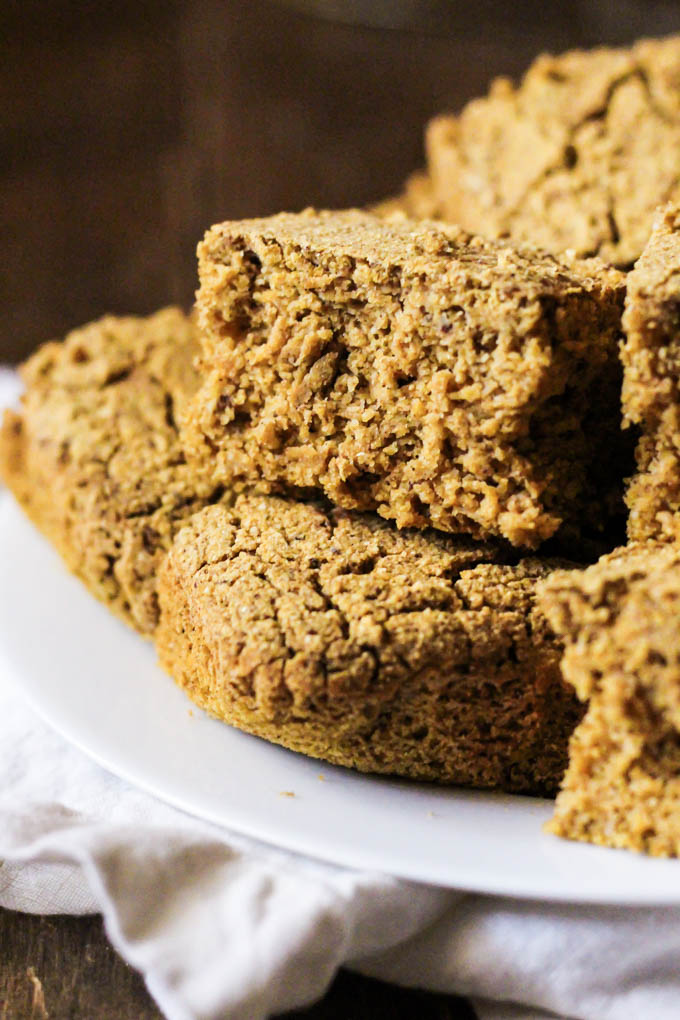 I might be will definitely be serving this up on side of our Thanksgiving dinner next week. So far, I'm making a seitan roast & this cornbread, Mom's making green beans & sweet potato casserole, and my grandmaw is making my favorite (vegan) butter beans. We can't decide on what to make for dessert… pumpkin pie? pecan pie? one of everything??
What is your family serving for Thanksgiving? Do you have any traditional dishes you serve every year?
I highly recommend baking up a batch of these before Thanksgiving so you can have it all to yourself, and then making a second batch to share. 😉 If you try it, let me know in the comments. Or, take a pic for Instagram, tag @emilieeats & #emilieeats!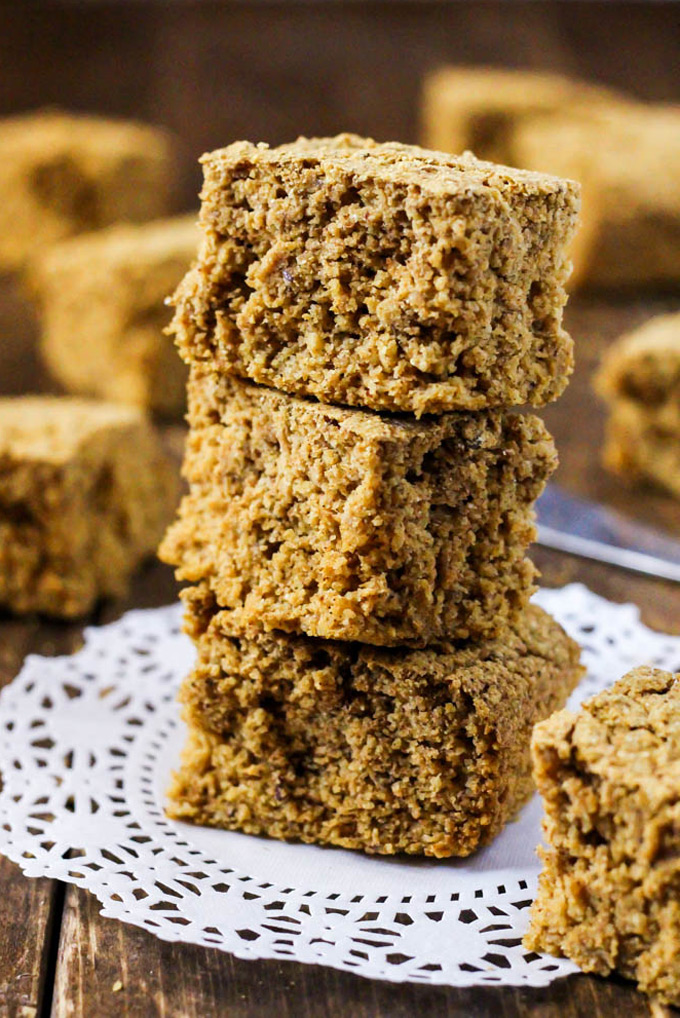 Print
How to make:
Vegan Pumpkin Cornbread (gluten-free)
This delicious, fluffy Vegan Pumpkin Cornbread is your new favorite side dish for a holiday dinner or weeknight meal! Gluten-free & oil-free.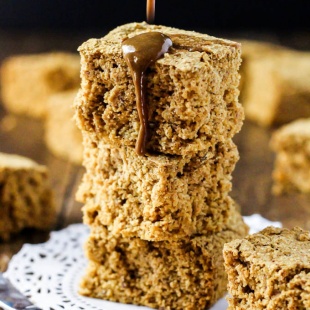 Ingredients
1 tablespoon

flax meal +

2 1/2 tablespoons

water

3/4 cup

+

1 tablespoon

non-dairy milk

1 teaspoon

apple cider vinegar

1 1/2 cups

organic fine cornmeal

1/2 cup

oat flour

2 teaspoons

baking powder

1 teaspoon

ground cinnamon

1/2 teaspoon

salt

1/2 teaspoon

ground cloves

1/2 teaspoon

ground allspice

1/4 teaspoon

ground ginger

1/4 teaspoon

ground nutmeg

1/4 teaspoon

baking soda

1/2 cup

+

2 tablespoons

pure pumpkin puree

3

–

4

tablespoons coconut sugar, depending on how sweet you want your bread

1 teaspoon

vanilla extract
Instructions
Preheat oven to 375F. Grease an 8-inch x 8-inch pan, or line with parchment paper or foil.
In a small bowl, combine flax meal and water; set aside in the fridge. In another small bowl, add milk and vinegar; stir. Let the mixtures sit for 10 minutes.
In a large bowl, place cornmeal, oat flour, baking powder, cinnamon, salt, cloves, allspice, ginger, nutmeg, and baking soda; stir.
In the bowl with the milk mixture, add the flax egg, pumpkin, sugar, and vanilla. Whisk to combine.
Slowly pour wet ingredients into the dry ingredients. Stir until just combined, but do not over-mix.
Pour the batter into the prepared pan. Bake for 23-25 minutes, or until a toothpick inserted into the center comes out clean.
Remove from the oven; let the bread cool in the pan for a few minutes before serving.