Cozy up with a bowl of the best vegan chili! This easy vegan chili recipe is as classic as it gets – one pot, no fancy ingredients and no fuss!
Classic Vegan Chili
I'm not sure how, but it's somehow already November! And that means we are in the thick of chili season my friends.
The start of November also means the holidays are riiiiight around the corner. And I don't know about you, but this is the time of year that I really lean on my go-to, easy recipes. I feel like I spend so much time cooking over the course of the last couple months of the year that on the weeknights I really want something straightforward and simple. No fancy equipment, no fancy ingredients, no fancy cooking techniques. Like just let me throw a bunch of stuff into a pot and call it a day.
That's where recipes like this classic vegan chili come in. There are no frills with this recipe. It's the same bowl of chili you know and love from your childhood, but with plant-based ingredients instead! Most of this recipe is hands-off cooking – all you've gotta do is chop up some veggies, give everything a quick sautee, then let this vegan chili do its thang while it simmers away on the stove.
It's delicious, it's hearty it's and most importantly, it's SIMPLE!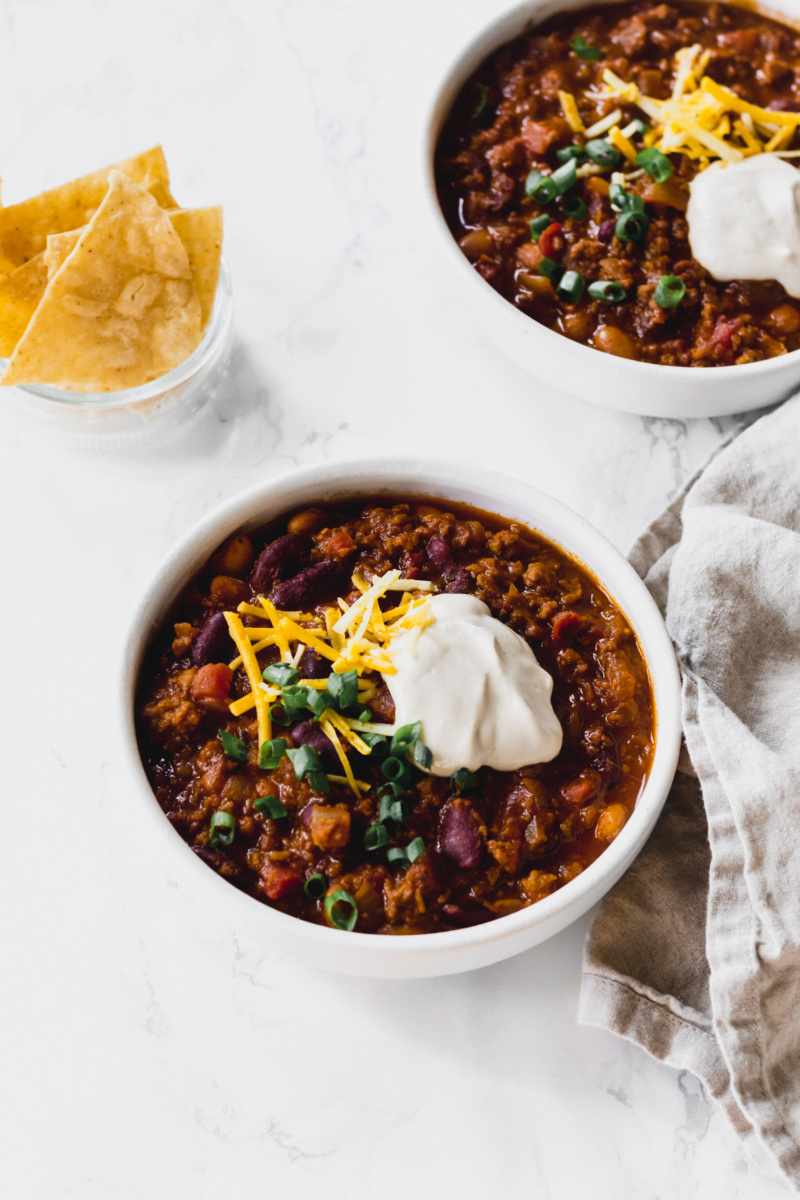 Ingredients for This Vegan Chili
We're keepin' it real simple folks. All you need to make this vegan chili is a handful of pantry ingredients a pack of vegan ground beef.
There are PLENTY of veggie and bean-based vegan chilis out there, and this is not that kind of vegan chili! I wanted something super classic like the chilis you might have grown up with, but just plant-based. So we're swapping the ground beef for vegan ground, grabbing a few cans of beans, tossing in some tomatoes with plenty of spices and letting the stove do all the heavy lifting. Here's everything you'll need:
Olive oil. Like all things good in life, this recipe starts with sauteed onion and garlic.
Yellow onion. See above 🙂
Garlic. I recommend using fresh garlic cloves for this recipe. We're using mostly pantry ingredients, so a bit of fresh garlic goes a long way to add flavor to this vegan chili.
Vegan ground beef.  I recommend something like Impossible Burger Ground or Beyond Beef Ground, but any type of vegan beef ground or crumbles will work.
Tomato paste. In addition to the canned tomatoes, tomato paste gives our chili that rich depth of flavor you crave when you're in the mood for chili.
Spices. You'll need chili powder, cumin, cayenne, salt and pepper. Feel free to scale the cayenne up or down depending on your spice preferences.
Sugar. This helps to balance out all the spices and the acidity from the tomatoes.
Vegan beef broth. If you don't have or can't find a vegan beef broth, any kind of vegetable broth will work!
Canned tomatoes. Any kind will work! Diced, fire-roasted, crushed – use what you've got!
Beans. I used both kidney beans and pinto beans in this recipe. You could also use black beans if you'd like.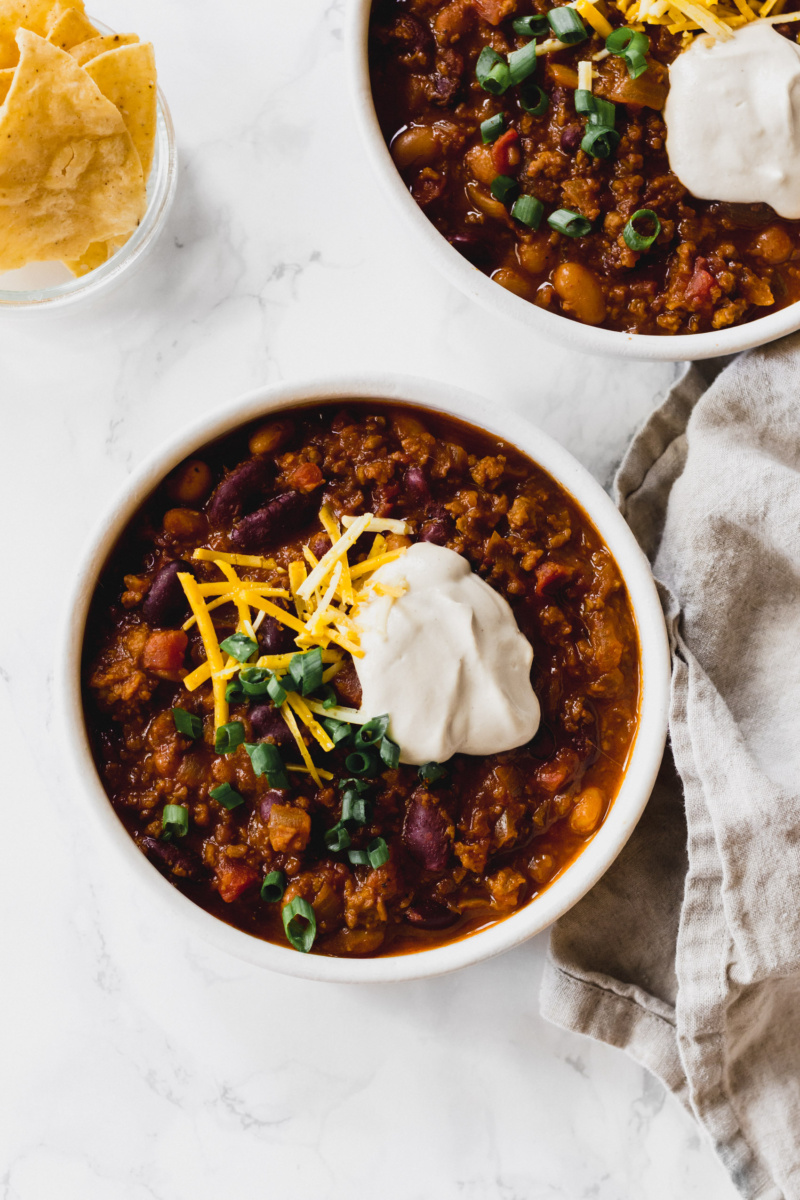 How to Make Vegan Chili
Most of this vegan chili recipe is hands-off cooking, which makes it the ideal weeknight dinner recipe.
It all starts by sautéing your onions in a bit of olive oil. Once your onions start to soften and are lightly browned, add in your garlic and cook until fragrant. Next, add in your vegan ground beef and break it up into chunks with a wooden spoon or spatula. Brown the vegan mean for about 5 minutes or so, then toss in the tomato paste, sugar and all your spices until they get nice and toasty.
Finally, add in your broth, diced tomatoes with their juices and the beans and bring your vegan chili up to a boil. Once it boils, reduce the heat to low and let it hang out uncovered. I recommend cooking it for at least 15 minutes so all the flavors can come together, but you could also let it go longer to really let the flavors develop.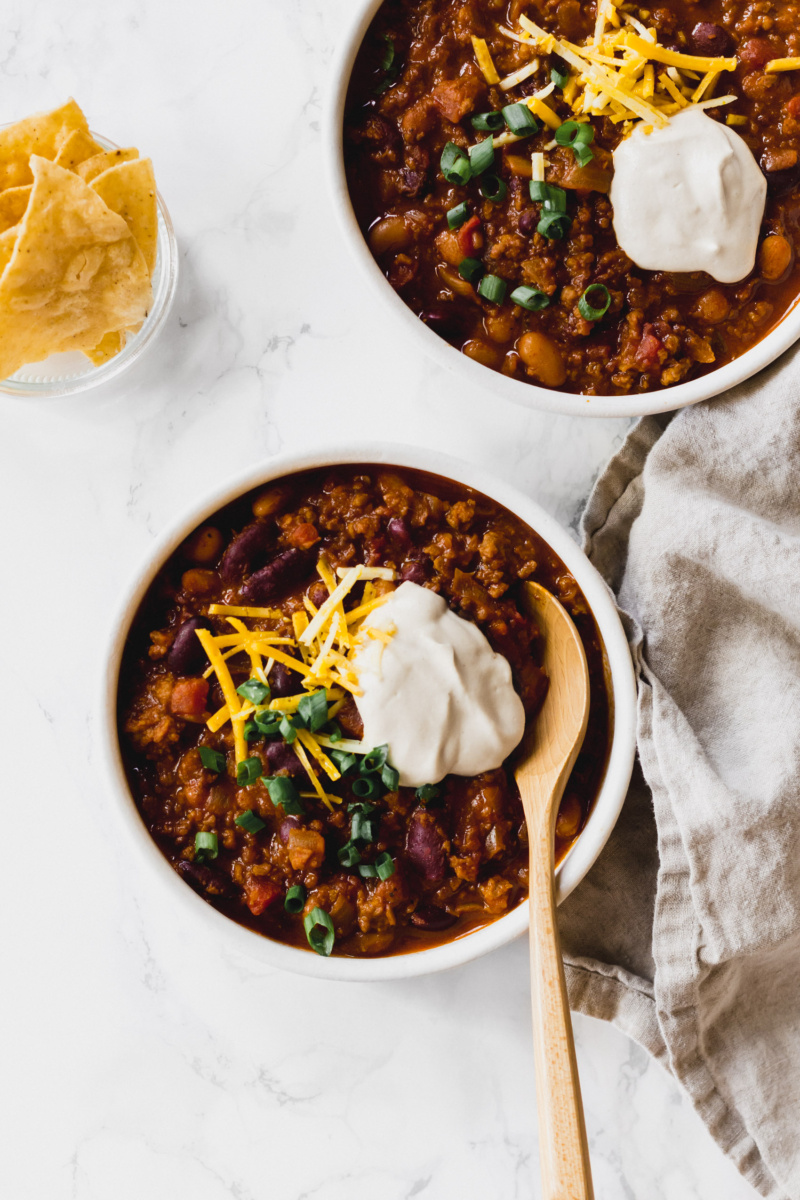 How to Serve this Vegan Chili
A big pot of chili is the perfect thing to throw together when you're hosting friends or family because you can really make it your own with toppings!
My Vegan Sour Cream recipe is quite literally made for this vegan chili. Like, I developed the recipes together at the same time. I also love a sprinkle of vegan shredded cheese and chopped green onions for a little bit of freshness. If you like things a little spicy, you could chop up some fresh jalapeno. And you definitely can't go wrong with a side of tortilla chips!

More Vegan One Pot Recipes
Anything that comes together in one pot is immediately a good contender for a weeknight dinner recipe in my book. Less dishes = less stress = more time to do literally anything else. If you're looking for more delicious vegan one pot recipes, give these a try!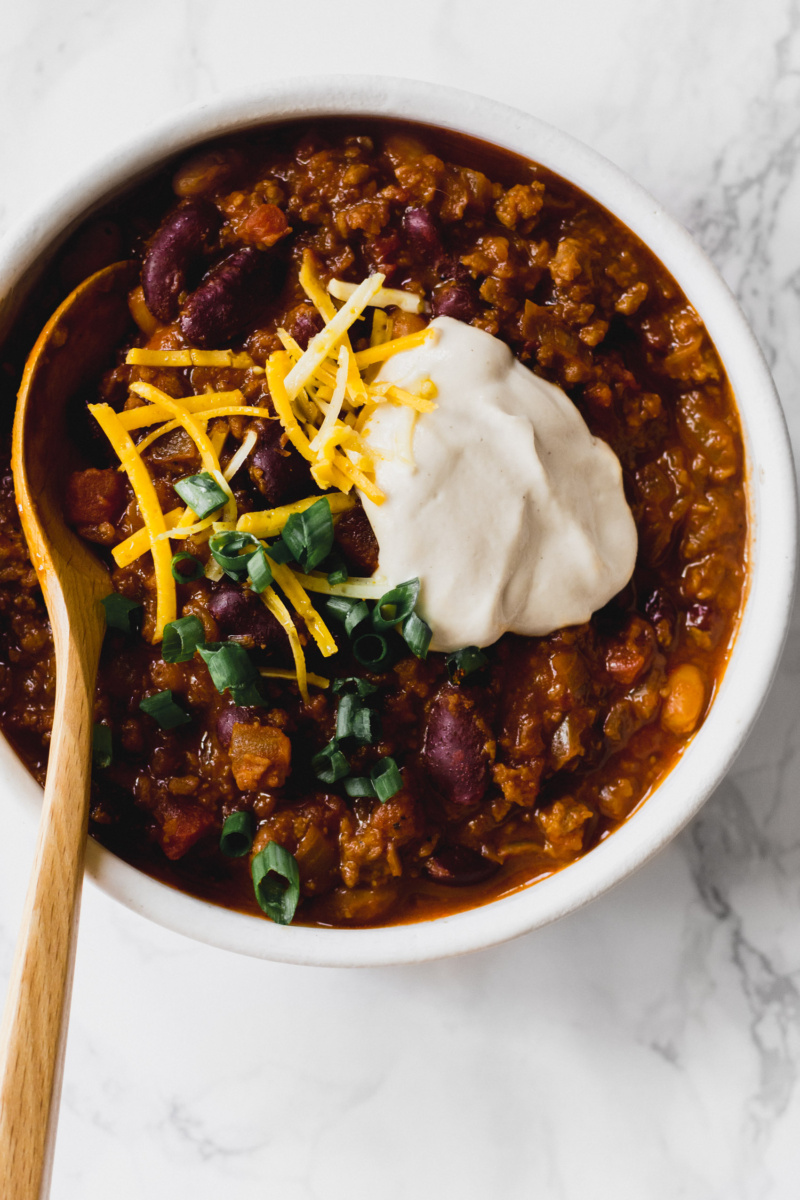 Print
How to make:
Classic Vegan Chili
Cozy up with a bowl of the best vegan chili! This easy vegan chili recipe is as classic as it gets – one pot, no fancy ingredients and no fuss!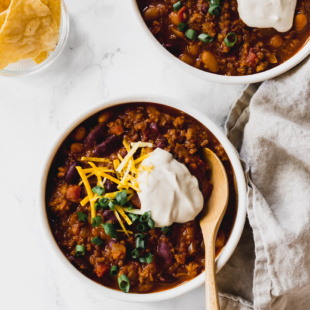 Ingredients
1 tablespoon

olive oil

1

yellow onion, diced

4

cloves garlic, minced

1

pound vegan ground beef*

1

8-ounce can tomato paste

2 tablespoons

chili powder

2 teaspoons

ground cumin

1 teaspoon

sugar

1/2 teaspoon

ground black pepper

1/2 teaspoon

salt

1/4 teaspoon

ground cayenne pepper

1

14.5-ounce can diced tomatoes, with juice

2 cups

vegan beef broth (or vegetable broth)

1

15-ounce can kidney beans, drained and rinsed

1

15-ounce can pinto beans, drained and rinsed
Vegan sour cream, for topping
Vegan shredded cheddar cheese, for topping
Sliced green onions, for topping
Instructions
In a large pot over medium heat, add oil. When hot, add onion. Cook 7-10 minutes, stirring frequently, until lightly browned. Add garlic; cook 1-2 minutes, until fragrant.
Add vegan ground beef. Break apart into small pieces with a wooden spoon. Cook 5-7 minutes, until browned all the way through. Add tomato paste, chili powder, cumin, sugar, black pepper, salt, and cayenne pepper; stir. Cook for 1 minute.
Add broth, diced tomatoes with juice, kidney beans, and pinto beans; stir. Turn heat to high and bring chili to a boil. Turn heat to low; simmer uncovered for 15 minutes.
Top chili with sour cream, cheese, and green onions.
Notes
*Examples of this are Beyond Beef Plant-Based Ground and Impossible Plant-Based Burger Ground. You could also use vegan ground crumbles.