This post was sponsored by Lily's Sweets. I only work with brands whose products and missions I truly believe in. Thanks for supporting my blog!
I'm truly a creature of habit when it comes to breakfast. I see so many delicious breakfast recipes popping up on my Instagram and Pinterest, and being the hardcore breakfast lover that I am, I want to make it all. However, most of the time, you can find me with either oatmeal, a smoothie bowl or avocado toast in the mornings.
Maybe it's just because when I wake up, the crazy hunger monster in me awakes as well and there's no way I can wait for cinnamon rolls to bake or blueberry pancakes or even baked oatmeal. BUT, in an effort to use up the many, many ingredients in my pantry and to switch things up a bit, I'm going to start making more fun breakfasts.
So, chocolate chip zucchini banana breakfast bars? Sounds pretty fun.
Don't freak out that I snuck a whole CUP of zucchini in here. Besides seeing those little green flecks, you won't even know there's zucchini in here. If we're being honest here, I feel awesome seeing those little green flecks, taking a huge bite of one of these bars and saying, "Wow, these taste like dessert. But there's vegetables in here. And no added sugar."
👆🏼 How to Win at Breakfast: Part I.
That's right, friends, no added sugar and no gluten, but lots of hidden vegetables, chocolate, banana, fluffiness and overall deliciousness. Is it a blondie? A breakfast bar? Cake??? Healthy breakfast cake…I like the sound of that.
[Tweet "Cake for breakfast? Basically. #Vegan #Glutenfree Choco Chip Zucchini Banana Breakfast Bars."]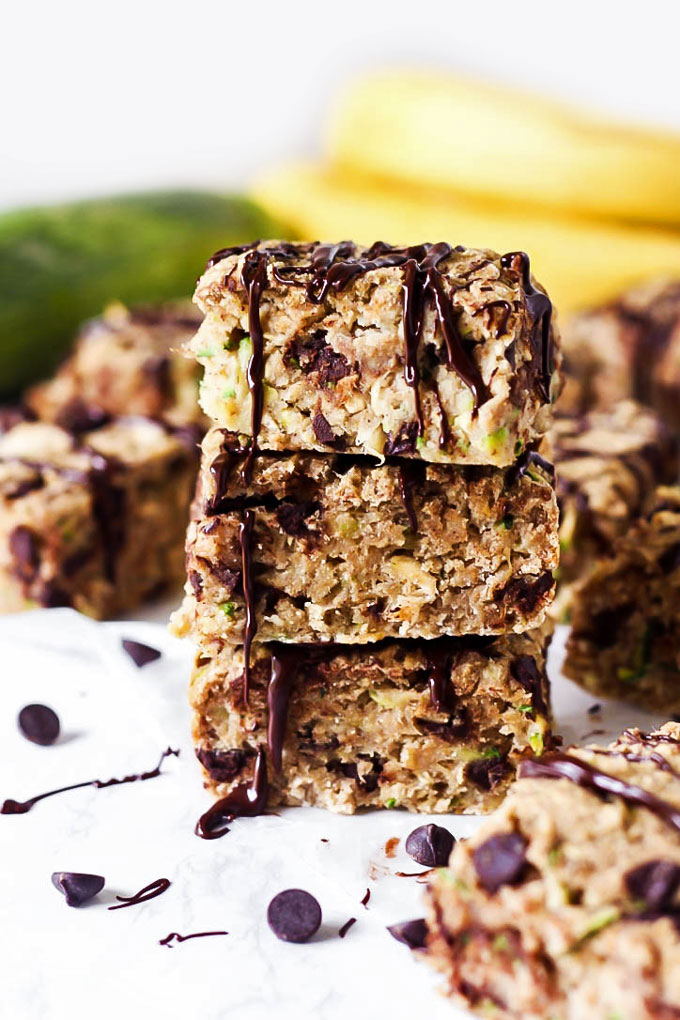 These use some super simple ingredients you probably have on hand, but if you don't, go buy them now because you're going to want these bars every week for breakfast/snack/dessert. Oats, coconut flour (which gives them a tender chewiness), banana, zucchini, applesauce and chocolate chips. Simple, right? Everything you want in a breakfast and nothing you don't.
They bake for about 30 minutes, so you may want to make them the night before so the hunger monster in you doesn't get mad in the morning when you're waiting for these. Which works out, because then you can enjoy one (or three) straight from the oven, warm and drizzled in chocolate, for a nighttime dessert. Best of both worlds.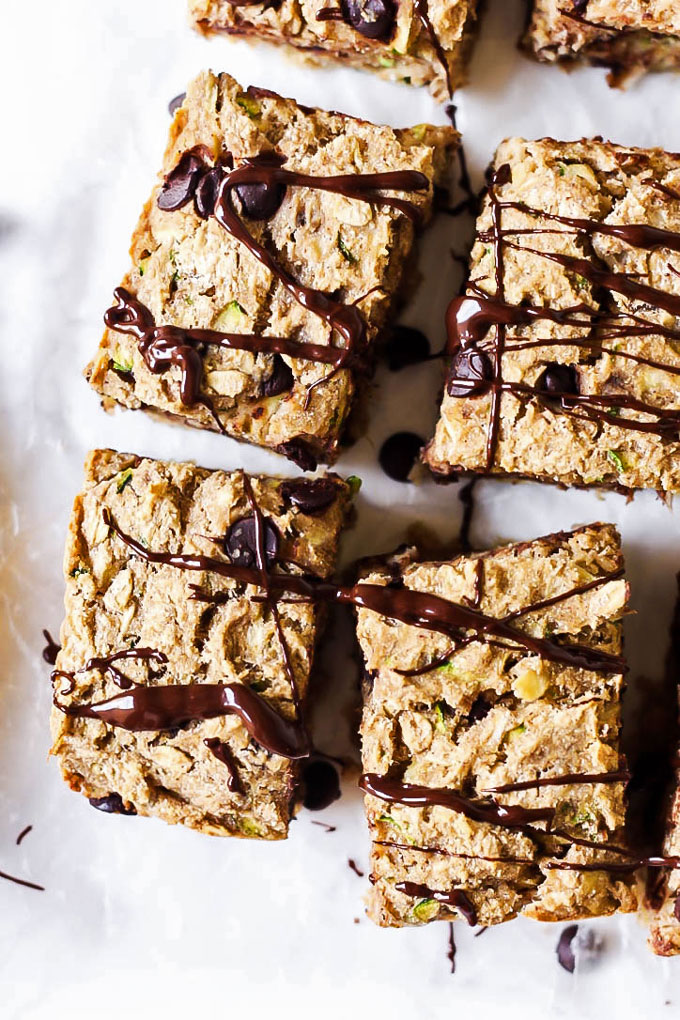 To keep these completely added-sugar free, I used my favorite Lily's Sweets Dark Chocolate Premium Baking Chips! I know what you're saying…But you said no added sugar! You're using chocolate chips! What makes Lily's special is that all of their chocolates are stevia-sweetened and contain 20-25% less calories than their traditional counterparts. Which obviously means more chocolate for us to enjoy!
If you're not familiar with stevia, it's a plant-based, zero-calorie sweetener made from the leaves of the Stevia rebaudiana plant. I've been using 100% liquid stevia extract in tea and such for a couple years, so I've gotten used to the sometimes bitter taste. To make sure Lily's chocolates were not at all bitter, I gave a square to my boyfriend without telling him it was no-sugar chocolate – he didn't notice a thing. Since then, multiple friends, my boyfriend and I have gone through too many bars to count. Stevia-sweetened, friend approved✔️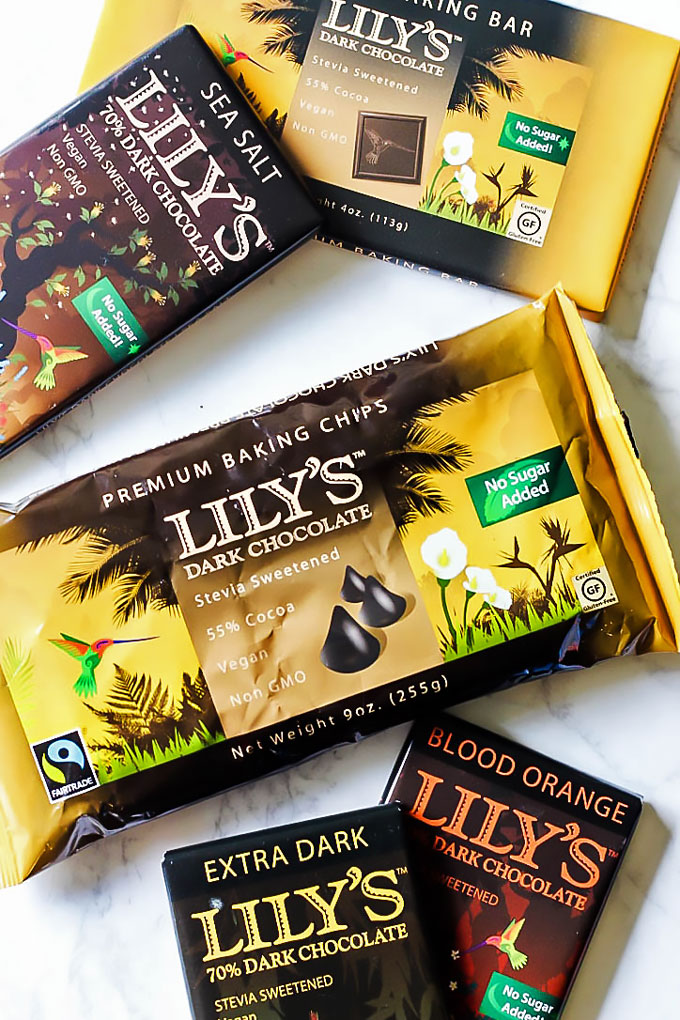 I can't say enough good things about Lily's chocolates, but by far the best part of the company is the heart behind it all. Lily's was actually named after a childhood cancer survivor, and that mission has stuck with the company since then. They are proud supporters of non-profit organizations dealing with children with cancer and their families. Plus, their chocolate is certified Fair Trade, non-GMO and gluten-free.
When you can enjoy some chocolate and support an awesome cause, THAT'S what you can feel good about.
It's kind of like these banana breakfast bars – they taste amazing and decadent, but you can also feel good about getting in some greens and nourishing your body with wholesome ingredients. Double win.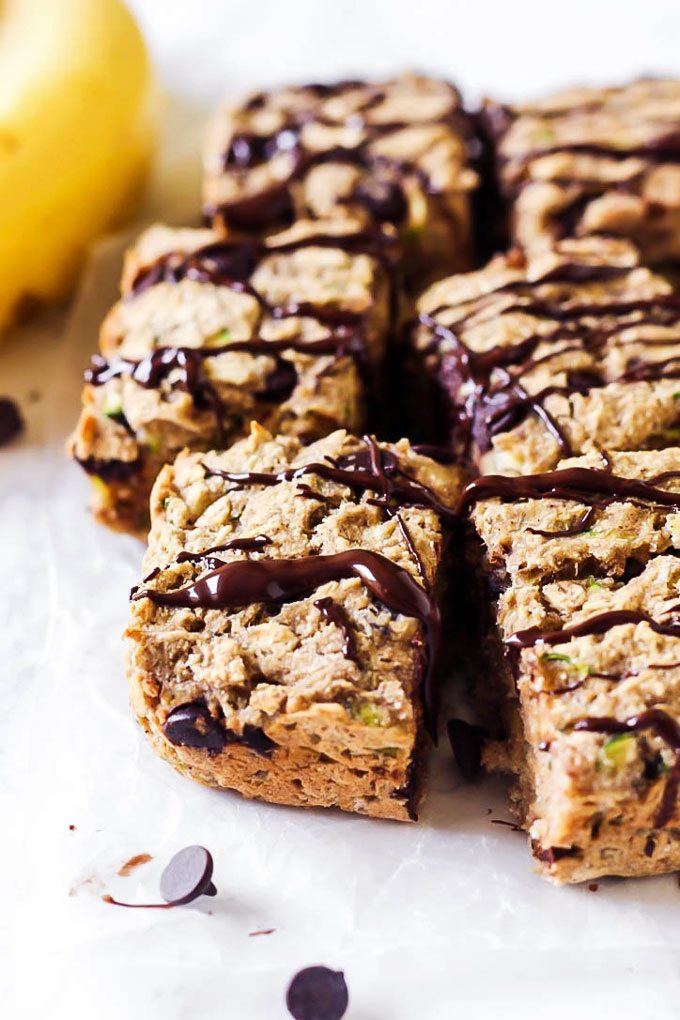 If you need a delicious little break from your normal breakfast routine, you're at the right place. These are fluffy, cake-y, just sweet enough and studded with chocolate chips (basically a formula for a perfect start to your day). I also love these as an afternoon snack drizzled in peanut butter!
Let me know in the comments if you get to bake a batch of these! I'd love to see your breakfast bars on Instagram, too – tag me in your picture with @emilieeats & #emilieeats. I can't wait until you guys try these out!
Talk to me: The heart behind Lily's Sweets is supporting children with cancer. What's an issue or cause that's near and dear to you?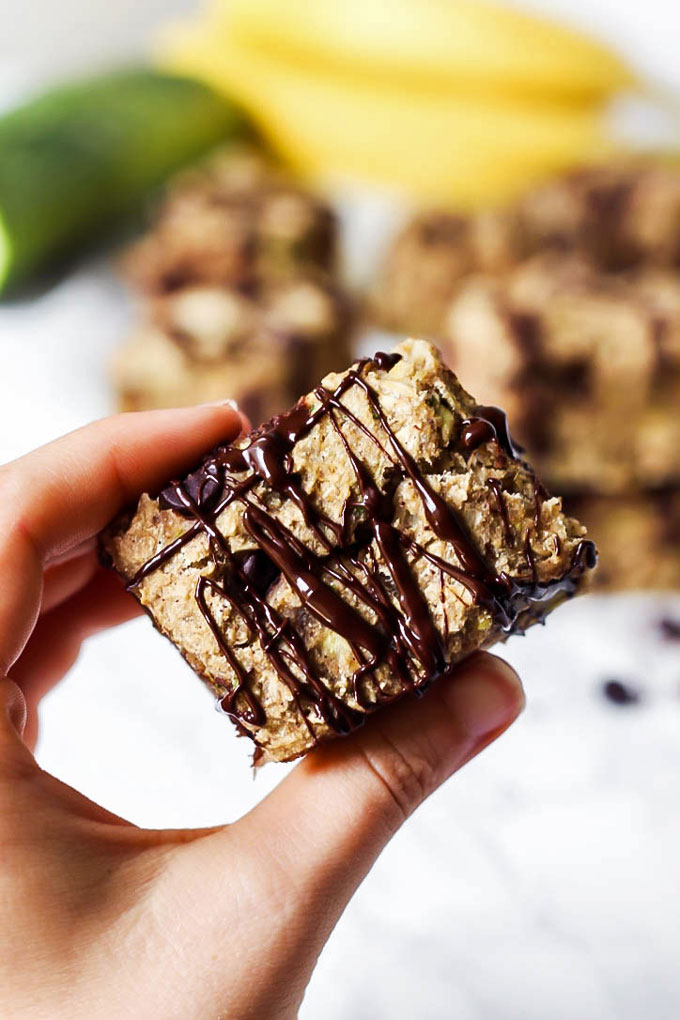 Print
How to make:
Chocolate Chip Zucchini Banana Breakfast Bars (vegan & gluten-free)
These Chocolate Chip Zucchini Banana Breakfast Bars are a healthy way to curb your sweet tooth AND get some greens in. They're fluffy, vegan & gluten-free!
Ingredients
Cooking spray or oil

1 cup

oat flour*

1/4 cup

old-fashioned rolled oats

1/4 cup

+

2 tablespoons

coconut flour

1 1/2 teaspoons

baking powder

1/2 teaspoon

baking soda

1/2 teaspoon

cinnamon

1/4 teaspoon

salt

2

ripe bananas, mashed

1 cup

zucchini, grated

1/2 cup

non-dairy milk

1/4 cup

unsweetened applesauce

2 teaspoons

vanilla extract

1/2 cup

Lily's Dark Chocolate Premium Baking Chips, plus more for drizzling
Instructions
Preheat oven to 350F. Lightly grease a 9×9 baking pan with cooking spray or oil.
In a large bowl, add oat flour, oats, coconut flour, baking powder, baking soda, cinnamon and salt. Stir to combine.
In a medium bowl, add mashed bananas, zucchini, milk, applesauce, and vanilla. Stir to combine.
Slowly pour wet ingredients into the dry ingredients and stir until just combined. Gently fold in the chocolate chips. Pour batter into the baking pan.
Bake for 30-35 minutes, until a toothpick inserted in the center comes out clean. Let cool in the pan for at least 10 minutes before slicing into 12 bars.
For the chocolate drizzle, add a couple tablespoons of chocolate chips in a small bowl. Microwave for 30 seconds, stir, and repeat until the chocolate is fully melted. Drizzle over the bars.
Store in an airtight container in the refrigerator for up to 5 days.
Notes
*To make your own oat flour, simply blend old-fashioned rolled oats in a blender or food processor until a fine flour forms.
Thanks to Lily's Sweets for sponsoring this post! I love working with brands whose products I really love and would honestly recommend. Thank you for supporting this blog that I love oh-so-much so I can bring you delicious recipes!