Step up your vegan meal prep game with this easy baked Teriyaki Tofu recipe! This tofu meal prep recipe holds up in the fridge all week long! This blog post is sponsored by Rubbermaid®. (Originally published January 13, 2020)
Teriyaki Tofu Meal Prep
I have a few things I'd like to get better at this year, including: taking care of my skin, getting to the gym at least 2 times a week, making big decisions, and actually making wholesome lunches that are ready to go. Lately, my lunches have just been whatever random things I have in the fridge thrown together – or sometimes a bag of crackers, hummus, and a piece of fruit. Emilie, you can do better!!
This year I want to be more intentional with the lunches I make so that I can stay properly fueled throughout the day.
I already have tons of healthy vegan meal prep recipes here on the blog, but since I'm perpetually craving Asian-inspired food, I whipped up this Baked Teriyaki Tofu for a simple meal prep.
Even if you work from home, it can be really challenging to find time in the middle of the day to make yourself a well-balanced lunch. Set yourself up for success this week by making a batch of this vegan teriyaki tofu meal prep! It's delicious and holds up perfectly for ready-to-go lunches all week long.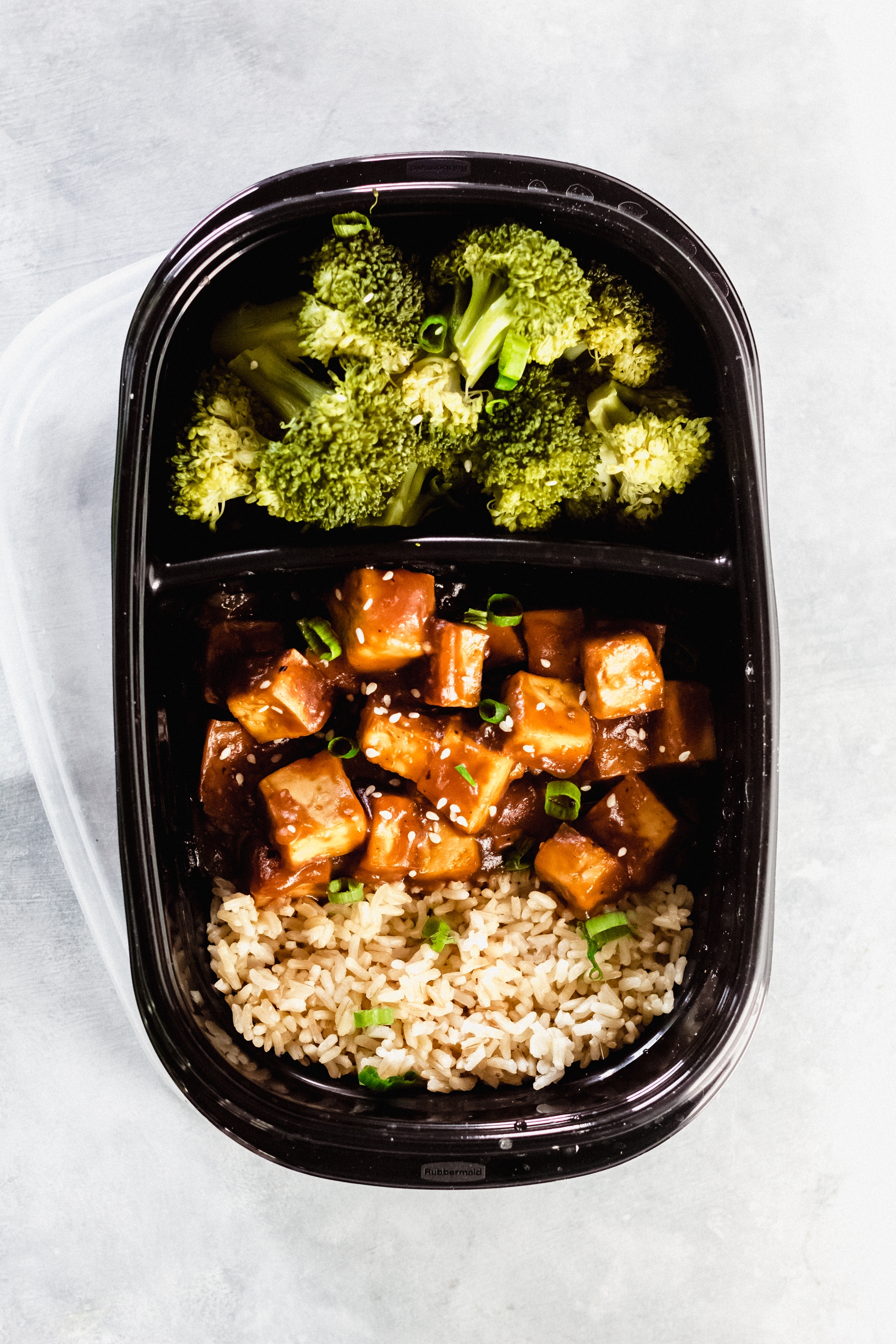 Ingredients for this Teriyaki Tofu Meal Prep Recipe
The key to a good vegan meal prep recipe is making sure the ingredients you're using will hold up well in the fridge. There's a reason why salads get gross by the end of the week when you try to meal prep them – lettuce is too delicate and it won't stand up well to dressings and toppings!
For this tofu meal prep recipe, we're keeping it simple and wholesome with ingredients that will not only stand up well in the fridge all week, but will also hold onto all their flavor.
Here's what you'll need to make the baked teriyaki tofu:
Tofu. Go for extra-firm for this recipe, and make sure you take the time to drain it well and press it.
Soy sauce. Did you know you can make your own low-sodium soy sauce by diluting a regular bottle with water? Save money, and double the amount you get for the same price!
Brown sugar. A bit of brown sugar will help us create a teriyaki stir fry sauce with that classic salty, sweet flavor we're looking for.
Rice vinegar. I recommend using unseasoned rice vinegar so you can control the seasonings yourself based on your preference.
Sesame oil. This will add a ton of flavor to this tofu meal prep recipe.
Garlic. We're mincing three fresh cloves of garlic for this recipe.
Ground ginger. You could also use freshly grated ginger if you prefer.
Cornstarch. This will help thicken the teriyaki stir fry sauce.
Sides. I recommend pairing this baked teriyaki tofu with brown rice and steamed broccoli. To keep your meals interesting throughout the week, you can switch up the rice for noodles or quinoa, and the broccoli for bell peppers or carrots and onions.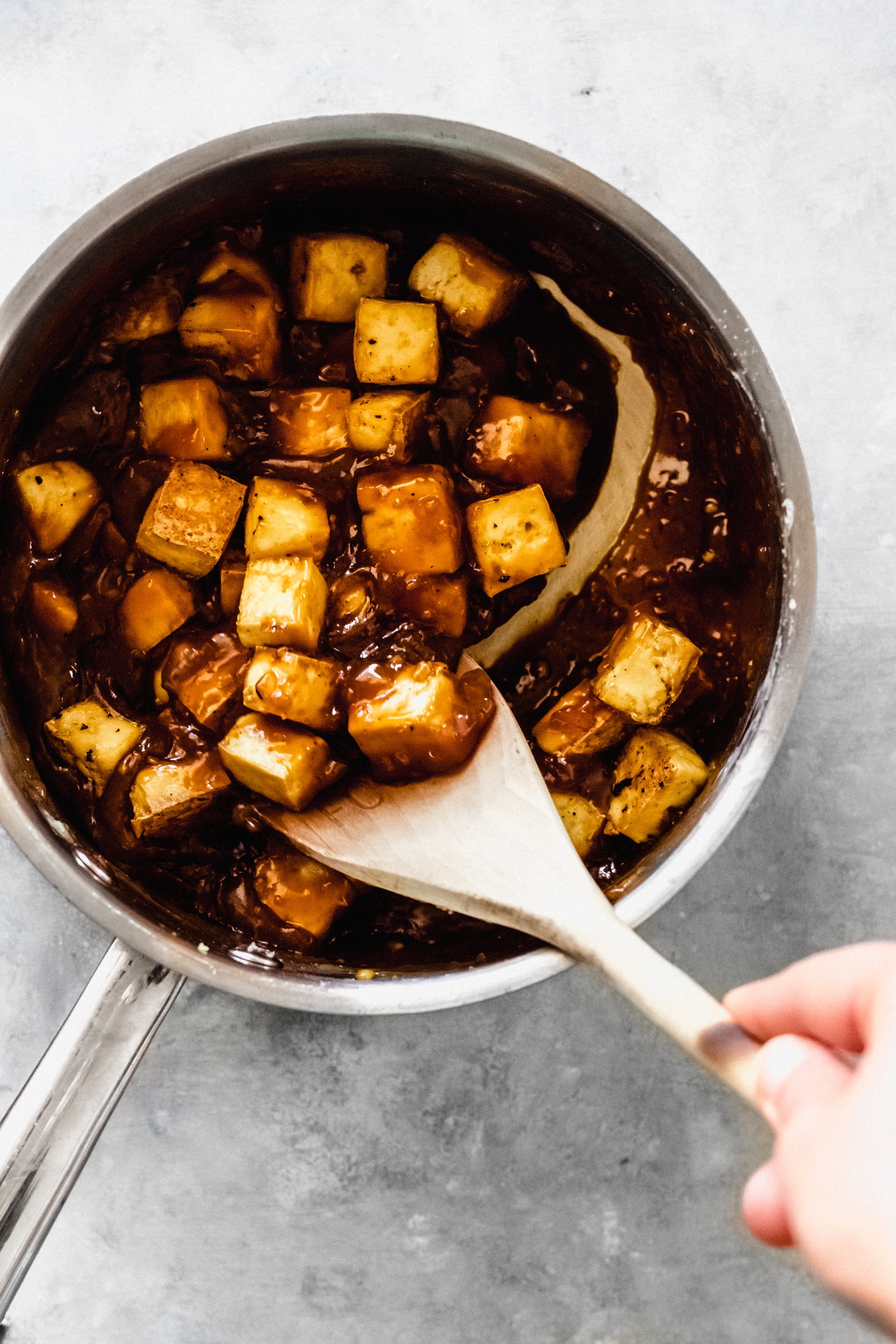 How to Make Teriyaki Tofu
I have a few tofu meal prep recipes on rotation in my kitchen. I usually cook a block of tofu every week and use it on sandwiches, quick throw-together-everything bowls, or Asian-inspired recipes like this baked teriyaki tofu. You can head to my recipe index for more tofu recipes – just click "tofu" in the ingredients list!
My favorite way to cook tofu is to bake it. I like to bake in plain (or marinated in soy sauce) first, THEN put any kind of sauce on. The initial baking gives it crispiness and helps the tofu hold its shape when you coat it in sauce.
Side note: you'll want a tofu press if you cook tofu often. This helps get most of the water out so you can have the crispiest, firmest tofu possible! I highly recommend investing in a tofu press (only $22!).
Preheat your oven to 375ºF and prep your baking sheet.
Cut your pressed tofu into 1-inch cubes and bake for 35 minutes, or until crispy.
Make your teriyaki sauce by brining soy sauce, water, sugar, rice vinegar, sesame oil, garlic, and ginger to a boil on the stove, then reducing the heat and allowing it to simmer for 5 minutes
Prepare a cornstarch slurry by adding cornstarch to cold water and whisking it up, then  pour the slurry into your sauce and continue to simmer for 5 minutes, or until your teriyaki sauce has thickened.
Toss the baked tofu in your teriyaki sauce until it's well coated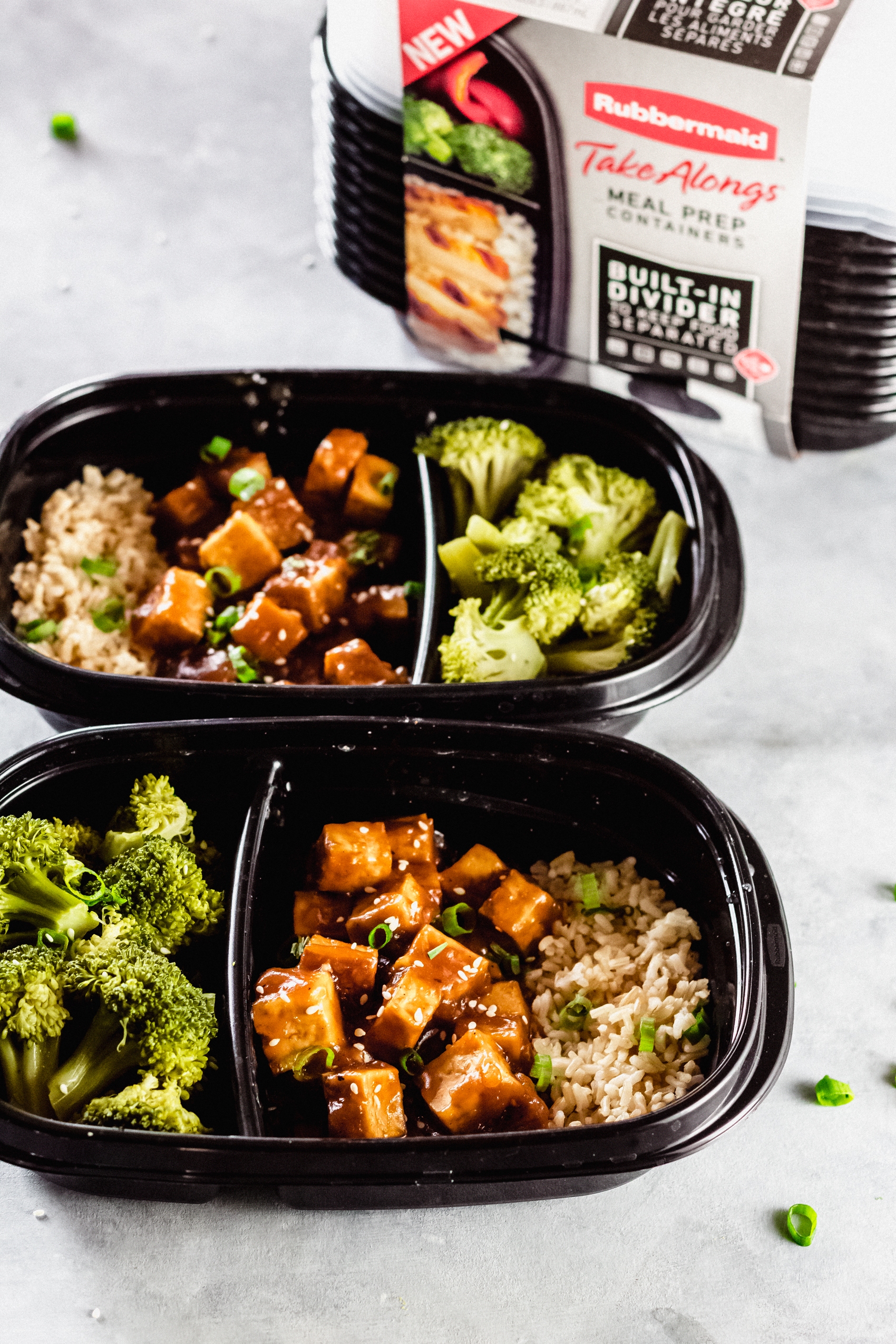 How to Make Vegan Meal Prep A Breeze
If you're new to meal prep, it can feel a little intimidating. Sometimes it feels like it takes so long that it's not worth it, sometimes you make too much of one thing and get bored by Friday, and sometimes your meals just don't hold up the way you expect them to. But I have a few simple tips to help you become a vegan meal prep pro.
Pick the right ingredients. You'll want to choose ingredients that stand up well in the fridge. There's a reason that meal prep salads get gross in the fridge – lettuces are really delicate and don't do well when they sit in dressing for an extended period of time. Meal prep ingredients like cruciferous vegetables, beans, grains and proteins like tofu and soy.
Utilize multiple cooking methods. The best way to save time during meal prep is to maximize your cooking methods. You can have tofu roasting in the oven, rice simmering on the stove and beans in the pressure cooker all while you chop up your veggies.
Switch it up. No one wants to eat the exact same meal on repeat all week. Switch it up by preparing a couple different sauces, grains and veggies so you can mix and match your meals to keep things interesting.
Use the right meal prep containers. An underrated, but very important part of meal prep is having the right containers for the job! I always pack my meal-prepped lunches in these Rubbermaid® TakeAlongs® Meal Prep Containers.
I love that these Rubbermaid® containers make vegan meal prep even easier. Each container has a convenient divider to separate foods you don't want to combine. This comes in handy when I'm packing a sandwich in the larger side of the container, and fruit or vegetables in the other side!
These Rubbermaid® containers are microwave, dishwasher, AND freezer safe – which means easy clean-up, easy heat-up, and easy prepping. Also, they stack right on top of each other to reduce clutter in your kitchen cabinets and in your lunchbox!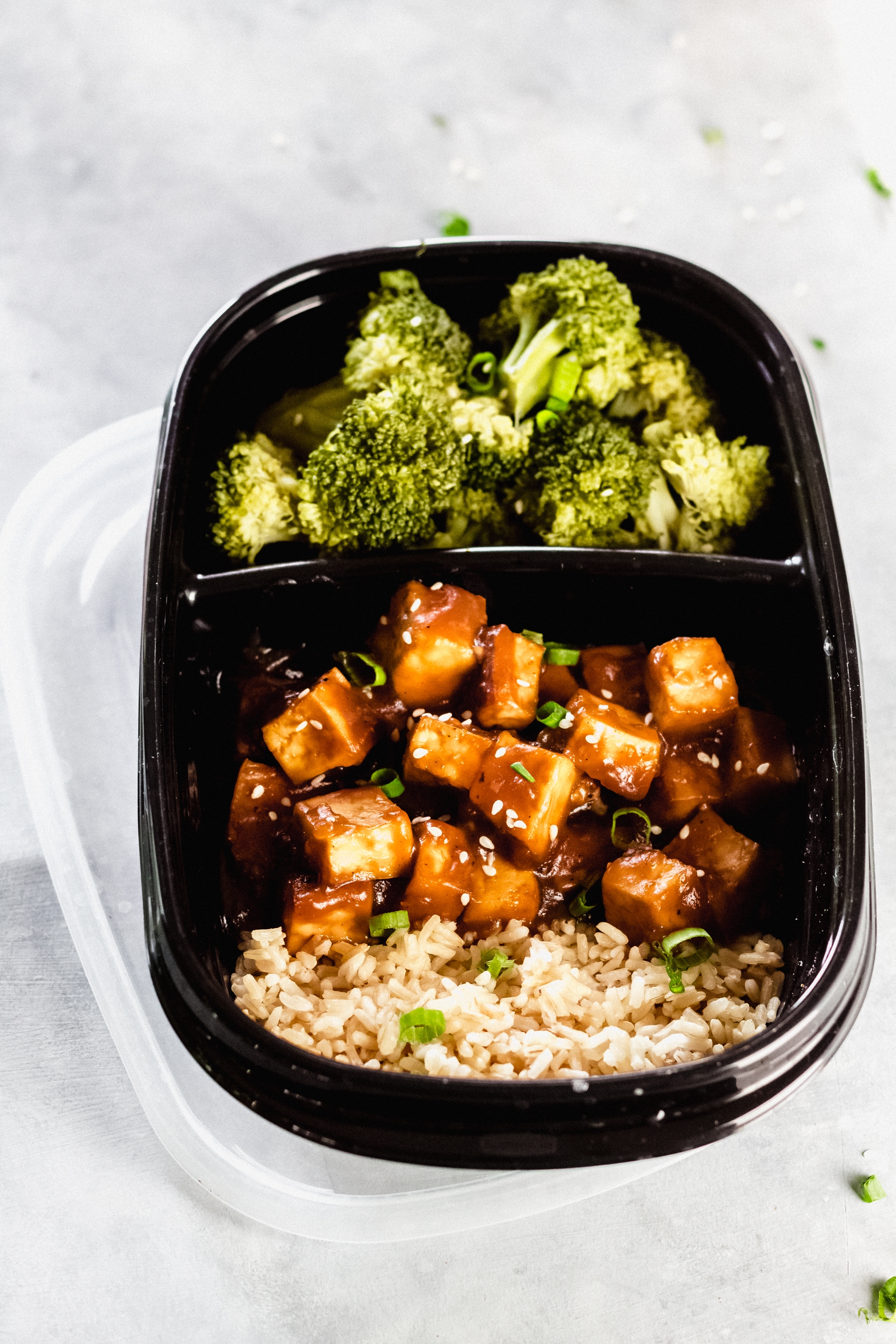 More Tofu Meal Prep Recipes
Looking for other easy tofu recipes besides this baked teriyaki tofu recipe? Here are some of my favorites that would work perfectly as on-the-go lunches packed in these Rubbermaid® TakeAlongs® Meal Prep Containers: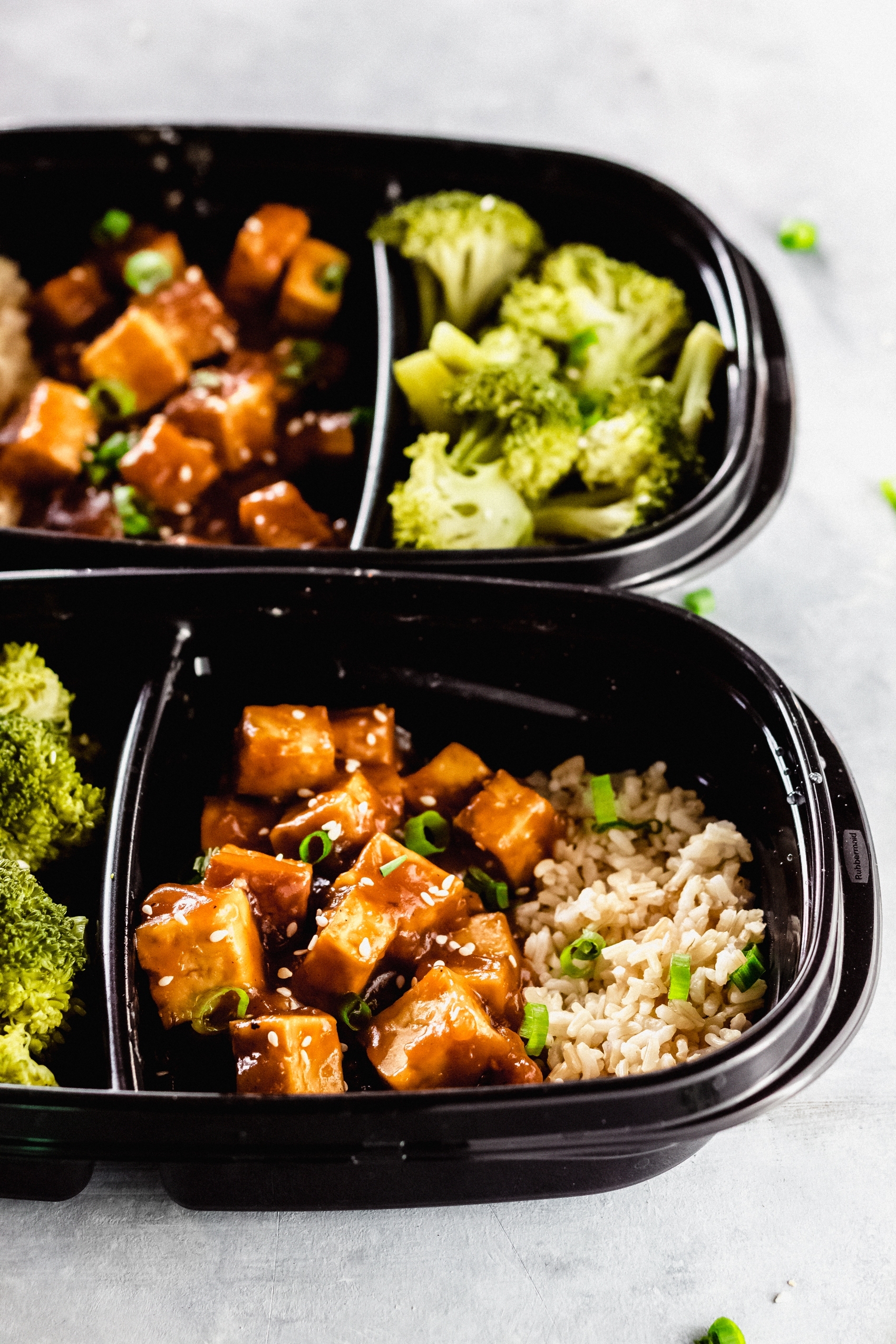 Print
How to make:
Teriyaki Tofu Meal Prep
Step up your vegan meal prep game with this easy baked Teriyaki Tofu recipe! This tofu meal prep recipe holds up in the fridge all week long!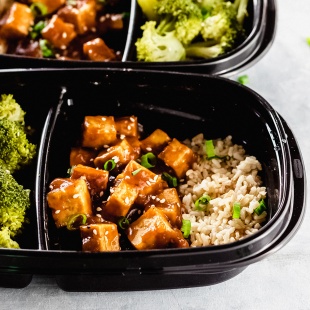 Ingredients
1

14-ounce block extra-firm tofu, drained and pressed*

1/2 cup

low-sodium soy sauce (tamari for gluten-free)

1/2 cup

water

1/4 cup

brown sugar

2 tablespoons

rice vinegar

1 tablespoon

sesame oil

3

cloves garlic, minced

1/2 teaspoon

ground ginger

2 tablespoons

cornstarch

1/4 cup

cold water
For serving: brown rice, steamed broccoli, sesame seeds, green onions
Instructions
Preheat oven to 375ºF. Lightly grease a baking sheet.
Cut the tofu into 1-inch cubes and place on the baking sheet. Bake for 35 minutes, until crispy.
In a medium saucepan, add soy sauce, water, sugar, rice vinegar, sesame oil, garlic, and ginger; whisk to combine. Bring sauce to a boil, then reduce heat to low. Simmer for 5 minutes.
To a small bowl, add cornstarch and cold water. Whisk until smooth, making sure there are no lumps. Pour cornstarch slurry into the pot; whisk to combine. Simmer for 5 minutes, until sauce has thickened. Remove from heat.
Add baked tofu to teriyaki sauce; toss until evenly coated.
Serve teriyaki tofu with brown rice and steamed broccoli.
Notes
*Use a tofu press, or wrap the tofu in paper towels and place in the sink with a heavy object on top. Press for 10-15 minutes.
Thanks to Rubbermaid® for sponsoring this post! I love working with brands whose products I really love and would honestly recommend. Thank you for your support!