You thought I was going to make cornbread without making chili? No way, José.
I made this vegan chili for the first time during the summer, because, uh, chili is good during any season even if it's 102 degrees outside. It was honestly one of those meals where I threw in some stuff from the fridge and hoped it turned out well. Which is actually about 76% of my meals, TBH.
Well, spoiler alert, it turned out amazing. Like, best chili I've ever made/had/dreamed about. Tender red lentils give this chili a protein punch and major fiber. Kale or spinach gives you a nice serving of yo' greens. Sweet potatoes and carrots are the two top foods containing beta-Carotene, so this chili is chock-full of antioxidants! They also give the chili a natural sweetness that is sOoOo good.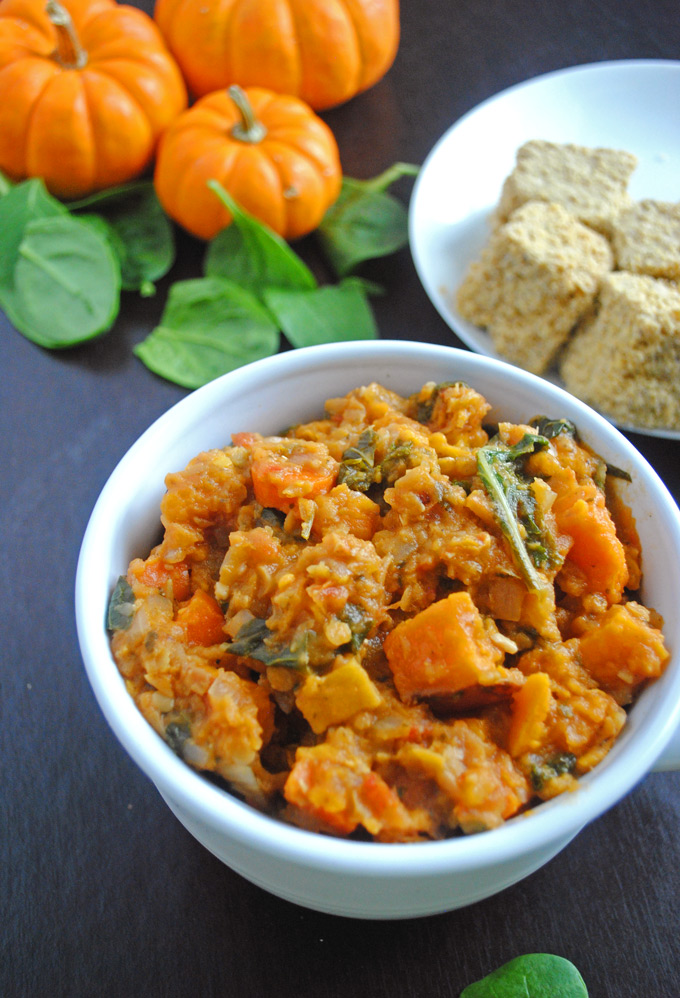 I hate to change the subject, but let's just talk about something important: exercise. It's one of the major parts of living a healthy lifestyle; you have to stay active. But, since we're being open and honest here, I haven't had a solid workout routine in 2 months. I've exercised just a handful of times since school started. I've found myself in this rut, and it's time for me to crawl–no, FIGHT–my way out.
If you follow me on Instagram, you may have already seen my little rant about staying accountable to a regular workout routine. But I think it's important to address here, too. We all find ourselves stuck sometimes: being bored with our workouts, not knowing what to do, or too frustrated to even try. If you're struggling with finding something active that you truly enjoy, trust me, I understand you. I've tried everything. I do actually love a lot of the workouts. But lately I haven't even found the motivation to do anything at all.
That ends now! Consider this your motivation if you need it, too 🙂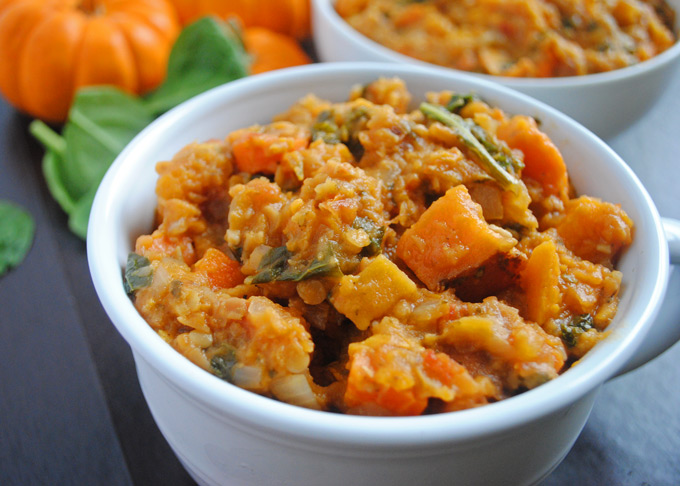 I guess my point is, just do it. If you want something, you have to act on that passion to get it. Change doesn't come from standing still; it comes from moving. Moving forward. Putting frustration, doubts, fears aside to fight tirelessly for what you want. I'm finally starting to realize that I will not lose a few pounds or tone up by complaining about how "fat" I think I've gotten. I can only start to change physically and, maybe more importantly, mentally by saying screw you to any voice in my head telling me I can't do it.
Sorry about my little rant there. I hope you forgive me for it; if you don't, just make this chili and you may change your mind. And don't forget the cornbread.
I want to hear from you: what do you do when you find yourself in a workout rut? How did you find something you enjoy doing? Let me know below??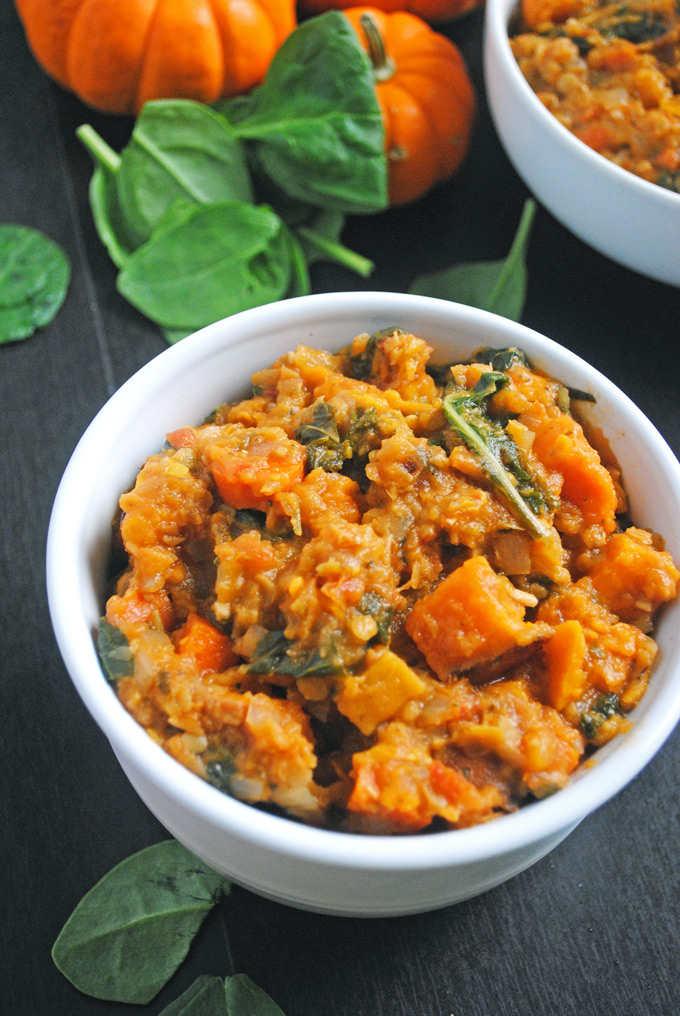 Print
How to make:
Red Lentil, Sweet Potato, and Carrot Vegan Chili
This vegan chili is hearty, comforting, and perfect for fall. Sweet potatoes and carrots add a natural sweetness, and red lentils pack protein!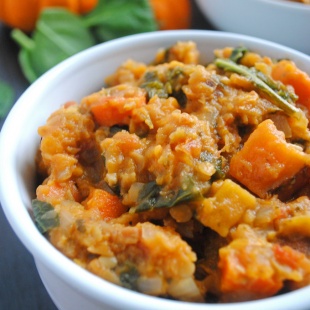 Ingredients
1 tablespoon

coconut or olive oil

1

yellow onion, chopped

1 tablespoon

garlic, minced

1 tablespoon

dried cilantro

1 teaspoon

salt

1/2 teaspoon

black pepper

1/2 teaspoon

dried thyme

4 cups

sweet potatoes, chopped into

1/2

-inch chunks

1 cup

carrots, chopped

1 cup

dry red lentils

3 cups

tomatoes, blended into small chunks, about

3

–

4

large

3 1/2 cups

water or vegetable broth

1 cup

packed spinach or kale, thinly sliced

2 tablespoons

fresh oregano, minced (optional)
Instructions
Heat oil in a large pot over medium heat. Add onion; cook until translucent. Add the garlic, cilantro, salt, pepper, and thyme; stir frequently. Cook until the onion and garlic are slightly browned and deliciously fragrant.
Add the sweet potatoes, carrots, and lentils; stir to combine. Add blended tomatoes and water and mix; turn the heat to high.
When the chili comes to a boil, cover and turn the heat down to low to let it simmer. Cook until potatoes and carrots are tender, about 30 to 40 minutes.
Once it's cooked, stir in spinach and oregano; let it cook for a couple more minutes until the spinach is wilted.