This Vegan Caesar Salad is a dairy-free take on the classic. It's topped with the best vegan caesar dressing and plenty of crispy baked tofu.
Vegan Caesar Salad with Crispy Baked Tofu
Is there a recipe out there more classic than a Caesar Salad? It's one of those dishes that can even get a salad-hater to eat their greens. And I can totally understand why. Crisp romaine, tangy Caesar dressing and plenty of crunchy croutons? SIGN ME UP.
It's so good, that I kind of want to have it any chance I get. We all know that a Caesar salad makes a great appetizer or easy side, but this particular Vegan Caesar salad is perfect for lunches and dinners, too! Instead of regular croutons, we're making a batch of the zestiest crispy baked tofu to add on top, which rounds this Caesar salad out with a good serving of protein to keep you feeling satisfied. And when it's all topped off with the tangiest, creamiest vegan Caesar dressing of all time, you'll see why I want to eat it around the clock.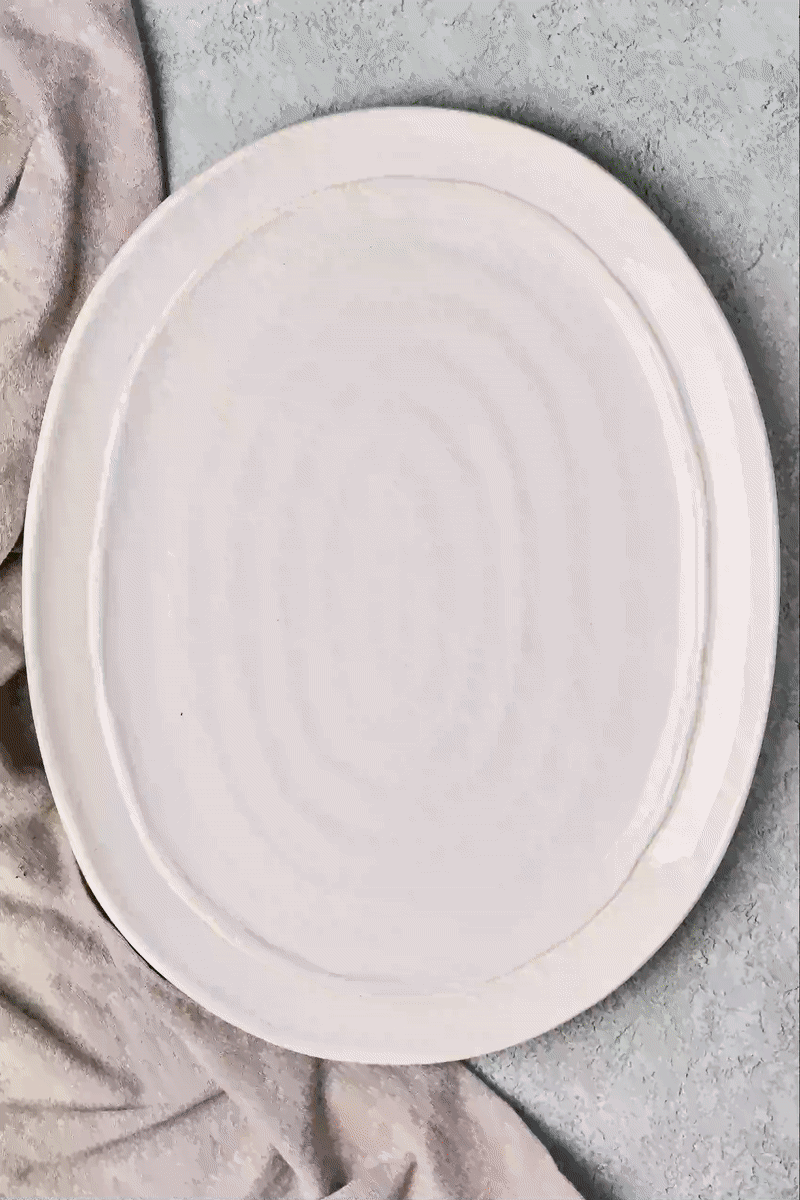 Ingredients for this Vegan Caesar Salad
Probably another reason why Caesar salads are so popular is that they're pretty simple to make and don't require tons of fancy ingredients. We just need to make a few minor subs to make our homemade vegan Caesar dressing. Here's everything you'll need:
Tofu. I recommend using extra firm tofu. Make sure to drain it well and press it first. 
Oil. You'll can use any high-heat oil such as avocado or canola oil.
Nutritional yeast. We all know and love this absolute star for lending that umami, cheesy flavor without the dairy!
Spices. We're using Italian seasoning, turmeric, salt and pepper. 
Cashews. You'll want to use raw, unsalted cashews. I highly recommend taking the time to soak them in water overnight before making the vegan Caesar dressing.
Lemon. Fresh lemon juice is key to getting that tanginess we're looking for.
Garlic. I highly recommend using fresh garlic cloves here. Powder or pre-minced garlic won't have the same effect in this vegan Caesar salad.
Capers. This is a must! Traditionally, Caesar dressing contains anchovies, so to keep things vegan we can get a similar briny, umami flavor from capers.
Dijon mustard. Just a touch will help add more acidity and depth of flavor to our vegan Caesar dressing.
Lettuce. Romaine is classic, but use what you like!
Cherry tomatoes. Optional, but highly recommended!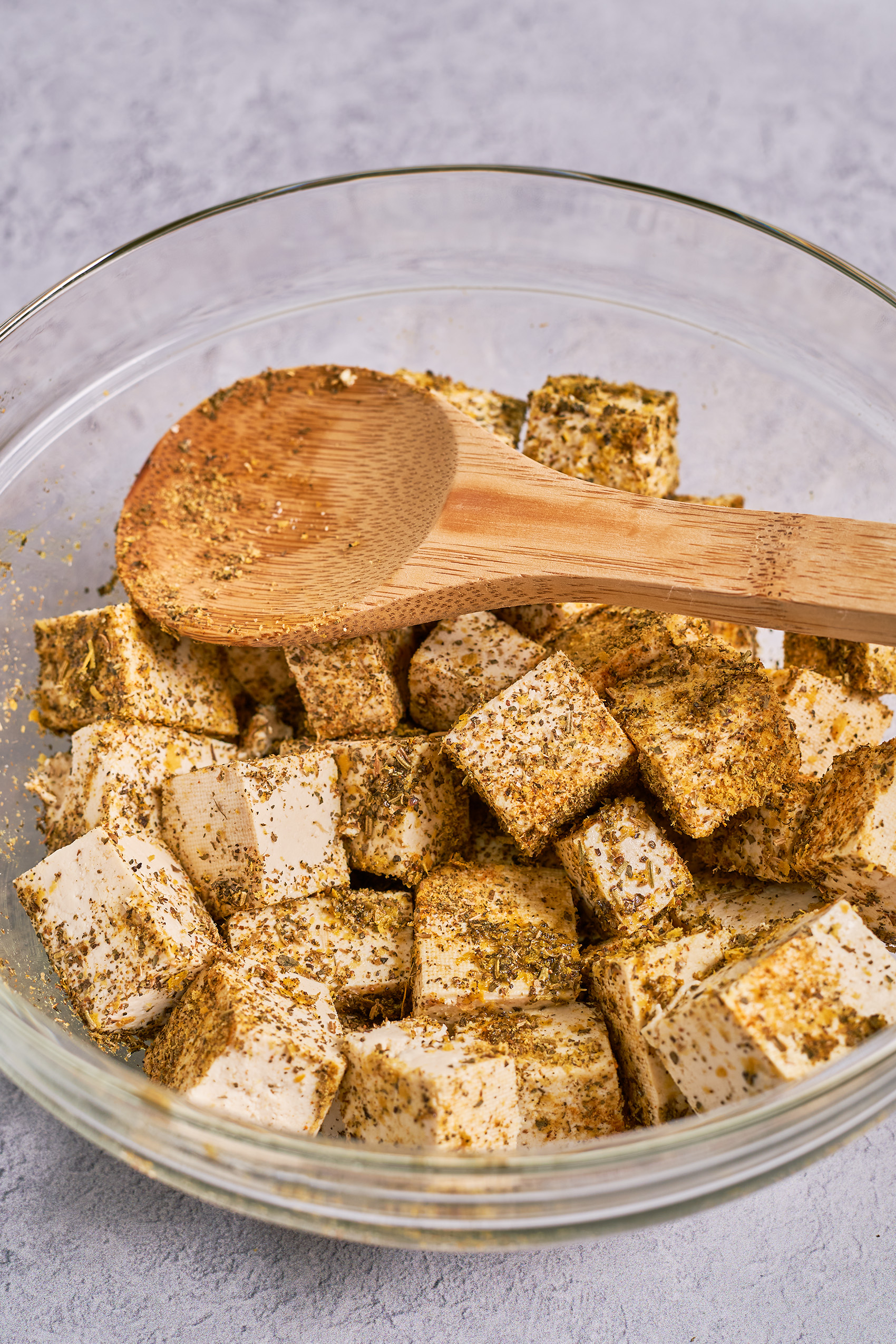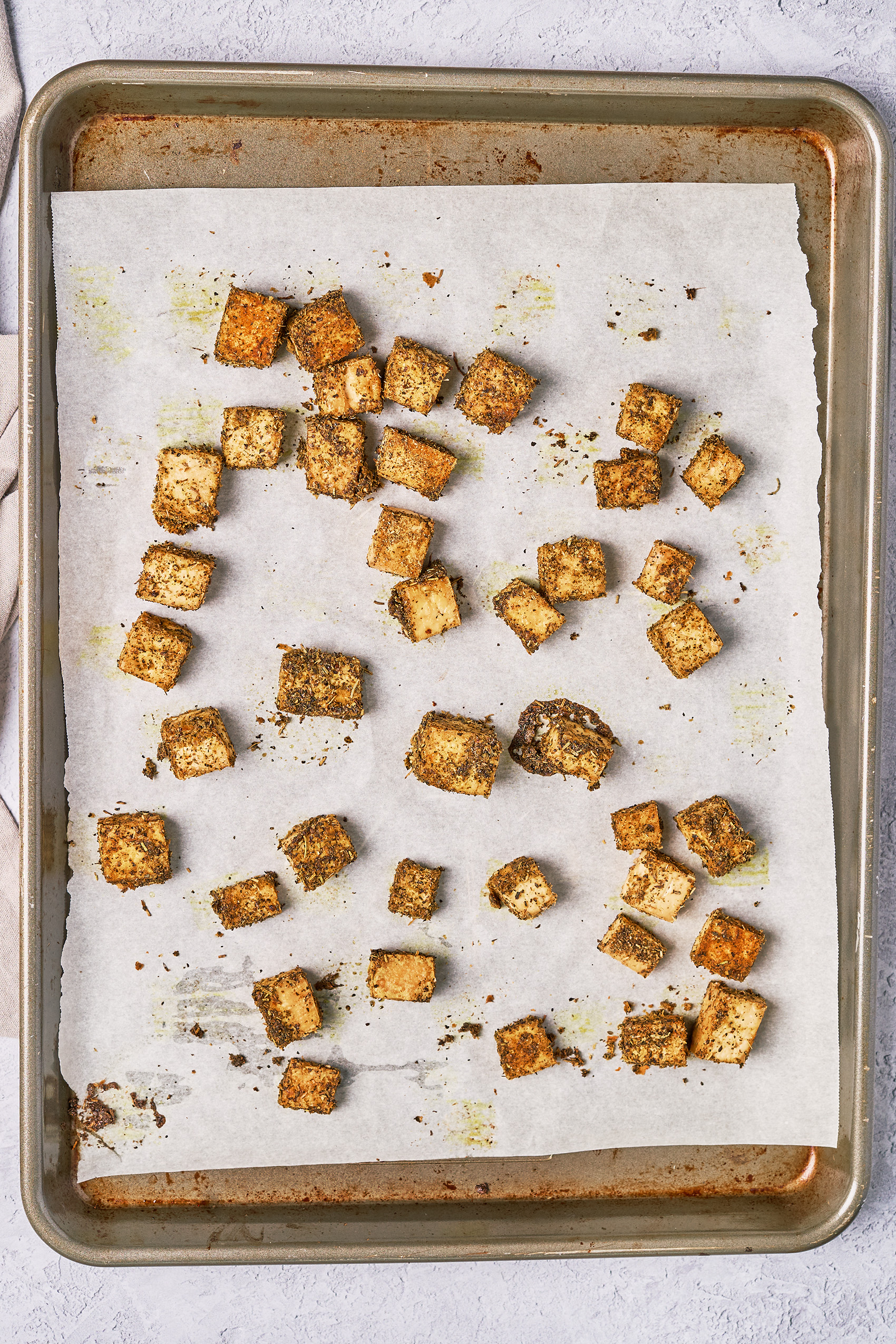 How to Make Crispy Baked Tofu
The cherry on top! Or I guess crouton on top! This crispy baked tofu is the perfect thing to finish off this vegan caesar salad recipe. We're tossing the tofu in pleeeenty of spices and roasting it under high heat to get it so crispy that it'll remind you of a crouton!
Here's how to make crispy baked tofu:
Set your oven to 400F and prep a baking sheet

While the oven preheats, drain and press your tofu, then slice into 1-inch cubes

Toss the tofu in a bowl with oil, Italian seasoning, nutritional yeast, salt and pepper

Arrange tofu cubes in a single layer on the baking sheet and bake for 30 minutes, flipping halfway through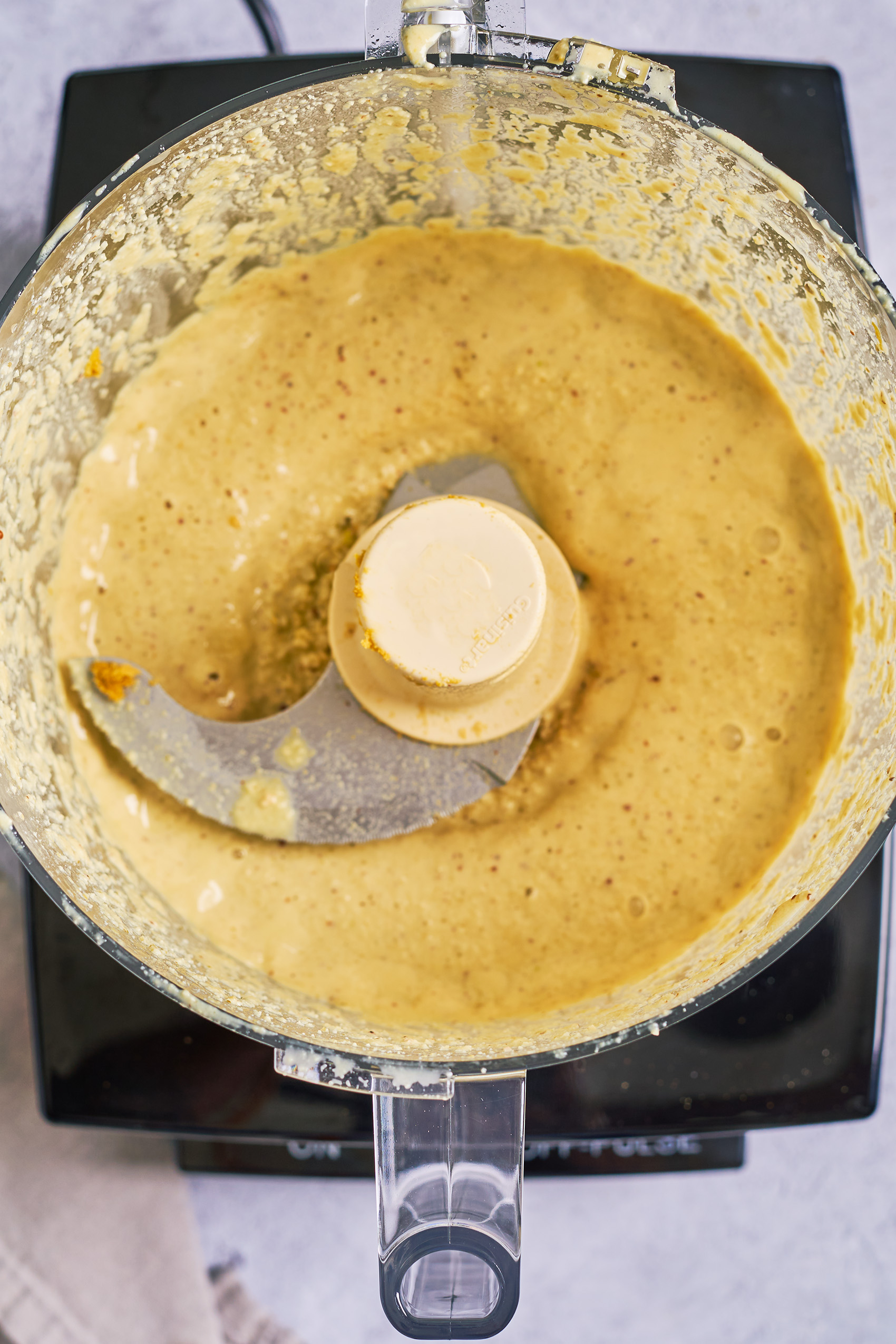 How to Make This Vegan Caesar Dressing Recipe
It can't be a Caesar salad without the dressing. This vegan caesar salad dressing recipe is cashew-based to give it plenty of body, and we're using plenty of garlic, lemons and capers to create that signature sharp, tangy flavor you look for in a Caesar dressing.
You'll start this vegan Caesar dressing recipe the night before by soaking your cashews. Just put them in a bowl, cover them with water and strain them the next day. If you forget, or can't be bothered to plan that far in advance (I get it!) you can power soak them by boiling them for 10-15 minutes.
Once your cashew's have been soaked, all that's left to do is toss them into a food processor or blender with fresh water, lemon juice, raw garlic cloves, nutritional yeast, capers, Dijon, salt and pepper. I hiiiiighly recommend keeping the capers in, even if you don't typically love them. I promise that they don't lend a super overpowering flavor, but you'll miss them if you leave them out!
How to Serve This Vegan Caesar Salad
This tofu Caesar salad can be enjoyed on its own as a meal, or as the perfect starter or side dish! If you're planning to eat it for lunch or dinner, I'd recommend adding an additional source of carbs to help round it out. Here are my favorite ways to enjoy this vegan Caesar salad recipe:
Appetizer or Side. This vegan Caesar salad makes the perfect side or appetizer to serve alongside dinner. I like to dress the salad completely and serve it on a platter along with some lemon wedges in case anyone wants an extra squeeze.
Lunch. Try adding some regular croutons on top in addition to the crispy baked tofu, or make yourself a piece of toast to have on the side.
Dinner. Double up on the tofu and maybe consider tossing in a scoop of quinoa, farro or another grain to help bulk it up into a well-balanced meal. You could also add a bowl of soup on the side!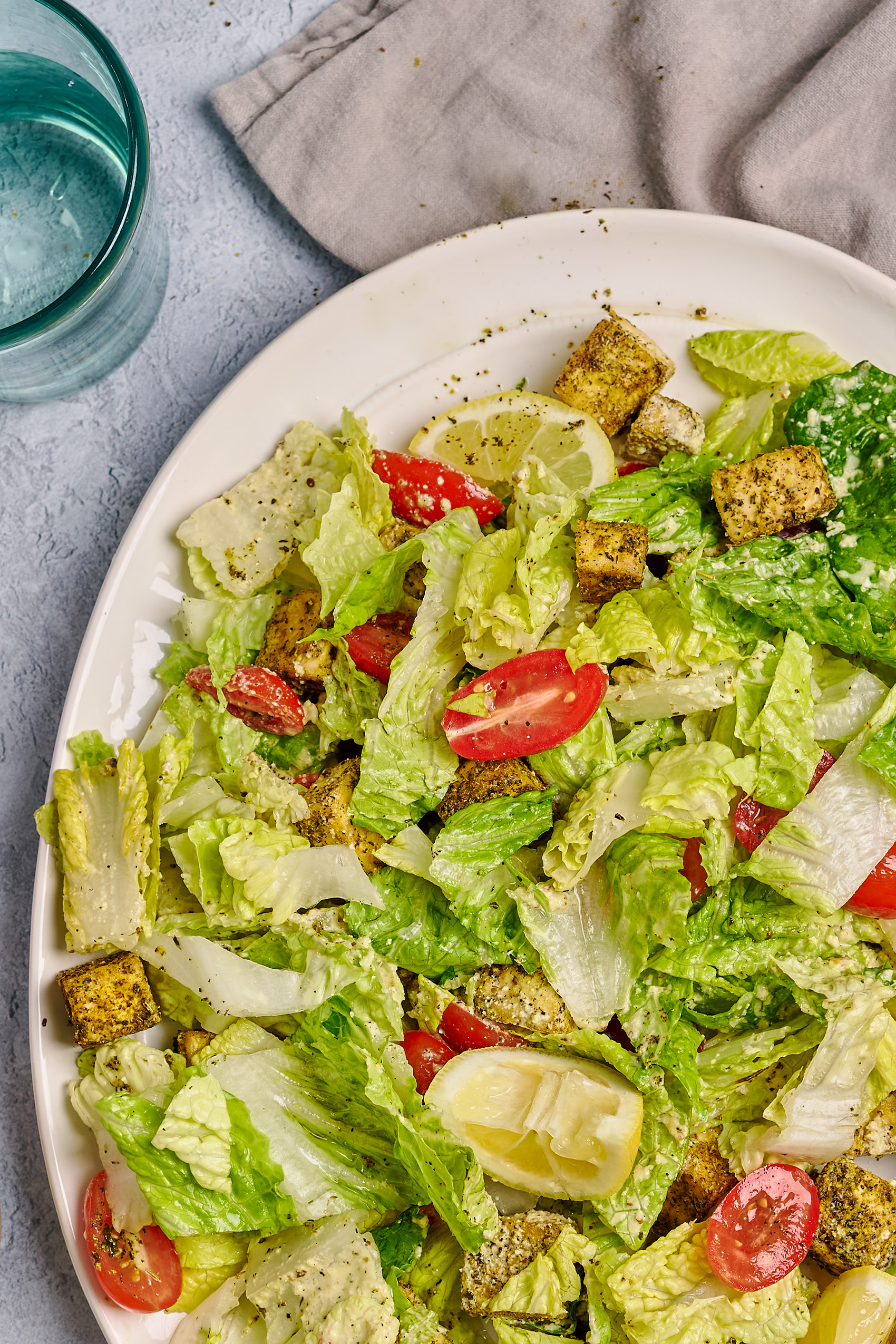 More Vegan Salad Recipes
No more boring salads! There's no reason to eat a sad bowl of greens when there are so many good ways to dress them up. Here are a few of my favorite vegan salad recipes if you're feeling like you're in a rut!
Print
How to make:
Vegan Caesar Salad with Crispy Baked Tofu
This Vegan Caesar Salad is a dairy-free take on the classic. It's topped with the best vegan caesar dressing and plenty of crispy baked tofu.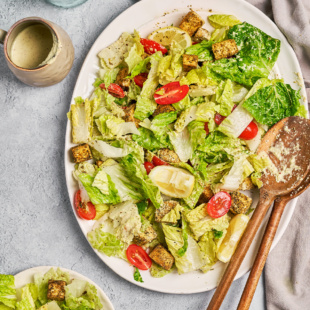 Ingredients
For the tofu:
1

14-ounce package extra-firm tofu, drained and pressed*

1 tablespoon

avocado oil or other high-heat oil

1 tablespoon

nutritional yeast

2 teaspoons

Italian seasoning

¼ teaspoon

turmeric (optional, for color)

Salt and pepper, to taste
For the dressing:
½ cup

raw cashews, soaked in water overnight

1/3 cup

water

¼ cup

lemon juice

2

–

3

garlic cloves

3 tablespoons

nutritional yeast

2 teaspoons

capers

1 teaspoon

Dijon mustard

¼ teaspoon

salt

¼ teaspoon

black pepper
For the salad:
6 cups

romaine lettuce or mixed greens

1 cup

cherry tomatoes, halved
Instructions
Preheat oven to 400F. Lightly grease a baking sheet.

Cut tofu into 1-inch cubes; place in a medium bowl. Add oil, Italian seasoning, nutritional yeast, salt and pepper; toss to combine.

Arrange tofu cubes in a single layer on the baking sheet. Bake for 30 minutes, flipping halfway through.

In a blender or food processor, add all ingredients for the dressing. Blend until completely smooth.

In a large bowl, add lettuce, tomatoes, baked tofu and Caesar dressing; toss to combine.

Serve immediately. Store in the fridge for up to 4 days.
Notes
*Use a tofu press, or wrap the tofu in paper towels and place in the sink with a heavy object on top.