The ultimate Sweet Potato Nachos! These vegan nachos are made with sweet potatoes and loaded with all the toppings for a fun meal or snack!
Loaded Vegan Sweet Potato Nachos
Oh yeah, this is happening. LOADED sweet potato nachos complete with black beans, sweet corn, beloved avocado, vegan cheese sauce (!!!), and some salsa, all in just 30 minutes.💃🏼
I plan on eating these sweet potato nachos MINIMUM once a week because damn, they're good. Don't even try to stop me. I mean there are so many reasons to love them. For one, they're delicious, but that's a given. Secondly, they couldn't possibly be easier to make. And third, they're inherently balanced so you can totally eat them as a meal! They've got lots of complex carbs, fiber, plant-based protein and healthy fats! So I'm here to tell you that whoever said you can't have nachos for dinner is WRONG!
These sweet potato nachos are perfect as a fun snack for you and your friends or a quick 30-minute meal after a busy day! Grab allllll your favorite toppings and let's get to it!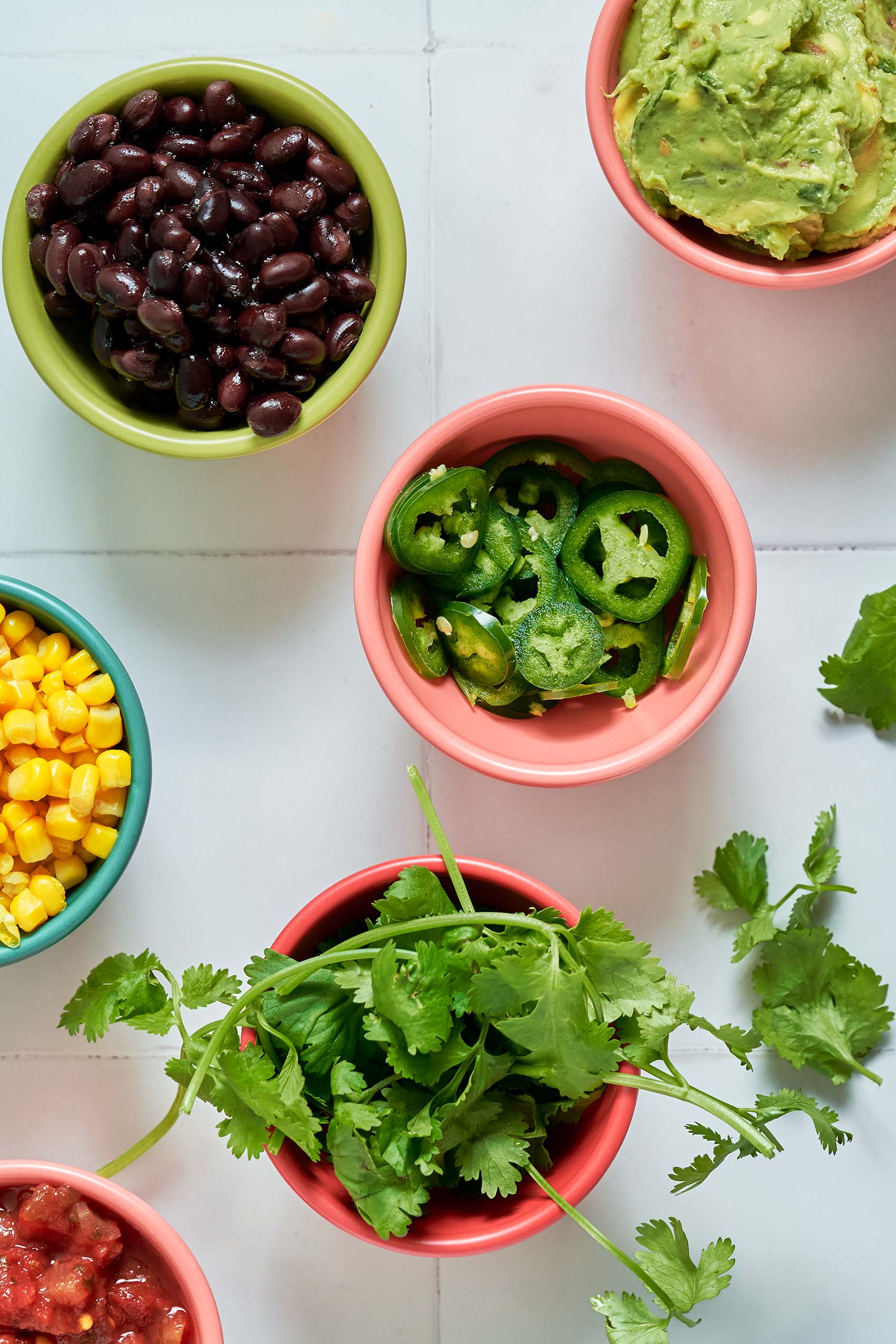 Ingredients for Sweet Potato Nachos
Okay so I know I've already given you a million reasons to love these vegan nachos, but another awesome thing about them is that they're totally customizable to what you like. Don't like spice? Leave out the jalapeños. Like a little bite? Add some sliced red onion. Have a little extra time? Whip up this vegan cheese sauce from It Doesn't Taste Like Chicken to drizzle on top! Hint hint, this cheese sauce is highly recommended to take your nachos from awesome to out-of-this-world.
Here's everything you'll need to make the most epic plate of loaded vegan nachos!
Sweet potatoes. Instead of tortilla chips, we're roasting up sweet potatoes to serve as the base for our vegan nachos! They're the perfect balance of sweetness with all the other spicy and savory toppings! Plus, the sweet potatoes are a great complex carbohydrate to really make these nachos into a meal that will keep you feeling satisfied.
Black beans. You could also totally use pinto beans instead if you prefer! Canned beans are great for convenience, or you can whip up a batch of Instant Pot Black Beans!
Corn. Either frozen or fresh would work great!
Salsa. Use any kind you like!
Avocado. You could top these sweet potato nachos with sliced avocado, or make an avocado crema by blending up avocado with lime juice, cilantro, salt, pepper and jalapeno!
Jalapeno. Fresh or pickled both work! If you don't love spice, you could always leave them out.
Cilantro. Fresh herbs are always a great move to brighten things up, and these sweet potato nachos are no exception.
Vegan cheese. I used this homemade vegan cheese sauce from It Doesn't Taste Like Chicken, but you could also top off your sweet potato nachos with a sprinkle of vegan shredded cheese.
How to Roast Sweet Potatoes
We're making sweet potato rounds for these vegan nachos to maximize surface area and get the sweet potatoes nice and crispy.
To make your roasted sweet potatoes, start by preheating your oven to 400F. You'll need the oven super hot to make sure you get a crisp on your sweet potatoes, otherwise they'll just steam in the oven.
I like to leave the skin on my sweet potatoes, so wash and scrub them super well. Then, you'll slice the sweet potatoes into 1/2 rounds. Arrange all the sweet potato rounds in a single layer on a baking sheet, give them a drizzle of olive oil if you'd like, then roast them up for about 20-25 minutes.
You'll know they're done when they've browned, started to crisp up, but are soft enough for you to pierce them with a fork.
If you plan to make these vegan nachos, you can always make extra roasted sweet potatoes while you're making this recipe and stash the extras in the fridge for an easy vegan meal prep ingredient!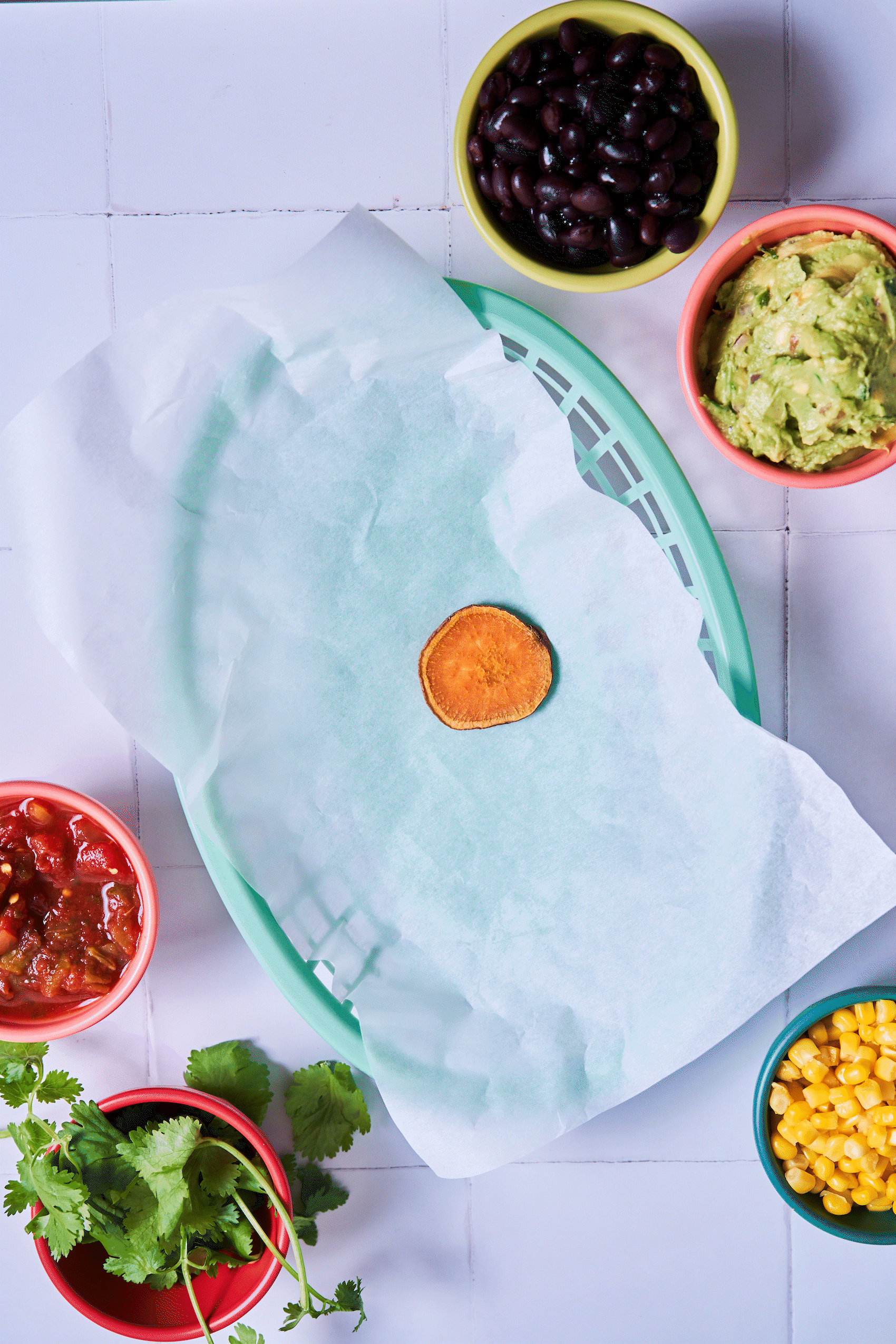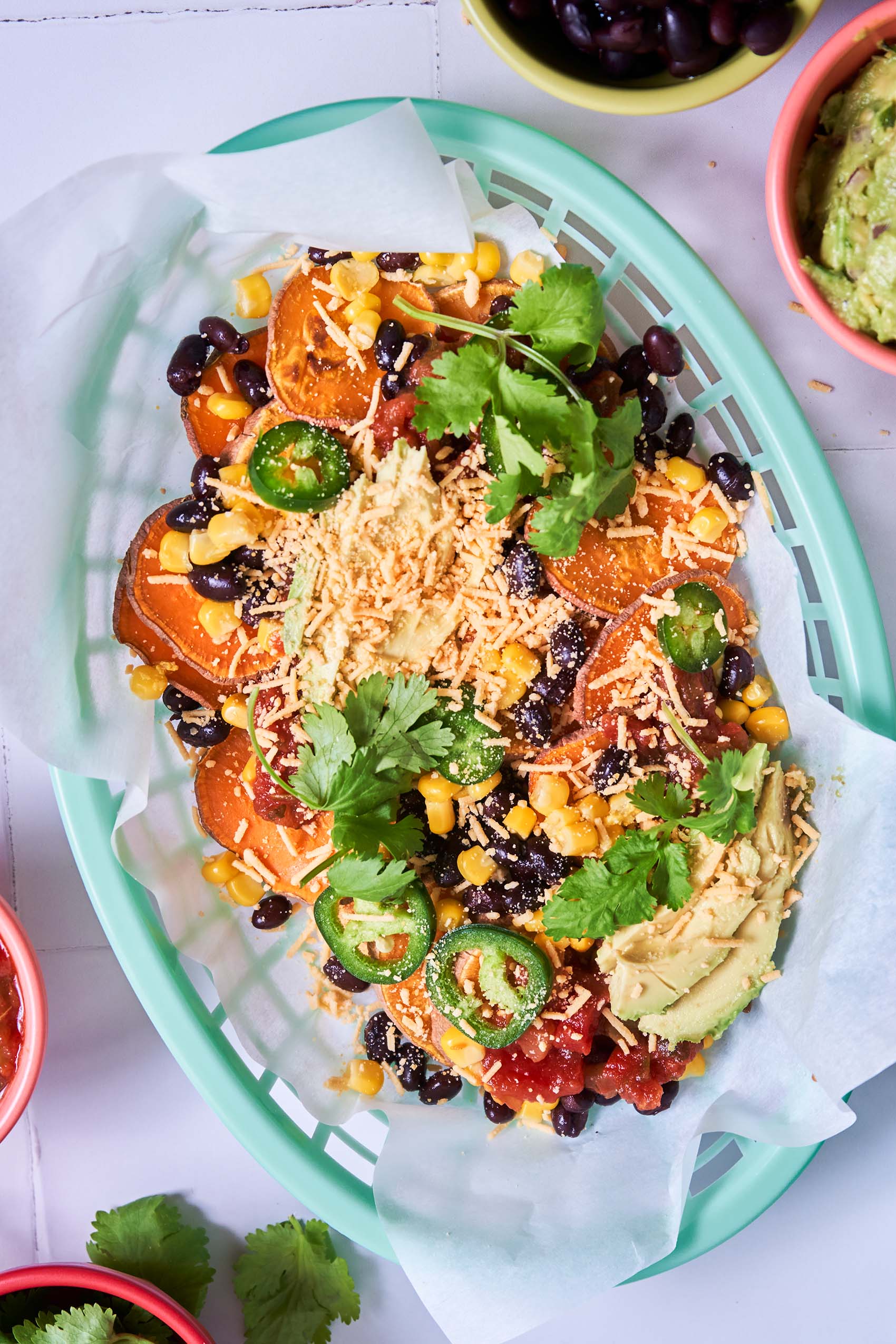 How to Build the Ultimate Loaded Vegan Nachos
Other than making the roasted sweet potatoes, there's really no other hands-on work to make these loaded vegan nachos! The best thing about making a plate of nachos is that they're super customizable, so I've put together a guide so that you can get creative and make these sweet potato nachos your own!
When thinking about the toppings for your sweet potato nachos, I recommend adding:
Something spicy. Salsa, hot sauce, jalapenos or a dash of cayenne on your sweet potatoes are all great options!
Something crunchy. This is all about texture! Since we're using sweet potatoes instead of tortilla chips, we want to make sure we add something crunchy to add contrasting texture. Think fresh jalapenos, corn, pepitas, or fresh sliced red onion.
Something creamy. Think vegan cheese sauce, sliced avocado or dairy-free sour cream. A creamy element will help balance out your spicy ingredients!
Something hearty. Adding a source of plant-based protein turns these sweet potato nachos into a well-rounded meal. Black beans, pinto beans, vegan chicken strips, or vegan sausage would all be delicious.
Something fresh. To top it all off! A squeeze of lime juice, a sprinkle of fresh cilantro or sliced jalapenos go a long way to brighten things up.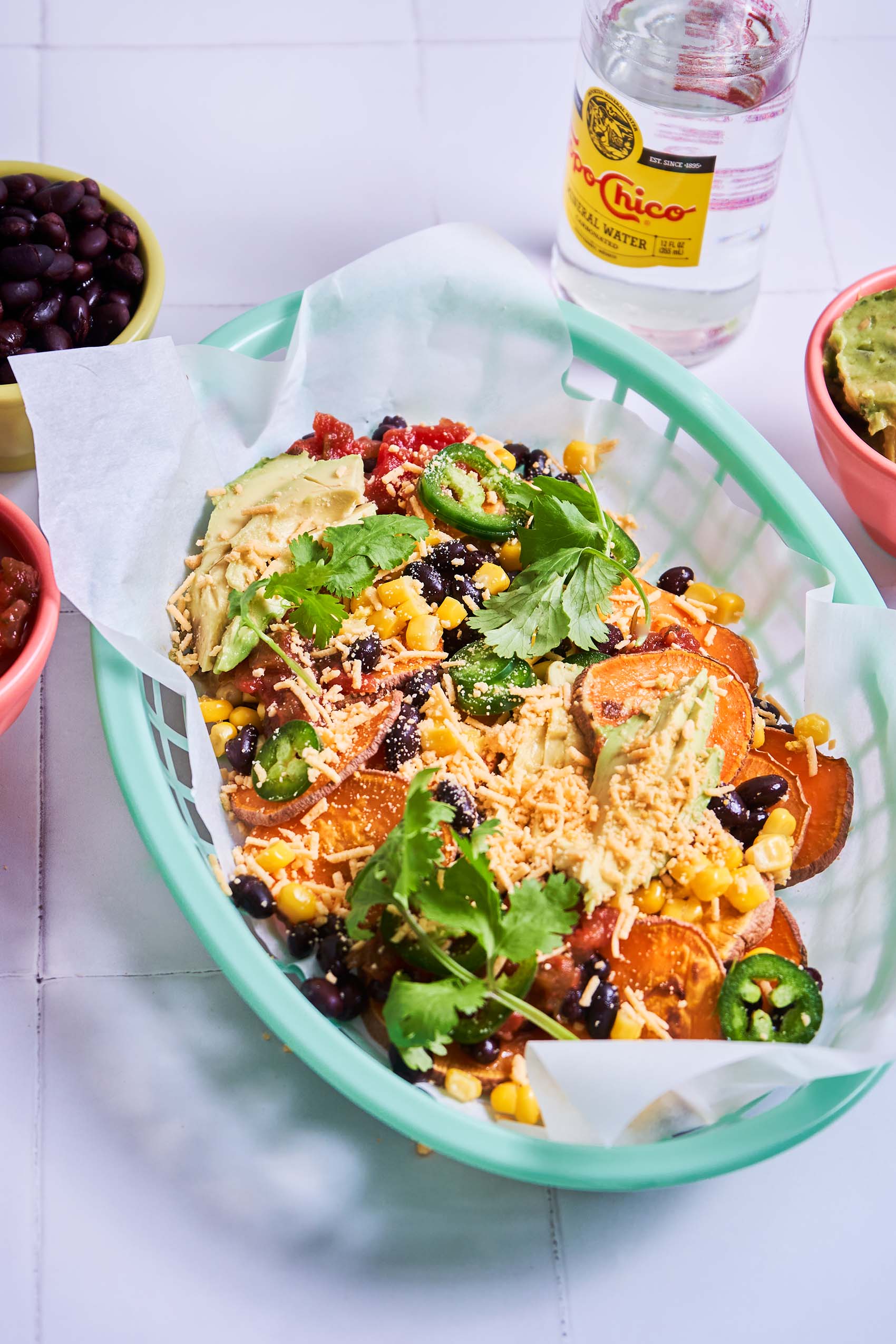 More Vegan Sweet Potato Recipes
These sweet potato nachos would make for a fun weeknight dinner, a delicious recipe to make for movie night, or even a vegan Superbowl snack! If you're looking for more ways to enjoy sweet potatoes, I've got plenty of delicious vegan sweet potato recipes for you to try!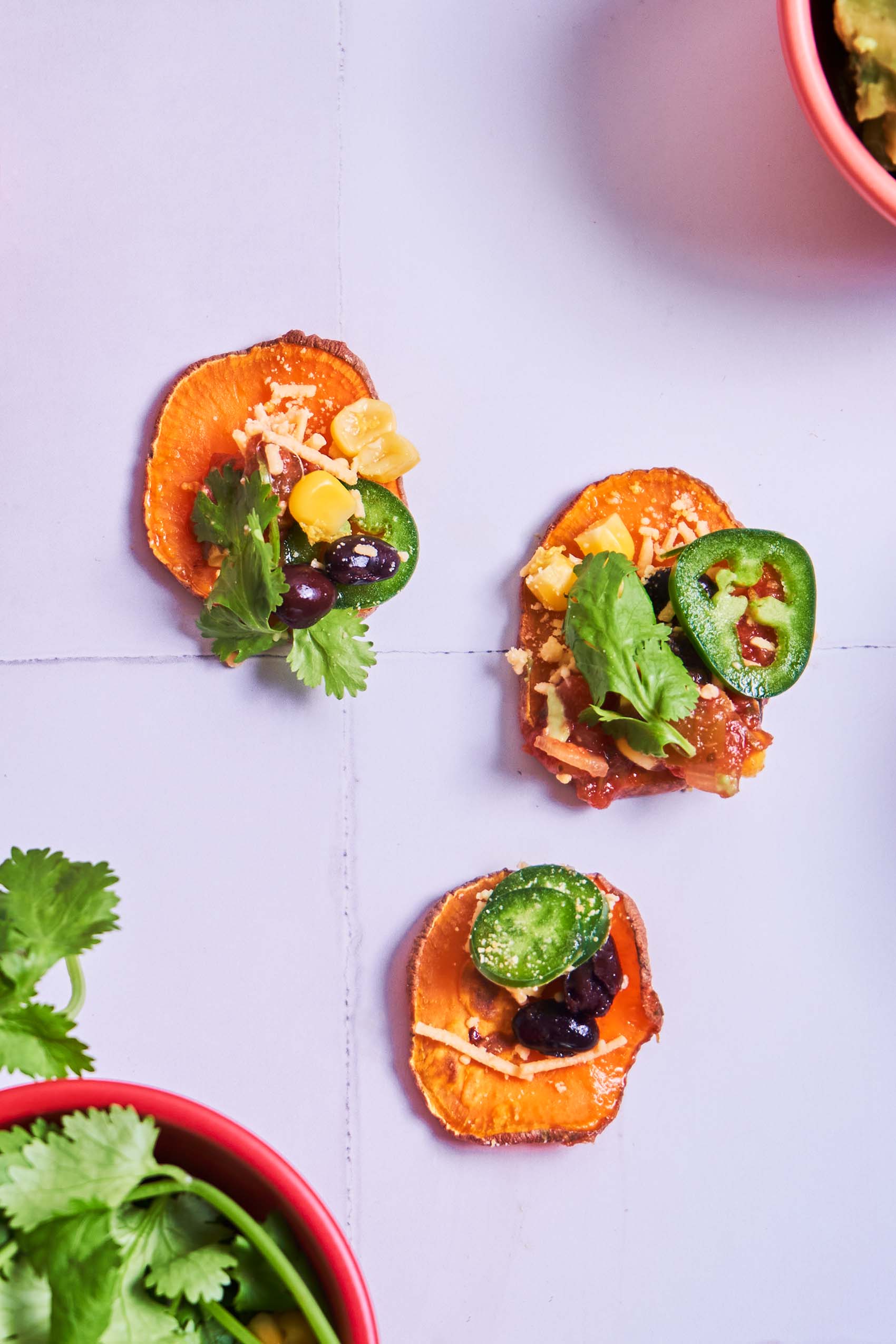 Print
How to make:
Loaded Vegan Sweet Potato Nachos
The ultimate Sweet Potato Nachos! These vegan nachos are made with sweet potatoes and loaded with all the toppings for a fun meal or snack!
Ingredients
2

medium sweet potatoes, sliced into

1/4

-inch rounds

1 cup

black beans, drained and rinsed

1/4 cup

corn kernels

1/4 cup

salsa

1/2

avocado, chopped

1

jalapeno, sliced (optional)

2 tablespoons

fresh cilantro, chopped
Vegan cheese (optional)
Instructions
Preheat oven to 400F. Lightly grease a baking sheet with cooking spray or line with parchment paper.
Arrange the sweet potato rounds in a single layer on the baking sheet. Bake for 20-25 minutes, until slightly browned and crispy.
While the sweet potatoes are cooking, prepare your toppings.
Arrange the sweet potatoes on a plate and top with black beans, corn, salsa, avocado, jalapeno, cilantro, and vegan cheese.