This Vegan Breakfast Casserole is perfect for serving a crowd or freezing for leftovers! It'll be one of your new favorite vegan brunch ideas. In partnership with Dr. Praeger's!
Vegan Breakfast Casserole
This vegan breakfast casserole recipe is an idea I've been dreaming up for MONTHS now. It's eggy, cheesy, filled with sausage, and YES, believe it or not based on that description, it IS vegan!
Casseroles and one-pan dishes are the queens of kitchen efficiency when feeding a crowd. They're quick, delicious, easy to clean up and lend themselves perfectly to making a meal that can feed a bunch of people. This vegan breakfast casserole features some pretty amazing ingredients: vegetables, a tofu egg mixture, dairy-free cheese, and vegan sausage. Who could say no to all that?!? I guarantee that every family member and friend will be happy when you set this down on the table (well, maybe not that one grumpy uncle who doesn't understand why you don't eat meat).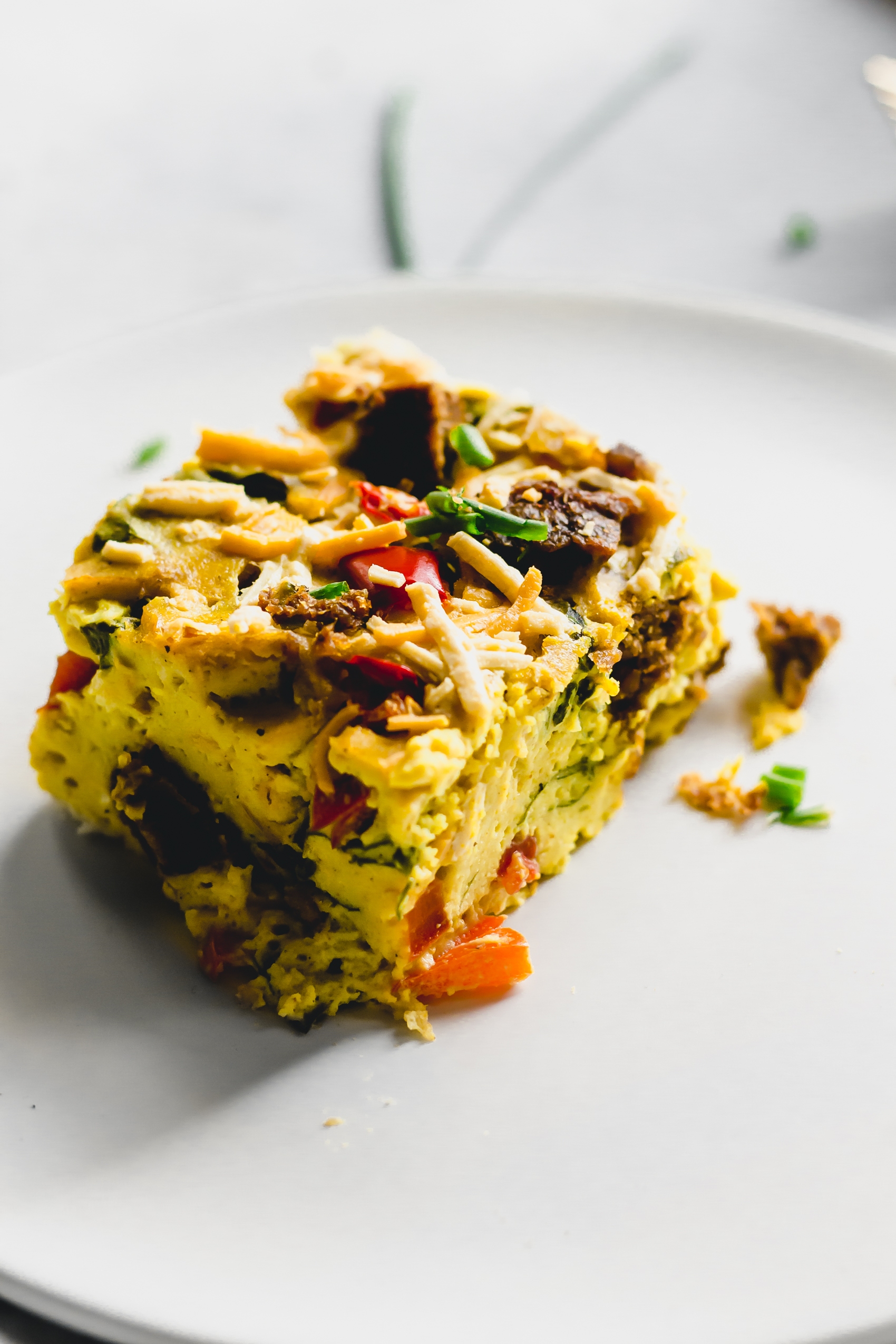 What's in this Vegan Vegetable Breakfast Casserole?
While it might look complicated at first glance knowing there aren't any eggs in this vegan breakfast casserole, you actually don't need tons of super fancy ingredients to make it! There are just a couple of not-so-secret ingredients to help you achieve that fluffy, savory eggy goodness. Here's everything you'll need to make this breakfast bake:
Dr. Praeger's Sunday Funday Veggie Sausage. I am not exaggerating when I say this is one of my favorite meatless products on the market. I used to LOVE breakfast sausages, and these Dr. Praeger's veggie sausages pack so much of that flavor I remember.
Bell pepper. Pick any color of bell pepper you'd like.
Greens. Spinach, kale or chard would all work great. You can opt for frozen, but make sure to thaw it first and press out any excess moisture.
Vegan shredded cheese. I like a cheddar-style vegan cheese for this vegan egg casserole, but you can use any kind you like.
Firm tofu. You'll want to drain your tofu for this recipe, but skip the pressing! We want to keep a bit of the moisture.
Chickpea flour. This is one of those not-so-secret ingredients that will help create our vegan egg filling.
Nutritional yeast. Hello cheesy goodness! This will pack in a ton of umami flavor.
Low-sodium soy sauce. Did you know you can make your own low-sodium soy sauce by diluting regular soy sauce with a 1:1 ratio of water? You'll double your amount of soy sauce and cut the amount of sodium in half!
Kala namak. Our second not-so-secret ingredient! This will lend that eggy flavor that we're looking for.
Seasonings. We're using thyme, turmeric and black pepper. Since we're using soy sauce, there's no need to add additional salt.
The Sunday Funday Veggie Sausages that we're using are part of Dr. Praeger's Pure Plant Protein line, which includes plant-based frozen items that are high protein thanks to pea protein! These veggie sausages contain 18 grams of plant protein per serving. The veggie sausages combined with the tofu and chickpea flour egg base make this vegan breakfast casserole recipe an amazing high-protein savory breakfast!
You can find Dr. Praeger's products near you on their store locator! You can even filter by the exact product you're searching for.
"Sunday Funday" Veggie Sausages really belong in this breakfast casserole because what sounds better than a lazy Sunday morning with family chowing down on this recipe? Absolutely nothing.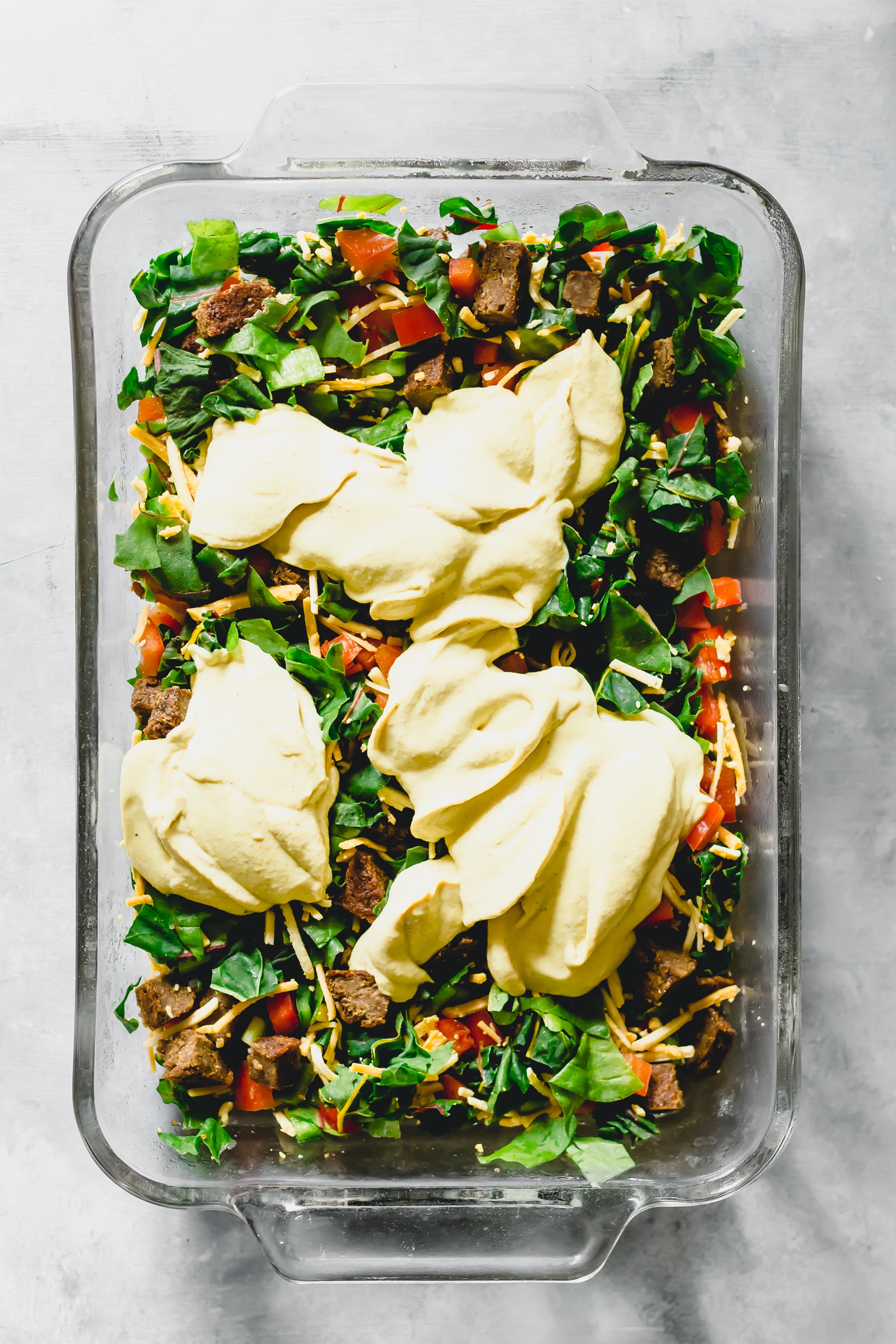 How to Make a Vegan Breakfast Casserole
The base of this vegan breakfast casserole is similar to my quiche base you can see in this Caprese quiche and this asparagus and mushroom quiche – which are also great vegan brunch ideas! I tweaked that base recipe a bit so that you could use firm tofu instead of silken tofu. Silken tofu is a little more expensive and harder to find – I wanted to use regular tofu so that the main ingredient would be more accessible to you. The other major component in the egg base is chickpea flour, which is pretty easy to find nowadays.
There's really not a whole lot to making this vegan breakfast casserole! All you've gotta do is:
Cook up your Dr. Praeger's Sunday Funday Veggie Sausages
Mix veggies, cheese, and chopped sausage in a baking dish
Blend tofu, chickpea flour, nutritional yeast, soy sauce, kala namak, thyme, turmeric, and pepper in a blender
Pour vegan egg mixture into the baking dish with the veggies and sprinkle with more cheese
Bake for 1 hour in a 350F oven and let cool before digging in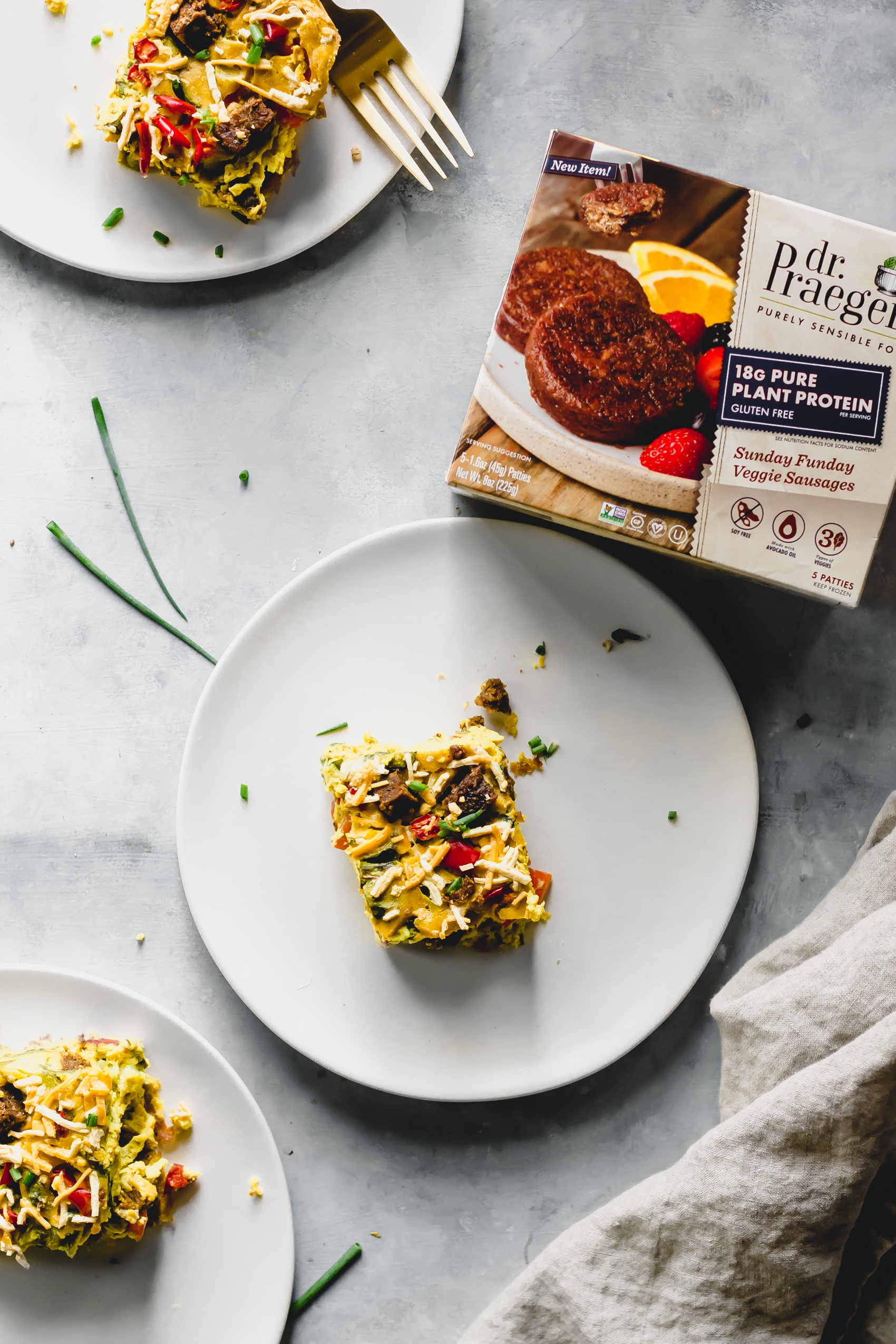 Tips for Making a Delicious Vegan Breakfast Casserole
While this vegan breakfast casserole is pretty easy to make, here are a few tips to make sure it comes together without a hitch!
Don't press your tofu. We want to keep a little bit of the moisture in the tofu to keep this vegan breakfast casserole from drying out too much in the oven. Strain off the excess liquid from your package of tofu, but don't worry about squeezing out the moisture inside the tofu.
Get creative. Don't have bell pepper and greens? Sub in whatever veggies you've got in the back of the fridge! Like a bit of a kick? Add some jalapenos or a drizzle of hot sauce! For a bit of added freshness, try adding in some herbs. Try vegan bacon instead of sausage! The possibilities are endless, so feel free to get creative with your fillings.
Top it off. While this vegan breakfast casserole is packed with plenty of flavor as-is, you can totally take it over the edge by adding a few toppings. Vegan sour cream, salsa, a drizzle of hot sauce or a sprinkle of parsley or chives would all be delicious!
Let it cool. I can't emphasize this one enough, so I'll say it again – LET IT COOL. I know it'll be tempting to slice into it right when it comes out of the oven, but it really needs those 15 minutes of cooling time to set. Your patience will be rewarded, I promise.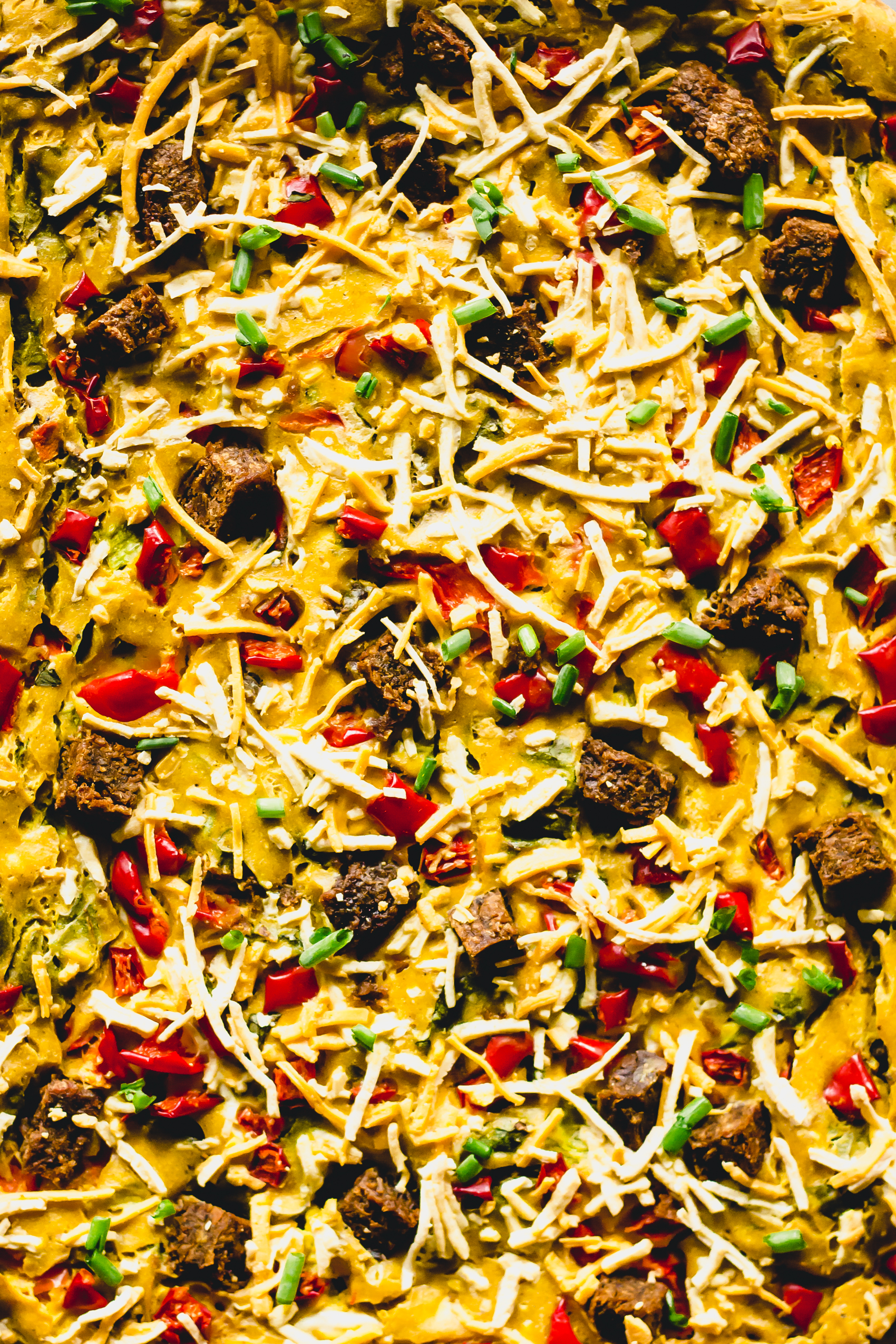 Other Family-Friendly Vegan Brunch Ideas
We've got lots of family time coming up, so save these recipes to impress everyone with your vegan cooking skills. From vegan French toast, to breakfast sandwiches and even a quiche, these vegan brunch ideas are perfect for pleasing a crowd: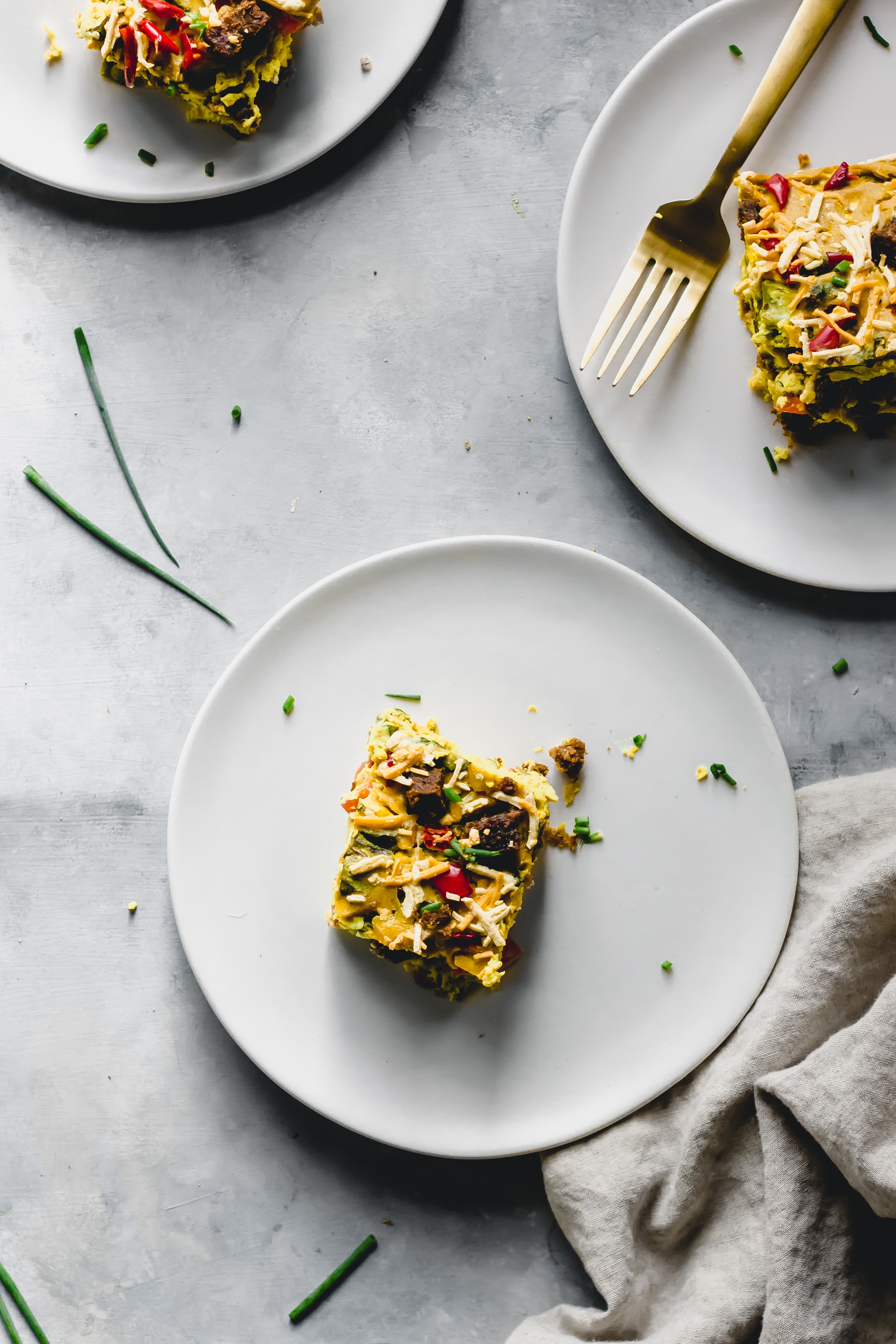 Print
How to make:
Vegan Breakfast Casserole
This Vegan Breakfast Casserole is perfect for serving a crowd or freezing for leftovers! It'll be one of your new favorite vegan brunch ideas.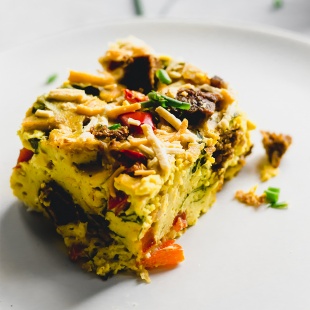 Ingredients
1

large bell pepper, diced

1 cup

greens, finely chopped (spinach, kale, chard)

3/4 cup

vegan shredded cheese, divided

2

14-ounce packages firm tofu, drained (not pressed)

1 cup

+

2 tablespoons

chickpea flour

1/4 cup

nutritional yeast

1 tablespoon

low-sodium soy sauce

1 1/2 teaspoons

kala namak (black salt)*

1 teaspoon

ground thyme

1 teaspoon

ground turmeric

1/2 teaspoon

black pepper
Instructions
Cook veggie sausage according to package directions. When done, finely chop. Set aside.
Preheat oven to 350ºF. Lightly grease a 9×13 baking dish.
Place bell pepper, greens, 1/2 cup cheese, and chopped sausage in the baking dish. Mix until ingredients are evenly distributed.
In a blender or food processor, place tofu, chickpea flour, nutritional yeast, soy sauce, kala namak, thyme, turmeric, and pepper. Blend until completely smooth.
Pour tofu mixture into the baking dish. Fold gently to mix all ingredients together evenly. Top with remaining 1/4 cup cheese.
Bake for 1 hour. Let cool for 15 minutes before slicing.
Thanks to Dr. Praeger's for sponsoring this post! I love working with brands whose products I really love and would honestly recommend. Thank you for your support!