I'mma let you finish, but my mom is the best mom of all-time.
Okay, I might be a bit biased. I can only imagine how lovely and wonderful your mothers are❤️. Today's post is dedicated to every kickass mom out there, especially mine. When I asked her for a recipe idea for Mother's Day that was just for her, all she said was, "Pasta, with a simple tomato sauce."
I couldn't post something that simple, so this is my interpretation of what she wanted. Hope you're hungry, Mom, because I'm on my way home right now with all this Caprese pasta salad for you!
I've talked about my mom here and there on the blog, but since this post is dedicated to her, I'll talk about her some more. Basically all you need to know is, she's literally the coolest mom ever. I didn't realize this until after I left for college, so now the time I spend with her is very treasured.
She's the most open-minded, loving, sunshiny person I know. She doesn't judge people and just enjoys her life without worrying about what others think. She can solve any problem in about 7 seconds flat. I can't even count how many times I yelled, "Mom! I can't find X!" for her to come into my room and find whatever I was looking for like it was nothing. Superwoman right there.
There was/is never a cheerleading competition, academic ceremony, family's day, pageant, or mental breakdown she wasn't there for. No matter if I succeeded or failed, she was always supportive and so, so proud. *at this point, I am tearing up sos*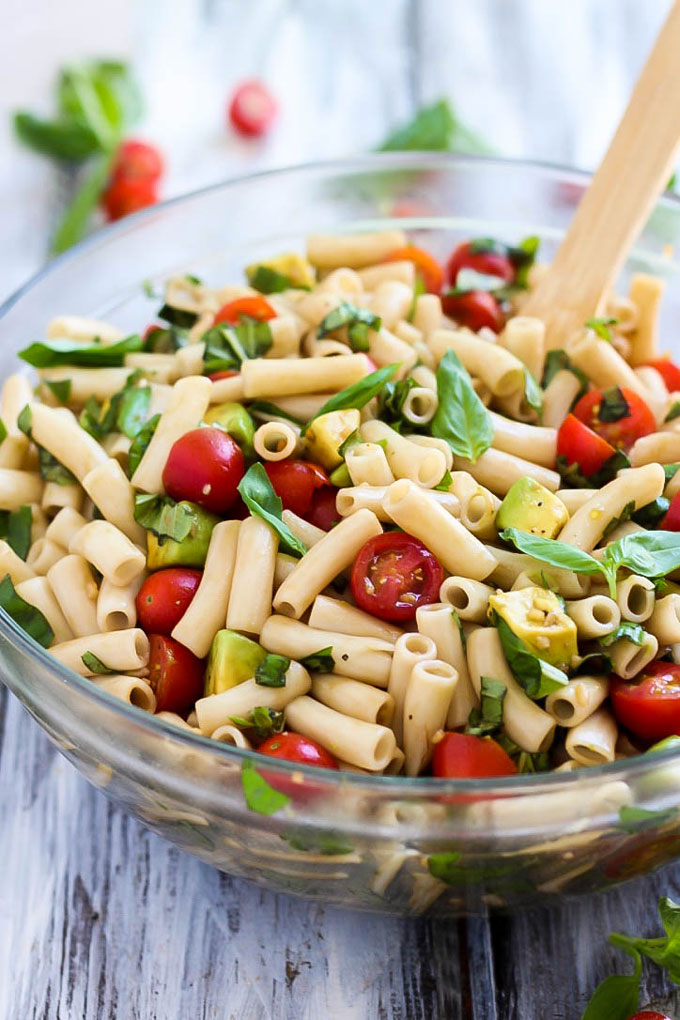 My love of health and cooking started with my mom, and that is something I am extremely thankful for today because I know many people are not exposed to that as children. We never left the house without a substantial breakfast and a lunch packed. We weren't a fast-food family; she pretty much made dinner every night or, at the least, made sure we had leftovers. I also got my love of leftovers from her. 🙂
Sustainability has always been really important to my mom, which is something I've only been passionate about for a year or so (basically since I went vegan). We recycled everything we could, installed solar panels, grew our own gardens, and never bought plastic water bottles. She has tattoos of a recycling symbol and a tree of life. That's something really important to her, and something I'm really happy she passed onto me.
Okay, Mom, sorry if you're crying right now – let me just end on this. Thank you for everything you have sacrificed for us, for always knowing what to say, and supporting me no matter what crazy idea I have. You really are the best, and I'm beyond happy to call you not only my mom, but my best friend.
Nowwwwww let's talk about this pasta!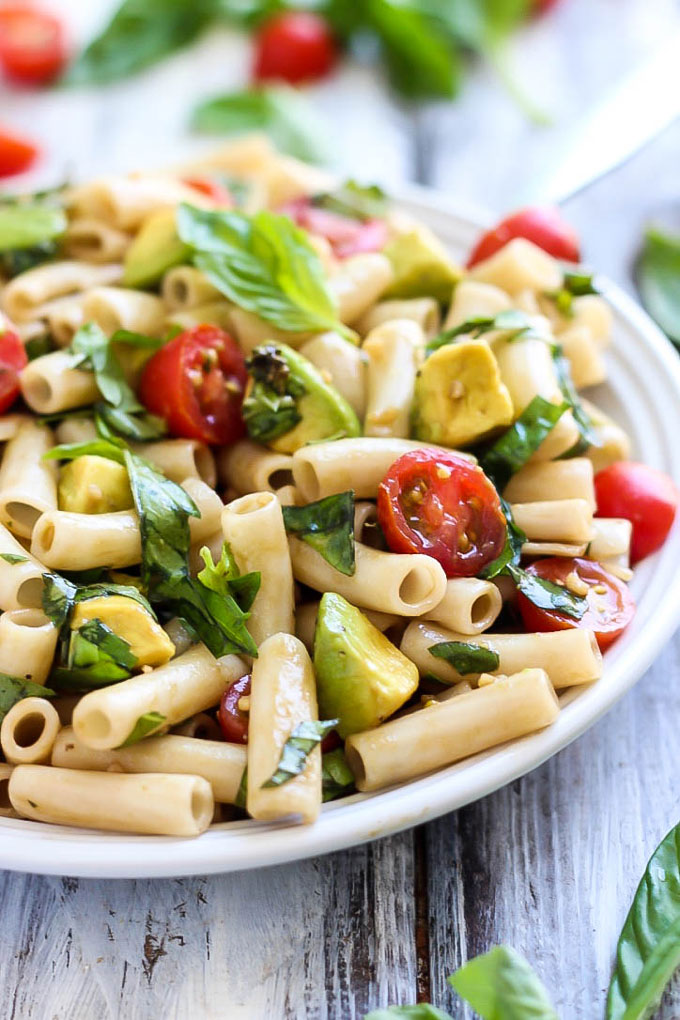 One of my mom's favorite foods is pasta (whose isn't?), so I know she's going to be reeeeeal happy when I show up at home today with all of this Caprese pasta salad!
Since she's all about those simple meals, I wanted to make her something she could easily make when she doesn't have the luxury of her gracious daughter bringing her some every weekend?. This recipe takes just under 30 minutes to throw together, making it the perfect busy weeknight dinner that packs beautifully for lunch the next day.
Traditional Caprese salads consist of tomatoes, mozzarella, and balsamic vinegar, but we're replacing the cheese with creamy avocado! It's a great substitute to add a punch of healthy fats and make the traditional Caprese a little healthier. I went with brown rice pasta from Trader Joe's (they have a great selection of gluten-free pastas!), but you can use any kind of pasta in any shape.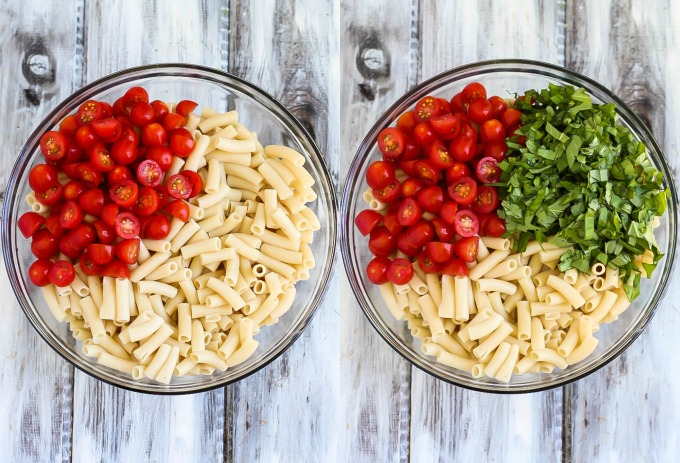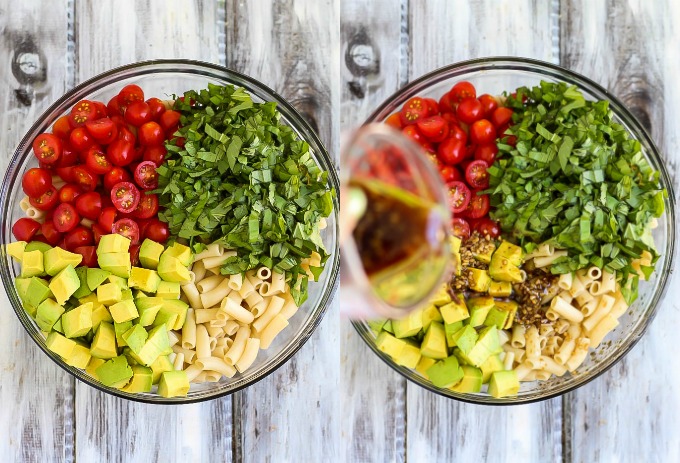 I know it looks like a Christmas pasta, but this is the perfect dish to take advantage of all the fresh summer produce popping up! Fresh basil and juicy tomatoes are so yummy in the summer, especially straight from the farmer's market. My mom has basil in her garden, so she'll be able to make this with her homegrown basil. Ah, what'd I do for a garden in my tiny college apartment…
A huge bowl of this Caprese pasta salad would be the perfect addition to your next summer party! Mmmm, veggie burgers, pasta salad, juicy fruit….I'm drooling. This is definitely a dish that even non-vegans would enjoy – it's filling, but light, and full of classic Caprese salad flavors!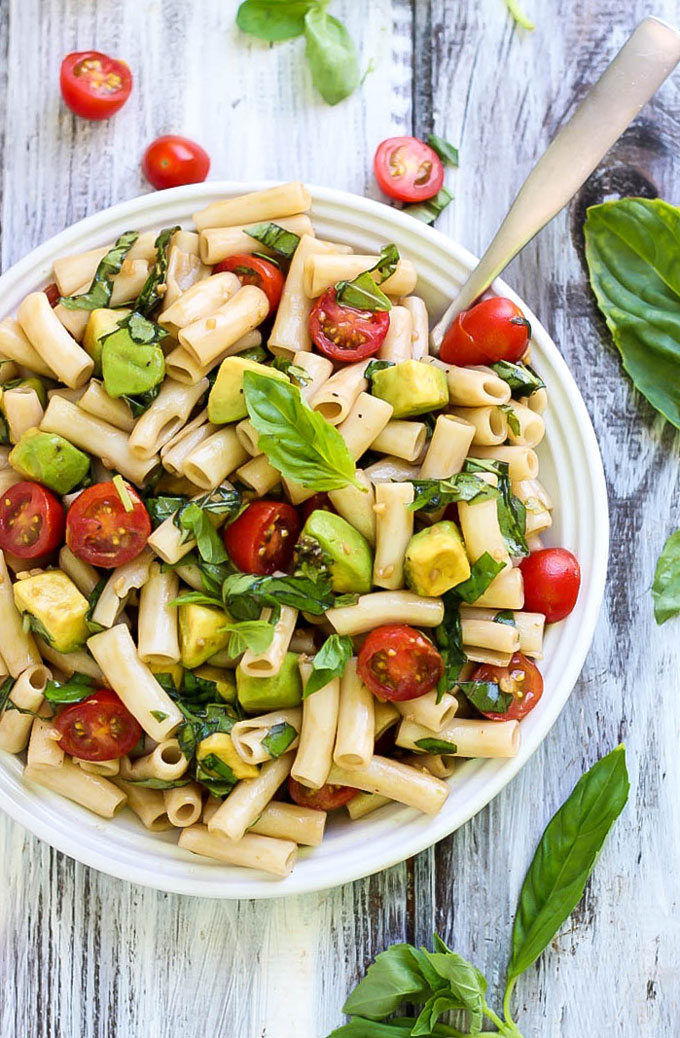 I hope you all have a beautiful weekend with your beautiful mothers. I also want to shoutout my amazing grandmothers, who have seriously been there for everything. I am lucky to have so many awesome women in my life!
If you get to make this Caprese pasta salad, be sure to snap a pic and tag me on Instagram with #emilieeats so I can see your creation! Bonus points if you make it with/for your mom.
What are your Mother's Day plans? What is your favorite thing about your mom?
Print
How to make:
Vegan Avocado Caprese Pasta Salad
Creamy avocado replaces cheese in this VEGAN Caprese Pasta Salad! Easy to prepare in 30 minutes & full of fresh summer produce. A delicious lunch or dinner!

Ingredients
1

16-ounce bag brown rice pasta (or any kind of pasta you want)

1

8-ounce pint cherry tomatoes, halved (about

1 1/2 cups

)

1 cup

fresh basil, chopped

1

avocado, chopped

1/4 cup

balsamic vinegar

2 tablespoons

olive oil

3

cloves garlic, minced (about

1 tablespoon

)

1 tablespoon

fresh lemon juice

1 teaspoon

maple syrup or agave nectar (optional)

1/2 teaspoon

salt

1/4 teaspoon

pepper
Instructions
Cook pasta according to package directions. Drain; place in a large bowl.
Add tomatoes, basil and avocado. Stir until the ingredients are evenly mixed.
In a small bowl, whisk together balsamic vinegar, oil, garlic, lemon juice, maple syrup, salt, and pepper. Pour onto the pasta; stir to combine.