This Sweet and Sour Tofu recipe is an easy vegan dinner done in under 1 hour. This tofu recipe pairs great with broccoli and rice! (gluten-free)
Sweet and Sour Tofu
So, I have to be honest with you… I am SO bored with food right now. Does anyone else feel that way? Food is purely sustenance at this point. Also, I couldn't be less motivated to cook. Yes, a food blogger who dreads cooking and is totally bored with eating… it's real.
Obviously, we still have to eat even if we're totally burnt out on cooking. This is where recipes like this sweet and sour tofu come in. Of course, we all need recipes that are quick, nutritious, and tasty, and this tofu recipe definitely fits the bill!
Check this article out for the history of sweet and sour sauce!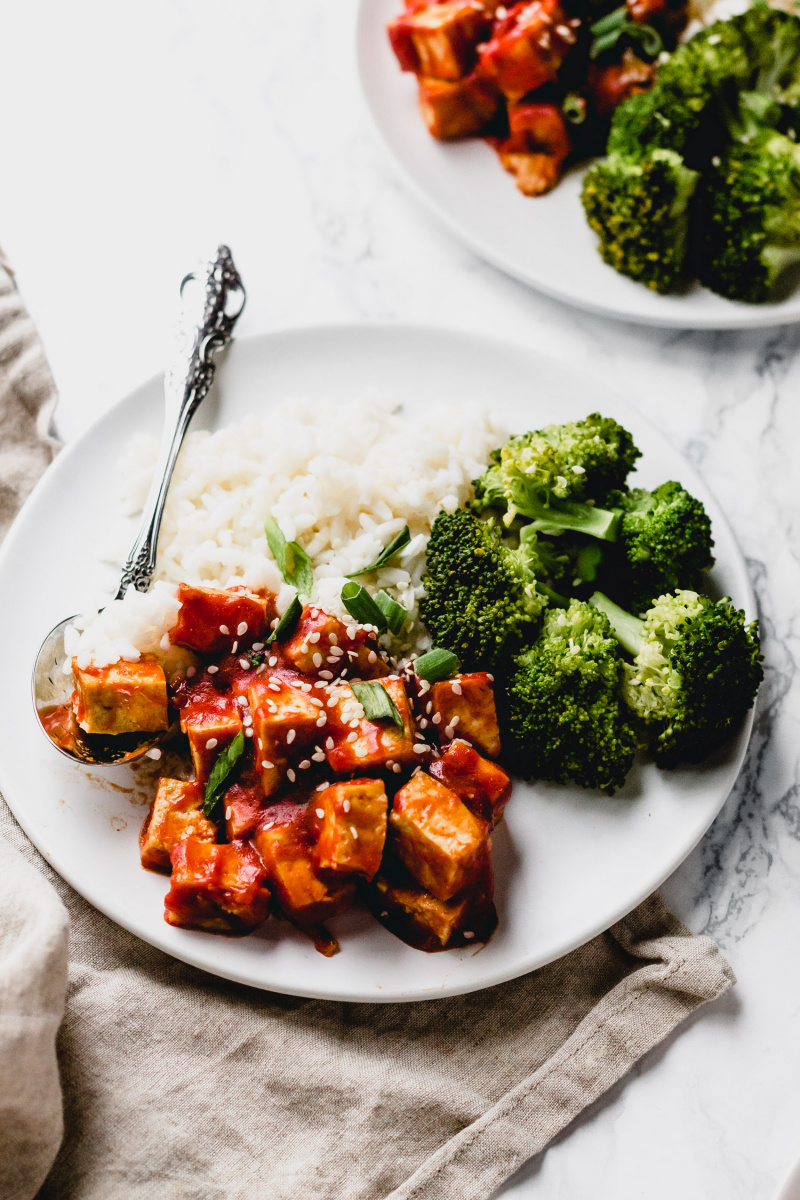 Ingredients in Sweet and Sour Tofu
Overall, this sweet and sour tofu recipe is very similar to our sweet and sour chickpeas recipe. Why not have a homemade sweet and sour sauce two different ways, you know? Let's review the super simple ingredients for this recipe:
Tofu. To make the best crispy baked tofu, make sure to buy extra firm tofu.
Pineapple juice. This gives the sauce for this sweet and sour tofu its classic tang.
Rice vinegar.
Sugar.
Tomato paste.
Low-sodium soy sauce. Here's a trick: buy regular soy sauce and dilute it with water. Then, you have your own low-sodium soy sauce for less money!
Garlic powder.
Tapioca or corn starch. This helps our sweet and sour sauce thicken.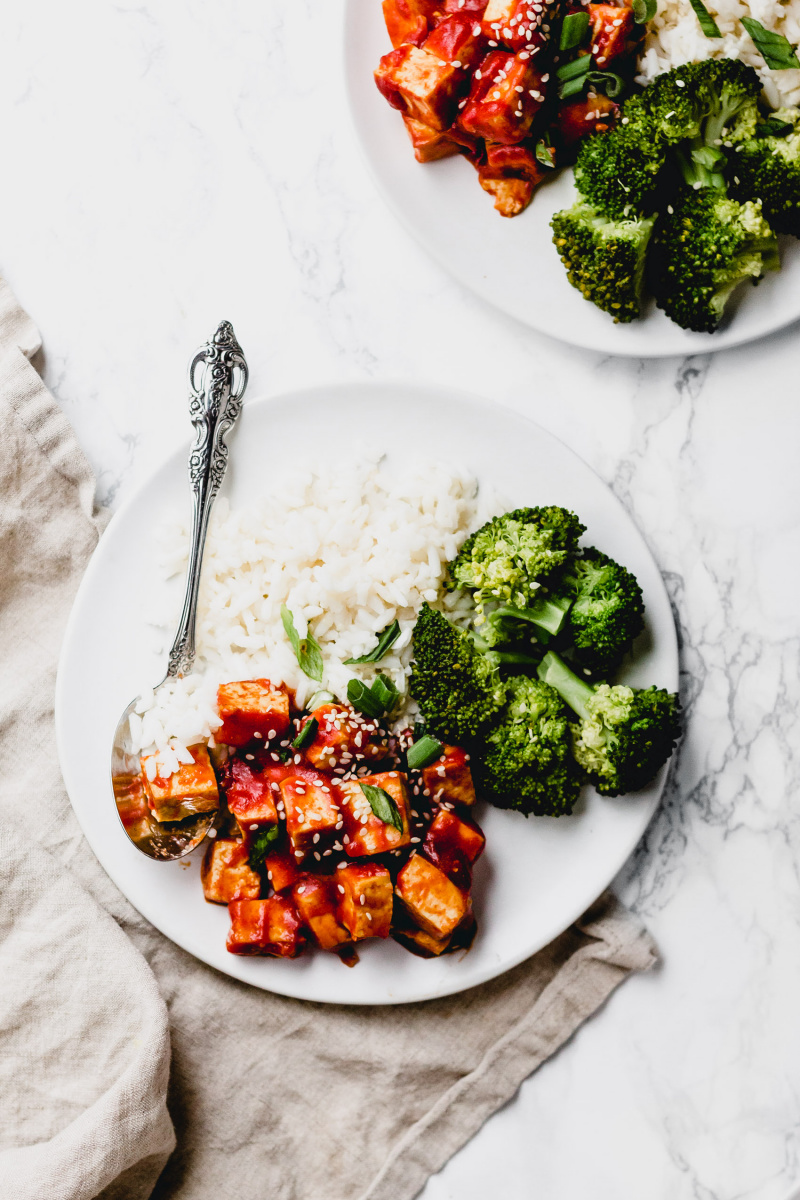 How to Make Sweet and Sour Sauce
First, you're going to add all sweet and sour sauce ingredients to a small pot.
Then, you'll make a starch slurry. For this slurry, you'll add starch and COLD water and whisk together. We do this because if we add the starch directly to the sauce, it'll clump up. Making a slurry helps the starch get evenly mixed in to the sweet and sour tofu sauce so that it can properly thicken.
Finally, let your sweet and sour sauce simmer for 15-20 minutes. Of course, make sure you cover your pot, or your whole kitchen might be sweet and sour flavored (yes, I learned this from personal experience).
How to Bake Tofu
First of all, I like to bake tofu at a lower temperature so that it cooks through all the way without burning the outsides. For this sweet and sour tofu recipe, you'll bake tofu at 350ºF.
For super crispy baked tofu, dust a bit of corn starch on top of the tofu when it's on the baking sheet and toss. This will really help get the edges crispy! Also, it's important to stir the tofu halfway through cooking so that it browns evenly on all sides.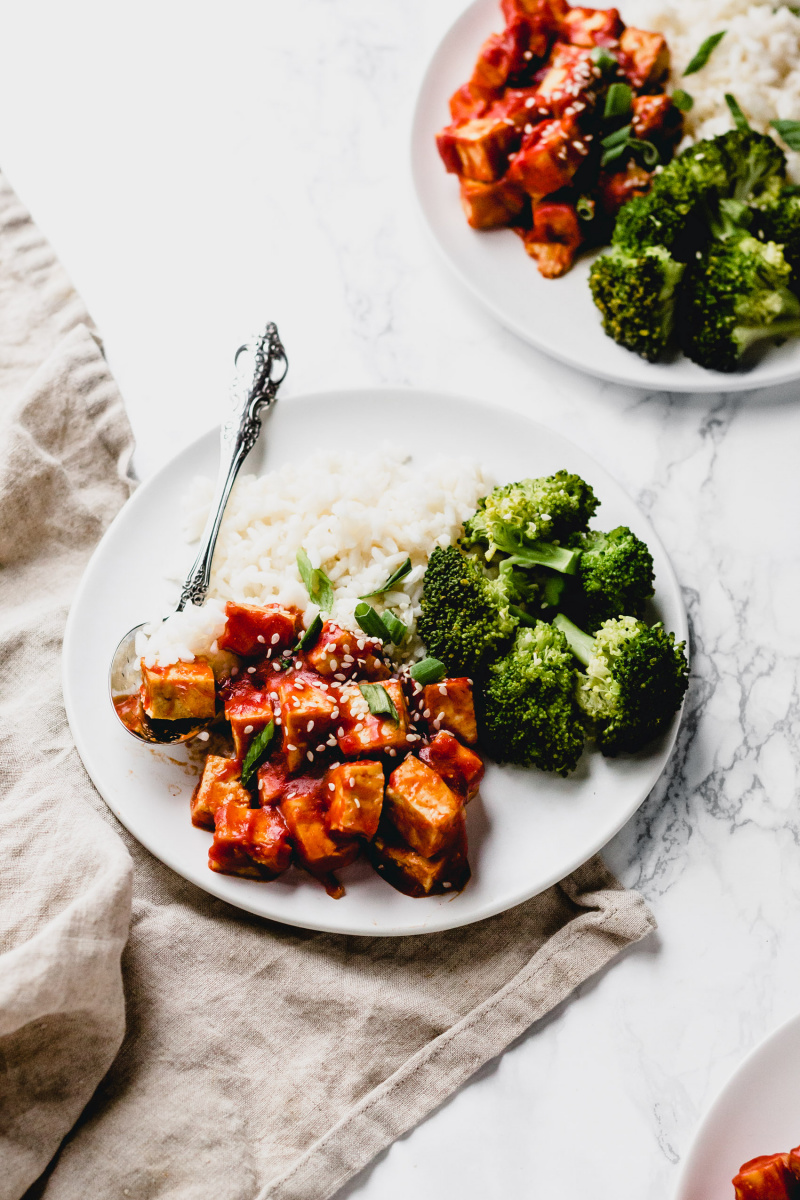 Print
How to make:
Sweet and Sour Tofu
This Sweet and Sour Tofu is an easy vegan dinner done in under 1 hour. This tofu recipe pairs great with broccoli and rice! (gluten-free)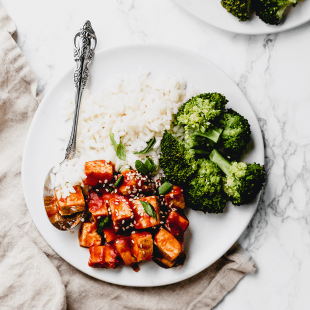 Ingredients
2

14-ounce blocks tofu, drained and pressed*

8 ounces

pineapple juice

3 tablespoons

 rice vinegar

1 tablespoon

sugar

6 ounces

 tomato paste

2 tablespoons

low-sodium soy sauce (use tamari for gluten-free)

1 teaspoon

garlic powder

1/4 cup

 water

1 tablespoon

 tapioca or corn starch
Instructions
Preheat oven to 350ºF. Lightly grease a baking sheet.
Cut tofu into 1/2-inch cubes. Place tofu in a single layer on the baking sheet. Bake for 25 minutes.
In a saucepan over medium heat, add pineapple juice, vinegar, sugar, tomato paste, soy sauce, garlic, and water. Whisk until smooth.
To a small bowl, add starch and 1 tablespoon cold water. Whisk to form a starch slurry. Pour into saucepan. Whisk to combine all ingredients.
When sauce begins to bubble, cover and reduce heat to low; cook for 15-20 minutes, until sauce has thickened.
Add baked tofu to sauce. Toss to coat.
Notes
*Use a tofu press, or wrap the tofu in paper towels and place in the sink with a heavy object on top. Press for 10-15 minutes.