This Vegan Curried Pasta Salad is perfectly packable, ready in under 30 minutes and is full of fresh veggies and plant-based protein. This post was sponsored by Modern Table Meals. I only work with brands whose products and missions I truly believe in. Thanks for supporting my blog!
Vegan Curried Pasta Salad
Beans, beans, the magical fruit…why do we say that? Beans aren't fruit!! But no matter what they are, I love 'em – all day, every day. I basically spend my days trying to fit beans into everything I eat. Like pasta!
Pasta is one of those foods I'm pretty sure everyone loves. Ever met someone who didn't like pasta? Yeah, didn't think so. No matter if you top it with tomato sauce and meat(less)balls, a vegan cheese sauce, or just eat it straight up plain with a little salt and pepper (anyone else??), it's one of the best foods out there, hands down.
I often associate pasta with the colder months because there's something so comforting about a big bowl of pasta. But that means we're forgetting about a true star of summer – the trusty pasta salad!
If you're looking to switch it up a bit this summer, this vegan pasta salad features curry powder in the glorious, creamy sauce. It's everything you love about a classic pasta salad, but with delicious spices and plenty of plant-based goodness. Plus, you could probably guess that we're using bean-based pasta, which means it's a healthy pasta salad recipe that delivers a balanced, nutritious meal.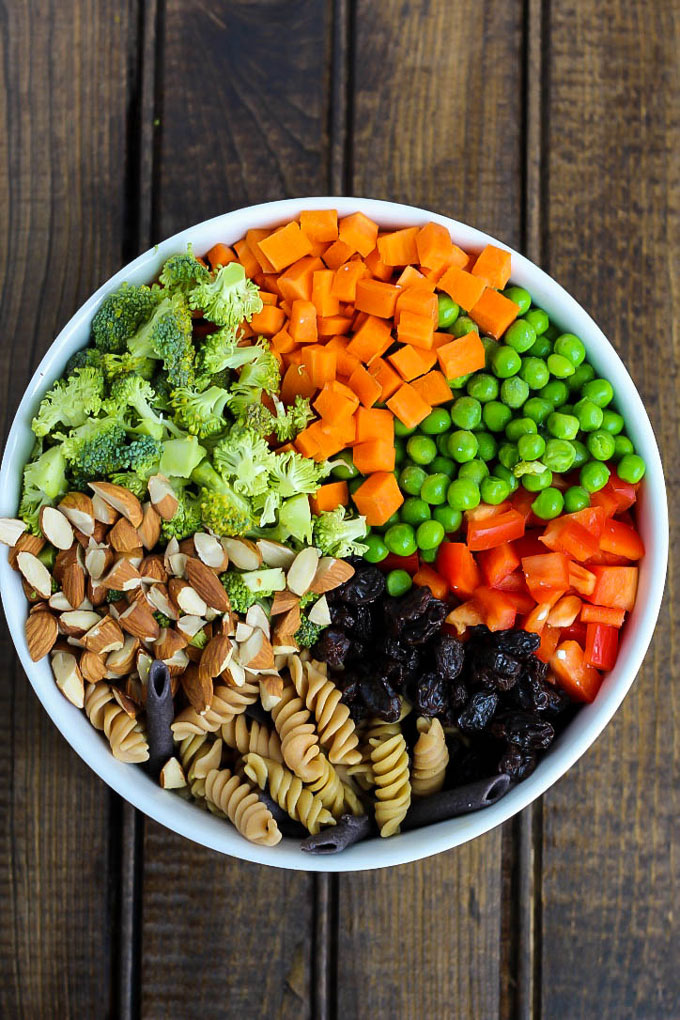 Why Use a Bean Pasta?
I don't eat 100% gluten-free, but when thinking about my diet, I realize that 99% of what I eat is gluten-free. I don't have any gluten allergies, but when I can replace wheat with something more nutrient dense, I grab the bull (or in this case, the beans) by the horn and go with it!
When we think of superfoods, we think about expensive powders and berries, right? Well I'm here to tell you that beans are kinda the ultimate superfood. Yes, you heard that right – BEANS. Beans are truly one of the most nutrient-dense foods you can find. They're packed with fiber, plant-based protein, and tons of vitamins and minerals. And while a good ol' traditional wheat pasta is definitely delicious, a bean-based version is going to deliver way more fiber and protein while still bringing the same flavor and texture you love. As a vegan, this is a great way to enjoy a bowl of pasta and still get in a great serving of protein. It's a no brainer!
That's why I'm so excited to tell you guys about Modern Table Meals. Their pastas are made out of (get ready for it) BEANS – green lentils, red lentils, and black beans.
Modern Table has a bunch of pastas to choose from including lentil penne, elbows, and rotini. Y'all, they seriously have the same texture as wheat pasta. But they're even better because each serving of pasta packs about 15 grams of protein and 3 grams of fiber.
Who cares if they're a fruit or not – beans truly are magical.

Ingredients for Curried Pasta Salad
Most pasta salads are typically pretty lacking when it comes to nutritious, wholesome ingredients. But this take on the summertime classic is more of a healthy pasta salad thanks to our bean-based pasta, plenty of veggies and a silken tofu sauce. Unlike traditional pasta salad, it's a complete meal all on its own with more protein and fiber per serving. Here's what you'll need to make this delicious curried pasta salad!
Modern Table Meals Pasta. Any variety will work!
Silken tofu. We're using this to make our vegan cream sauce for our vegan pasta salad.
Agave nectar or maple syrup. I prefer agave for a subtler flavor, but both work!
Curry powder. This goes into our sauce and packs in a ton of flavor.
Turmeric powder. Turmeric adds a beautiful color and a delicious earthy flavor. It is often included in curry powder blends, so if you don't have it that's okay.
Ground ginger. We're not using too much, but this really amps up the flavor in the sauce.
Salt and pepper. Of course!
Lemon. To add sweetness and a bit of acidity.
Veggies. I used red bell pepper, green peas, broccoli and carrots.
Raisins. I know, I know. Raisins are incredibly polarizing so feel free to leave them out or use dried cranberries instead.
Almonds. If you are allergic, sunflower seeds are also a great option to add some crunch!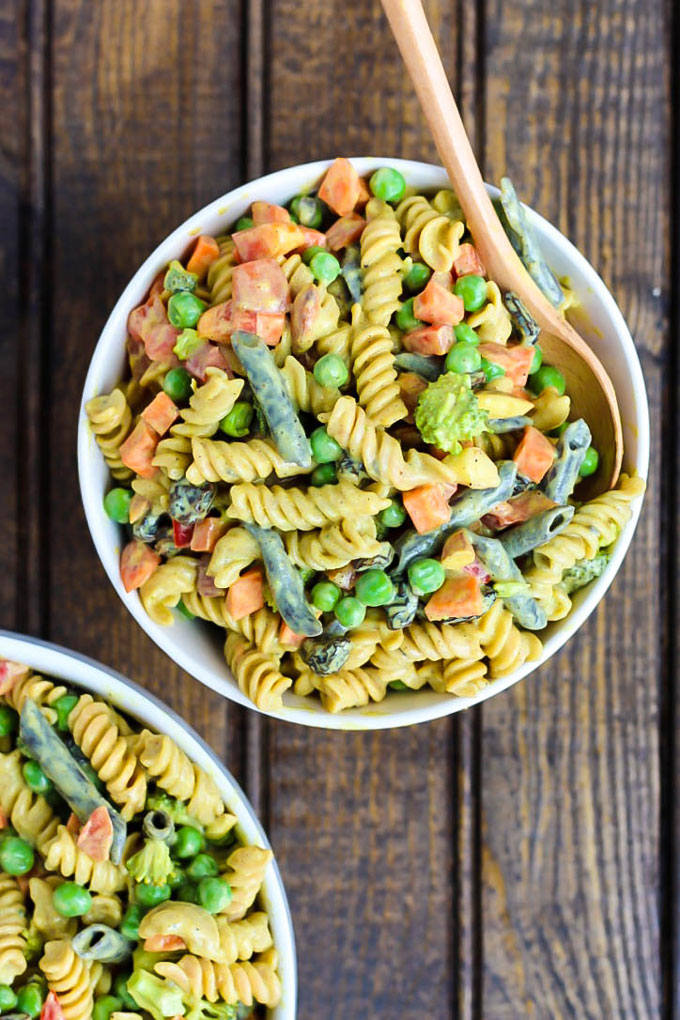 How to Make Curried Silken Tofu Sauce
OMG the sauce!!! I love using silken tofu in creamy recipes, like this Chocolate Pudding Pie (can someone make this for me?). One of my all-time favorite recipes is Hummusapien's Curried Chickpea Salad, so I used her delicious sauce as inspiration!
I know it's tempting to just grab pre-made sauces from the store, but this silken tofu sauce is so, so easy to make, it's much more flavorful than anything that comes out of a bottle, and because we're using tofu as a base, it's a great source of complete protein.
All you have to do is add your silken tofu, agave, spices and lemon juice to a blender, mix it up and thin it out with water as needed. It's THAT easy! If you make extra, this would also be great in a chickpea salad!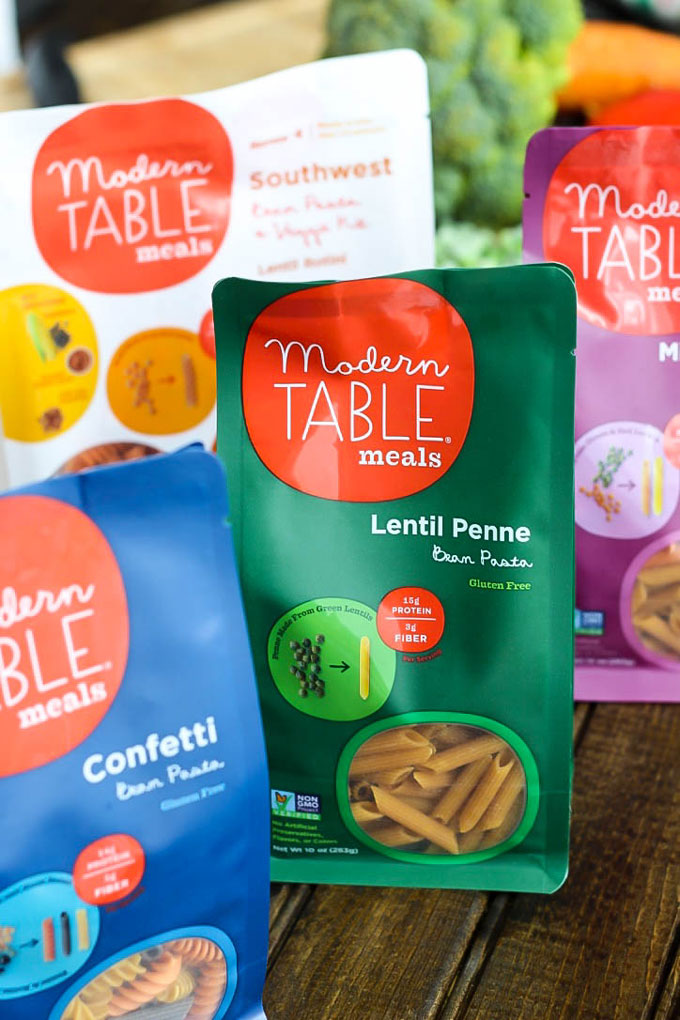 How to Make Curried Pasta Salad
I wanted to make you something quick and simple that you could actually make in your real life for dinner instead of just pinning to your Dinner board on Pinterest. We all love to look at fancy schmancy recipes, but let's be honest – when dinnertime comes, we just want some simple food on the table.
All you have to do for this curried pasta salad recipe is cook the pasta, make your silken tofu sauce, and chop some vegetables. Yes, that's it! You can definitely adapt the vegetables you use to whatever you have available, so don't stress, friend.
While the pasta is cooking, chop your vegetables and almonds. Drain the pasta, mix everything together, and BAM! Dinner in 15 minutes.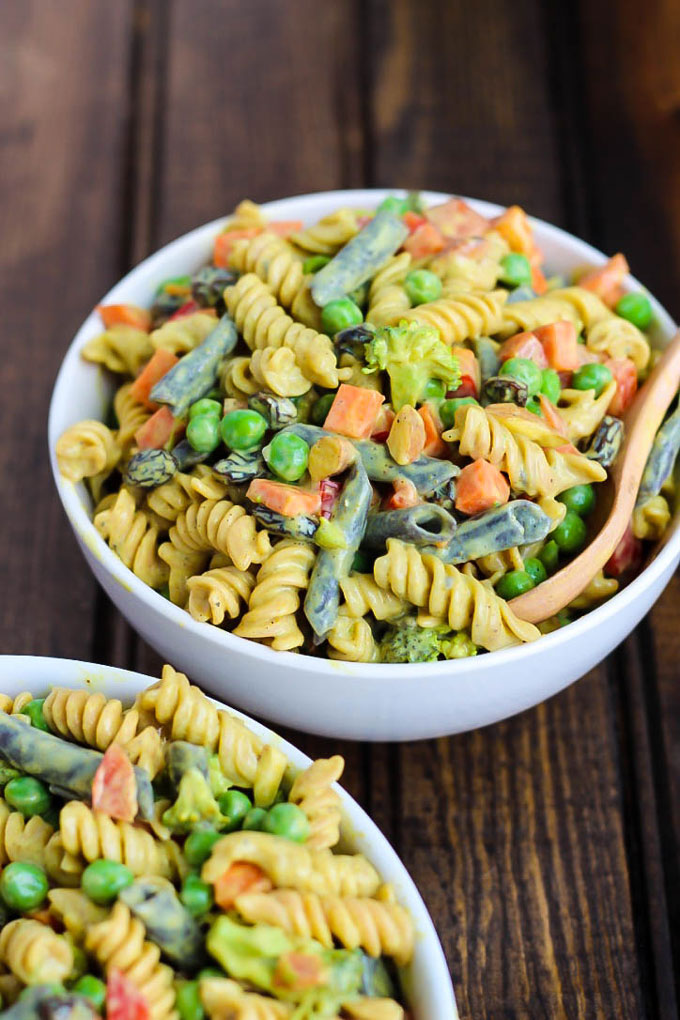 How to Store Curried Pasta Salad
This curried pasta salad is perfect for packing for lunch since it's best served cold. It would also make a great dish at a potluck or cookout! Or a picnic. Or really any occasion because, like we said earlier, who doesn't love pasta? My point is, it's perfectly packable and transport-friendly.
There's no need to store the dressing separate from the vegan pasta salad for this recipe, so mix it all up, pop it in a container and put it in the fridge! It'll store well for up to 4-5 days. That means it's also great for meal prep since it will last you the full work week! You can scoop out single servings of the curried pasta salad into individual containers so your lunches are portioned, packed and ready to go.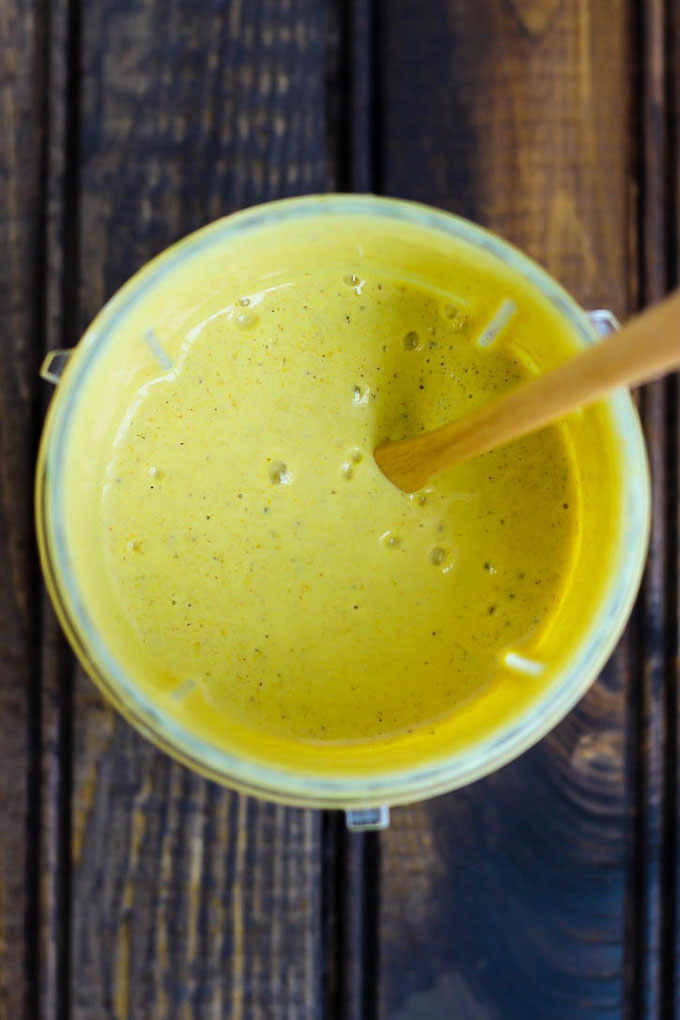 More Vegan Pasta Salad Recipes
I hope you guys love this super simple recipe and get to try it! It's creamy, slightly sweet with a kick, and full of crunchy veggies and goodies. And make sure to check out Modern Table's bean pasta! It would also work super well in these other vegan pasta salad recipes!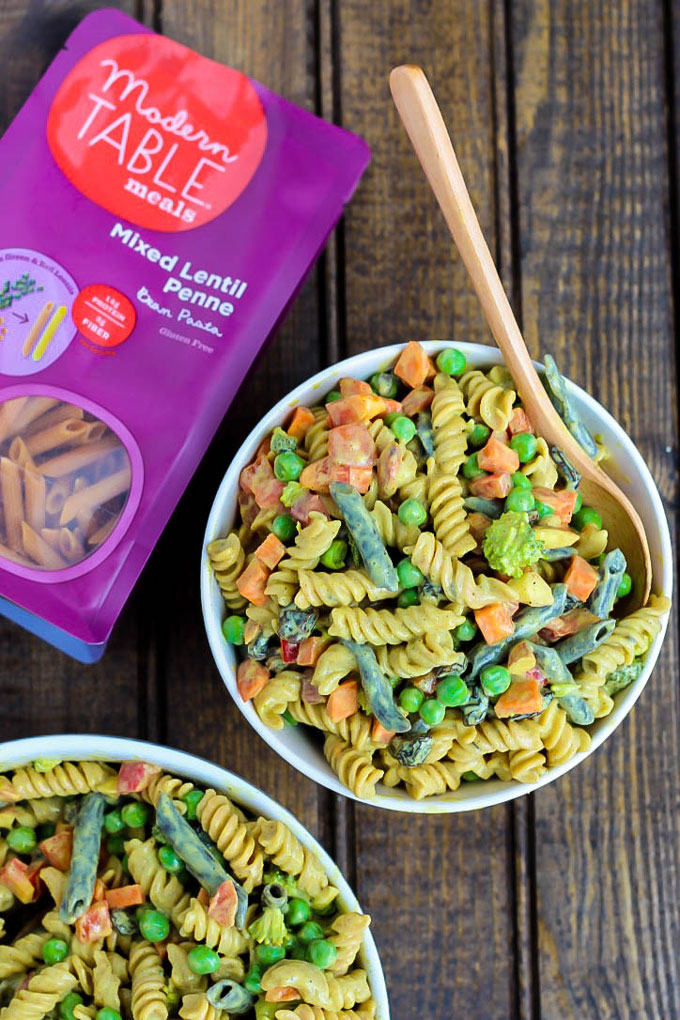 Print
How to make:
Vegan Curried Pasta Salad
This Vegan Curried Pasta Salad is perfectly packable, ready in under 30 minutes and is full of fresh veggies and plant-based protein.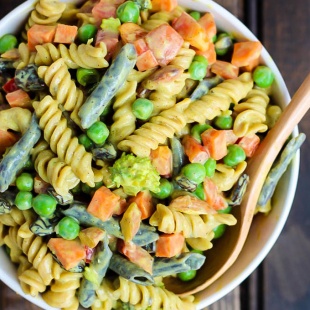 Ingredients
1

10-ounce bag Modern Table Meals Confetti Bean Pasta

1 cup

soft silken tofu (about

8 ounces

)

1 1/2 tablespoons

agave nectar or maple syrup

1 tablespoon

curry powder

1/2 teaspoon

turmeric powder

1/2 teaspoon

salt, plus more to taste

1/4 teaspoon

ground ginger

1/4 teaspoon

black pepper, plus more to taste

1/2

lemon, juiced

1

red bell pepper, finely chopped

1 cup

green peas, thawed if frozen

3/4 cup

raw broccoli, chopped into small florets

1/2 cup

carrots, diced

1/4 cup

raisins

1/4 cup

almonds, chopped
Instructions
Bring a large pot of water to a boil. Add pasta; cook for 8-9 minutes, stirring occasionally. Drain; do not rinse. Add back into pot.
While the pasta is cooking, prepare sauce. In a blender, add tofu, agave, curry powder, turmeric, salt, ginger, pepper, and lemon juice. Blend until smooth, adding water if you want a thinner sauce.
Add bell pepper, peas, broccoli, carrots, raisins, and almonds to the pot with the pasta. Stir to combine. Pour sauce; stir until all ingredients are evenly coated.
Serve cold; store in the fridge.
Thanks to Modern Table Meals for sponsoring this post! I love working with brands whose products I really love and would honestly recommend. Thank you for supporting this blog that I love oh-so-much!