Perfect for weekday breakfasts or weekend brunch, these wholesome Vegan Oatmeal Pumpkin Pancakes will be on repeat this fall & winter! (gluten-free) In partnership with my friends at Silk! ❤️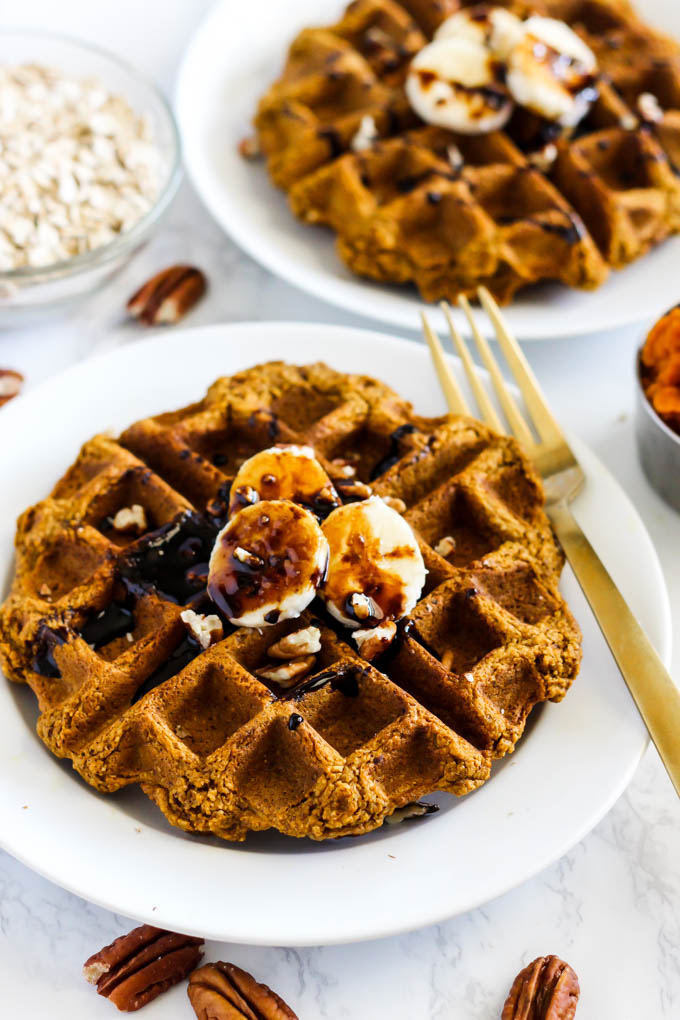 Waffles are such a fun breakfast. They're like pancakes but look fancier. It's like you have one of those hotel waffle irons right in your own kitchen.
But the real best thing about waffles is their ability to be a vessel for any and every topping you can dream of. Like, c'mon, they have pockets!!! Aka the best place to store blueberries, chocolate chips, pools of nut butter, or a smear of vegan butter. That has always been the best thing about waffles – you can store butter in every little pocket for flavor in each bite.
This is turning into a love letter to waffles, but can you blame me?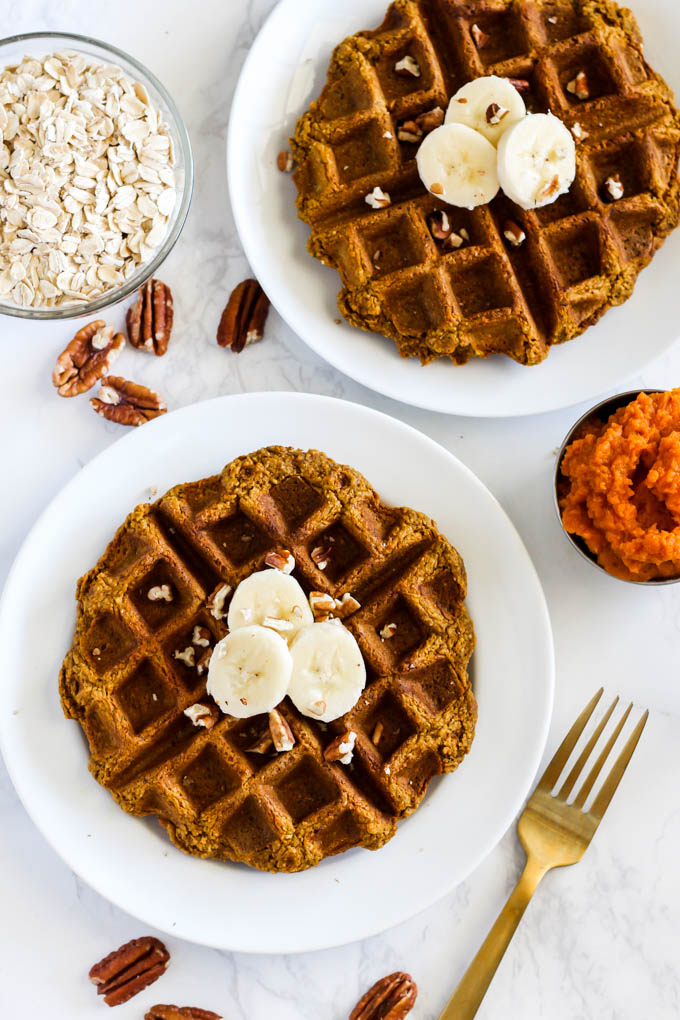 It's technically fall now (even though it's still 85ºF…I digress), so we can all officially enjoy all the pumpkin we want with no questions asked. Actually, I wouldn't ask you any questions even if you were eating pumpkin in April. Girl, you eat that pumpkin!! Did you know stores stock it all year round? No need to cram your pumpkin-enjoying to 3 months.
I love when pumpkin seasons comes 'round because guess what? Pumpkin is a VEGETABLE! At no other time of year do people freak out about a vegetable, so the nutrition nerd in me accepts the fanfare graciously.
Reasons to love pumpkin besides the flavor in your latte: it's full of fiber, a TON of vitamin A (for great 👀), antioxidants and beta-carotene.
We can all celebrate that these oatmeal pumpkin waffles are SO good aaaand that we're getting our daily veggies in. 👏🏼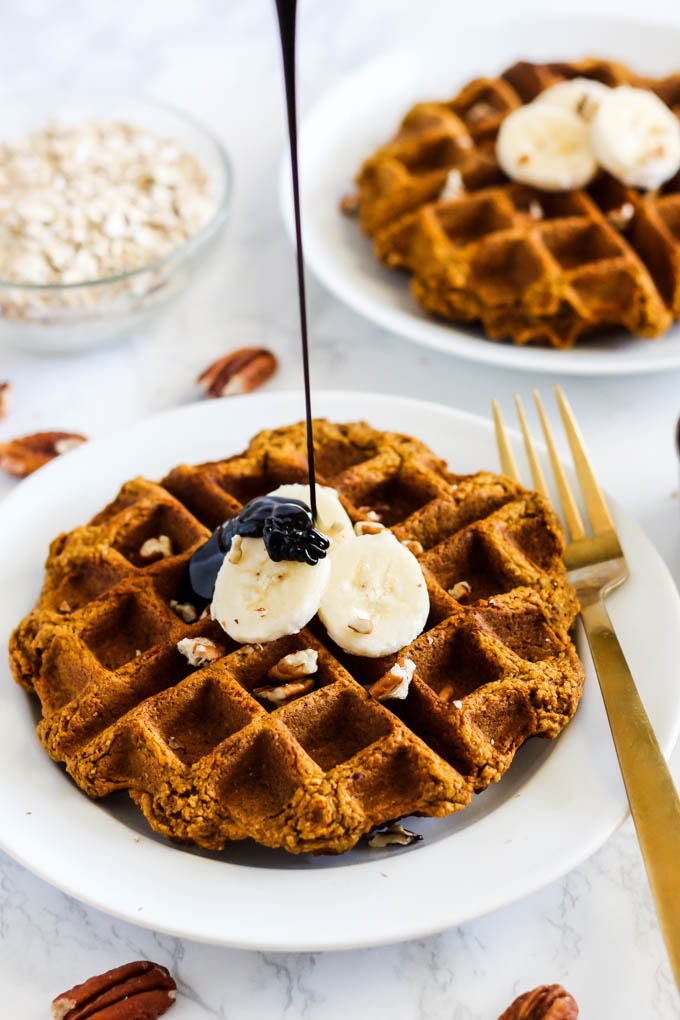 My Blender Sweet Potato Waffles are a major hit with you guys and on Pinterest, so I wanted to make a similar recipe that was even easier to cook, required less ingredients and included fall's favorite ingredient.
I hit the nail on the head with these oatmeal pumpkin waffles! Don't buy oat flour at the store – make it at home from regular ole rolled oats. To the oat flour we add classic pumpkin pie spices, pumpkin, molasses and Silk Unsweetened Vanilla Almondmilk! This is one of my go-to non-dairy milks for everything from waffles to matcha lattes to creamy soups to smoothies. Since I used the Vanilla Almondmilk, I didn't even have to add vanilla extract to the batter!
Silk just reformulated some of their non-dairy milks with a new silky smooth taste, and it is SO good! I have never enjoyed drinking a cup of milk, dairy or non-dairy, but this 👇🏼 I could drink on its own every day. Get a $1 off coupon here!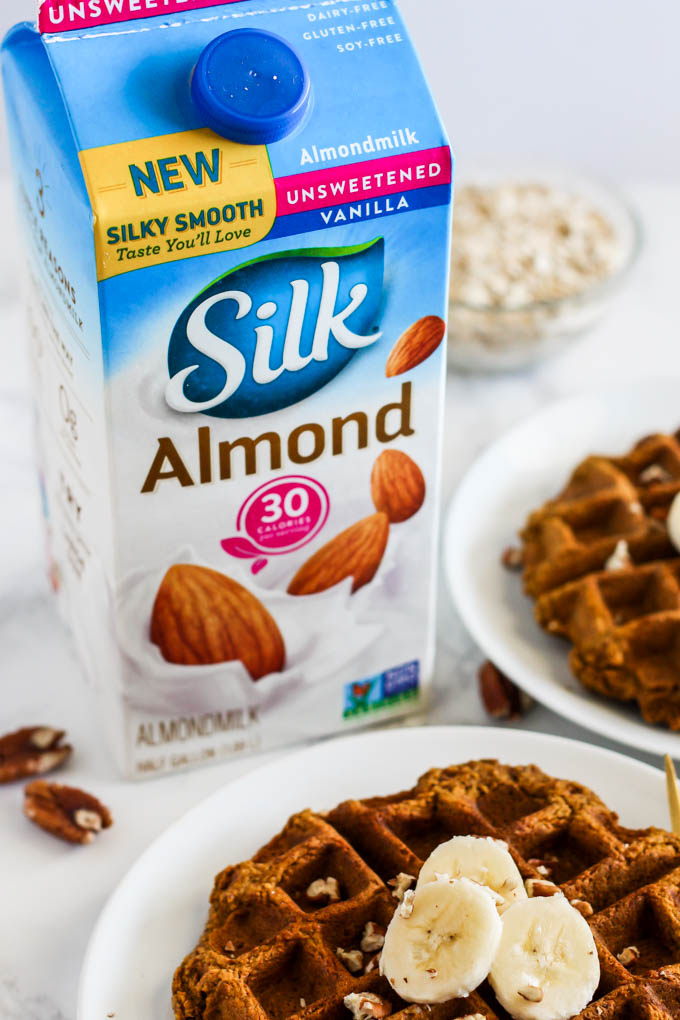 I love these pumpkin waffles for a fun weekend brunch; you can make extra to save for easy weekday breakfasts. These are also freezer-friendly, so no need to buy frozen toaster waffles anymore! Oatmeal pumpkin waffles to the rescue.
Let me know if you try these and what you top them with! My current favorite toppings combo is banana, molasses, coconut yogurt and pecans. 👌🏼
Be sure to check out the Silk website for a $1 off coupon!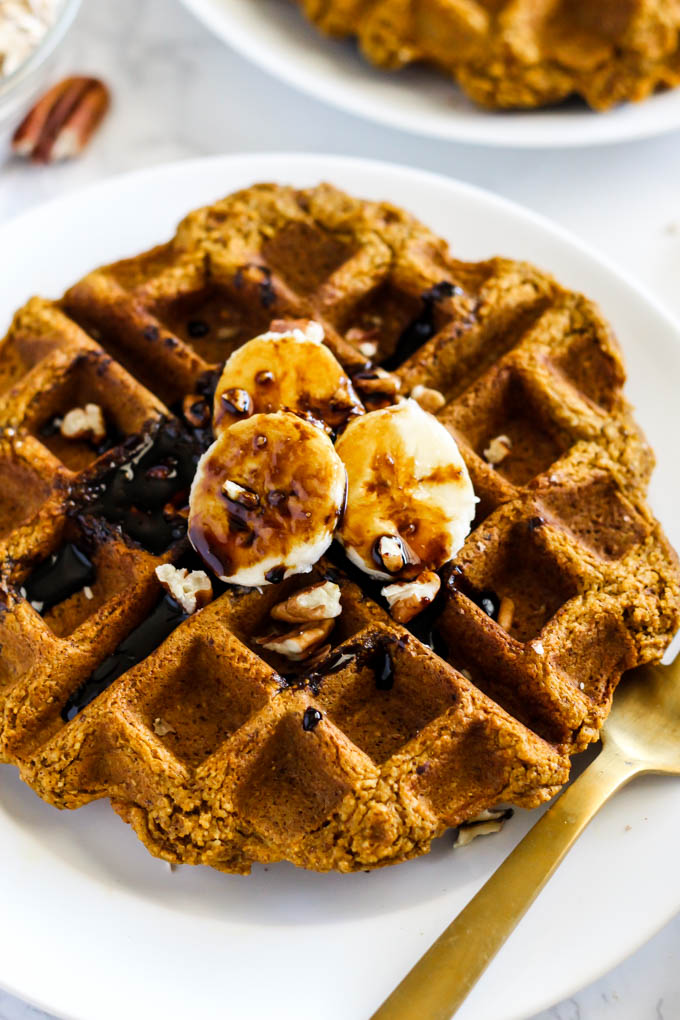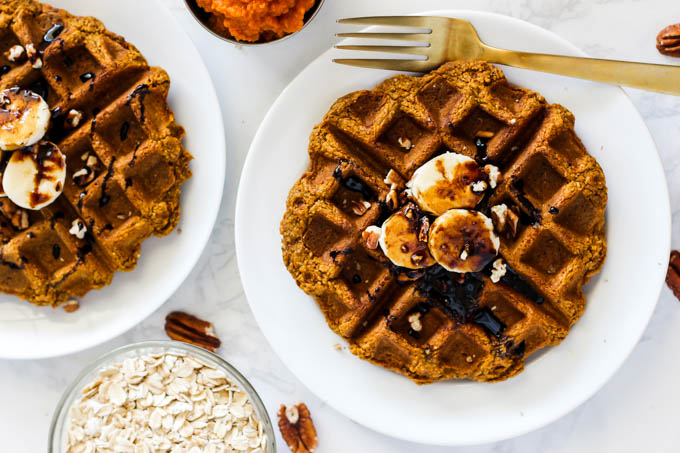 Print
How to make:
Vegan Oatmeal Pumpkin Waffles (gluten-free)
Perfect for weekday breakfasts or weekend brunch, these wholesome Vegan Oatmeal Pumpkin Pancakes will be on repeat this fall & winter! (gluten-free)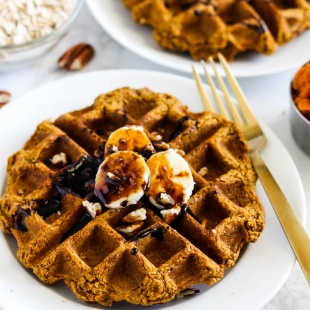 Ingredients
1 tablespoons

ground flax

1/2 cup

Silk Unsweetened Vanilla Almondmilk

1 teaspoon

apple cider vinegar

1 1/2 cups

oat flour*

2 teaspoons

baking powder

2 teaspoons

ground cinnamon

1/4 teaspoon

baking soda

1/4 teaspoon

ground cloves

1/4 teaspoon

ground allspice

1/4 teaspoon

ground nutmeg

3/4 cup

pumpkin puree

1 tablespoons

molasses, plus more for topping
Toppings: maple syrup, banana slices, pecans, coconut yogurt
Instructions
Preheat a waffle iron. Lightly grease with cooking spray.
In a small bowl, add ground flax and 2.5 tablespoons water. Stir; let sit for 5 minutes to make a flax egg.
In another small bowl, add Silk Almondmilk and apple cider vinegar; stir. Let sit for 5 minutes.
In a medium bowl, add oat flour, baking powder, cinnamon, baking soda, cloves, allspice and nutmeg. Stir to combine.
Add flax egg, Almondmilk, pumpkin and molasses. Stir until all ingredients are combined throughly, but don't overmix. Let the batter sit for 5 minutes.
Scoop 1/3 of the batter into the center of the waffle iron; close and let cook for 5-7 minutes each, until cooked through and crispy on the outside.
Top with a drizzle of molasses or maple syrup and whatever other toppings you want.
Notes
*To make your own own oat flour, simply blend rolled oats into a fine flour using a high-speed blender or food processor.
This is a sponsored conversation written by me on behalf of Silk. The opinions and text are all mine.
Comments submitted may be displayed on other websites owned by the sponsoring brand.
SaveSave