This post was sponsored by Simple Mills. I only work with brands whose products and missions I truly believe in. Thanks for supporting my blog!
We all love a good chocolate chip cookie or a fudgy brownie, but we all know the one dessert that is essential to a celebration: CAKE. No birthday party is complete without cake.
Today we're celebrating not one but two birthdays for some very special people, so cake was necessary. Not just any cake – chocolate crepe cake. Let's dig in!
This week we celebrated my sweet boyfriend Cayden's 22nd birthday *cue "22" by Taylor Swift.* His favorite foods are pizza and anything chocolate, so we checked out a new pizza place (no cheese, all veg for me) and then he devoured this crepe cake. I'd say that's a pretty good birthday present, right?!
This is the second birthday I've gotten to spend with him, and it makes me even more thankful to have such an amazing person in my life. Have you ever met someone who is totally & completely on your wavelength? Yeah, that's how it is. And it's really cool.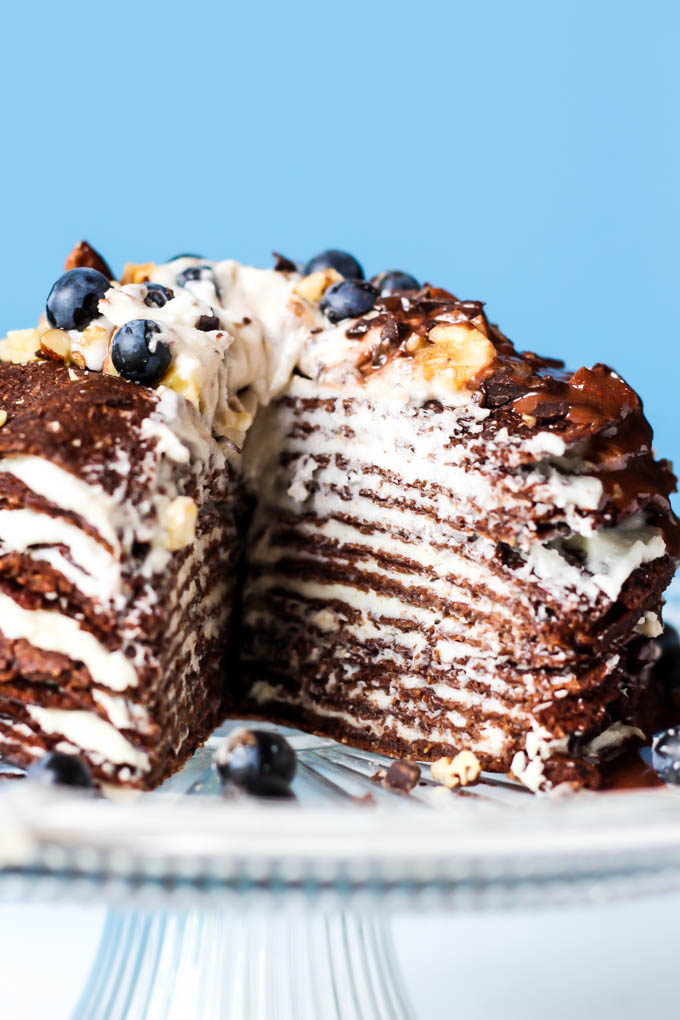 Cayden has been with me through a lot over the last year. He's seen me go vegan, start a blog, get featured in my first Buzzfeed article, grow the blog, win Miss LSU-USA, struggle with disordered eating and make lots & lots of plants. He has been more supportive and encouraging than I could ever ask for.
He has also made huge changes in the way that he eats! And I promise I didn't force him.😉 I guess after hearing me talk about plants all the time, he wanted to try it out. Now he eats about 75% vegan, and I couldn't be happier that he feels so energetic and healthy. Couples that eat plants together stay together – that's the saying, right?
Happy birthday, babe! You da best. Eat some cake.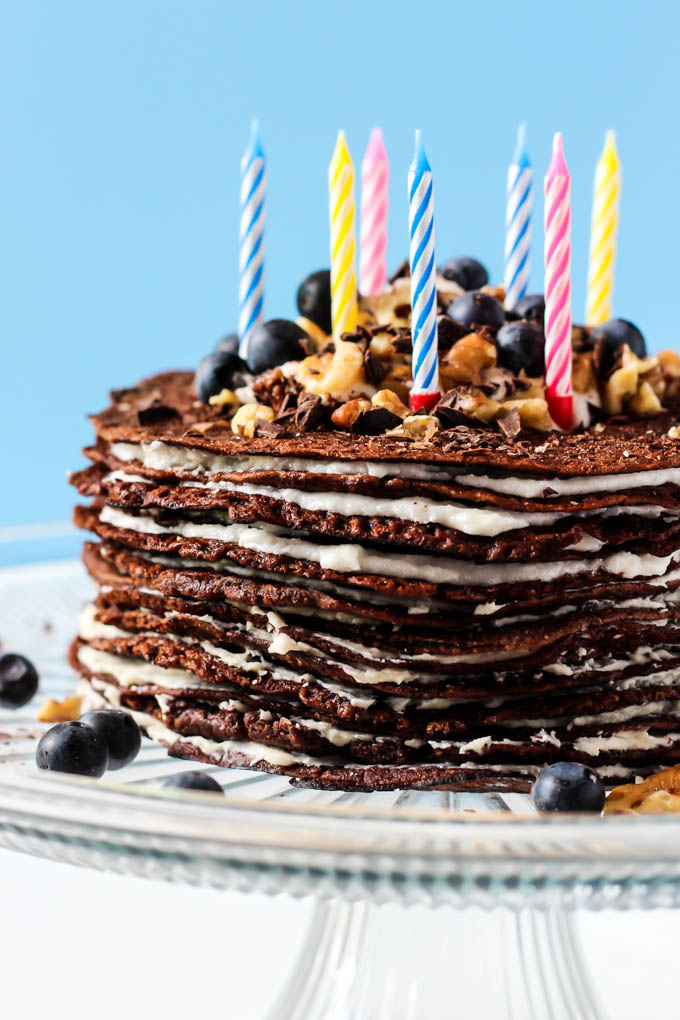 We're also celebrating Simple Mills' 4th birthday this month! I have loved working with Simple Mills to bring you guys delicious recipes like gluten-free peach cake and the graham crackers of your childhood, so I'm really excited to help them celebrate this awesome milestone.
With two celebrations, we definitely needed cake. But if you want to look extra fancy schmancy and impress everyone at the party, make a crepe cake and watch their jaws drop to the floor. It's a sure way to be the life of the party!
[Tweet "The best way to impress: make a crepe cake. BOOM."]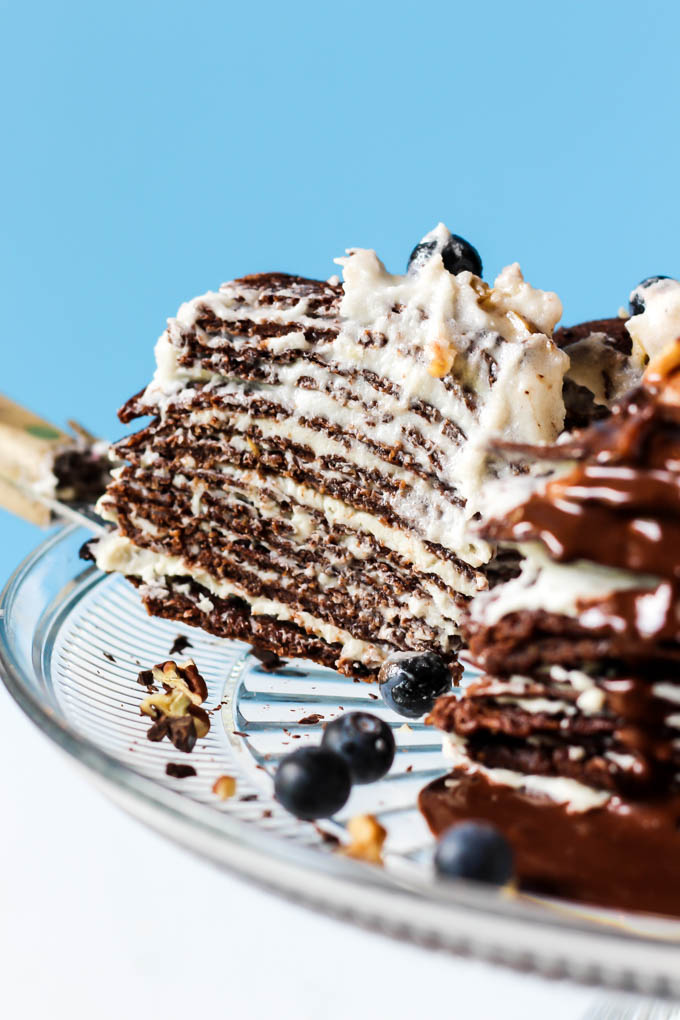 What's great about this chocolate crepe cake is that it's made with wholesome ingredients to make for a vegan & gluten-free treat that's healthier than anything you can buy in stores. The crepes are actually healthy enough to enjoy for breakfast if you reduce the sugar, so I'll definitely be trying that soon!
The frosting we're using is Simple Mills' new Vanilla Frosting! It also comes in chocolate, if you wanted to make a double chocolate crepe cake (OMG). It's made with only a handful of recognizable ingredients with half the sugar of other frostings. That's the kind of treat you want to dig in to!
This chocolate crepe cake may look difficult, but I swear it's not:
Make crepes.
Spread frosting.
Drizzle with chocolate.
Face plant into cake.
Okay, #4 is totally optional.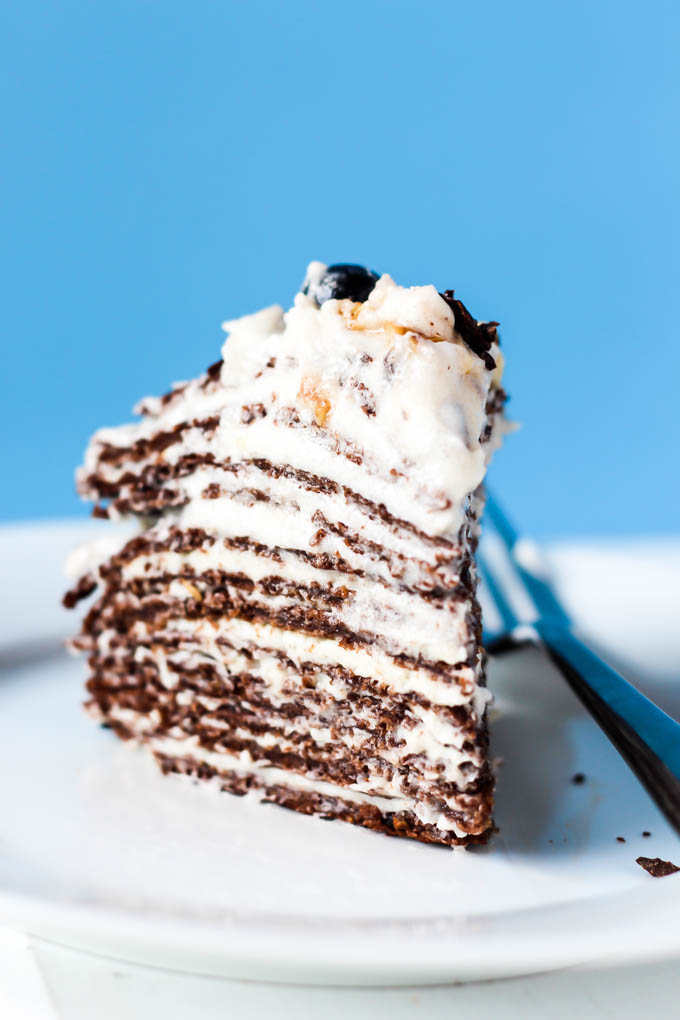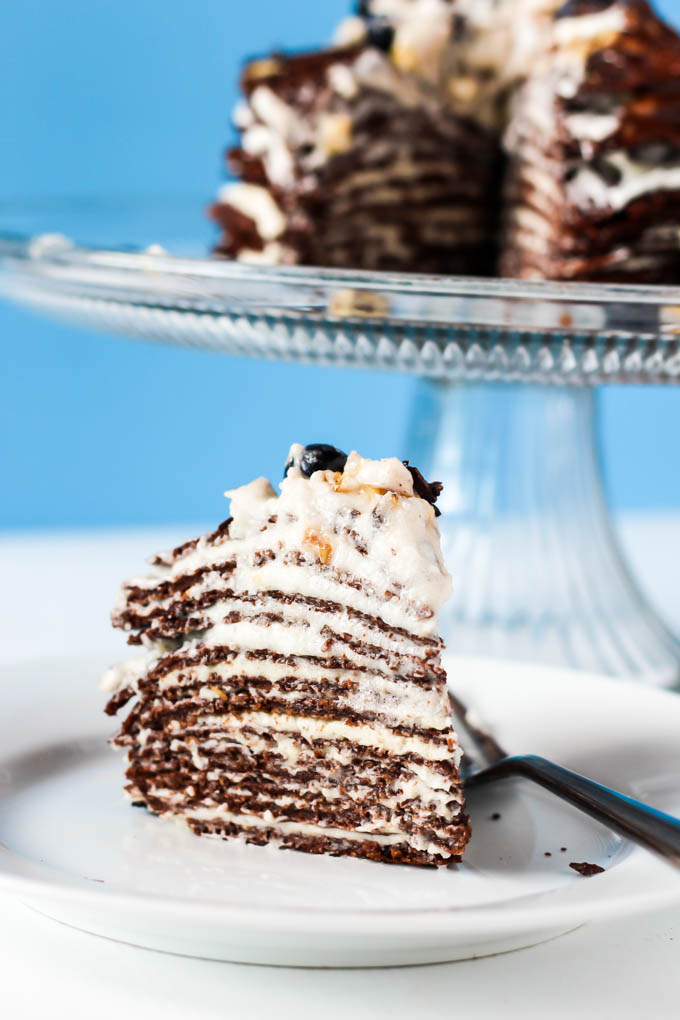 With the holidays quickly approaching, there will be plenty of opportunity for fancy desserts, so try this chocolate crepe cake out! I promise you won't be disappointed.
If you get to try this cake, let me know in the comments! You can also post a pic on Instagram and tag @emilieeats & #emilieeats. Happy weekending!
What's your favorite cake flavor? I'm a vanilla girl, but there's always time for chocolate.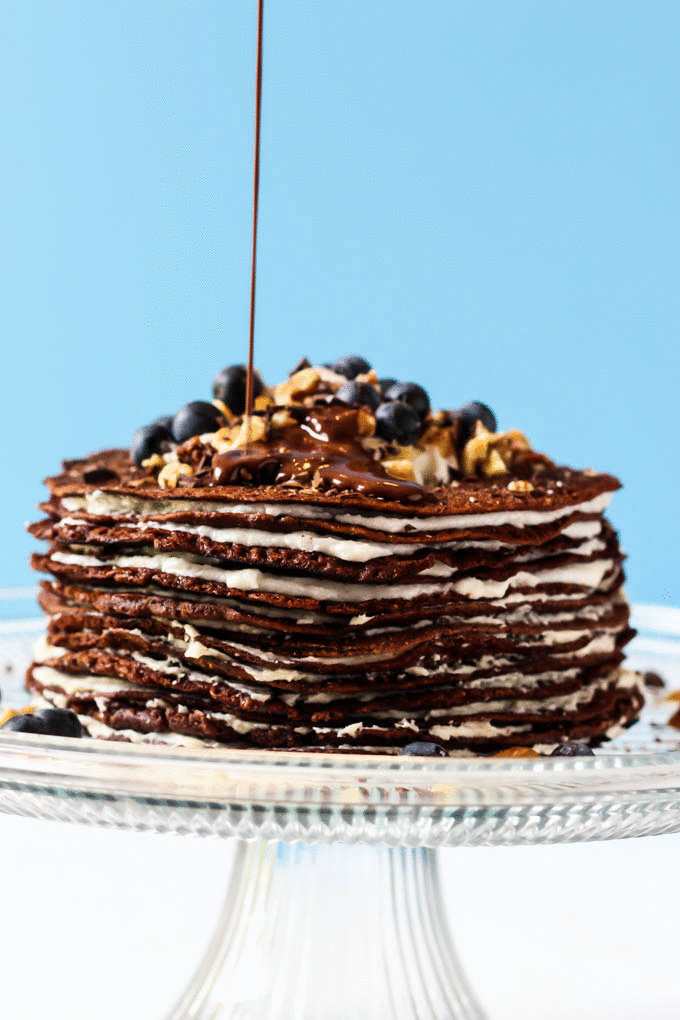 Print
How to make:
Vegan & Gluten-Free Chocolate Crepe Cake
This Chocolate Crepe Cake is sure to stand out at any party! Made with wholesome ingredients, this vegan & gluten-free cake is a healthier way to indulge.
Ingredients
2 tablespoons

flax meal

1 cup

oat flour*

3/4 cup

brown rice flour

1/2 cup

coconut sugar

1/4 cup

cocoa powder

1/2 teaspoon

baking powder

1/8 teaspoon

salt

2 cups

non-dairy milk or water (or a combination of both)

1 1/2 teaspoons

vanilla extract

1

10-ounce container Simple Mills Organic Vanilla Frosting

1/4

–

1/2

cup dark chocolate chips
Optional toppings: fruit, walnuts, dark chocolate chips
Instructions
In a small bowl, add flax meal and 5 tablespoons water. Set aside for 10 minutes.
In a large bowl, add oat flour, brown rice flour, coconut sugar, cocoa powder, baking powder and salt. Stir to combine.
Add flax meal mixture, non-dairy milk and vanilla. Whisk until the batter is smooth. Let it sit for at least 5 minutes.
Heat a nonstick medium skillet over low-medium heat. Pour about 1/4 cup of the batter onto the pan; swirl the pan around to form the batter into a thin crepe. Cook for 1-2 minutes on one side, then flip. Cook for another minute. Repeat with the rest of the batter.
To form the cake, place one crepe on a flat surface, spread on a thin layer of icing, then top with another crepe. Repeat with all of the crepes.
In a small bowl, add chocolate chips. Melt in the microwave in 30-second intervals until the chocolate is completely smooth. Drizzle over the crepe cake.
Top with optional toppings like blueberries, chopped nuts and chocolate chips.
Notes
To make your own oat flour, simply blend rolled oats in a blender or food processor until a flour forms.
Thanks to Simple Mills for sponsoring this post! I love working with brands whose products I really love and would honestly recommend. Thank you for supporting this blog that I love oh-so-much so I can bring you delicious recipes!