Make a Vegan Egg Salad Sandwich for a simple, satisfying lunch! This tofu egg salad is packed with protein and perfect for meal prep. It's made with House Foods tofu to celebrate National Soyfoods Month! (Originally published April 13, 2017)
Vegan Egg Salad Sandwich
My grandmaw's house was all about food growing up. Donuts every weekend, pizza, smothered potatoes, Saltines with butter (lol), chocolate pudding pie (which I even vegan-ized!). My grandmaw would also make huuuge batches of egg salad, and my cousins and I would eat copious amounts of egg salad sandwiches on white bread.
Food was everything. It was comfort and love and togetherness. I have the fondest memories of eating comforting food at my grandparent's house. That's what they're for, right?
The other day I started thinking of all those egg salad sandwiches I used to eat and how I could vegan-ize them. Chickpea salad always gives me more of a vegan tuna salad vibe, so I knew I wanted to use a different plant-based protein. Turns out, the secret is tofu!
Today, in honor of my grandmaw, I'm sharing these tofu egg salad sandwiches. They're packed with protein to keep you feeling satisfied and fueled all afternoon and they taste scarily like the egg salad sandwiches I grew up eating. Grab your lunch boxes my friends, time to make your new favorite vegan sandwiches!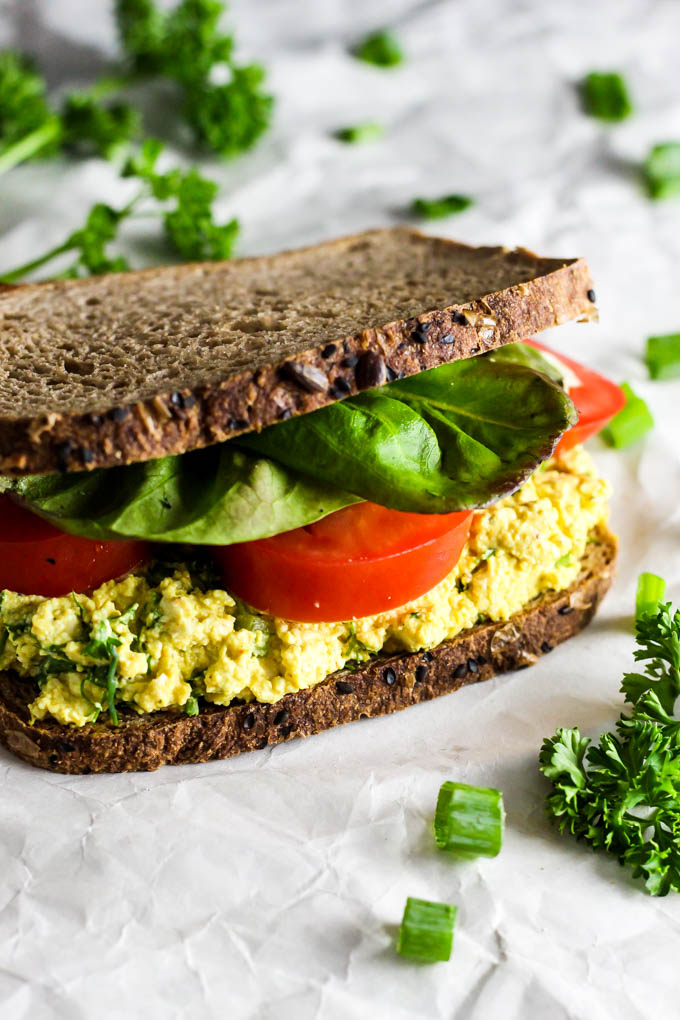 Is Tofu Healthy?
Did you know April is National Soyfoods Month? Probably not, but now you do. It's also my birthday month🎉 so April is looking mighty fine!
I was thrilled when Soyfoods Association of North America asked me to share a recipe using a soy product because this is an issue I am deeply passionate about. I believe we have been told the wrong information, and I just want to educate you on what's out there. Plus, I get to make food. BONUS.
We've all definitely been told both directly and indirectly that soy is evil and terrible for your health. And I want to personally apologize for this false information that you learned.
In fact, there are many studies supporting the notion that soy actually decreases risk of mortality and increases survival rates of cancer patients. Like this study, which says that soy food intake might be associated with better survival in breast cancer patients. Or this study, which found that women who consumed a high amount of soy foods in adolescence had lower rates of premenopausal breast cancer.
I won't get too nerdy with this, but let me explain the basics of how soy may protect against breast and hormone-related cancers. Soy contains isoflavones, which are types of phytoestrogens. These phytoestrogens are similar to estrogen in the body, so they can actually attach to estrogen-receptors and prevent the absorption of too much estrogen, which is what causes these diseases and cancers.
Some of my favorite ways to enjoy soy are edamame, tempeh (fermented! yay for gut health!), tofu, soy milk, and miso paste. Just like any other type of food, problems arise when you start processing it too much and end up with things like soy protein isolate. That's not new – when you extract anything from it's whole form, it's not the same food and doesn't have the same benefits. I probably have these more processed forms of soy every now in then, because life, but on a regular basis, I'm gobbling up lots of edamame, tempeh, tofu, and miso!
I also love soy because it's an environmentally-friendly crop that (especially if you buy organic) is helping the planet. When the foods you love to eat love the earth, that's my kind of food.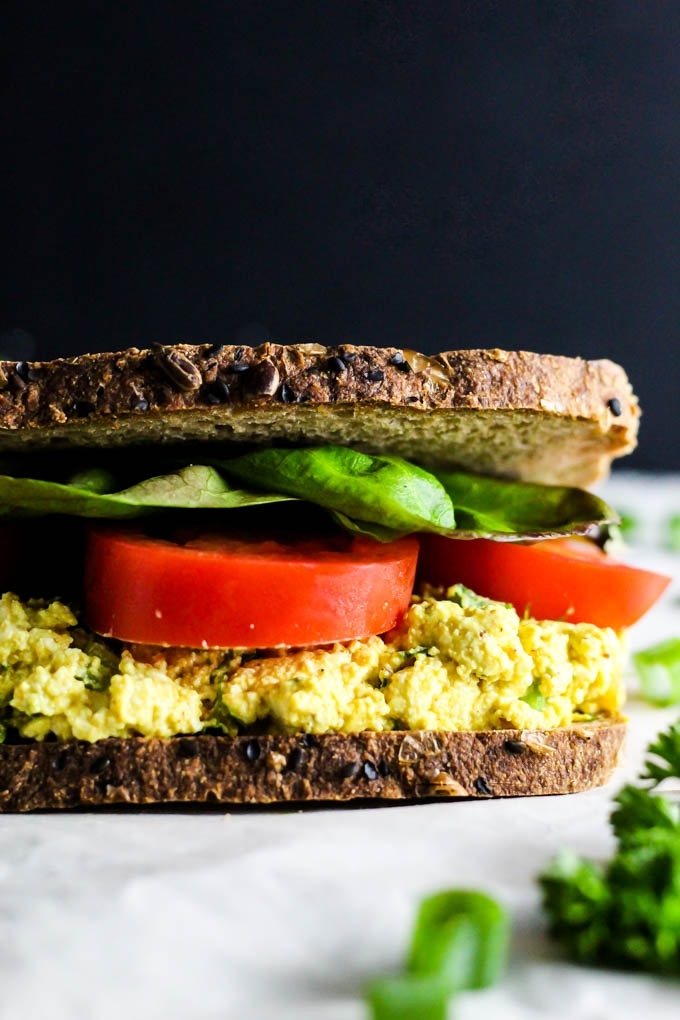 How to Press Tofu
Now, I know many of you have your opinions of tofu. You think it's bland and boring and tasteless and everything wrong with the world. But I hope in my two years of blogging that I've convinced you that tofu is something to embrace. I mean, chocolate pudding pie, lasagna with tofu ricotta, Hawaiian BBQ tofu, teriyaki spring rolls, crispy tofu nuggets… and now tofu egg salad. I could go on for days. It's all about how you prepare it.
Whatever you're using your tofu for, you'll want to make sure to take the extra 15 minutes to drain and press your tofu before cooking with it. This will ensure any excess moisture is released from the tofu and will provide a much better texture whether you're frying it, baking it, or leaving it uncooked like we are here in this vegan egg salad recipe.
Tofu is a great whole-food version of soy to work with because it acs like a sponge and will soak up any flavor you apply to it, whether that's via a spice rub or a marinade. But to that same end, if your tofu is saturated with the brine it was packaged in, it won't be able to take on the flavors you're trying to add to it. So always press your tofu!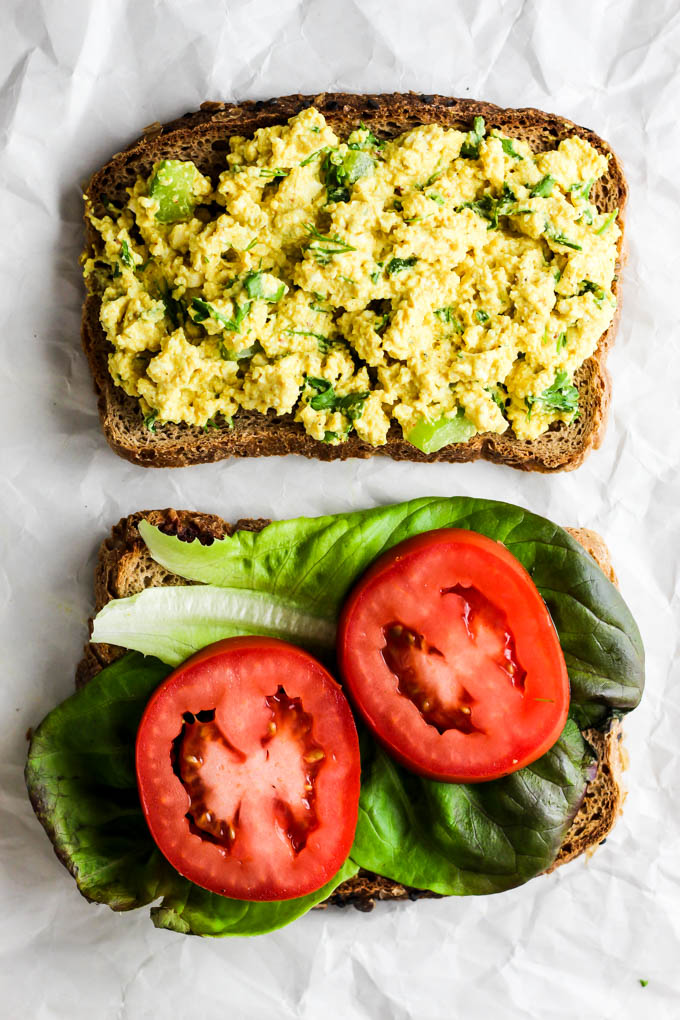 Ingredients for Vegan Egg Salad Sandwiches
We're keeping things simple for this tofu egg salad recipe. There's only one special ingredient needed, and you'll be happy to have it on hand I promise!
Here's everything you need to make a batch of vegan tofu egg salad:
House Foods Organic Firm Tofu. We're making a tofu egg salad. It mimics the texture of boiled eggs perfectly and takes on all the flavors we're going to add in to make it super delicious.
Non-dairy yogurt. You can use any variety of non-dairy yogurt you like, just make sure it's unsweetened and unflavored. You could also sub in a vegan mayo instead.
Lemon juice. A squeeze of fresh lemon juice really takes this vegan egg salad over the top. If you don't have lemons on hand, go for a splash of apple cider vinegar instead.
Nutritional yeast. This is our first secret ingredient to add in the umami flavor.
Mustard. Use a yellow mustard to get that classic egg salad flavor you're looking for.
Spices. We're adding garlic powder, onion powder, turmeric, black pepper, paprika and *drumroll please* black salt. Kala namak, or black salt, is commonly used in India and provides a sulfurous flavor that mimics the flavor eggs.
Celery. We gotta break through the texture of the tofu with a bit of crunch and celery is perfect for the job.
Parsley. Fresh herbs work wonders to brighten up your food, especially for meal prep! You could also use fresh dill if you prefer.
Green onions. I love the flavor of green onion in this tofu egg salad, but you could also sub in yellow or red onion instead.
Bread. Use any bread you like! I love whole-wheat or gluten-free bread.
Sandwich toppings. Pick your favorites! I'm using lettuce, tomato slices and pickles.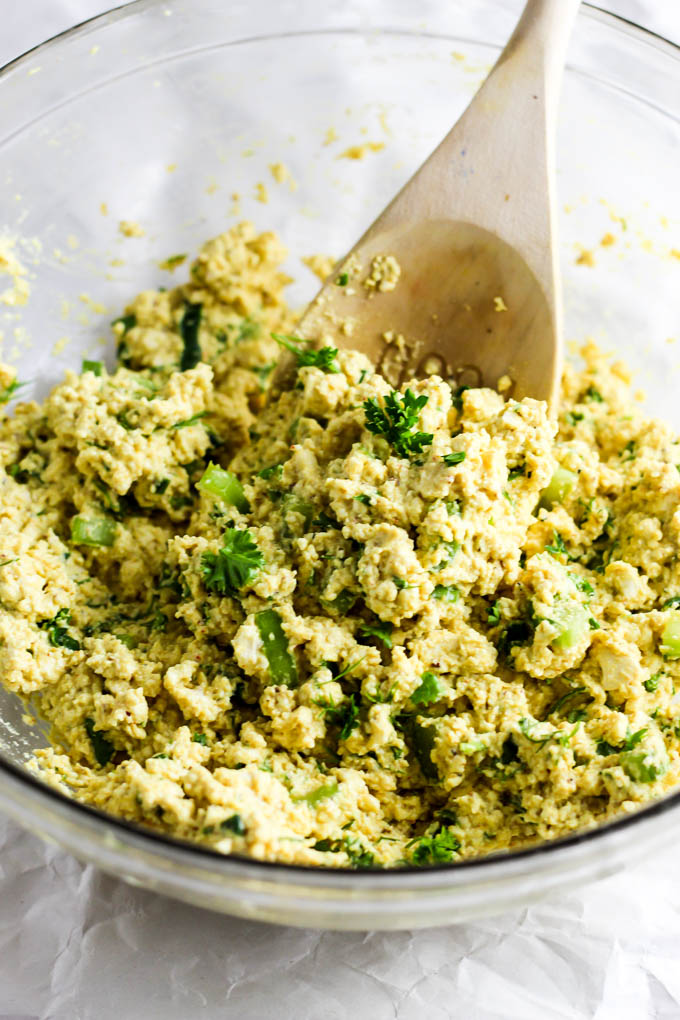 How to Make Vegan Egg Salad
Okay, on to the good stuff. This vegan egg salad sandwich is BOMB, and I want to pack it every single day for lunch. Good thing it's perfect for meal prep so I CAN pack it every day!
This vegan egg salad seriously comes together in 20 minutes, less if your tofu is already drained and ready to go. I used House Foods Organic Firm Tofu because it's super easy to find at my grocery store!
No doubt this recipe would be a hit with kiddos and adults alike. I also love it because it triples as breakfast, lunch, and dinner. I say sandwiches all damn day – who's with me? If you are, here's how to make vegan egg salad:
Drain and press the tofu for at least 15 minutes to release any extra moisture.
Crumble tofu into small pieces with your hands.
Mix the tofu with all your condiments and seasonings including yogurt, lemon juice, nutritional yeast, mustard, garlic powder, onion powder, turmeric, salt, pepper, and paprika.
Toss in celery, parsley, and green onions.
Build your sandwiches with the bread and any toppings you'd like.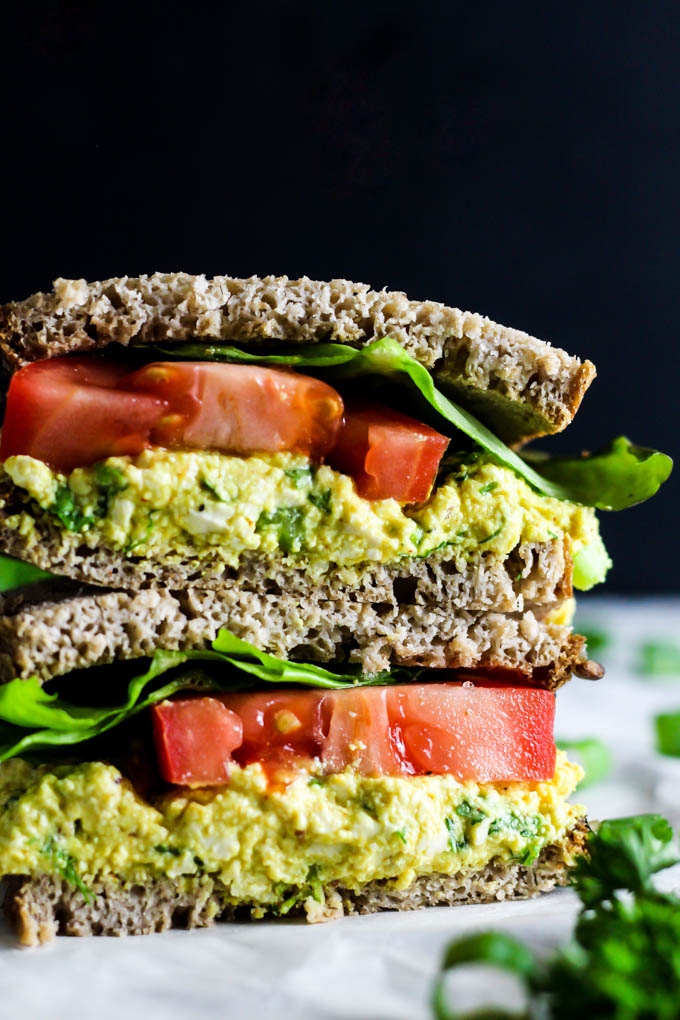 How to Meal Prep Vegan Egg Salad
Who wants to waste time every morning making weekday lunches? Not me! This vegan tofu egg salad recipe makes for the perfect lunch that you can prepare in advance to make those busy weeks a little simpler.
This recipe holds up well in the fridge for about 4 days, so prep it on Monday and you're set for lunches all week!
I recommend storing the tofu egg salad in an air tight container on its own and then assembling your sandwiches when you'r ready for one. You can pre-chop and prepare any toppings you enjoy on your sandwich and also store those in the fridge so they're ready to go. Then each morning, scoop your designed amount of vegan egg salad onto your break, pick your toppings and pack it up for lunch.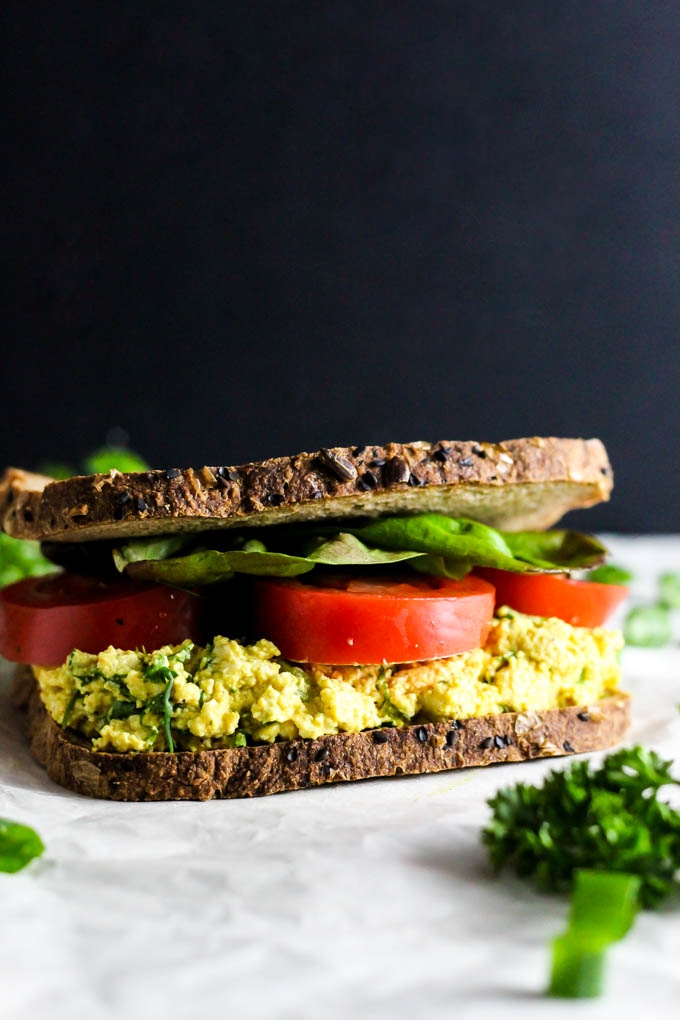 More Tofu Recipes
I hope I was able to convince you – even just a little bit – that soy is not to be feared, and instead is an affordable, accessible, and delicious source of protein and vitamins. Now go go go – make this vegan egg salad sandwich and give tofu the love it deserves!
If you're looking for more recipes starting tofu, then check out one of these!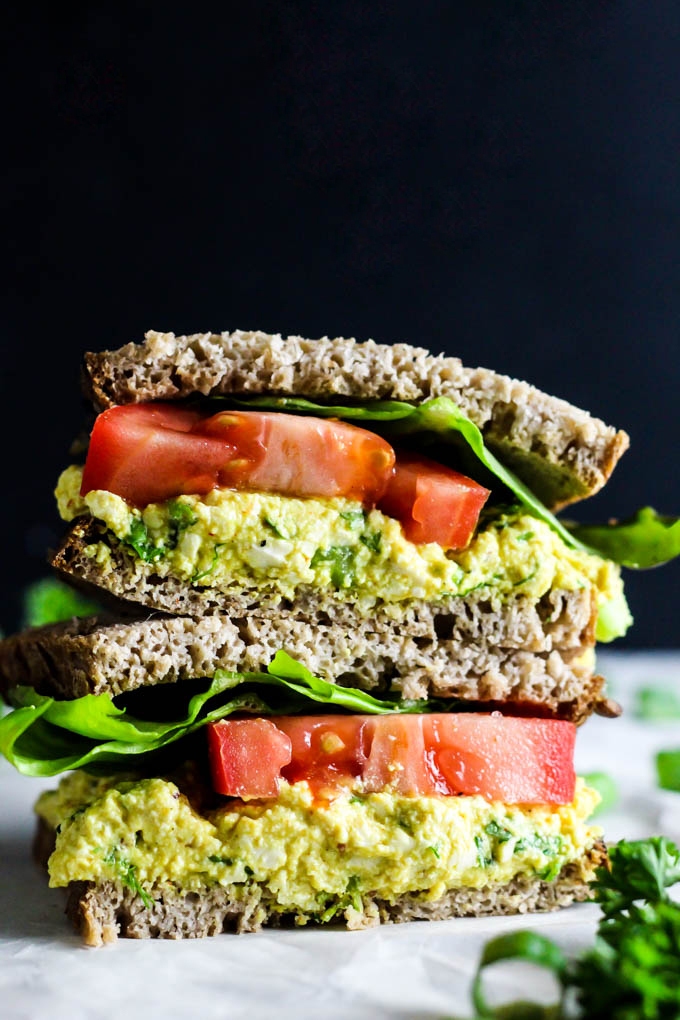 Print
How to make:
Vegan Egg Salad Sandwich
Make a Vegan Egg Salad Sandwich for a simple, satisfying lunch! This tofu egg salad is packed with protein and perfect for meal prep.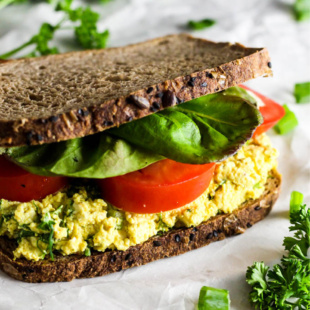 Ingredients
1

14-ounce block House Foods Organic Firm Tofu

1/4 cup

+

2 tablespoons

unsweetened non-dairy yogurt*

1 tablespoon

lemon juice

1 tablespoon

nutritional yeast

2 teaspoons

yellow mustard

3/4 teaspoon

garlic powder

3/4 teaspoon

onion powder

1/2 teaspoon

ground turmeric

1/2 teaspoon

black salt**

1/4 teaspoon

black pepper

1/8 teaspoon

paprika

1/4 cup

celery, diced

2 tablespoons

parsley, chopped

2 tablespoons

green onions, sliced
Whole-wheat or gluten-free bread
Sandwich toppings: lettuce, tomato slices, pickles, etc.
Instructions
Drain the tofu. Wrap in several paper towels; place in the sink. Place a heavy object (such as a large pot with a heavy weight inside) on top of the tofu to press the water out. You can also use a tofu press. Let the tofu drain for 15 minutes.
Over a large bowl, crumble tofu into small pieces with your hands.
To the bowl, add yogurt, lemon juice, nutritional yeast, mustard, garlic powder, onion powder, turmeric, salt, pepper, and paprika. Stir to combine.
Toss in celery, parsley, and green onions; stir again.
Form 4-5 sandwiches with the bread and optional toppings.
Store tofu "egg" salad in an airtight container in the fridge for up to 3-4 days.
Notes
*You can also use vegan mayo.
**You can use regular salt, but I highly recommend black salt – it makes everything taste like eggs!
Thanks to Soyfoods Association of North America for sponsoring this post! I love working with brands whose products I really love and would honestly recommend. Thank you for supporting this blog that I love oh-so-much!