This apple pie french toast is a cozy, satisfying breakfast for fall! The apple pie topping majorly upgrades this vegan french toast recipe. Made in partnership with my friends at Silver Hills Bakery. ❤️
Vegan French Toast with Apple Pie Topping
Oh hello there!! Just me popping in on your computer/phone screen on a standard Monday with some out-of-this-world Apple Pie French Toast. I'm not drooling – you are!
I don't know about you, but one of my favorite things to do for the people I love oh-so-much is to cook for them! They obviously all know what I do and how passionate I am about food, so they will graciously try anything I cook or take whatever free sample I shove in their hands. Guess what? This Apple Pie French Toast is perfect for serving to all of the special people in your life! 🍎
Ingredients for Vegan French Toast with Apple Pie Topping
There's nothing worse than soggy French toast. I used the Squirrelly loaf which is studded with crunchy sesame seeds and sunflower seeds – no soggy vegan French toast over here!  I love using Silver Hills Bakery bread because all of their sliced bread, bagels, burger & hot dog buns and tortillas are made with sprouted grains and other wholesome ingredients! If you're wondering why to choose sprouted: sprouting grains makes the nutrients easier to digest, so more vitamins, minerals and protein end up working their magic in your body!
Here's everything you'll need to whip up this Apple Pie French Toast:
Non-Dairy Milk. Any kind will work!
Ground flax or chia seeds. Since this is a vegan french toast recipe, we're not using eggs. Ground flax or chia will act as our egg replacement.
Spices. I don't know if we could call it apple pie french toast if we didn't include a dash of cinnamon and nutmeg! Together, they add the most delicious, nutty, warm, slightly spicy flavor.
Vanilla extract. This helps really warm up the flavors and makes this vegan french toast extra cozy.
Silver Hills Bakery Sprouted Power Squirrelly Bread. I like a little bit of texture, so this Sprouted Power Squirrelly Bread is the perfect choice to me.
Oil. A bit of canola oil, coconut oil or a cooking spray would work!
Apple. We just need one apple to make our apple pie topping for this vegan french toast.
Toppings. We all know that apple pie and vanilla ice cream are bffs, so this vegan French toast isn't complete without a creamy, vanilla topping. Non-dairy yogurt or coconut whipped cream would be delicious on top of this vegan french toast, along with walnuts or pecans for a crunch.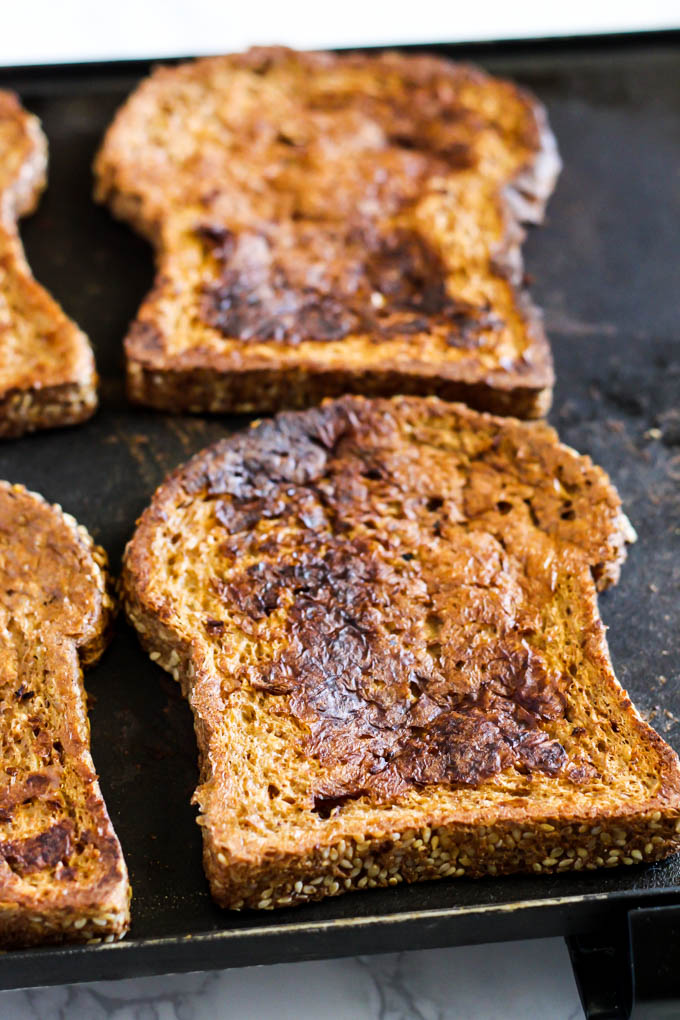 How to Make Vegan French Toast
The recipe to make this vegan french toast really isn't much different than traditional french toast. Essentially you just whip up a batter, dunk your bread and fry it up on the skillet!
Since we're not using eggs, we'll incorporate flax meal or chia seeds into the batter to help thicken it. Start by mixing non-dairy milk with your chia or flax and let it sit for about 5 minutes. Then, you'll add in your vanilla and spices and allow it to sit for another 5 minutes. We want to give the batter some time to rest so that it can fully thicken and soak up all the flavor from the spices. While it rests, you could chop up your apples for the apple pie topping.
Next, dip each piece of bread into the batter and let it sit for 20-30 seconds and add to a hot skillet. You'll cook each piece for about 5-7 minutes on each side.
You can totally double or triple the recipe for a crowd, or keep it as is to feed you and a special someone.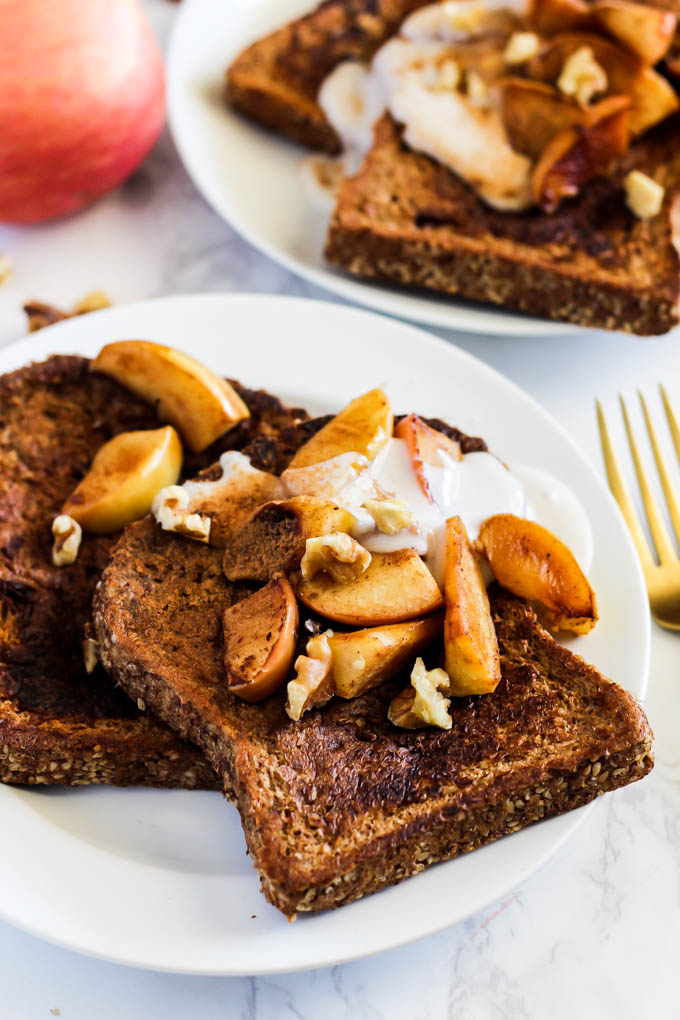 How to Make a Vegan Apple Pie Topping
We're topping this vegan french toast with caramelized apples, which are my new obsession. Like will be happening 24/7 all fall & winter and no one can stop me.
No need to grab another pan to make the apple pie topping. Keep the same skillet that you just used to fry your vegan french toast on the heat and add some oil or cooking spray. Then add your chopped apples to the skillet along with some cinnamon and cook for about 10-12 minutes or until the apples start to soften.
I promise, you're gonna want this apple pie topping on EVERYTHING. Well, maybe not everything, but definitely most things!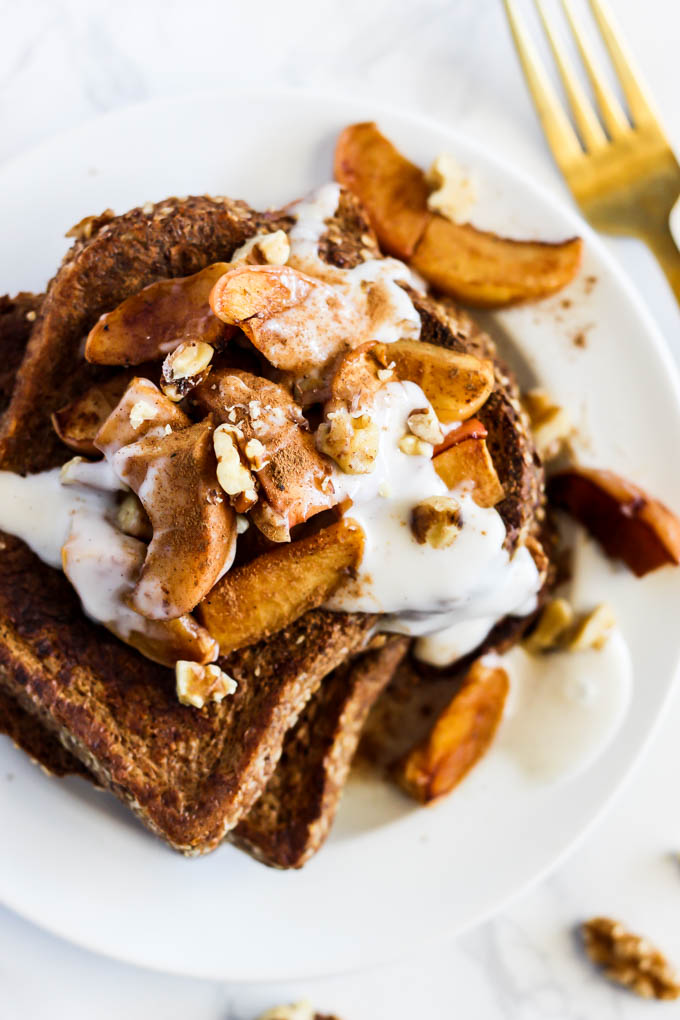 More Vegan Apple Recipes
There are so many things you can do with apples other than snack on them with nut butter (although that is a total winning combo). Toss them into a salad. Make a slaw. Roast them with some fall veggies. Make a delicious dessert. The possibilities are endless! Grab a bunch from the store or farmer's market on your next grocery trip and make one of these vegan apple recipes!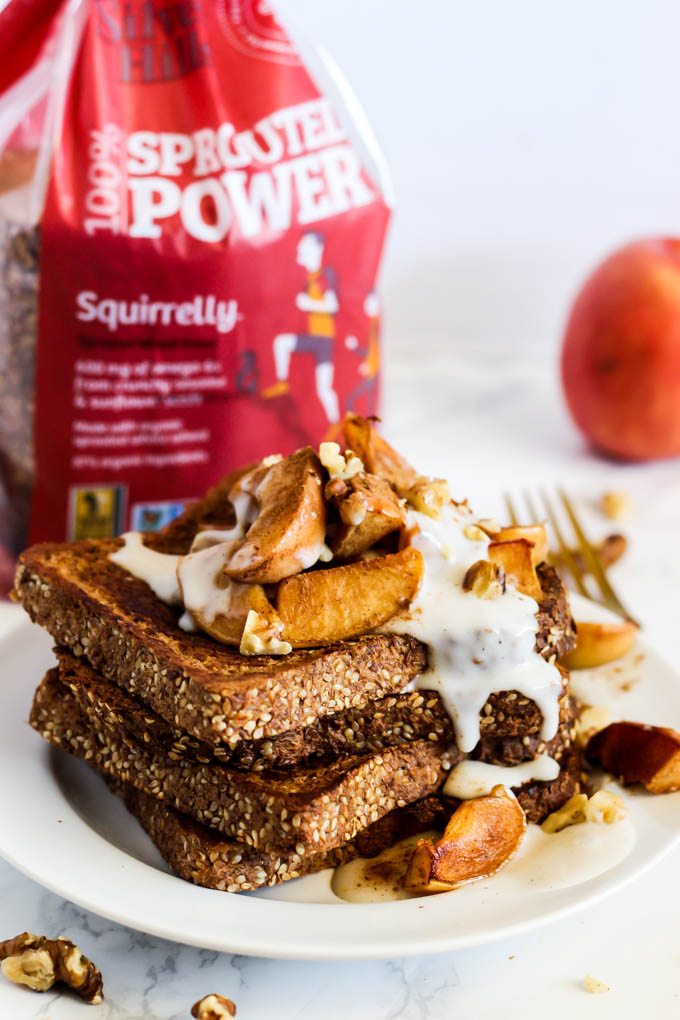 Print
How to make:
Vegan French Toast with Apple Pie Topping
This apple pie french toast is a cozy, satisfying breakfast for fall! The apple pie topping majorly upgrades this vegan french toast recipe.
Ingredients
1 cup

unsweetened non-dairy milk

1 tablespoon

ground flax or chia seeds

1 1/2 teaspoons

ground cinnamon, divided

1 teaspoon

vanilla extract

1/2 teaspoon

ground nutmeg

4

slices Silver Hills Bakery Sprouted Power Squirrelly Bread
Cooking oil or cooking spray

1

apple, sliced and chopped
Toppings: non-dairy yogurt, coconut whipped cream, chopped walnuts or pecans
Instructions
Warm a large skillet or pancake griddle over medium heat.
In a medium bowl, add non-dairy milk and ground flax/chia; stir. Let sit for 5 minutes.
Add 1 teaspoon cinnamon, vanilla and nutmeg; stir. Let sit for 5 minutes.
Dip each slice of bread into the mixture, letting it sit in the liquid for 20-30 seconds. Place each slice of bread on the skillet; repeat with all slices of bread. Cook for 5-7 minutes, until crispy and browned; flip and cook for 5-7 minutes on the other side. Transfer toast to a plate.
In the same skillet, add a little cooking oil or cooking spray. Add apples and 1/2 teaspoon cinnamon; stir. Cook for 10-12 minutes, until softened.
Top French toast with the caramelized apples and other optional toppings!
Thanks to Silver Hills Bakery for sponsoring this post! I love working with brands whose products I really love and would honestly recommend. Thank you for supporting this blog that I love oh-so-much!