Make breakfast the most satisfying meal of the day with some Apple Pie Vegan French Toast! Simple to make, wholesome, and absolutely delicious. Made in partnership with my friends at Silver Hills Bakery. ❤️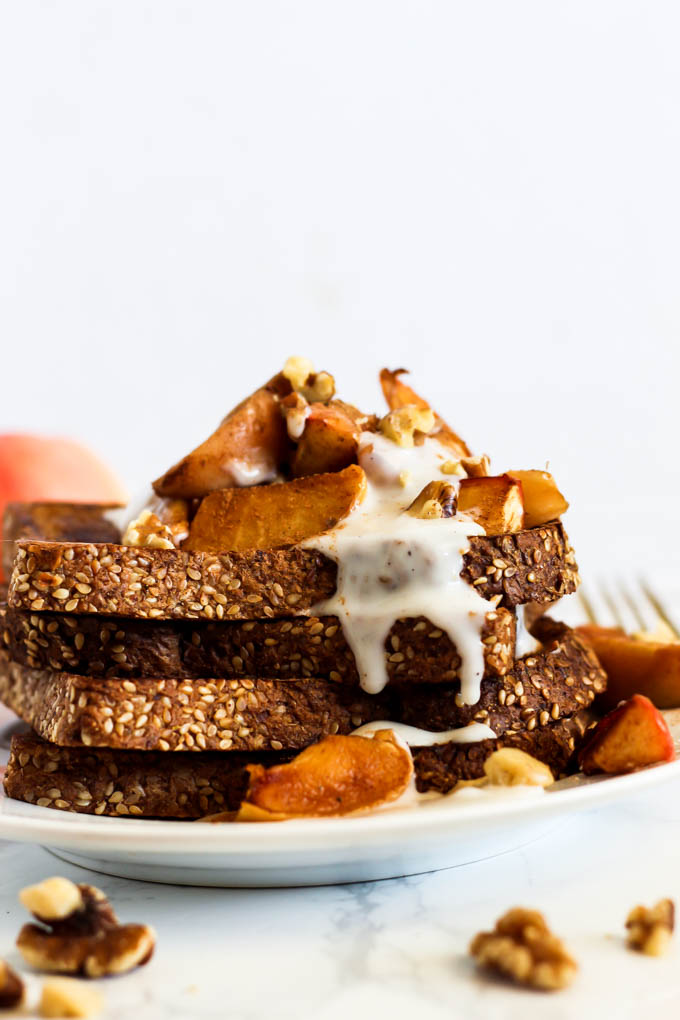 Oh hello there!! Just me popping in on your computer/phone screen on a standard Monday with some out-of-this-world apple pie vegan French toast. I'm not drooling – you are!
Before we dive into all of that deliciousness – how was your weekend? How is life? I feel like we don't ask each other that question enough looking for a deep, genuine answer. Most people will answer "fine," but how are you really? Overwhelmed, anxious, excited, indifferent? I'm interested in cutting through all the BS "I'm fine" answers and getting to how you're really feeling. Let me know in the comments what you're up to!
If you're wondering how life is going behind-the-scenes at Emilie Eats, life is great! Lots of good things are happening, which is exciting and nerve-wracking and fist-bump-inducing. Sure, there are moments where life is just ~too~ stressful to handle, but it happens to everyone.
I'm writing this post on a Sunday night after one of the most fun weekends I've had in a looooong time. It's Halloween on Tuesday🎃 so we went to a Halloween party on Friday night dressed as a magician and his bunny (guess who wore which costume). Then on Saturday, Cayden's best friend flew in from his new home San Francisco so that their band could play a show at a local bar. They used to play shows all the time, but now that everyone is graduated and doing their own things, it's hard to get everyone together.
The show was amazing. I love live music (I'm that girl who takes up the whole dance floor), and some of my closest friends came out to support. I have no voice from screaming so hard, but it was so worth it.
We spent lots of time talking to Cayden's friend and his girlfriend – everything from career plans to politics to religion (the "forbidden" conversation topics!) to ice cream to where we should travel as a group. It made me appreciate our friendship more and just relationships in general.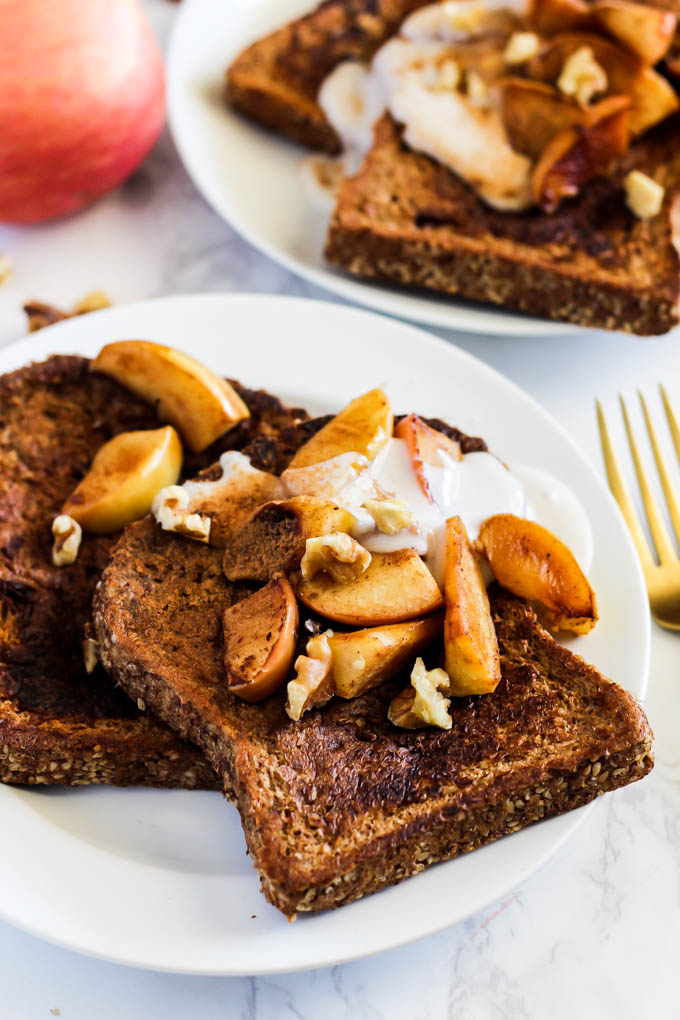 My relationships to friends and family suffered the most when I was deep in disordered eating, and they still suffer today if work and school are too overwhelming. It's hard to think about other people when you're so consumed with how much/what/when you're eating, as terrible as that sounds.
In the last few months I have tried to put an extra emphasis on building up the relationships that I neglected for so long. I think the fact that I will be moving far away in less than a year has really made me treasure the relationships that I have here. I'm not one to need huge groups of friends, so the few close people around me mean the absolute world to me.
One of my favorite things to do for the people I love oh-so-much is to cook for them! They obviously all know what I do and how passionate I am about food, so they will graciously try anything I cook or take whatever free sample I shove in their hands. Guess what? This Apple Pie Vegan French Toast is perfect for serving to all of the special people in your life!🍎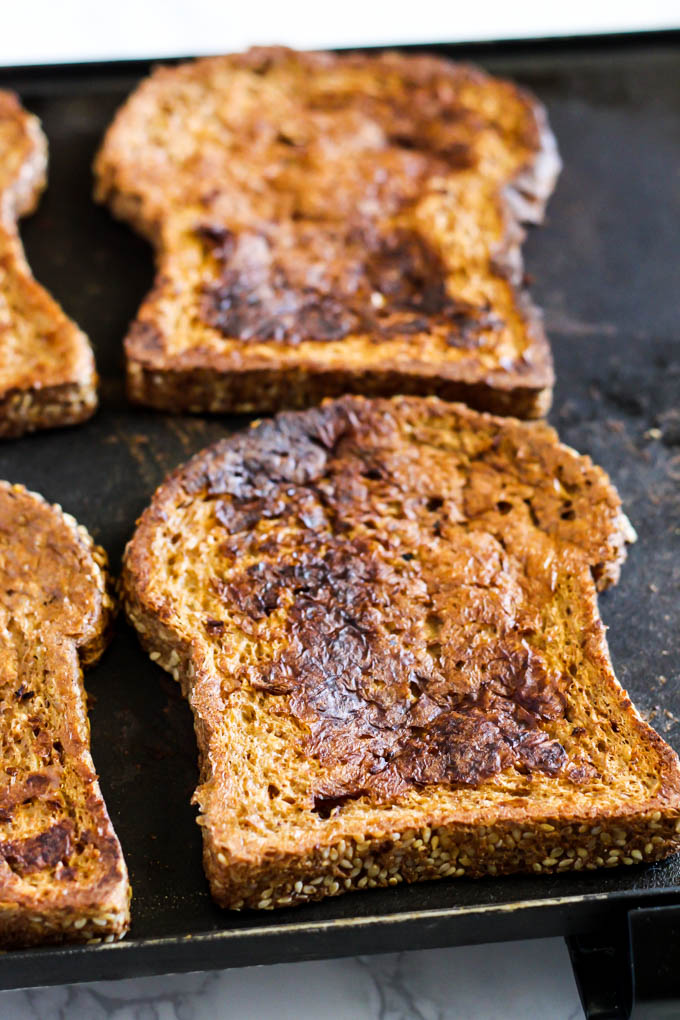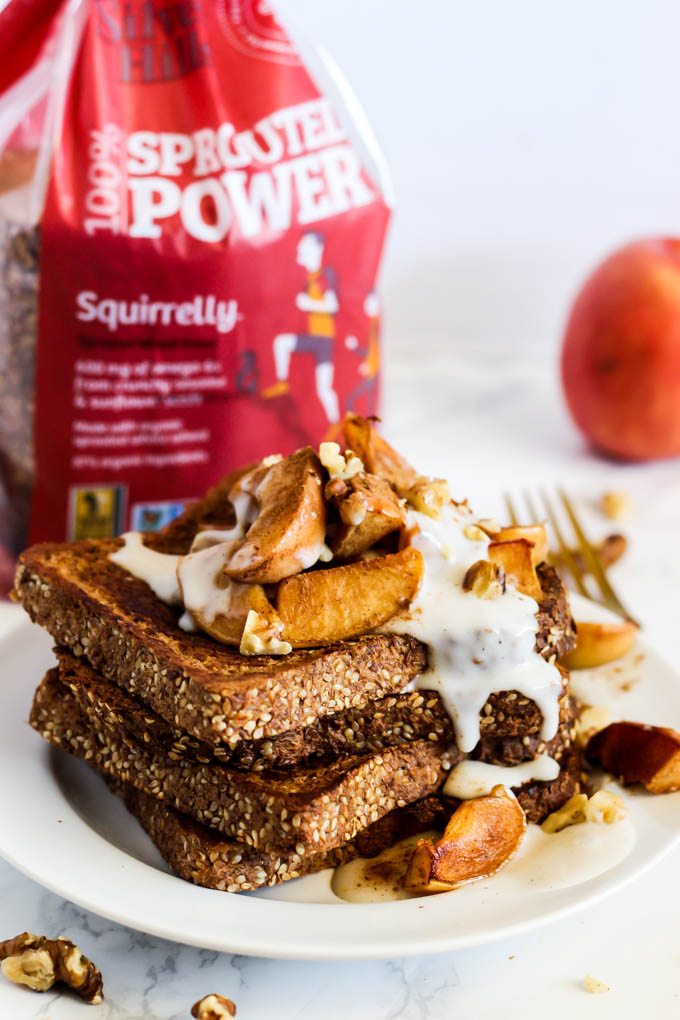 No eggs needed in this vegan French toast recipe – just non-dairy milk, some flax or chia for that eggy texture, spices and bread. I love using Silver Hills Bakery bread because all of their sliced bread, bagels, burger & hot dog buns and tortillas are made with sprouted grains and other wholesome ingredients! If you're wondering why to choose sprouted: sprouting grains makes the nutrients easier to digest, so more vitamins, minerals and protein end up working their magic in your body!
I used the Squirrelly loaf which is studded with crunchy sesame seeds and sunflower seeds, but you can use whichever loaf you prefer! Also I'm totally not opposed to French-toasting their bagels. 😍
Everything is topped with caramelized apples which are my new obsession. Like will be happening 24/7 all fall & winter and no one can stop me.
Double or triple the recipe for a crowd, or keep it as is to feed you and a special someone. Enjoy!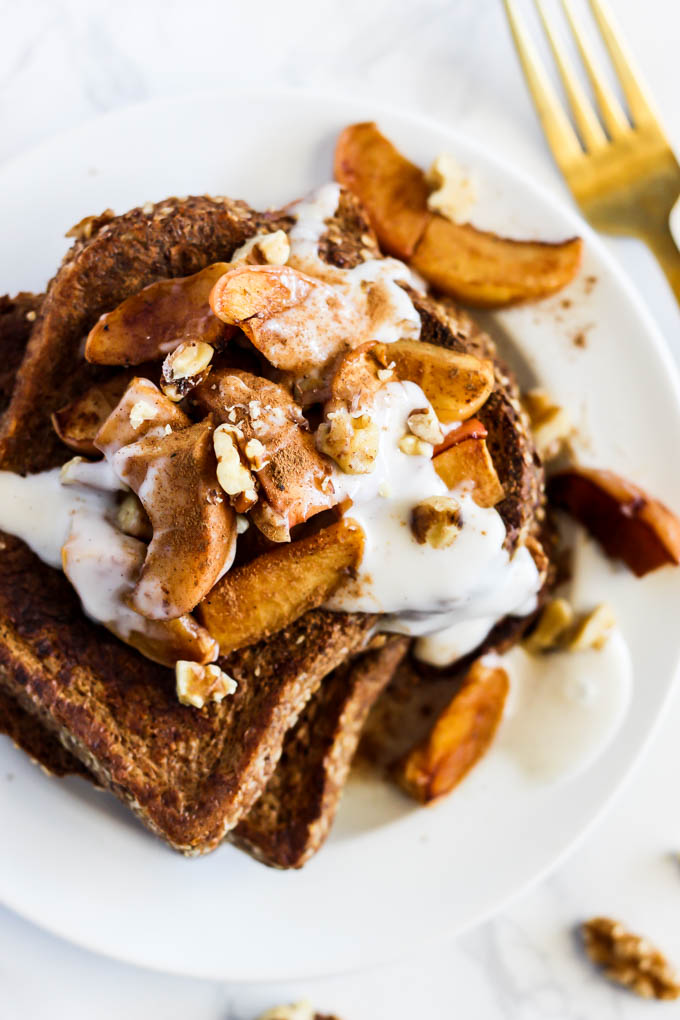 Print
How to make:
Apple Pie Vegan French Toast
Make breakfast the most satisfying meal of the day with some Apple Pie Vegan French Toast! Simple to make, wholesome, and absolutely delicious.
Ingredients
1 cup

unsweetened non-dairy milk

1 tablespoon

ground flax or chia seeds

1 1/2 teaspoons

ground cinnamon, divided

1 teaspoon

vanilla extract

1/2 teaspoon

ground nutmeg

4

slices Silver Hills Bakery Sprouted Power Squirrelly Bread
Cooking oil or cooking spray

1

apple, sliced and chopped
Toppings: non-dairy yogurt, coconut whipped cream, chopped walnuts or pecans
Instructions
Warm a large skillet or pancake griddle over medium heat.
In a medium bowl, add non-dairy milk and ground flax/chia; stir. Let sit for 5 minutes.
Add 1 teaspoon cinnamon, vanilla and nutmeg; stir. Let sit for 5 minutes.
Dip each slice of bread into the mixture, letting it sit in the liquid for 20-30 seconds. Place each slice of bread on the skillet; repeat with all slices of bread. Cook for 5-7 minutes, until crispy and browned; flip and cook for 5-7 minutes on the other side. Transfer toast to a plate.
In the same skillet, add a little cooking oil or cooking spray. Add apples and 1/2 teaspoon cinnamon; stir. Cook for 10-12 minutes, until softened.
Top French toast with the caramelized apples and other optional toppings!
Thanks to Silver Hills Bakery for sponsoring this post! I love working with brands whose products I really love and would honestly recommend. Thank you for supporting this blog that I love oh-so-much!