This Vegan Raspberry Cheesecake is a decadent dessert to share with the ones you love! It features a creamy, fruity filling made with a secret ingredient. (gluten-free) In partnership with perfectlyfree®! 
'Tis the season of love. 💘 So let's make dessert and celebrate!
Unfortunately this will be the first Valentine's Day since 2015 that Cayden and I will be apart (long distance problems…), but fortunately I have some awesome gal pals in Colorado that I can hang out with on the day of love. 
Valentine's Day isn't just for romantic love, y'all! Share that love with everybody.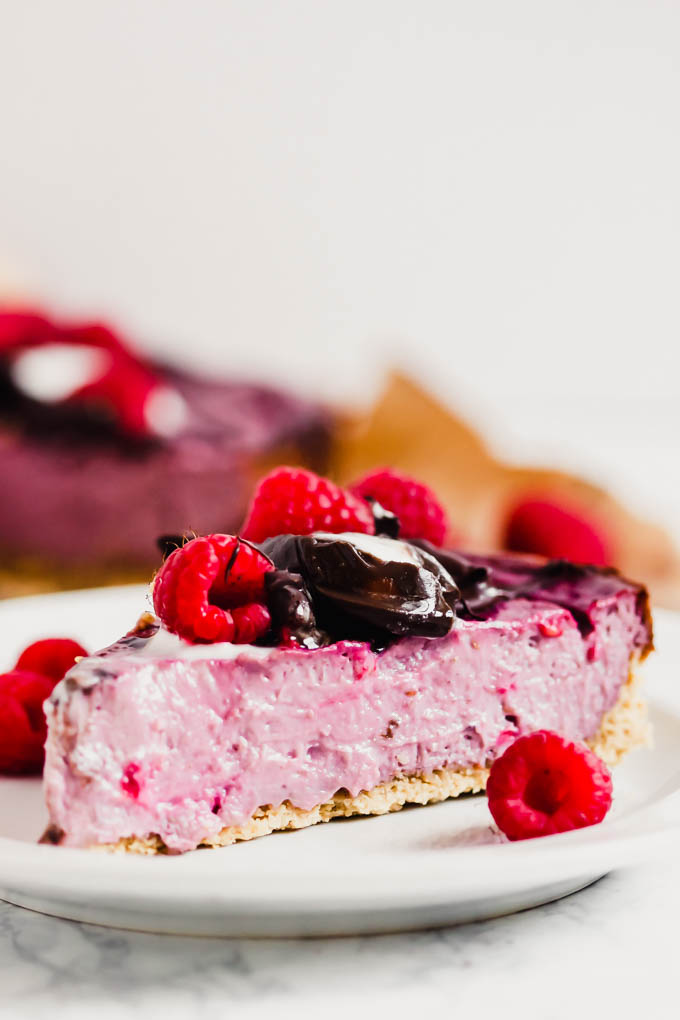 I've never liked the gift-giving and consumerism of Valentine's Day, and those feelings have only grown stronger since I've taken sustainable living and creating less waste more seriously.
What do you do if you don't want to show your love with gifts that will end up in a landfill? That is how many of us were taught to celebrate a holiday—give gifts. The best way, in my opinion, to show someone you love them without creating as much waste is… FOOD!
Perishable gifts (meals, wine, desserts, coffee, etc.) are great because one, you're giving someone a gift they'll actually use, and two, you can avoid a gift that will eventually end up in the trash. It's a win-win.
This Valentine's Day, I encourage you to show your love by making dessert, particularly this beautiful, delicious Vegan Raspberry Cheesecake!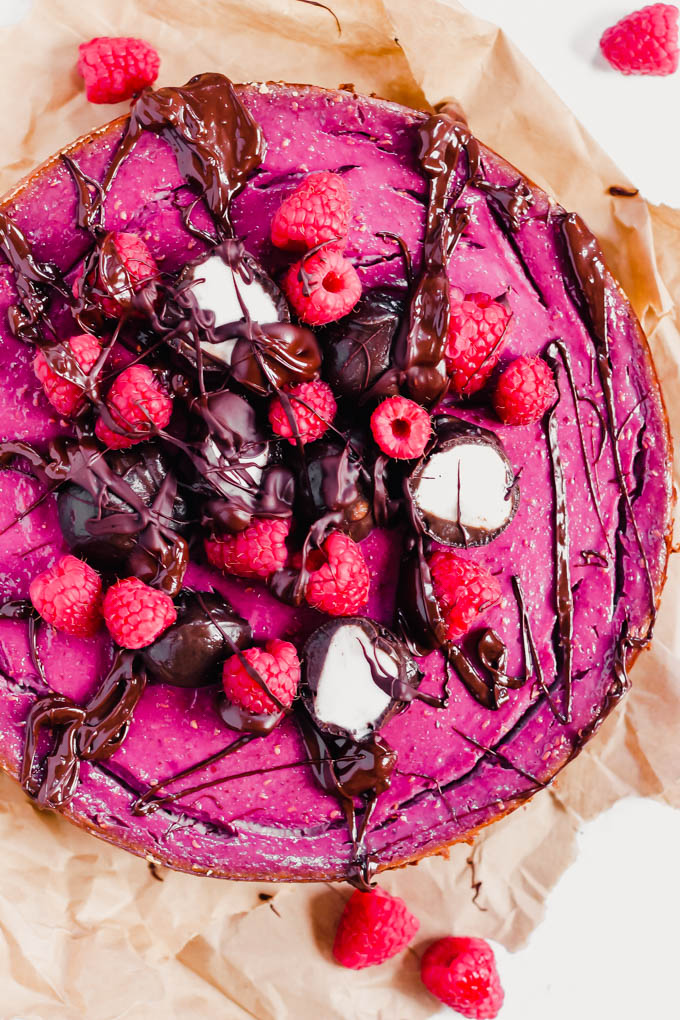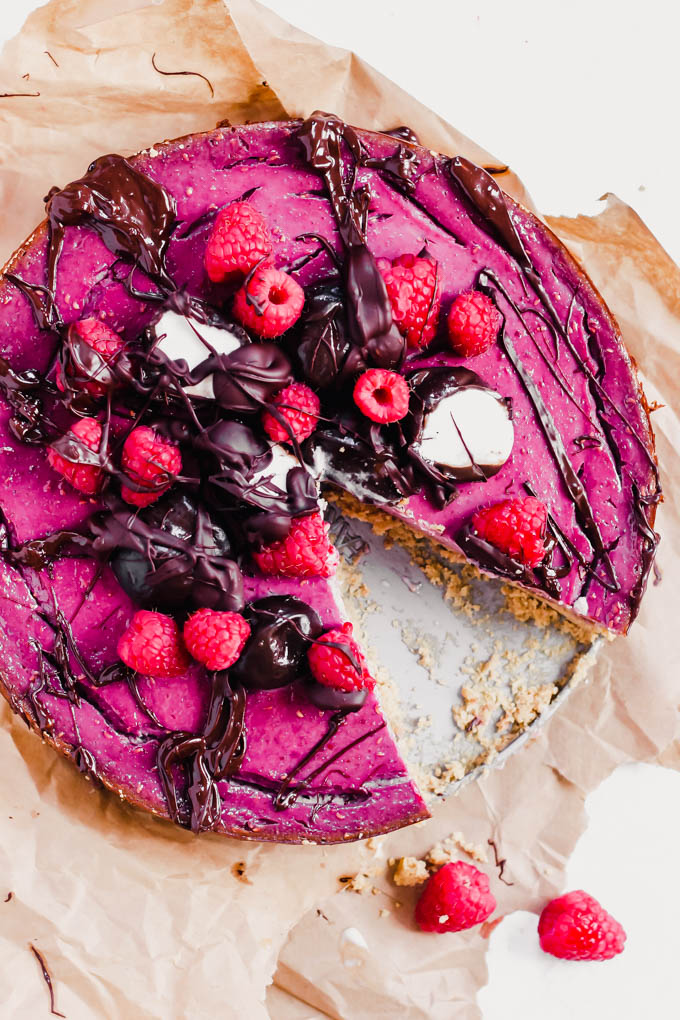 This vegan raspberry cheesecake is built off of the same base recipe I use in this classic cheesecake recipe and this pumpkin cheesecake recipe. I used raspberries for a fun Valentine's-Day-pink dessert, but you could really use any frozen berry you want—blueberries, blackberries, strawberries.
The filling is made with a secret ingredient (pssssst: it's tofu!) and poured onto a classic crust that melts in your mouth but is sturdy enough to hold the filling.
Everything is topped with these delicious perfectlyfree® Frozen Bites! They are 100% plant-based frozen desserts filled with a creamy coconut inside and coated with either salted caramel, mint chocolate, raspberry, or chocolate.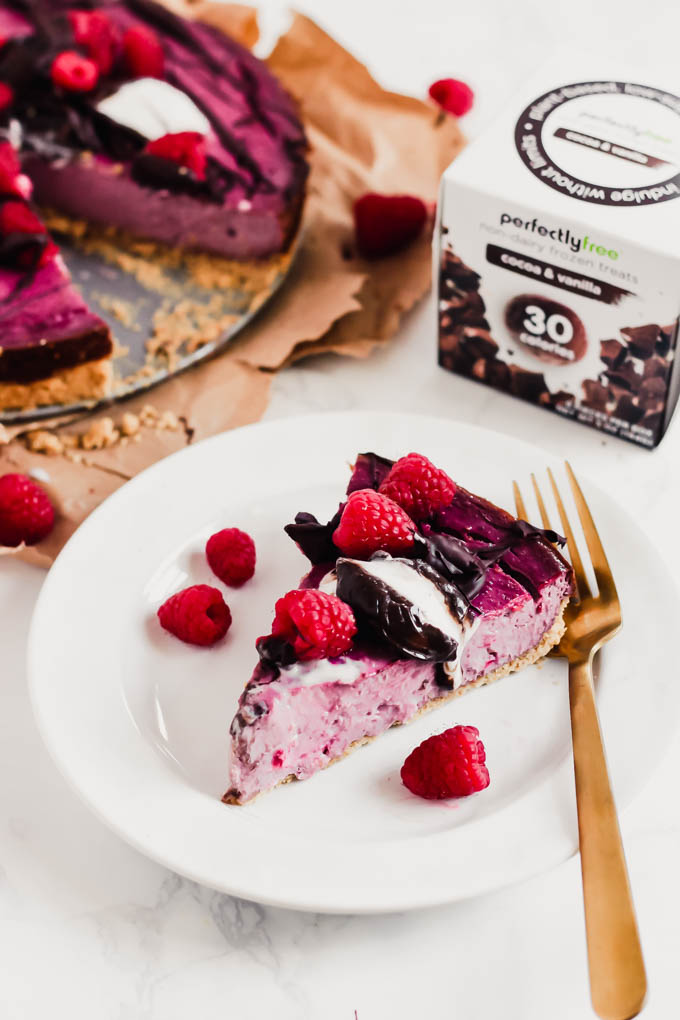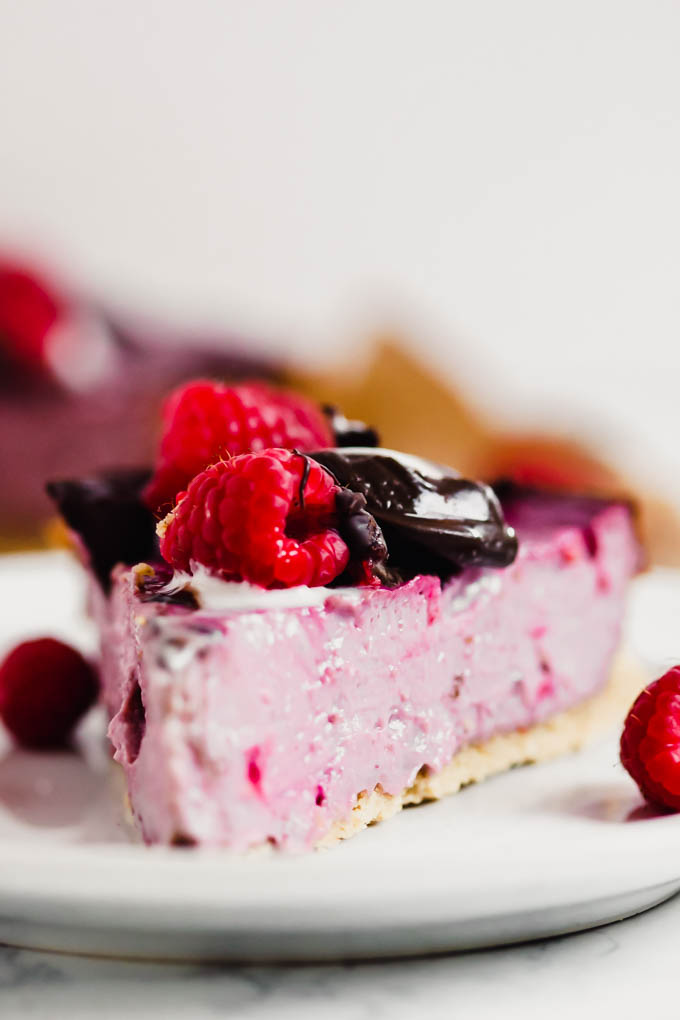 The perfectlyfree® Frozen Bites are free of the Big 8 food allergens, vegan, gluten-free, and kosher. They're perfectly bite-sized, so you can enjoy a couple for dessert and feel satisfied.
I really love topping this vegan raspberry cheesecake with the Cocoa Vanilla bites (the raspberry chocolate would be great too!) because the creamy coconut inside melts onto the cheesecake… my mouth is watering just thinking about it.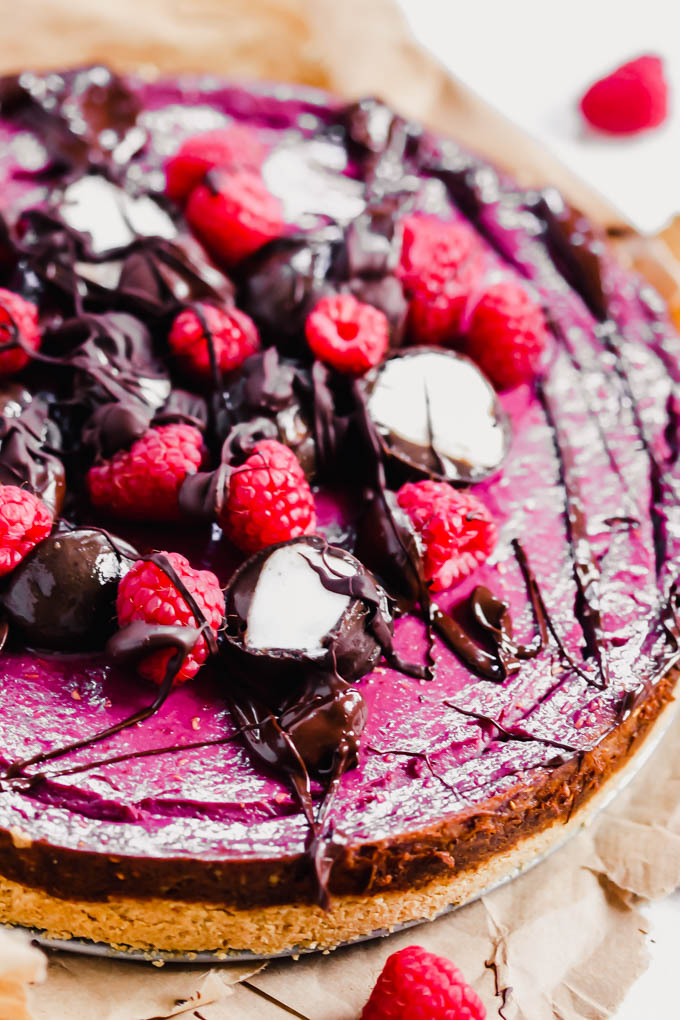 Whether you make this vegan raspberry cheesecake for a partner, your friends, your mom, your co-workers, or yourself, make sure you prepare it with lots of love.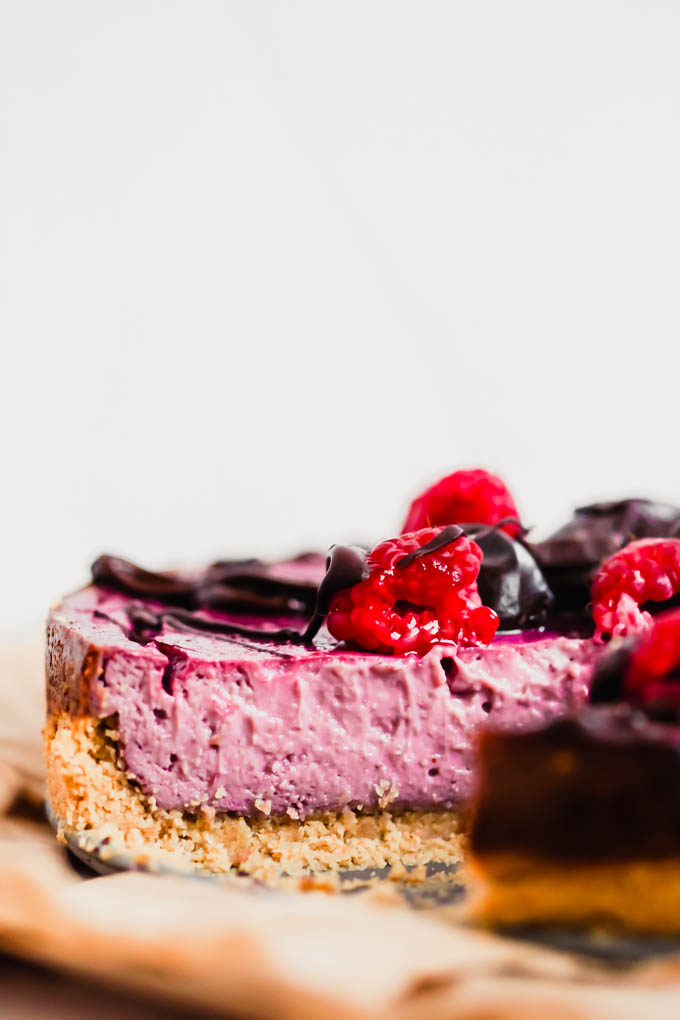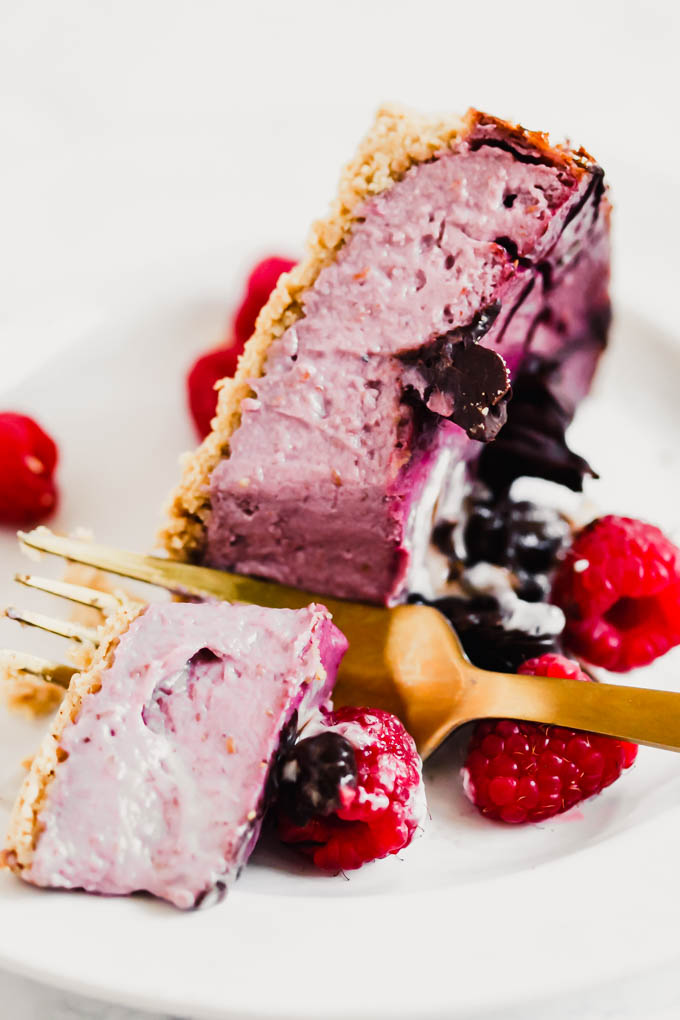 Print
How to make:
Vegan Raspberry Cheesecake with Oat Crust (gluten-free)
This Vegan Raspberry Cheesecake is a decadent dessert to share with the ones you love! It features a creamy, fruity filling made with a secret ingredient. (gluten-free)
Ingredients
For the crust:
1 1/2 cups

rolled oats

1/2 cup

walnut halves

1 tablespoon

sugar

1/4 teaspoon

salt

3 tablespoons

coconut oil, melted
For the filling:
2

12-ounce packages extra-firm silken tofu*

1 1/2 cups

frozen raspberries

1/3 cup

cane sugar

3 tablespoons

oat flour**

2 tablespoons

maple syrup

2 tablespoons

almond or cashew butter

1 tablespoon

lemon juice

1 tablespoon

cornstarch

2 teaspoons

vanilla extract

1/4 teaspoon

salt
For the toppings:
1/2 cup

dark chocolate chips or chunks

1

box perfectlyfree® Cocoa & Vanilla Frozen Bites

1/2 cup

raspberries
Instructions
Preheat oven to 350ºF. Lightly spray the inside of a springform pan*** with non-stick spray.
For the crust: In a blender or food processor, add oats, walnuts, sugar, and salt. Blend until a fine flour forms; add to a medium bowl. Add melted coconut oil; stir until a dough ball forms. Gently press the dough into the bottom of the pan and up the sides. The dough should be 1/4 inch to 1/2 inch thick on the bottom.
Bake crust for 10 minutes. Remove from the oven; let cool for 20 minutes.
In a blender or food processor, add all filling ingredients. Blend until completely smooth. Once crust is cooled, pour filling into the pan.
Bake for 55-60 minutes, until the top of the cake is firm. Remove from the oven; let cool for at least an hour. Place in the fridge to speed up cooling.
Slice each frozen bite in half. Place on top of cheesecake.
In a small bowl, add dark chocolate. Melt in the microwave in 30-second intervals, stirring between each, until chocolate is completely melted. Drizzle on top of cheesecake. Add raspberries.
Notes
*I like Mori-Nu Extra Firm.
**To make your own own oat flour, simply blend rolled oats into a fine flour using a high-speed blender or food processor.
***I used a 9-inch springform pan; however, you may also be able to use a pie pan.
Thanks to perfectlyfree® for sponsoring this post! I love working with brands whose products I really love and would honestly recommend. Thank you for supporting this blog that I love oh-so-much!