Celebrate with this classic vegan vanilla cake! This vegan cake recipe is made in just 5 simple steps. Perfect for birthdays or just because!
Vegan Vanilla Cake
Vanilla cake is a classic for a reason. It's sweet, but not too sweet. It's a total crowd pleaser at any party. And it can be the perfect base for other flavors.
But layer cakes can be intimidating and decorating can be frustrating. Sometimes the cake cracks, sometimes the crumbs mess up the frosting, and specifically with vegan cake recipes, sometimes it just comes out so dense. Maybe that's why we reserve cake baking for special occasions. But today, I'm here to tell you that you don't need a reason to bake a cake – not when it's this easy!
Not only is this the best vegan vanilla cake recipe you'll ever taste, but it's also the easiest vegan cake you'll ever make. It comes together in one bowl with just 5 steps, 8 ingredients and 45 minutes. Cake baking doesn't get simpler than this my friends.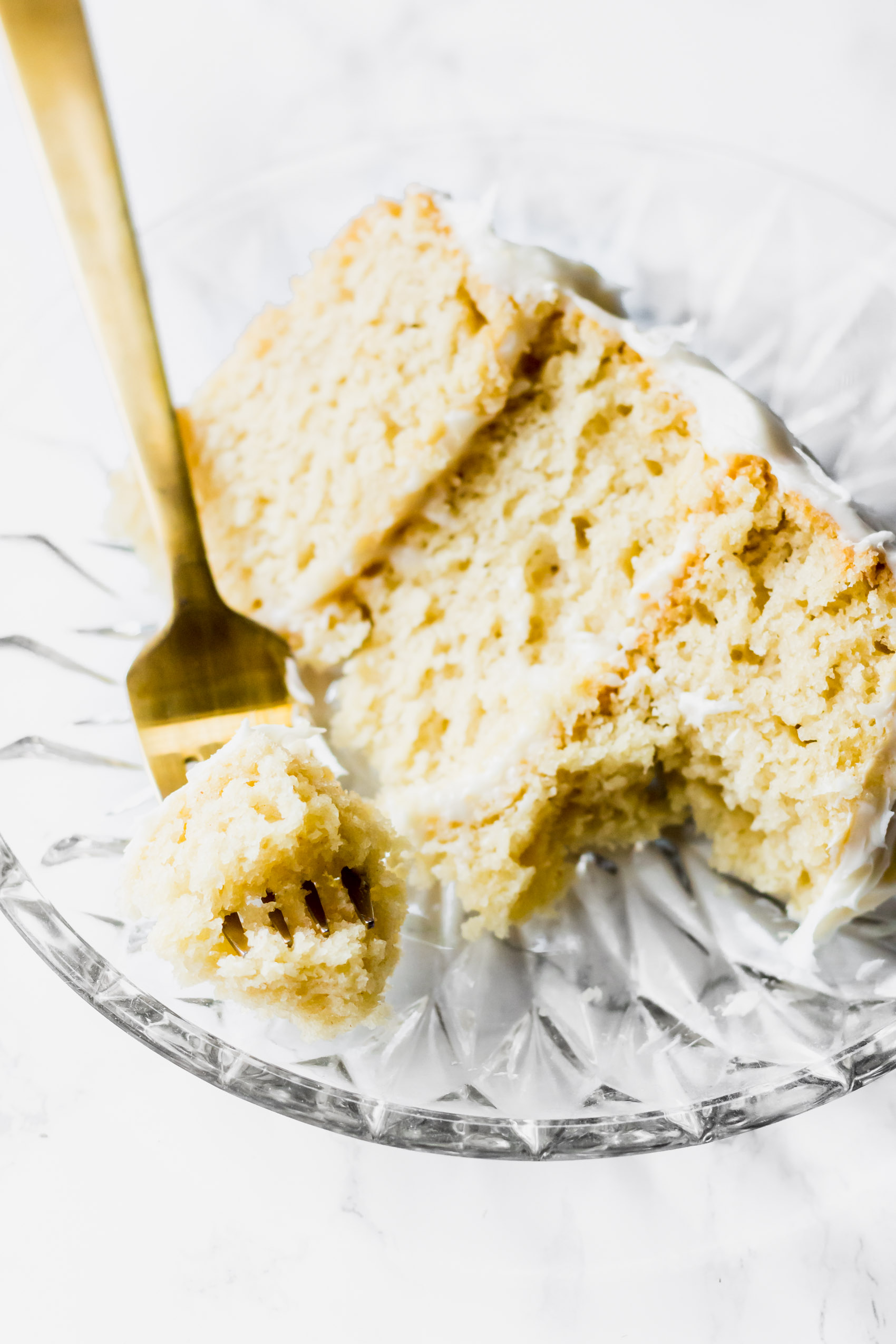 Ingredients for Vegan Vanilla Cake
The secret to making the best vegan vanilla cake is to not over complicate things. You really only need a few simple pantry staple ingredients to make a super delicious cake. There's really no secret ingredient – the real secret is just using your ingredients in the right ratios!
Here's everything you'll need to make a this vegan vanilla cake recipe:
All-purpose flour. This vegan vanilla cake recipe will turn out best with all-purpose flour, and measuring it properly is key. Check out this vegan funfetti cake recipe for a quick 101 on how to accurately measure flour.
Granulated sugar. Just plain ol' white sugar. Nothing fancy.
Baking soda. This will do all the heavy lifting to give us a light, fluffy vegan cake.
Salt. ALWAYS salt your baked goods! Sorry for yelling at you in all caps, but it's key. Just a touch will help balance out the sweetness.
Non-dairy milk. Almond, soy, oat – doesn't matter, pick your favorite. Just go for a plain, unsweetened variety!
Neutral oil. You can use canola, grapeseed, or vegetable oil. We want to use an oil with a neutral flavor to really allow the vanilla flavor to shine through. I would not recommend oil substitutes in this vegan vanilla cake recipe.
White vinegar. This will help activate the baking soda to ensure our cake rises, and also lightens up the flavor a bit.
Vanilla extract. It's a vanilla cake after all!
Non-dairy vanilla frosting. Feel free to use your favorite store-bought icing, because let's be honest, we all know that stuff is delicious. If you really want to make your own, I like this Vegan Buttercream Frosting from Minimalist Baker.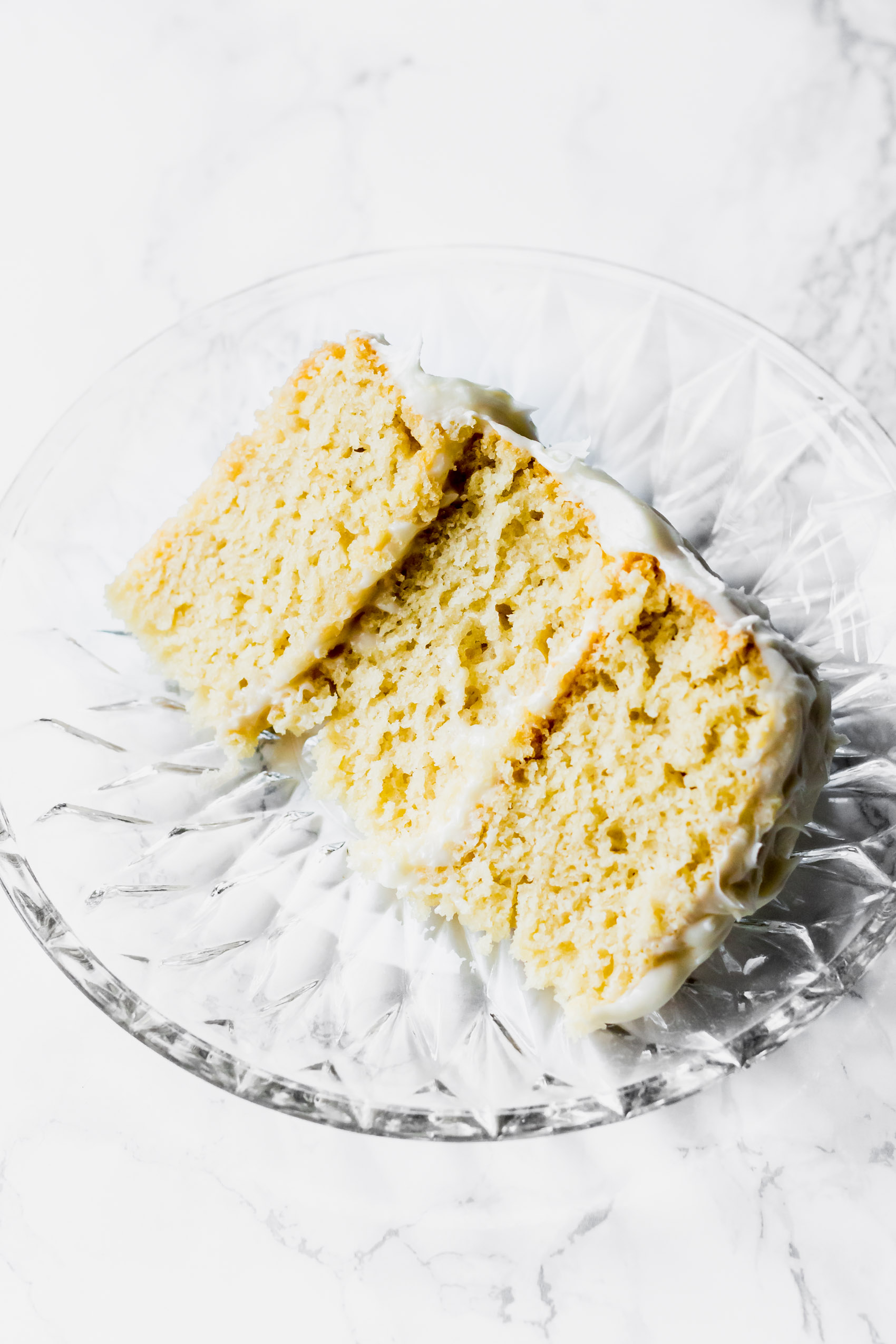 How to Make This Easy Vegan Vanilla Cake in 5 Simple Steps
I'm not sure why we only make cakes for special occasions when it can be this simple to make! This vegan vanilla cake recipe comes together in just 5 steps. Yes – 5 steps! No fancy mixing methods and it's got a short bake time so you'll have your cake AND get to eat it in under an hour.
It's as simple as:
Prep your pans and preheat oven to 350ºF.
Mix your dry ingredients, add the wet ingredients, mix it up and pour the vegan cake batter into your pans.
Pop the pans in the oven for 35 minutes, or until a toothpick comes out clean.
Allow your cake layers to cool for 10 minutes at minimum, then remove the cake from the pans and transfer to a cooling rack.
Decorate your heart out!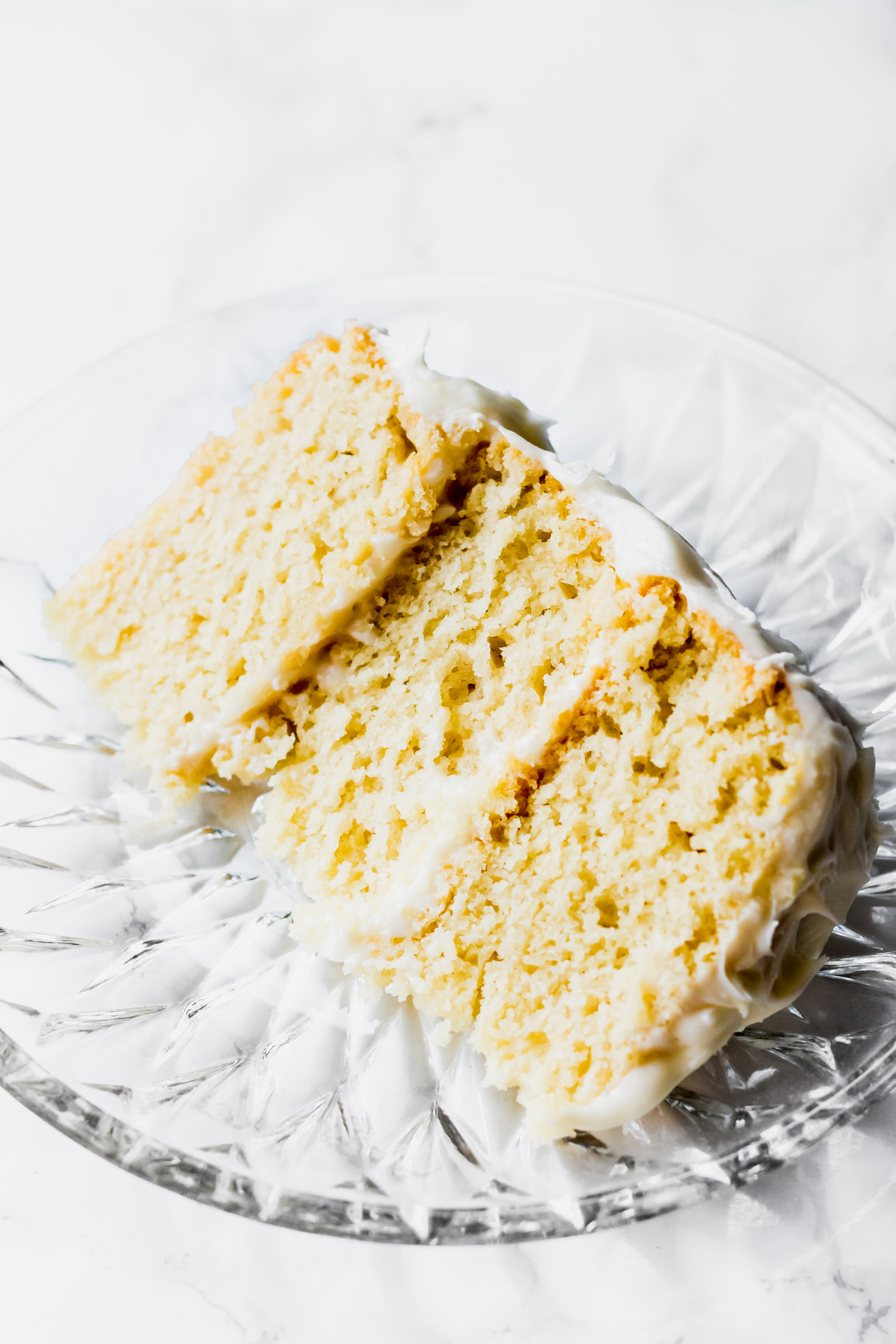 Troubleshooting for Vegan Cake Recipes
This vegan vanilla cake is pretty simple, but there are a few things to be mindful of when baking. Now I'm no professional baker, but I have definitely made my share of delicious (and not-as-delicious) cakes and I've learned a thing or two about making vegan cake recipes.
Here are a few things to be mindful of when baking a vegan cake:
Measure your flour accurately. Make sure to spoon your flour into a measuring cup, then level it by swiping a knife or your finger across the top. Scooping flour straight out of the bag will likely lead to a densely packed cup, which means a dense cake. For a full how-to, check out this vegan funfetti cake recipe.
Check the expiration on your baking soda. Yes, baking soda expires! It tends to sit in the back of the fridge or the pantry for an eternity, but it does lose its potency over time. If your baking soda has been opened for more than 6 months, you can check it by mixing it with some vinegar. If it doesn't fizz up immediately, it won't work in your cake.
Be careful not to over mix. Any time you're working with a wheat-based flour, you want to be careful not to overwork it. The more you mix flour with liquid, the more gluten you'll develop, which can lead to a touch cake. Err on the side of under-mixing – It's okay if there are a few lumps in your cake batter.
Let your cake cool completely. We'll talk about decorating next, but before you even think about breaking out the icing, let your cake cool for a minimum of 10 minutes. Otherwise your cake is likely to crack when you're removing it from the pan and your frosting will likely melt.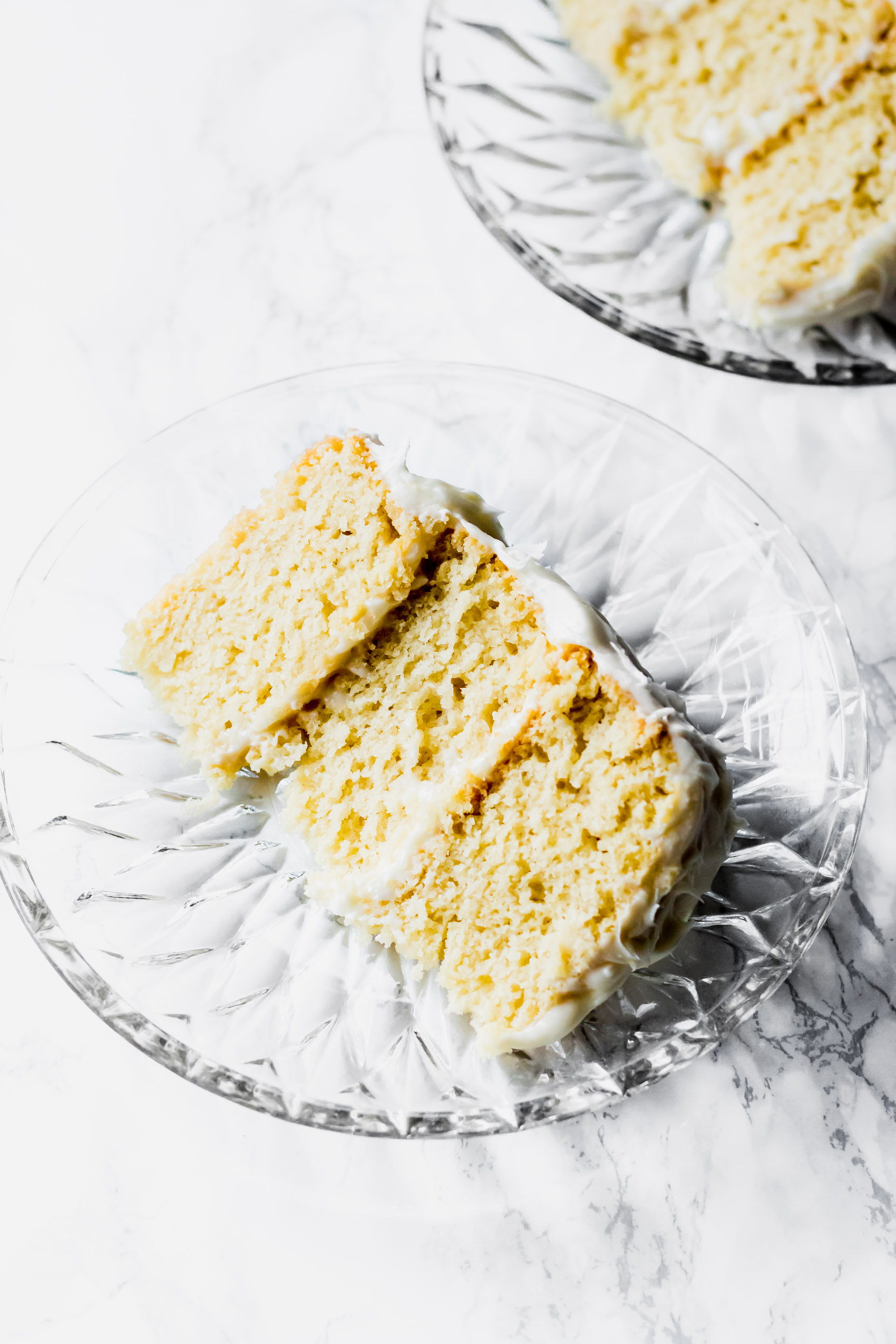 Tips for Decorating Your Vegan Vanilla Cake
Okay, so making the cake was easy. 5 steps to a vegan vanilla cake? No problem. Decorating is often another story. And that's okay! At the end of the day, your cake is going to taste amazing no matter what it looks like. I mean, it's cake. However, I've got a couple handy tips to take your decorating game up a notch.
Before you break out the frosting, there are a couple steps you can take to prepare your cake layers. Start by leveling your cake. When you first pull your cake pans out of the oven, they will likely be domed on top. This is a good thing because it means your cake rose, but it makes it difficult to stack your layers neatly. Once you remove your cake layers from the pan, take a serrated knife and delicately slice the rounded top off of the cake. We're talking just the top 1/2 inch. Here's a great guide on how to level a layer cake for a more in-depth how-to.
Now there's one more step before you ice your vegan vanilla cake! You know that incomparable frustration of swiping your icing across your cake, just for it to rip a ton of crumbs off the cake? You can avoid that with a crumb coat! All you have to do is apply a thin layer of frosting to the cake and let it sit until the frosting dries. I recommend letting it sit in the fridge. The crumb coat will still pull crumbs off the cake – that's the point! But once the crumb coat dries, you'll be able to apply the real layer of frosting without seeing all those crumbs.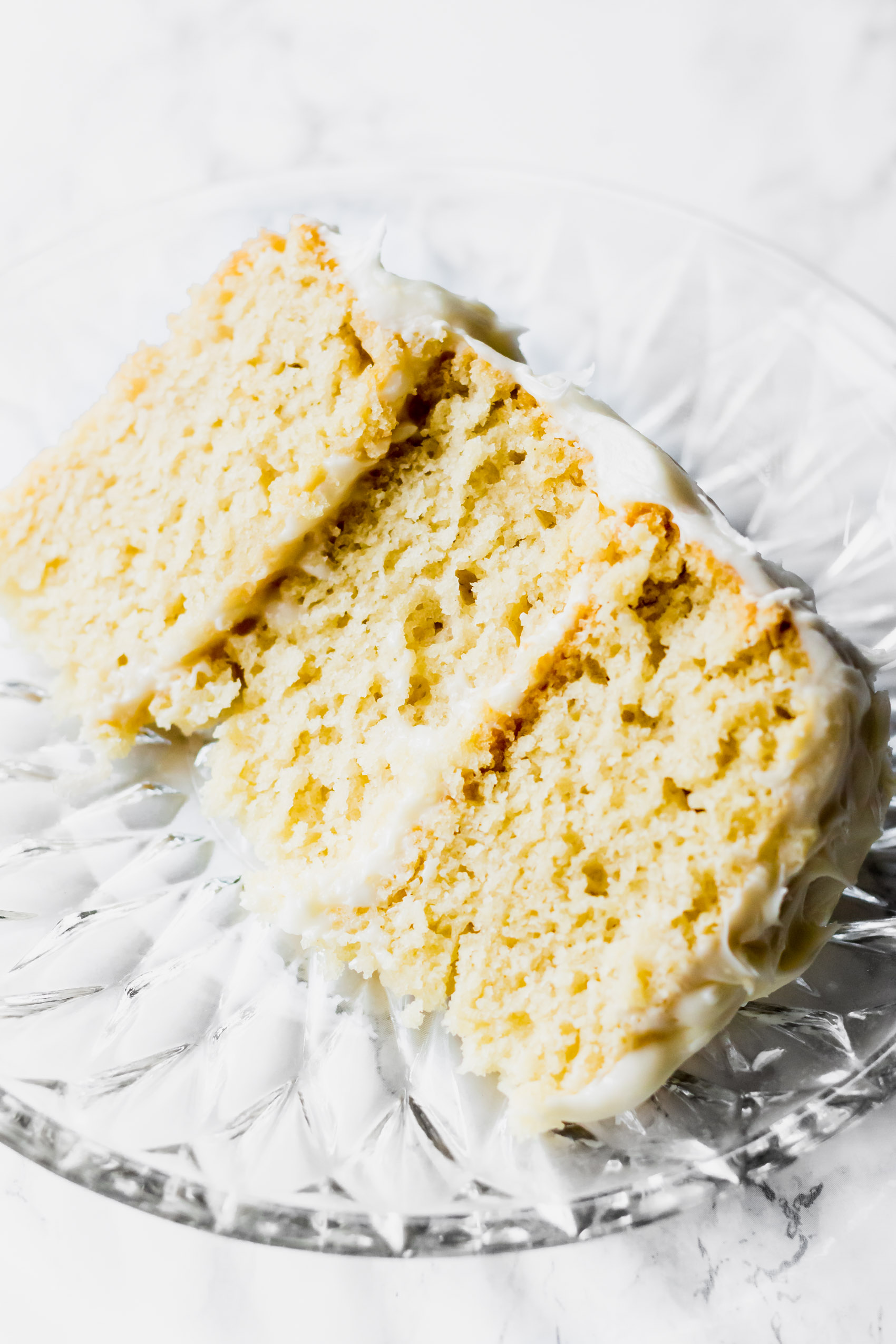 More Vegan Cake Recipes
You don't need a reason to celebrate with cake! Make one on a Tuesday just because you feel like it! If you're looking for more delicious vegan cake recipes, here are a few of my favorites!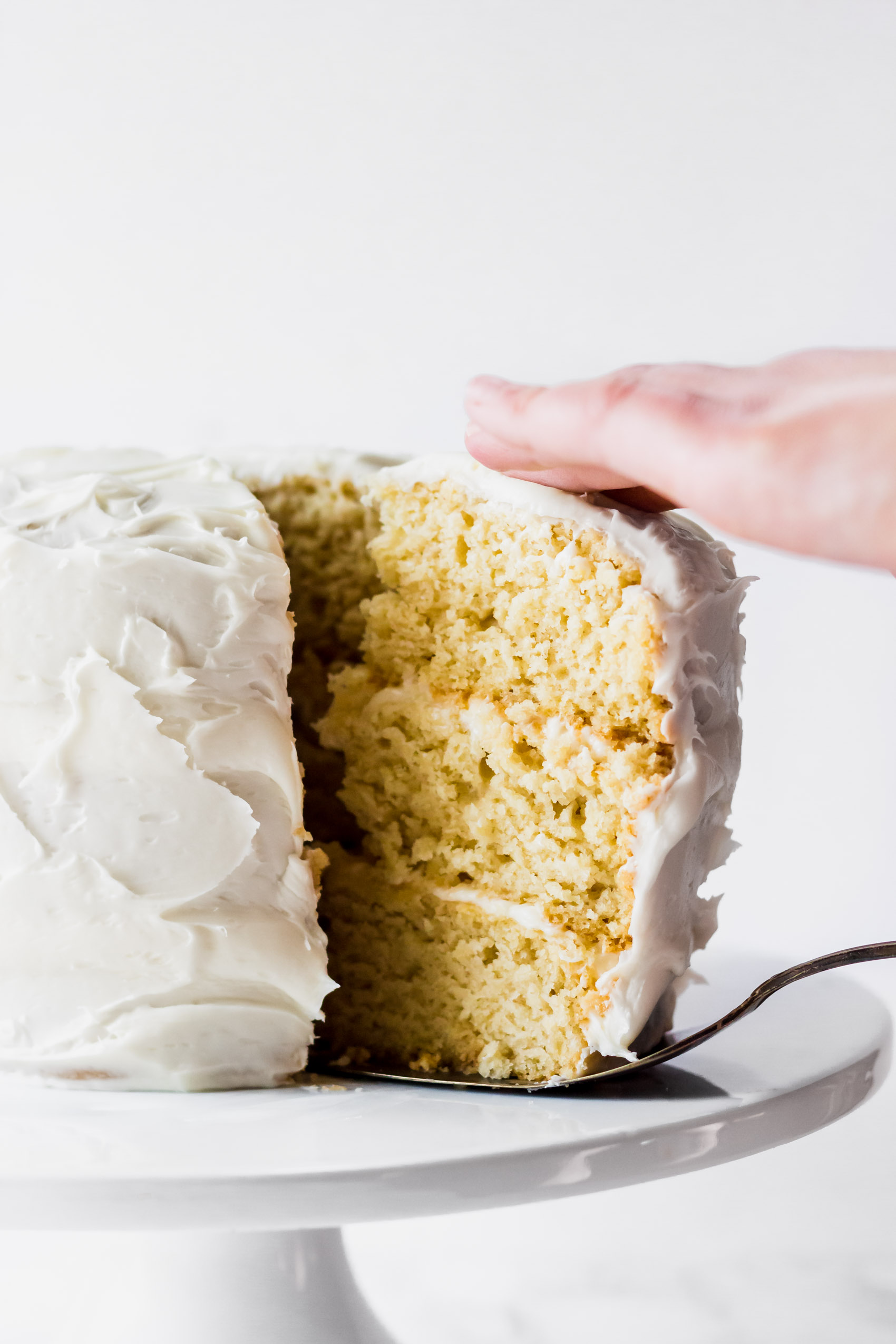 Print
How to make:
Vegan Vanilla Cake
Celebrate big with this classic vegan vanilla cake! This vegan cake recipe is easy to make and so delicious topped with homemade vegan frosting.
Ingredients
3 cups

 all-purpose flour*

1 1/4 cups

 granulated sugar

1 teaspoon

 baking soda

1 teaspoon

 salt

1 1/2 cups

 unsweetened non-dairy milk

1/2 cup

 neutral oil (canola, grapeseed, or vegetable)

2 tablespoons

 white vinegar

1 tablespoon

 vanilla extract
Non-dairy vanilla frosting
Instructions
Preheat oven to 350ºF. Lightly grease two 8- or 9-inch cake pans. Sprinkle a little flour into each pan, then shake the pan around to evenly distribute the flour.
In a large bowl, add flour, sugar, baking soda, and salt. Whisk to combine. Add milk, oil, vinegar, and vanilla; whisk until just combined. Do not overmix; it's okay if there are some lumps. Divide the batter evenly between the two pans.
Bake for 35 minutes, until a toothpick inserted into the center of the cake comes out clean.
Set pans aside for 10 minutes to cool, then remove cake from pan and place on a cooling rack (a trick: place a plate on top of the pan, flip it over so that the cake comes out on the plate, then flip the plate over onto the cooling rack).
When completely cool, decorate with frosting.