Need a new go-to high protein vegan dinner? These Vegan Sweet and Sour Chickpeas are simple, satiating and on the table in 30 minutes.
Vegan Sweet and Sour Chickpeas
I'm not going to lie to you guys… I developed and photographed this recipe quite a while ago. Please don't hate me for hoarding this delicious recipe all for myself!
Life has been super busy so getting ahead on recipe development has been a lifesaver. Thank you, past Emilie, for working ahead a bit!
We all go through seasons of life that just feel super chaotic, so I know I'm not alone in my need for quick recipes that don't take a lot of thought, a lot of ingredients or a lot of time. Shout out to all the moms and dads and hard-working people out there running around all day with little free time to make life better for the ones around you.
Some days, anything that requires more than 30 minutes for cooking is just not an option. On those days, if I don't have a recipe that comes together FAST, I'll be stuck eating avocado toast for dinner (no complaints, tbh). I know most of you are in the same boat with wanting dinner to be quick and easy so you can move on to other things in your life. You're my people, and this recipe is for you.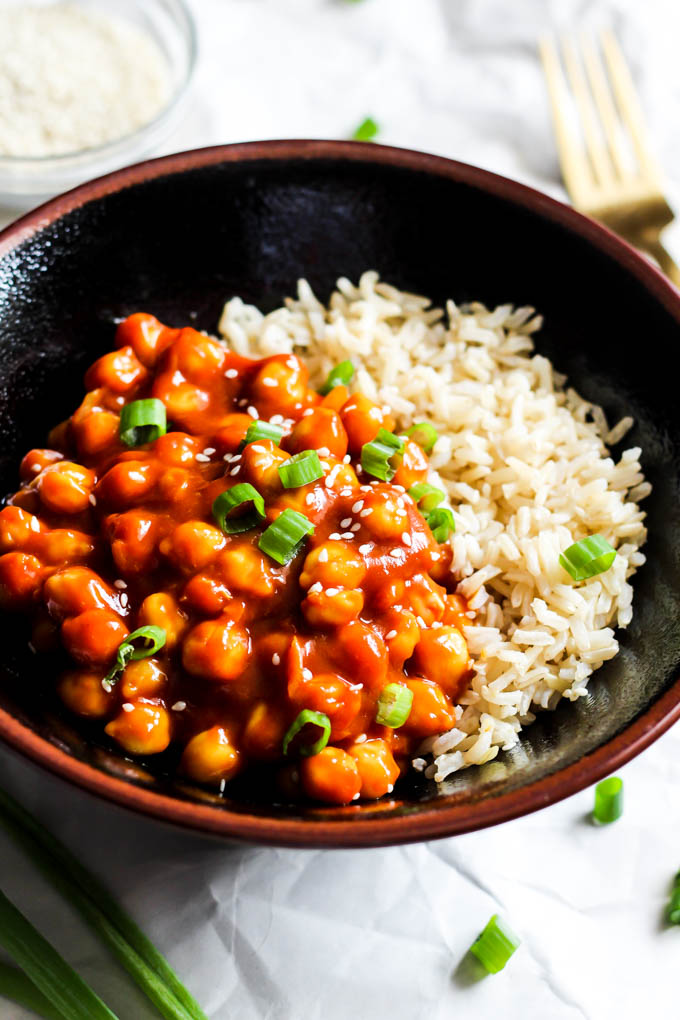 Ingredients for Vegan Sweet and Sour Chickpeas
We all love a 30 minute meal on those busy weeknights, but what's the point if a 30-minute recipe calls for a million ingredients? If the recipe says it takes less than 30 minutes then great, but if it also calls for 25 ingredients then I already know I'm setting myself up to spend at least 5 minutes getting everything out of the pantry and sometimes I LITERALLY don't have time for that.
Not only is this recipe made in 30 minutes, but it requires just 8 ingredients. Yes, JUST EIGHT!!!
Pineapple juice. Don't waste your money on a big bottle of pineapple juice. You just need one 8-ounce can for this vegan sweet and sour sauce.
Tapioca starch. If you don't have or can't find tapioca starch, cornstarch will also work perfectly well.
Rice vinegar. This will add a bit of punchy, acidic flavor to our sweet and sour chickpeas.
Coconut sugar. This is part of the 'sweet' part of our vegan sweet and sour sauce. You can use regular white granulated sugar if you don't have coconut sugar, but I like the subtle toasty flavor that the coconut sugar adds.
Tomato paste. We're using a 1/2 cup for our vegan sweet and sour sauce, which is just under a full 6-oz can of tomato paste. Save the rest for another recipe later in the week!
Soy sauce. For a bit of that umami, salty flavor.
Garlic powder. You could also use 2 minced or grated fresh garlic cloves.
Chickpeas. This recipe uses 2 15-ounce cans (or 3 cups) of chickpeas. You can also prepare your chickpeas from dried if you prefer.
Serve your vegan sweet and sour chickpeas with brown rice, steamed broccoli and a sprinkling of green onions for a balanced, high protein vegan meal.
How to Make Sweet and Sour Sauce
Truth be told, the sweet and sour sauce packets that come with takeout never really appealed to me. But one day the inspiration hit, and I knew I had to drench hearty chickpeas with a homemade sweet and sour sauce.
I'd say it turned out pretty freaking great! The pineapple juice and tomato paste add natural sweetness – the sauce is less sweet than ones you'll find at restaurants, but I like it that way.
To make the vegan sweet and sour sauce, you'll add the pineapple juice, starch, rice vinegar, sugar, tomato paste, soy sauce, garlic, and water to a blender to combine all the ingredients. Then, pour your mixture into a saucepan and cook until the sweet and sour sauce begins to bubble. It should take about 8-10 minutes. You'll want to stir pretty often as the sauce will thicken quickly due to the starch and can burn if you don't keep it moving. Once it's bubbling, cover your pan, reduce your heat and let it go for another 15-20 minutes. Once you take the lid off, you'll be left with a thick and totally crave-worthy vegan sweet and sour sauce.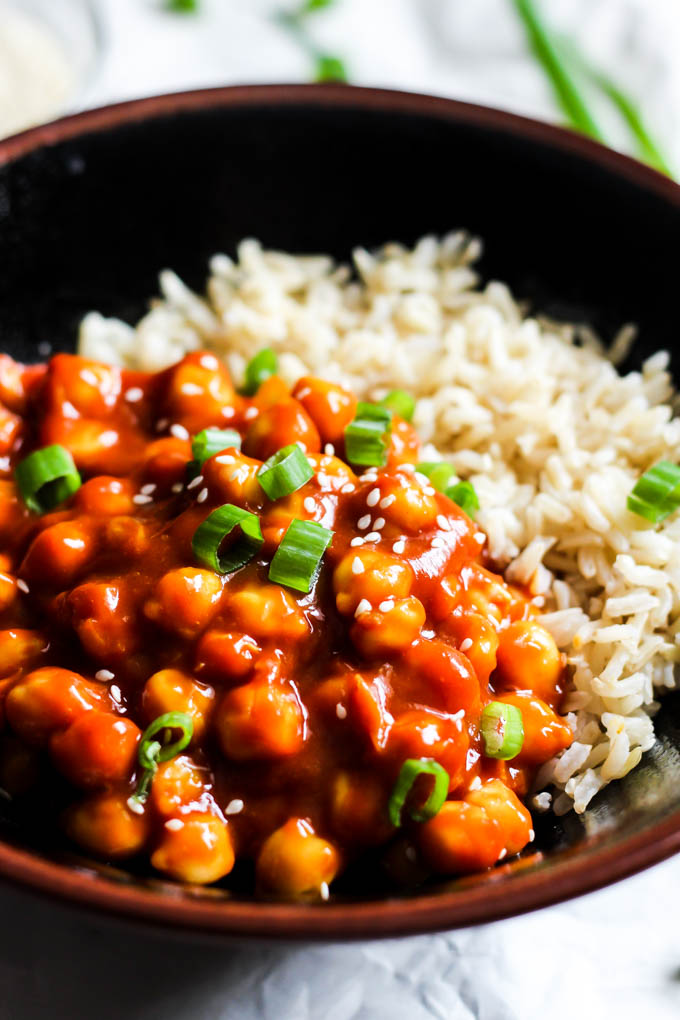 Sweet and Sour Chickpeas are the Perfect High Protein Vegan Meal Prep Recipe
Let's be real. It's not just dinnertime that we struggle to make time for on those super busy days. You know those mornings where you're running late and need to run out the door ASAP, so you look in the fridge and realize you don't have anything to bring with you for lunch? Yeah, not ideal.
This vegan sweet and sour chickpea recipe is the perfect thing to make if you're looking for vegan meal prep ideas. Plus, the chickpeas are packed with fiber and protein, which meals this high protein vegan meal will keep you fuller for longer on those crazy days.
To make this recipe for meal prep, simply cook up the chickpeas as directed and store in an air-tight container. Then pick a grain and a non-starchy vegetable. I used brown rice and steamed broccoli here, but go crazy! Quinoa and carrots? Delicious. White rice and green beans? You go for it. Maybe even prep a few different vegetables to mix it up throughout the week. Store your grain and your veggies in separate containers and then you can build a new bowl for each day. Simple!
Pro tip – these vegan sweet and sour chickpeas are also totally freezable if you're looking for vegan freezer meals.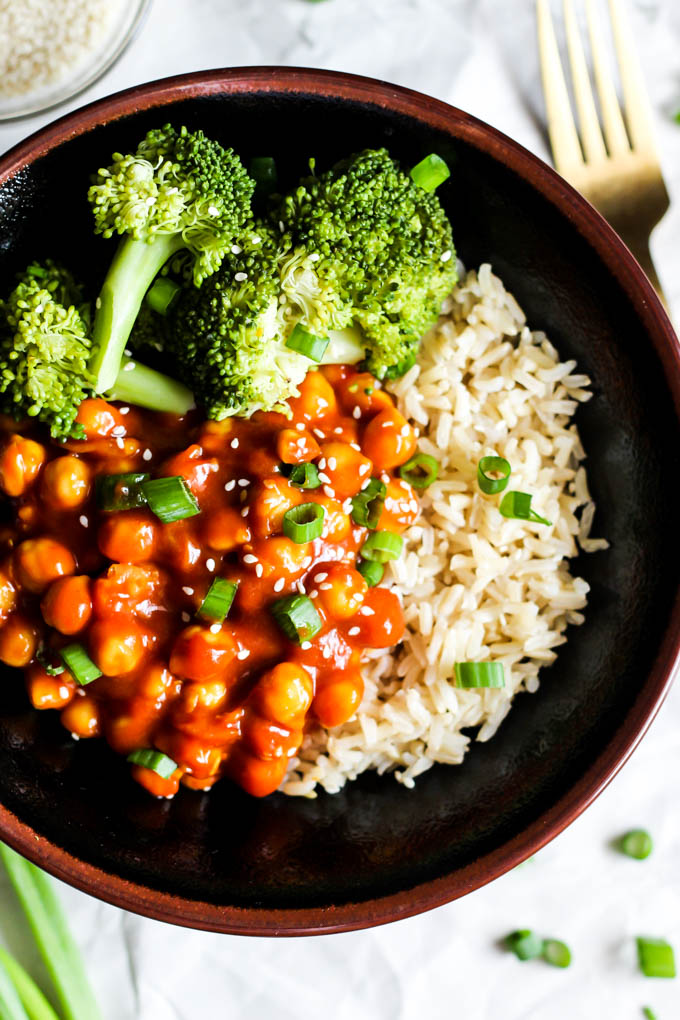 More High Protein Vegan Meals
It's super important to make sure you're eating enough protein throughout the day, especially if you follow a vegan or vegetarian diet. But it doesn't have to be super challenging! If you're looking for more high protein vegan meals, check out one of these recipes!
Print
How to make:
Vegan Sweet and Sour Chickpeas
Need a new go-to high protein vegan dinner? These Vegan Sweet and Sour Chickpeas are simple, satiating and on the table in 30 minutes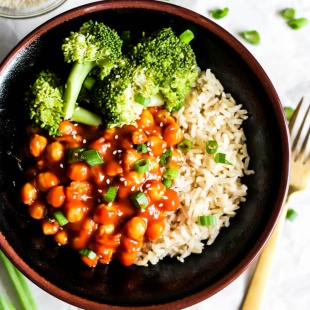 Ingredients
1

8-ounce can pineapple juice

1 tablespoon

tapioca starch

3 tablespoons

rice vinegar

1 tablespoon

coconut sugar

1/2 cup

tomato paste

2 tablespoons

organic soy sauce

1 teaspoon

garlic powder, or

2

cloves garlic

1/4 cup

water

2

15-ounce cans (3 cups) chickpeas, drained and rinsed

Cooked brown rice, for serving

Steamed broccoli, for serving

Sliced green onions, for garnish
Instructions
Warm a medium saucepan over medium heat.

To a blender or food processor, add pineapple juice, starch, rice vinegar, sugar, tomato paste, soy sauce, garlic, and water. Pour mixture into the saucepan.

Cook until sauce begins to bubble, about 8-10 minutes, stirring often. Cover and reduce heat to low; cook for 15-20 minutes, until sauce has thickened.

Add chickpeas to the sauce; stir to coat evenly.

Serve on top of brown rice and broccoli, with a garnish of green onions.
Notes
Feel free to serve this over any grains (quinoa, freekah, buckwheat) or vegetables (green beans, asparagus, zucchini) you have on hand.